Why Digital Marketing Analytics Matters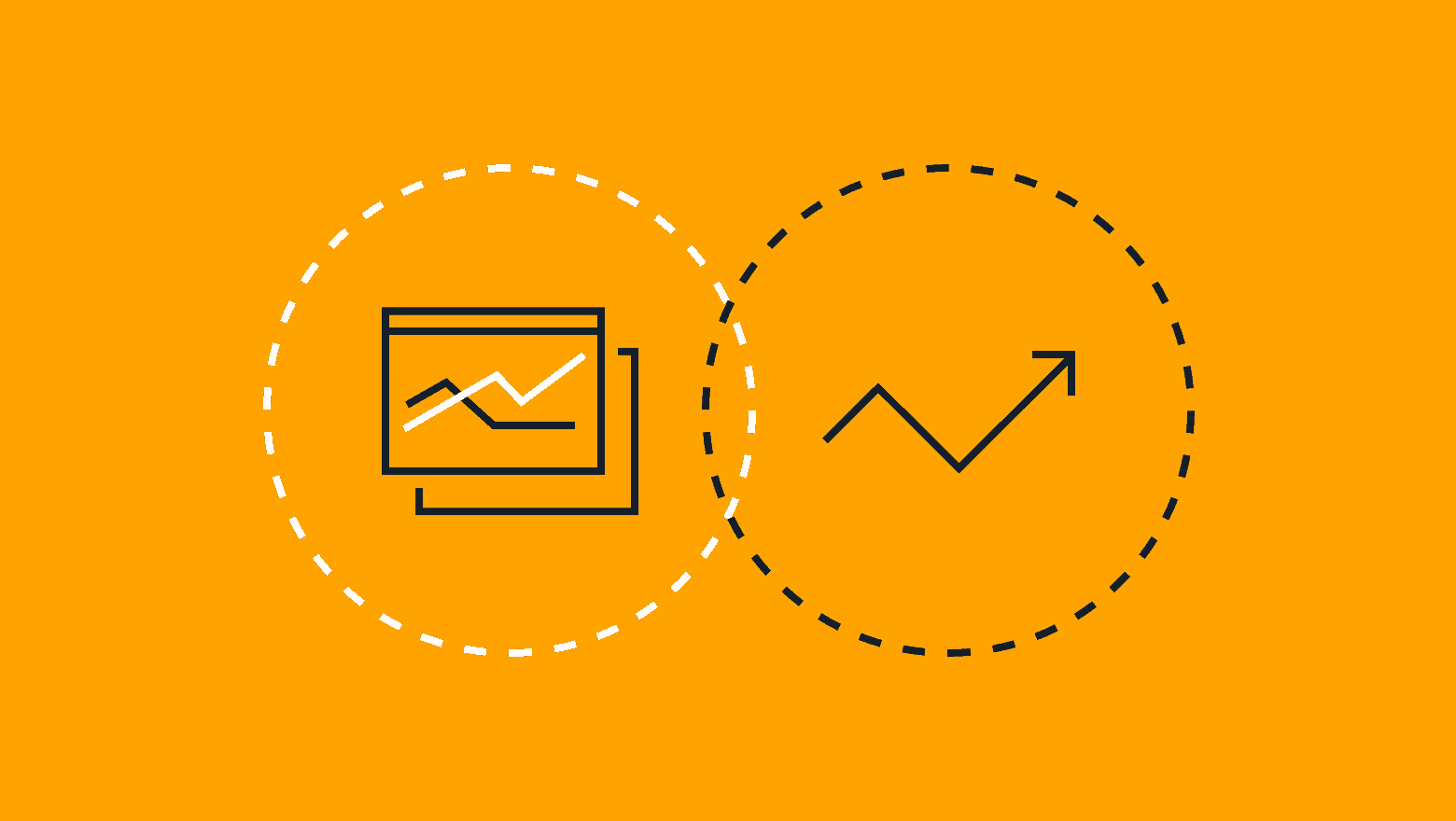 Digital marketing analytics is playing a bigger role than ever in the marketing campaigns that businesses launched recently.
Individual marketers and agencies of all sizes use digital marketing analytics to optimize their campaigns based on key performance indicators and continue to drive results as online marketing becomes more and more competitive.
If you've never worked with digital marketing analytics in the past, you'll be relieved to know that it doesn't take a qualified data scientist to make the most of marketing analytics. For the most part, marketing software developers have automated the process of collecting marketing data and analyzing it. That leaves digital marketers responsible for reviewing insights and implementing changes as needed to optimize their marketing efforts.
To help you start making the most of your digital marketing analytics, we've created this guide that explains why digital marketing matters more than ever. We'll also highlight the most important metrics that digital marketers should be tracking, explain the key benefits of digital marketing analytics, and offer our marketing analytics tool recommendations for digital marketers.
What is Digital Marketing Analytics?
Digital marketing analytics has two essential components.
The first component is the capturing of all relevant marketing data from across digital touchpoints.
The second component is the conversion of that data into actionable insights that help digital marketers identify and capitalize on optimization opportunities.
Digital Marketing Analytics: Three Types of Metrics
When we're talking about digital marketing analytics, any aspect of marketing campaign performance that we can measure through data collection is referred to as a metric. Marketers can identify the most important metrics that correspond to their marketing campaign goals and treat those as key performance indicators (KPIs). KPIs are metrics with defined performance indicators that help predict the overall health and success of your marketing efforts.
In general, digital marketing analytics deals with metrics from three categories.
Business Metrics
Business metrics describe the bigger picture of campaign performance with a focus on revenue, expenses and profit. Business metrics for most campaign metrics include total cost, gross revenue, cost of goods sold (if applicable), net revenue, profit and overall return-on-investment (ROI). Business metrics are typically used to describe the financial performance of a digital marketing campaign against defined business objectives.
Conversion Metrics
Conversion metrics are used to quantify how efficiently your marketing funnel turns prospective customers into paying customers or buyers. Conversions can be defined in different ways depending on marketing campaign objectives, but they frequently involve a customer purchasing either a product or a service. Improving campaign conversion rates with a conversion rate optimization campaign is a quick and low-cost way for digital marketers to improve their digital marketing results.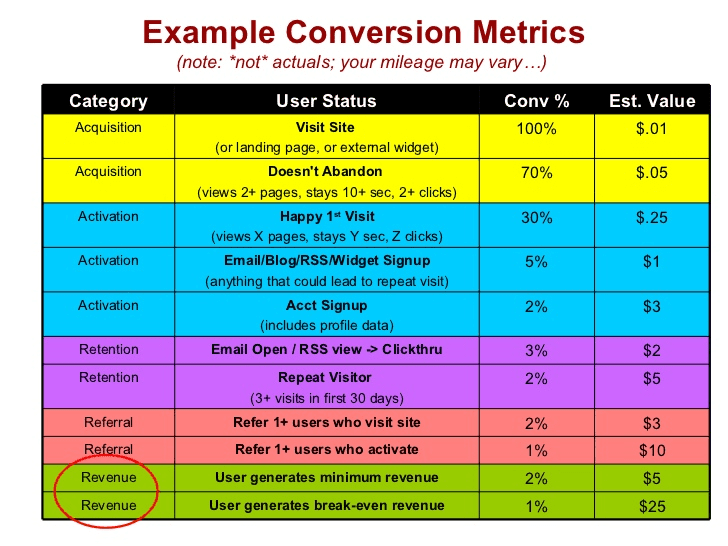 Image: These example conversion metrics span the entire customer journey and illustrate the flexibility that digital marketers have when defining conversions at each step in the marketing funnel. Source: Dave McClure on LinkedIn
Marketing Metrics
Marketing metrics include metrics from a variety of sources that reflect the specific performance of our marketing efforts in a given channel. You may collect marketing metrics on your website, such as bounce rate, page-specific exit rate, or average session time to assess how well your website is meeting user expectations. Marketing metrics also play a major role in pay-per-click advertising, where metrics like impressions, clicks, and click-through rate (CTR) can drive insights into ad performance and reveal new optimization opportunities.
Why is Digital Marketing Analytics More Important Now?
In a recently updated blog post, Salesforce asserts that businesses that invest in digital analytics are 19 times more likely to be profitable when compared with businesses that don't. That figure alone exemplifies the importance of marketing analytics in the present online marketing landscape, but it still leaves one question unanswered: Why?
Below, we reveal the underlying factors and mechanisms that are making digital marketing analytics the driving force behind digital campaign success.
Online Marketing is Increasingly Competitive
Over time, the online marketing space is becoming increasingly competitive. As of January 2021, there are over 1.74 billion websites competing for organic search traffic and the attention of users on the Internet. The nature of the industry is that not every page can appear at the top of the search engine results pages, so you'll need every possible advantage if you want to overcome the odds an make it to the top. Digital marketing analytics makes this possible by helping you identify the best opportunities to improve your results with optimizations.
Your First Hunch Isn't Always Right
With the amount of data that's available to marketers today, making campaign decisions based on what "feels right" or "sounds good" is clearly no longer optimal.
Marketers have the data and resources available to implement rigorous testing and experimentation for just about any type of campaign and make data-driven optimization decisions that get real results.
You Can't Improve Without Measuring
If you've read the classic self-management manual called "Managing Oneself", you may remember the words of Peter Drucker, who wrote: "You can't manage what you can't measure." If Drucker was talking about digital marketing analytics, he would have been absolutely right.
Collecting data on the performance of your marketing campaigns is how you evaluate what's working and what's not, so you can target your optimization efforts to the areas where they make the biggest difference.
What are the Benefits of Digital Marketing Analytics?
Understanding Customer Behavior
Digital marketers can use analytics to better understand customer behavior and discover opportunities to optimize user experience for website visitors. With Google Analytics, marketers can monitor user behavior for all website visitors, including factors like bounce rate, pages per session and average session time that correlate with user experience and conversions.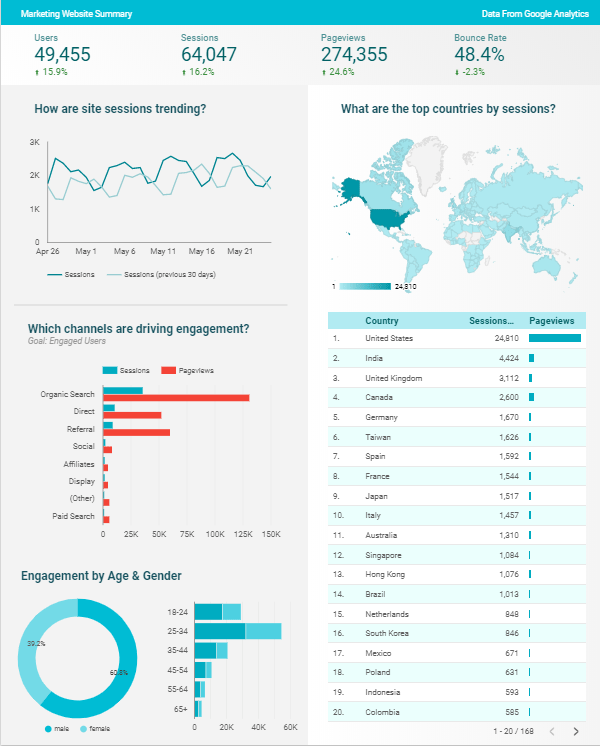 Image: This Google Data Studio Dashboard reveals insights into which channels drive the most engagement and breaks down engagement by visitor demographics and location.
Anticipating Market Trends
Anticipating market trends is one of the key benefits of leveraging digital marketing analytics for your business. Thanks to digital marketing analytics, marketers have the most optimal time of day for posting on each of the most popular social media platforms.
Can you notice any trends in the sales data presented here?
Sales numbers seem to spike at regular intervals, usually over a weekend. If you were the marketing manager for this eCommerce store, you might decide to run flash sales over the weekend to capitalize on this trend.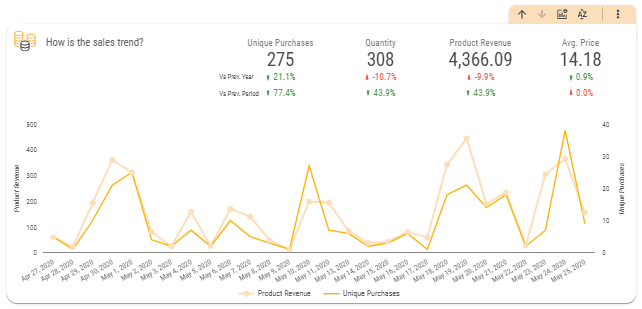 Image: eCommerce Analytics GDS Template by My Digital Lab
Campaign Optimization
Digital marketers rely on marketing analytics to help them discover optimization opportunities that drive results. This data collected through the Google Analytics platform indicates the most popular brands and products in this eCommerce store during the specified time period. Marketers analyzing this day can also identify the best-performing marketing channels – in this case, it's organic search, followed by paid search.
With these metrics on hand, marketers can work to optimize conversions and improve funnel KPIs for under-performing channels, or multiply their efforts on leading channels to drive more revenue and profits.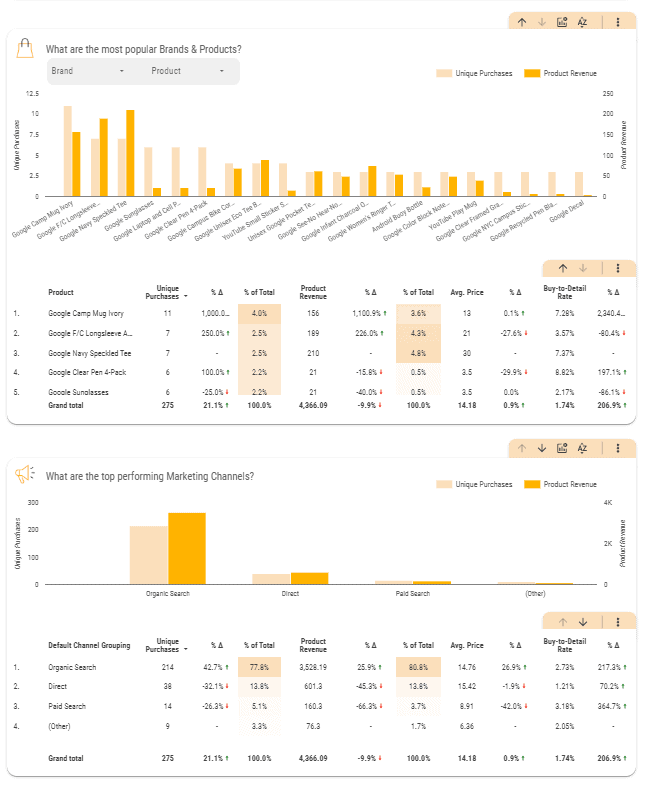 Image: Top-performing brands, products, and marketing channels for eCommerce store.
Getting Started with Digital Marketing Analytics
Digital marketers use marketing analytics tools and software to maximize the value of the data they generate as they design and execute on marketing initiatives. Digital marketing analytics tools can be used to capture and organize data in real-time from a variety of sources, including website user behavior data, keyword ranking, organic search performance data, and advertising metrics.
In addition to marketing analytics platforms like Google Analytics and Adobe Analytics, there are also data visualization tools like Google Data Studio and Tableau Desktop that digital marketers can use to visualize data and extract deeper insights into their website UX optimization or advertising performance.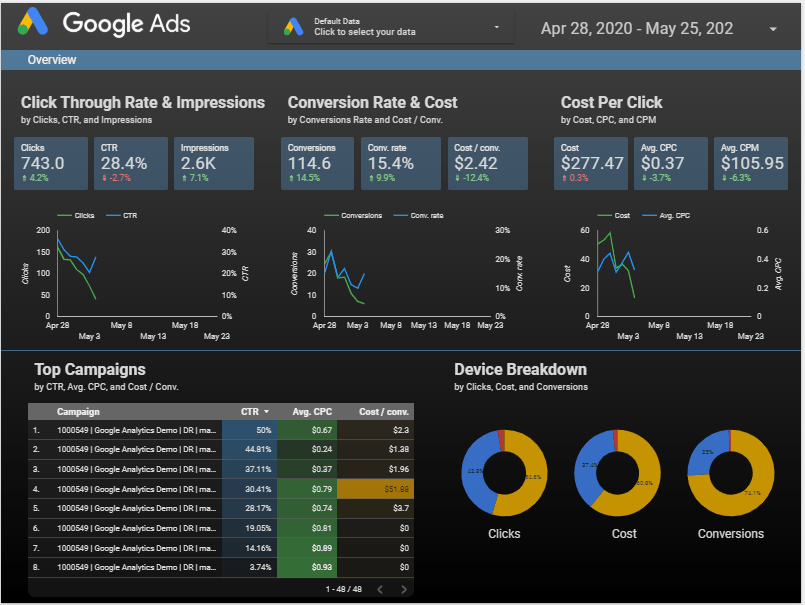 Image: Digital marketers can use Google Data Studio to produce visualizations with marketing metrics imported from Google Ads.
Summary
Thanks for reading all the way to the end of this guide!
By now, we hope to have convinced you that digital marketing analytics matters more than ever for digital marketers who wish to manage successful campaigns.
Next, check out our Analytics Training module at the Directive Institute and learn how to optimize your next online marketing campaign using web analytics – we'll see you there!
Keep reading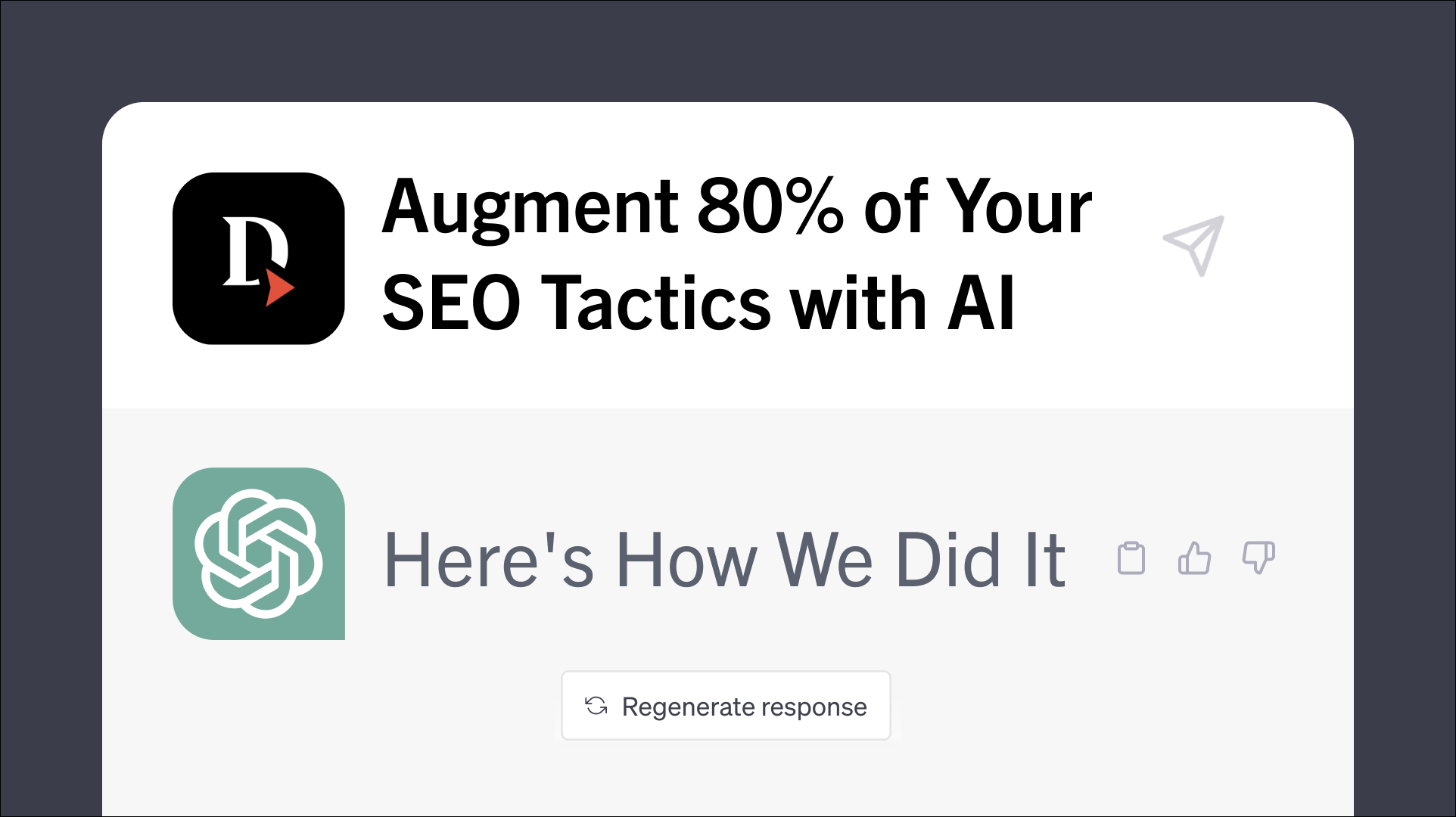 Blog
Augment 80% of Your SEO Tactics with AI. Here's How We Did It.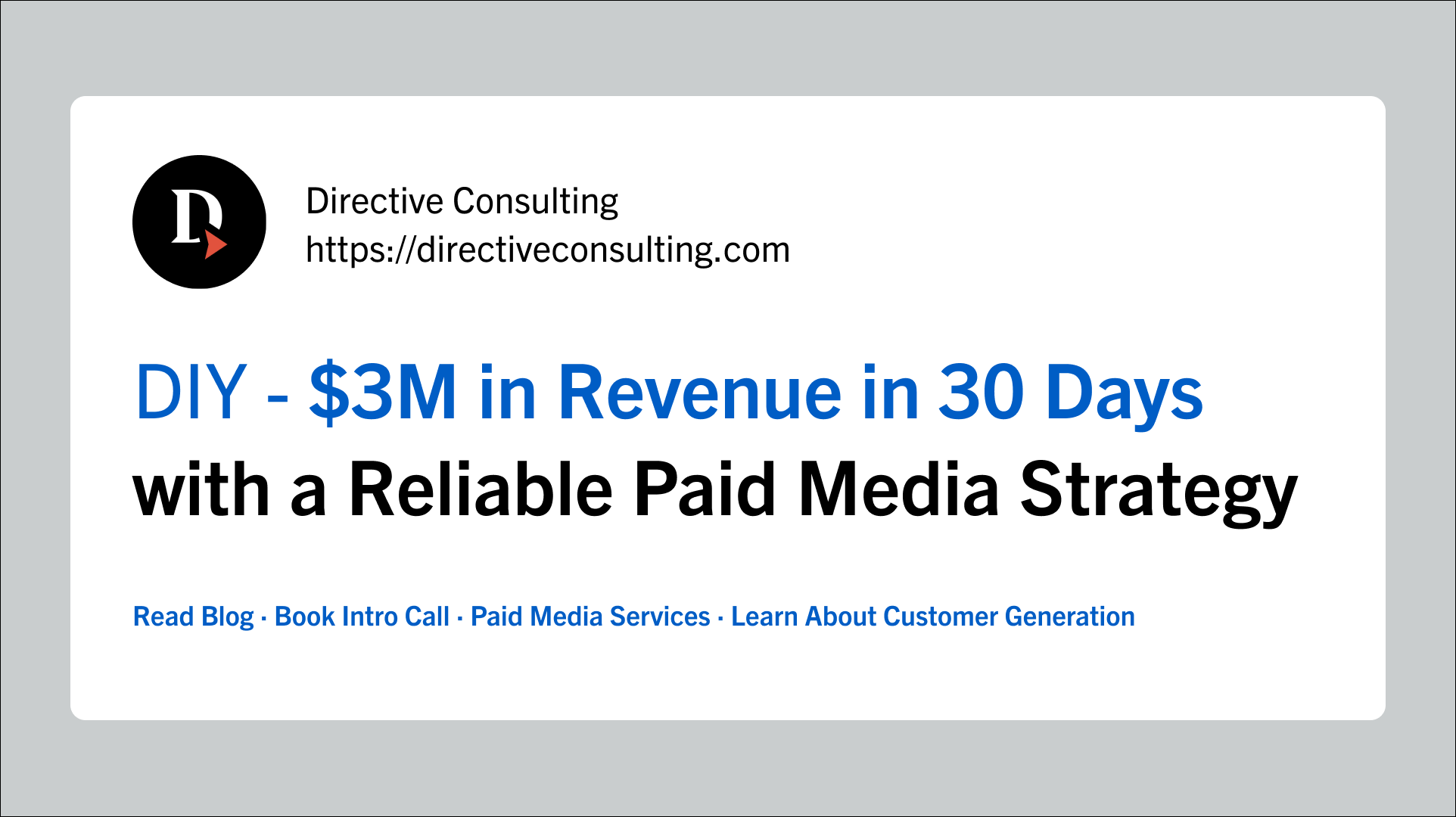 PPC
DIY: $3M in Revenue in 30 Days with a Reliable Paid Media Strategy
Social Media
Boost Your LinkedIn Engagement by 22% with These 3 Content Types