10 Google Ad Extensions to Improve Conversions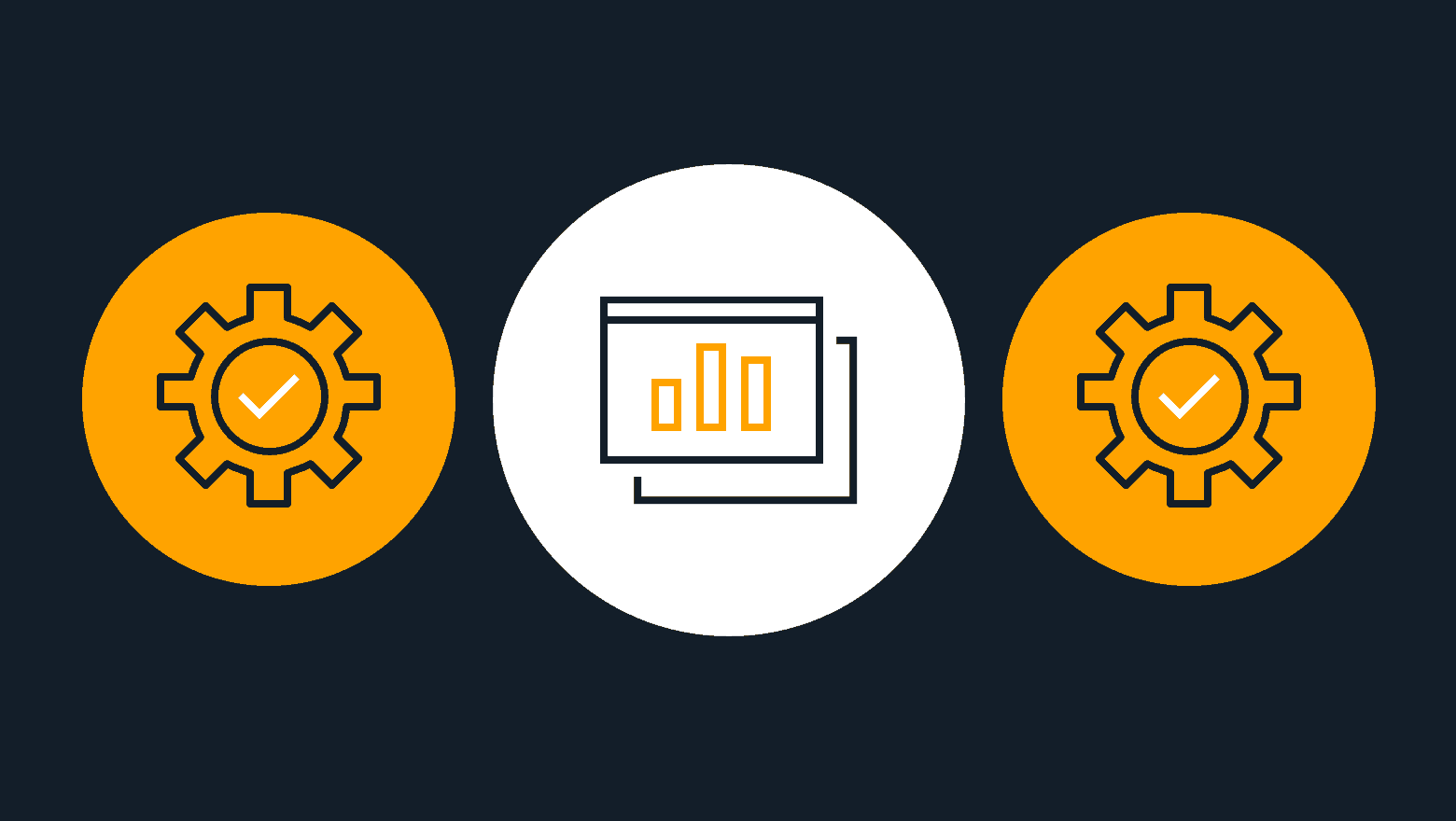 Ready to power up your search ads with Google Ad Extensions?
Every digital marketer should know how to create ad copy that captives readers and encourages clicks and conversions, but did you know that there are other ways to boost conversions besides writing great copy?
Google Ad Extensions are available in your Google Ads account. They're free to use and they've been shown to have a positive impact on click-through rates and conversions for digital marketers that put them to work.
To help you get started, we've curated this list of the 10 best Google Ad Extensions that can help you drive more conversions in 2021. We'll be showing mocked up examples of each extension, so for reference, here's a look at a "generic" Google search ad example with no ad extensions:

This ad contains all of the basic elements of a Google search ad: headlines, a display URL, and a description. Now let's look at some of the most popular Google ad extensions, how they transform the appearance of your search ads in the SERPs and how they impact conversions.
10 Google Ad Extensions to Improve Conversions
Sitelink Extension

Image: Google Search Ad with Sitelink Extension Added
How it Works: The Sitelink extension allows advertisers to include additional links to pages on their website when ads are displayed in the search results. For best results, these pages should be thematically linked to the overall content of the ad. Not only does the Sitelink extension increase the amount of real estate that your ad gets on the search results page, but you're also able to offer users direct links to additional relevant resources on your website. This has been shown to improve CTR and even led Google to start including site links automatically on some of its highest-ranking search results.
Callout Extension

Image: Google Search Ad with Callout Extension Added
How it Works: The callout extension is similar to the Sitelink extension except for two key details. First, you'll notice that each callout is separated from the others by a small dot – that's the quickest way to identify when the callout extension is being used. The second difference is that the callout extension allows for extra text, but does not allow links directly to your website. Still, callouts give you additional real estate on the page where you can highlight key services, features and benefits that your business offers.
Call Extension

Image: Google Search Ad with Call Extension Added
How it Works: If your campaign goal is to have prospects call in for a consultation or book an appointment, why not add the call extension and display your phone number right alongside your advertisement? That way, anyone who sees your ad can dial your number with a single click from either a desktop computer or on their mobile device. We love this extension because it allows prospects to skip entire portions of your marketing funnel and engage you directly with a phone call – that way, you can start turning them into customers even faster.
Promotion Extension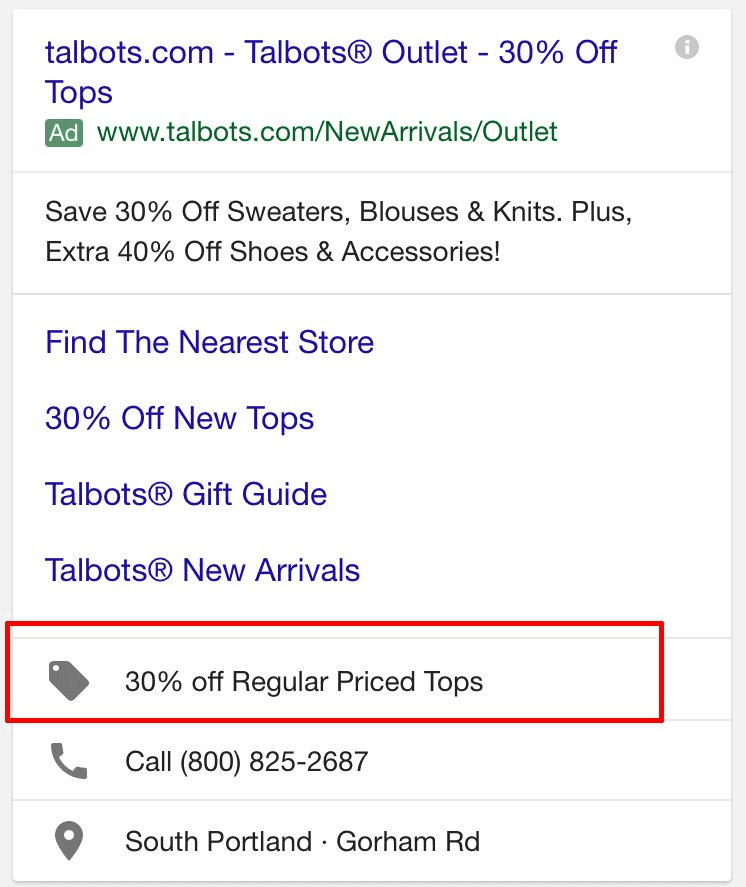 Image: Google Search Ad for Talbots Outlet with Promotion Extension Added (Source)
How it Works: When you see the grey shopping tag on a Google Ad, from now on you'll know that they're using the Google Ads promotion extension. This extension allows you to offer a coupon for a product or service on your website that's visible directly on your ad, which further encourages prospects to visit your page. You can choose an occasion to promote from your Google Ads account, with available options that include Boxing Day, Black Friday, Cyber Monday, and plenty more.
Folks love a good sale, and they're more likely to click on your advertisement when you offer a great deal using the promotion extension.
Location Extension

Image: Google Search Ad with Location Extension Added
How it Works: Are you hoping that users who see your ad will visit your business in person? That's more than a good enough reason to start using the location extension so you're more likely to be found by customers in your area. If you publish your business address or map on your website, Google may automatically implement the location extension on your ads to help users find your business more easily.
The location extension is great for marketing local businesses, especially restaurants, local trades professionals and in-person services like massage therapy or pet grooming.
App Extension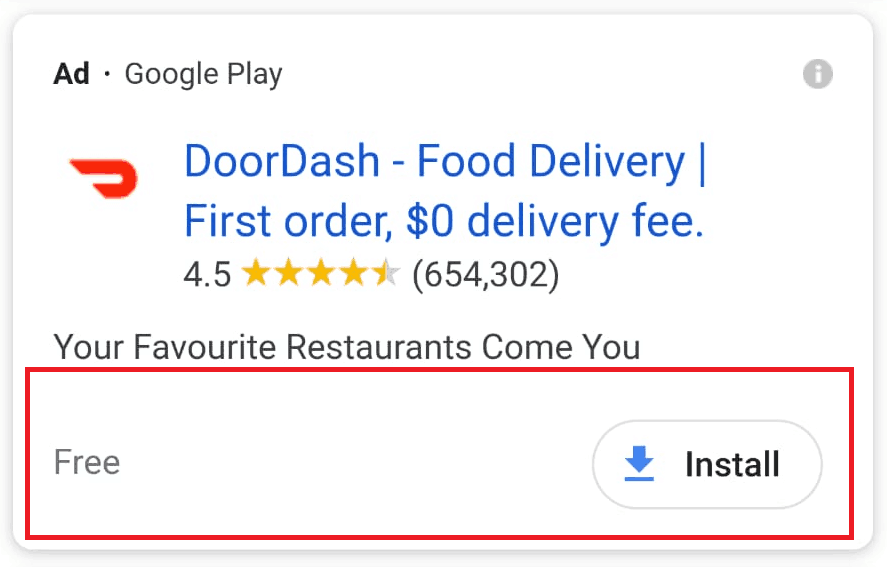 Image: Google Search Ad with App Extension Added
How it Works: If the success of your marketing strategy depends on getting your customers to download an app, the Google Ads app extension is a great way to help streamline the process. App extensions only show for users that are on mobile and they ensure that anytime someone sees your ad, they have a one-click install option for installing your application.
Google even knows how to route users to either the App Store or to Google Play depending on their device. This is another example of shortening the sales funnel with an extension that encourages users to fulfill your campaign goals.
Price Extension

Image: Google Search Ad with Price Extension Added
How it Works: If you sell products or services online, you may want to advertise individual products and services directly on your Google search ads. With the Google Ads price extension, you can highlight up to eight products on your website, along with pricing and a short description for each one. This is a great place to highlight the best deals in your eCommerce store.
When you configure 8 price cards using the price extension, users can scroll horizontally through the different options. This means they'll engage more with your ad and they're more likely to find an exciting deal that prompts a visit to your website.
Seller Ratings Extension

Image: Google Search Ad with Seller Ratings Extension Added
How it Works: Wondering how to set up the seller rating extension for Google Ads? This ad extension is actually automated, so Google will decide when and how it gets applied to your Ads. To create your seller rating, Google aggregates post-consumer reviews about your business from Google Customer Reviews, Trustpilot, Verified Reviews, and other accredited sources. Once you've earned 100 unique reviews with an average star rating of at least 3.5 in a specific country, Google may start including a seller rating when your ads are displayed to users in that country.
If you're having trouble getting seller ratings to show on your ads, try reviewing your bidding strategy and improving your quality score to increase your ad ranking. You can also check on which review sites Google has verified here: About seller ratings ad extension.
Message Extension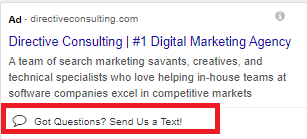 Image: Google Search Ad with Message Extension Added
How it Works: The message extension is ideal for PPC campaigns where an acceptable end result is that you get a text message from the prospect. Message extensions only show for users on mobile, but when they do, users have a quick and convenient way to contact you with their questions about your products and services.
The message extension is ideal for service providers in all industries that offer personalized, customized services with lots of input from the customer. Marketing agencies, financial service providers, tradespeople and contractors can all benefit from an ad extension that puts them in direct contact with prospects more frequently.
Structured Snippet Extension

Image: Google Search Ad with Structured Snippet Extension Added
How it Works: The structured snippet extension is defined by three elements: the definition of a category (in the example above, the category is "courses"), a colon and a list of products or services in that category. Google Ads allows you to choose from a list of available categories for your structured snippet. Instead of courses, your structured snippet can list amenities, brands, destinations, featured hotels, shows, styles or any of several other options. The key is to ensure effective matching of products and services with your chosen category and keep it short so it looks great on mobile.
Structured snippets look similar to callouts and sitelinks, and while they don't include additional links to your site, they do give you more ad space and the opportunity to highlight items within a product or service category that might appeal to your target audience.
Summary
Thanks for checking out our list of 10 Google Ad extensions that improve conversions!
The best thing about these Google Ad extensions is that they've been shown to increase CTR and conversions when implemented by digital marketers – the second best thing is that they're all absolutely free!
Start using Google Ad extensions today and watch your PPC campaign successes soar to new heights. For additional insight, book an intro call with the best PPC agency in the SaaS industry.
Keep reading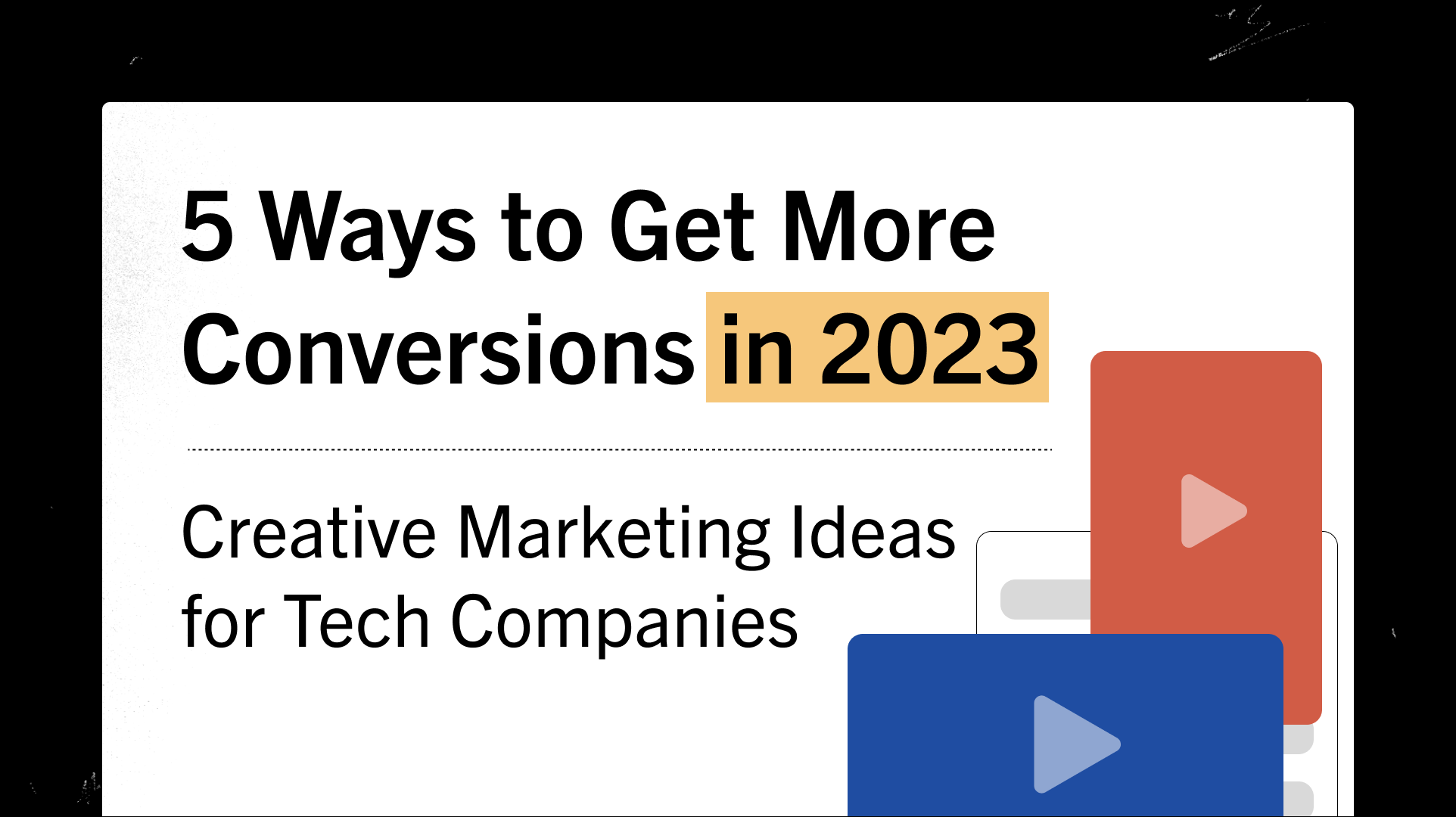 Content Marketing
5 Ways to Get More Conversions in 2023: Creative Marketing Ideas for Tech Companies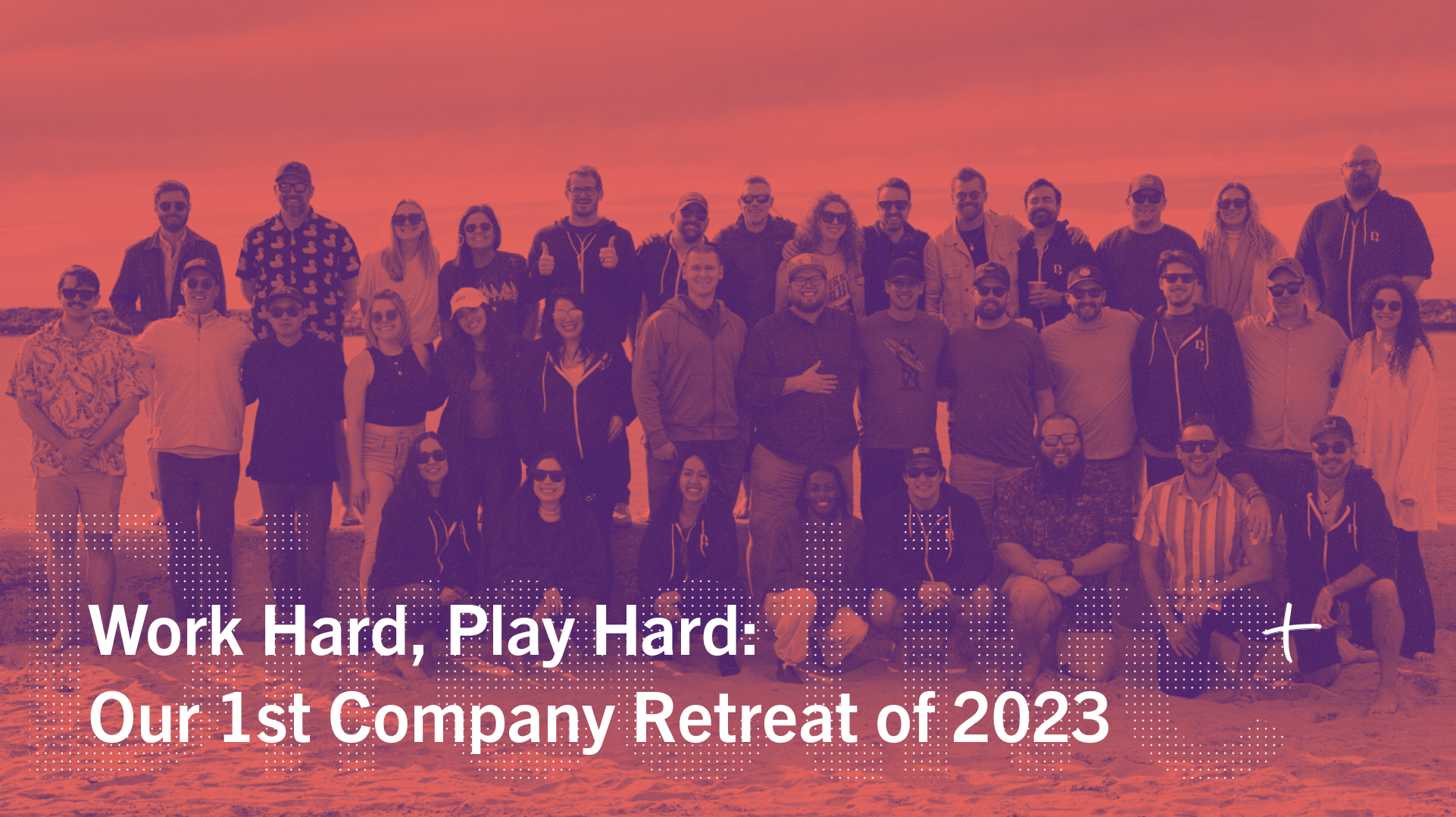 Events
How to Host Impactful Company Retreats as a Remote Team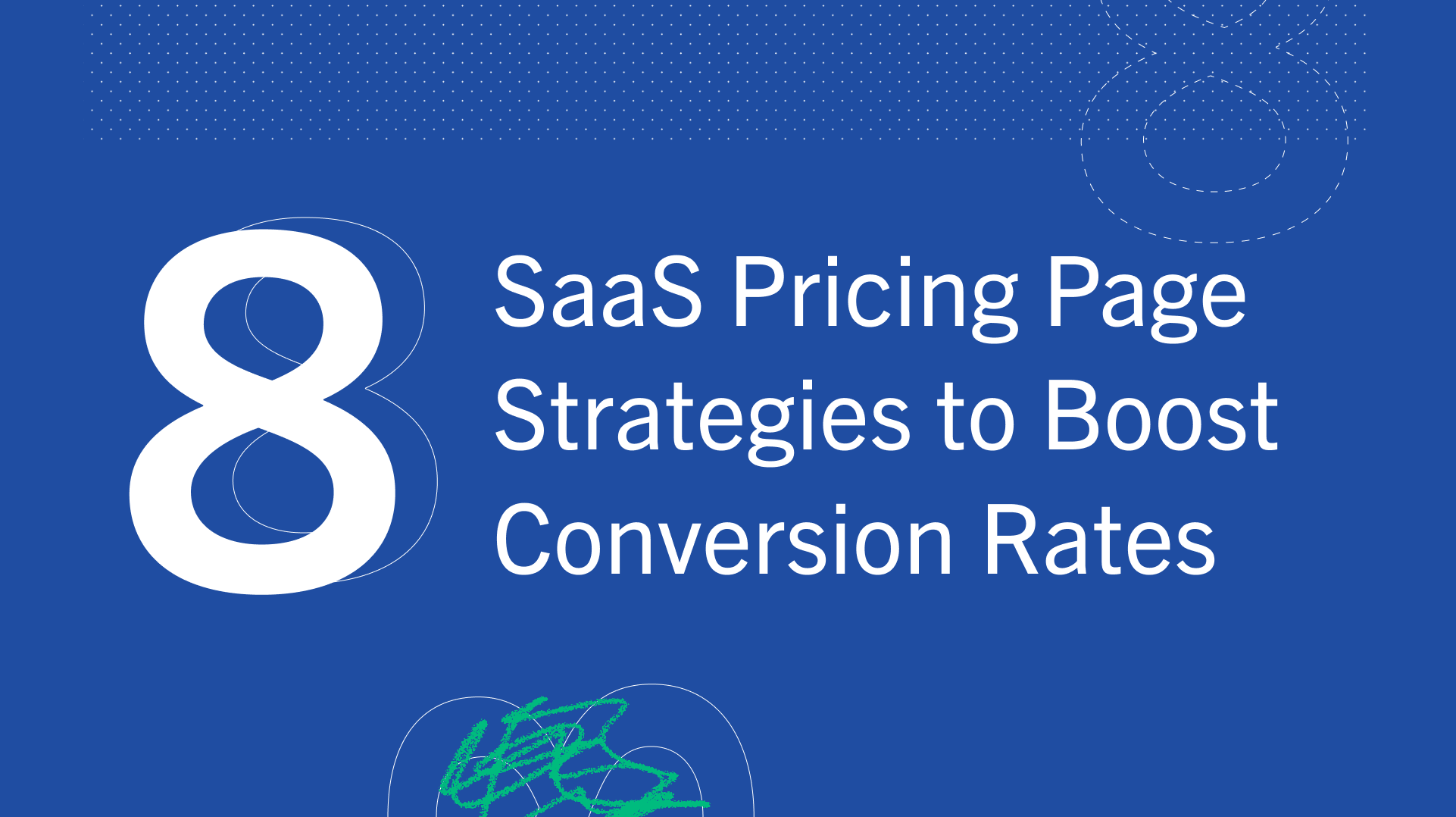 B2B
8 SaaS Pricing Page Strategies to Boost Conversion Rates