How Do I Know if a PPC Course is Right for Me?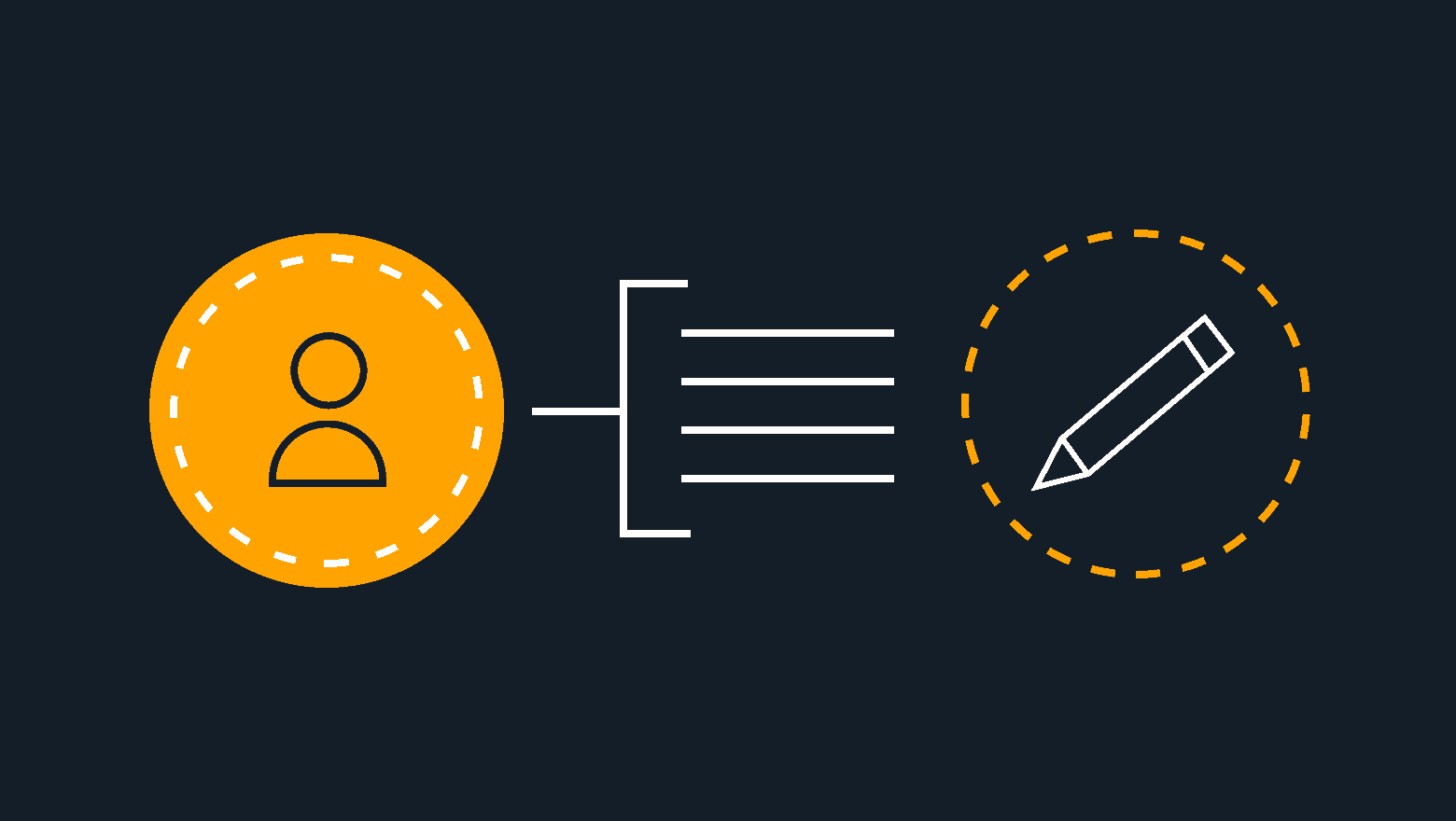 Are you looking for a PPC course that can help you develop new skills or even launch a career in pay-per-click advertising?
Type the phrase "PPC Course" into Google and you'll encounter a range of PPC courses, ranging in price from absolutely free to 100% outrageous.
You'll find paid advertisements from course platforms using lame pricing gimmicks (90% off!) to sell "first-rate" courses that always seem to have second-rate reviews. You'll find websites promoting in-person advertising boot camps, subscription-based courses, and courses sold by a man standing in front of a Lamborghini (who can help you get there too, if you'd only buy the course).
Among all of that, you'll also find genuinely credible PPC course creators with strong credentials, who are willing to share their trade secrets – but how can you make sure you pick the right one? How do you really know which PPC course is right for you?
To help you decide, we've put together this seven-item checklist that you can use to find out your chosen PPC course is really right for you.
How Do I Know if a PPC Course is Right for Me? Seven Ways to Decide
Evaluate Course Content & Tool Coverage
When evaluating a PPC course, the first thing you should look for is a course syllabus, a table of contents, or some other overview of the course content. A comprehensive PPC course should include lessons or modules that cover all important aspects of launching and managing a PPC advertising campaign, including:
In addition to the subject matter and topic coverage, you should also ask questions like:
How is the content presented? Is it in a text format, or in videos? Are images and multimedia used to convey complex ideas?
Is the PPC course content targeted towards beginners, intermediate students, or advanced PPC practitioners?
Does the course present a proven process with examples and opportunities to gain practice experience?
Are the lessons taught using the most relevant and applicable PPC tools and platforms, such as Google Ads?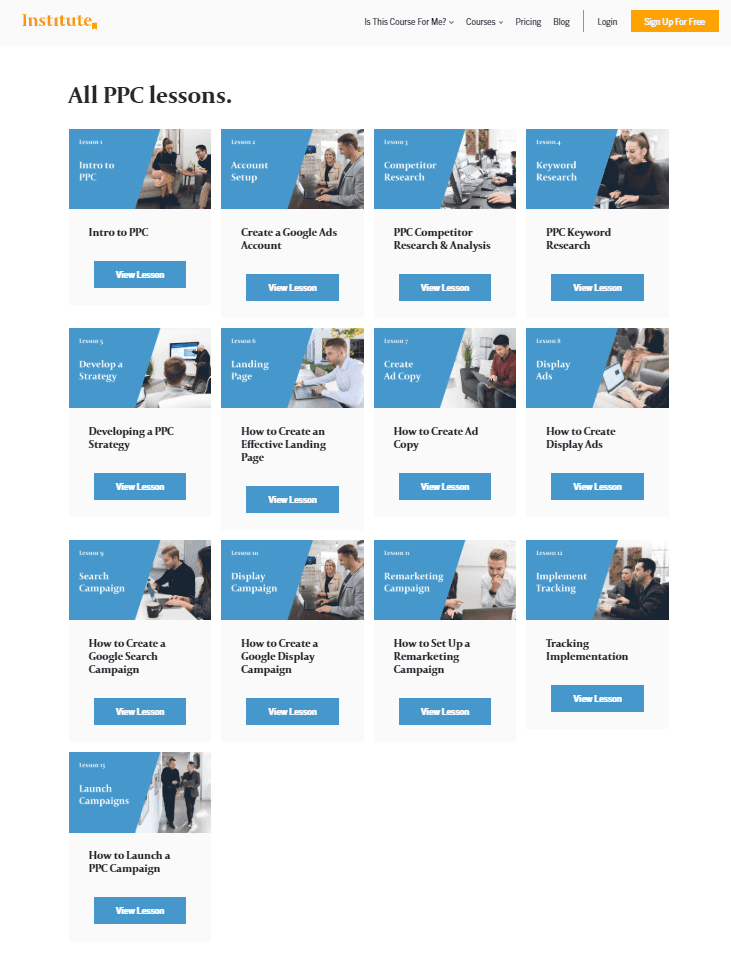 Image: PPC course content on Directive Institute
Research the Course Creator
Before you click "Buy Now" on any PPC course, you should do some background research on the course creator to verify their credentials and ensure that they're worthy of your trust.
Unscrupulous marketers may openly advocate PPC tactics that violate terms of service on major ad networks and can result in your advertiser account being banned or suspended from Google Ads.
Here's what to look for when researching the creator of a PPC course:
Identify the individual or company that created the course.
Check out their website and social media profiles to make sure they're a real person or company.
Read other content published by the course creator to see if it's relevant and helpful.
Look for evidence of engagement between the course creator and other members of the PPC community.
Use an SEO software tool to research the course creator's website. See if they've received links from other reputable websites.
Read Case Studies & Customer Success Stories
Reading case studies and customer success stories is one of the quickest and easiest ways to determine whether a company is trustworthy before you decide to purchase their course.
Check the course creator's website for any case studies demonstrating successful, real-world application of pay-per-click advertising techniques. Look for specific descriptions of services they provided, who the client was, and what outcomes were achieved.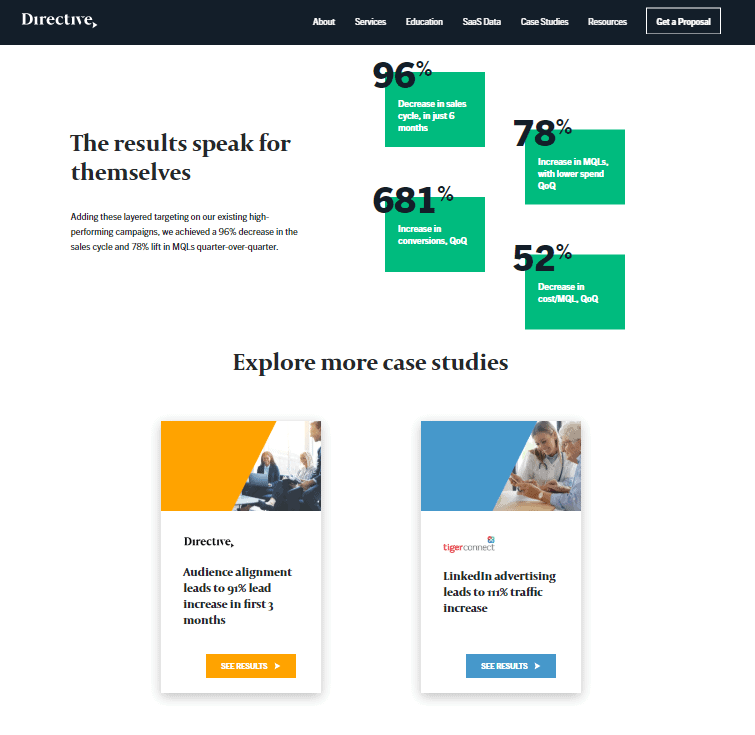 Image: Explore case studies and customer success stories to find out how the creator of your chosen PPC course leverages their insights into real-world actions that get results.
Check for Certifications
Before you purchase a PPC course, you should have some idea of what your goals are in paid advertising. Are you hoping to market your own products and services? Work for an agency? Join an in-house marketing team? Start freelancing?
Understanding your ultimate goals will help you decide which course features are the most important for you, and which ones you can do without.
From that perspective, it's important to see whether a course you're considering offers a certification. A course completion certificate can be printed out and added to your resume or employee file to help advance your career – but if you're an independent business owner, you may care more about generating real results than about obtaining a certification.
Read Reviews & Testimonials
Reviews and testimonials can help you figure out what to expect from a PPC course before you spend your hard-earned money.
Remember, testimonials are usually posted by the course creator, while reviews are written by users and submitted to review aggregator sites. Reputable review sites actually verify that the customer reviews they post are correct, while course creators may perceive an incentive to post false testimonials as a shady marketing tactic.
Either way, reading reviews and testimonials can help you gather insight into the course through the experiences of others, even revealing new features and benefits that weren't highlighted by the course creator in the published course description.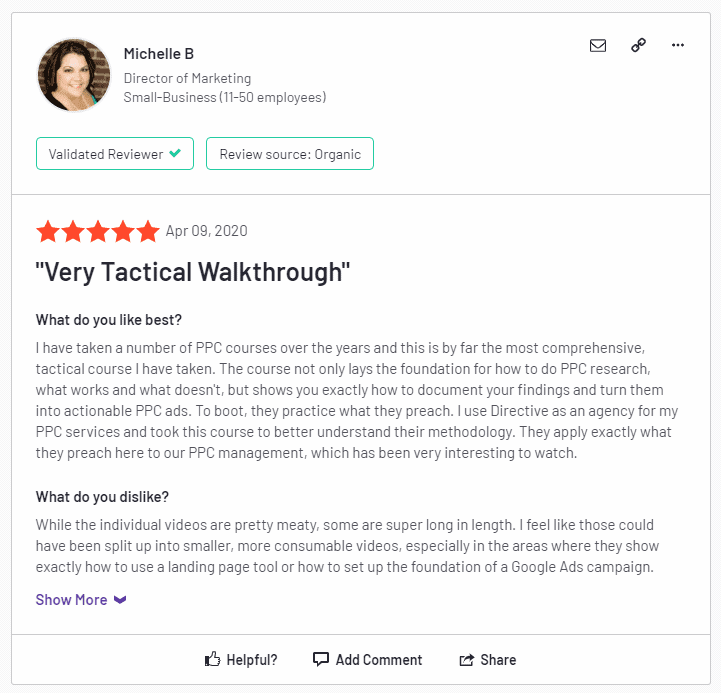 Image: Customer reviews can yield valuable insights into a PPC course before you decide to purchase.
Review Pricing & Access Terms
Every PPC course is different, and one of the main differences you'll notice when comparing courses is that they all come with different price tags and access restrictions.
Pricing & access terms are set by the course creator, may be influenced by the platform through which the course is marketed, and have a significant impact on your overall course experience.
We looked at several PPC courses to see how their pricing & access terms compared to overall quality: one course consisted of lifetime access to a single 45-minute video for a one-time fee of around $20. Another offered 20 hours of video for a one-time fee of nearly $300. A third course creator was marketing access to a PPC course with 10 lessons for $99/month on subscription.
In general, we'd recommend choosing a PPC course that offers lifetime access to an amount that makes sense for you financially.
Try a Free Sample
If you're not sure whether a PPC course is right for you, why not try a free sample?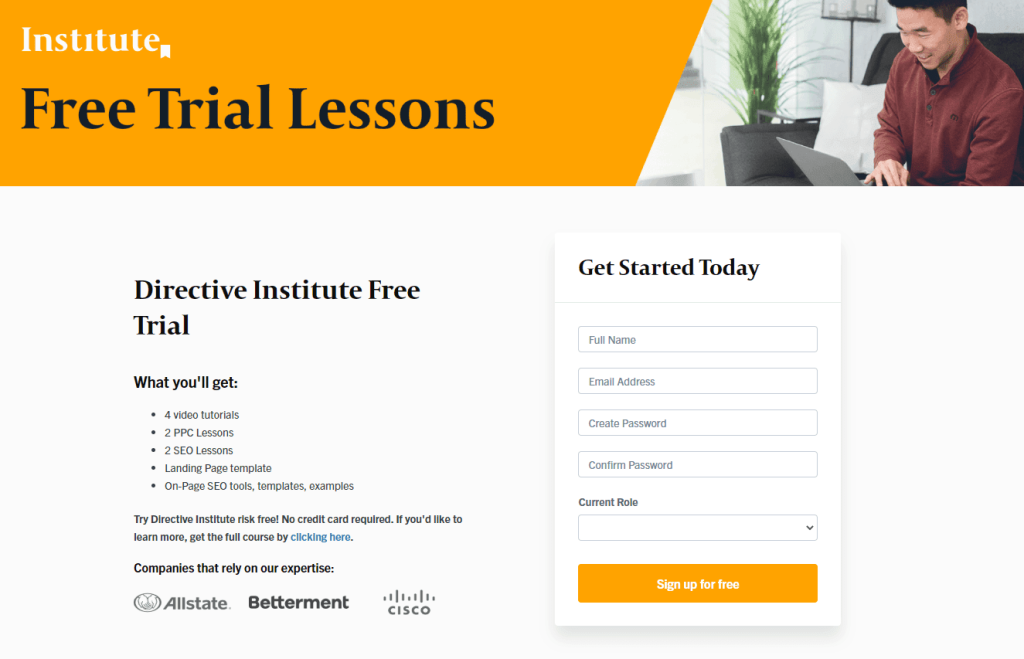 Image: Our PPC course combines industry best practices with Directive trade secrets to give you a leg up against the competition.
The best PPC course creators show confidence in their product by providing a free trial so you can experience the lesson quality and thoroughness for yourself before purchasing.
Summary
Thanks for checking out our quick guide to determining whether a PPC course is right for you!
We hope this guide inspires you to choose the very best PPC course that can help you achieve your goals and build a better future with digital marketing.
Keep reading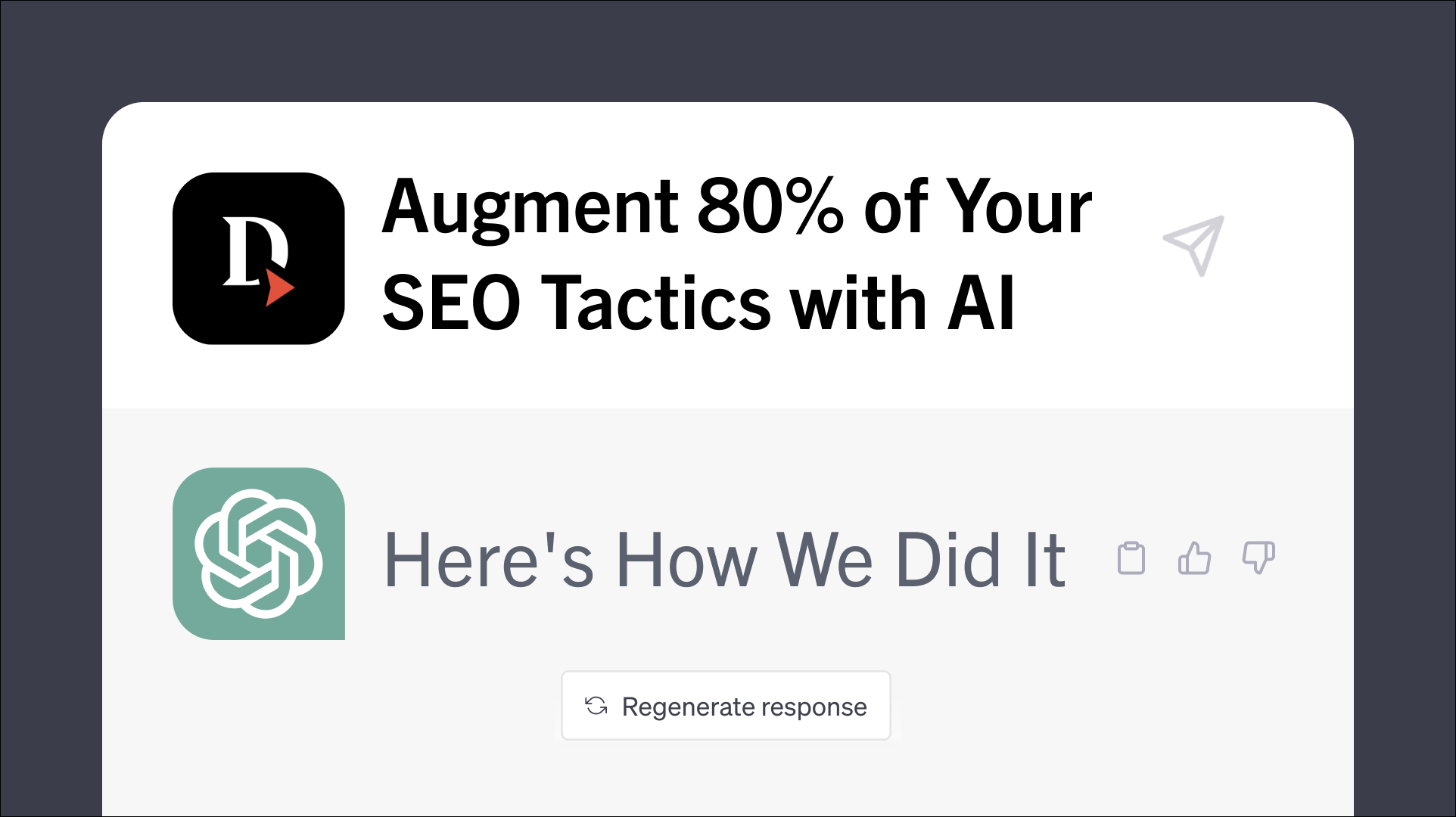 Blog
Augment 80% of Your SEO Tactics with AI. Here's How We Did It.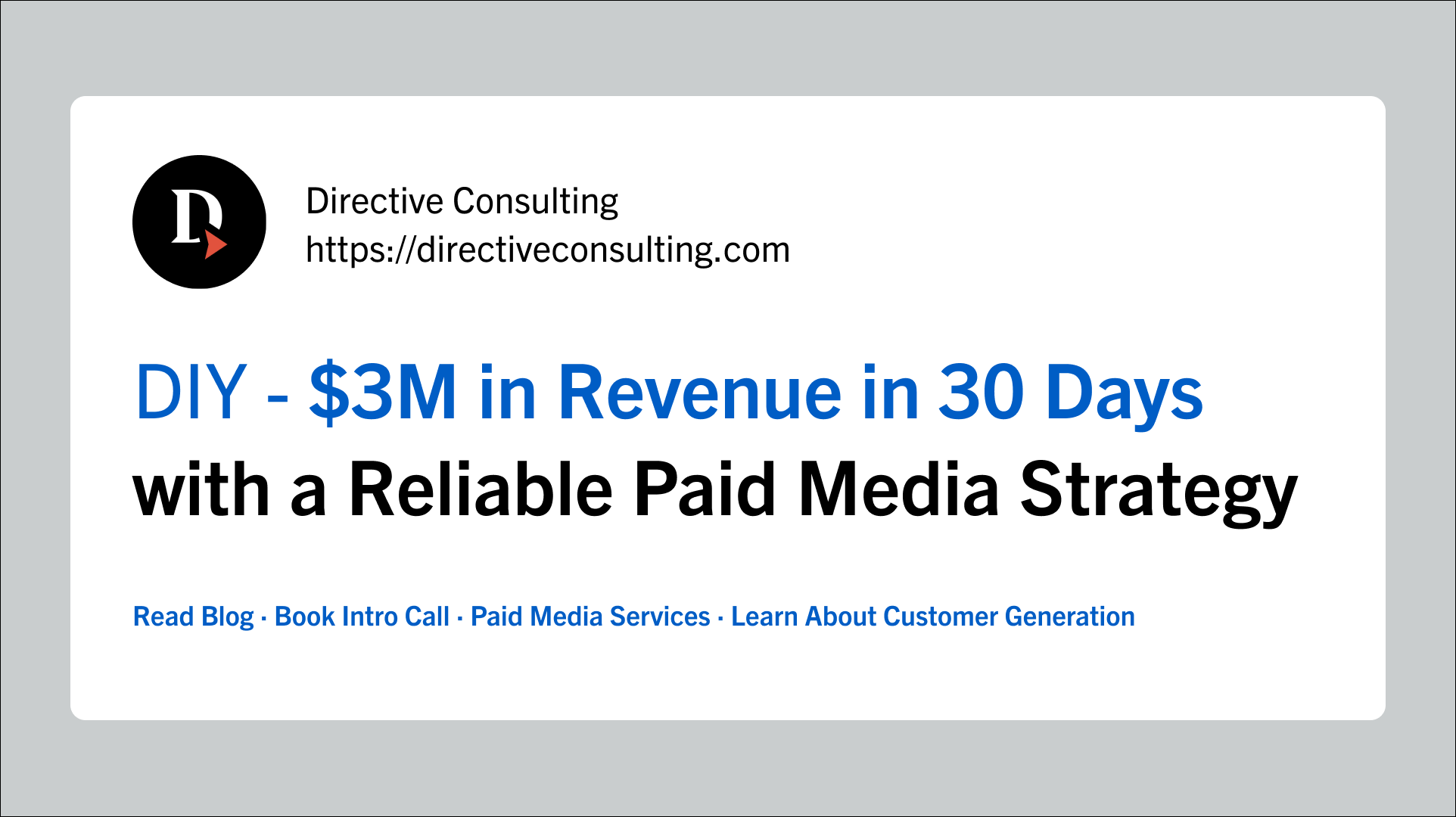 PPC
DIY: $3M in Revenue in 30 Days with a Reliable Paid Media Strategy
Social Media
Boost Your LinkedIn Engagement by 22% with These 3 Content Types