What is SEO Writing? [The Essential Guide]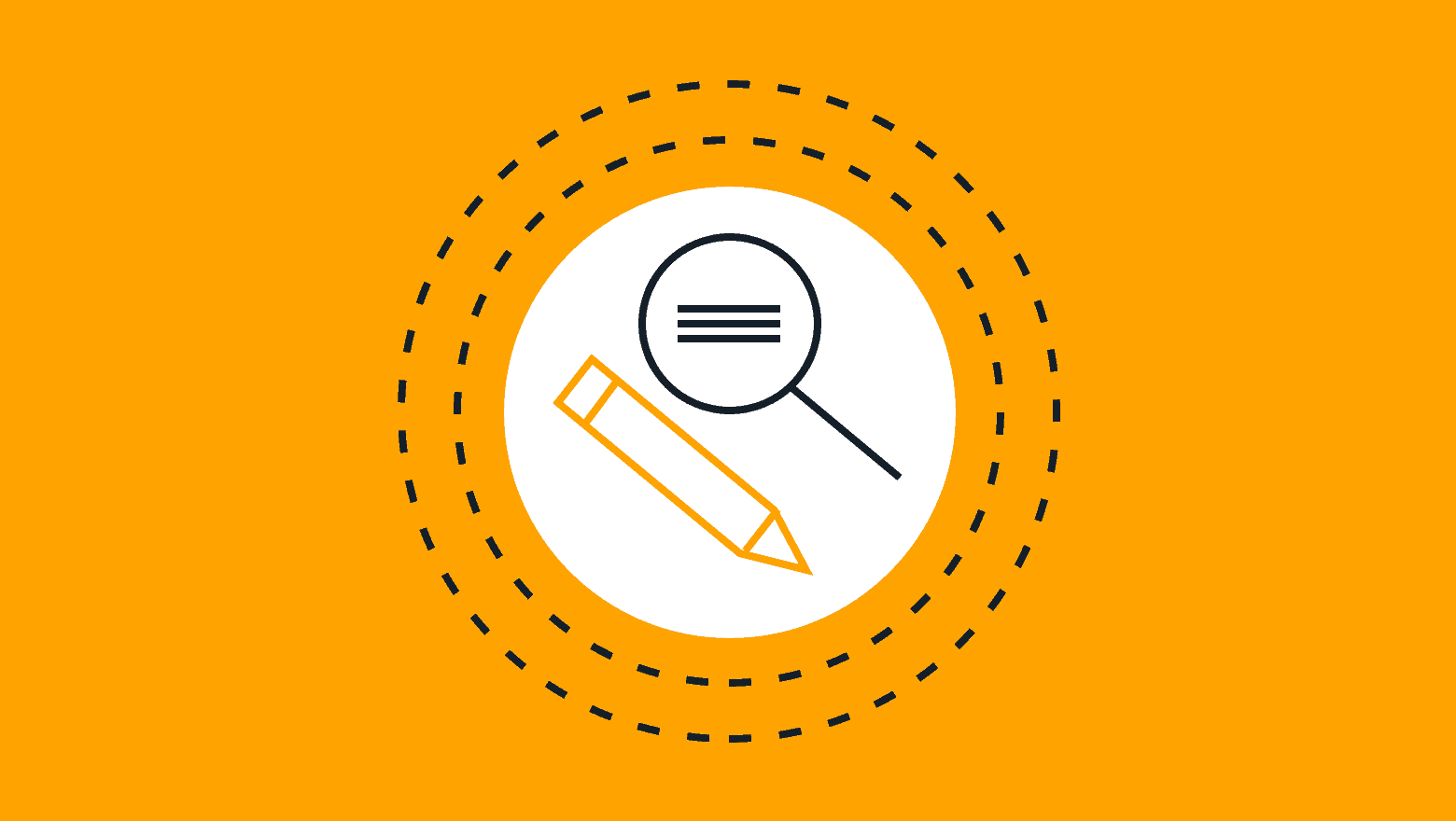 SEO writing is an essential skill for digital marketers involved in developing web content for organic search.
If your content marketing strategy depends on generating organic traffic from the search engine results pages (SERPs), learning how to write content that ranks by following SEO writing best practices should be one of your top priorities.
What is SEO Writing?
SEO writing has a unique purpose: to produce pieces of content that rank highly on search engine results pages and bring free, relevant organic traffic to your website.
To understand SaaS SEO writing, digital marketers should familiarize themselves with how search engines like Google rank content in their search results.
Google uses web robots known as crawlers to index every page on the Internet and determine its theme and subject matter. When a page has been indexed and analyzed, Google can return that page as a search result for queries that it thinks are relevant.
Google's algorithm evaluates more than 200 different on-page and off-page ranking factors to determine how your website will rank in its results. Effective SEO writing ensures that Google's algorithms can correctly interpret the theme and subject matter of your page, as well as the value of your content to your intended audience.
This maximizes the chances that Google will choose to rank your web page highly for your targeted keyword.
Another important component of SEO writing is user experience. By tracking the behavior of users through the Chrome Browser, Google collects data on how users interact with your website. If your content is low quality or not very engaging, Google will factor that into your rankings and your content will perform poorly – even if all of the keywords are in the right places.
To help you get started with SEO writing for your website, we've outlined the exact process that we've used countless times to optimize content and push our web pages to the top of the SERPs.
SEO Writing Process: How to Write Content that Ranks
Our SEO writing process is divided into two parts: content research and content creation. Content research deals with the development of specifications for organic search and content marketing plays, while content creation deals with SEO writing optimizations that are implemented during the writing process itself.
Content Research
Keyword Research
The first step to effective SEO writing is keyword research.
Each piece of content that you publish on your web domain with a separate URL should be optimized around a single specific keyword that you wish to rank for. If more than one page of your website is optimized for the same keyword, you'll end up competing with yourself for rankings – this is sometimes called keyword cannibalism.
Keyword research is the process of discovering new keywords, analyzing their search volume and competition, and choosing a keyword to target with your new piece of content that is not already targeted by a page on your website. A great way to start is with the Google Keyword Planner or WordStream Keyword Tool.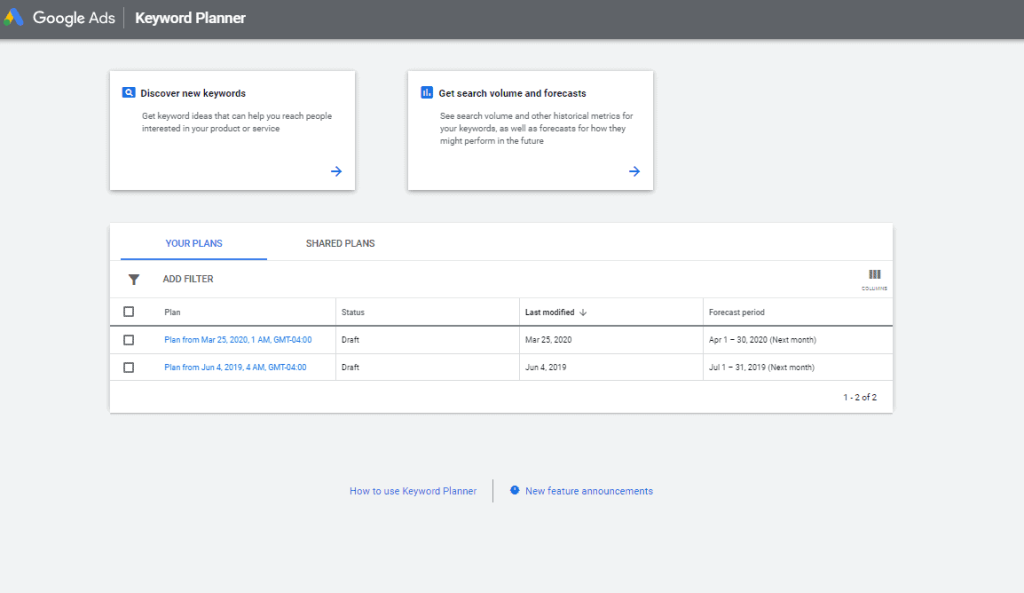 Image: Discover new keyword opportunities with the Google Keyword Planner
Search Intent Targeting
Google's algorithm tries to understand the intention behind searches and direct users to the content most likely to meet user expectations and satisfy search intent. Google has identified four major search intentions that underlie the majority of searches on its platform:
Informational –> The user is searching for information about a topic
Navigational –> The user wants to be directed to a specific page
Commercial Investigation –> The user is interested in reviews or comparisons for a desired product/service
Transactional –> The user is ready to purchase and is looking for the most convenient place to purchase from
In addition to focusing on a specific keyword, your content should be optimized to satisfy one of these search intentions.
Topic Selection
If you've chosen a keyword and search intent to target, you're ready to move on to topic selection. This is where you can get creative, but the most important point is to choose a topic that resonates with your target audiences and solves their problems.
Through the Chrome Browser, Google captures user engagement data from visitors who land on your web site after clicking on your page in Google search results. If visitors have a low bounce rate or a lengthy browsing session across multiple pages, Google sees this as a positive user experience and is more likely to rank your website highly in the future. If users bounce from your page at a high rate, your rankings will suffer as a result.
To make sure users stick around and read your content after landing on the page, make sure that the topic of your content is aligned with the search intent of the user.
Content Benchmarking
Now that you've chosen a topic, it's time to do some competitive intelligence and content benchmarking.
Type your focus keyword into the search bar of your favorite search engine and open up all results on the first page. For the ten highest-ranking pages, do the following steps:
Paste the entire page text into a word processor and make a note of the total word count.
Delete all of the article text except for the headings and subheadings so you can see a general outline of what's covered in that piece of content.
Take note of any related keywords that appear frequently across the top-ranking articles.
Once you have done this for all ten articles, you should have a good sense of what kind of content is covered in the top-ranking content pieces for your focus keyword. You should aim to produce content that is:
More comprehensive, useful, detailed, actionable, and oftentimes longer than any of the other articles on the first page.
Rich in keywords that are related to your focus keyword and present in top-ranking articles
Instead of doing your own analysis and developing your own benchmarks, you can automate this process using the SEO Content Template feature offered by SEMrush.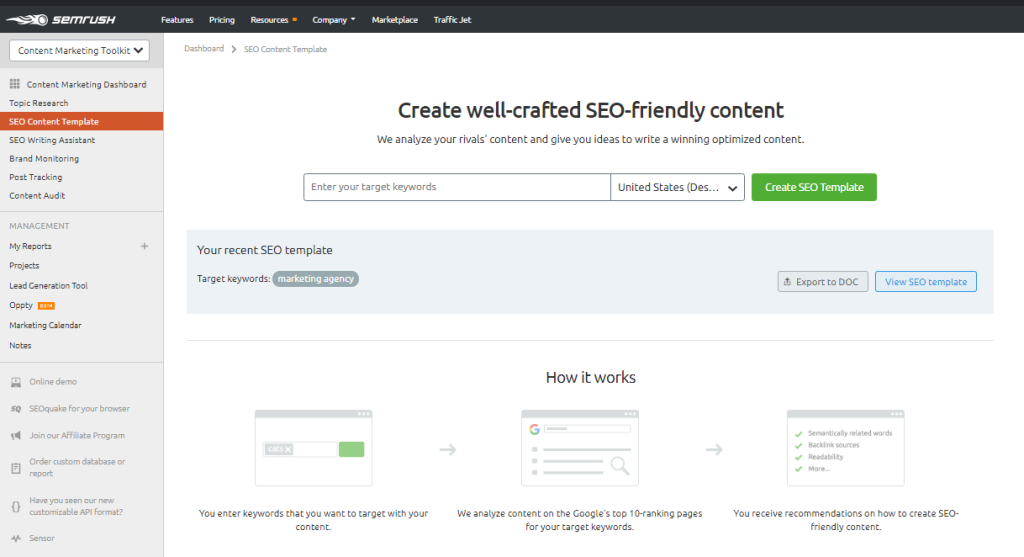 Image: SEMrush SEO Content Template
Creating an Outline
At this point, you should be prepared to create an outline or content brief for your new publication with the following requirements:
Length (total word count)
Focus keyword targeting
Search intent targeting
Topic/Working Title
Content structure (Headings and Subheadings)
Related keywords
A content brief contains all of the specifications for your SEO writing project. Its purpose is to ensure that the person writing your content produces work that reflects the research you've gathered up to this point.
Creating an outline is the final step of the content research process – now it's time to create content using SEO writing best practices.
Content Creation
The content creation process is different for everyone.
As a digital marketer, you may choose to do your own SEO writing to support content marketing projects. Some marketing teams have in-house writers or content creation capabilities, while others depend on outsourcing and Freelancers to deliver content creation services.
Whichever approach you choose, a detailed content brief will ensure that the content is produced according to your specifications.
Keyword Optimization & Related Keywords
To help ensure that search engines rank your content for the appropriate keyword, it's important to include your focus keyword throughout the text of your content and utilize on-page SEO best practices. Your focus keyword should appear in:
The page title, preferably at or near the beginning
The page URL
The first paragraph or first 100 words of your article
At least one heading or subheading in your article
Image alt tags
Another important factor is keyword density – the frequency with which you mention your focus keyword in a given article. We'd usually recommend using your focus keyword between 5-10 times per 1000 words of content. Any more and you could be penalized for "keyword stuffing".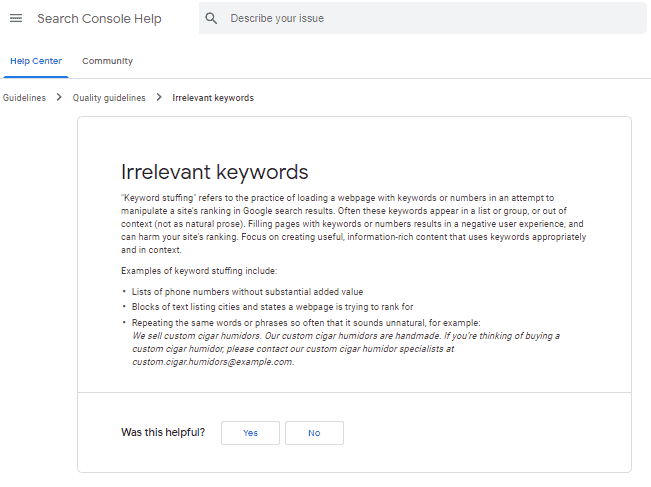 Image: Google warns digital marketers that irrelevant keywords can harm search rankings, and encourages them to use keywords in the appropriate context as part of useful, information-rich content.
In addition, keywords from your list of "related keywords" should be incorporated throughout your content.
Optimizing for Social Sharing and Promotion
Content Quality – Content quality includes factors like length, comprehensiveness, and the presence of images or visuals that provide something unique to audiences.
Originality – Search engines hate duplicate content. Make sure your content is original by running it through one of the many free online plagiarism checkers.
Usefulness/Value – If you make amazing content that's better than anything else available, your audience will be more likely to share it with their friends. This is where you'll reap the rewards of detailed keyword research and content benchmarks.
Optimizing for User Experience
Images, Video, Multimedia – Images and video provide a richer experience for users, making them more likely to stay on your page and boosting user experience signals that impact your search ranking performance.
Readability – Effective SEO writing needs to be easy to read. The best SEO writers avoid long paragraphs and break up information into shorter sentences, bullet lists and subheadings to make their content easier to digest. A software tool like Readable can help you audit your sentence structure and make sure your writing is easy to understand.
Spelling & Grammar – Spelling and grammar mistakes are a turn-off for both search engines and human users, so it's important to eliminate them from anything you publish with a tool like Grammarly Premium.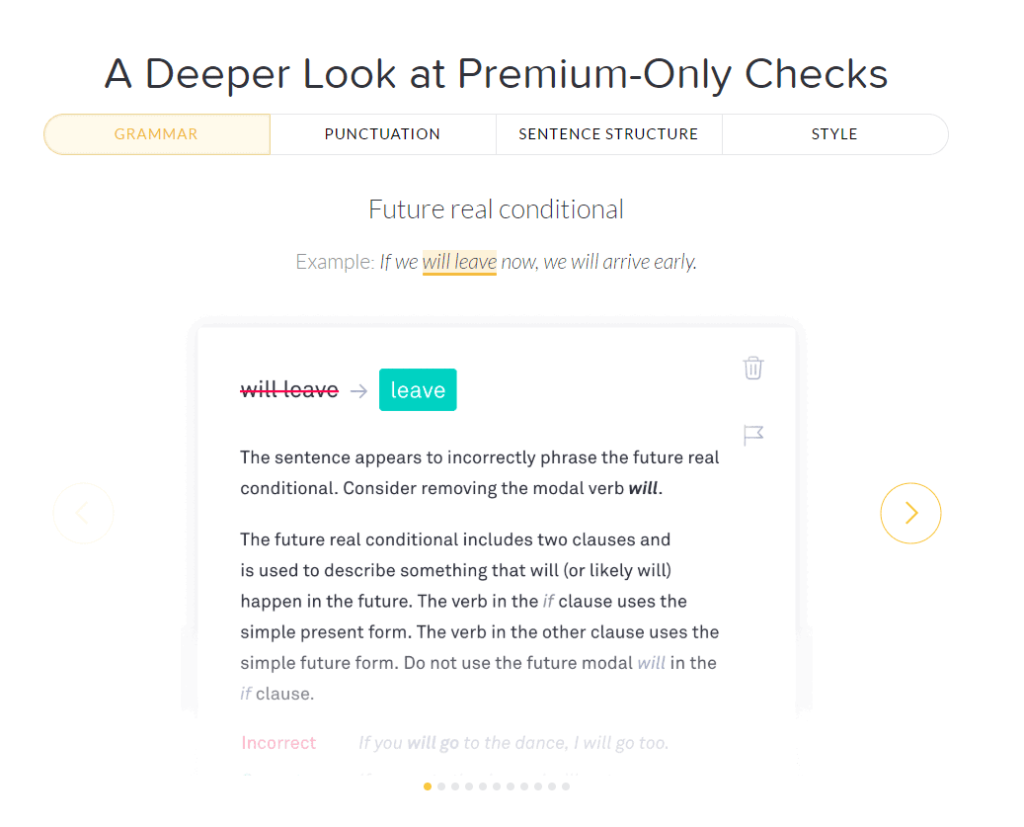 Image: Grammarly Premium offers the most advanced features to help you diagnose and rectify spelling and grammar errors that could impact your SERP rankings.
Writing a Winning Title Tag
At this point, you should have a completed piece of content that's been built around a focus keyword and optimized for user experience.
Next, it's time to throw out your working title and write a truly phenomenal title tag.
The title tag for your page will form the clickable portion of your Google search result and the default text for when your page is bookmarked or displayed in a browser tab or toolbar.
The most SEO optimized title tags usually have the following qualities:
Approximately 50-60 characters in length
Contains focus keyword near the beginning of the title
Is highly descriptive of the contents, subject matter, and theme of the relevant web page
Offers something of value, encouraging searchers to click through to the page from their search results
Adding Internal & Outgoing Links
As a final step in your SEO writing process, your article should include internal links to other pages on your website and external links to high-authority external websites.
Internal linking helps users navigate to other relevant content on your website and can pass ranking power from your best-performing pages to other pages that need a boost.
Linking to external websites that are considered trustworthy or authoritative in your niche sends trust signals to Google that encourage them to rank your pages more highly.
Summary
Thanks for checking out our essential guide to SEO writing.
By putting into practice the process and techniques outlined in this guide, we know you'll be able to produce content and blog posts that rank highly in the search engine results pages and capture valuable organic search traffic. Need additional support in creating optimized content? Get in touch with our SaaS SEO Agency to see how we can help.