Discover How One Piece of Strategic Content Leads to 27 Demo Requests in Five Months
Uncover the strategy behind an HR software leader's success in increasing overall search visibility, driving more organic traffic and bottom-of-the-funnel leads.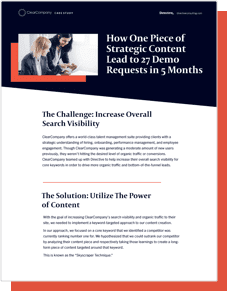 This guide will give you insights on how one piece of content can generate valuable traffic that converts.
Discover how we:
Generate demo requests
Generate 27 demo requests in 5 months through a blog article.
Gain SERP market share
Landed at the top of the search engines results page.
Generate quality links
Increased referring domains to 1,902.