10 B2B Marketing Plan Examples To Help You Stay Organized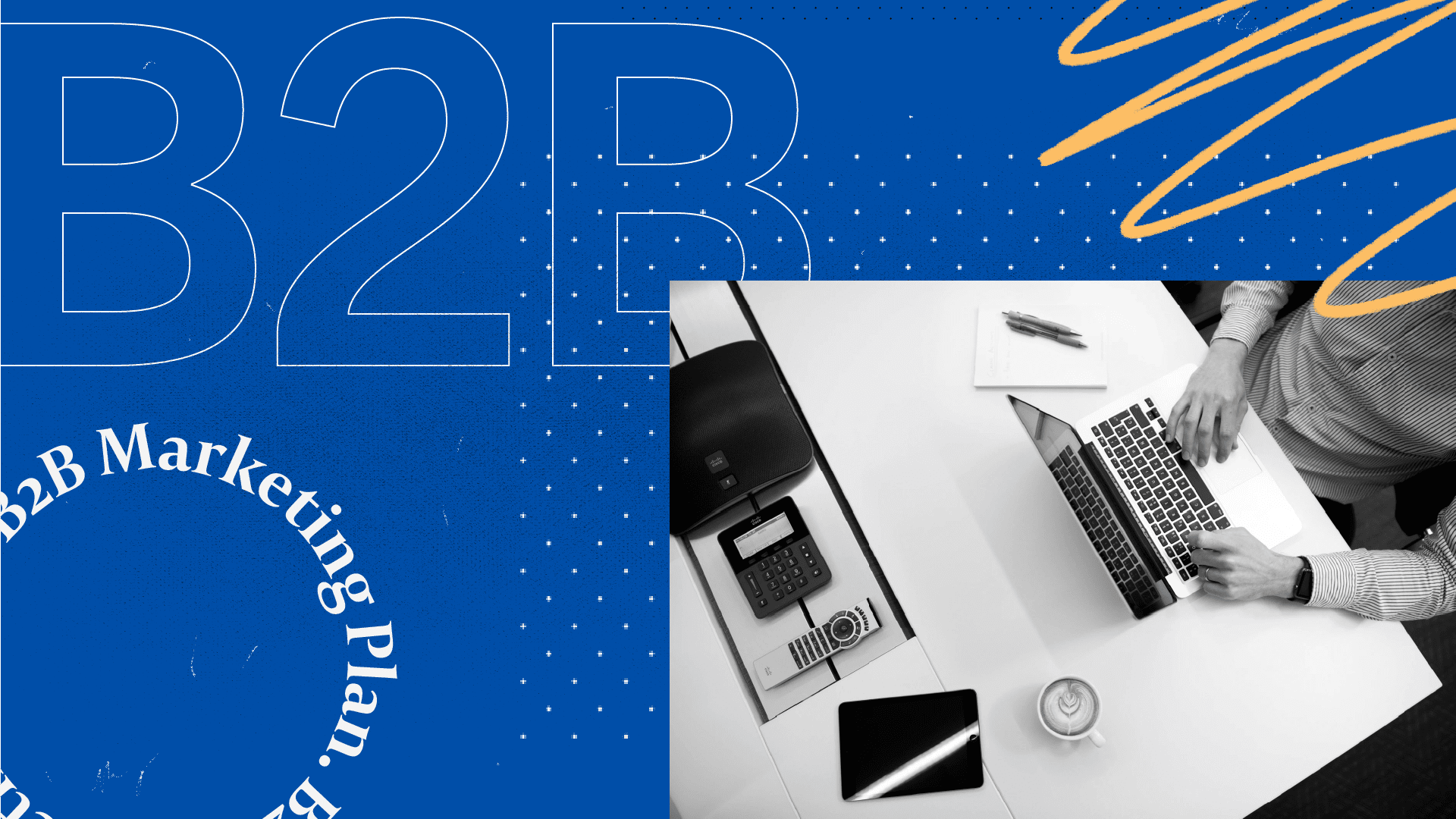 As complicated as B2B marketing can be—it's easy to get caught up in different B2B marketing strategies, channels, campaigns, and tactics. Having a plan is the best way to keep things secure and structured.
Whether your plan is meticulous, loose, or a combination of both, having that plan will keep you focused. Depending upon what market you are targeting, you will need a different mix of strategies and channels addressed in your marketing plan.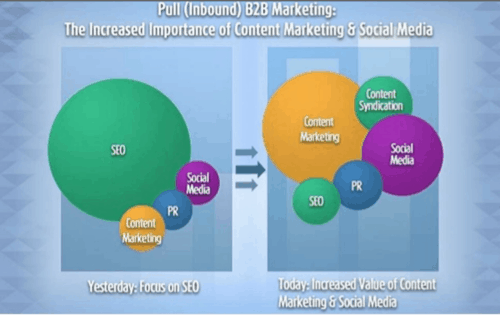 For B2B marketers, creating marketing plans is part of your job description. Your marketing plan dictates how your business runs as it helps develop content, timelines, etc. Developing content requires an understanding of your market's demand.
Market demand informs what content customers want to read—and this is informed by what questions (or keywords) they are typing into the search engines.
When you provide the content your customers are looking for, your business is more likely to grow.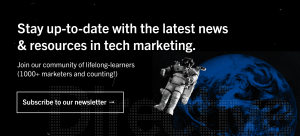 10 B2B Marketing Plan Examples to Inspire You
Of course, knowing where to start with your marketing plan can be a challenge. To help you find direction, we've rounded up ten marketing plan examples to help you stay organized.
#1: Brilliant B2B Digital Marketing E-book by Smart Insights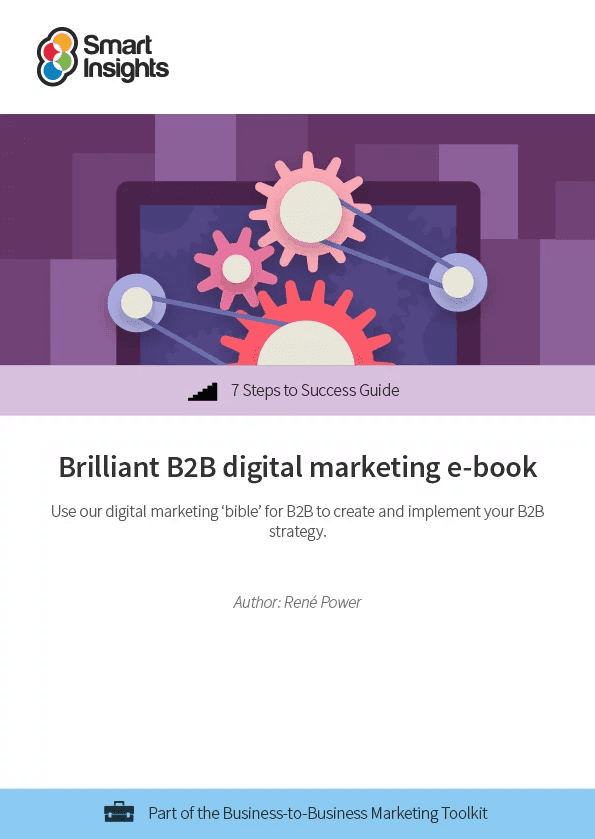 When looking for B2B marketing plans, a great place to start is with actually building the outline of the plan before deciding what tactics, strategies, and KPIs to fill it with.
Enter Rene Power and his Brilliant B2B digital marketing e-book. You'll find the critical questions you need to ask yourself and your company to understand your current position in the field.
Are you targeting the right keywords? Is your website built for the future?
Sometimes you need to start there before you can employ that killer email marketing strategy or clever viral campaign.
#2: Building an Email Marketing Strategy by Bronto
Developed by e-mail marketing consultant, Tamara Gielen, this plan is all about using email for marketing advantages. It focuses on creating a comprehensive plan that uses emails as primary market outreach.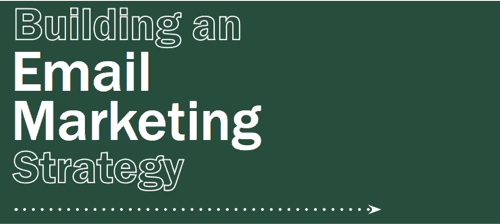 Email marketing utilizes customer outreach as a way to create focused content as well as grow your customer base. Perfect for marketers and market executives, this plan is strategic yet straightforward.
It's important to remember that different types of outreach follow different best practices. For instance, you wouldn't send the same copy in an email as you would a LinkedIn message. For email outreach, however, we've done an extensive amount of testing on how to increase response rates and closed/won opportunities.
For actionable tips on how to increase your response rate in your email outreach, you can read this post we wrote on how we improved our email response rates in our link building outreach campaigns.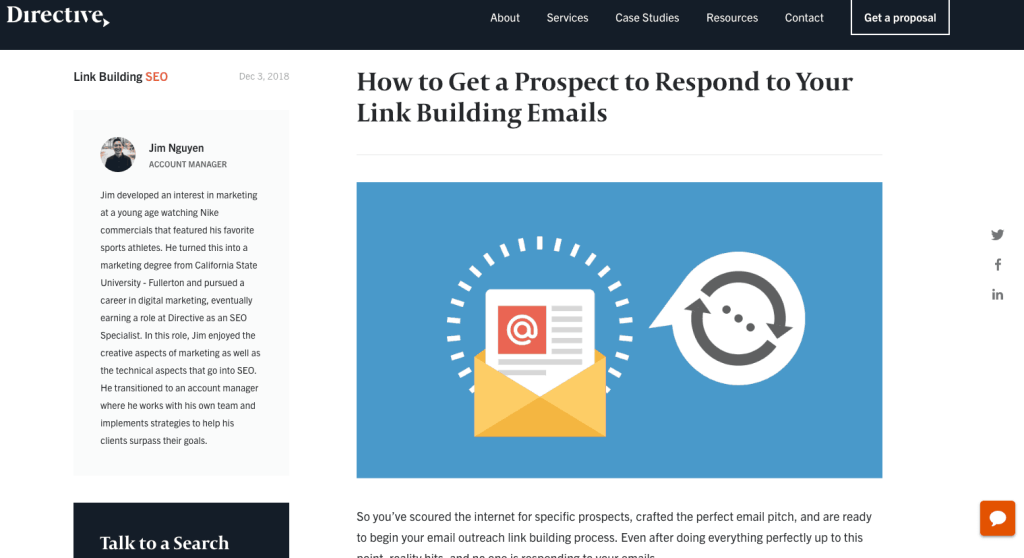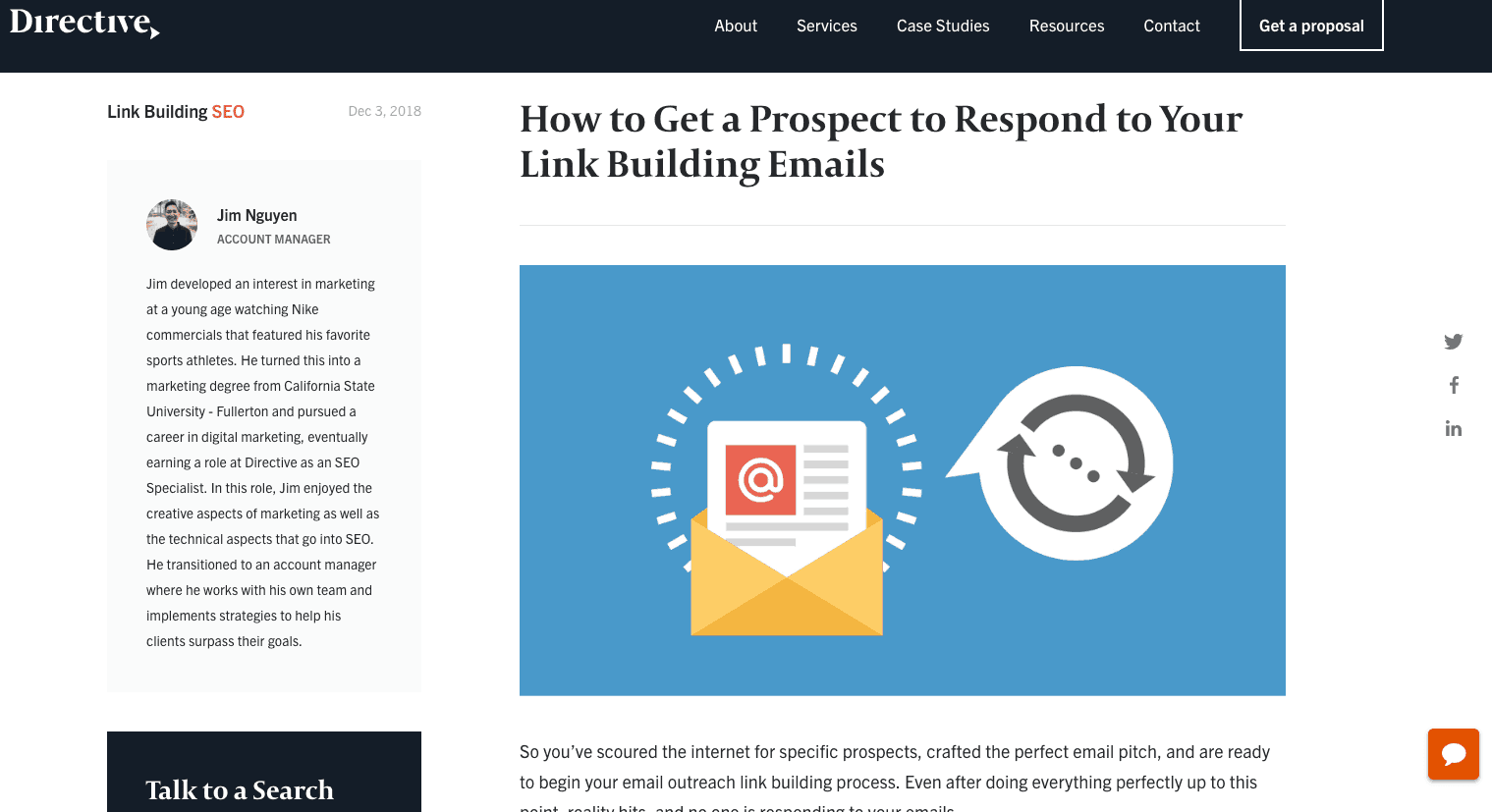 #3: The Four Step Marketing Plan for Ideal Campaigns
SJWeaver keeps it simple with their Four Step Marketing Plan for Ideal Campaigns. However, there is actually complexity under the hood, so we'll break it down into easy-to-swallow steps:
Step 1: The Unique Selling Propositions/Points
Step 2: The Platforms and Offers
Step 3: The Marketing Arsenal
Step 4: Marketing Automation
And if you're more of a visual learner, they've compiled some solid videos that break down each step into more detail:

While not purely focused on B2B, this marketing plan is great for anyone struggling to define their unique selling propositions or creating the automation needed to support their marketing.
#4: Brainrider's B2B Content Marketing Strategy Template
Detailed and easy to understand, this plan runs through B2B marketing basics. This tool provides a framework or "skeleton" for marketers to use as a template for their plans.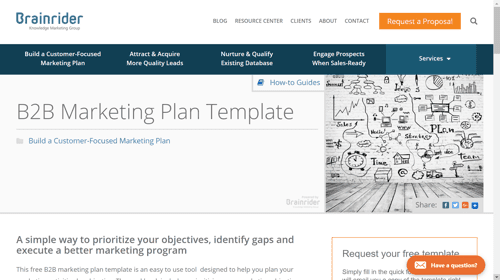 The plan runs through prioritizing objectives and articulating your business goals to customers. It also focuses on targeting your audience and finally creating content for them.
In short, this is another highly-customizable B2B marketing plan. As long as you've got the framework, there's no limit to what strategies you can test out, and start making a difference for your clients!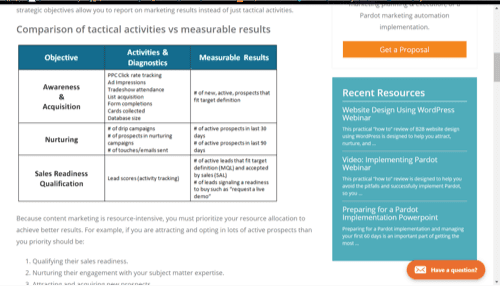 #5: The Complete Guide to B2B Marketing
When Salesforce decides to throw their hat into the ring, people listen. Their Complete Guide to B2B Marketing is a great piece for beginning marketers and expert executors alike, and it includes beneficial checklists and actionable worksheets to incorporate with your team.
Below, you will find an example of a "Call-to-Action Checklist," which is helpful for marketers to ensure that landing pages and blog content leave an impact and encourage their viewers to take action… every time.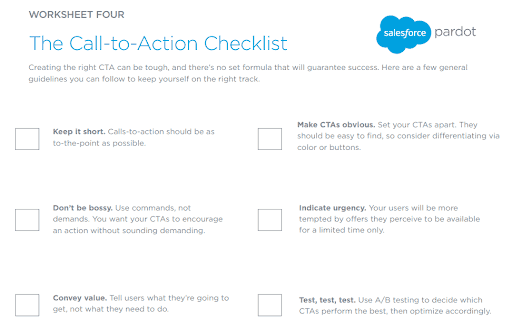 B2B marketing strategies sometimes focus too narrowly on one aspect of the funnel without taking a holistic approach to your entire philosophy behind your marketing. This marketing plan helps you understand models that marketers need to make a great plan, tests theories in a real way and then enables you to learn and grow from those same exercises.
It's a must-read for all B2B marketers and should become a roadmap for those losing their way in the digital world!

#6: Business-to-Business Marketing Summary by SAGE
The digital marketing template focuses mainly on the top internet marketing strategies.
The plan teaches readers to build a framework, communicate better, and also teaches many other skills that lead to successful B2B marketing. The most significant advantage of this sample plan is that it is widely comprehensive.
Different marketing strategy situations are explored. The most successful strategies are identified.
In short, this B2B marketing plan example hits all the right spots and won't leave you confused.
#7: B2B Marketing Segmentation by Circle Research
Compiled and created by Circle Research, this plan is more of a "how to" that focuses on B2B market segmentation. It looks at case studies and different marketing plan approaches to inform and build new plans.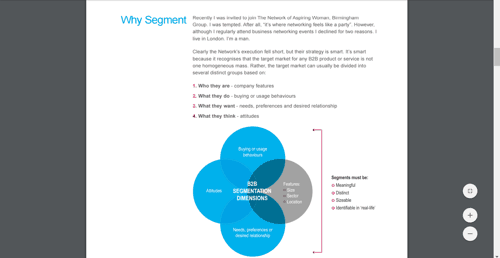 The plan also breaks down segmentation. You'll find the following included:
Outlines the different approaches to segmentation in B2B environments.
Provides a step-by-step guide to adopting each approach.
Looks at how to effectively implement and action a segmentation model.
Offers links to B2B segmentation case studies.
The overall template offers an interesting look at B2B marketing plans through a different lens. Marketers can benefit from this slightly elevated approach after taking the time to dive in.
#8: Single Statement Templates from CMI
Single statement marketing plans are an actual thing. They may sound minimalist, but they are a solid way to stay focused.
Developed by Content Marketing Institute, single statement plans refer to creating an objective by establishing a single, active, mission statement for your campaign. The statement will be one that hits all the points and goals of your company. It should include what you do, who you help, and why you help them.
Content Marketing Institute offers useful examples and templates for this plan. In a sort of "ad-lib" set up, marketers can fill in the blanks and create a statement that acts as a starting point for a marketing plan.
See an example of this below: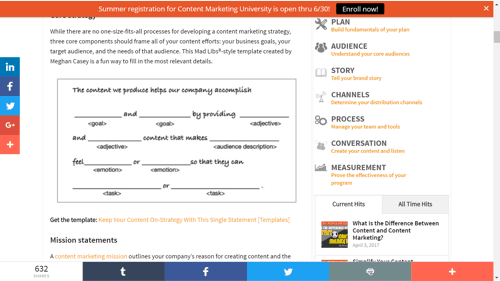 #9: The Why.Who.How Workbook from CMI
This is another big find from Content Marketing Institute. Audience-focused B2B marketing plans use your audience demographic to fuel content. The idea is to build a target audience with in-depth customer profiles. They should be focused to the point that each ICP (ideal customer profile) has a name, a job title, key concern, personality, interests, and age.
See below: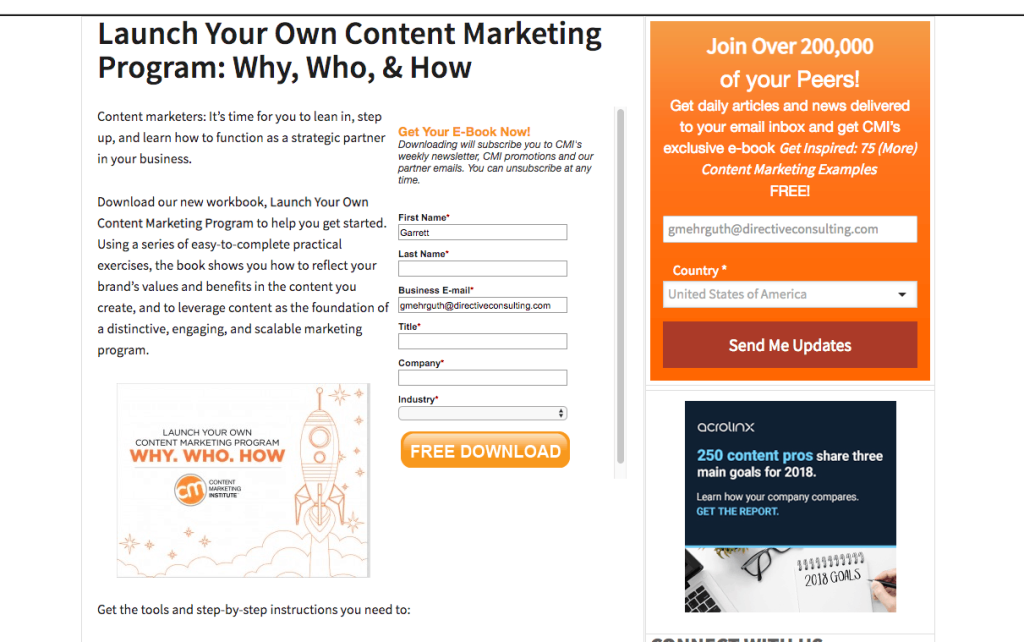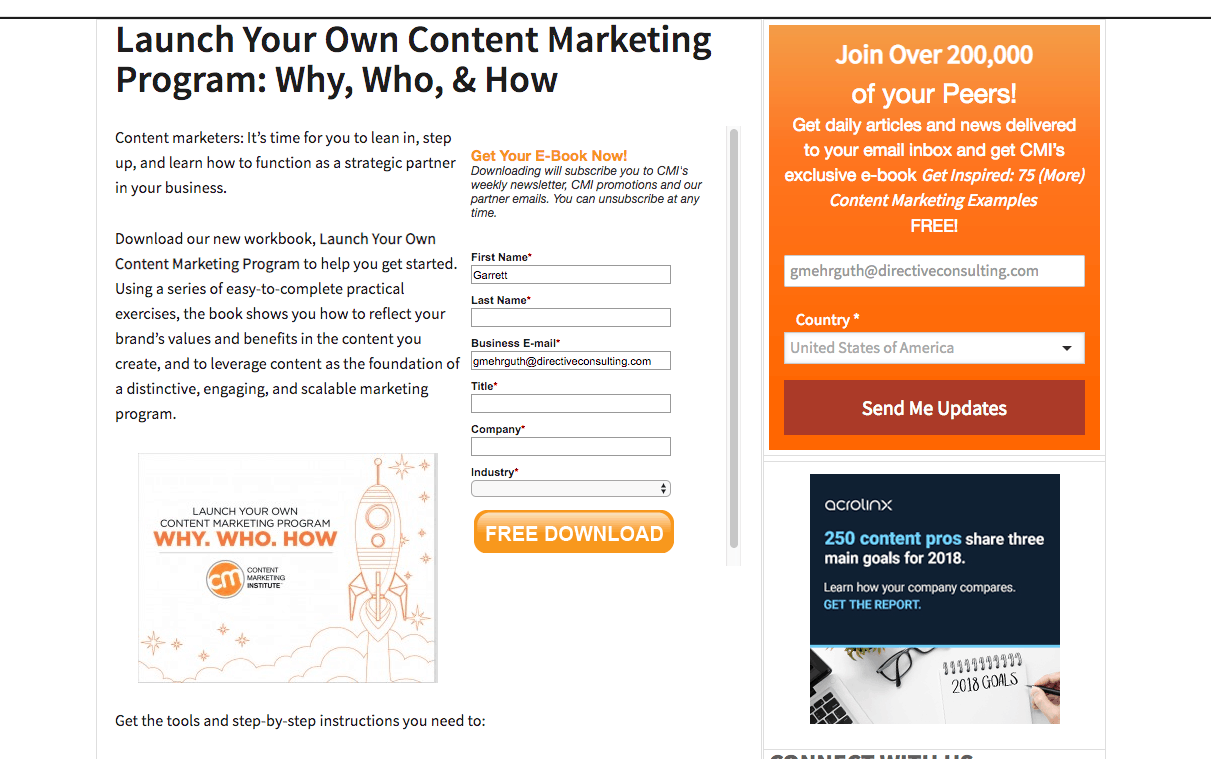 You can also give them a funnel position, the type of B2B needs they have, and what they care about in terms of metrics. The more your customer develops a well-rounded persona, the more you can take action to serve them better. This template is part of a larger whole, but it is a great starting point.
#10: The Essential Data-Driven Content Strategy from CMI
The last entry from Content Marketing Institute to discuss are data-driven B2B marketing plans. Looking at your data is essential to craft your marketing plan and conquer your goals. Craft the plan backward by looking at the results of previous plans:
Take the data you have compiled and study it.
See what worked and what did not.
See what B2B customers responded to, and what fell flat.
See who your content reached, and where you could reach a bit more.
Data-driven B2B marketing plans are a way of fixing past mistakes to make stronger decisions moving forward. Reverse engineering your campaigns from where your previous strategies have converted users is a great way to start your strategy off on the right foot.
Takeaways
These 10 B2B marketing plan examples should help you come up with plans of your own. The success of your business hinges on how well you market it and its services. By studying these plans, you can stay organized, find focus, and begin creating plans that work. If you want to know how we develop marketing plans backed by financial modeling, we'd love to get on a call. Schedule a call today to find out how our proven Customer Generation approach will bring your tech company results.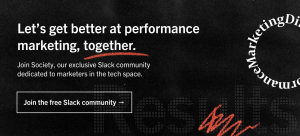 Keep reading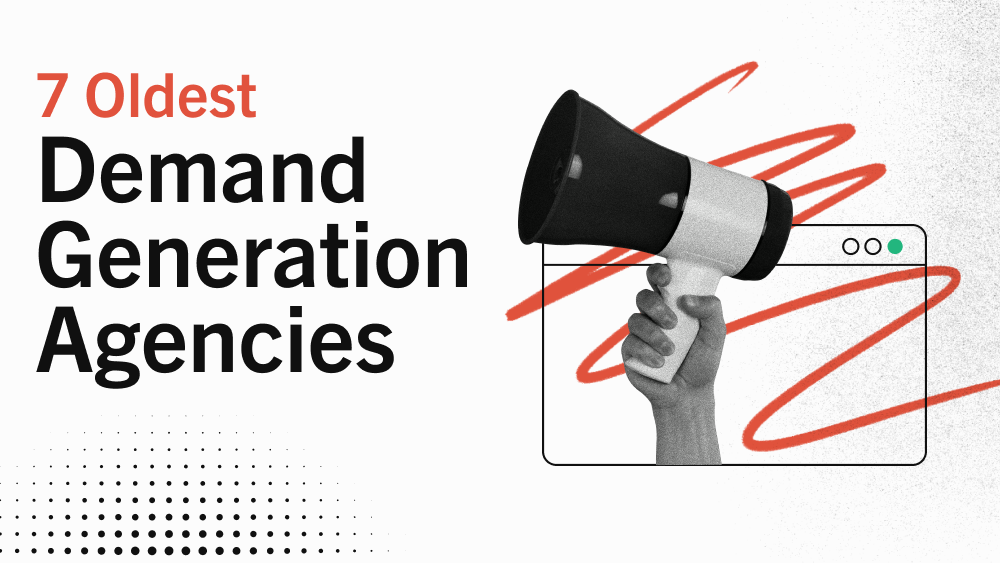 Agency Life
7 of the Oldest Demand Generation Agencies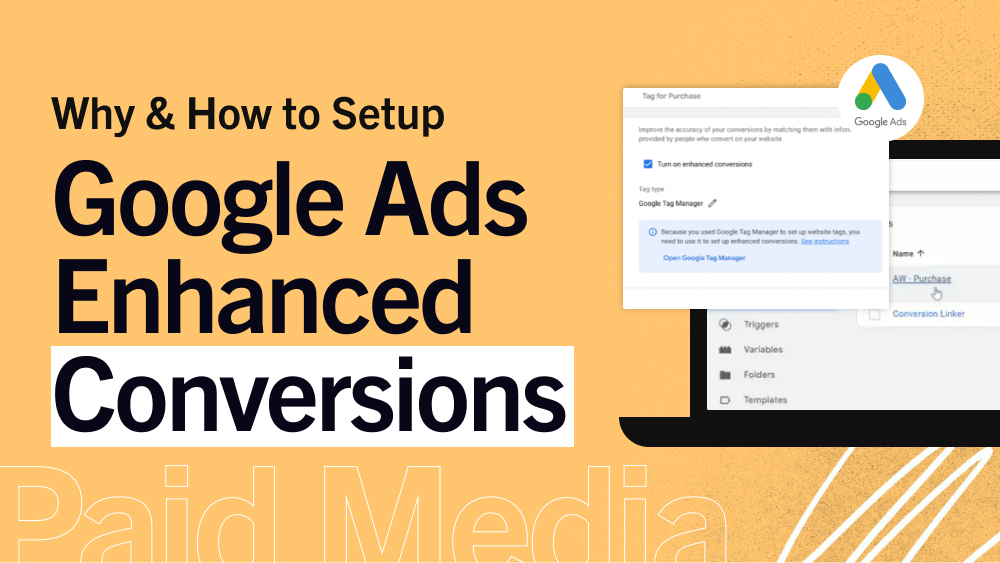 PPC
How to Setup Google Ads Enhanced Conversions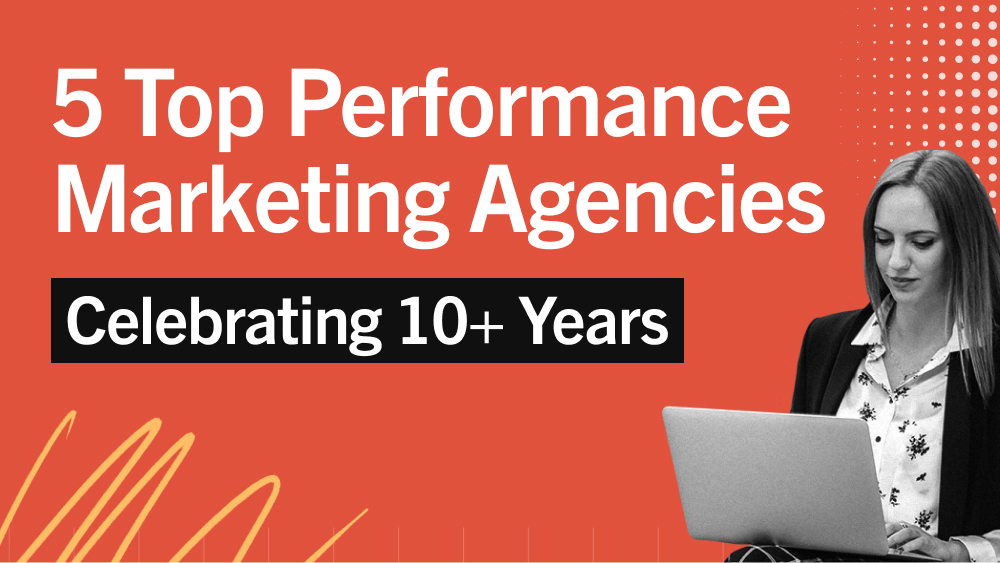 Agency Life
5 Top Performance Marketing Agencies Celebrating 10+ Years