10 Best Copywriting Tools You'll Love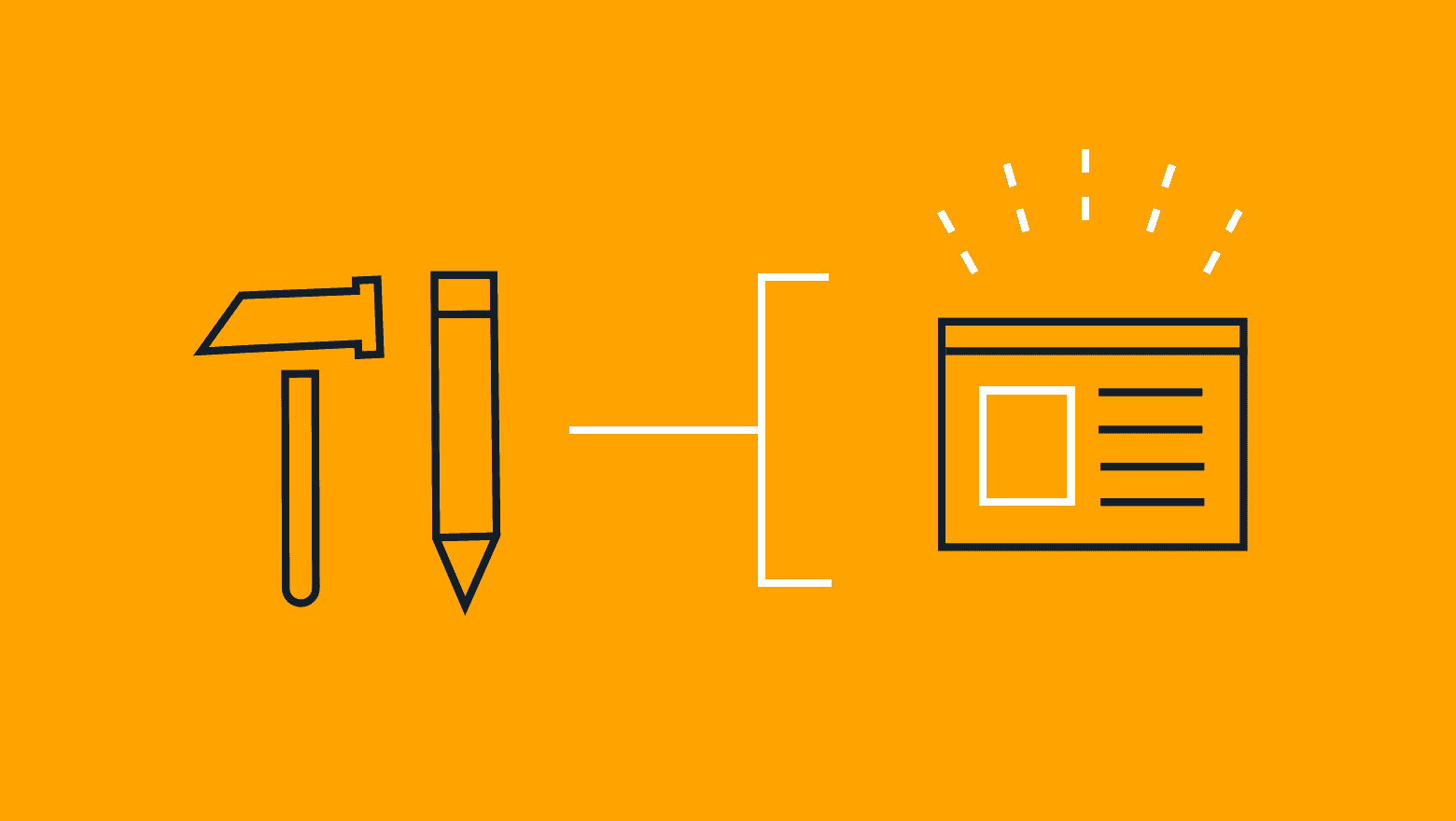 Looking for the best copywriting tools to support your content creation efforts in digital marketing?
Writing copy is one of the routine tasks that digital marketers do on a regular basis. From creating text and display ad copy to writing blog posts as part of a content marketing campaign, marketers use persuasive writing in a variety of formats to drive conversions and ensure the success of their campaigns. Copywriting is also used in email marketing and when crafting compelling posts for social media.
Unless you're a professional copywriter, writing copy may also be one of your biggest challenges in marketing. Thankfully, there are a variety of copywriting tools available that can help you find inspiration for your ad copy, support your creative writing process, and validate the advertising copy you create.
To help you get started, we've put together this list of the nine best copywriting tools that we use to support the writing process and produce high-quality ad copy that drives conversions.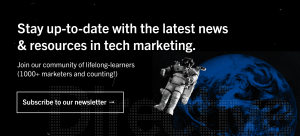 10 Best Copywriting Tools You'll Love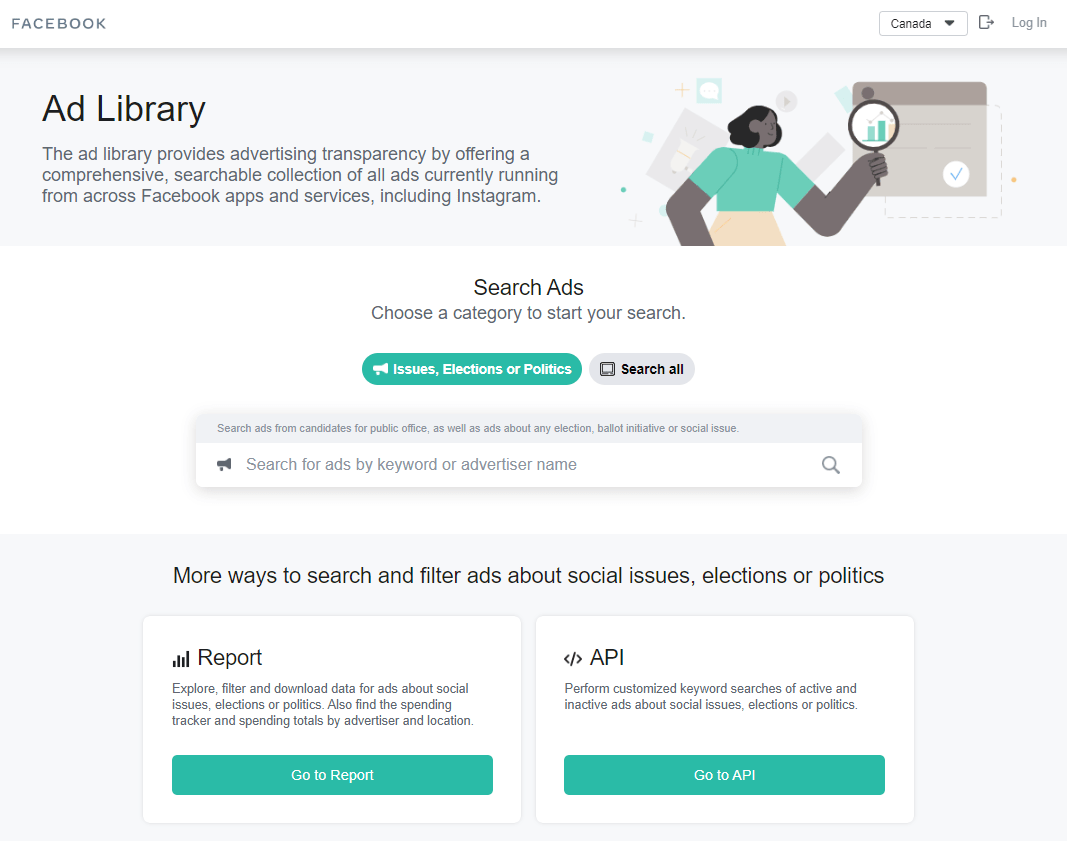 Overview: Facebook Ads Library is an online repository of advertisements that have run live on the Facebook social media platform.
Key Features: Gathering inspiration and competitive insights is an important part of the copywriting process. Marketers can search the Facebook Ads Library for advertisements by keyword or the name of the advertiser. This makes it easy to find historical advertising data on your competitors where you can study their messaging and see how they use copywriting to market a product similar to yours.
How to Get Started: Facebook Ads Library is available for free – just use the link above and start searching for inspiration or analyzing the competition.


Overview: SpyFu is a competitive analysis tool for digital marketers.
Key Features: Type any domain into the SpyFu search bar and you'll be able to discover the top-performing content on their website and a full history of advertisements they've run on the Google search network. SpyFu makes it easy to study how other brands in your niche are using copywriting to create effective advertisements and web content.
How to Get Started: Marketers can access limited data using the free version of SpyFu. Paid subscriptions start at $33/month for an annual plan.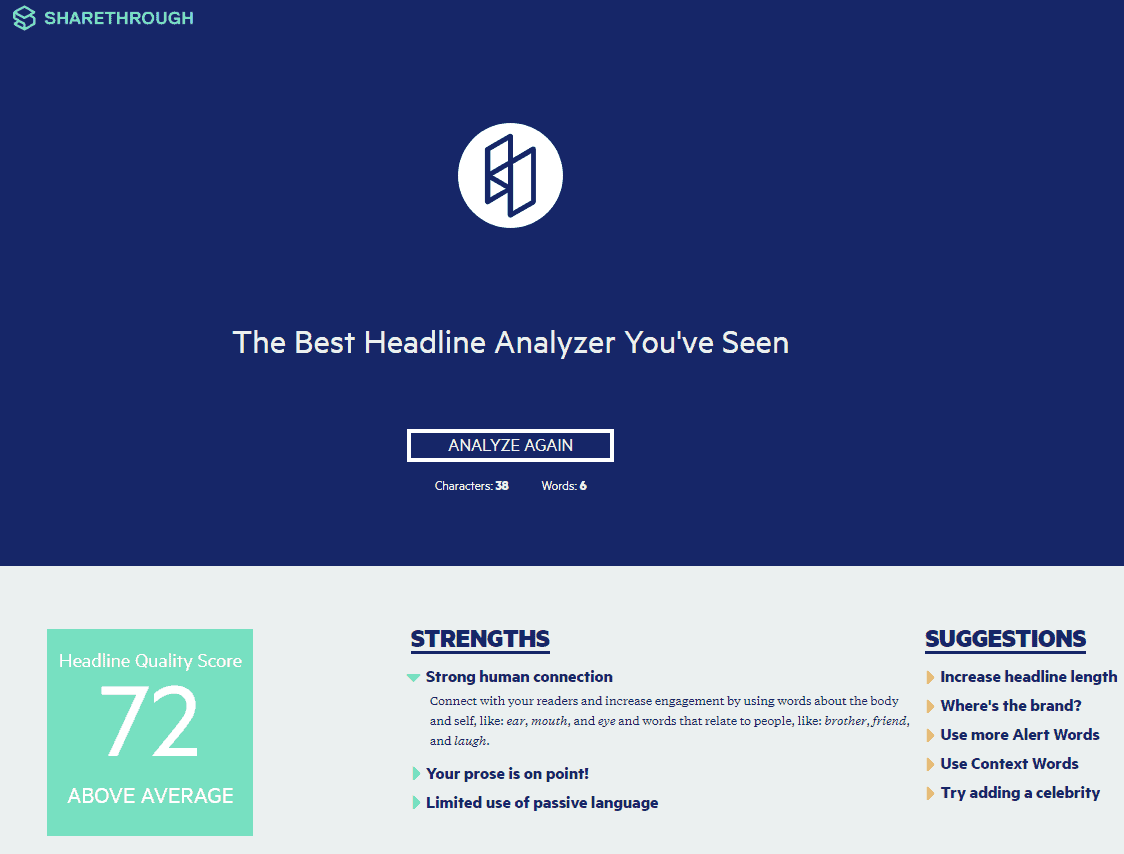 Overview: Headlines are present everywhere in the world of digital marketing. There are headlines at the top of blog posts, headlines that link to blog posts, headlines at top of search and display advertisements, and even subject lines for emails. Regardless of use case, Sharethrough offers a free service that analyzes the strength of your headline and offers tips and advice for making improvements.
Key Features: Sharethrough offers one of the best free headline analyzer tools we've seen online. It's quick and easy to use and offers clear directives for improvement. You'll also be assigned a headline quality score by an algorithm that accounts for over 300 unique variables to determine how well your headline grabs attention and engages audiences.
How to Get Started: It's free to use this headline analyzer – just visit the link above to get started.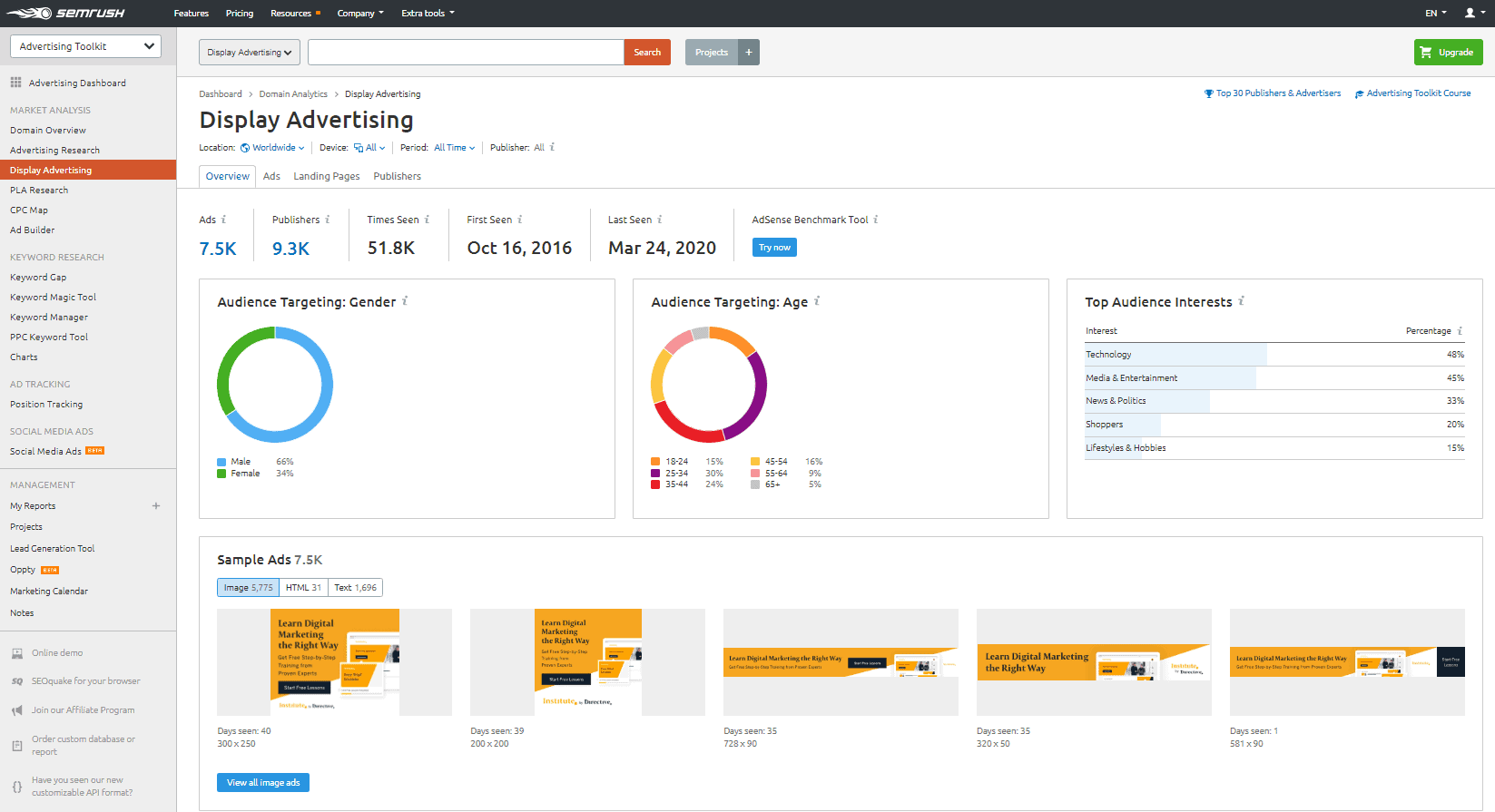 Overview: SEMrush is an industry leader in search engine marketing software tools. As part of their Advertising Toolkit, marketers can access in-depth display advertising analytics for any brand or competitor of their choice.
Key Features: Marketers can enter any URL to access the audience targeting data by demographics and interests,  as well as images of historical text and display ads.
How to Get Started: SEMrush offers a free trial for new users with limited access to tools and data. Paid subscriptions start at $99.95/month.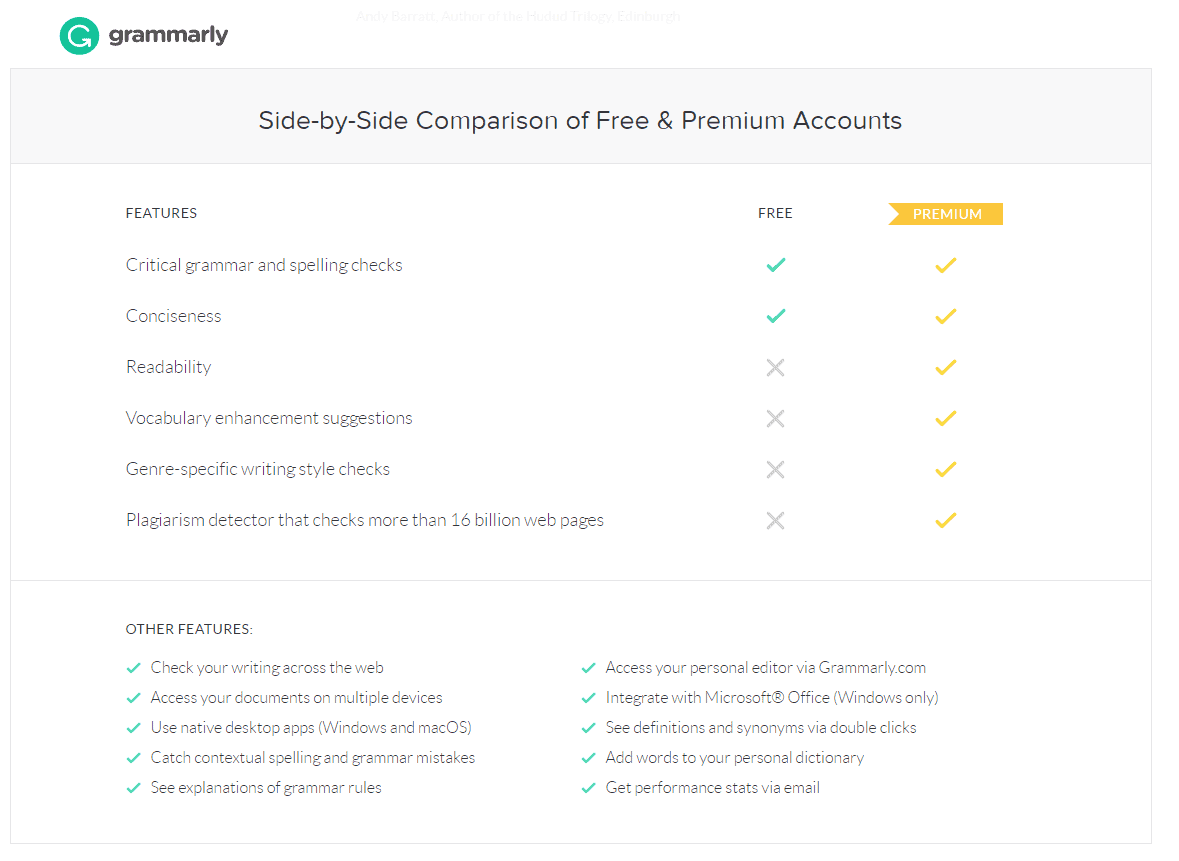 Overview: Grammarly Premium is one of the best copywriting tools for digital marketers creating copy for advertising or blog posts.
Key Features: Grammarly Premium evaluates your content automatically for spelling and grammar, readability, conciseness, vocabulary, and even checks for plagiarism to help you avoid duplicate content issues. If you do your copywriting in the app itself, you can actually improve your writing skills as you receive real-time feedback on the quality of your work. Grammarly Premium has been criticized in the past for missing obvious mistakes, so make sure you still proofread your work in case something is missed.
How to Get Started: Use the basic Grammarly app for free, or purchase the upgraded Grammarly Premium subscription starting at $29.95/month.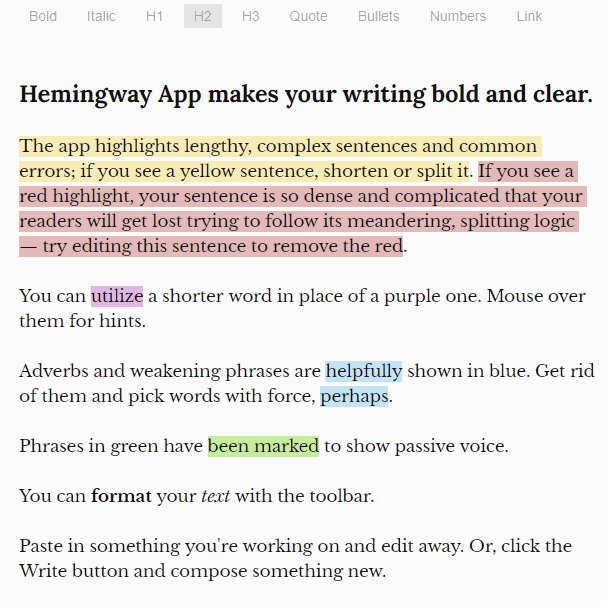 Overview: The Hemingway App is another copywriting tool that helps you evaluate and improve your writing in real-time.
Key Features: When you create copy in the Hemingway Editor, you'll benefit from instant feedback on the quality, accessibility, conciseness, and readability of your work. The app automatically highlights errors using a color scheme that you'll quickly learn, identifying opportunities for you to correct mistakes or improve your copy with a simpler and more concise sentence.
How to Get Started: Visit the link above to use the web-based Hemingway Editor for free, or buy the desktop version for a one-time cost of $19.99.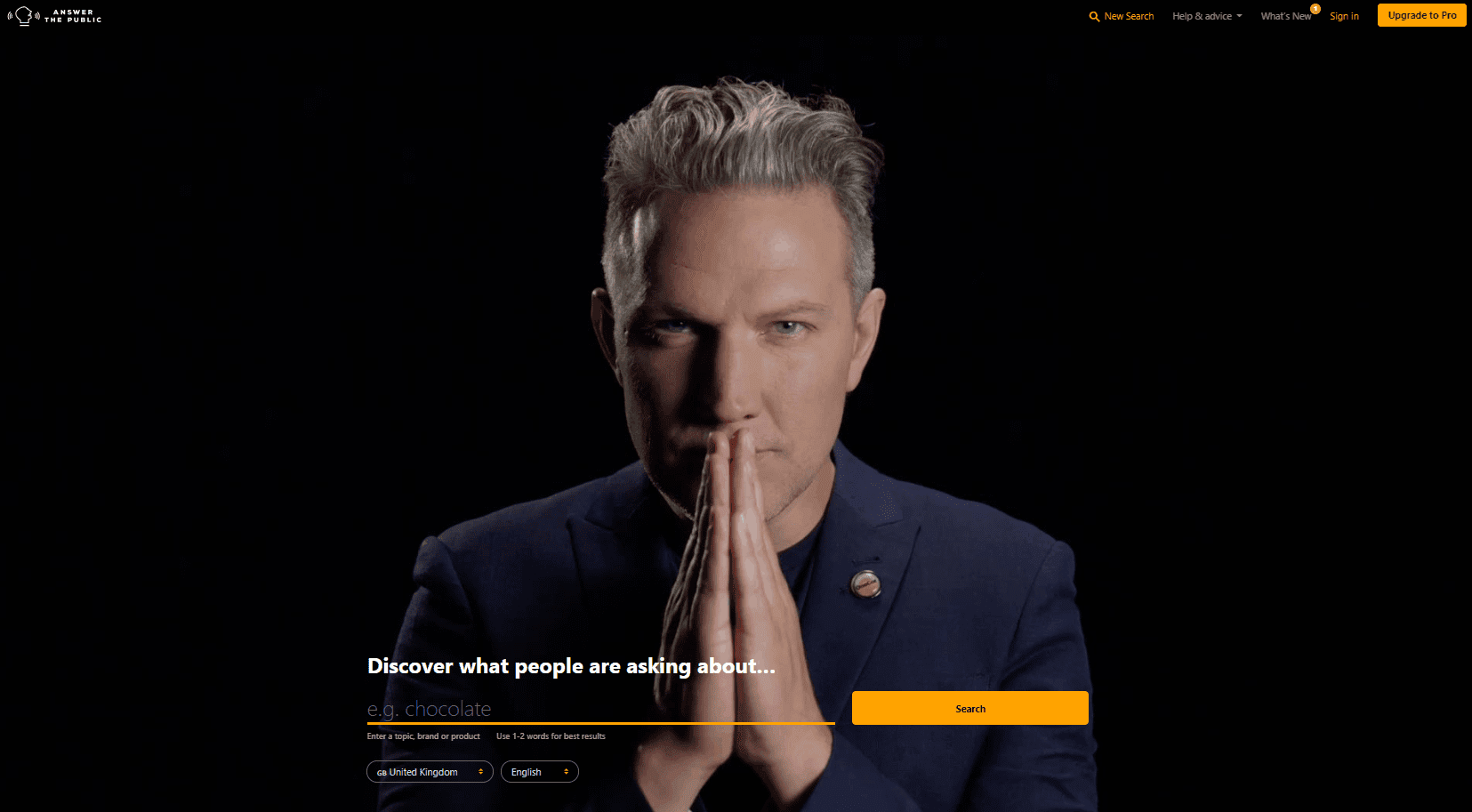 Overview: Answer the Public is a copywriting tool that we use for blog posts and many other types of content marketing projects.
Key Features: Answer the Public is a web-based research tool that helps marketers discover the most frequently asked questions surrounding a specific keyword, product, or service. Simply enter a keyword of your choice into the search box and you'll be treated to rich visual representations of the questions that searchers are typing in Google with your keyword. This makes it easy to design blog posts that address your customer's real questions or create ad copy that addresses known pain points among your prospective customers.
How to Get Started: Visit the link above to start for free. You'll get three free searches per day. You can also upgrade to Pro and pay $99/month for unlimited searches.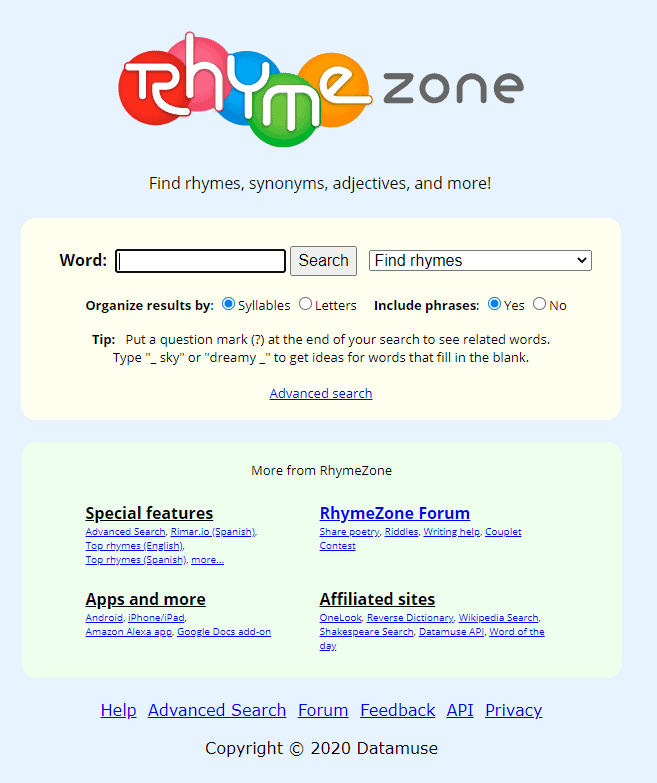 Overview: RhymeZone is a database of rhyming words that copywriters can use to craft more memorable and impactful messages in their advertising copy.
Key Features: Marketers can type any word into the search bar and access a comprehensive list of rhyming words organized by the number of syllables. This can help marketers discover rhymes or identify attention-grabbing words to incorporate into their advertising copy.
How to Get Started: RhymeZone is a free service – just click the link above to get started.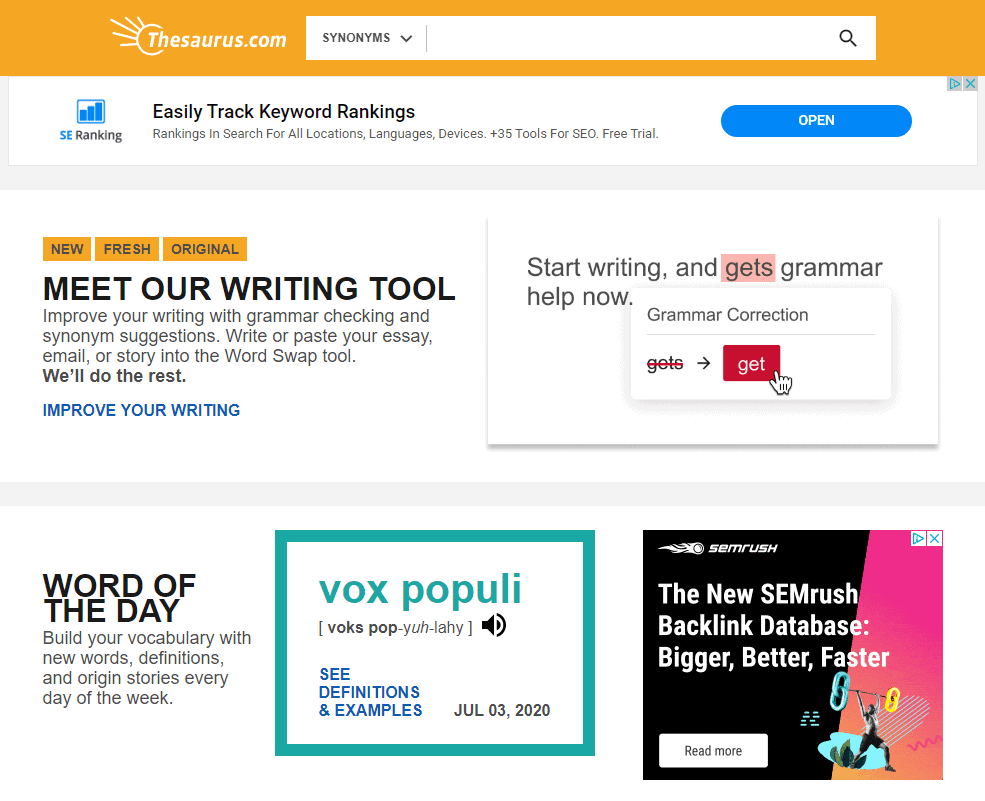 Overview: Thesaurus.com is a website that marketers can use to search for synonyms (different word, same meaning) or antonyms (words with the opposite meaning) of any word they choose.
Key Features: Word choice is extremely important in copywriting, both for communicating effectively and eliciting an emotional response from the target audience. There are two ways that digital marketers can use a thesaurus to help with this:
Synonyms – Synonyms are different words with the same meaning. Marketers can search for synonyms to find the most vivid or stimulating version of a word that conveys the desired concept. This is a great way to improve your headlines and descriptions when creating advertising copy.
Antonyms – Presenting a word alongside its opposite creates contrast, which grabs the attention of users and drives engagement.
How to Get Started: This copywriting tool is completely free – just visit the link above to get started.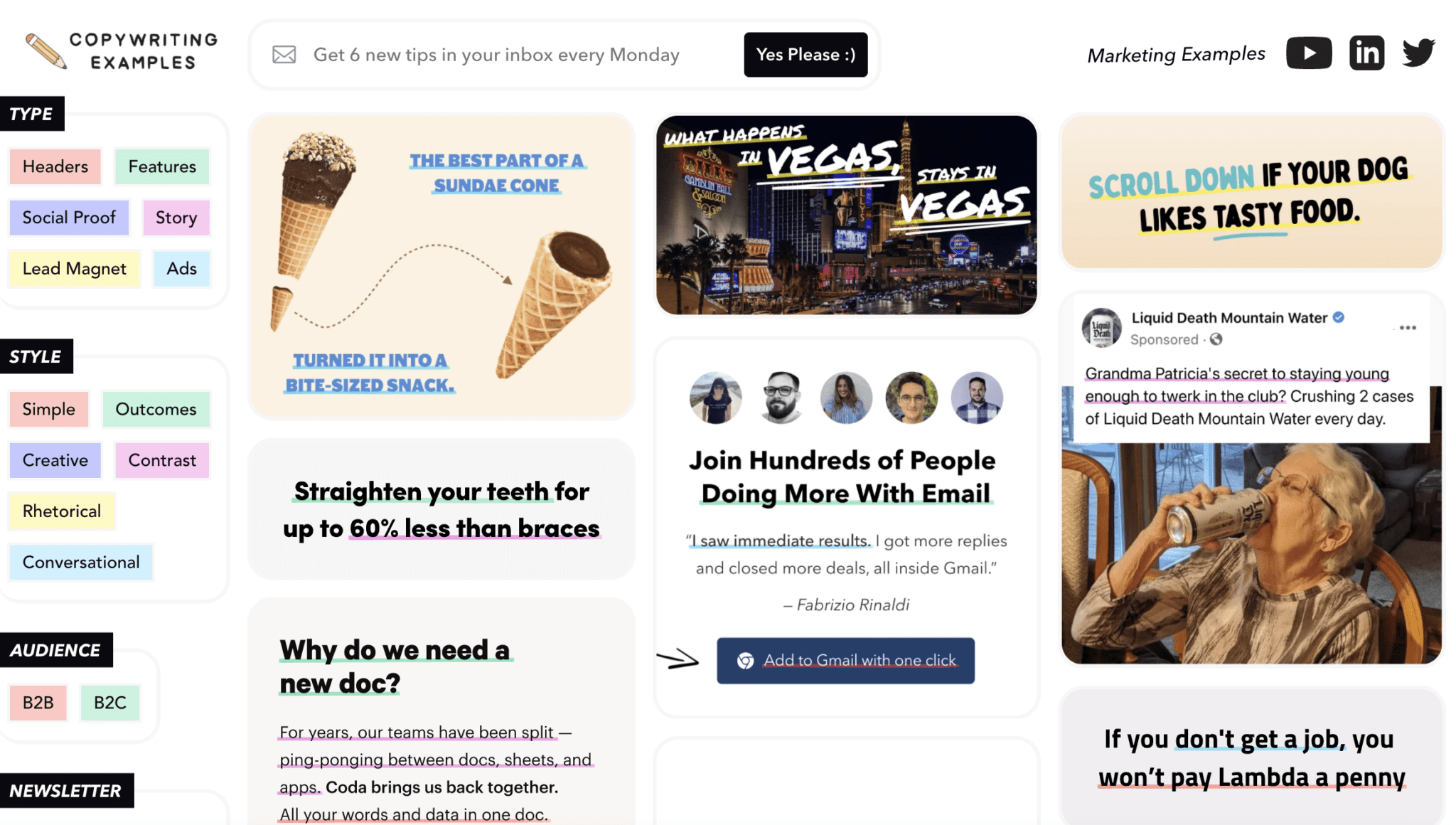 Overview: Copywriting Examples is a free repository of some of the world's best copy and content, all in one place – the open library of inspiration even won #1 Product of the Month in Jan, 2022 on ProductHunt.
Key Features: Copywriting Examples collection includes hundreds of examples for Acquisition and Conversion focused copy. And they also have a strong collection of Brand, Creative, and Retention copywriting examples. On their inspiration page you can also filter your searches by copy type, style, and audience.
How to Get Started: Copywriting Examples is a free service – just click the link above to get started.
Summary
Copywriting is the backbone of any successful marketing campaign, and using the right tools can help businesses create compelling content that resonates with their audience. Whether you're a seasoned copywriter or just starting out, incorporating these powerful copywriting tools into your arsenal will help ensure that your content produces results. Craft content that engages your target audience and drives conversions by:
Researching your competitors and gathering insight into their ad copywriting techniques and product positioning
Producing ad copy that is persuasive, readable, and free from spelling or grammar errors
Measuring the quality of your headlines and improving headline quality with expert recommendations
Discovering rhyming words, synonyms, and antonyms to boost the emotional impact of your advertising copy and drive engagement
For a more in-depth look at how to create ad copy, check out our exclusive course at the Directive Institute.
At Directive, we use our proven Customer Generation methodology to create innovative campaigns that drive revenue growth. By leveraging our proven approach, tech companies can create content that truly speaks to their ideal customers and drives results. Invest in the right tools and strategies today to unlock the full potential of your content marketing efforts.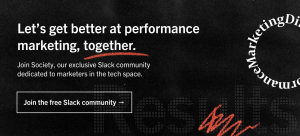 Keep reading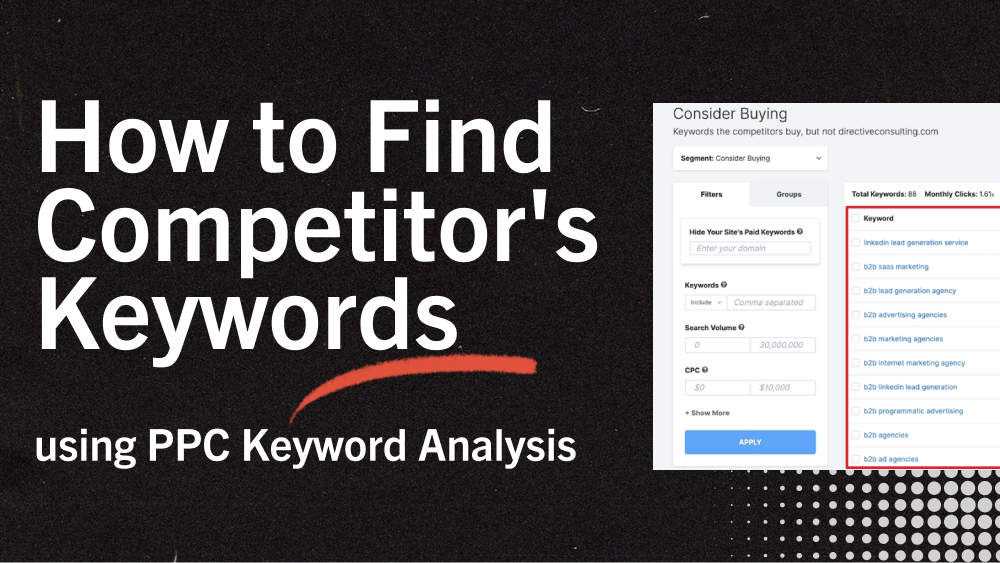 PPC
How to Find Competitor's Keywords with SpyFu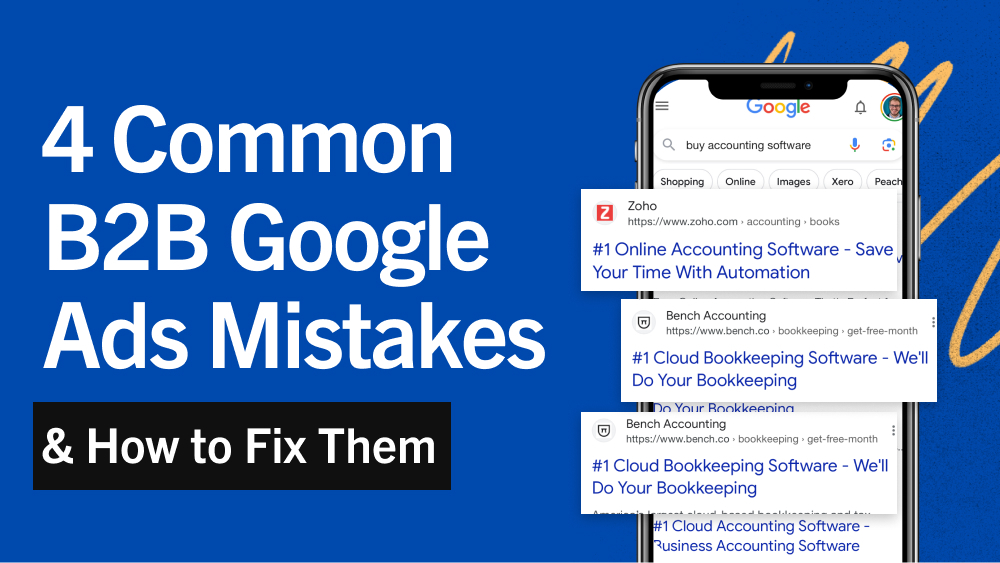 B2B
4 Common B2B Google Ads Mistakes and How to Fix Them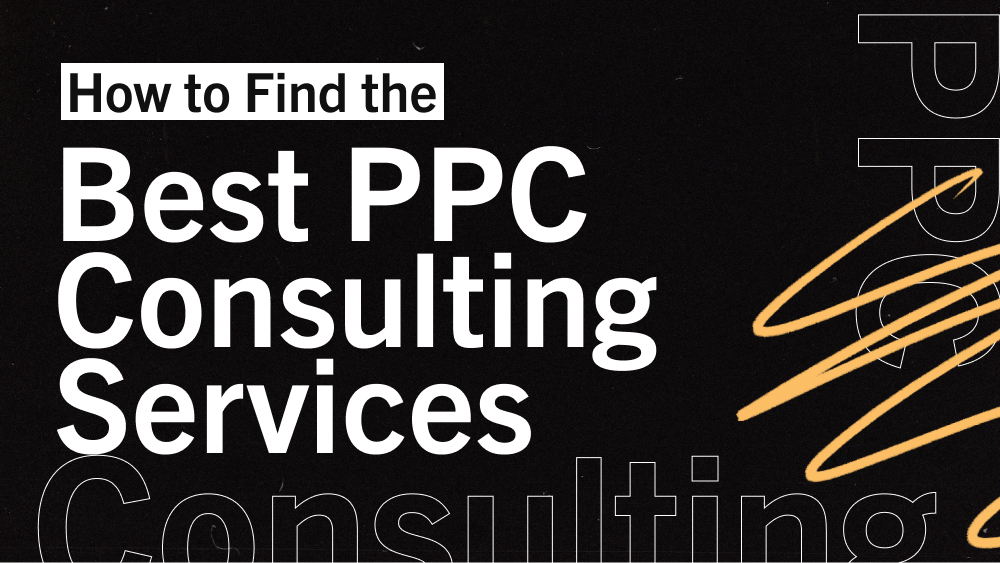 Agency Life
How to Find the Best PPC Consultant Services