DIY: $3M in Revenue in 30 Days with a Reliable Paid Media Strategy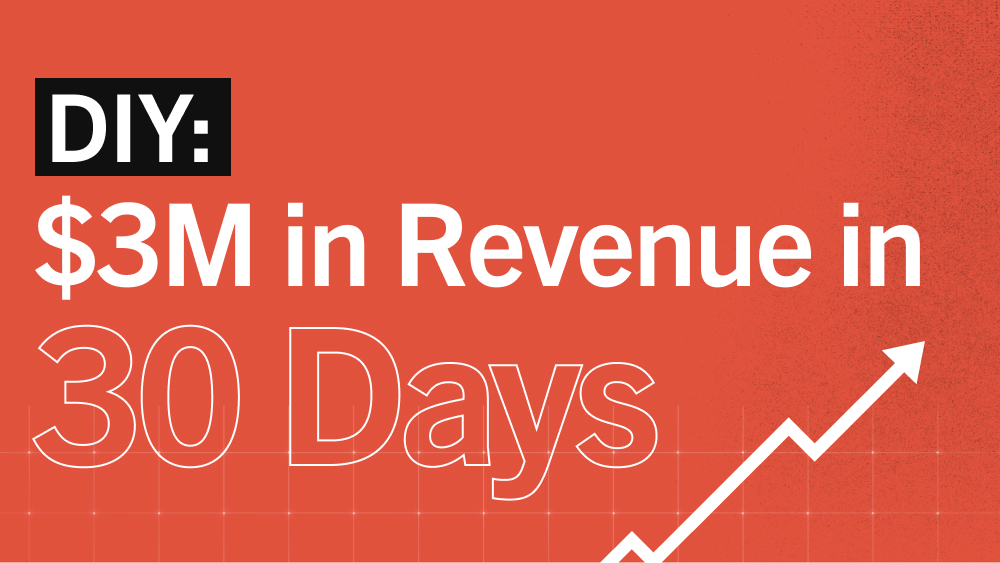 When it comes to paid media, a bulletproof strategy can make all the difference between hitting your revenue goals and wasting your budget. Set your team up for success by applying our 4-step approach to building an impressive paid media strategy:
Build hyper-targeted audiences
Leverage financial modeling
Create fresh ads regularly
Analyze the results
By adopting this Customer Generation approach, we saw $3M in revenue in just 1 month. Find out how you can empower your team to take control of your paid media efforts and unlock the full potential of your marketing spend.
Build hyper-targeted audiences to drive results.
Make the most out of your paid media efforts with a solid foundation. Before we do anything, we build a Total Addressable Market (TAM) list based on 1st-party data that we then manually verify to ensure that we are targeting the right accounts for each campaign.
Manually verifying each account is critical if you want to avoid wasted ad spend! This process guarantees that every single ad impression will be exclusively shown to accounts that you know you could do business with. The task may be cumbersome, but it's a great way to get your entire team working together and it offers an abundance of value to each marketer on your team.
It's especially important when your ad campaigns are tied to incentives such as gift card offerings. To confidently offer incentives that will convert into intro calls with sales, you have to make sure that you are only targeting prospects that you know are a good fit.
Then, we segment the list by relevant factors such as company size and region, honing in on decision-makers and key users. We also add numerous exclusions to avoid wasted spend. Over time, we refine our TAM based on performance and sales data.
Say you're targeting small businesses with less than 50 employees. In this case, you could target non-executive titles such as Managers because there's a high probability that they are decision-makers.

However, if you are going after enterprise companies, you'll likely want to exclude managers from your BOFU campaigns as they do not have the authority of a decision maker. Go after Directors, VPs, and other department head titles instead.

Then, for example, if your sales team is noticing that they aren't closing certain titles, you should add those to your exclusion list, too.

At Directive, one of our audiences could look like the following:

Directors + CMOs – Co-Founders in a marketing role
Our Recommendation: At Directive, we've found that segmenting our audience by region allows us to better control our budget and measure the effectiveness of our ad campaigns. By tracking metrics such as closed-won deals, we can easily see which regions are performing well and where we need to focus our efforts. Working closely with our finance team, we developed detailed reporting on results generated on a channel basis, allowing us to really dive into what is working and where we should be investing more aggressively.
Use financial modeling to back your marketing recommendations.
We prioritize pipeline and revenue generation over leads and measure success on a monthly and quarterly basis using our LTV:CAC model to analyze pipeline progression and metrics like AOV per channel and placement type. By understanding which channels and ad types are the most efficient, we can easily make budget allocation and strategy decisions accordingly.
A healthy ratio for tech companies is typically 3. If it's more, you're leaving money on the table and should be investing more aggressively in the channels that are really efficient. If you're under 3, we recommend working with those channels to identify where there's room for improvement.
We typically allocate 80% of the budget to lead generation, as it can be directly attributed to pipeline and revenue. The remaining 20% is dedicated to brand campaigns. Although more difficult to attribute, we believe brand campaigns are essential, especially when expanding to new regions and moving upmarket.
Our Recommendation: Once you have the audience you want to target with a BOFU offer, you can target the same audience with branded content and useful assets such as thought leadership pieces and customer testimonials. By strategically establishing multiple touch points, you cultivate a sense of familiarity and trust with your audience. This way, by the time they do land on your BOFU offer, they will be more likely to act on it. Offering incentives such as gift cards can also be effective in getting prospects on a call.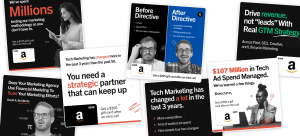 Directive BOFU ad examples.
Regularly publish fresh and personalized ads for maximum impact.
To make the most out of your tiered campaigns, it's crucial to tailor your approach to each audience segment. Using the same creatives for every campaign won't cut it.
We focus on identifying the unique pain points and incentives that resonate with each group. For example, the needs of a mid-market scale up are different than the needs of large enterprise accounts, so language should be adapted accordingly to match those pain points. By understanding your target audience and speaking their language, you can optimize your ad spend and achieve significantly better results.
To maximize your advertising impact, it's essential not only to create personalized ads but also to maintain a steady flow of new ones to avoid ad fatigue. At Directive, we refresh our ads each month.
As we build new ads to put in rotation in our campaigns, we pause the underperforming ads, keep the top performers, and cycle in new ads to test against the top performers. When something is resonating particularly well, we like to use that messaging or creative style to try new iterations and see if we can isolate the specific variable that is driving success.
Here are a few tips:
Talk to your sales team. They interact directly with your target audience, so their insights can provide valuable inspiration for your ad content.
Maintain a regular cycle of ad refreshes. Update your ads regularly to capitalize on what's working well, replace underperforming ads, and prevent ad fatigue. This refresh can involve introducing entirely new ad ideas or testing new variables such as human imagery versus animation in the creative.
Establish a clear and organized naming convention. With numerous ads in circulation, a proper naming convention will save you significant time and effort, allowing for easy identification and management of your ads.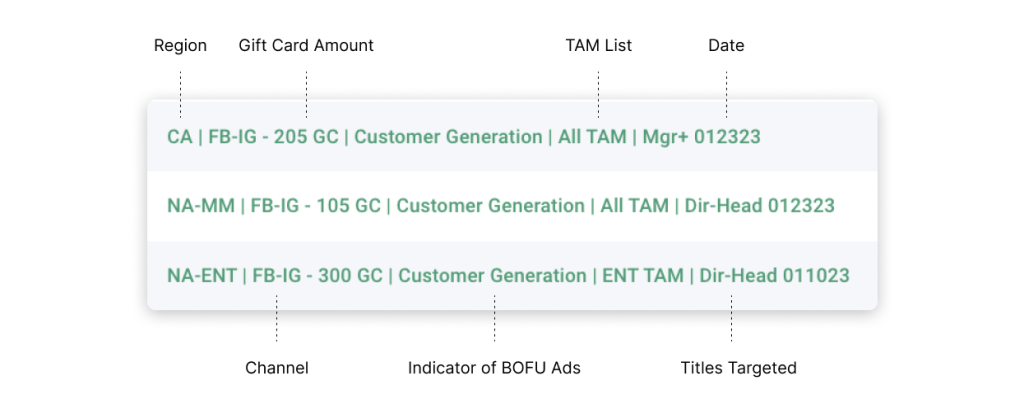 Naming convention examples at the campaign level.
Our Recommendation: Managing paid ad campaigns that are efficient is a time-consuming job. We find that having executional support on the accounts gives space for the strategist to focus on driving strategy. If you want your tech company to innovate and scale to see, for example, 10x the results, your strategists need the time and resources to innovate, experiment, and identify what is working best.
Optimize your ad performance with effective analysis.
By diving deep into ad analysis, comparison, and multivariate testing, your team can uncover valuable insights to make informed decisions and unlock the full potential of your advertising campaigns.
To gain deeper insights, analyze your ads over time and assess their performance holistically. We analyze performance on a monthly basis for optimizations and quarterly to identify any standout trends such as successful messaging in headlines or copy, or particular images that resonate with our audience. Then, by tracking and analyzing metrics such as spend and pipeline efficiency, we make sure that our ad budget is allocated towards the most efficient channels, whether it's Google, LinkedIn, Facebook, or others.
Comparing ad performance across platforms is critical, too. For instance, if you're running the same campaigns on Meta and LinkedIn, comparing metrics like CPL can reveal the most efficient platform. If LinkedIn is delivering a more favorable CPL, you may want to reevaluate the effectiveness of the campaign on Facebook. Should you continue running that lead generation campaign, shift to a focus on brand only in the channel, or move away from the platform altogether?
Streamlining your ad management can greatly improve efficiency as well. Leveraging tools like Metadata.io allows you to control multiple channels from a single location, saving time and effort. With a centralized platform, you can easily duplicate ads across different platforms instead of manually rebuilding each one. Additionally, Metadata.io provides valuable capabilities for conducting statistically significant multivariate testing, empowering you to refine and optimize your ad campaigns effectively.
Our Recommendation: Build a marketing team that works closely with sales. Having a relationship with sales is critical because they can help you refine your audiences based on the conversations they've had. With an open feedback loop between sales and marketing, we have a clear picture of what's going on in the sales process so we can adapt our messaging and targeting accordingly. With tools like Gong, you can also listen to recorded sales conversations to collect insights straight from the source.
The winning formula for paid media success.
Empower your team to take control of your paid media efforts and drive exceptional results with this 4-step approach. By manually building and constantly refining our TAM, leveraging the power of financial modeling, regularly updating our ads, and using historical data to cut the waste, we know exactly what to reinvest in. You, too, can achieve outstanding success with a Customer Generation approach to paid media.
In the dynamic landscape of paid media and evolving marketing trends, it's also crucial to stay ahead of the curve. Embrace innovation and adapt to the ever-changing paid media environment, anticipating shifts like updates in ad formats or technological advancements such as AI. To foster a culture of growth and exploration, expand your team's capabilities beyond execution, allowing them the freedom to delve deep into data analysis and explore new avenues. By nurturing a space for creative thinking, you can propose budgets that support promising strategies, whether it's venturing into new channels, devising innovative distribution plans, or expanding into new regions. Stay agile, embrace change, and propel your marketing efforts toward a future of limitless possibilities.
To learn more about how you can gain a competitive edge in the world of PPC with Customer Generation, let's get on a call. We'd love to partner with your team to drive meaningful growth and revenue for your tech company.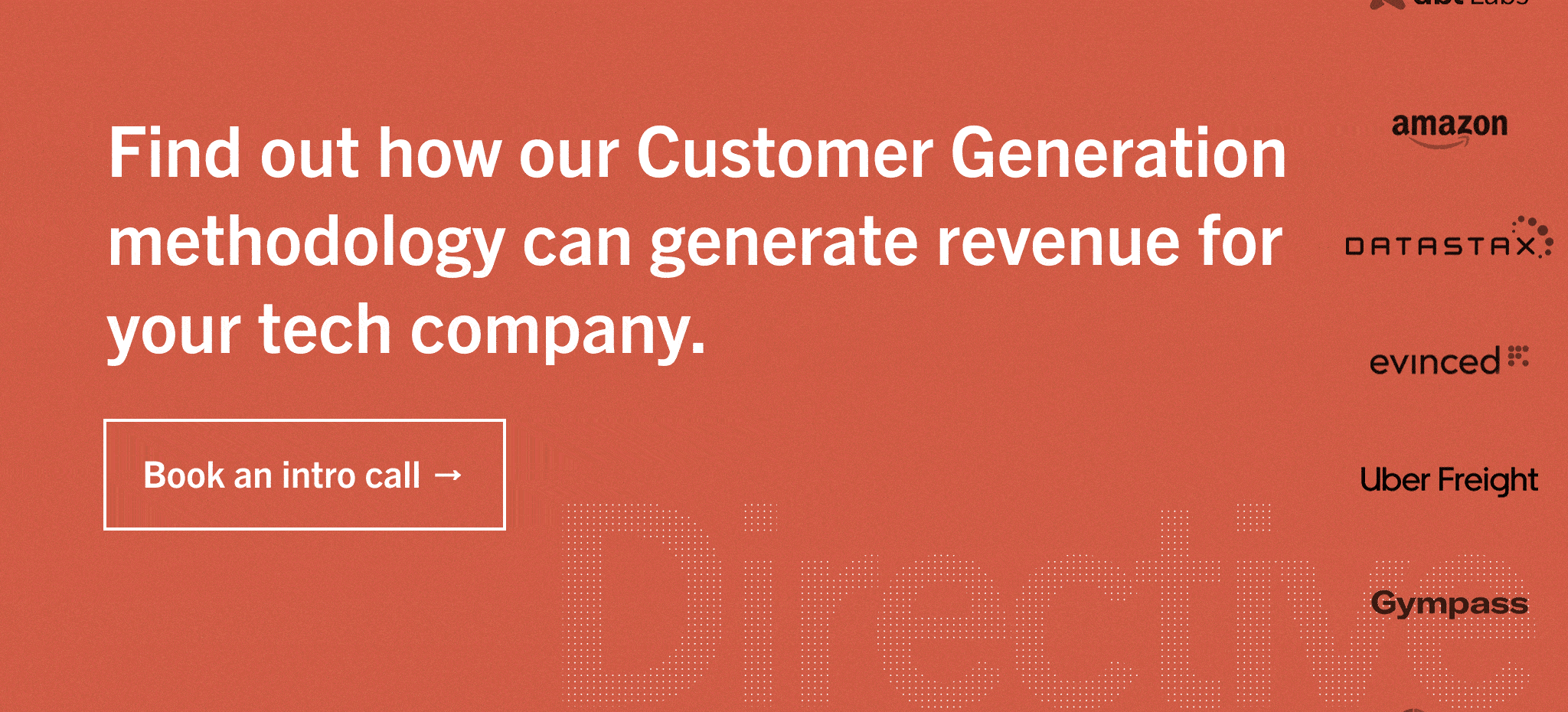 Keep reading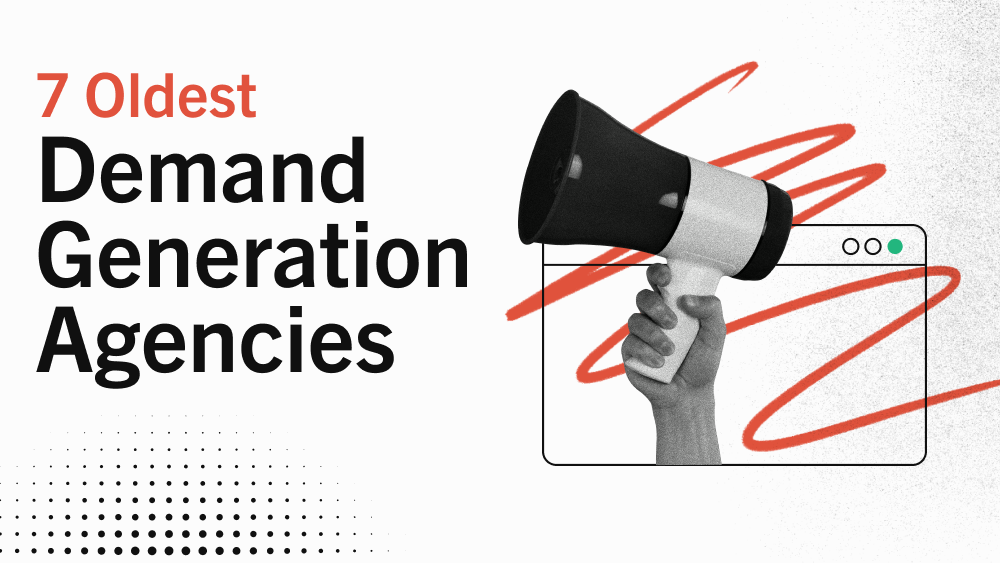 Agency Life
7 of the Oldest Demand Generation Agencies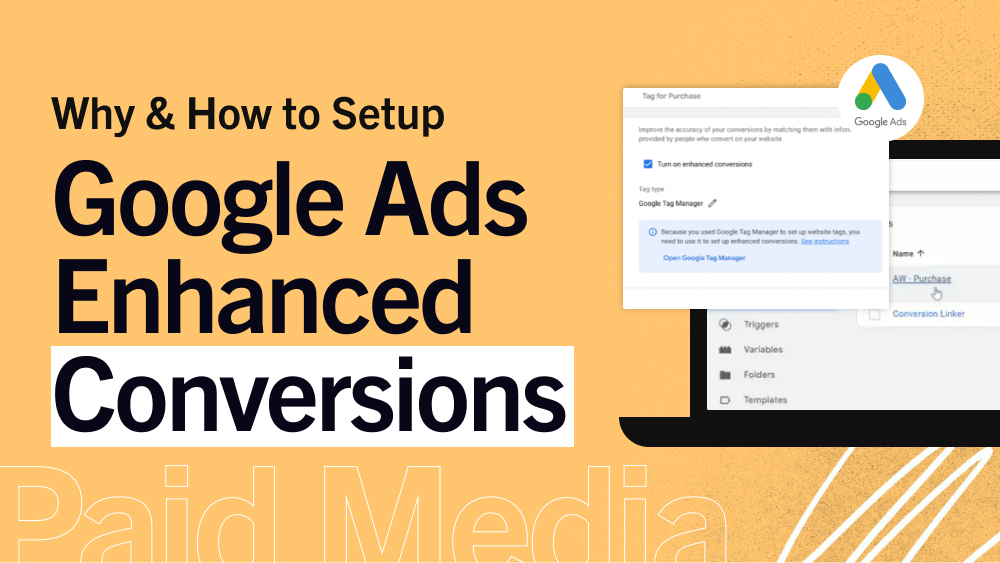 PPC
How to Setup Google Ads Enhanced Conversions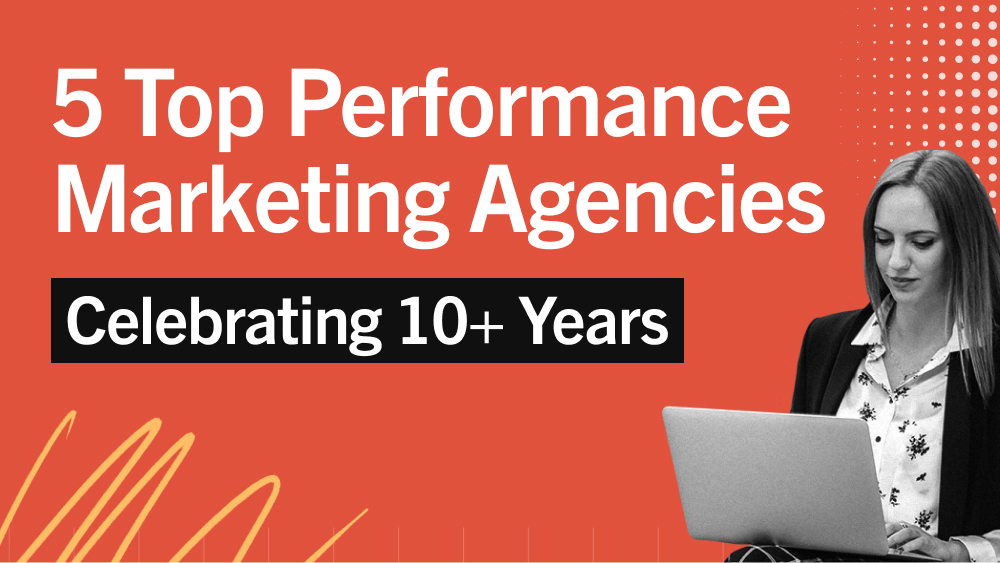 Agency Life
5 Top Performance Marketing Agencies Celebrating 10+ Years