How To Shoot, Edit & Create a High Converting SaaS Demo Video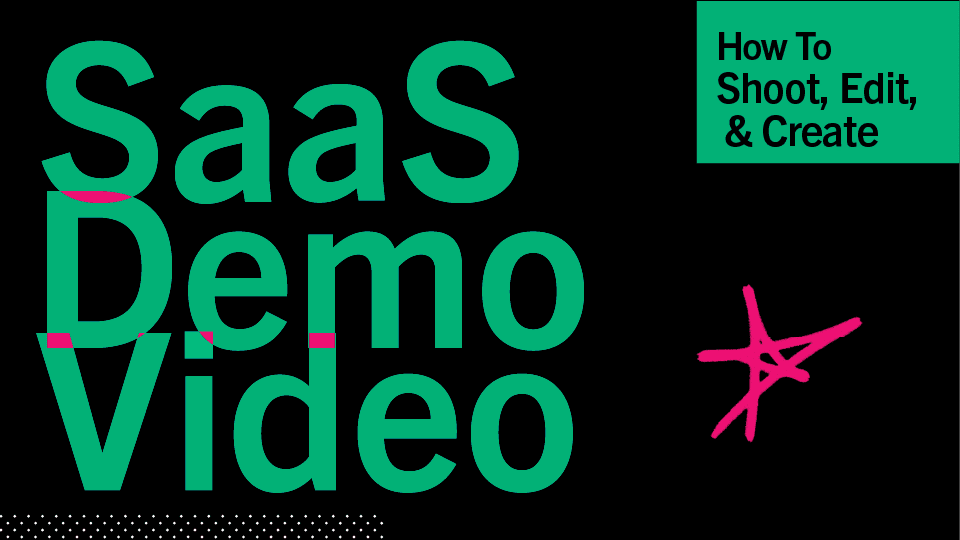 The days when a customer came to your SaaS website and started reading texts and presentations to figure out what your brand and product are all about are over. Instead of making presentations and writing text, you should instead focus on shooting, editing, and creating a high-converting SaaS demo video. 
If you prepare enough data and have screenshots of where a customer uses your video, why they're using it, and how they're using it, it will be multiple times more effective than simply having a text explaining what your product does. 
If an image is worth a thousand words, then a video is worth a thousand images. However, making a high-converting SaaS demo video isn't an easy task. But that's why we will explain all the necessary elements your demo video needs to have to be a high-converting video and for your customers to watch it and then take action. 
In the article, we will cover: 
The types of SaaS demo videos
What are the benefits of a SaaS demo video
Best Practices
And all the how-to's that are happening behind the screen like budgeting, goal-setting, developing a script
With that in mind, let's jump right to the reason why demo videos are doing so well in today's marketplace.
The What & Why of SaaS Demo Videos?
Wyzowl, a video content study, recently did a study that showed how customers prefer to watch a short video that would explain what the product does. In fact, 69% of customers prefer to watch the video and 84% of people say that they have been convinced about buying the product after they watched the video. 
These numbers tell the story— if you have the right demo video that explains your brand's product in a short amount of time, you will influence the visitors that come to your website to buy your product.  
When it comes to SaaS products, it's essential that your customers realize the value of your product as soon as possible and a demo video is a perfect opportunity for that. It tells them what the product is about, how it will solve their problem, and how they can use it. 
The Types of SaaS Demo Videos
There are multiple types of SaaS demo videos and which one you will make or create depends largely on your product or service. Since you're selling something intangible like a service or software, you can use a screen recording tool to capture the features of the product. 
There are three main types of SaaS demo videos that you can use to help people understand your brand's product: 
Live demo. A live demo is a brief explanation that presents the product through a video conference call. 
Overview demo. An overview demo is a short and brief explanation of what the product does without going into details. 
There is also a variety when it comes to video styles, but some are more popular than others: 
Desktop and smartphone screen capture
Live demo call
Animated product video
Live-action video of the presenter talking
The Benefits of SaaS Demo Videos
There are multiple benefits to SaaS demo videos. First of all, they're scalable—once you make the demo video and you upload it on your website, you don't need to make it again and an unlimited number of people can watch it. There are some other benefits as well like: 
Can be entertaining
Can be used to explain things in the simplest way possible
Can be personal
Depending on the production level, they can be quite inexpensive
The best thing about demo videos is that it takes little to no effort to consume the material. You play the video and watch it. When you compare that with text or presentations, it's no wonder that consumers prefer videos. 
Your product videos are all about conveying crucial information about your brand's product to your potential buyers as quickly as possible and as early as possible. And the biggest benefit to a demo video is that it can do just that. 
Channels for SaaS Demo Videos
The great thing about small demo videos is that they have really good usability. You can use your SaaS demo videos on multiple channels to promote your products and services. 
One of the most common channels where you can demo videos are: 
Homepage on your website
Email signatures
Sales materials
Marketing campaigns that present new features and products
Tips for Recording a SaaS Demo Video
There are a couple of tips that you should take into account when recording a SaaS demo video: 
Have a stable angle for the camera
Minimize movement of the camera (it can be disorienting and hard to follow for the audience)
Avoid industry jargon. You're communicating with your consumers that might not know the acronyms that you're using. 
Add captions for people who watch videos without sound (there are a lot of them!) 
Use your brand color palette so that customers connect your product with your brand
Demo Video Best Practices
Demo videos have been out there for quite some time and marketers have noticed what works really well. Getting to the point fast, keeping the video short (2 minutes ideally, 5 minutes a maximum), and explaining the essential features and benefits of the product seem to be the winning formula. 
Here are some of the best practices when it comes to demo videos: 
Keep it simple. Don't try to cram every piece of information into your video. Just keep it simple by explaining only the fundamentals elements of your product or service (2 minutes isn't a lot of time).
Do your research. When you know what problem your product solves and why your customers are using it, you can use that in your demo videos to already handle objections from new customers. 
Investing a lot of time in the headline. People click on a headline if it's intriguing and beneficial for them. So invest time to write a really good headline for your video (write 25 different headlines and you will find the right one in there).
Invest even more time in the thumbnail.  Since video is a visual format, you will need to invest in making a really great thumbnail. The thumbnail should inform the customer what the video is about, reveal just enough to make them click on the video, but not reveal enough that the customer gets everything from the thumbnail.
The first seconds matter the most.  When a person clicks on your video, you will only have a couple of seconds to make an impression on them. So you need to start with something strong to keep their attention and make them "hooked" on your video. 
Write a script and use it. Creating a perfect demo video means having a really great script. So either write the script yourself or hire a writer to do it for you. And then stick to it when making the video.
Practice until it's perfect. The first take probably won't go that well. You will be nervous, use filler words like "umm" and "like" so it will take a couple of takes to get it perfect. Don't get discouraged— practice makes perfect. 
The How-To Behind SaaS Demo Videos
Creating a high-converting SaaS demo video is a process that requires a couple of steps to pull off: 
Identify the Goals
What is the main goal of the SaaS demo video? You need to answer that before you start making the video. Is it sales, subscriptions, or brand awareness? Because the answer will guide you through the creation of the demo video. 
It's best to frame your goal as "After the Customer watches the video, they will do _____" to know what the main objective of the demo video is. 
Determine the Audience(s)
Who will be the people that will watch the video, how far along are they in the buyer's journey, and how long will they watch? All of these questions and many more are the things you need to answer if you want to make a high-converting SaaS video.
If you have multiple buyer personas, you need to determine who the video is for and then market the video to that target audience, solving their pain points.
Set Budgets & Timelines
A SaaS demo video will have a different quality to it if you invest $1000 than it would have if you invested $10 000. 
You need to know your budget limitations before you start making the SaaS demo video because that will determine what you can do with the video. Are you going to hire a video production agency and an experienced video script writer or will you do everything in-house? 
You will also need to determine a realistic timeline for creating the SaaS demo video. Again, if you're working on the video only with the in-house team, you will save money on your budget, but it will probably take you more time so you will prolong your timeline. 
Create a Marketing Strategy
Once you created your video and it went through the editing process, now it's time to start sharing your demo video. To do that effectively, you need to create a marketing strategy around it. 
Sending a special email announcement, putting it on your YoTube channel, having it on top of your homepage, or having everyone change their email signature to the demo video, are a couple of options for distribution. 
Develop a Script
Last but least is to develop a script for your SaaS demo video. It's the essential part of your video. The script will define your tone of voice, pace, and the message you want to send to your customers. 
If you're hiring an external writer to write the script, you will need to provide them with a detailed brief on top of which they will deliver the outline for the script. After the outline is approved, they will write the draft(s) and then you will start polishing them. 
Since you only have a couple of minutes, the copy can't have any "fat" to it—every word needs to hold its weight.  
When the script is finished, always do a verbal run-through before starting the camera. This will let you know if there are sections to the script that need to be corrected. 
Final Thoughts
Creating a demo video that will explain what your SaaS does will greatly influence the visitors on your website to start using your products and become customers. 
But shooting, editing, and creating a high-converting SaaS demo video isn't the only thing you can do to grow your SaaS business. If you want to get more sales-qualified leads instead of marketing-qualified leads, you should book a demo call with one of our agents.