How to Build a Marketing Dream Team in 2018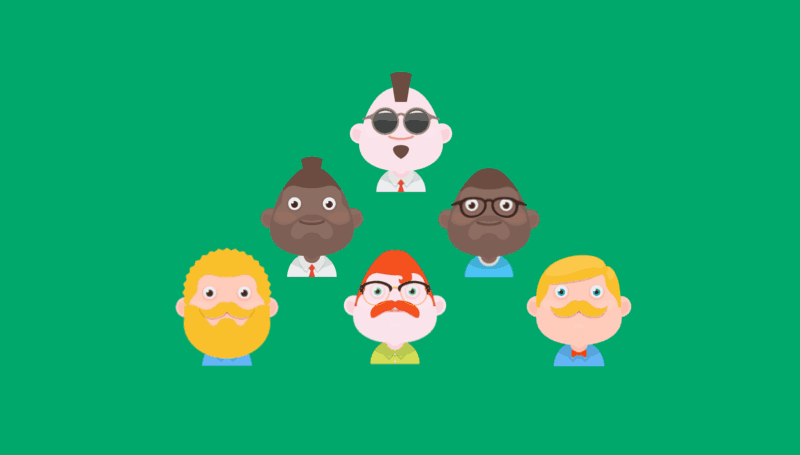 Every year brings with it new and exciting developments for marketers.
As it is, marketing is a fast moving industry — one where you definitely don't want to get left behind.
Getting left behind in the marketing world is the equivalent of losing your debit card in a grocery store line. Everyone is going to keep moving regardless of your peril.
But keeping up is no easy matter.
And 2018 isn't going to be any different.  
In 2017, 72% of B2B marketers adjusted their strategies to be more successful.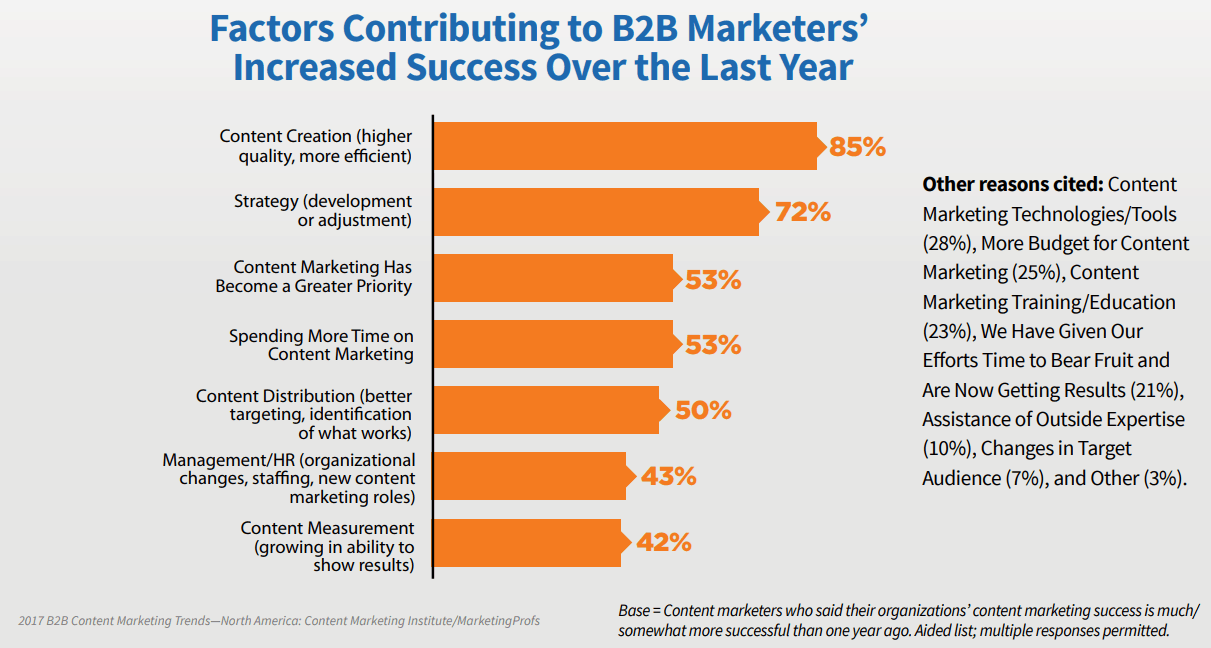 And 8 is the average number of content marketing channels that these teams leverage.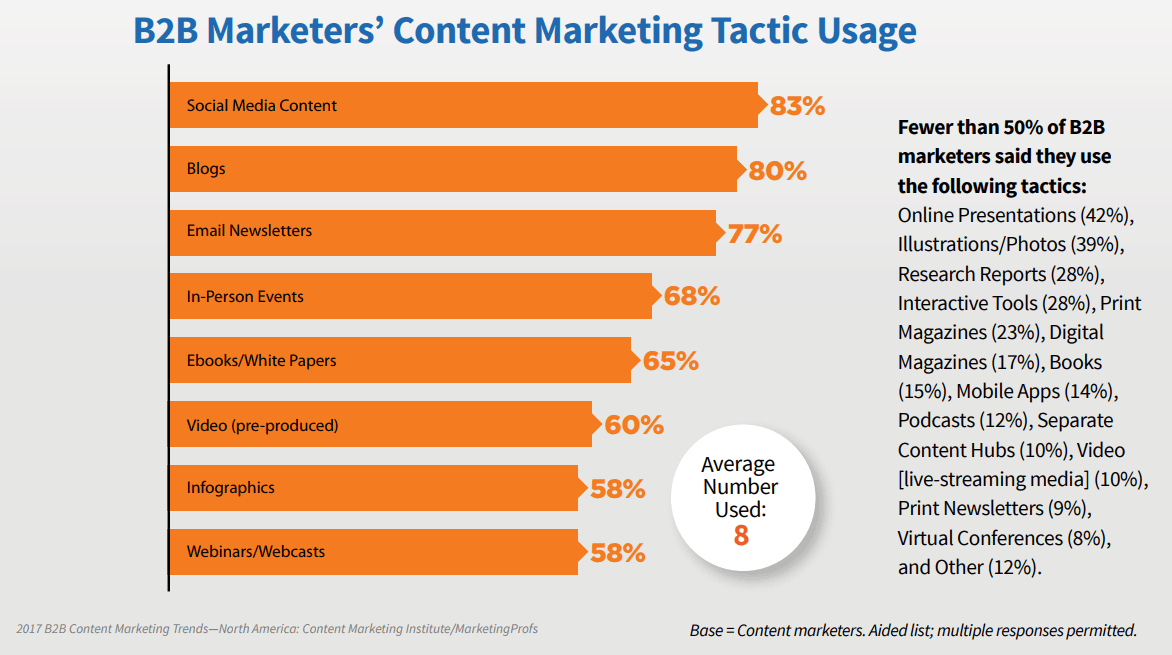 But lest you think these changes are only impacting B2B marketers, consider for a moment the similarly drastic changes taking place in B2C companies.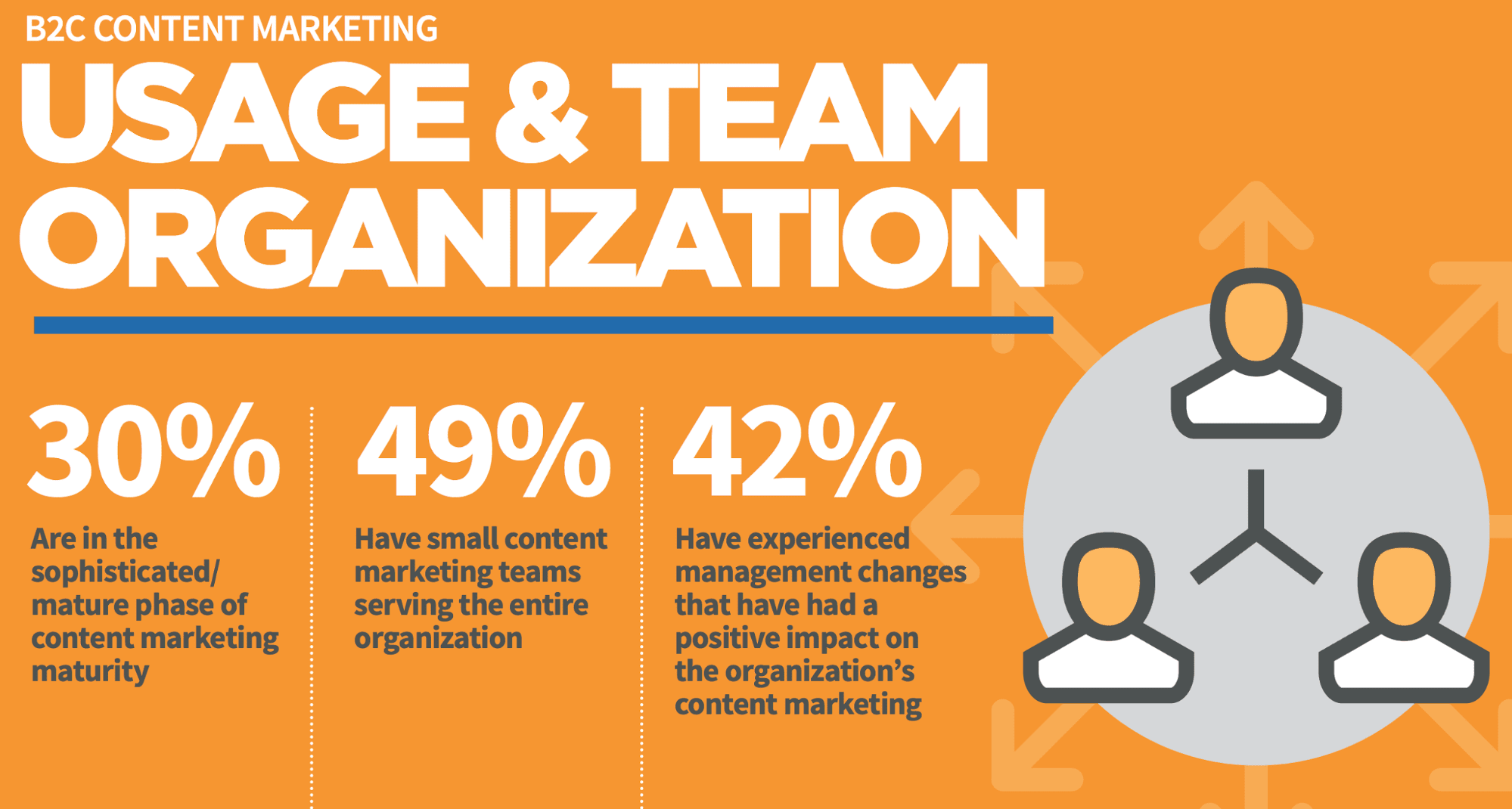 All of that change is making 2018 seem like it's going to be a promising year — one full of changes, improvements, and, of course, hardships for marketers.
And the last thing you want to do is go into the year unprepared.
So, what will be your biggest asset?
Your marketing team.
With a team full of expert copywriters, advertisers, public relations specialists, and data analyzers, you'll be set to tackle the year's unexpected twitches and shifts.
Without this team, you'll be putting your chips on a digital world that stays the same.
And as we all know, the digital world never stays the same.
Here's how you can assemble your 2018 marketing dream team.
Step #1: Determine the necessary roles
The first thing you need to do is determine which roles your marketing efforts will require this year.
Some roles from last year might no longer apply if you found that they were ineffective for your strategy, and other roles might be added, depending on where you saw gaps.
Based off of previous marketing years, ask yourself these questions:
What bottlenecks stopped the marketing team from fulfilling their full potential, and how can we remove those?
Which roles didn't benefit the marketing team, and how can we cut those?
Which roles benefited the marketing team to the biggest degree, and how can we leverage those even more?
Answering these questions will help you determine which positions are going to be necessary for your marketing strategy and which you can do away with.
Every business will have different experiences with different marketing tactics, so don't bank on someone else's claims. Instead, analyze your last few years and ruthlessly determine what drove revenue, what didn't, and how you can exploit both.
In the end, you'll need to put together a detailed hierarchy of the positions you've decided are necessary for 2018. It might look something like this.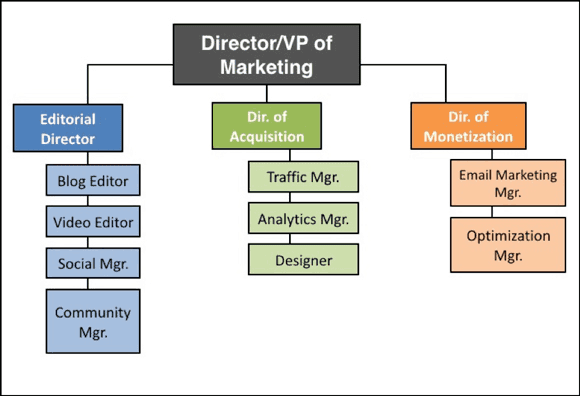 Or something like this.

Whatever the case, define your necessary positions with excruciating detail.
You'll fill some of these positions with experts that you'll hire, and you'll fill others with current employs. You'll probably cut some previous positions altogether, which will reorient people or outright downsize the company.
The important thing is this: iterate upon last year's failures and successes to build a better strategy this coming year. And to do that, you need to determine which positions are going to take you to the top.
Discover Your Search Engine Opportunities
We would love to take a look at your current search engine positioning and analyze the growth potential within your industry!
Step #2: Create high-standard qualifications and expectations for each role
If you really plan to create a marketing dream team — if you're here, you do — then you need to aim for the stars with who you hire and get rid of anyone who doesn't meet your high standards.
This might sound harsh. And to be honest, it is.
It's harsh because you're not trying to build a mediocre marketing team. You're not trying to build a C, B, or D-team. You're trying to build an A-team. And to do that, you need to have high expectations.
To find extraordinary people, you need to have extraordinary standards.
The other benefit to having high expectations is that, if you're vocal about them, your standards will separate the wheat from the chaff. That is, people who don't have the necessary qualifications will be intimidated by your expectations and probably not even apply.
Who will apply?
The people who are completely confident in their ability to do the job and do it well.
High standards act as a gate to lousy workers.
Here's a job description for a copywriter that does a nice job of raising the bar.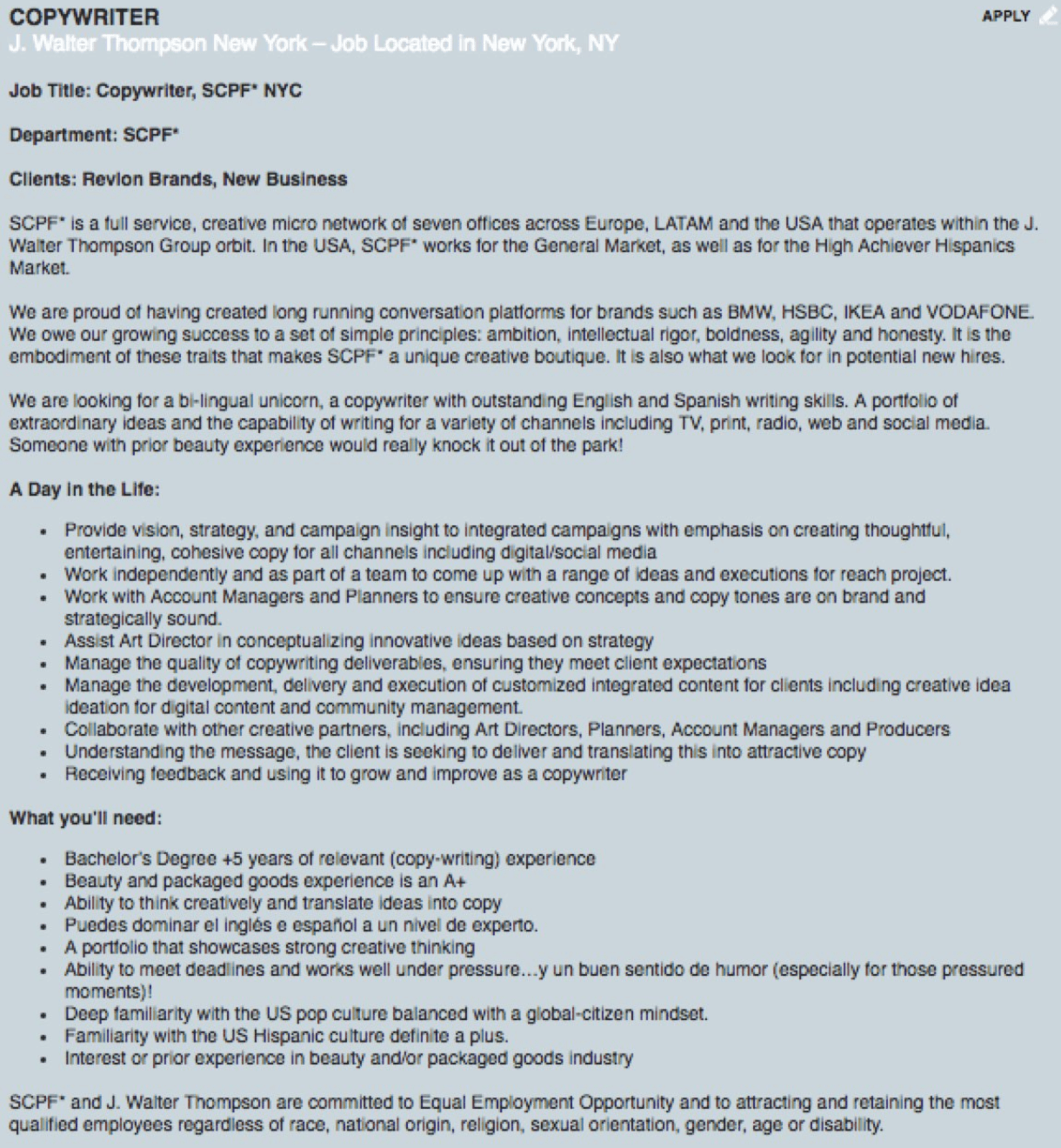 It uses phrases like, "bi-lingual unicorn" and "a portfolio of extraordinary ideas." Plus, their list of technical qualifications is no easy-to-meet standard.
Now, I know what you're thinking. Some of the best marketers don't have these technical qualifications. Sometimes, they come in the form of someone who only has a high-school degree.
Well, if you want to avoid excluding people based on technical education requirements, then you can exclude people just as effectively by describing the high expectations for the job.
From the previous example, they say that they're looking for someone who can "Provide vision, strategy, and campaign insight to integrated campaigns with emphasis on creating thoughtful, entertaining, cohesive copy for all channels including digital/social media."
This description excludes subpar candidates without adding unnecessary technical barriers.
Additionally, you'll want KPIs for each role. Here's an example of some marketing KPIs to consider.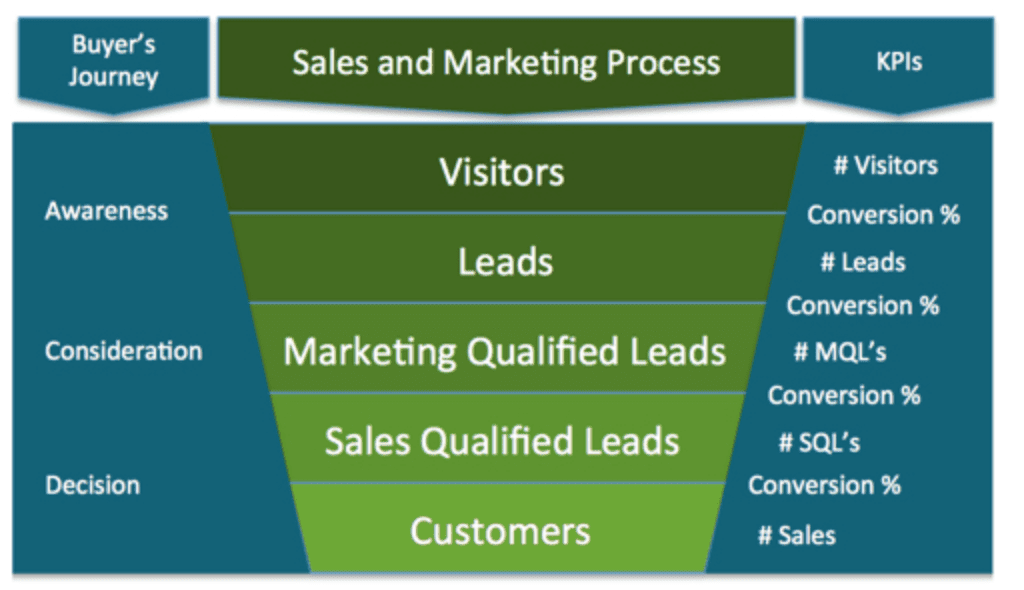 Just make sure that you break these KPIs into individual responsibilities for each role and then advertise that the marketer's success will be determined based on those factors.
Having KPIs for each role will tell you what the role requires and ensure that candidates know what you're expecting from them when they're considering the position.
And clear expectations go a long ways. But clear expectations that are extraordinary go even further.
Step #3: Match the ideal value with the ideal pay for each role
The last thing you want to do is build a dream team, pay them too little, and then lose them when they get fed up with their insufficient income.
To make sure that you keep the people you choose throughout this process, make sure that you pay them a fair amount of money for the skillset they bring to the table.
I'm not saying you have to break the bank. But I am saying that you should do some research on the average pay for each position and then aim a bit above that.
After all, if you're really going to hire exceptional people, then they should get paid exceptional wages.
Here's a graph that shows the wage curve for a content manager.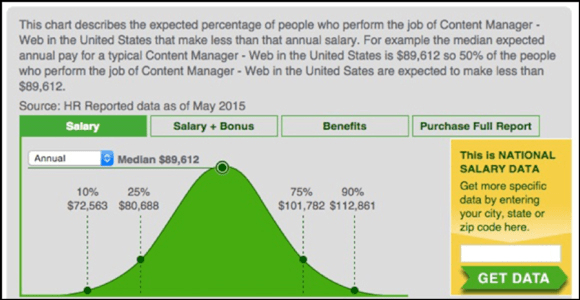 For an exceptional content manager, you might aim closer to the $90,000 or $100,000 marker.
A quick Google search to find other position averages will tell you a lot.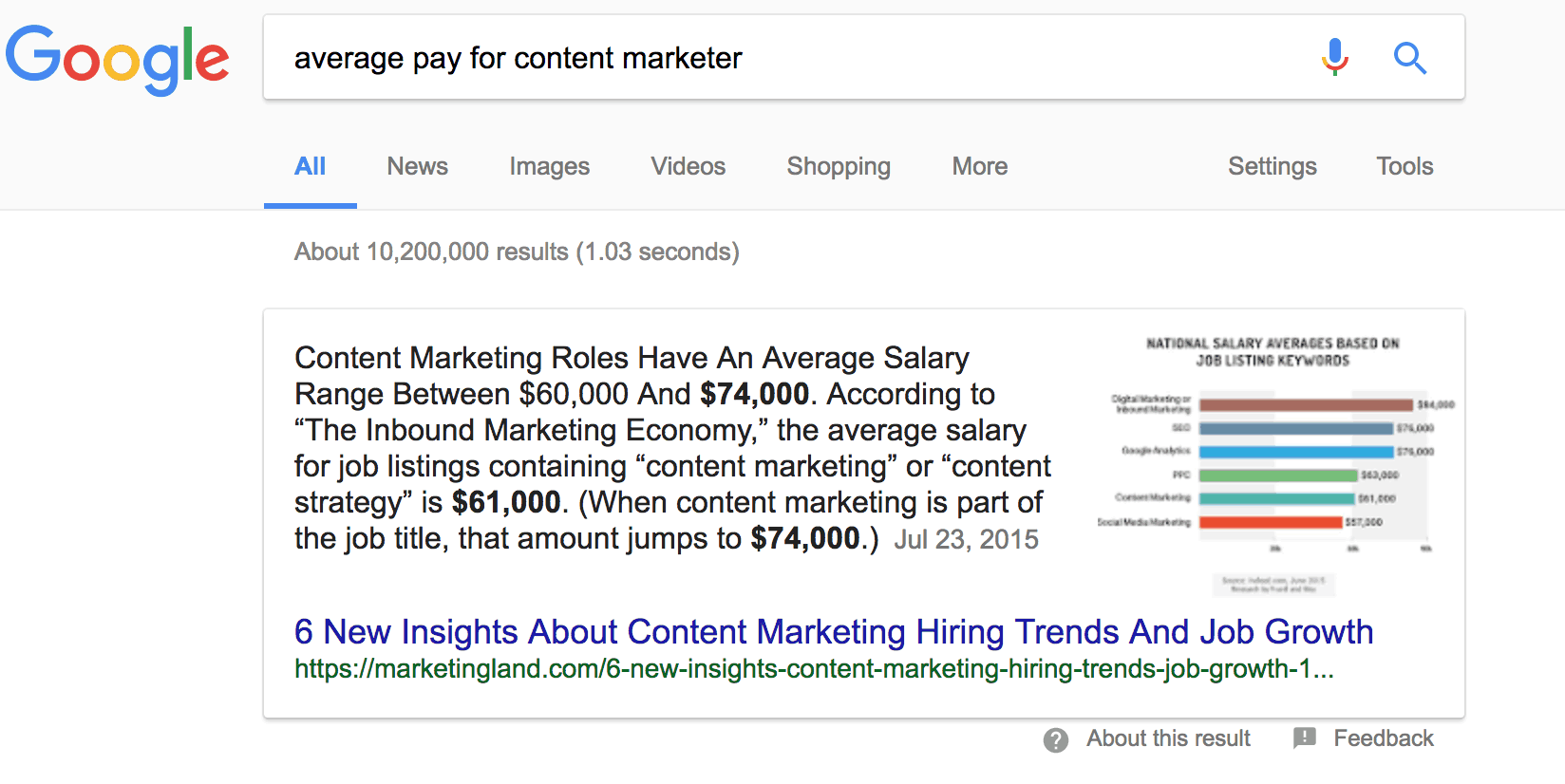 Of course, this won't tell you the full story, but it's a good place to start.
To fill in the remaining gaps, ask yourself these questions about each position.
If this person excels at their role, how much money will that make the business?
How critical is this role to the company? In other words, if this person leaves, how hard will it be on the marketing team? High pay is incentive to stay.
Once you've answered those questions, ask yourself…
What's a good pay wage to start at that will still allow for room to move up?
People who join your team will want to increase their pay over the coming years. They won't want to cap out immediately. So pay your people exceptionally well, but leave room to move up over the following years.
Step #4: Discover the true talent within your current marketing team
While you'll most likely have to look outside your current marketing team to find exceptional talent, don't forget about the people that are right in front of your face.
The people on your team already know your company and the marketing processes, which means that they're one of your biggest assets.
What you need to do is reanalyze if everyone is in the right position.
Someone, for instance, might have been hired as a copywriter, only for you to find that they're a far better Facebook Advertiser. Another person might have been hired as a content strategist, but they're far better at the writing of the content than they are the strategy.
The point is that you need to make sure your most valuable people — the people who already work for you — are in the right spot. Just because someone was hired into a certain position doesn't mean they should stay there.
You might find that some of the people on your team are surviving their jobs on nothing more than a daily cup of coffee and that they'd be far better suited in a different position.
https://media.giphy.com/media/13Y7TygzhUgT28/giphy.gif
Here's how you determine if your people are in the right spot. Sit down with each team member privately and ask them these questions.
On a scale from 1 to 10, how much do you like your job? If they say an 8 or below, they might be indicating they don't enjoy it very much. A 9 or 10 is good.
If you could spend your workdays doing anything you want here, what would you do?
Those two questions will go a long ways in determining whether or not your employees are happy in their current positions and, if they could do something else, what that might be.
Step #5: Hire people who impress you, not just people who satisfy you
It's easy to settle for hiring people who meet all of your requirements. And sometimes, that's not such a bad idea.
If they are a good person who meets the requirements and fits the team dynamic, then it's probably best to hire them.
But this point represents a small caveat to that rule of thumb.
Here's the reality: hiring, firing, and keeping people is hard. The whole gambit often makes you feel more like a clown trying to juggle than a lead marketer who's assembling a 2018 dream team.
The stats show the ugly truth.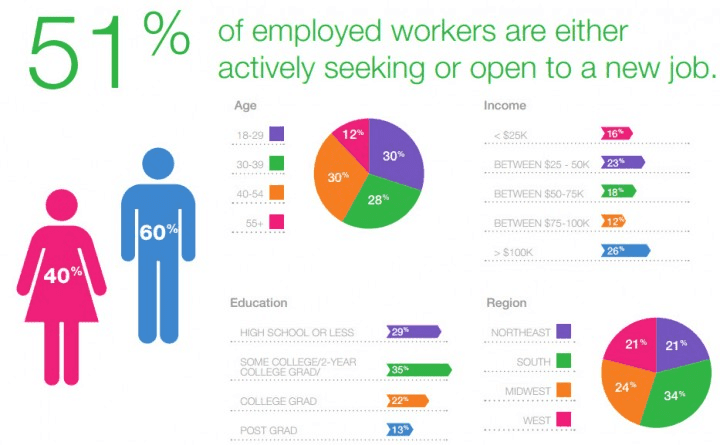 This means that you have to put in extra effort to assemble a team of committed, exceptional people.
Always ask yourself this question when hiring someone: "Are they the kind of person who goes above and beyond, or do they just do the bare minimum?"
If you read people correctly, the answer to that question will tell you a lot about how hard-working the people you hire are.
For further information, look at their track record with other companies.
How long have they stayed with other businesses?
Have they worked for businesses with a notoriously high standard of excellence?
Do their references indicate that they are "good" workers or "exceptional" workers?"
Additionally, if you're struggling to find people within your city who fit the team, consider expanding your hiring borders to offer remote work.
However you do it, make sure that once you find the right person, you pay them well, treat them well, and hire them immediately.
https://media.giphy.com/media/3ohhwIqvzoZI2O4o9O/giphy.gif
Step #6: Educate your team about your marketing goals
Once you've hired your team, you want to set them up for success. To do this, make sure that everyone is on the same page by educating them about your marketing goals.
But don't educate them about shitty goals like, "to increase traffic" or "to make more money." Those aren't nearly specific enough to actually be an attainable or measurable undertaking for your team.
Instead, use SMART goals.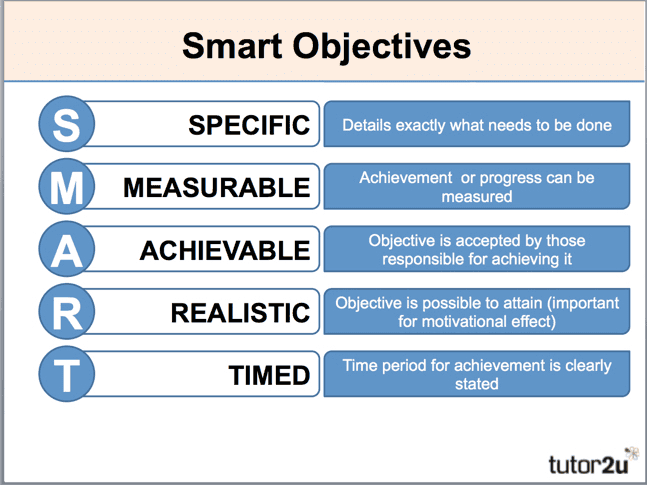 Then, tell your team about these goals, and even consider printing out a wall poster for each team member's desk to remind them constantly of the direction they're heading in.
This will unite your team and keep them focused on what you plan to do in 2018.
Conclusion
Marketing best practices move fast. One year, we're supposed to be creating infographics. Another year, we're supposed to be streaming live video.
The changes are unending, and this presents an unending challenge.
First, you have to keep up with these changes. You have to adapt quickly and easily and have processes in place that allow for that kind of flexibility.
But it's not just you. Your team has to adapt quickly.
And for the pace that 2018 is going to likely require, it's best that you hire an exceptional team of people to rule your marketing efforts.
To do so, determine the necessary roles, create high-standard expectations for each role, pay your people appropriately, discover the true talents of your current team members, hire people that impress you, and educate your team about your SMART goals.
This will ensure that you're ready for the always fast-paced marketing changes that each year promises and that you win the game against anyone who tries to challenge you.
Keep reading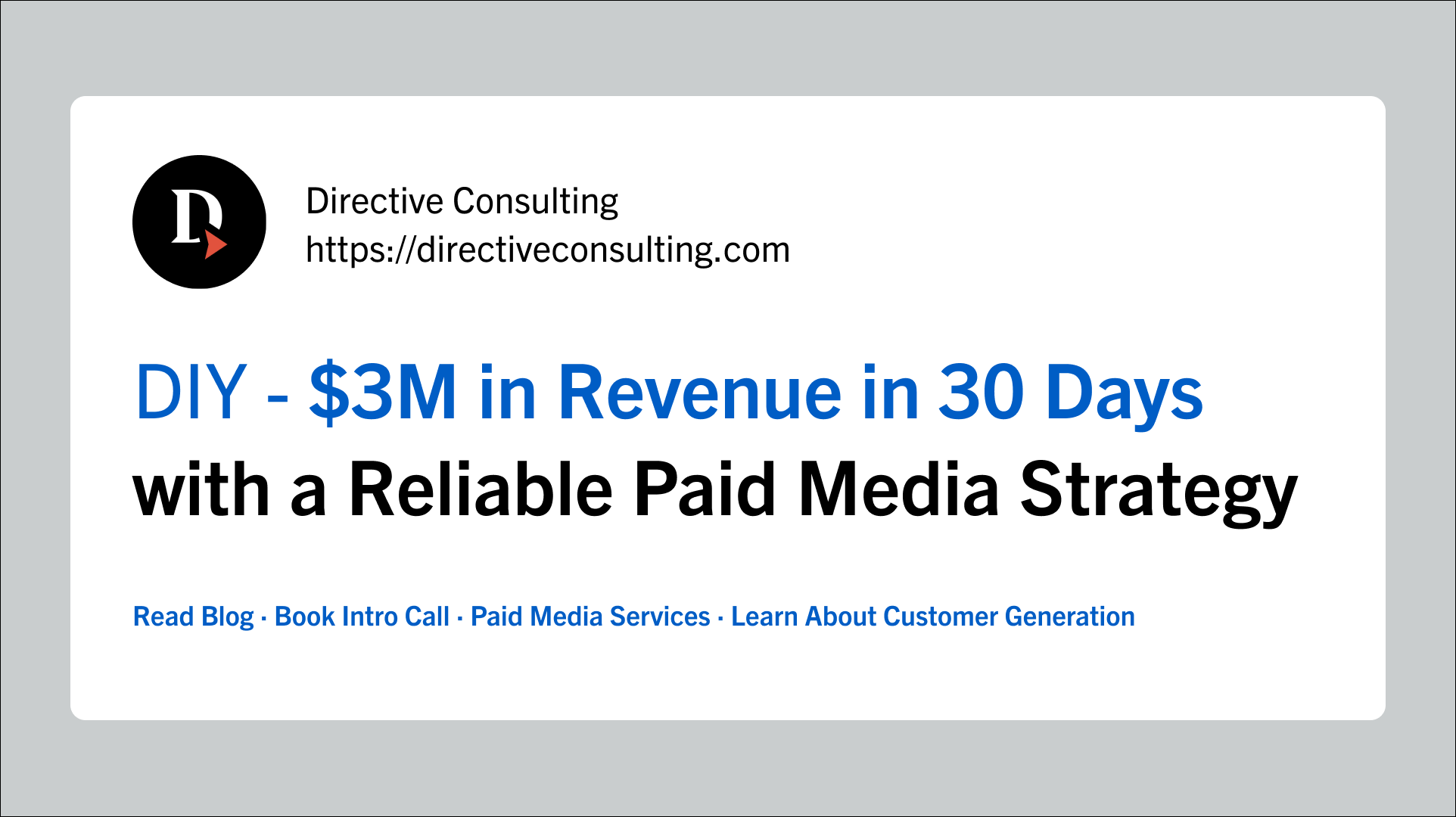 PPC
DIY: $3M in Revenue in 30 Days with a Reliable Paid Media Strategy
Social Media
Boost Your LinkedIn Engagement by 22% with These 3 Content Types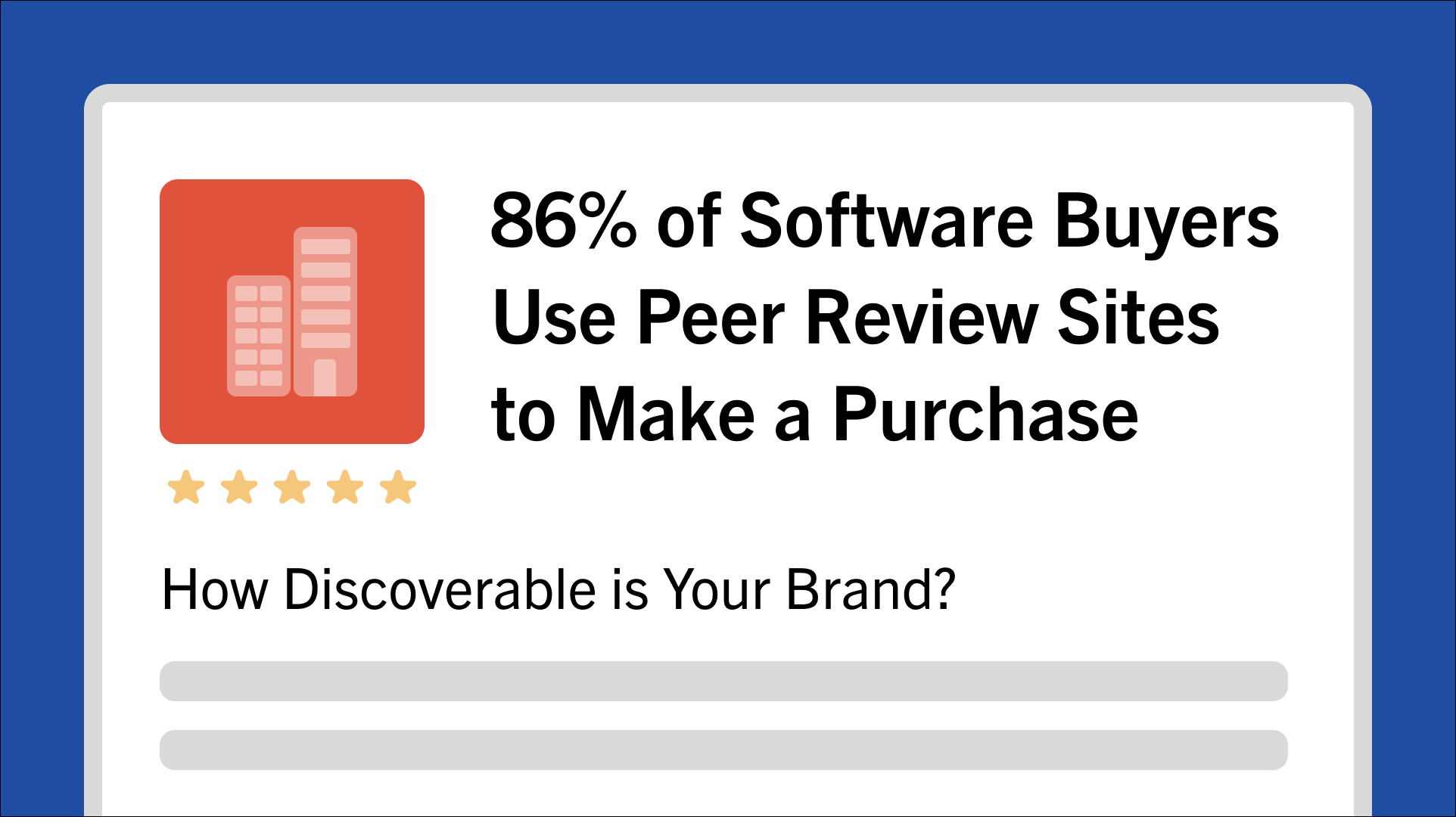 Sales
86% of Software Buyers Use Peer Review Sites to Make a Purchase. How Discoverable is Your Brand?