LinkedIn Conversation Ads that Actually Work [With Examples]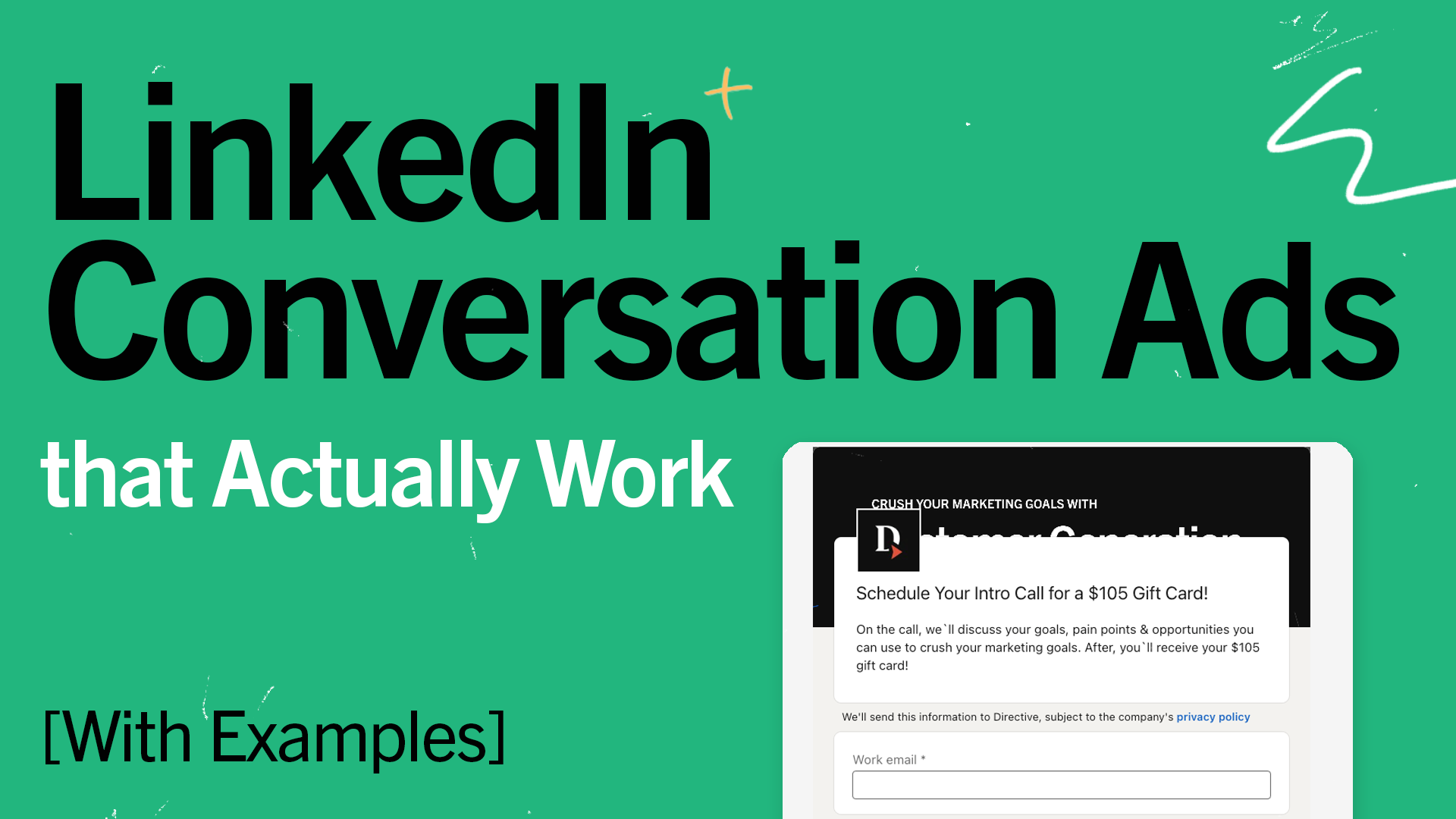 LinkedIn conversation ads are a powerful way to book sales meetings and boost webinar attendance, putting your brand front and center with your prospects. While creating conversation ads is easy, finding messages that are impactful and resonate with your audience is much harder. Let's dive into the step-by-step actions to create a campaign that actually works with these proven LinkedIn conversation ads examples from Directive.
Step 1: Create a new campaign in LinkedIn Campaign Manager
To start, navigate to the LinkedIn Campaign Manager and create a new campaign. Once there, rename the campaign to something relevant and ensure you're working in the advanced tab before clicking next.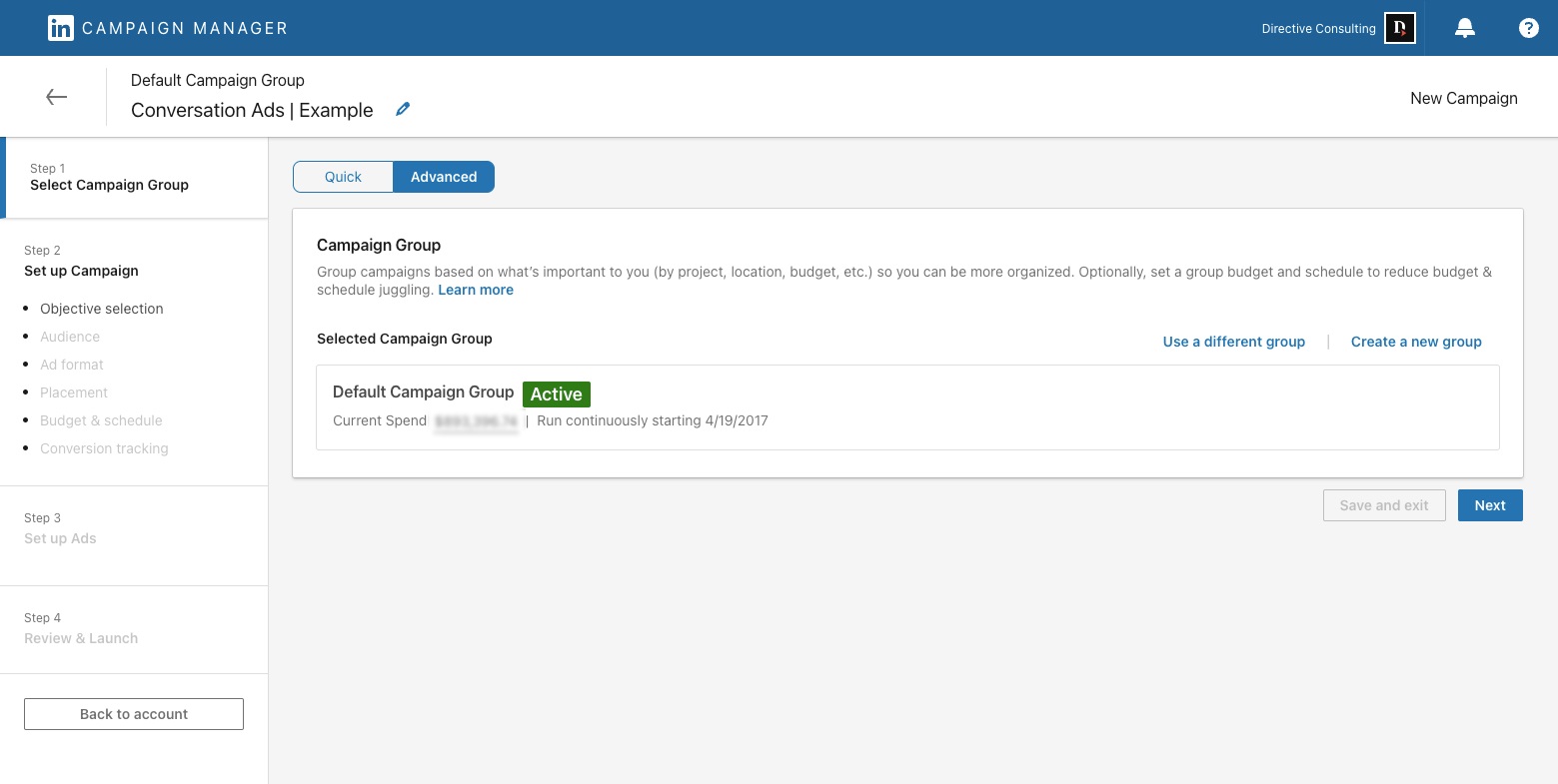 Step 2: Choose between website visits/conversions or lead gen forms
LinkedIn conversation ads offer two primary options (but appear in the ad formats for five objectives): sending users to a website or using a lead generation form. Since this ad type is more expensive, we'd recommend avoiding using these for brand awareness and engagement campaigns. The choice between these options depends on your specific goals:
If your objective is to have users download an asset or interact with a call-to-action on your website, then choose the website visit or website conversion option.
If your goal is to incentivize meetings or book demos, opt for the lead gen form, which generally leads to higher conversion rates.
While some may argue that lead gen forms can bring in lower-quality leads, there are strategies available to optimize their effectiveness.
Step 3: Set up your campaign targeting
Target a specific audience you want to craft messaging to that makes sense for their job title, industry, etc. In this example, we're targeting 800-900 C-level marketing professionals in Canada and the US.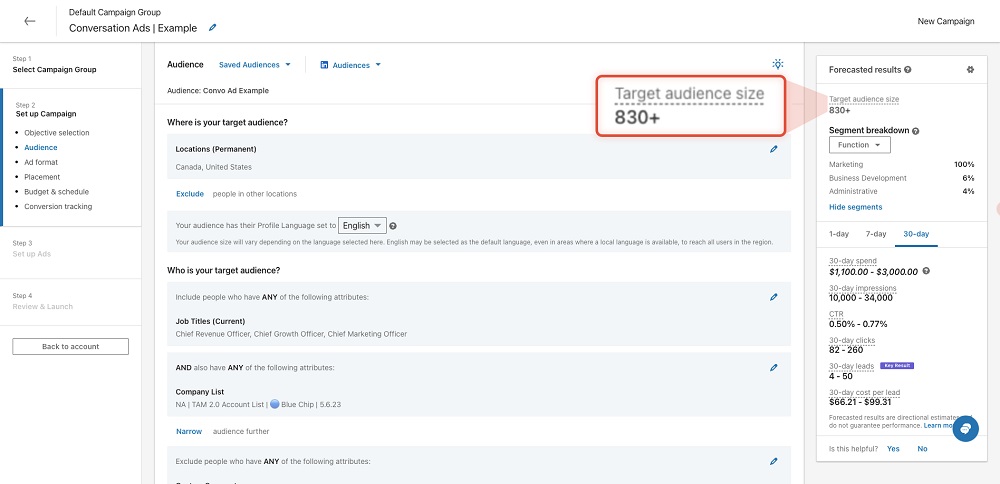 Utilize LinkedIn's extensive targeting options, such as job titles, industries, company sizes, and geographic locations layered on top of your first-party, manually verified Total Addressable Market list (that you can upload via CSV file in LinkedIn's audiences).
By layering multiple targeting criteria, you'll improve the relevance and personalization of your ads and ensure that every send is to someone your sales team can sell to.
Exclusions layered on the campaign are an element of targeting that is just as important, if not more, than the inclusions. Continuously maxing out the number of exclusions you add to your campaign will help hone your audience targeting to exactly who you need to hit.
You can easily do this by routinely reviewing the demographics for the campaign and deciding whether a job title, job seniority, company size, etc., is a fit. If they are not, you can add them to the exclusions and cut down on wasted spend.
For example, even with all of the exclusions we use we still can see Advisor, Member, Board Member, Founder, and Co-Founder in our demographics for the campaign.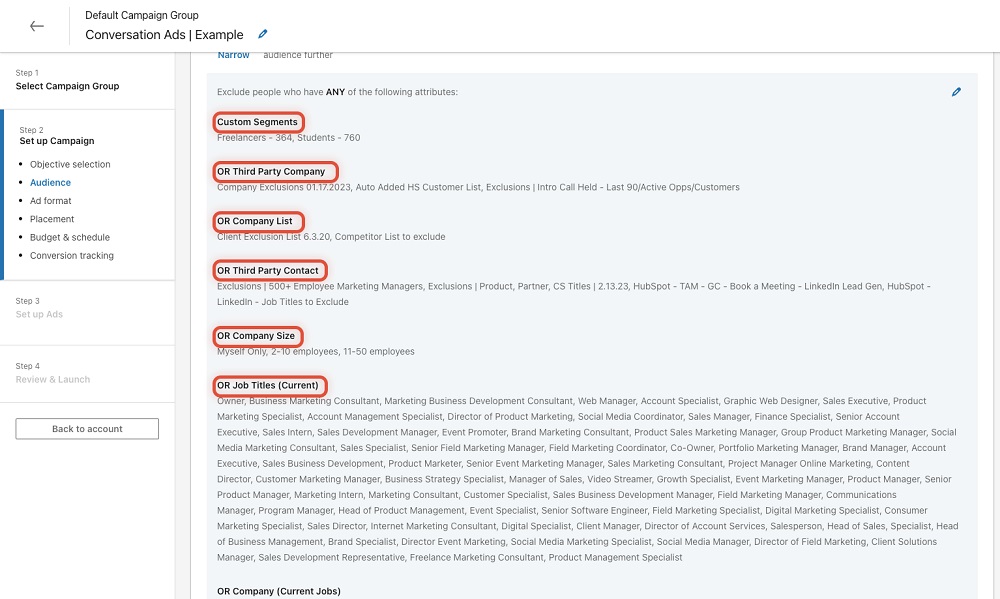 Be sure to test different targeting combinations to determine the most effective approach for your specific campaign. Since this approach creates smaller target audience sizes, you want to find more opportunities you might be missing.
For example, by layering industry and job titles while excluding your TAM list, you will only pull net new companies outside your TAM.
Lastly, ensure "Enable Audience Expansion" is not selected for a more focused approach.
Step 4: Establish your budget and bid
Set a higher initial daily budget and bid high to win the auction to send a message, keeping in mind the 21-day limit per person. With the updates LinkedIn recently rolled out to conversation ads (which are currently still ramping up – the tentative release schedule will have 100% of accounts ramped by early September 2023), members can see the same ad up to 3 times in 7 days, so you can reach more of your target audience more often.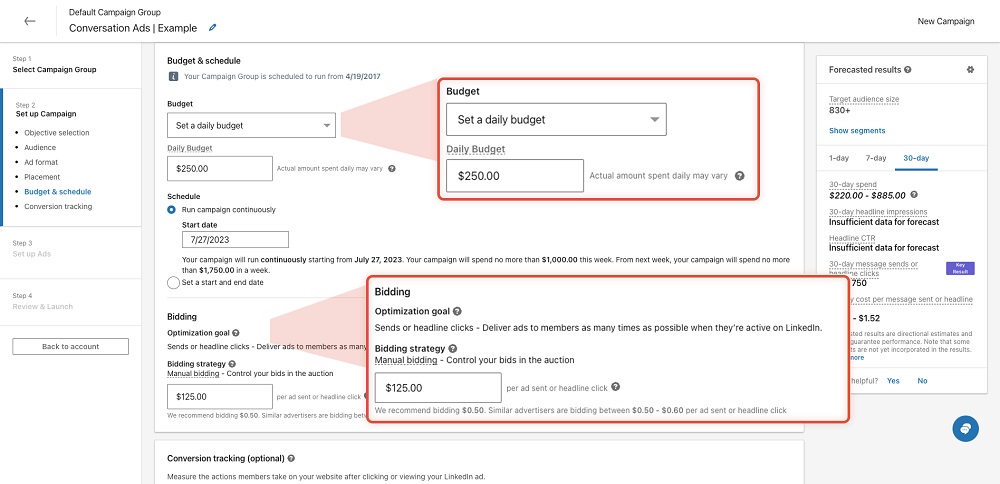 Not everyone will view the messages at the same time, so bidding high initially is important.
Although the recommended bid might be around 40 cents, bidding high increases your chances of being sent first.
The maximum bid limit is $300, but most campaigns don't reach that amount; they usually stay between $4 and $20.
Many people don't bid high, so your actual spending will likely be lower than your bid.
Step 5: Choose a sender
Select a sender whose title is closely associated with the person being marketed to, ideally within the same department. For example, if you're marketing to Chief Marketing Officers or Heads of Demand Generation, a sender with a title like 'Director of Marketing' will be more effective.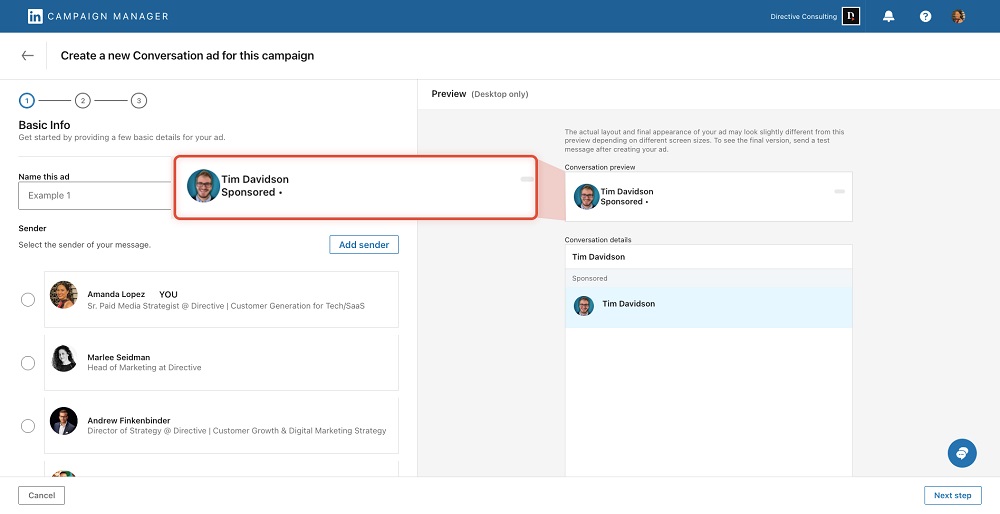 Consider using someone at your company who is highly engaged and has a strong following on LinkedIn, as this can lead to increased open rates.
Ensure the sender's title is relevant to the target audience for better engagement.
Avoid using sales titles unless you're marketing to salespeople.
Female senders often have a 5% higher open rate compared to male senders.
Step 6: Design your ad message
This is where the magic happens. Use a blank template to create the ad and include details about the incentive. This can be as simple as offering a gift card for scheduling an intro call.
In the description, give people more insight into what the call is about to set their expectations.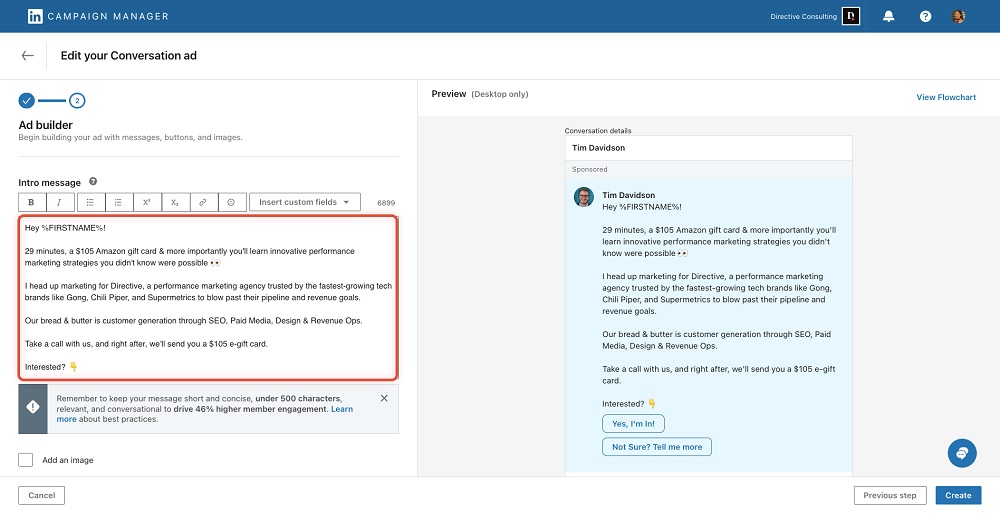 LinkedIn's lead generation form auto-fills fields like first name, last name, job title, company name, company size, and industry, which helps maintain high conversion rates.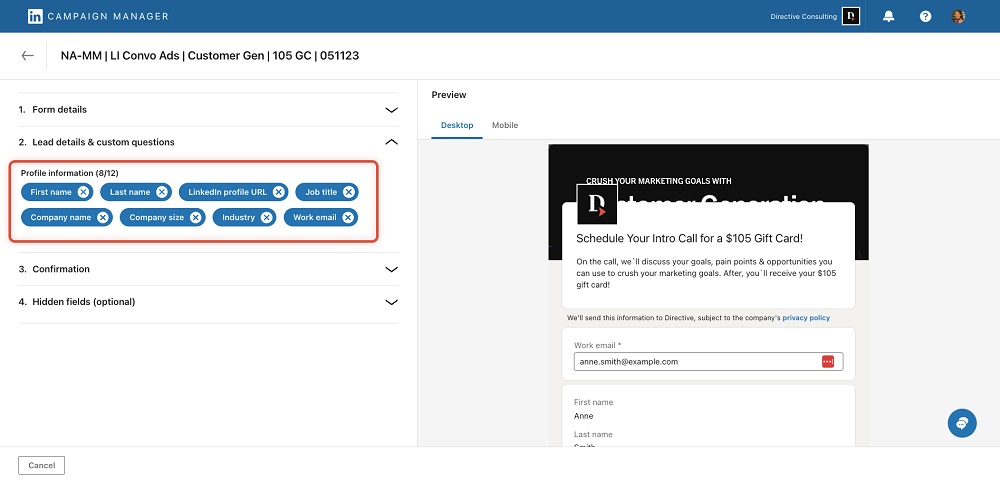 For work email addresses, not everyone has one on their LinkedIn profile. You can create a custom field that requires manual input, which may slightly lower conversion rates but will likely result in more work emails being collected. This decision depends on your organization's priorities.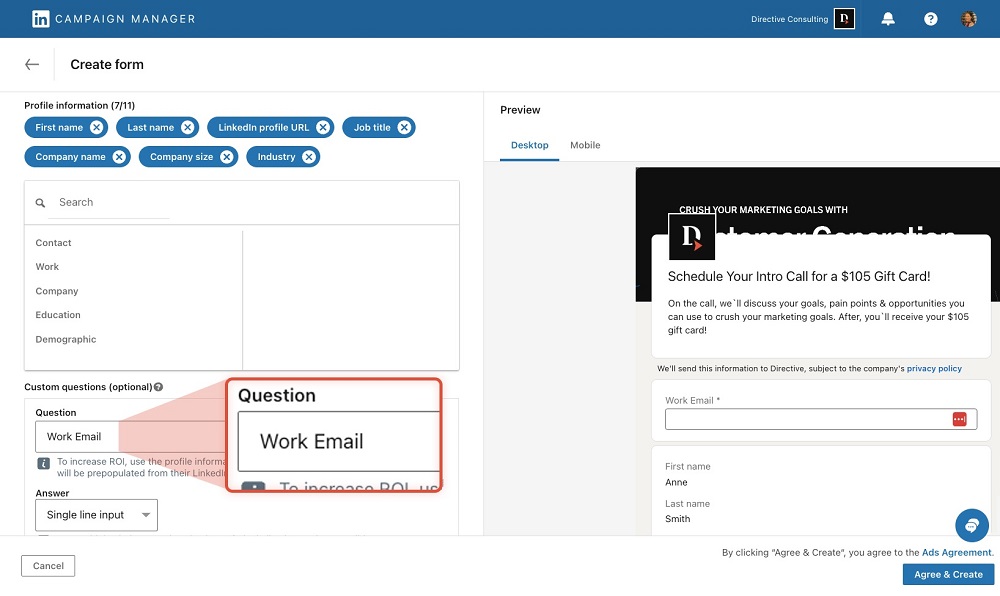 LinkedIn also recently added an option to validate the work email field which will restrict members from submitting common personal emails (i.e. gmail, hotmail, etc.), therefore improving the quality of emails collected but impacting the overall submission rate.
In the next message, mention the incentive again and provide a scheduling link using a tool like Chili Piper. This allows prospects to book calls directly instead of waiting for your sales team to reach out. Incorporating a scheduling link has been shown to significantly improve conversion rates.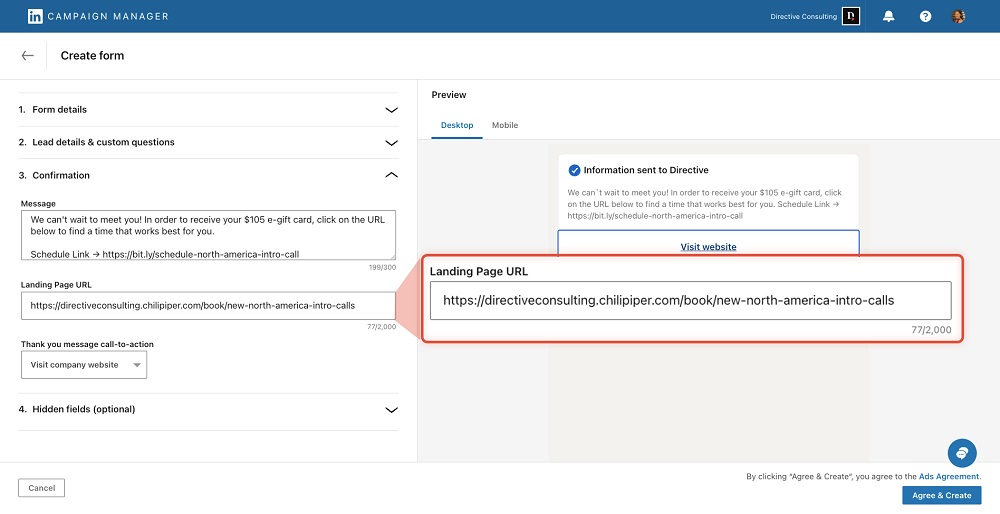 Craft a compelling ad message that highlights the incentive and provides context for the call.
Utilize LinkedIn's auto-fill feature to streamline the lead generation process.
Offer a scheduling link in the confirmation message to facilitate direct bookings and boost conversion rates.
Step 7: Design an offer that converts
Create an enticing offer that combines both the incentive and the value of your service or product. To design an offer that effectively converts, follow these guidelines:
Highlight the incentive: Lead with a gift card or other incentive you're offering, but ensure it complements the overall value of the call or meeting.
Emphasize the value: Clearly communicate the benefits of the call or meeting, such as innovative marketing strategies or valuable insights tailored to the prospect's needs.
Include social proof: Showcase your credibility by adding testimonials, case studies, or mentioning well-known clients you've worked with. This helps build trust and demonstrates the effectiveness of your services.
Outline your services: Provide a brief overview of your services, ensuring they align with the prospect's interests and pain points. This helps prospects understand how your offerings can help them achieve their goals.
Reiterate the incentive and add a scheduling link: Remind prospects of the gift card or other incentive and include a scheduling link in the thank you message after they submit the lead gen form. This reinforces the meeting's value, encourages action, and streamlines the booking process in full-funnel campaigns.
By carefully crafting your offer and highlighting the incentive alongside the value of your services, you can create a compelling message that drives conversions and increases engagement with your LinkedIn conversation ads.
Conclusion: Master LinkedIn Conversation Ads and Crush Your Goals
There you have it – the key ingredients for crafting great conversational ads that truly work and keep you ahead of the competition.
By implementing these proven strategies, such as engaging ad messages, appealing offers, and convenient scheduling links (for a seamless booking experience), you'll effectively capture your target audience's attention and drive conversions.
Remember to test, adjust, and test again to optimize your campaigns. After all, achieving marketing success requires a blend of data-driven decisions and creative flair.
LinkedIn Conversation Ads FAQ:
Q: What are LinkedIn Conversation Ads?
A: LinkedIn Conversation Ads (sometimes known as conversation starter ads) is an innovative marketing solution designed to engage your target audience with personalized, interactive messages. These ads foster meaningful conversations by delivering tailored content, strategic offers, and seamless scheduling links, ultimately driving conversions and enhancing your brand's presence on the platform.
Q: How do I track and measure the performance of my LinkedIn Conversation Ads?
A: You can track and measure the performance of your conversation ads with three tools in LinkedIn: reports, flow charts, and demographics.
Using LinkedIn's reporting, you can select Sponsored Messaging in the columns, which will pull up all metrics relevant to conversation ads. The most impactful to monitor are:
Open Rate: Total opens divided by total sends. It's good to be mindful of the rate in which your conversation ads are opened, especially with the recent delivery changes made by LinkedIn.
Click to Open Rate: Percentage of people who clicked after opening your InMail (clicks divided by opens). This will help you understand if your first message (and offer) is engaging enough to warrant a click once the recipient has opened your ad.
Leads: This one is self-explanatory.
Cost Per Lead: Amount spent per lead collected. You should expect higher CPLs from conversation ads since they are more expensive. The better and more enticing your offer, the lower the CPL.
Lead Form Opens: Number of times a member opened a lead form. This helps you get a sense of how often someone is making it through your flow to the lead gen form.
Lead Form Completion Rate: Percentage of opened forms that were submitted (form submissions divided by form opens). This one's important. This will let you know how well your Lead Gen Form is working. If there is a low completion rate, evaluate if you are asking for too much information or if you are clearly explaining what they get out of submitting the form.
Metrics from your CRM: We look at Intro Calls Scheduled, Intro Calls Held, all the way down to Closed Won and the amount of the deal. This helps us evaluate the LTV:CAC ratio and if the ROI is there.
With the Conversation Ad Flowchart, you can view the number of clicks received for each call-to-action button in your conversation ad. You can also optimize the performance of your conversation ads by reviewing the engagement with each action available in your ad and changing out pieces of the flow where you see clicks drop off. If you edit a conversation ad, the flowchart only displays clicks from the most recent version of the ad. All other reporting tools and exported reports include clicks from all versions of the ad. Demographic reporting for your conversation ads is available at the account, campaign group, campaign, and ad level in Campaign Manager. The Demographics section provides reporting on the demographic dimensions associated with the people who interacted with your ads and outlines areas you can improve your targeting at the campaign level:
Job function
Job title
Company
Company industry
Job seniority
Company size
Location
Country
Q: What are the targeting options and best practices for LinkedIn Conversation Ads?
A: On LinkedIn, you can target members using profile-based professional attributes, re-target visitors from your website or ad engagement, and upload lists of contacts or companies from your TAM list. Below are the targeting options you'll find when building your campaign:
Location and Language
Company: Company Name, Company Industry, Company Followers, Company Growth Rate, Company Category, and Company Size
Job Experience: Job Functions, Job Seniority, Job Titles, Member Skills, and Years of Experience
Education: Degrees, Fields of Study, and Member Schools
Interests & Traits: Member Interests, Member Groups, and Member Traits
Demographics: Age and Gender
Best practices are:
Layer your TAM list with LinkedIn targeting to create small sized audiences.
Create an enticing offer and attention-grabbing message that resonates with that specific audience.
Choose a sender that aligns with that audience.
Use Lead Gen Forms to create less friction.
Optimize for both a mobile and desktop view.
Take advantage of a scheduling tool like ChiliPiper to improve user experience and give more time back to sales.
Q: Are there any specific guidelines or restrictions for creating LinkedIn Conversation Ads content?
A: Your ads must comply with LinkedIn's typical advertising policies in order to pass their review. You can find the policy here.
Sender: You can only select from available senders. You must be connected to a person on LinkedIn if you want to add them as a sender.
Intro message:

Your limit is 8,000 characters, including spaces, emojis, and punctuation. You can use up to 10 emojis in the intro message field.
Rich text options like bulleting, italics, and bolding are available, although we recommend keeping the formatting simple and conversational since you're in a conversation space.
The intro message field is automatically populated with a sample message, including macro support, which makes it easier and quicker for you to create a custom message. The Insert custom fields dropdown lists the available macros, which include the recipient's first name, last name, company name, job title, or industry.
A tooltip provides information about creating impactful messages, and a dynamic feedback recommendation is enabled for more than 500 characters (as fewer characters can drive higher engagement).

Call-to-action button text: You can use up to 25 characters, including spaces and punctuation. The maximum amount of CTA buttons you can create per message is five.
Message Content: You can use up to 8,000 characters, including spaces, emojis, and punctuation but LinkedIn recommends 500. The longer your message, the more time for someone to decide they don't want to take action. You can use up to 10 emojis per message layer in a conversation ad campaign, but we've found no more than three works best.
Rich text options like bulleting, italics, and bolding are available, but they recommend keeping the formatting simple and conversational since you're in a conversation space. The less it sounds like a sales pitch, the better.
Destination URL: URLs must have the http:// or https:// prefix and can use up to 2,000 characters for the destination link.
Keep reading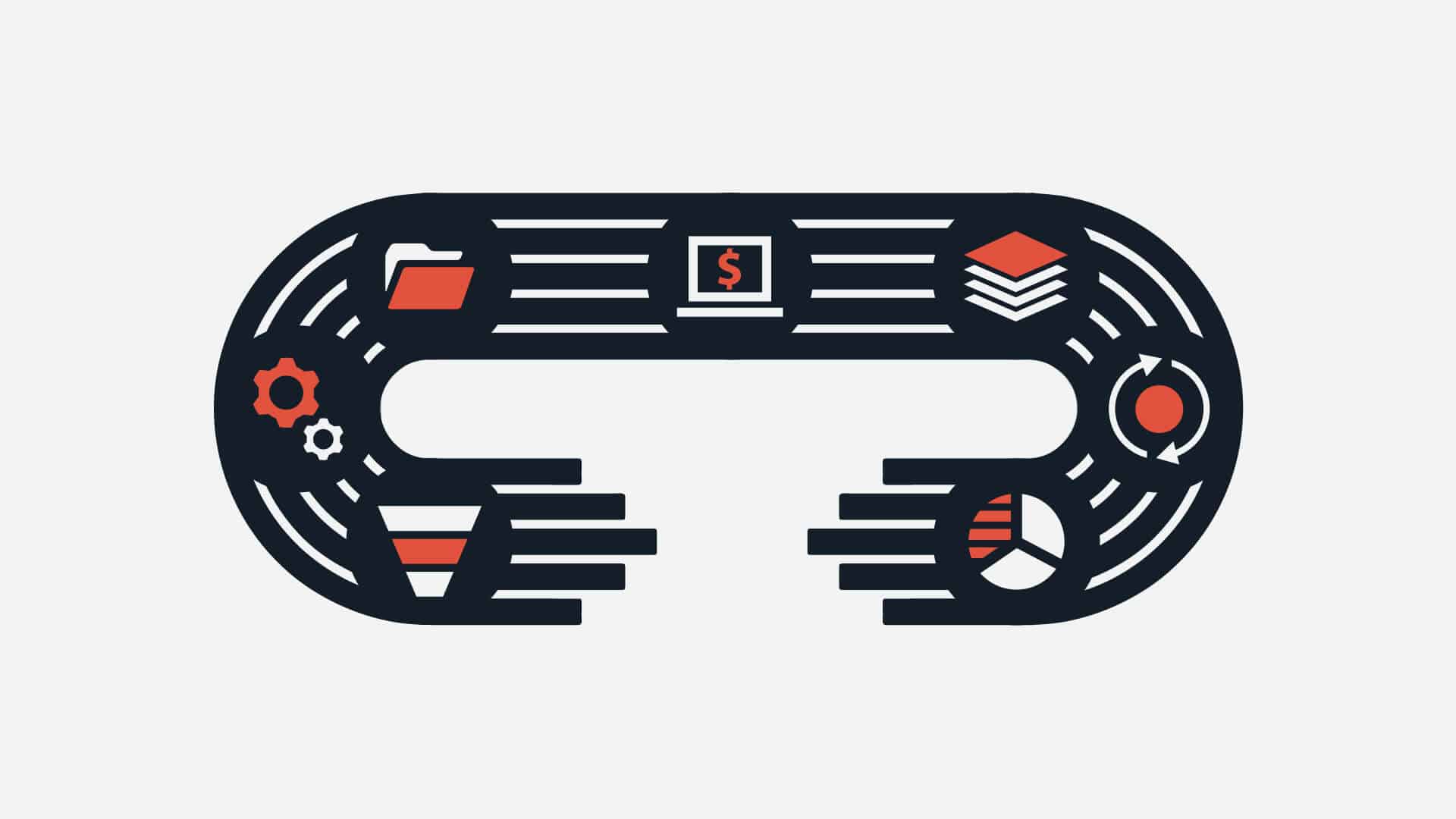 Perspectives
7 Simple Ways to Lower Your LinkedIn Advertising Costs
B2B
The Best B2B LinkedIn Strategy for SaaS Brands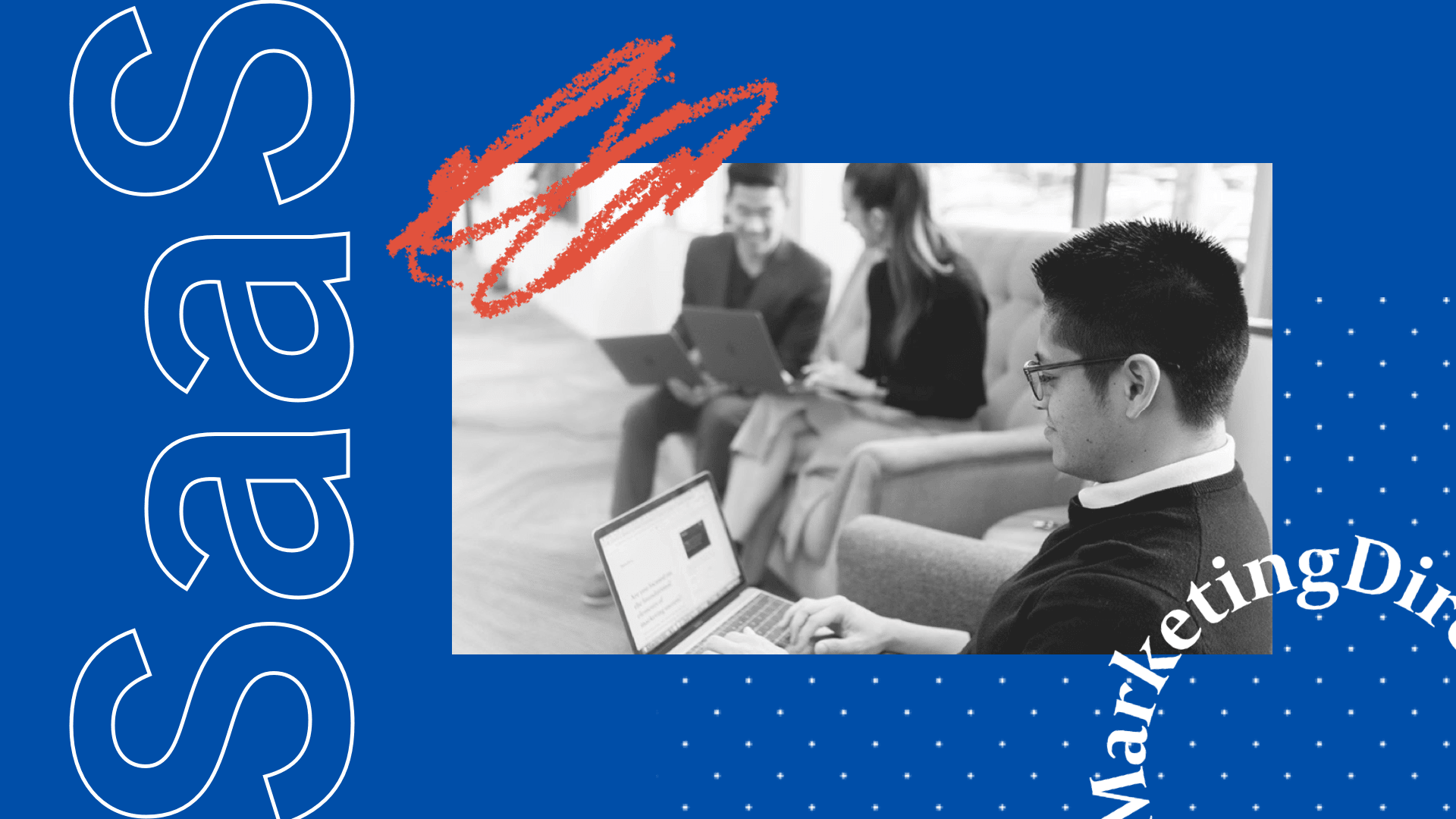 B2B
How to Generate Leads for SaaS Businesses from the Experts