Breaking Through Barriers: Make B2B Tech Marketing Fun Again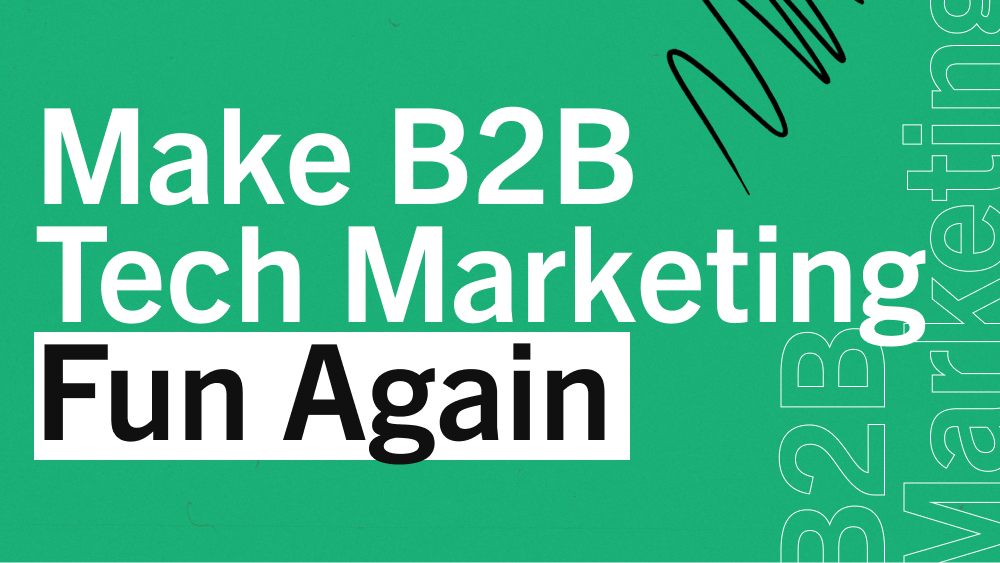 Despite the common perception that B2B tech marketing is boring, there are countless opportunities to get creative and experiment with different approaches. After all, just like B2C marketing, B2B marketing is all about connecting with people and understanding their needs. Therefore, don't let anyone tell you that you can't have fun with it! Sure, the buying process can be lengthy and there may be layers of approval to go through (see the video my colleague, Tim, made about it), but there's hope. Here are tactics you can implement to create more engaging content and get approval faster from management and prospective buyers.
From Boring to Fascinating Tech Marketing Content
Creating engaging B2B content is no easy feat, but there are a few, proven strategies that you can implement to make it more captivating and effective.
1. Turn apathy to action with bold headlines.
Whether you're writing a blog, a landing page, or an ad, you should always start with a strong headline. Say you created a generative AI tool that turns your online failures into viral memes. I'd start with a simple headline and then build off it to create a few with a bit more personality.
Transform Online Failures into Hilarious Memes with AI
Turn Your Online Blunders into Viral Memes with This Generative AI Tool
Create Shareable Memes from Your Digital Mishaps in One Click
Laugh at Your Mistakes. Get Click-worthy AI-Generated Memes from Your Online Slip-Ups
Create Viral Content from Your Online Failures Using AI
Turn Your Embarrassing Moments into Internet Gold in Seconds
Say Goodbye to Online Shame by Turning Your Mistakes into Knee-Slapping Memes
Transform Your Digital Fails into Comedic Gold with Our Generative AI Meme Maker
Turn Online Mishaps into Viral Memes with Our Generative AI Tool
Embrace Your Mistakes with Hilarious, AI-Generated Meme Creations
If you're stuck between two, go for the messaging that's the most focused and buzzword-free. It must communicate exactly what you're offering and answer the question, "What's in it for me?"
Don't get discouraged if you have to write more than 10 before you come up with "the one"! In this example, I wrote a few more before I got to the winner: "Turn Your Online Mishaps into Internet Gold with Our AI Tool". Practice makes perfect—the more you write, the better you'll get over time.
2. Amp up your storytelling.
Storytelling is a powerful way to engage with your audience. I recommend using Donald Miller's framework from his book "Building a Story Brand". By setting up your story properly, it's easy to demonstrate how your solution can solve your buyer's problem. Don't hesitate to add examples and case studies to add more context and credit to your story.

If you're still feeling stuck, check out one of the videos we made for our client, Wisq. Pay close attention to how we introduced the problem and made slick transitions to make clear connections to the solution. From the script to the style, every element added to the video evokes emotion and drives action.
3. Bring your content to life with impactful imagery.
Images break up your content to make it more visually appealing and easier to understand. Avoid writing a wall of text to hold your audience's attention longer and increase the likelihood that they'll remember it.
People retain 65% of information when it's paired with a relevant image, compared to only 10% when it's presented without visuals.

John Medina, Brain Scientist
However, don't stick stock photos every so often just because I said you need visuals. Your visuals have to provide value and act as supplemental information to the other content. Leverage them to demonstrate your expertise and credibility. A few examples include:
Diagrams, charts, and graphs that show comparisons
Short explainer or example videos
Meaningful quotes
Mastering the Art of Persuasion
Now that you have the foundation for creating content that resonates with your audience, you need to convince management to approve your marketing strategy. You may be working with a limited marketing budget, strong resistance to change, or competing priorities at your company, but there are ways to get through them. Whatever the blocker may be, here are a few ways that you can speed up the approval process for your creative marketing propositions.
1. Put data on center stage.
Use data-driven insights to demonstrate the potential impact and ROI of the marketing strategy. Show how it aligns with business goals and how it can generate revenue and drive growth. Here's a large list of marketing data that may come in handy.
You can also use case studies or examples from other companies or industries to demonstrate the success of similar marketing strategies. This builds confidence in your proposal and validates the strategy. If you still don't find what you need, I'd encourage you to collaborate with other departments, and also—don't hesitate to conduct research studies on your own!
2. Transform your ideas into a stunning visual story.
Building a spreadsheet and writing a summary in bullet-point form is a good start, but not the strongest way to make a convincing argument. Transform your data into an extraordinary visual proposal that will undoubtedly persuade your manager. If you're going for the gold, I recommend using Gamma to build slides because they come out great on mobile, there aren't any size restrictions, and you don't have to spend hours making it look good—it's built to add visuals with ease.
With visuals such as charts, graphs, and infographics, you're able to quickly convey complex information that's more digestible and persuasive. However, as you build the presentation, make sure that every piece is linked to your company's objectives and kept straight to the point—avoid adding unnecessary details.
If you need some inspiration, we built a presentation about our Customer Generation methodology that you can use as the foundation for your next proposal.
3. Plan and personalize to perfection.
By cultivating robust relationships with management, you can establish a foundation of trust and credibility.
Regular communication: Maintaining regular contact with management builds rapport and establishes connections.
Seek feedback: Asking management for their opinions or feedback on your work shows that you value their input and want to improve. It can also provide you with valuable insights into their preferences and decision-making processes.
Be proactive: Taking initiative and going above and beyond in your work can make you stand out and demonstrates your commitment to the organization. This will build trust and credibility with management as well.
Another way to bolster your credibility is by anticipating and addressing any potential objections or concerns that management may have. By doing so, you can exude confidence in your ideas and show your dedication to producing exceptional results.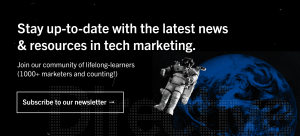 Rev Up Your B2B Sales
Speeding up the buying process is a behemoth of a task, but certainly not impossible—especially when you focus on the right things. Start driving revenue through your marketing strategies that are hyper-focused on your customers and based on financial modeling. This will help with management buy-in, too!
First, leverage 1st-party data to:
Map your Total Addressable Market (TAM)
Build account lists
Aggressively scale spend
With financial modeling, you can then identify your most impactful levers to improve your capital allocation.
Afterward, take a look at more surface-level structures and evaluate what should stay and what should go, based on the results. To create a more streamlined process, identify and cut out all unnecessary steps. For example:
Do you have more than 5 fields in your form? Shorten it. For instance, with a work email, you can automatically pull the company name and size. See if any other fields can give you more than one answer.
Do you book calls with most leads that fill out your form? Add a scheduler directly to the page instead of following up manually over email. Once the lead has filled the form out, they can immediately proceed to book a call.
Remove one of the calls in your buying process by adding a demo video directly on your website. The premium email service, HEY, did this really well. I also recommend adding un-gated content like case studies and 2-pagers. This way, leads can prequalify themselves before ever talking to you.
Additionally, see if there's any technology that can improve or automate your processes. According to a study by Drift, 41% of people that start online chats with businesses are executives. By adding chatbots, live chat, and virtual assistants to your website, you can offer instant support to high-quality prospects. Nothing beats making a fantastic first impression—being readily available and offering personalized solutions is just the way to do it!
Lastly, make sure you publish social proof like customer reviews and testimonials to build credibility and reduce the perceived risk of working with your company. B2B relationships often involve high-value transactions, so leverage social proof to provide valuable insights and information. Make it easy for prospects to make informed decisions and justify their choice to colleagues.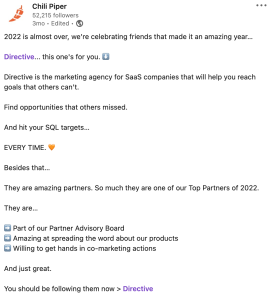 The Bottom Line
Great news! B2B marketing doesn't have to be boring at all. With some creative tweaks, data-driven insights, and a streamlined buying process, you can start seeing more sales in no time. By combining all these strategies, your B2B tech marketing can be just as engaging, exciting, and cost-effective as B2C marketing. Start injecting energy and creativity into your B2B marketing efforts today to surpass your revenue goals tomorrow.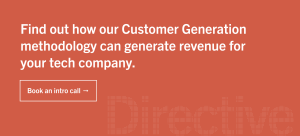 Keep reading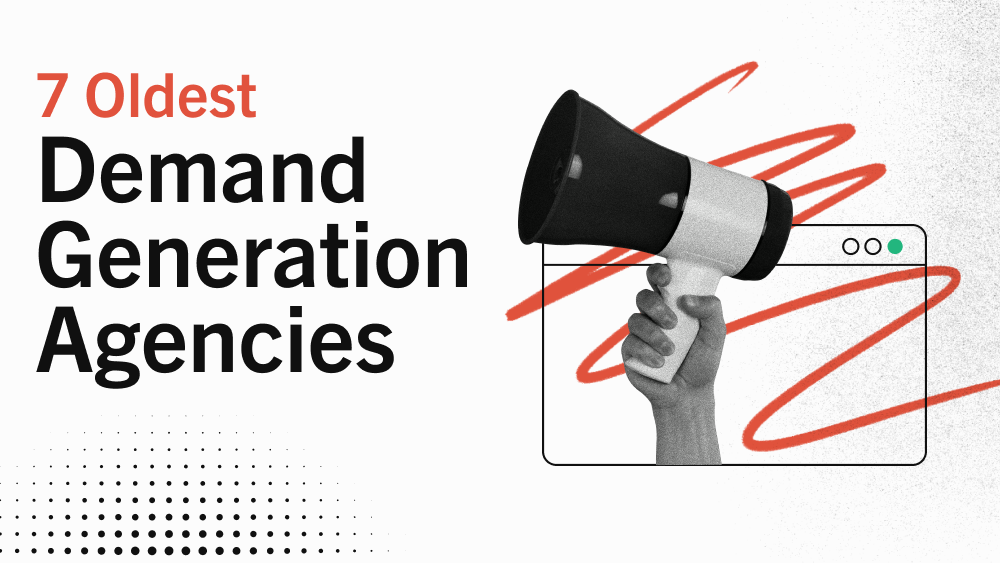 Agency Life
7 of the Oldest Demand Generation Agencies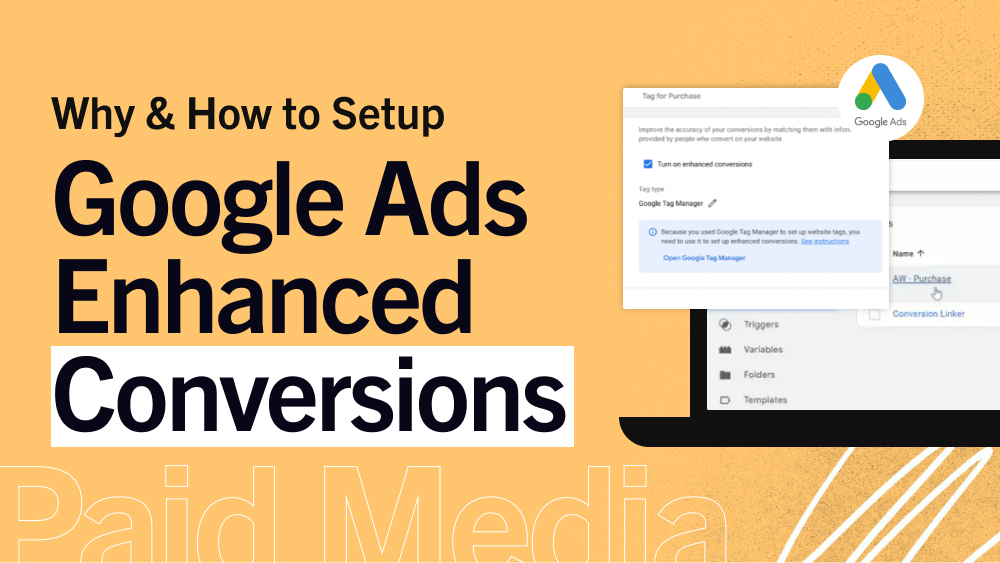 PPC
How to Setup Google Ads Enhanced Conversions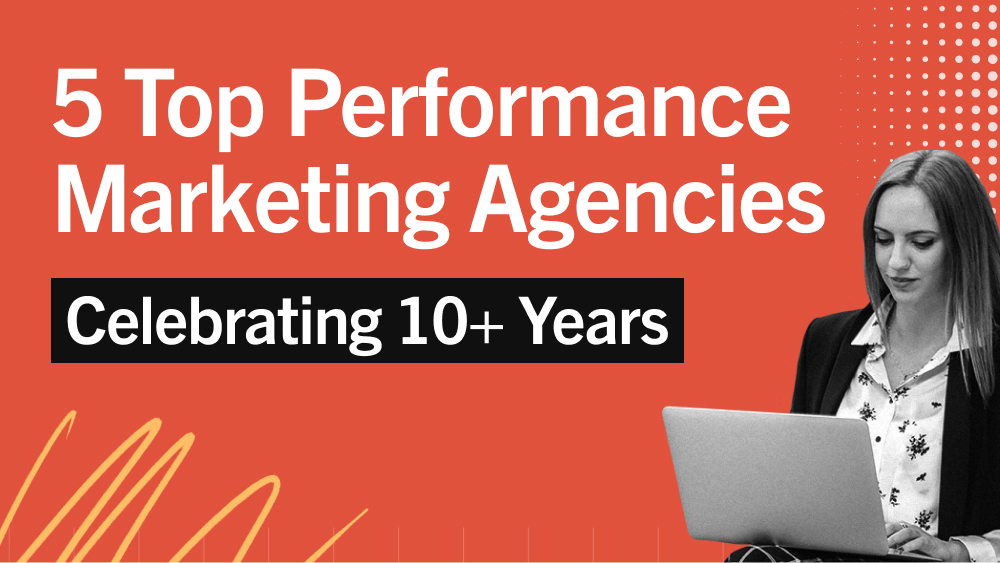 Agency Life
5 Top Performance Marketing Agencies Celebrating 10+ Years