5 Ways to Get More Conversions in 2023: Creative Marketing Ideas for Tech Companies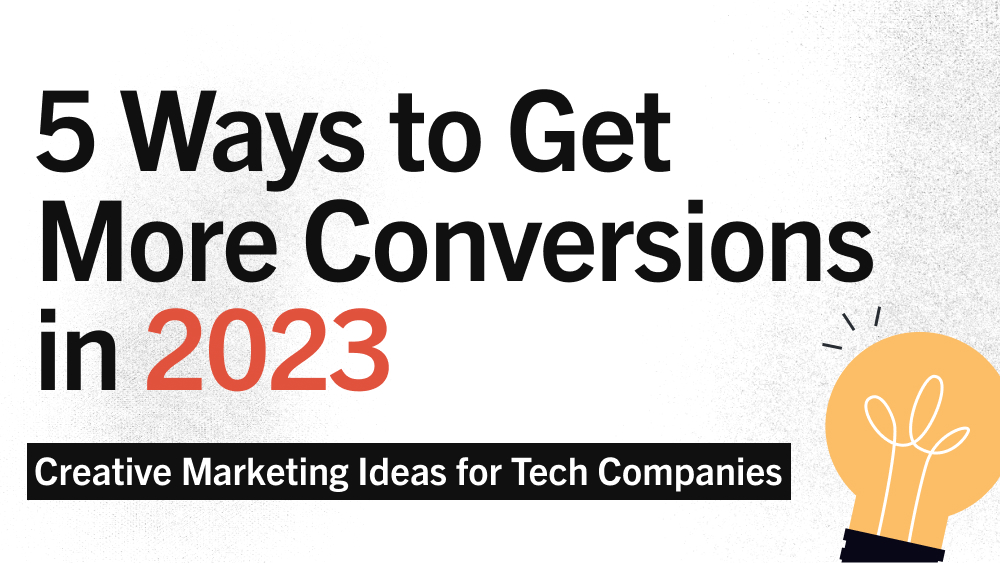 We've all been in the game long enough to know that marketing is constantly evolving, so if we want to see returns, we've got to evolve and innovate. However, staying up-to-date with the latest marketing trends is a job in itself. Therefore, I've compiled a few proven tips and resources from all over the web, all in one place. Here are some creative marketing ideas to get the conversion rates you want to see in 2023.
1. Stand Out with an Unforgettable Website
I think we can all agree that one of the biggest challenges in marketing is standing out from the crowd. Thankfully, the product or service that you offer isn't meant for the entire world. Instead, you're after a smaller audience that is looking for a specific solution to their problem. Thus, you must make it easy for them to find you (and stick with you) with customer-targeted content and personalized recommendations.
Take the first steps by creating a personalized and unforgettable website. Turn your website into your main source of revenue by providing the best experience for your prospective buyers. Today, there's an abundance of inspiration and tools that can help you get there.
The Amie team built one of my all-time favorite websites and there's a lot in there that you can learn. They are the creators of the "joyful productivity app", a tool that mimics the layout of digital calendars, but with 10x the functionality. From smooth transitions between every section on the page to quick and witty copy, every single thing that you see was added with intention. They even reimagined the way we create company blogs by designing one in the form of a calendar. By creating a website that reflects the aesthetic and functionality of their app, their target customers get a taste of the product without ever having to leave the site.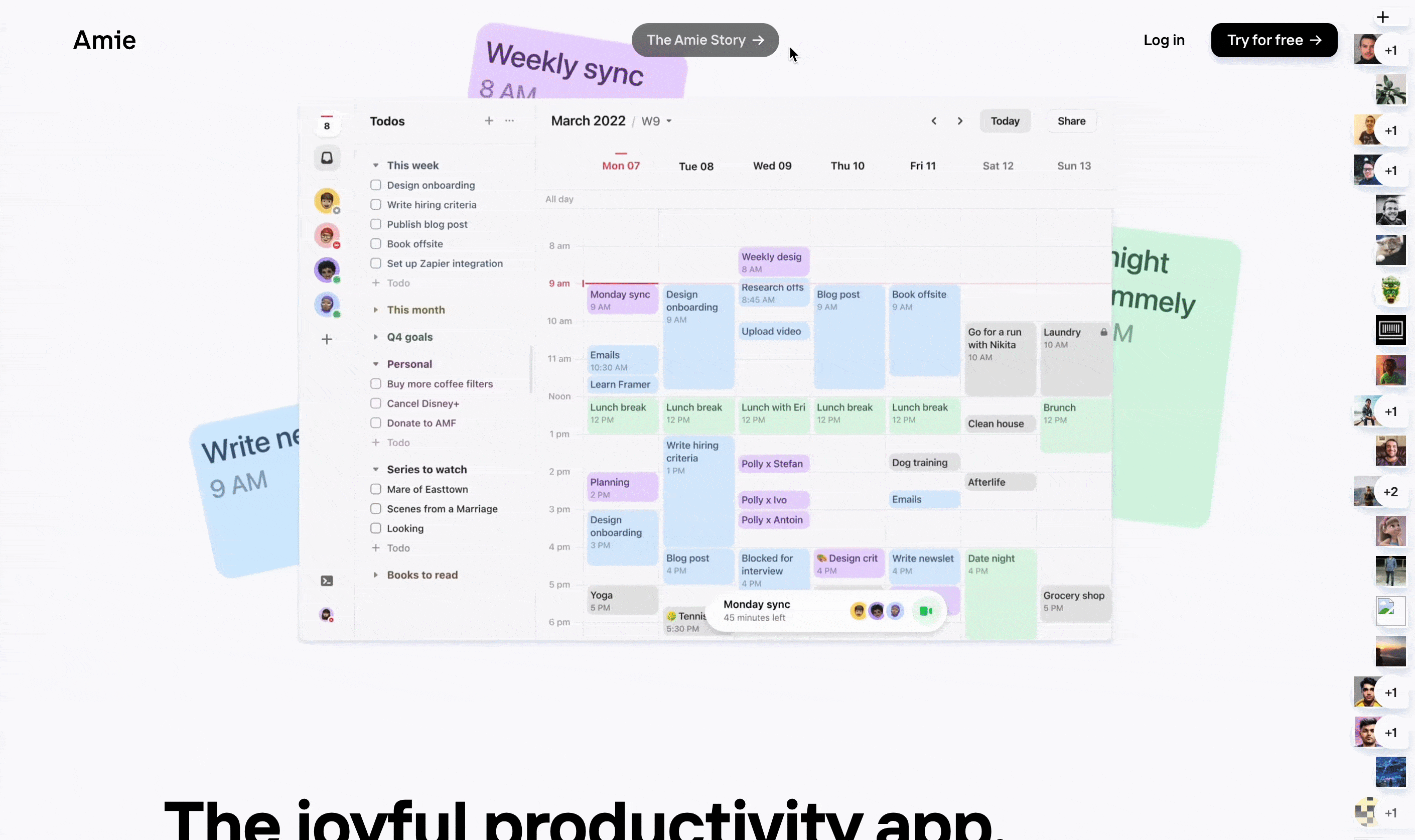 While this took a lot of engineering power, that shouldn't stop you from revamping your website. For example, with Mutiny, you can increase conversions by targeting specific audiences on your website and showing them the most relevant version of your content without writing a single line of code. Edit and publish high-performing pages quickly and harness the power of AI to build your audiences and content efficiently. You can also use other no-code tools like Reactful to personalize your visitors' experience based on their actions on your website.
2. Useful, Organic Content for the Win
Google rewards those who create new content that keeps readers on the page. Therefore, creating high-quality organic content can help you rank higher in search results and attract the right audience to your website. Throw out those 2,000-word quotas and replace them with content that your audience will spend time consuming.
However, creating high-quality organic content is only half the battle. It's also important to optimize your website for search engines. This includes using relevant keywords, creating meta descriptions, and optimizing your images and videos. I imagine you already know the drill, so I'm just here to remind you that yes, SEO still increases your website's visibility and attracts more traffic to your site.
In this video by Neil Patel, he claims that updating older content takes more time, so he recommends starting with fresh content. To achieve a little extra boost in conversions, try adding the year to the end of your title.
Then, track the performance of your content to identify your most valuable pieces. By repurposing your highest-performing creations into other forms of content like videos and social media posts, you can confidently spend your time and resources knowing that you're building more content that your target audience is receptive to.
3. Rethink the Way You Wield Social Proof
In 2022, we saw a lot of platforms like LinkedIn, YouTube, Meta, and more adjust their strategies to focus more on creators. Why? In short, the way people make purchases has changed. Today, we buy from the people we trust and connect with. We do extensive research online and reach out to our peers, too. That's where innovative social proof is going to have a huge impact.
Leverage Content Your Customers Create
One way that you can showcase your brand through the eyes of your customers is with user-generated content (UGC). I love sharing tools and products that I'm into and know that others are no different. Take, for instance, Notion. You'll find posts from fans all over the internet with tips and tricks they share with their followers.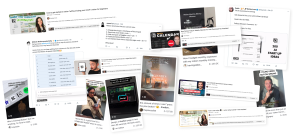 Notion has so much content and yet they aren't even building it. Instead, they encourage their community to make posts because creators can get so much out of it. They can build their following by positioning themselves as knowledge leaders and Notion experts. They are also invited to tap into their creativity to create templates to share with others. Figma has an amazing community, too, where creators can share their designs for others to use. By creating ways for users to showcase your product, you'll be able to win your target audience with authentic content directly from the source.
Connect Reviews to Real People
People buy from people, not companies. Listing all the companies that you have worked with is the bare minimum and an uninspired way to add social proof. From sharing social media posts to personalizing your web pages, there are many ways that you can gain the trust of your target audience to increase conversions.
| | |
| --- | --- |
| Descript collects all their favorite tagged Tweets on the website for all prospective buyers to see. | Highlight your customers' use cases in a meaningful way. For example, under each pricing package, Oddit showed who purchased what to push the sale. |
4. Don't Skip Out on Video
Videos take time, creativity, and someone comfortable on camera. However, telling a compelling story about your brand through video is a very effective way to connect with your audience.
Most social media platforms have pivoted towards video, and tech companies are shifting that way, too. In fact, according to HubSpot, "96% of marketers say video has helped increase user understanding of their product or service."
Today, most of our phones are equipped with quality cameras and there are copious simple video editors available, so you can get started right away. Your videos don't have to be studio-level productions. UGC is on the rise because the content is so relatable and familiar.
I think the Arc team does video so well because they have a stripped-down approach. Transparency is huge for them, so their videos are honest and fluff-free. After all, they're trying to rethink the way our browsers work, so they've let that mentality seep through the marketing content they produce as well.
They repurpose their team calls to give their audience insight into their work.
Their updates are hyper-focused and creative.
They create updates using their product to give their audience real-time demos.
Their hype videos are so fresh and tell great stories.
There are so many types of videos that you can create: product demos, explainer videos, testimonials, and behind-the-scenes videos, to name a few. By incorporating video into your marketing strategy, you can increase engagement with your audience in a more dynamic way.
5. Generative AI is Here to Stay, So Use It
Artificial intelligence (AI) has arguably been one of the most discussed topics of 2023. With most new things, there's a lot of hype, but there's also a lot of pushback considering the lack of information. However, there is a lot of potential amidst all this uncertainty. For example, AI can be used to generate personalized content based on demographics, psychographics, behavioral insight signals, and more. This can save a lot of time.
If you haven't come across a single LinkedIn carousel with a detailed explanation of an AI tool to test out, here's a collection of AI tools that you can try to incorporate into your work. Take advantage of these tools to churn out more content in less time by quickly overcoming obstacles like writer's or design block. If you're still skeptical, you can capitalize on AI's popularity by creating content that challenges the hype.
TL;DR
In 2023, you have to build a strong relationship with your audience if you want to reach your conversion goals. However, to compete in the tech space, you have to put in the work to make your mark. Stand out by creating personalized experiences and innovative, dynamic content.
There are so many tools, resources, and creative marketing ideas available today to set your marketing team up for success. If you try any of these ideas or have others that come to mind, we'd love to hear all about them! Share your thoughts with us on LinkedIn or Twitter.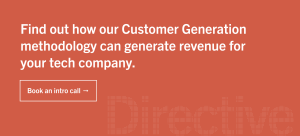 Keep reading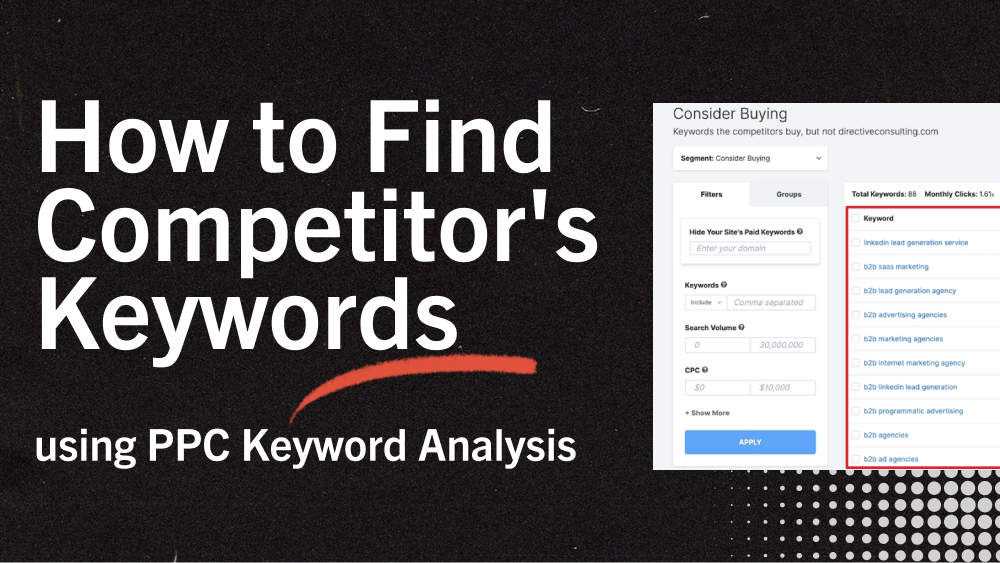 PPC
How to Find Competitor's Keywords with SpyFu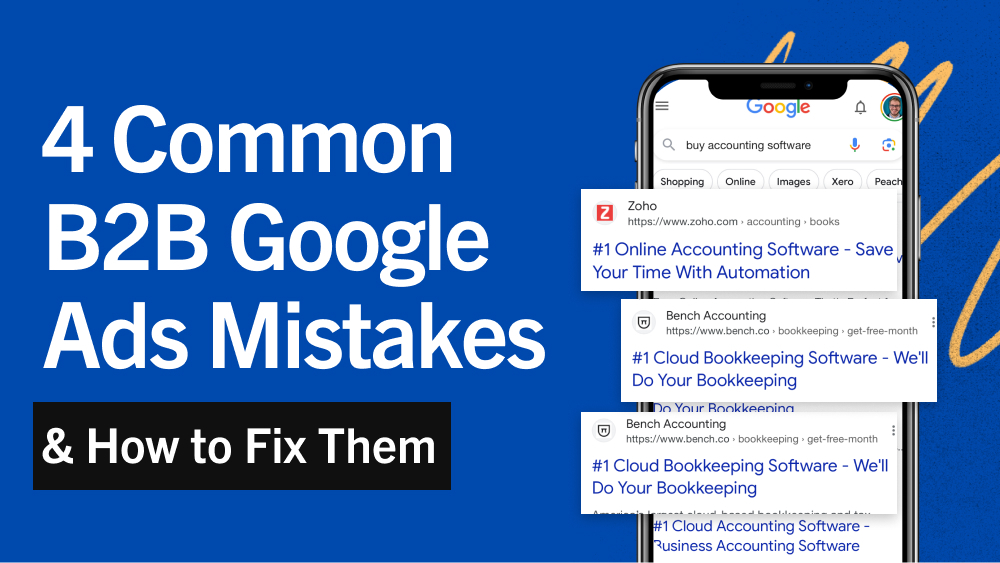 B2B
4 Common B2B Google Ads Mistakes and How to Fix Them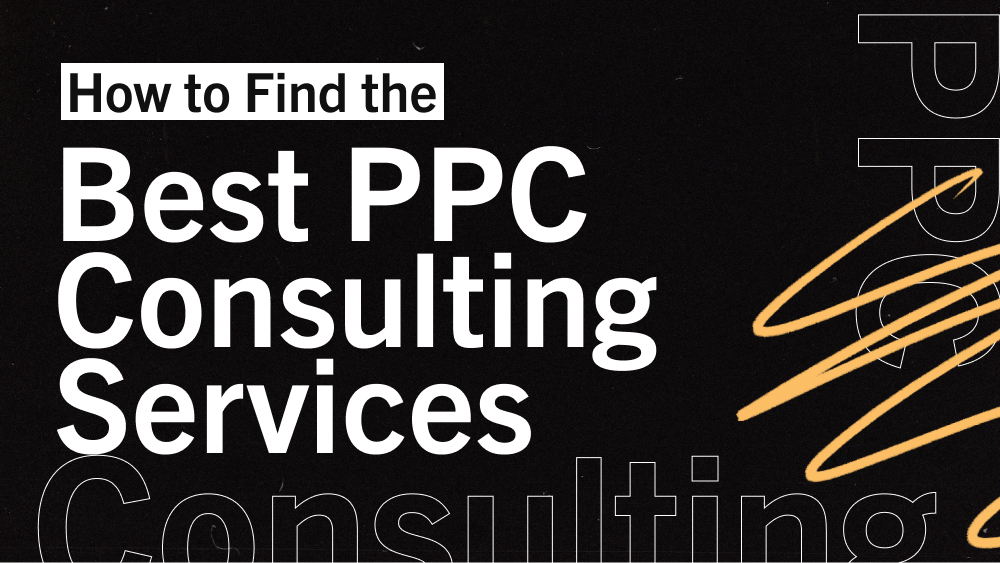 Agency Life
How to Find the Best PPC Consultant Services