What is PPC Competitor Analysis [Guide]?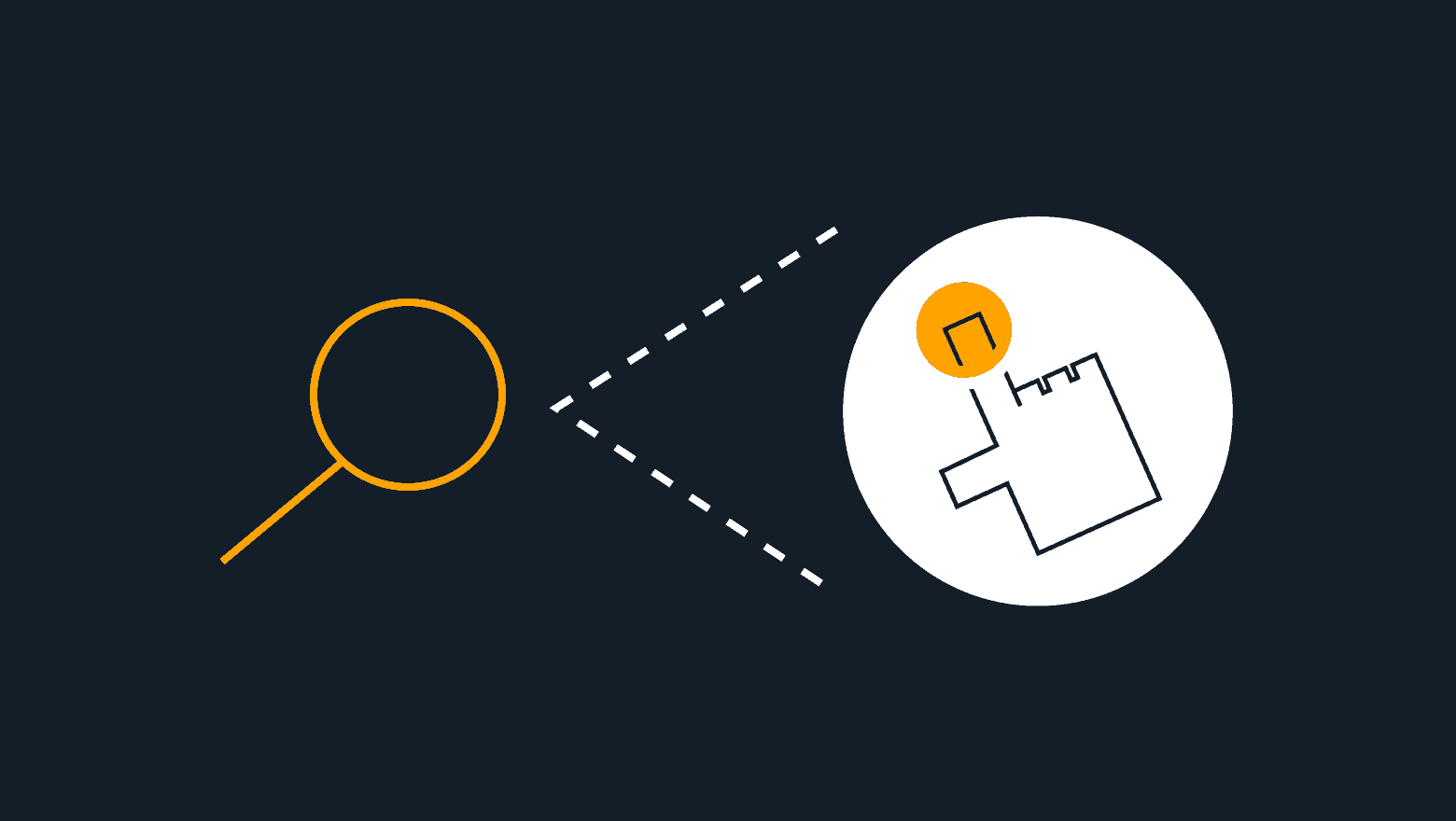 Are you wondering how you can use PPC competitor analysis to spy on your advertising competitor and capture more traffic with paid advertising?
Pay-per-click (PPC) advertising is fundamentally competitive in nature. Each time an ad slot is available, Google Ads runs a keyword auction to determine which ads will be shown and which advertisers will be awarded the most lucrative ad positions.
The advertisers with the highest average position and the most impression share benefit from the most exposure to audiences, while the rest can end up missing out on that valuable traffic and the opportunities that come with it.
PPC competitor analysis is an important component of your overall PPC strategy. By gathering competitive intelligence on your paid advertising competitors, you'll be able to replicate their best methods and strategies, target opportunities that they've missed, and capture more relevant traffic to help drive conversions on your page.
In this guide to PPC competitor analysis, we answer the following questions:
What is PPC competitor analysis?
What are the benefits of PPC competitor analysis? Why is it important for advertisers?
What are the best software tools for getting started with PPC competitor analysis?
What should marketers look for during PPC competitor analysis?
What is PPC Competitor Analysis?
PPC competitor analysis is the process of identifying your biggest competitors in paid search advertising (text and display), accessing data about their advertising operations using software tools, analyzing that data to gather insights into their strengths, weaknesses, and overall performance, then using those insights to improve the performance of your own PPC campaign.
PPC competitor analysis can be an ongoing process. You might conduct an in-depth PPC competitor analysis at the outset of a new advertising campaign, but you'll also want to keep running tabs on your competitors and how their advertising strategies are changing over time. If they're smart, they'll be keeping a keen eye on you as well.
What are the Benefits of PPC Competitor Analysis?
Know the Enemy
Most business owners can rattle off the names of their biggest competitors in the marketplace, but how many digital marketers are fully aware of their biggest competitors in paid advertising?
Your offline competitors are the companies who most effectively capture the business of your target customers, while your biggest PPC competitors are the advertisers whose ads show most frequently for the keywords that your campaign is targeting.
If you want to start outranking your PPC competitors and capturing more impression share for your target keywords, you'll need to identify your competitors using PPC competitor analysis software tools.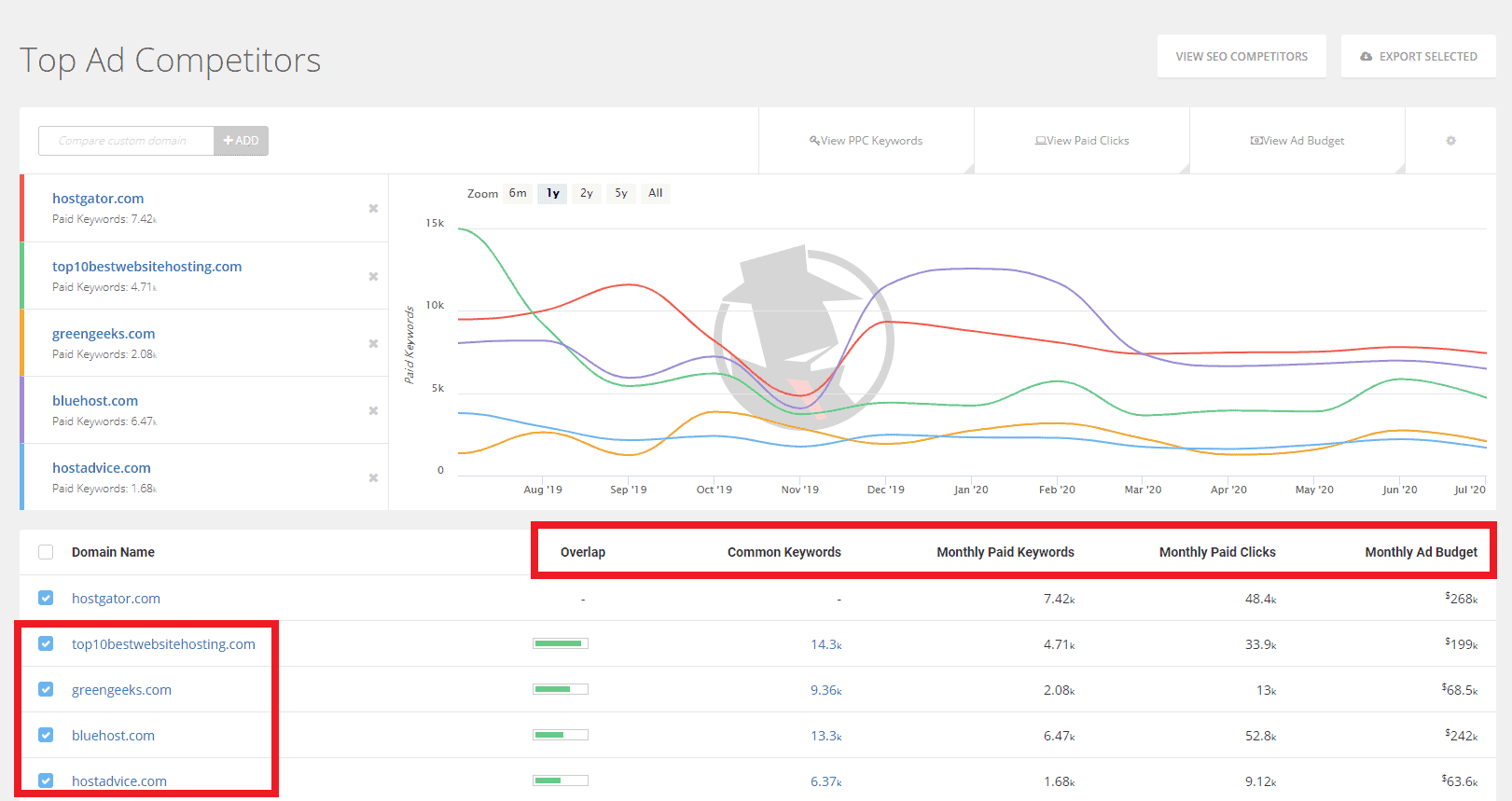 Image: Discovering your biggest PPC competitors is easy with SpyFu's competitive intelligence capabilities.
Enhance Your Keyword Coverage
With PPC competitor analysis, you'll be able to determine exactly which keywords your competitors are targeting that generate the most clicks.
You can sift through all of the keywords that are targeted by your PPC competitors and add the highest-performing and best-value keywords to your own campaign. This broadens your keyword targeting and increases the reach of your advertisements, helping you reach more relevant audiences.
PPC competitor analysis is a great way to discover valuable keywords that you might have missed while doing keyword research for your campaign.
Capture More Clicks
Using PPC competitor analysis to enhance your keyword coverage and refine your ad messaging ultimately means that you will attract more clicks from audiences who may be interested in purchasing your products and services.
With the right access to information, you'll be able to analyze your competitor's advertising funnel from start to finish, then design your own funnel that's even more targeted and optimized to beat their quality score, capture more impression share, and get more clicks for your targeted keywords.
Increase Conversion Rates
In paid advertising, the relevance of the offer on your landing pages and its connection to user intent is the primary driver of conversions. Your goal is to achieve a high level of alignment between what the user wants, what your advertisement promises, and what your landing page delivers. When you do this, you'll experience high conversions, a great ad quality score, increased impression share for your target keyword, and increased conversions.
With competitor analysis, you'll be able to find keywords for which your competitor's funnels are poorly optimized. You'll be able to target these keywords by creating a superior and more personalized user experience that drives conversions and quality score increases, leaving you with a greater impression share and lower CPC.
Three PPC Competitor Analysis Tools You Should Know
Gathering competitive intelligence on other advertisers at scale using manual processes would be an impossible task. That's why digital marketers rely on competitive research software tools that scrape and aggregate historical advertising data for thousands of organizations who advertise on Google and other online advertising networks.
Below, we highlight the three most important PPC competitor analysis tools that you should know.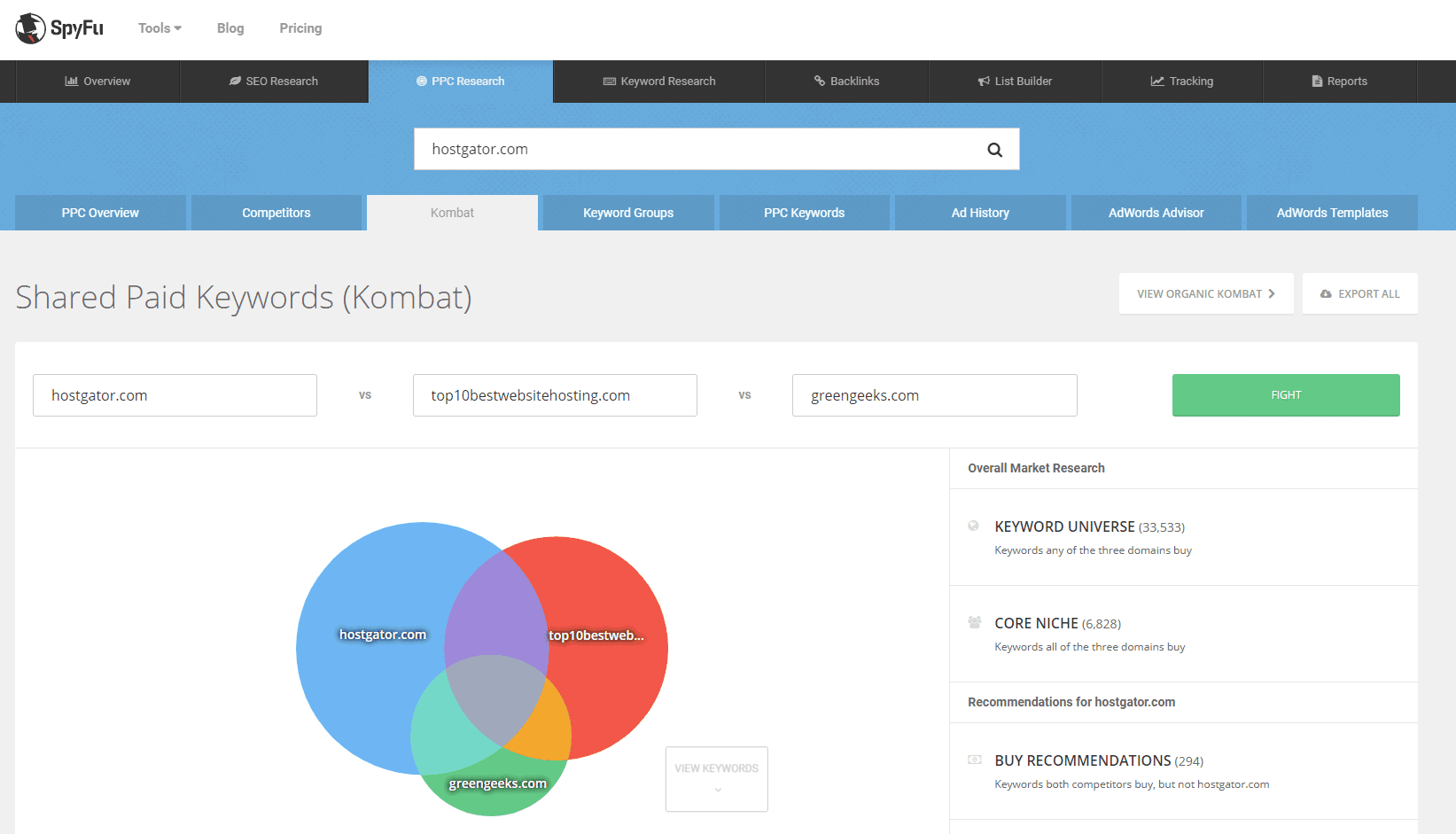 SpyFu is a subscription-based competitive intelligence platform for digital marketers. A marketer can type their domain name into SpyFu to identify their biggest competitors, along with their top-performing ad funnels and keywords.
SpyFu's best feature is Kombat, a comparative analysis tool that shows where your keyword targeting profile overlaps with competitors and recommends which keywords you should start targeting today.
SpyFu subscriptions start at just $33/month.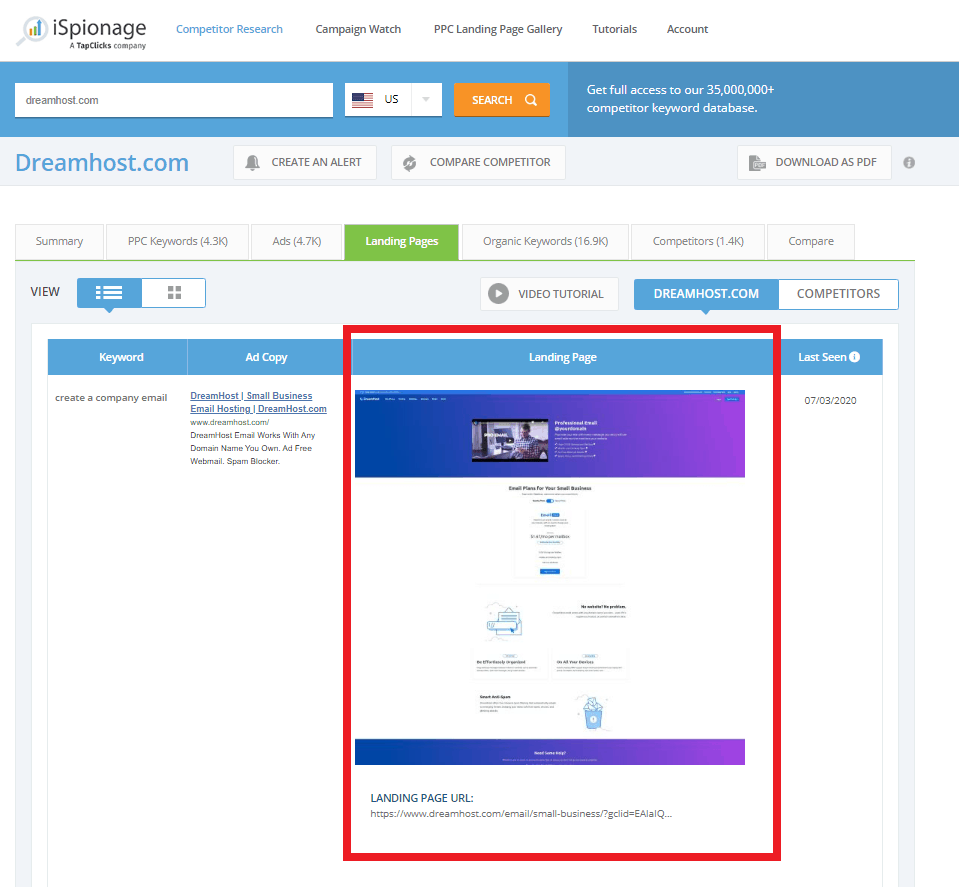 iSpionage is another competitor research tool with some unique features that are ideal for marketers running PPC campaigns on the Google search network.
With iSpionage, marketers can enter any domain name to access in-depth data for that advertiser, including which keywords they target, how many unique ads they run for each keyword, which keywords are most likely to be profitable, and who their biggest competitors are.
Another great feature of iSpionage is that you can use the landing page interface to view image captures of the destination URL page for a specific advertisement. This makes it quick and easy to investigate the landing pages your competitors are using to drive conversions.
Subscriptions to iSpionage start at $42/month for annual plans.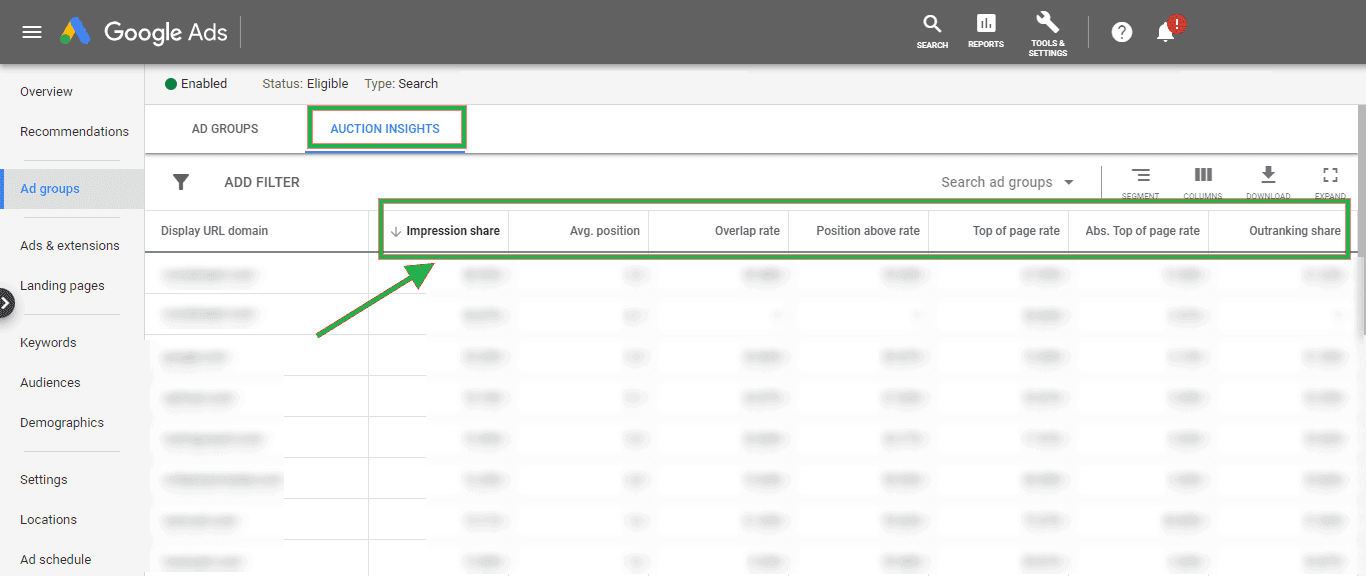 Google Auction Insights is another valuable source of competitive intelligence for digital marketers. Once you've met certain activity thresholds for specific keywords and ad groups on your account, you can use Auction Insights to access PPC data that describes your ad performance relative to your competitors.
The most important metrics you'll want to monitor are:
Impression Share – The number of impressions your ads received, divided by the number that they were eligible to receive.
Overlap Rate – Overlap rate describes how frequently your ad was shown alongside another advertiser's ad in the same auction. An overlap is counted when two ads receive impressions in the same auction.
Top of Page Rate – This metric quantifies how frequently an advertisement is shown at the top of the search engine results pages.
Abs. Top of Page Rate – This metric quantifies how frequently an advertisement is awarded the absolute top ad position above the organic results on the search engine results pages.
Outranking Share – A metric that describes how often your advertisement outranked another advertiser's ad in the keyword auction.
With these metrics, and the ability to drill down by keyword or ad group for even more detail, marketers can better understand which keywords are working best and which of their ads need improvement to boost their performance against the competition.
PPC Competitor Analysis: What to Look For
In the final section of this article, we highlight a few items that marketers should look for when conducting competitor research using PPC competitor analysis software tools.
Competitor Identification
The first thing that marketers should do with PPC competitor analysis is to determine who their competitors in paid search really are. That means finding out which advertisers are competing for the same keywords as you – not necessarily which companies are competing for the same customers.
Keyword Targeting
Use competitor analysis to find out what keywords your competitors are targeting. Check out their most profitable keywords and make sure you're targeting them with your PPC campaign as well. Search for any keywords that you missed during keyword research. Use gap analysis to find gaps in your competitor's keyword targeting and exploit them.
Ad Text
Need ad copy inspiration?
Use PPC competitor analysis to review the Ad History of your competitors. You'll be able to see exactly how they're using advertising copy to drive conversions when marketing to their best-performing keywords. You can identify their most important value propositions and include them in your own campaigns to get the best results.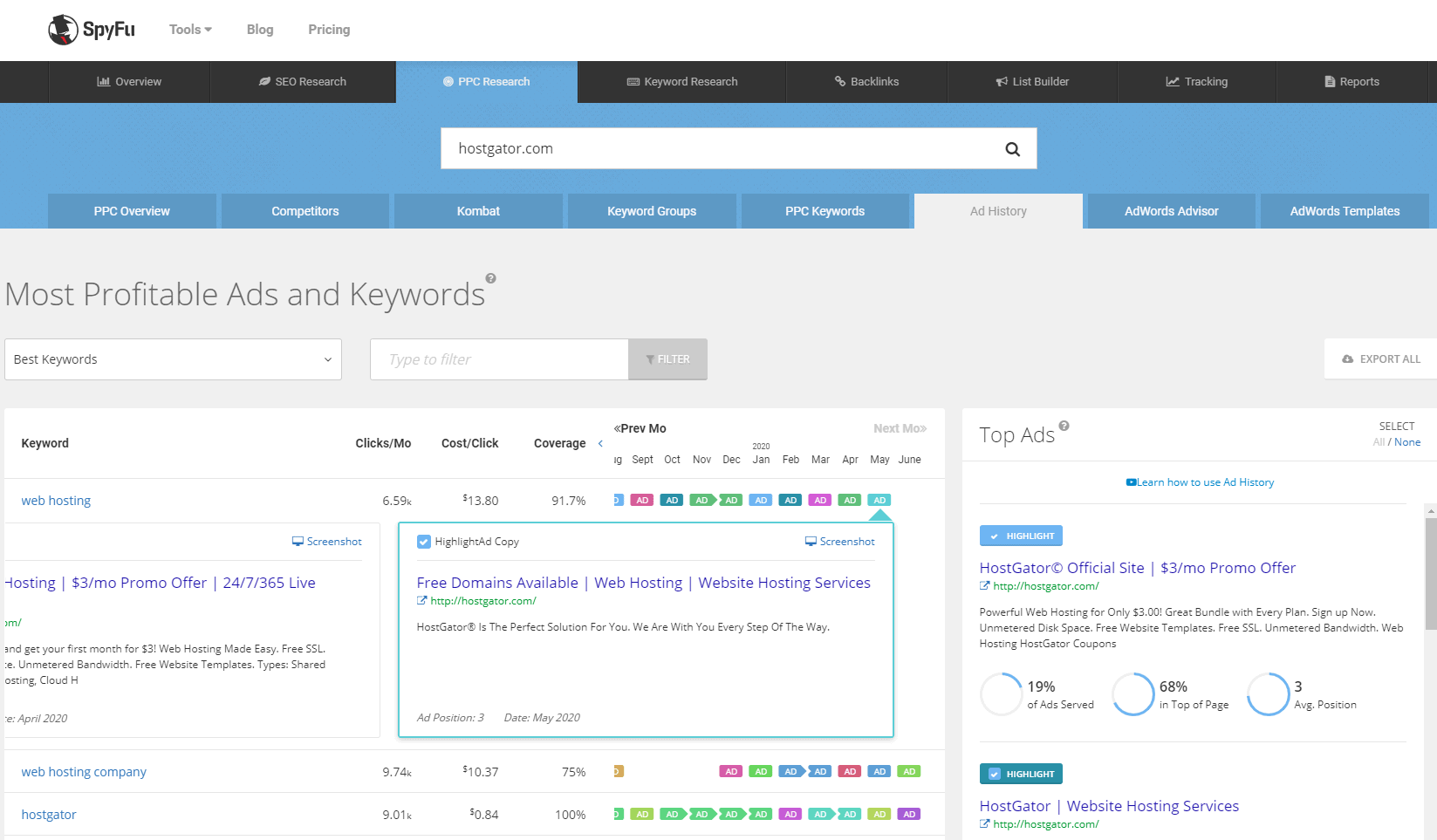 Image: With SpyFu's Ad History feature, it's easy to access extensive records of the text ads that your PPC competitors have used to drive clicks and conversions in the past.
Ad Design
If you're conducting PPC competitor analysis for a display advertising campaign, you may be interested in seeing how your competitors design their display advertisements to drive conversions. For that, you may want to check out the SEMrush Display Advertising tool.

Image: View display ads that your competitors have used in the past on SEMrush.
Destination/Landing Page
If you've identified your competitors, along with their keywords, text ads, and display ads, landing pages are the final piece of the puzzle that ties everything together.
With the ability to view landing pages that connect to individual ad campaigns, you'll have end-to-end insight into how your competitors manage their advertising efforts and all the information you need to compete more effectively for paid traffic.
Summary
Thanks for checking out our guide to PPC competitor analysis! We hope this guide inspires you to dig a little deeper into your next PPC campaign and gather the insights you need to smash the competition and win at paid search marketing.
Keep reading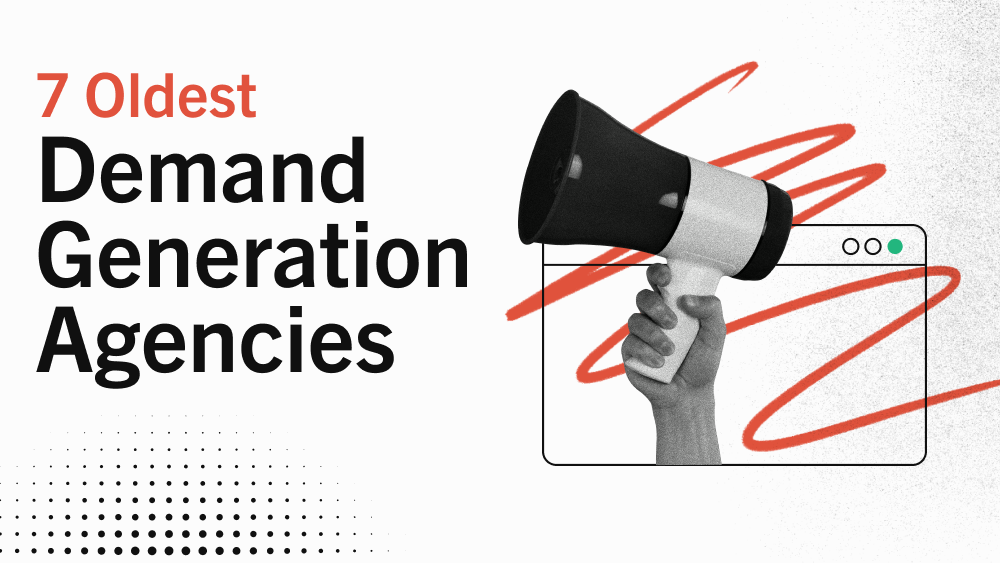 Agency Life
7 of the Oldest Demand Generation Agencies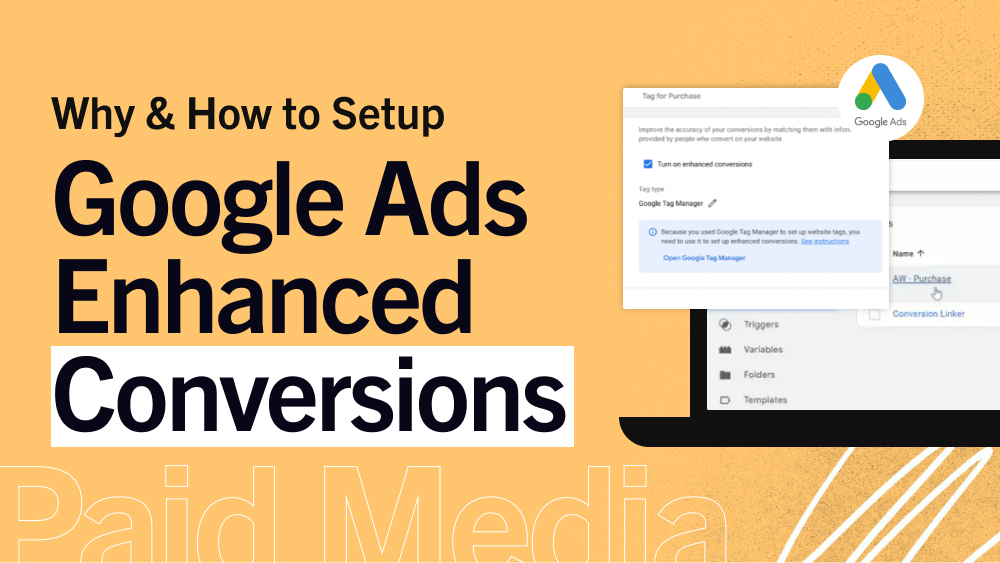 PPC
How to Setup Google Ads Enhanced Conversions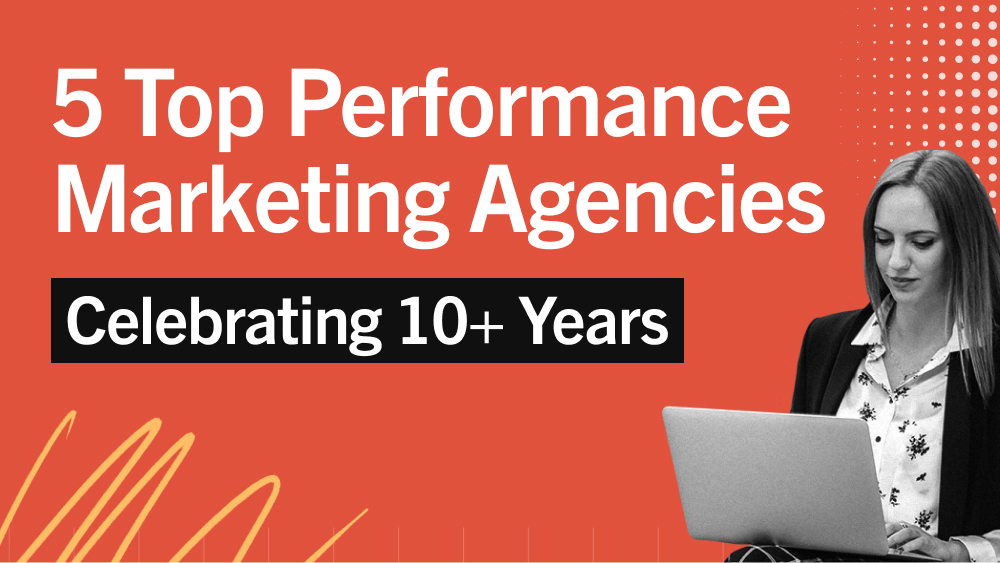 Agency Life
5 Top Performance Marketing Agencies Celebrating 10+ Years