PPC Competitors: How to Gain the Upper Hand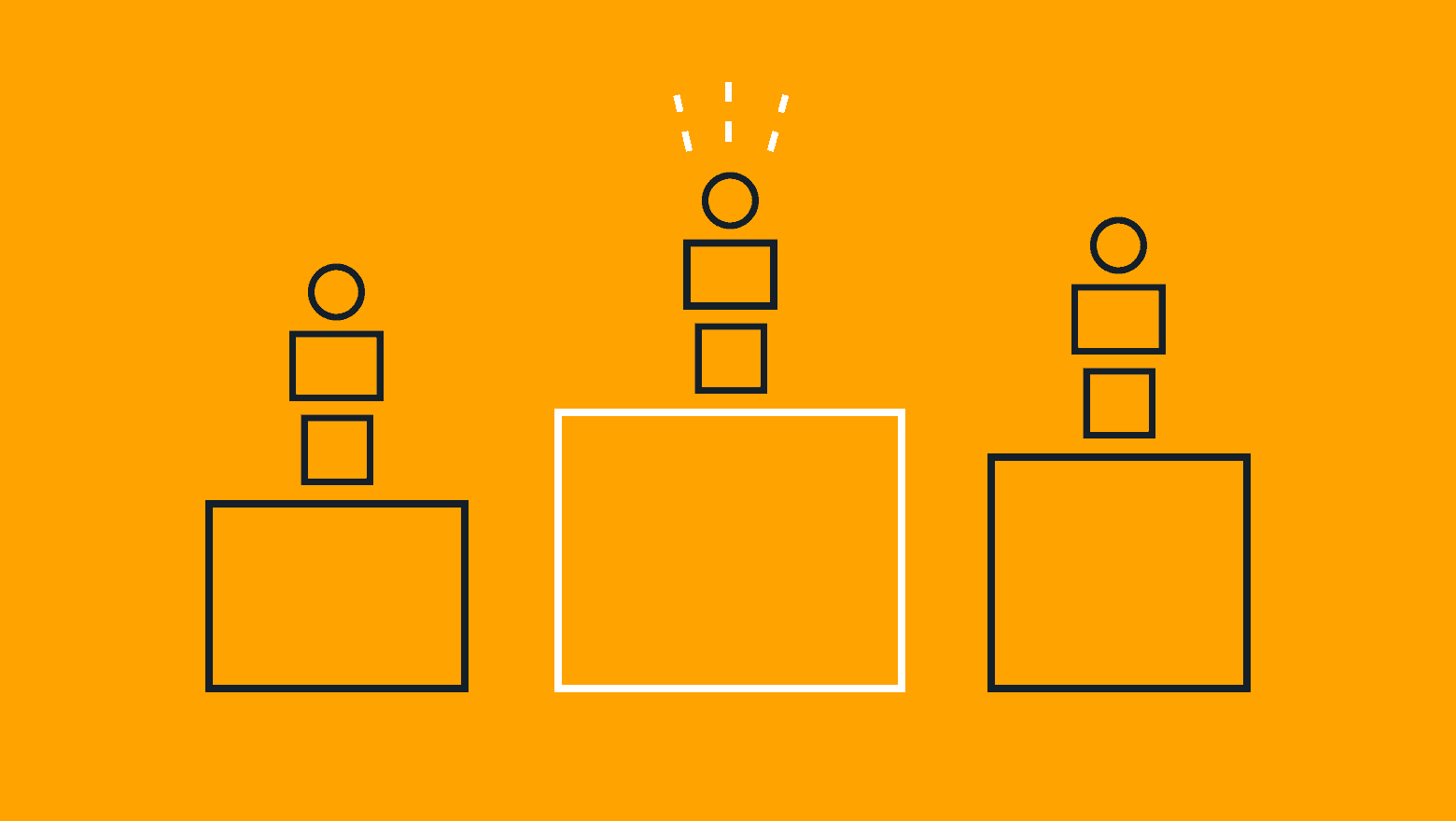 Need help leveraging PPC competitor insights to optimize your digital advertising campaigns?
PPC competitor analysis is an essential component of your digital marketing strategy. With the right software tools, advertisers can:
Identify their biggest competitors on major ad networks like Google Ads and Microsoft Advertising
See which keywords their competitors are bidding on in keyword auctions (and which ones they're not)
Identify the most profitable keywords targeted by competitors
Gather insights and inspiration by viewing ad copy and landing pages used by competitors
Why is PPC Competitor Analysis Important?
According to the Google Economic Impact Report, advertisers generate an average of two dollars in business revenue for every dollar spent on Google Ads. As more businesses are turned on to the profit-generating power of online advertising, the world of PPC is becoming increasingly competitive.
That's why PPC competitor analysis is more critical than ever to crafting a winning PPC strategy. If you simply ignore what other advertisers are doing, you'll miss out on profitable opportunities to
Target new keywords
Identify untapped audiences
Reposition your product to compete more effectively with other advertisers
Replicate and improve on your competitors' top-performing ad funnels
Ready to start competing for your share of valuable advertising traffic? We've outlined five PPC competitor analysis techniques that can help you gain the upper hand.
Five Ways to Dominate the Competition with PPC Competitor Insights
Use SpyFu to Identify Competitors
SpyFu is one of the best tools (and one of our favorites) for PPC competitor analysis. SpyFu's expansive database and data-rich dashboards make it easy to identify your competitors and start understanding the details of their PPC campaign strategy.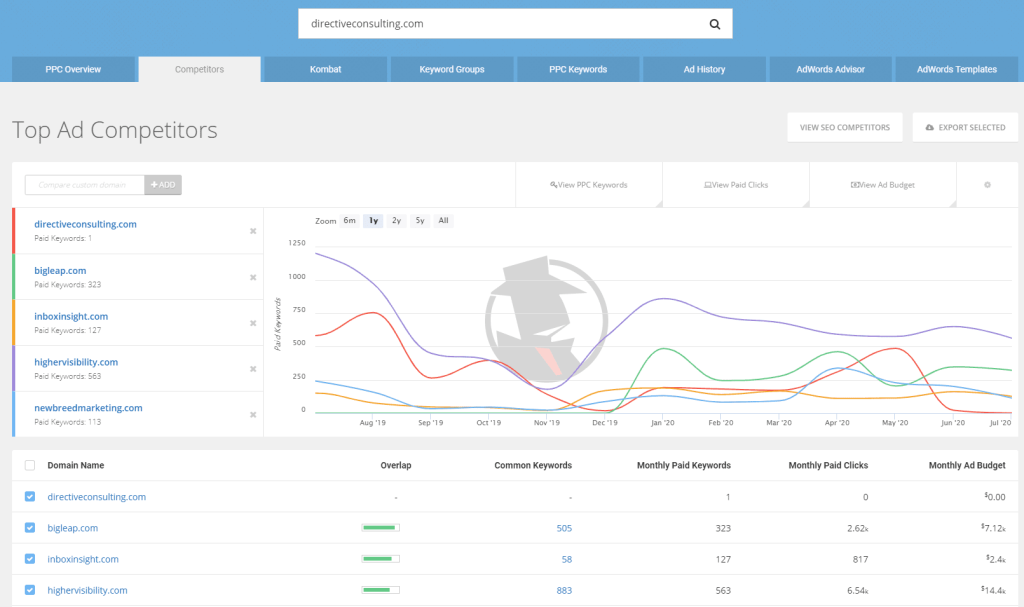 The first step to gaining the upper hand in your PPC campaigns is to identify the competition.
You can do this on SpyFu by typing in your domain name, then selecting the "Competitors" tab under the "PPC Research" menu.
SpyFu reveals your biggest competition by looking at the full history of keywords you have targeted on the Google Ads network and identifying other companies or brands that have targeted the same keywords as you. Advertisers with similar keyword targeting profiles are frequently in direct competition for ad placements in the Google keyword auctions.
For each competitor, you'll be able to view historical data indicating how many keywords were targeted during a specified time period, how many clicks were generated, and estimates of how much money the advertiser spend on ads. You can identify your biggest PPC competitors by looking under "Common Keywords", – the advertisers you share the most common keywords with are your biggest competitors.
If you have never launched a PPC campaign before, you won't be able to find competitor data by typing in your own domain name. Instead, find a list of online businesses that offer the same product or services that you do, then investigate them and their competitors to see if you might be competing for the same keywords.
Use SpyFu to Assess Keyword Coverage Gaps & Discover New Keywords
Once you have identified and done some preliminary investigation into your competitors, you can start digging deeper into their keyword targeting strategies, assessing the coverage gaps in your PPC strategy, and discovering new keywords you may wish to target.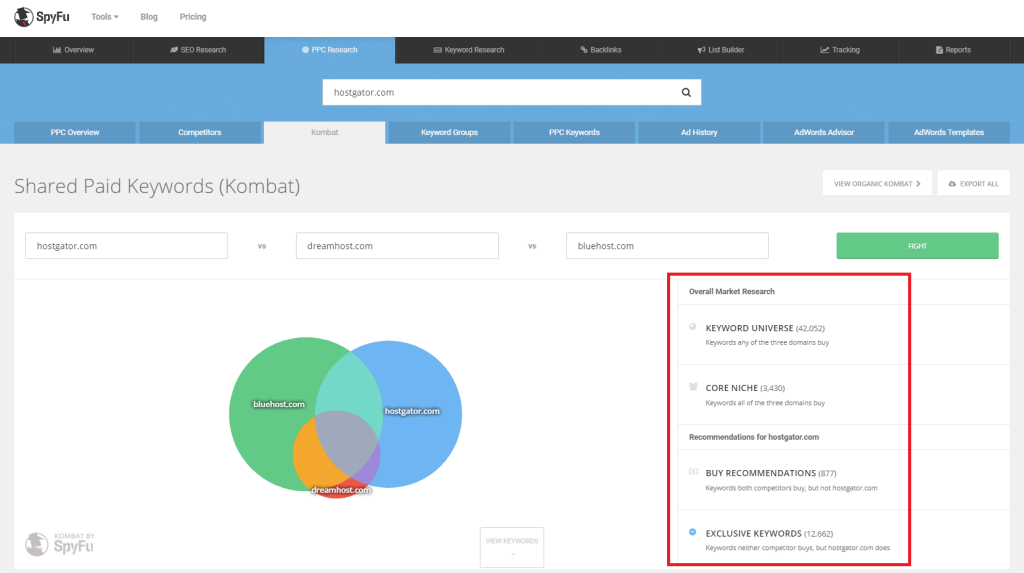 To get started, you'll want to enter your domain name into the search bar and click on the "Kombat" tab under the "PPC Research" menu.
SpyFu will automatically identify two of your main competitors and set up this Venn diagram visualization that shows how your keyword targeting overlaps with your PPC competitors.
A large circle means that competitors target a greater number of keywords. Overlapping areas of the diagram signify keywords that are targeted by more than one competitor.
In the right-hand column, digital marketers can view the full list of targeted keywords for all domains (keyword universe), discover keywords that are targeted by all three PPC competitors (core niche), identify keywords they may wish to target (buy recommendations) or find out which keywords they target that their competitors are currently ignoring (exclusive keywords).
SpyFu only supports a three-way comparison, but you can repeat this process with different competitors to find even more keyword ideas that you may have overlooked.
Use SEMrush to View Historical Ads
SEMrush is an all-in-one search engine marketing software with powerful PPC competitor analysis capabilities. Digital marketers can use the Display Advertising research tool to access a database of historical advertisements for any advertiser on the Google Ads network.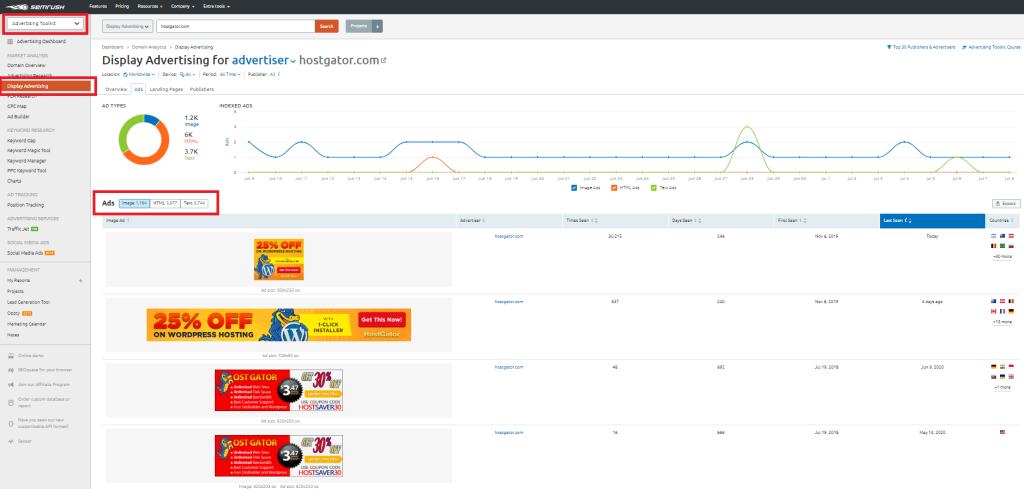 To get started, you'll need an SEMrush account. There's a free trial available, but you'll need a paid subscription for full access to competitor data.
Access the "Advertising Toolkit" by selecting it in the drop-down menu in the upper left corner. Next, choose the "Display Advertising" tool under the section labeled "Market Analysis" and enter the domain name of your target competitor.
SEMrush scrapes the Internet for new search and display advertisements from thousands of advertisers each day. This is where you'll be able to access their entire database of display ads, text ads, and HTML ads for your top PPC competitors.
You'll be able to see the exact advertising copy that your competitors are using to drive sales. You'll be able to identify their core value propositions and develop strategies to better position your product for competition in the marketplace.
Use iSpionage to View Competitor Landing Pages
iSpionage is another PPC competitor analysis tool that's especially useful for viewing the landing pages that your competitors are using, or have used in the past to drive conversions from PPC advertising.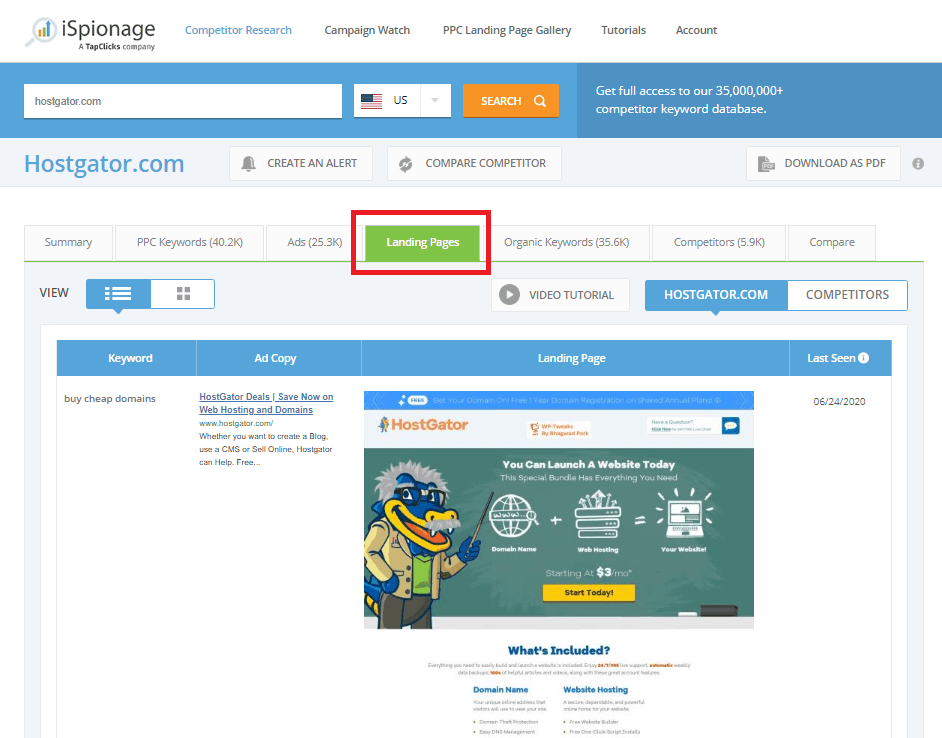 Getting access to your competitor's landing pages is trivially easy using iSpionage – you'll just need to sign up for a free account first.
Once you've done so, go ahead and type in the name of the domain you're interested in investigating. After clicking search, click on the "Landing Pages" tab to start gathering insights.
This interface provides a lot of really powerful options.
You can get an end-to-end overview of the customer journey for your competitor's ad campaign, including the keyword that was targeted, the exact ad copy that was used, and a saved image of the landing page along with destination URL.
If you click the "Competitors" tab on the right side of your screen, you'll be able to see landing pages for other advertisers targeting the same keywords as the PPC competitor you're currently researching. This gives you a huge amount of insight into how other advertisers are structuring their funnels to generate return-on-ad-spend (ROAS).
Use Google Auction Insights to Measure Ad Performance vs. Competitors
Google Auction Insights is a Google Ads features that lets you see how your campaigns are performing versus some of your biggest advertising competitors.

With Google Auction Insights, you'll be able to access metrics like impression share, average ad position, overlap rate, and top of page rate that quantify how your ads perform when compared to other advertisers who target the same keywords.
Auction Insights can help you identify the best opportunities to improve your impression share, top of page rate, and average position by increasing your ad quality score with more contextually relevant ads and personalized targeting. Google has published in-depth descriptions of auction insights metrics.
Summary
Thanks for checking out our guide to gaining the upper hand against your PPC competitors.
PPC is getting more competitive every year, but you can seize the advantage by using PPC competitor research tools to expose and replicate the top-performing keywords, ad copy, and landing pages that your competitors are using to drive campaign success.