Marketing Operations Roles for SaaS Companies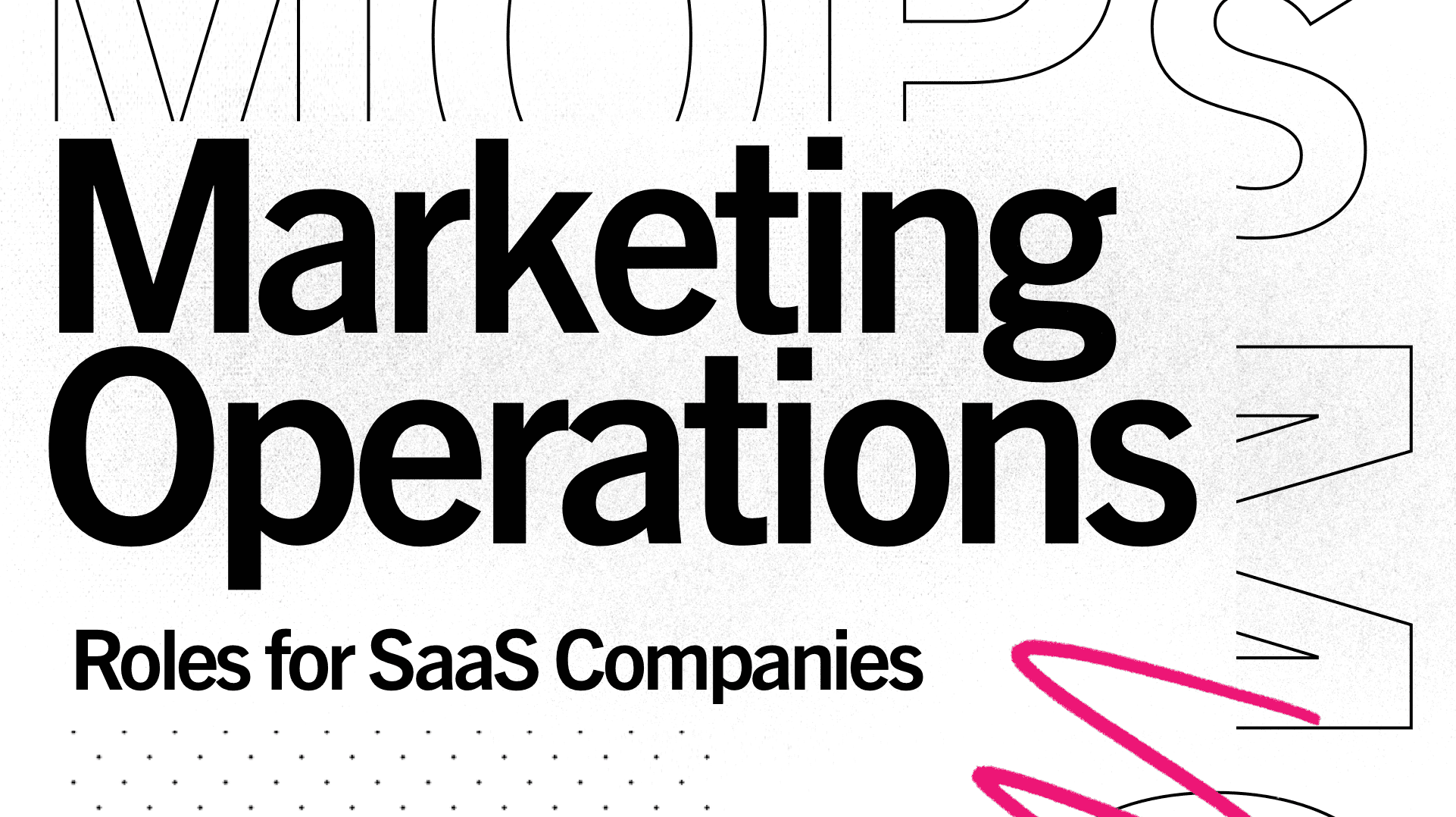 The introduction of powerful technologies and automation has created a split in marketing teams. You're probably most familiar with marketing roles that are concerned with social media, content, ads, and promoting your brand, but there's a relatively new  kid in town that deals with the logical and analytical side of things: marketing operations.
With large companies spending more than double the amount on software and technology than they were five years ago, there is a growing need for tech-savvy marketers to test, plan, and monitor from the backend. Creative skills are still important in these roles, but there's a heavy emphasis on analytical and technical skills in the marketing ops department. 
What's the Difference Between Marketing and Marketing Operations?
Simply put, the marketing team promotes a brand through adverts and campaigns, while the marketing operations team supports the marketing department in achieving its goals. They do this through trialing technology, maintaining the backend of software, and optimizing internal logistics. The traditional marketing team is often tasked with increasing revenue, finding new customers, and nurturing leads, while the operations side of the team is involved with reducing costs and maximizing efficiency across marketing activities. 
What Does a Marketing Operations Team Do? 
The primary goal of marketing operations professionals is to scale internal marketing logistics and activities with consistency and quality. Team members run a gamut of different roles , but they are available  to help design, build, and optimize marketing and sales by leveraging tools and data. 
There are three key areas the marketing ops team handles:
Tools:

creating, building, and optimizing the marketing and sales tech stack, integrating tools with CRMs, and handling customer data.

Processes:

removing friction from the customer journey through powerful automation that delivers the right message at the right time. 

People:

creating a cohesive relationship between the marketing and sales teams while  collecting and handling customer data from both departments. 
The Organizational Structure of the MOPs Team 
At the top of the department there is usually a Marketing Operations Manager. Beneath them, there are team members covering three different areas: content/process, data/analysis, and marketing technology. Sometimes, the Marketing Operations Manager role will sit under a Vice Present of Marketing Operations. 
In a mid-sized SaaS company, the structure will look something like this: 
The Key Marketing Operations Roles in SaaS Companies
Vice President of Marketing Operations 
The Vice President oversees the entire marketing ops team. They will also make executive decisions about software and technology and are the final stakeholder in the purchasing chain. Pain points include: choosing the right tech, managing a budget across multiple different activities, and successfully managing the workload of a large team. 
Key goals and KPIs: 
Customer journey acceleration 

ROI 

Team efficiency and effectiveness 
When hiring a VP of marketing operations, look for someone with extensive experience managing a team and budgets, as well as someone who can make strategic decisions about software and marketing tech. 
An example list of job responsibilities for a Vice President of Marketing Operations role.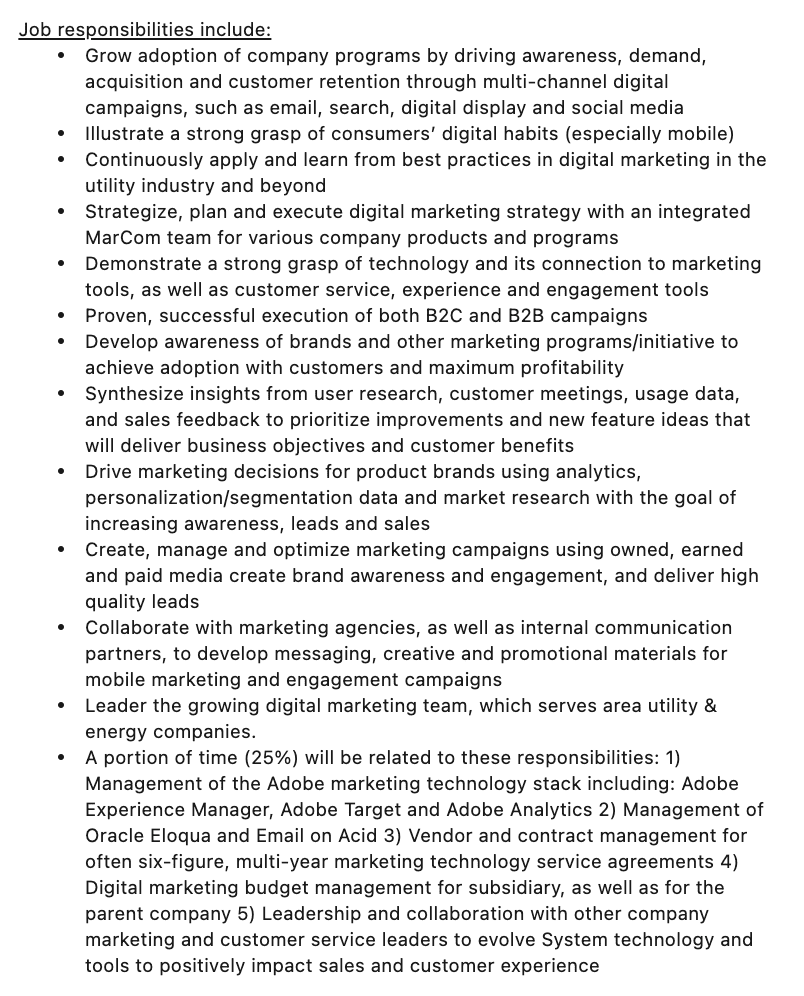 Marketing Operations Manager
The Marketing Operations Manager oversees all operations from the front lines. They must handle data analysis and reports for every initiative, hire new staff, and train up existing team members as well as assess each activity to determine its efficacy. Their biggest pain points include finding the right data to analyze, pulling trends and patterns from that data , and making decisions that increase the effectiveness of all operations. 
Key goals and KPIs: 
Building an effective operations team

Successfully analyzing data points

Researching new tools and software 

Team efficiency and effectiveness 
Ops managers should be incredibly organized and well-versed in managing a large team. In addition, they should be comfortable managing several complex projects at once and understand what it takes to build a well-oiled team. 
An example job description for a Marketing Operations Manager role.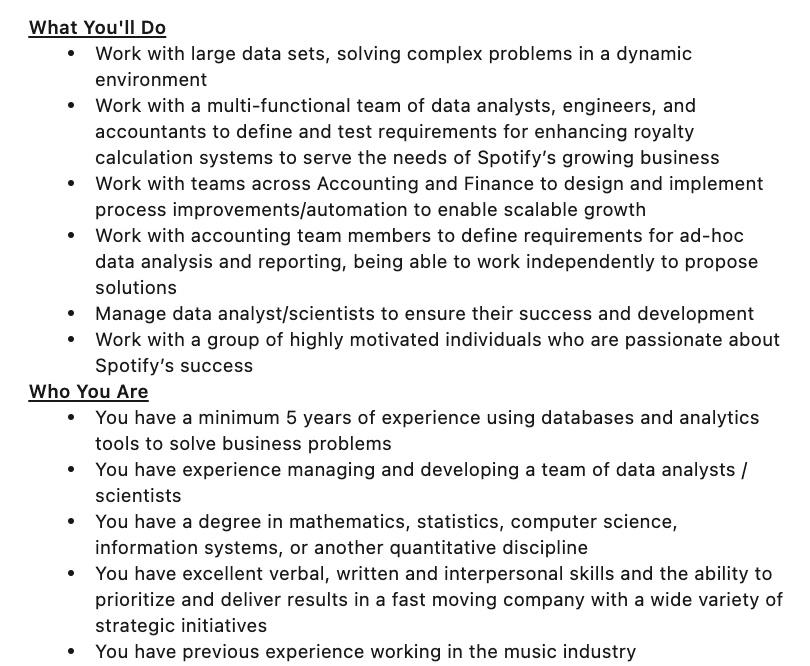 Marketing Technology Manager/Specialist 
The Marketing Technology Manager is pretty self-explanatory: they are in charge of the marketing technology used and training the  existing team members in that tech. Best practices include researching new technologies that might optimize their processes and overseeing the integration of new tools with existing ones. Their biggest pain points are comparing new technology, creating slick systems through integrations, and optimizing the customer journey with the right tools. 
Key goals and KPIs:
Number of integration errors

Customer journey acceleration 

Removing friction from the sales cycle

Velocity metrics 
The best Marketing Technology Managers are experts in using and assessing the latest marketing technology. They are also tasked with helping team members to use tools effectively, so they must be well-versed in training staff. 
Marketing Technology Managers take the technical challenges away from creative roles to remove any stress from their workflow and avoid blocking their creative energy. 
Example job description for a Marketing Technology Manager.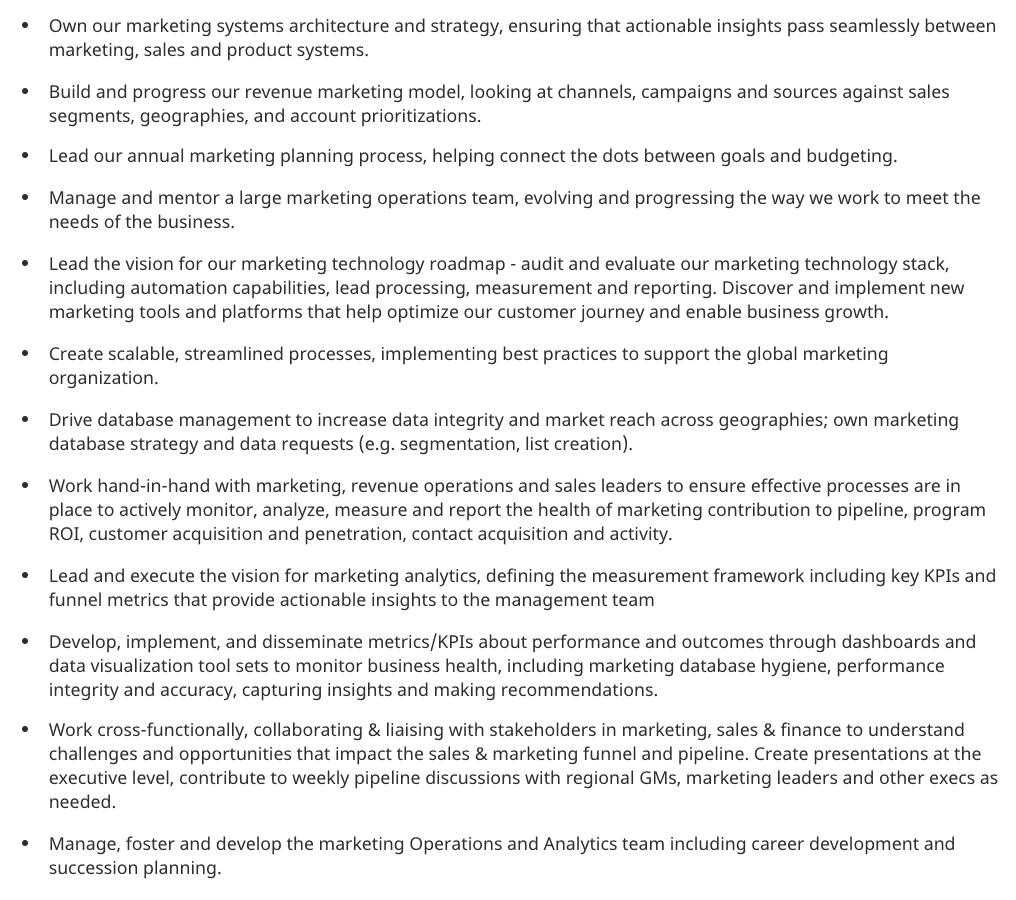 Data and Analytics Manager/Specialist
Data and Analytics Managers are hands-on with data. They analyze key insights and interpret them so that Marketing Managers can make well-informed decisions. The role involves using predictive modeling and other forms of data analysis to make crucial decisions at every stage of the sales cycle. Their pain points often revolve around accessing the right data and interpreting it in a way that benefits other members of the team. 
Key goals and KPIs: 
Data quality 

Actionable insights delivered

Reusable artifacts produced

Accessing appropriate data for campaigns 
The right candidate for this role will have extensive experience handling data in marketing and strong problem-solving skills. They must be a logical thinker who can interpret large data points and turn them into digestible insights. 
An example job description for a Data and Analytics Manager.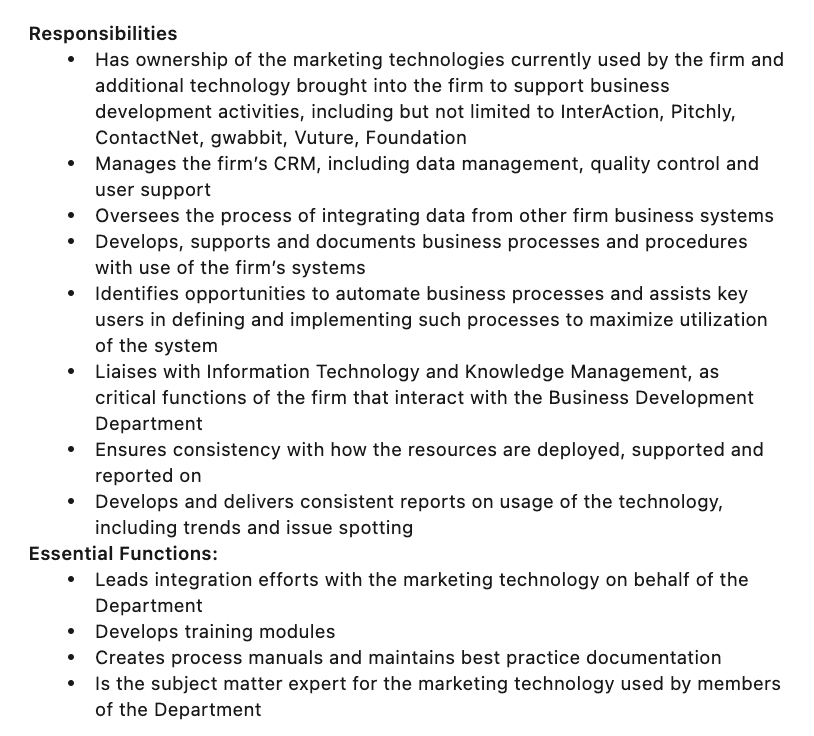 Digital Strategy Manager/Specialist
The Digital Strategy Manager is in charge of all web platforms the company uses and ensures these platforms are  working properly . The goal is to create an optimized customer journey and remove friction points in the buying process. Their pain points include finding new ways to drive traffic, understanding the customer experience through key data points, and converting more customers. 
Key goals and KPIs: 
Website traffic

Conversion rates 

Customer satisfaction 

Identifying conversion optimization opportunities 

Creating a streamlined sales cycle on digital platforms
When hiring a Digital Strategy Manager, chose someone who has experience with conversion optimization on websites, as well as a deep understanding of web analytics and how to analyze them to increase traffic and sales. 
The person in this role will identify key optimization opportunities in the marketing strategy that the creative roles can implement and put into practice. 
An example list of job responsibilities for a Digital Strategy Manager role.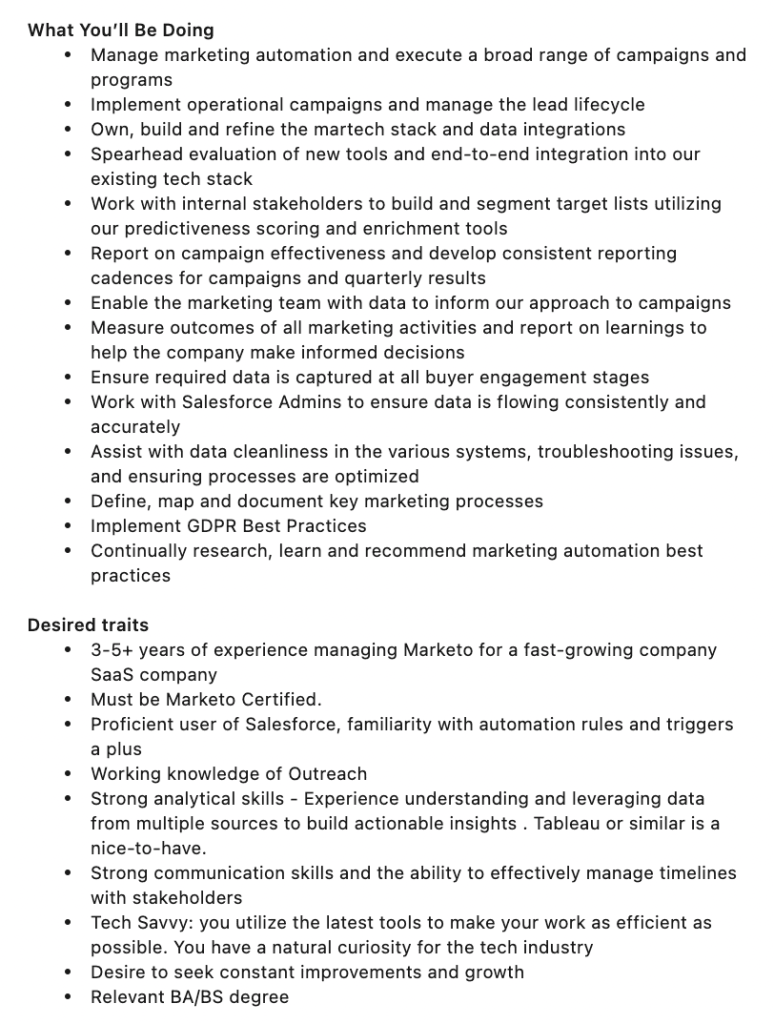 Other Roles in the Marketing Operations Team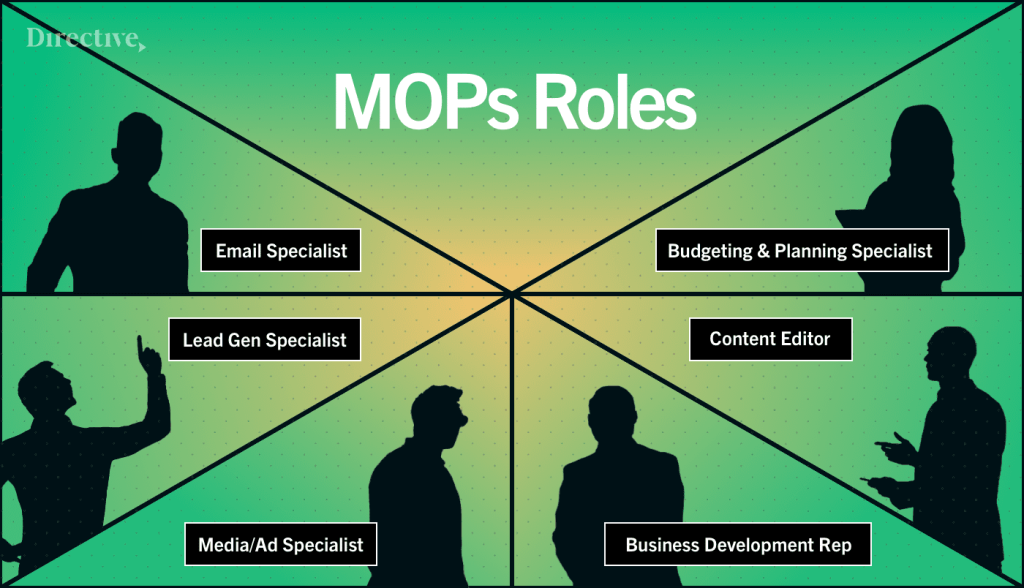 1. Business Development Representative 
This person straddles the line between marketing ops and sales by reaching out to prospects using  marketing tools. They often communicate with leads via email, social media, and the website platform to collect data points on interested prospects. Ideal candidates have strong sales experience and great interpersonal skills. 
2. Email Specialist
The Email Specialist will plan and create marketing emails and sequences to send out to prospects. As well as A/B testing campaigns, they will map out powerful automated workflows and monitor the results of their efforts. This member of the team should possess great written communication skills and be comfortable analyzing the results of their marketing campaigns.  
3. Media/Ad Specialist 
This person is tasked with identifying advertising opportunities, creating campaigns, and measuring the results of their efforts. It might involve purchasing online ad space, running PPC campaigns, setting up social ads, and tracking budgets and media spending. Ideally, the Media Specialist will have experience in purchasing ads in a variety of different formats and can strategically plan campaigns.  
4. Budgeting and Planning Specialist
Not surprisingly, this role involves planning budgets, projects, and campaigns. The Budgeting and Planning Specialist will work closely with the Marketing Ops Manager to optimize spending, determine ROI, and map out the tasks involved in each project. Key attributes for this role include attention to detail, a planning mindset, and the ability to juggle multiple tasks at once. 
5. Lead Gen Specialist 
Lead Gen Specialists will identify lead generation opportunities throughout the sales cycle, experiment with different lead gen activities, and closely monitor their results. They will work closely with the Digital Strategy Manager to optimize the customer journey and increase the number of leads through a variety of channels. 
6. Content Editor
The Content Editor is in charge of content creation for all marketing channels. As well as organizing and repurposing existing content, they will identify content gaps in the customer journey and plan content to fill those gaps. You'll usually find this role in the general marketing team, but they can also play a part in ops, since content covers every part of the sales cycle. This person should obviously have impeccable writing  skills, be able to identify content ideas, and monitor and optimize results. 
Marketing Operations Tools: Building a Tech Stack
It's no surprise that the Marketing Ops team needs access to marketing technology to make their roles easier. Here are some of the tools the entire team will need to use: 
Collaboration tools:

the Marketing Ops team runs multiple projects at once, so they need to be able to organize everything in one place. Examples include Slack and Asana.

Budgeting tools

: the team is tasked with streamlining its budgeting process to make better decisions. Examples include Prophix and Float. 

Process tools:

Marketing Ops needs to track team performance and productivity to increase efficiency across the team. Examples include Kissflow and Process Street.

Reporting tools:

digging into analytics and data is a key part of the Marketing Ops team, making reporting tools an absolute necessity. Examples include Zoho Analytics and Google Data Studio. 
The specialist members of the Marketing Ops team will each need their own tools as well. For example, the Email Specialist will need a robust email marketing platform to work from, and the business development representative will need access to a CRM and various communication tools, like chatbots and automated email workflows. 
What a Successful Marketing Operations Team Can Do 
Building a successful marketing operations team is all about identifying the right talent. Get it right, and you can create a tight-knit team that can optimize the sales cycle and dramatically improve your marketing activities from the backend. Available  to support the general marketing team, they will streamline processes and reduce any friction in the sales cycle, leading to more leads, more sales, and quicker conversions. 
Here's what you can expect from a successful marketing ops team: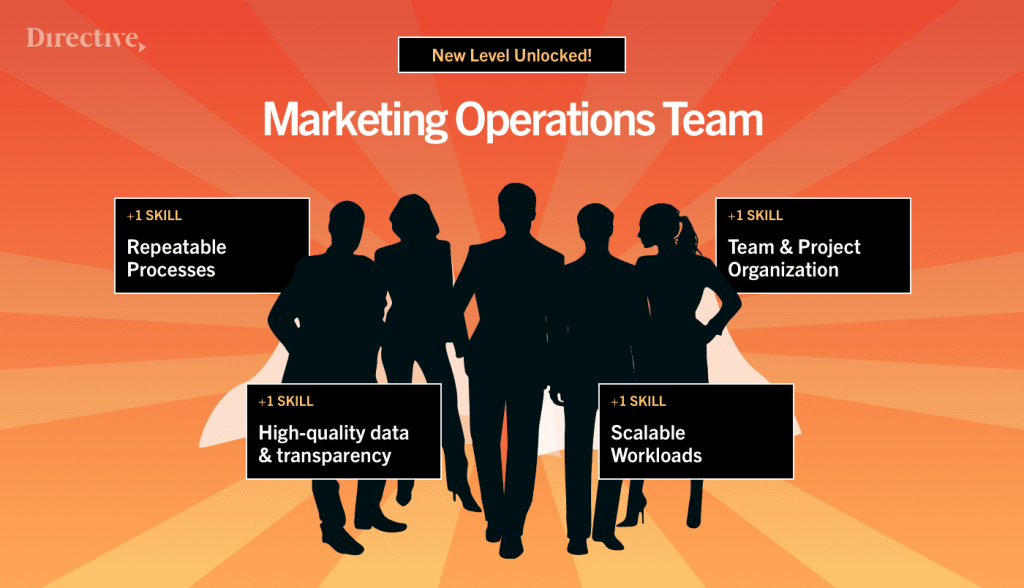 Great Team and Project Organization
The operations team is essentially the glue between marketing departments. They will plan campaigns, monitor the results, and use data points to make educated decisions moving forward. Their goal is to set up slick systems and create processes that transcend multiple teams. 
High-Quality Data and Transparency
Data is the fuel of the marketing ops team. They are tasked with identifying data sources, ensuring the data is as high-quality as it can be, and interpreting that data to make informed decisions. The goal is to ensure every department has access to the right data and can use it to bolster their individual marketing efforts. 
Repeatable Processes
The processes that the marketing ops team puts in place are designed to be repeatable to improve the efficiency of the entire company. The goal is to save time, money, and resources by creating plug-and-play systems that can be used over and over again by various different teams. 
Scalable Workloads
Repeatable processes are one thing, but the marketing ops department uses technology to scale the tasks in other departments. They are able to identify important insights and use them to create scalable, growth-focused strategies.
Marketing operations is a crucial role in SaaS today. Without them, other teams can end up working in silos and duplicating data. They are specifically tasked with using marketing technology to improve processes and scale campaigns to power growth throughout the company. 
Keep reading
Agency Life
Top 5 Oldest Performance Marketing Agencies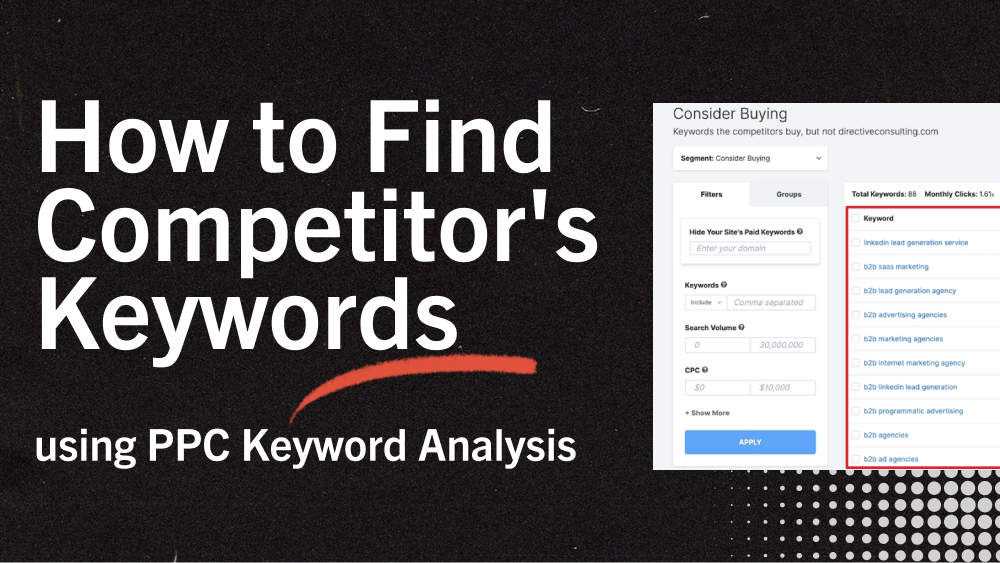 PPC
How to Find Competitor's Keywords with SpyFu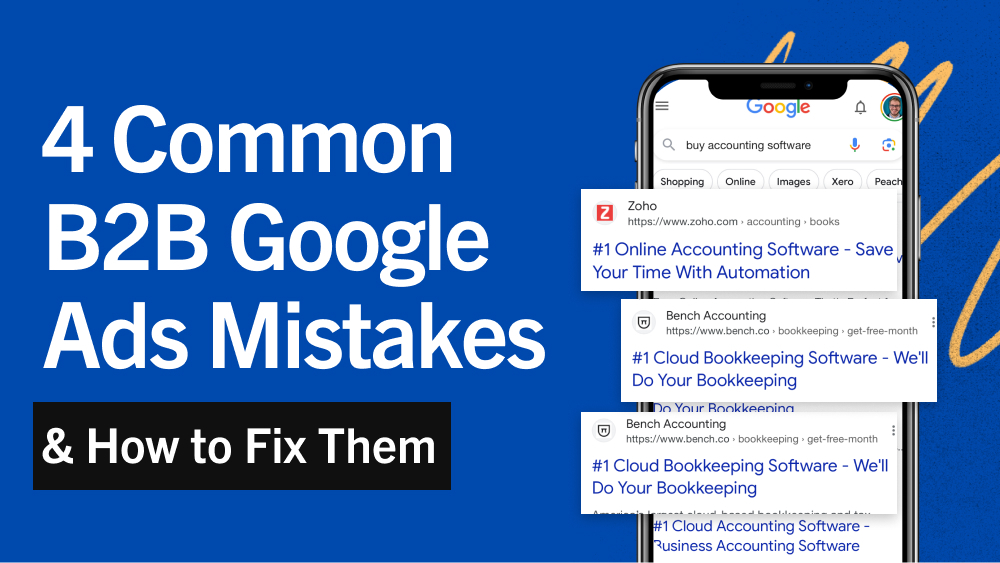 B2B
4 Common B2B Google Ads Mistakes and How to Fix Them