What is a Net Promoter Score?
Most businesses recognize the need to track metrics and KPIs that lead up to a sale. Organizations monitor their leads, count new conversions and opportunities, keep track of web traffic, sales presentations and other activities, all to help forecast future revenue and inform strategic decision-making.
While pre-sale metrics have always been important, it is only recently that a large number of businesses have developed metrics for measuring what happens after a sale.
The ultimate goal of business extends past revenue and sales growth – businesses should try to satisfy their customers, and not just because it feels good and gives meaning to their work.
Customers that are dissatisfied with your product or service may complain to your customer service department or to their family and friends, creating a negative image of your brand. They may describe their negative experience in online forums or on social media, and most times, they'll never buy from you again.
Businesses that recognize the negative impacts of dissatisfied customers have started to focus more on customer experience and implemented new techniques for measuring customer satisfaction and loyalty following a purchase. One of these KPIs is known as Net Promoter Score (NPS).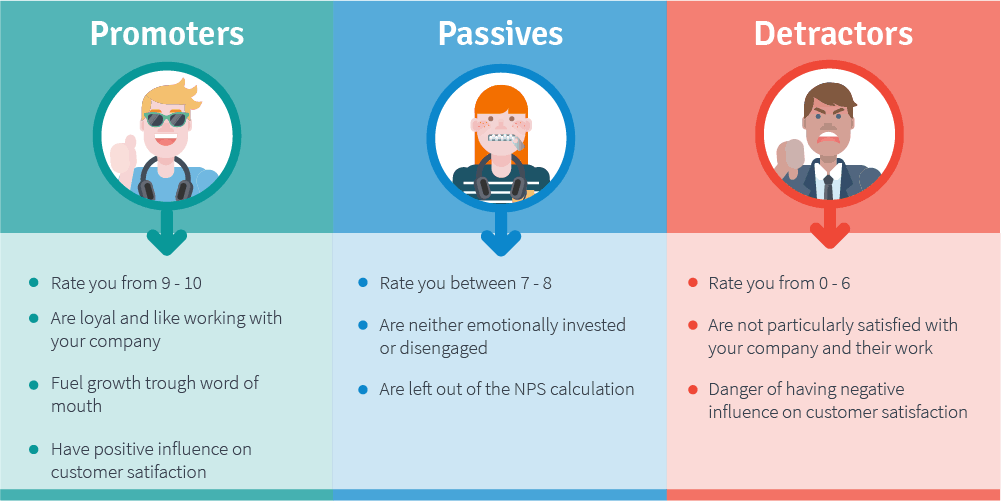 How Does Net Promoter Score Work?
Net promoter score is a metric that businesses use to measure customer loyalty.
A business calculates its net promoter score by surveying its customers following a customer acquisition, usually a sale
The survey for measuring net promoter score has only one question on it: "On a scale of one to ten, how likely are you to recommend this company's product or service to a friend or colleague?"
The survey respondent indicates their response by circling a number between one and ten.
The business collects survey results and analyzes them to determine its net promoter score
Net promoter score can act as a KPI for customer satisfaction or brand loyalty, helping executives or managers develop strategies for improving the customer experience