20 Free Social Media Guides for B2B Marketers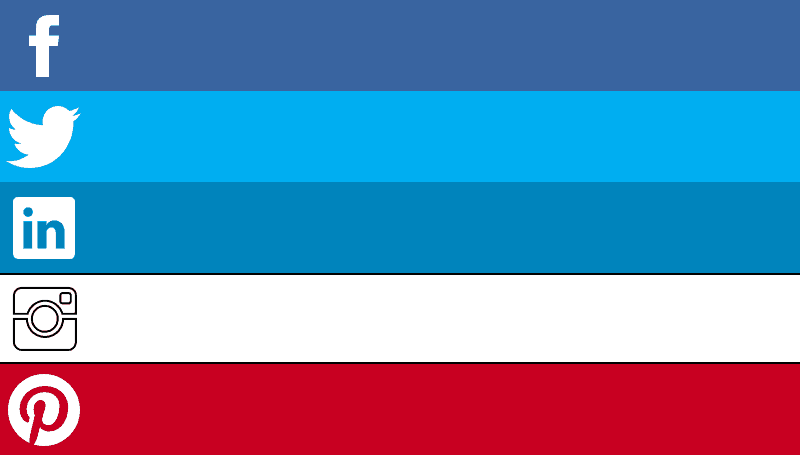 According to a 2015 Pew Research Study, 65% of Americans currently use social media. With the rise of social media in today's society, having at least a basic knowledge of how to use it for B2B marketing (specifically promoting content) is crucial for improving your B2B digital marketing footprint.
Your company will benefit greatly if you can master your social media platforms. You'll be able market your products and acquire new users through entirely new techniques. Your digital awakening has the capability to generate greater brand awareness and B2B lead generation than you ever thought possible.
If you're a social media amateur, however, there's no need to panic. We've compiled a list of 20 social media guides and courses that will help you become a social media pro in no time.
Hootsuite Academy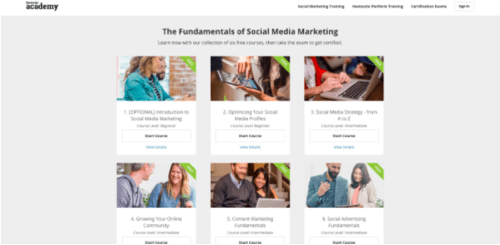 Hootsuite is a great tool for managing multiple social media accounts, but they also offer great social media courses as well. They have six free courses that walk you through setting up social media accounts all the way to content marketing and social advertising tips. The courses are:
Introduction to Social Media Marketing

Optimizing your Social Media Profiles

Social Media Strategy – from A to Z

Growing your Online Community

Content Marketing Fundamentals

Social Advertising Fundamentals
Alison: Diploma in Social Media Marketing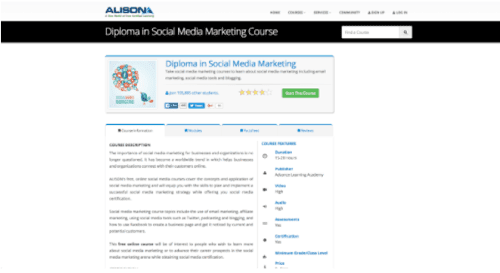 Alison offers a full course that includes an emphasis on Facebook, Twitter, Blogging, and Podcasting. The whole thing takes around 15-20 hours to complete, and if you complete all the modules and score an 80% or higher on all of the course assessments, you get the Alison Diploma Certification.
Constant Contact: Social Media Quickstarter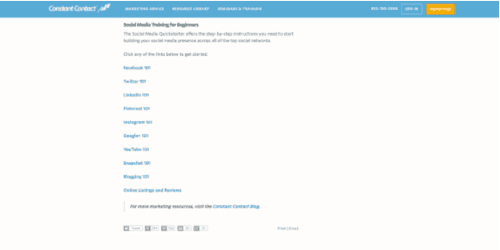 Constant Contact offers in-depth guides for different courses all surrounding social media marketing. The full list of courses are:
Facebook 101

Twitter 101

Linkedin 101

Pinterest 101

Instagram 101

Google+ 101

YouTube 101

Snapchat 101

Blogging 101
GCFLearnFree.org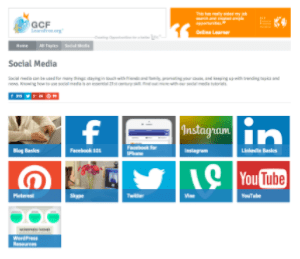 These courses don't directly relate to social media marketing, but they do still offer some great insights on setting up and using social media accounts across a number of different platforms including:
Blog Basics

Facebook 101

Facebook for iPhone

Instagram

Linkedin Basics

Pinterest

Skype

Twitter

Vine

YouTube

WordPress Resources
Social Media Online Classes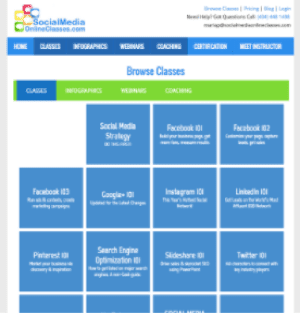 Social Media Online has a vast selection of courses that dive into a lot of detail on using social media for business. They offer 15 different courses including:
Facebook

Google+

Instagram

Linkedin

Twitter

Pinterest

SEO

Slideshare

YouTube

And many more
Online Marketing Institute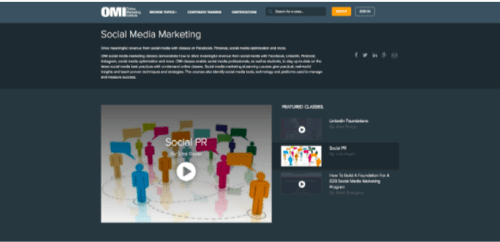 The Online Marketing Institute has a really solid collection of more technical and specific videos (around 30 minutes long) that cover online marketing topics including Social PR, Integrating Mobile into Social Media Marketing, etc.
AdEspresso Academy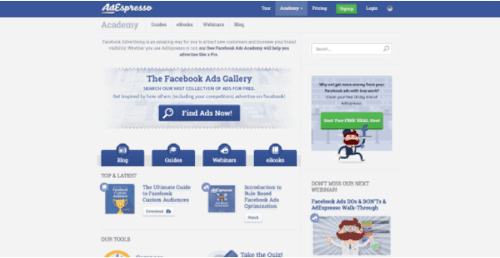 While this isn't an actual course, AdEspresso is one of the top thought leaders when it comes to advertising on Facebook. Their mix of Guides, Webinars, and eBooks will take you from a Facebook ads amateur to a pro.
HubSpot Academy Certification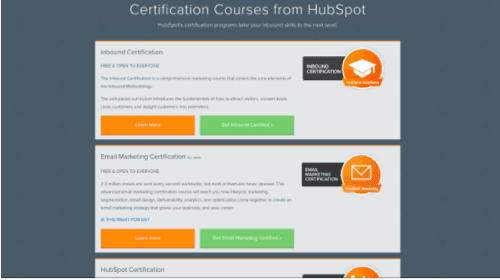 HubSpot offers a few classes to HubSpot customers only, but they also offer four courses free and open to everyone. The completion of these courses comes with the reward of being HubSpot certified. While these aren't directly related to social media, the lessons learned can be applied to social media. The courses cover:
Inbound Certification

Email Marketing Certification

Inbound Sales Certification

HubSpot Design Certification
Canva Design School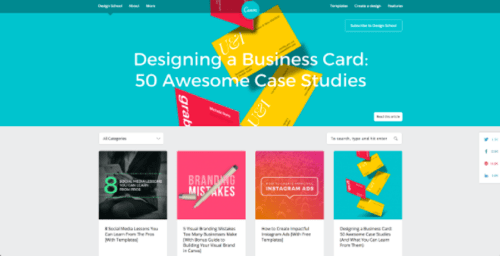 Canva is a free online design tool that also comes with a great academy full of design tips across a number of social media platforms. The articles are written in a blog format, making them easy to digest and packed full of great information.
University of Salford Manchester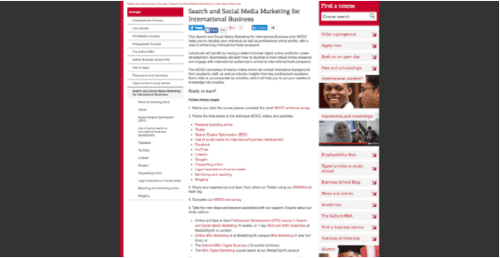 A crash course on social media marketing for international business. The courses include:
Personal Branding Online

Twitter

SEO

Use of Social Media for International Business Development

Facebooks

YouTube

Linkedin

Google+

Copywriting Online

Legal Implications of Social Media

Monitoring and Reporting

Blogging
Search Engine Journal: Social Media 101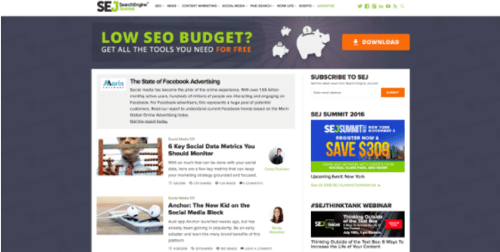 While this isn't an actual course, there are a lot of great articles that go over tips and tricks to push your social media knowledge to a new level. The mediums include a nice mix of videos and blog articles that are highly informative and engaging.
Moz: The Beginner's Guide to Social Media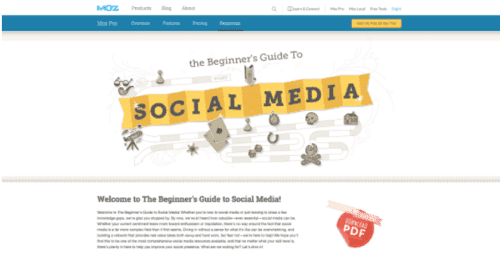 Moz is an industry leading publisher when it comes to digital marketing guides, and their social media guide is no different. It gives a great overview of the basics of social media marketing and goes into detail for the major platforms including:
Facebook

Twitter

Google+

Linkedin

YouTube and Pinterest
Directive Consulting: An Agency's Guide to Facebook Business Manager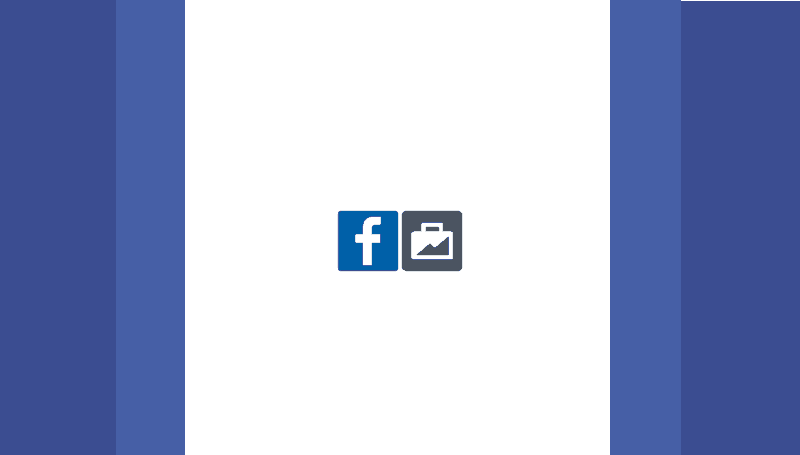 A straightforward article that dives into accessing and getting around inside Facebook's Business Manager platform.
Kissmetrics Social Media Marketing Guide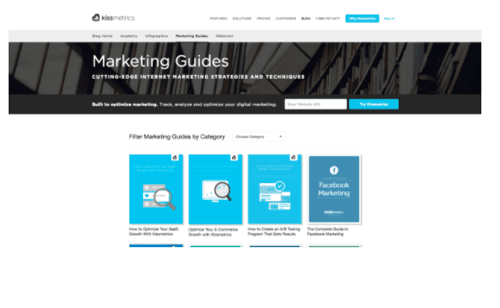 Kissmetrics has created individual guides full of information about marketing across the main social media platforms. The guides are:
The Complete Guide to Facebook Marketing

The Marketer's Guide to Twitter

The Marketer's Guide to Linkedin

The YouTube Marketing Guide

The Marketer's Guide to Tumblr

The Marketer's Guide to Reddit
Simply Business: Step-by-Step Guide to your Social Media Success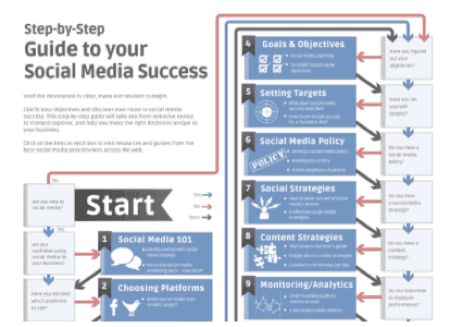 Simply Business has created an infographic with links to multiple different sites that walks you through the entire process by asking relevant questions, and giving resources to answer those questions.
Wordstream: PPC U's Social Ads 101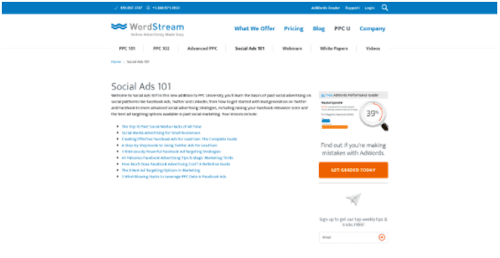 Wordstream offers a few insightful resources on different tactics to improve your social ads. The full list of articles include:
The Top 10 Paid Social Media Hacks of All Time

Social Media Advertising for Small Business

Creating Effective Facebook Ads for Lead Gen: The Complete Guide

A Step-by-Step Guide to Using Twitter Ads for Lead Gen

5 Ridiculously Powerful Facebook Ad Targeting Strategies

45 Fabulous Facebook Advertising Tips & Magic Marketing Tricks

How Much Does Facebook Advertising Cost? A Definitive Guide.

The 8 Best Ad Targeting Options in Marketing

3 Mind-Blowing Hacks to Leverage PPC Data in Facebook Ads
Convince & Convert's Social Media Strategy Blog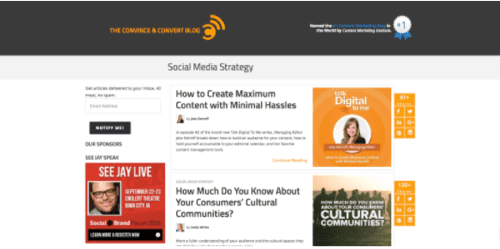 This isn't a course with individual lessons, but for more advanced B2B social media marketers, this is a great resource for learning new strategies. With a nice mix of articles and videos, Convince & Convert makes it easy to digest complex information.
Acquisio: What Social Media Means for Search Marketers and Agencies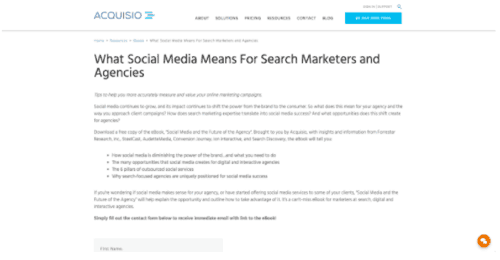 While this does require you to give an email address, the eBook itself is free! It goes over a number of social media insights including:
How social media is diminishing the power of the brand…and what you need to do

The many opportunities that social media creates for digital and interactive agencies

The 6 pillars of outsourced social services

Why search-focused agencies are uniquely positioned for social media success
Simply Zesty: The Giant Free Simply Zesty eBook – An Advanced Guide to Social Media Marketing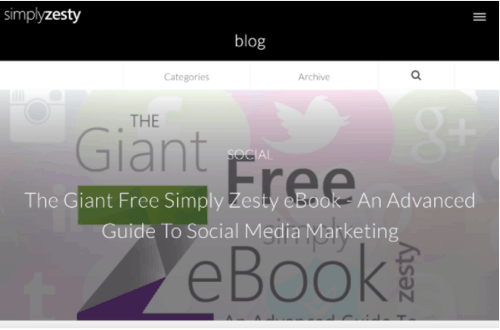 If you are looking for a thorough, comprehensive read then this may be the social media eBook for you. It is created by Simply Zesty, a full service digital agency based in Ireland. Packed with over 170 pages of content, this guide will walk you through numerous social media platforms. This eBook demonstrates each platform's unique strengths and the ways your company can take advantage of each one for your specific business needs. Another major selling point is that this ebook uses real-world examples to break down B2B social media marketing. Some of its topics include:
The best ways to use Facebook as a B2B marketing tool

Providing an effective customer service through Twitter

The basics to B2B email marketing and how it can improve your business

Embracing YouTube and what you need to do to publicize your videos
AWeber: The Beginners Guide to Marketing on Social Networks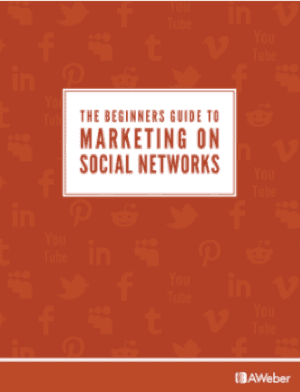 In contrast to the eBook above, AWeber offers a concise social media eBook that is only 15 pages. This resource is a great start for beginners that want to bring their business to social media. The social media beginners guide provides you with insight into:
The different platforms to try (Facebook, Twitter, Google+, Pinterest, Youtube & Vimeo, Tumblr, Instagram, Reddit, Myspace)

How to connect with people once you're there

What content gets the best response

A bonus section on LinkedIn
*CyberU: Advanced Social Media Marketing*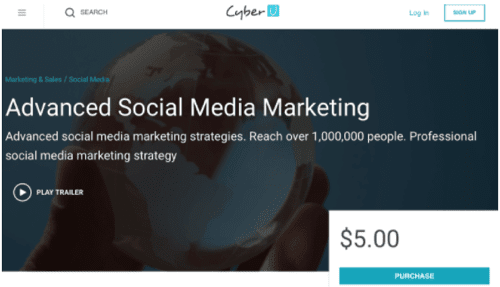 While not free, I decided to throw in this extra $5.00 online course for good measure. CyberU prioritizes accessibility and mobile learning with hundreds of online courses to choose from. This Advanced Social Marketing course is formatted through a series of short videos (2-10 minutes long), which makes this a convenient and quick learning option. The course starts by covering beginner social media marketing topics, then gets into more complex social media marketing strategies that help your business truly grow. It is made up of 25 lecture video, and should take you just over an hour to complete. In this course you will learn:
Advanced social media marketing used by growth hackers and professional B2B marketers

How to grow traffic, customers, and ultimately make more money

How to get other people to retweet, like and re-share your content

How to use social media to boost your Google SEO

How to use hashtags and catchy headlines to increase viral traffic
These guides and courses are just the tip of the iceberg when it comes to social media resources, but it's a great place to begin your quest for social media marketing knowledge. Become a driver of your company's bottom line and master cutting-edge digital strategies. But the first step is action! So pick a course or guide, or maybe a combination of resources and get learning!
Keep reading
Agency Life
Top 5 Oldest Performance Marketing Agencies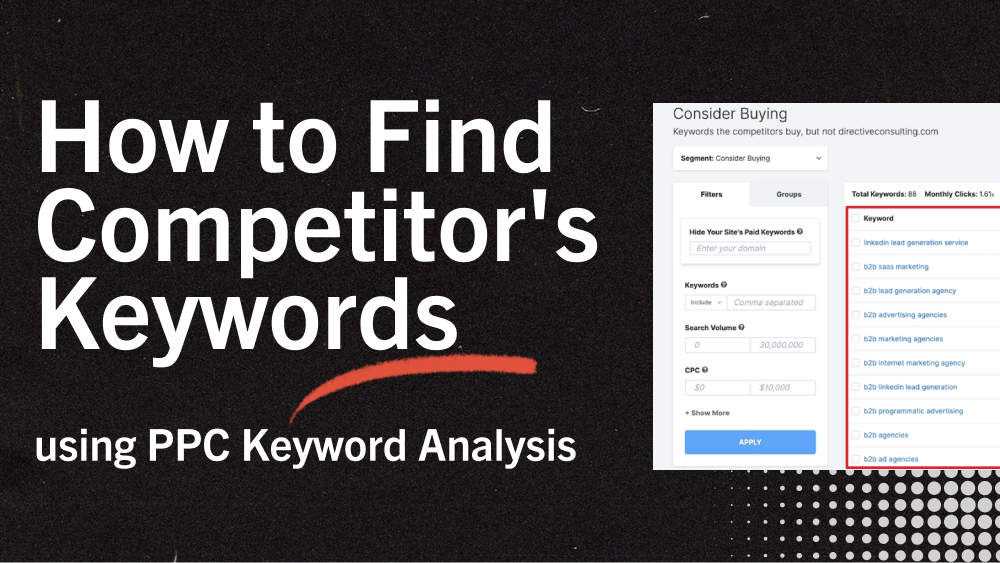 PPC
How to Find Competitor's Keywords with SpyFu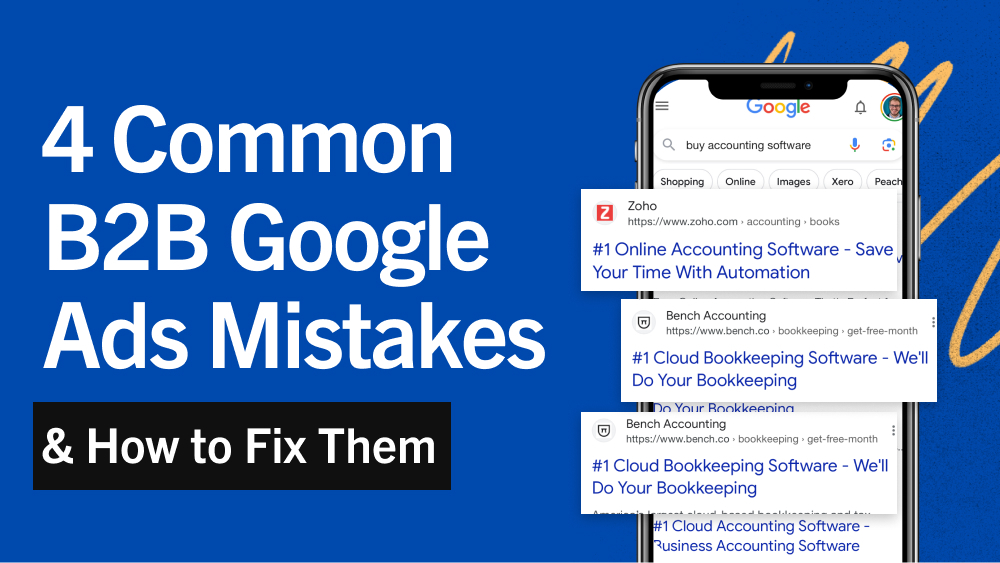 B2B
4 Common B2B Google Ads Mistakes and How to Fix Them