3 Actionable Facebook Tactics to Raise Brand Awareness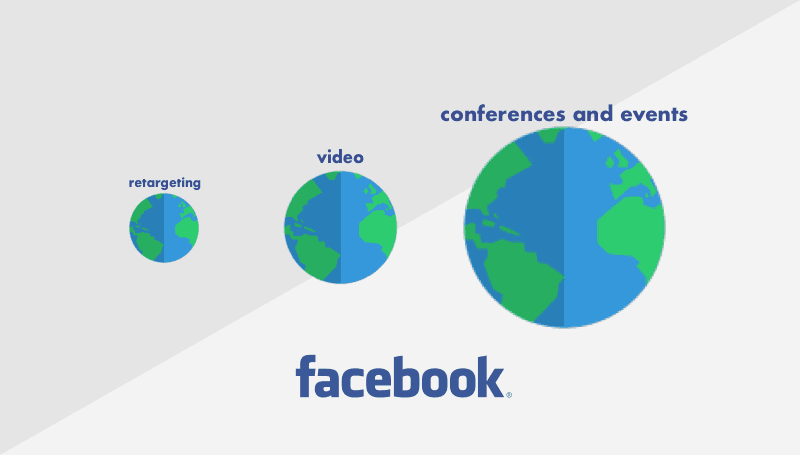 Are you trying to get started with Facebook advertising but struggling to determine exactly where to start? Don't worry, there are plenty of marketing managers in your exact position. With so many campaign options and strategy that can be implemented, it's a little terrifying to dive into Facebook advertising. However, the best way to get started is to do just that, dive in!
Thankfully, Facebook is one of the cheaper options when it comes to pay per click advertising, so even if your budget isn't huge, you can still make an impact through Facebook ads. In this article, I'm going to dive into three exciting tactics you can start using right away to raise brand awareness, and get your company in front of the right people.
Tactic #1: Upload Email Lists for Re-Targeting and Lookalike Audiences
This is one of the most effective features that Facebook offers through it's advertising. It's ideal for ecommerce companies, but can be used for B2B companies as well, especially if you've built up a good list of emails through prospecting. What you want to do is take your email list and upload it to Facebook, which will then match up those email addresses with actual Facebook profiles.
Depending on your industry, you can expect a match rate anywhere from 30% – 70%. Most of the time we see B2B lists have a lower match rate than ecommerce because most people don't use their work email for Facebook. To upload your email lists to Facebook, you'll need to go to your Ads Manager and from the hamburger drop down menu select "Audiences."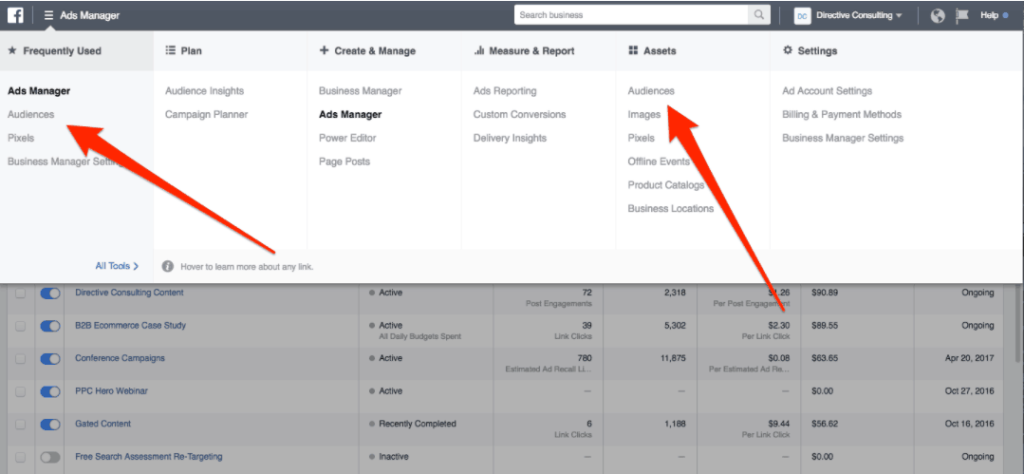 If the "Audiences" tab isn't in your frequently used section, you'll need to select "All Tools" and it should show up under the "Assets" section.
When you land in the audience section of your Ads Manager, you'll select "Create Custom Audience" then select "Customer File" and that's where you'll upload a .CSV file of your audience list.
If you have a large enough email list, you can start running re-targeting ads to these specific people. If you're an ecommerce store, try offering a 10% discount for loyal customers, as the people in your email list will have already purchased something from you before. If you're in the B2B space, offering relevant content can gain trust with your leads and may open the door for a sales call down the line.
Once you've uploaded your customer email lists, you can create lookalike audiences. This is an audience that Facebook creates based on the interests and demographics of your email lists. To create a look alike audience, simply select your email list audience and then click on "Actions" and "Create Lookalike."
To create a lookalike audience, you need to select which country you'd like to target, and then select the specificity of your audience. Facebook allows you to select anywhere from 1% – 10% of the country's population. The 1% audience will be more targeted and similar to your email list, and will give you an audience of around 2,000,000 people. The 10% audience will obviously be broader, and will give you an audience of around 20,000,000 people.
A tactic we like to use here at Directive Consulting is to create a 10% audience, but then add additional detailed targeting on top of that (job titles, interests, etc.) to give us an even more specific audience! Now you've got an audience that theoretically should be incredibly interested in your product, content, or service!
Tactic #2: Promote a Video on Facebook and Re-target Audiences Based on Engagement
Video is a great way to drive engagement on Facebook, especially with the (somewhat) recent addition of the auto-play feature. Scroll down your Facebook feed right now. I'd bet over 50% of the content you see is video. With the recent increase of the use of video on Facebook, it's important to immediately make a strong impression. Because the auto-play feature doesn't include sound, you want to start your video off with rich creative, or have engaging copy in the text section to ensure people stop scrolling when they come across your video.
When creating a video for Facebook, it's important to keep in mind that the platform has different engagement statistics than YouTube. According to Tubular Insights, the average duration for Facebook videos is 81.22 seconds, compared to 870.89 seconds on YouTube. Most people like short and sweet videos on Facebook.
Once you have a video up and running on Facebook, you can re-target users based on the engagement they had with your video. You'll need to go back to the audience section of your ads manager. Select "Create Custom Audience" again, but this time you'll select "Engagement on Facebook."
Select "Video" and then you'll be able to create a new audience based on people who have watched a certain percentage of your video. This is a great way to launch specific re-targeting ads at people who you know are already engaging with your content. You can even see which video they're engaging with and hit them with a specific ad related to that video (i.e. if they watched a video on link building, hit them with a piece of gated content on link building that requires more information (like a phone number so you can follow up with a call).
Tactic #3: Create Specific Campaigns Targeting Conferences or Trade Shows in Your Industry
Sponsoring a conference is a great way to build up brand awareness, and to get your company directly in front of your target audience. Unfortunately, sponsoring a conference is an unrealistic investment for a lot of companies. You also don't get specific metrics from being a sponsor at a conference, as much of the awareness comes from print mediums, rather than digital mediums where you can track clicks and conversions.
Also, as a side note, if you're struggling to figure out exactly how to set up your Facebook ads, we have a helpful guide that goes over everything you need to know about running a Facebook brand awareness campaign.
Garrett previously wrote about a fun Facebook Awareness Hack targeting a narrow radius around sports stadiums or arenas during games, and reaching people with your brand anytime someone at that sporting event checks Facebook.
We took that same principal, but instead focused on targeting big conferences in the digital marketing space, a place where many of our ideal client's would be!
We made an excel sheet with and compiled a list of all the big marketing conferences in the upcoming months, and spent a day scheduling brand awareness campaigns, targeting a one mile radius around the convention center or hotel where the conference is being held.
While we're targeting conferences, if you're an ecommerce or brick and mortar retail company, you can still use this tactic by targeting relevant popular trade shows.
Again, with this tactic, try and create an ad that's relevant to the specific conference or trade show. For example, we launched the ad below for MarketingProfs B2B Marketing Conference in Boston this year. We wanted to give the conference attendees something that is incredibly relevant to them, so we promoted the case study below.
With these campaigns we can have a reach of over 5,000 for a budget as small as $10 a day. Depending on the competitiveness of your industry, you may need to boost up that daily budget, as other companies may be trying this same tactic, and you'll be competing with them on bids.
Combining These Tactics
To push your campaigns even further, try combining two or even all three of these tactics! Use your lookalike audience from your email list and layer that with a location based target that's one mile around a popular conference. You can even try promoting a video for that conference and continue to build up your detailed audiences through that!
Give these tactics a try and let us know how they work for you!
As always, if you're struggling to get your social media advertising on the right path, fill out our form for a free assessment. We'll provide specific recommendations that can help make an impact immediately!
Keep reading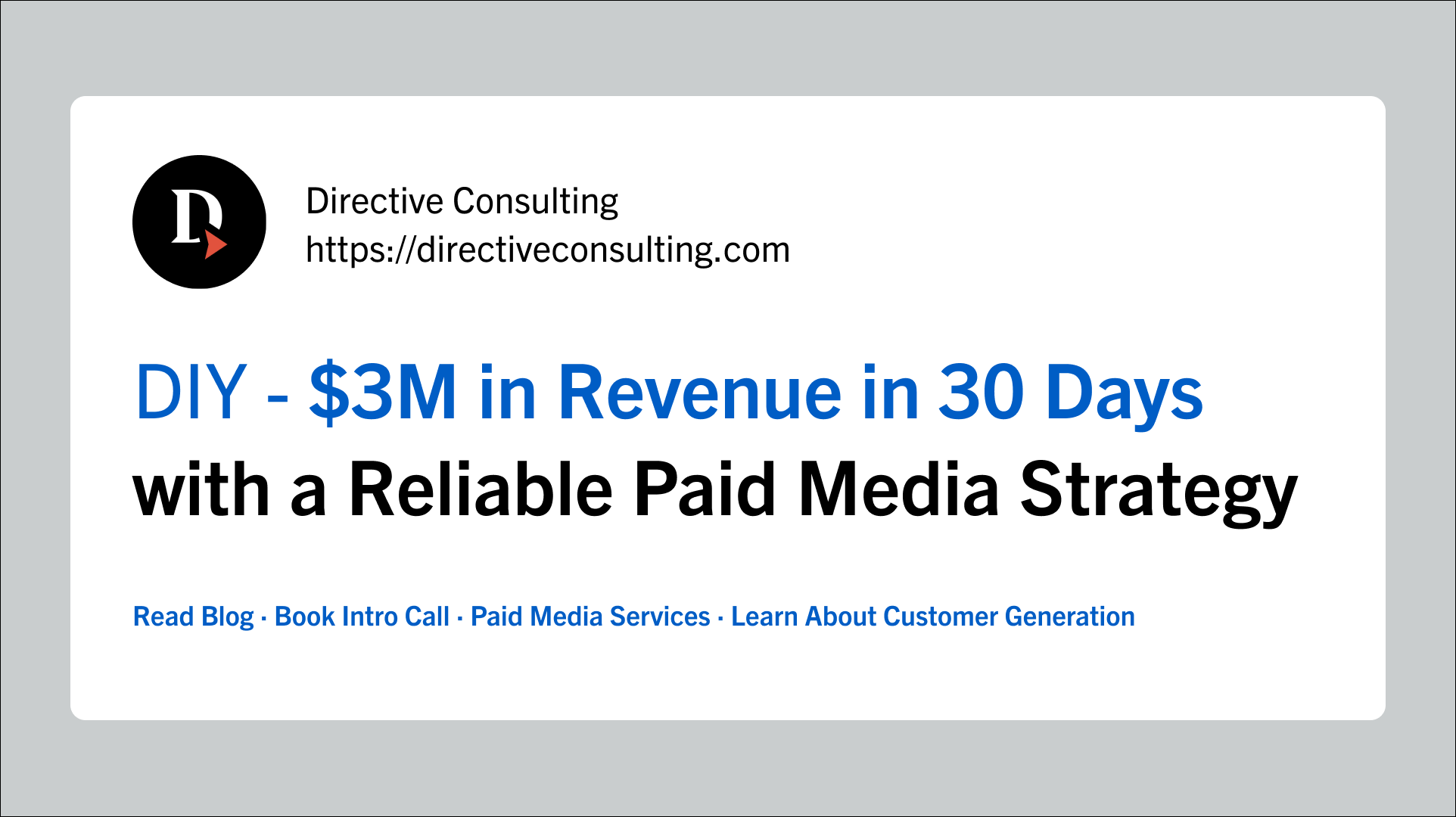 PPC
DIY: $3M in Revenue in 30 Days with a Reliable Paid Media Strategy
Social Media
Boost Your LinkedIn Engagement by 22% with These 3 Content Types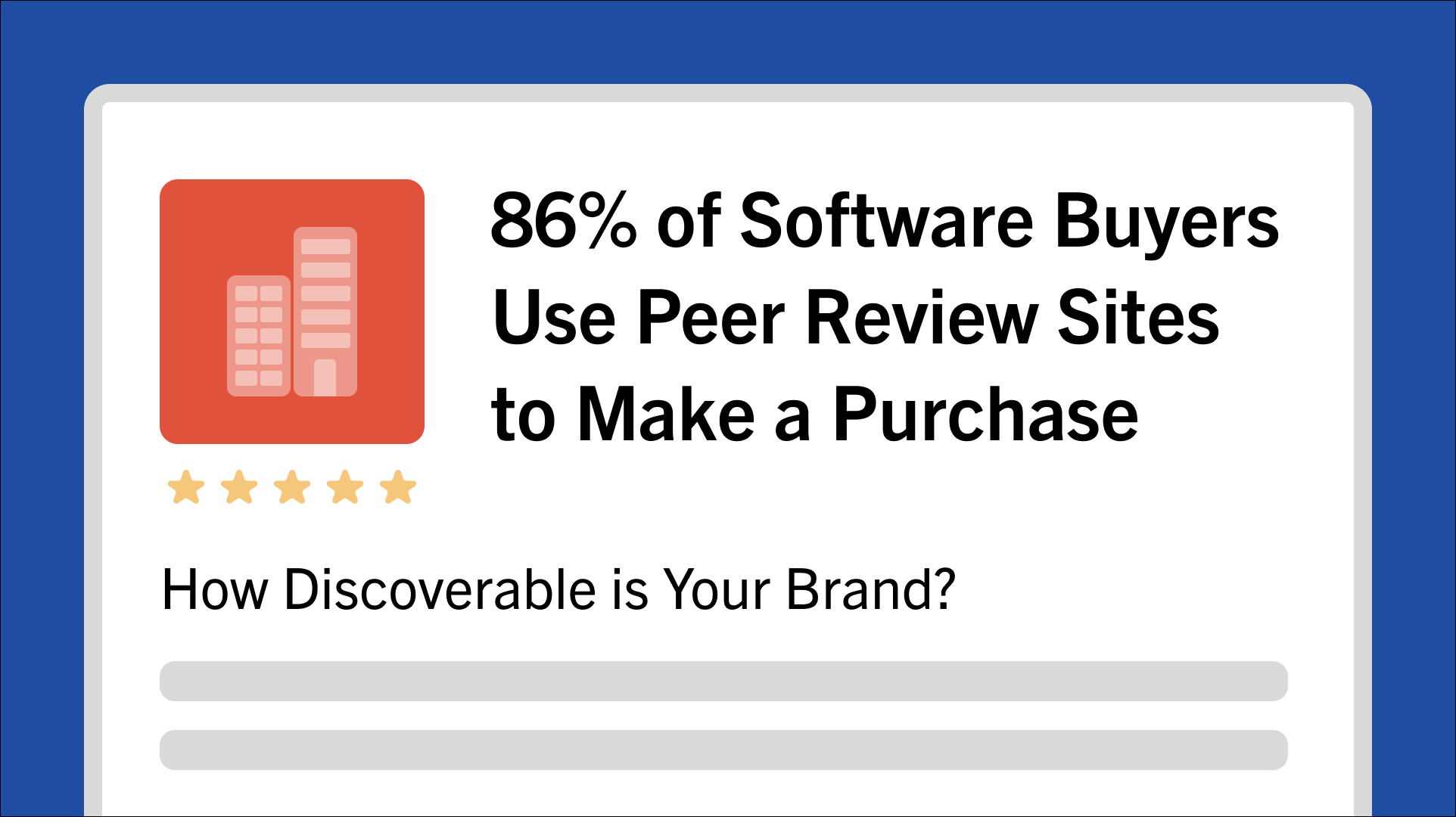 Sales
86% of Software Buyers Use Peer Review Sites to Make a Purchase. How Discoverable is Your Brand?