10 Best A/B Testing Tools Worth Trying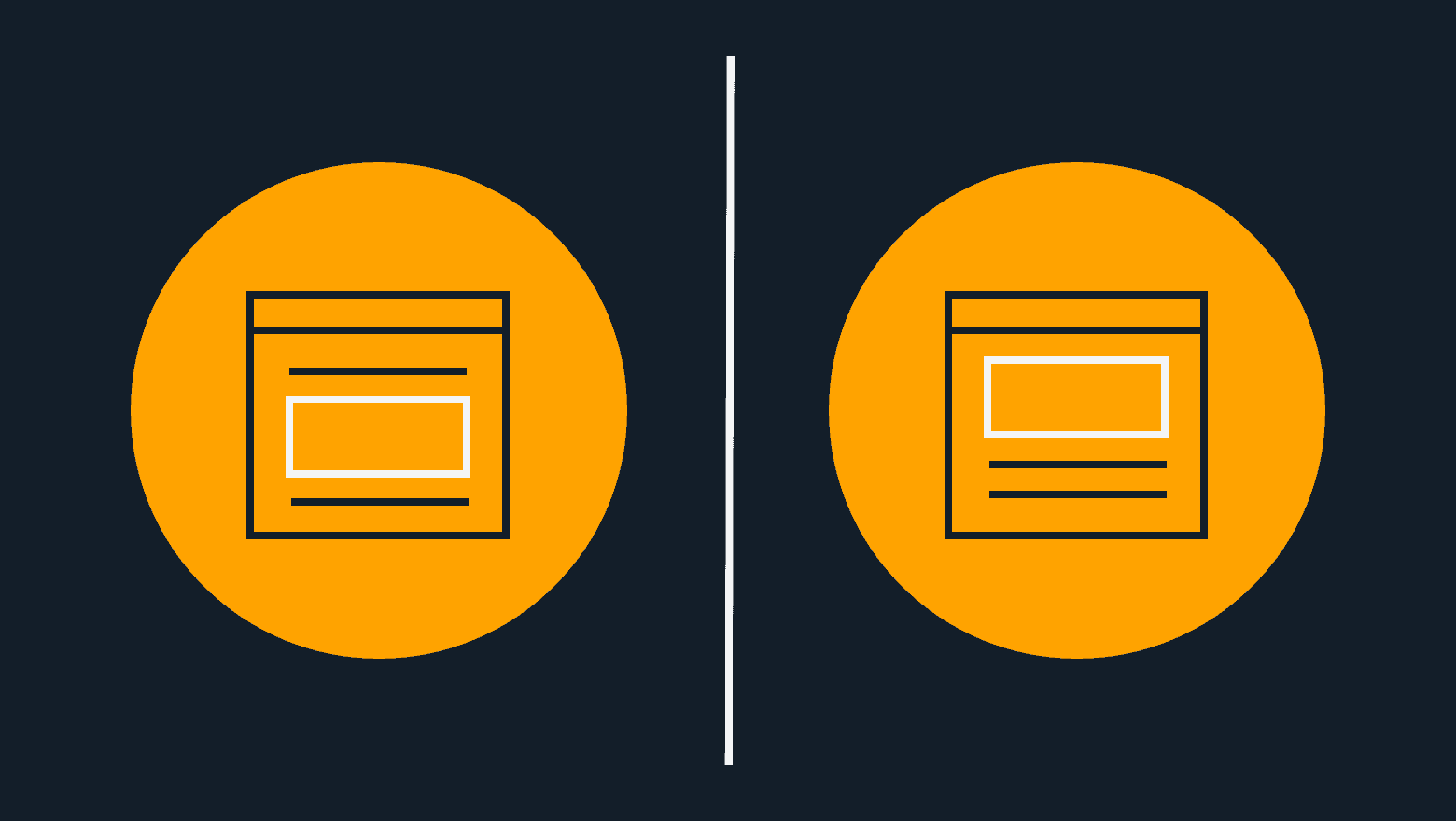 The best A/B testing tools give digital marketers the power to continuously optimize their websites and landing pages, improving user experience and increasing conversion rates in the process.
The biggest obstacle when it comes to getting starting with A/B testing and other CRO tools is the abundance of choice in the marketplace. With so many A/B testing software options available, how do you figure out which one is the best option for your business? And how do you determine whether it's worth the cost?
The reality is that different A/B testing tools are optimized for different use cases. There are solutions for enterprise organizations, digital agencies, and even small businesses and individual marketers.
To help you make sense of the landscape of A/B testing tools, we've created this guide to the 10 best A/B testing tools. We'll highlight our favorite products in the category, mention key features, and help you identify the next steps and how to get started.
10 Best A/B Testing Tools Worth Trying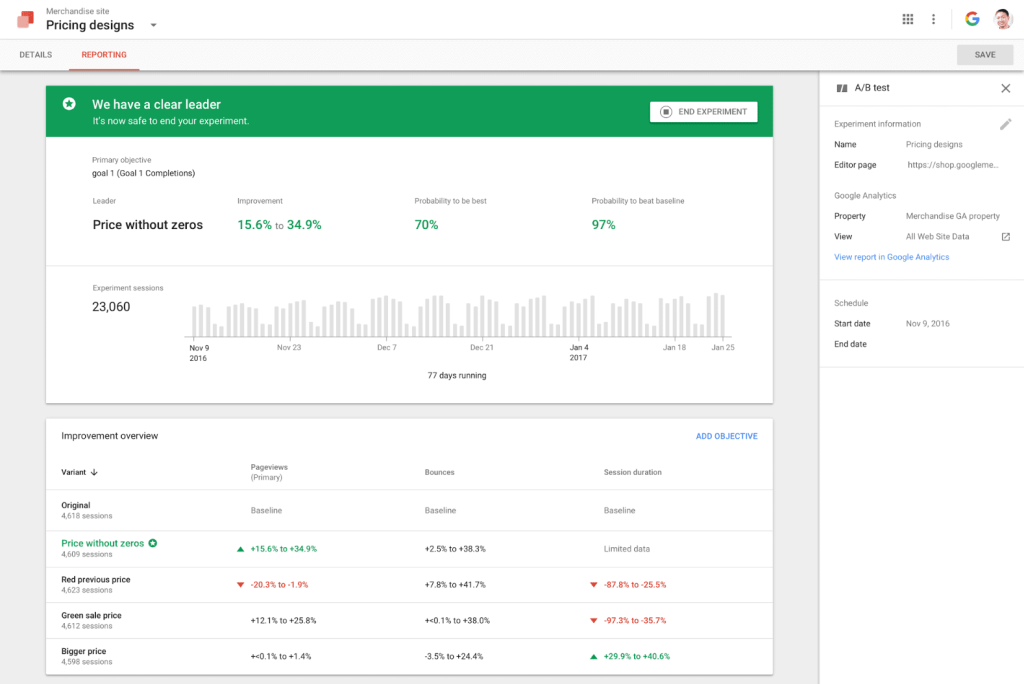 Overview: Google Optimize is a free tool that digital marketers can use to start optimizing their web pages with A/B testing. Google Optimize has integrations directly with Google Analytics, so it's super-easy for marketers to start using their existing data on website visitors to start segmenting audiences for content experiments.
Key Features & Benefits: Google Optimize is a free solution that focuses on ease-of-use and mainly targets small and medium-sized businesses who can benefit from A/B testing and CRO, but lack the resources to fully leverage an enterprise solution. There's also a paid version known as Optimize 360 with more advanced options for content experiments, including personalization experiments, complex multivariate testing, and redirect tests.
How to Get Started: Google Optimize is a free tool offered as part of the Google Marketing Platform. If you already use Google Analytics, it takes just a few minutes to implement Google Optimize on your website.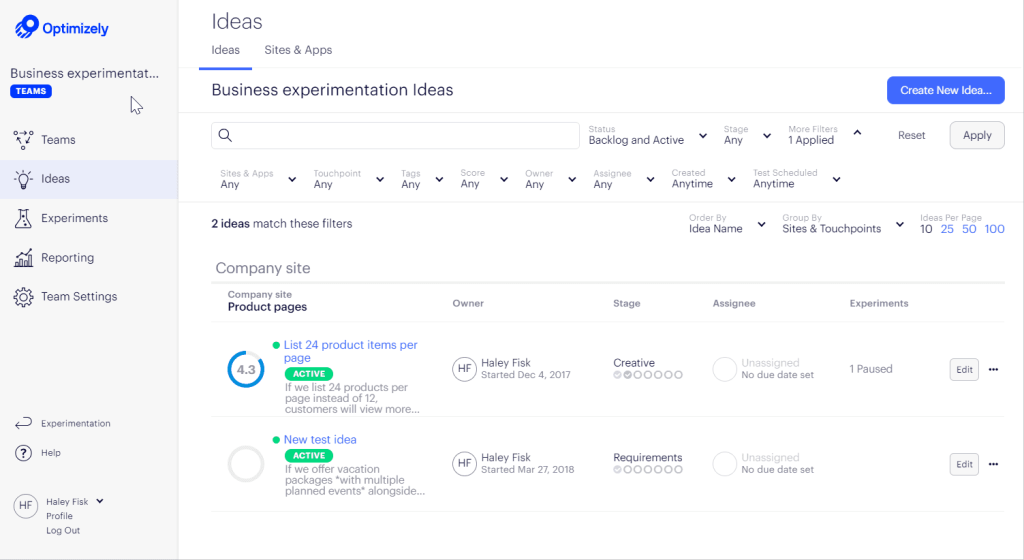 Overview: Optimizely is a content experimentation platform that's primarily geared towards enterprise organizations with large websites that get a lot of traffic. For websites in this category, small improvements in UI/UX that positively impact conversions can have major financial implications – more than enough to justify the steep price tag of an Optimizely product license.
Key Features & Benefits: Optimizely is one of the most advanced A/B testing tools available for digital marketers. The platform supports multivariate and A/B testing capabilities, statistical analysis of content experiment results, and a variety of audience segmentation parameters to help marketers deliver a more personalized content experience to website visitors.
How to Get Started: To start using Optimizely Web, you'll need to contact their sales team for information on pricing and account set-up. You can check out the platform by creating a free Optimizely Rollouts account.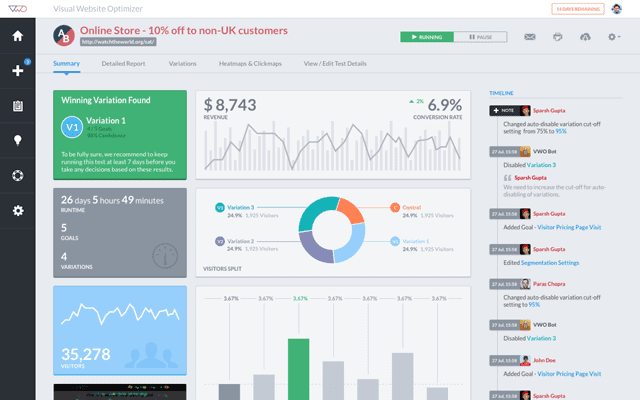 Overview: Visual website optimizer is one of the leading CRO and A/B testing tools that we've encountered. The platform offers clean, engaging dashboards and robust CRO capabilities that include split URL, multivariate, and A/B testing.
Key Features & Benefits: VWO offers a range of CRO products that are useful for digital marketers. The most important one is the VWO Testing platform, which includes all content experimentation capabilities. There's also VWO Engage, a tool that lets digital marketers use push notifications to collect feedback from users after they leave a page without converting. Digital marketers can use the VWO insights platform to analyze user behavior on-site with heatmaps, form analytics and session replays.
How to Get Started: Visit the VWO web page and request a demo or register for a free trial (no credit card required). VWO testing product licenses start at just $199/month for websites with 10,000 or fewer monthly visitors.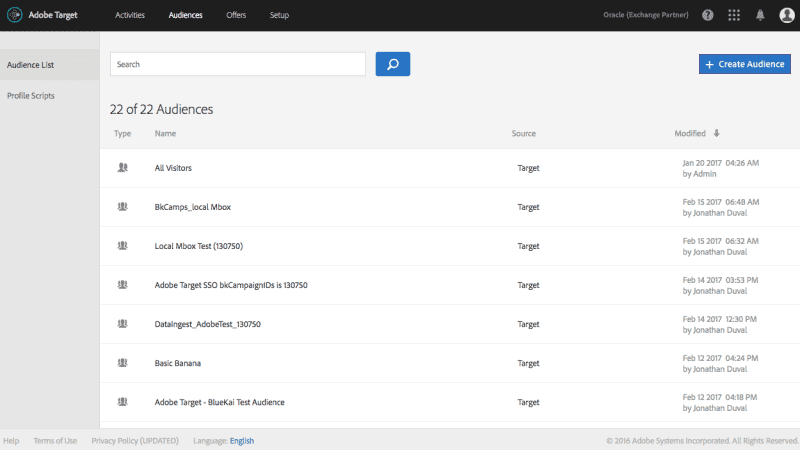 Overview: Adobe Target is a CRO tool that offers content experiments and marketing personalization tools. Adobe Target is part of the Adobe Marketing Cloud product line, which offers end-to-end digital marketing solutions for enterprise organizations.
Key Features & Benefits: Adobe Target has a reputation for being one of the most expensive A/B testing tools on the market, but it's certainly got the technology to back it up. This A/B testing tool uses machine learning to automate the audience segmentation process, make connections between content experiences and conversions, and deliver personalized and contextually relevant user experiences that drive sales.
How to Get Started: Adobe Target is ideal for enterprise organizations that already use Adobe Marketing Cloud products like Adobe Analytics, Adobe Experience Manager, and Adobe Campaign. To get started, you'll need to contact the Adobe sales department.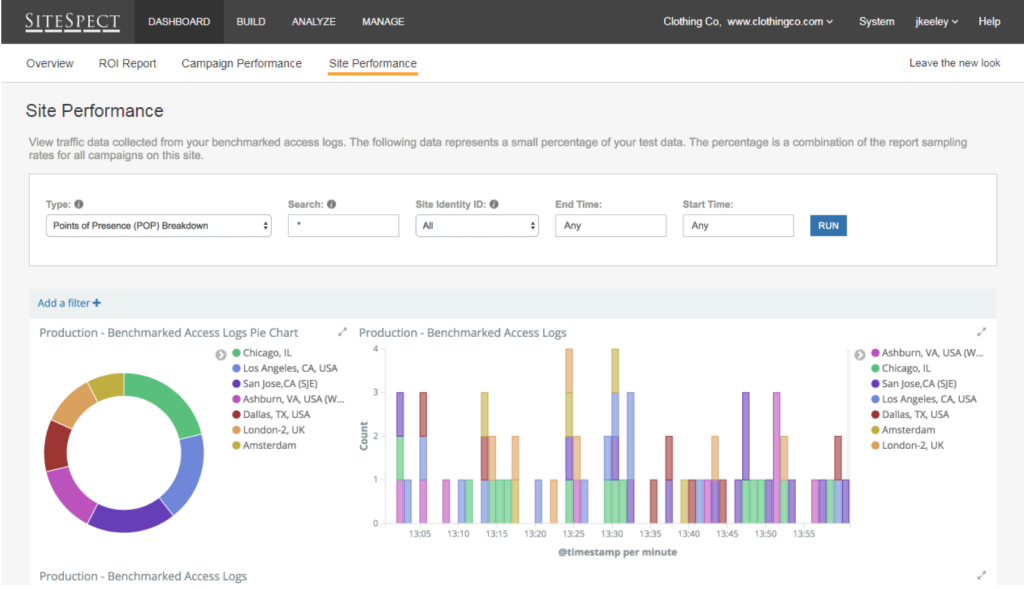 Overview: SiteSpect is an A/B testing tool with a unique approach to running content experiments. When you run SiteSpect, the platform sits between client browsers and your server and manages how your servers respond to user requests. Whenever a user accesses content on your website by clicking a link, SiteSpect sees the request and can serve them personalized content depending on the content experiments you have configured.
Key Features & Benefits: SiteSpect offers a range of deployment options for customers, including cloud-based SaaS, on-premise and hybrid deployment models. There's also a dashboard that can help marketers identify page speed and traffic issues.
How to Get Started: SiteSpect offers a free trial of its A/B testing and optimization product for new users.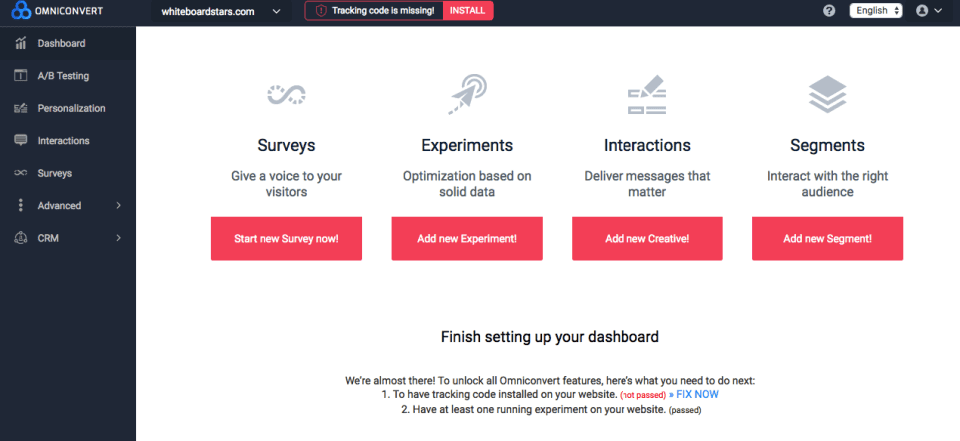 Overview: Omniconvert promises to help digital marketers optimize every touchpoint of the customer journey with data-driven decisions powered by its A/B testing and content personalization capabilities.
Key Features & Benefits: The Omniconvert platform is primarily targeted towards eCommerce store owners and marketers that can increase their conversion rates and boost sales with site-wide conversion rate optimization plays. Digital marketers can test page design and CTA buttons with A/B testing, use pop-ups and overlays to target visitors with special offers when they're about to exit a page, and customize content experiments with 40+ audience segmentation parameters.
How to Get Started: Omniconvert offers a free trial of its CRO software, including all of the most important features that digital marketers can benefit from (A/B testing, personalized content experiences, pop-ups and overlays, customer experience surveys and advanced audience segmentation). Pricing starts at just $167/month for websites with 50,000 or fewer monthly views.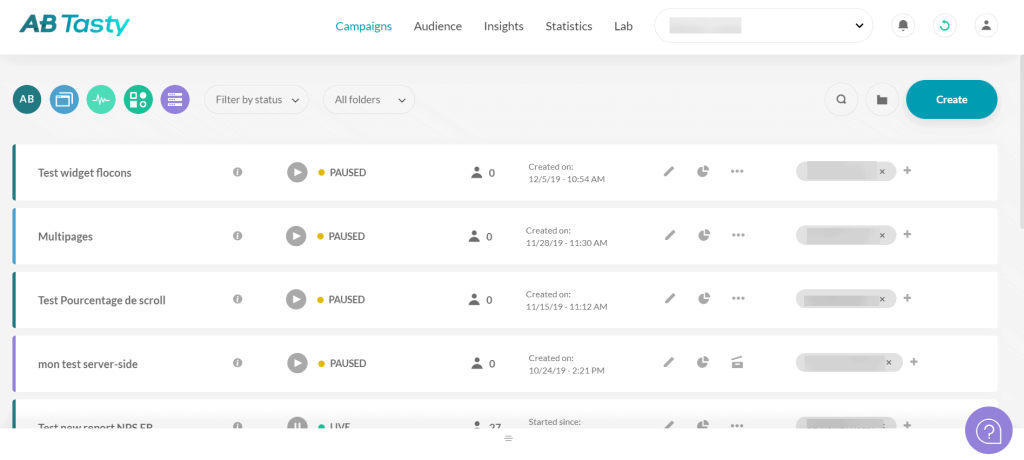 Overview: If you're just getting started with conversion rate optimization, A/B Tasty might be the best tool for you. AB Tasty offers a clean platform and a streamlined interface for launching content experiments and measuring their impact on user behavior and campaign performance.
Key Features & Benefits: AB Tasty offers several capabilities that digital marketers will find useful. There are five different types of content experiments supported:
A/B testing – Create different versions of the same page by modifying individual page elements, then measure performance.
Predictive testing – Predictive tests allocate traffic dynamically between several variations of a page. Users will be preferentially directed towards the page that performs best with respect to stated experimental objectives.
Multivariate testing – Create multiple variations of several different page elements, then mix and match them to find out which combination performs the best.
Multi-page testing – Test multi-page experiences (like sales funnels) against each other to see which one converts the best
Server-side testing – Implement server-side testing to measure the performance of factors that are invisible to users, but may still impact conversion rates. Server-side tests are coded directly onto your website instead of being applied via the client browser.
How to Get Started: With no free trial available, you'll have to contact AB Tasty to set up a product demo before you can get started.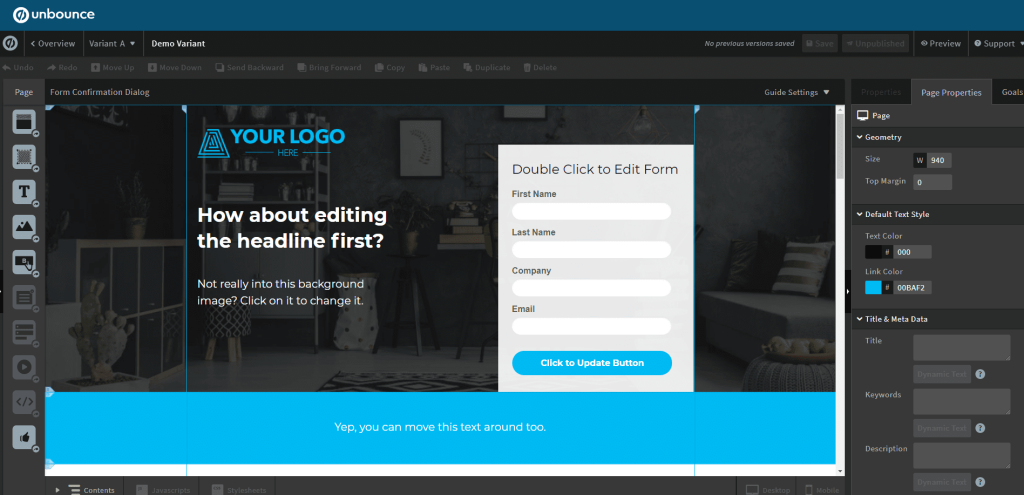 Overview: Unbounce is a conversion rate optimization tool with powerful capabilities for digital marketers. The platform's main selling feature is its drag-and-drop landing page builder, but Unbounce also offers content experimentation and optimization with a unique approach.
Key Features & Benefits: As a landing page builder, Unbounce makes it easy for digital marketers to quickly construct lead generation or sales pages to support their digital advertising campaigns. On the experimentation side, Unbounce comes with a feature called Smart Traffic that uses artificial intelligence to dynamically allocate users to the landing page where they're most likely to convert. Unbounce combines its own marketing expertise with the processing and analytical power of AI to provide the best possible user experience and drive conversions for digital marketers.
How to Get Started: Visit the Unbounce website and register for a free 14-day trial. Subscription packages start at just $79/month.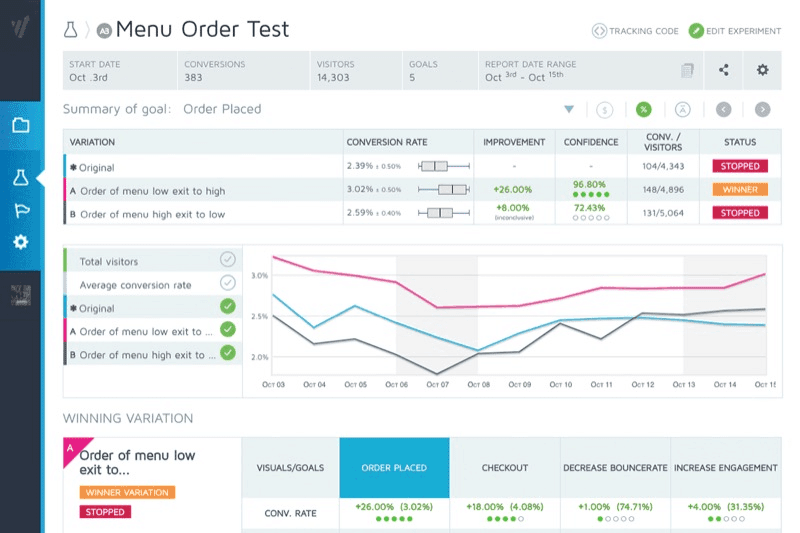 Overview:  Convert Experiences may not be the most popular A/B testing tool on this list, but it does offer exceptional testing features and one of our favorite user interfaces of any tool on this list. While other tools offer extensive "all-in-one" capabilities that can overwhelm users, Convert Experience stays laser-focused on what it does best: deliver high-impact content experiments.
Key Features & Benefits: Convert Experiences supports the full battery of content experiment test types, including A/B, split URL, and multivariate testing, along with multi-page experiments. Another key feature is the ease of integration with virtually any data source, including Google Analytics, Kiss Metrics, HubSpot Marketing, Adobe Analytics, Twilio and Shopify.
How to Get Started: New users can enjoy a 15-day full-access free trial by registering on the Convert Experiences website. Low-tier plans start at $599/month, but all plans include unlimited tests and collaborators for all types of content experiments.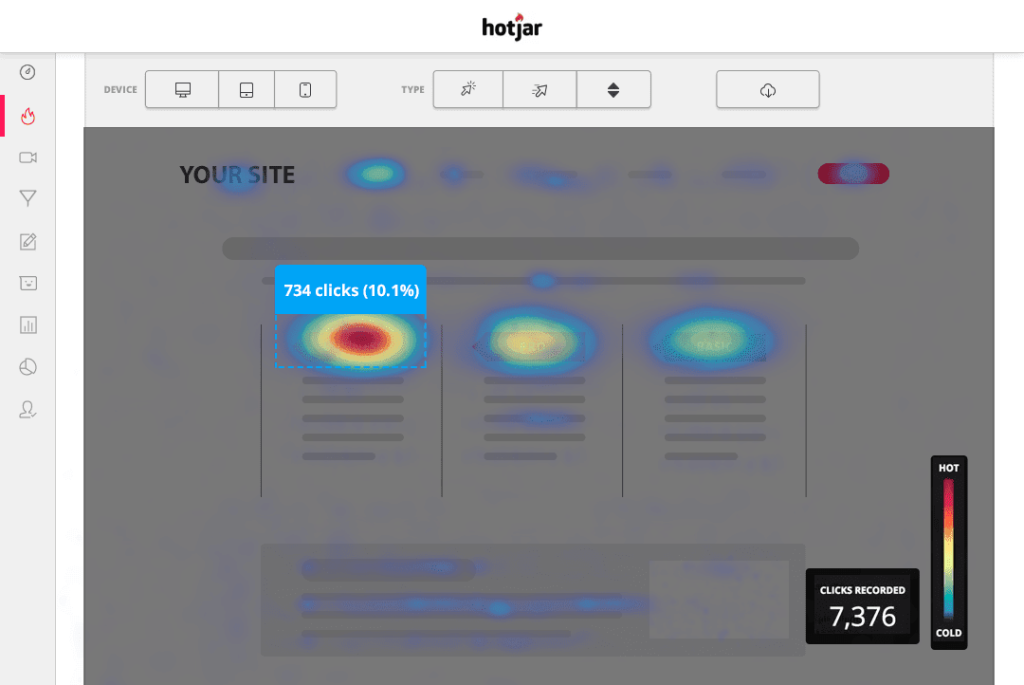 Overview: Hotjar isn't exactly an A/B testing tool, but it's one of the best tools for digital marketers who are planning to run content experiments on their websites. A/B testing is very results-based: you'll find out how well users convert on each variation of a page, but you won't necessarily understand why without digging deeper into user behavior – and that's where Hotjar comes in.
Key Features & Benefits: Hotjar features include heat maps and user behavior analysis to help digital marketers understand how visitors are engaging with their web pages. Heatmaps monitor where users move the cursor, where they click, and how far they scroll down each page. Marketers can use session replays to review the site sessions of real visitors and find ways to better connect users with desired content with their landing page design. Hotjar also supports feedback polls and surveys to help marketers collect more valuable information directly from target audiences.
How to Get Started: Visit the Hotjar website and register for a 15-day free trial – no credit card required! Plans start at just $89 monthly for marketers collecting data on fewer than 20,000 page views per day.
Summary
Thanks for checking out our list of the 10 best A/B testing tools!
We hope this guide helps you choose the best A/B testing tool for your unique circumstances and start optimizing every page of your website to drive conversions.