Part 4: B2B Content Marketing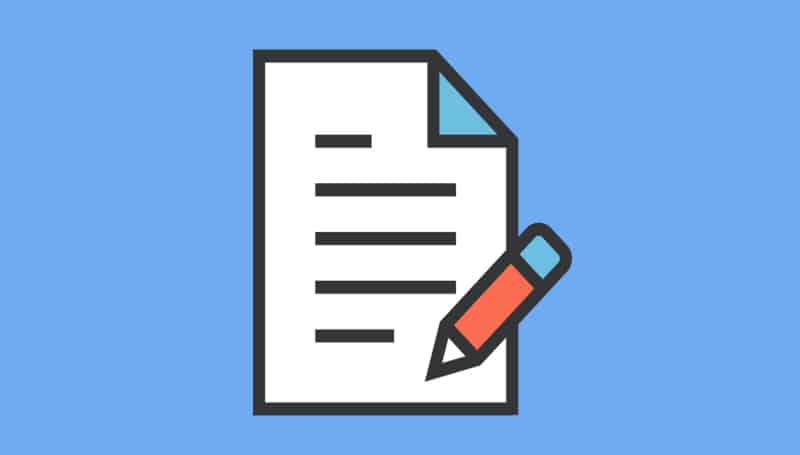 A common thread for many B2B buyers is the search for knowledge.
For every challenge they face, they want information on how to overcome it. For B2B businesses this provides a great opportunity.
Not only do you have a product or service that can solve this problem, but you have the knowledge to answer their questions and address their needs before they buy.
You can leverage this knowledge through content marketing.
Content marketing as a whole is one of the most effective forms of marketing.
It costs 62% less than outbound marketing but generates 3x as many leads. But many B2B companies still struggle in their effort to create content.
According to Content Marketing Institute, only 30% of B2B marketers said they were effective at content marketing compared to 38% last year.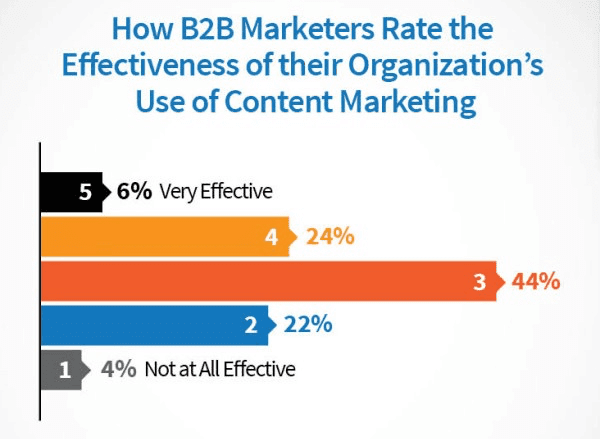 Part of the problem may be that companies don't always know how to create content that addresses the unique needs of B2B buyers.
Any old blog post just won't do.
Here are a few things that you should know about creating B2B content and ways you can leverage that content for B2B audiences to drive leads.
What Types of Content Do B2B Audiences Need?
There are specific types of content that work best for B2B audiences.
B2B content has to be highly actionable. This means that usefulness and research are key elements to content creation.
According to CEB, there are four categories of content that produce sales for B2B:
Prescriptive content

– Content that addresses common buying obstacles.

Connecting content

– Content that helps overcome disagreements

Motivating content

– Content that encourages supporters (of your solution) to fight on your behalf for a greater cause

Disruptive content

– Content that shows how to compete more effectively in the market (using a specific solution, typically the B2B company's solution)
There are plenty of types of content you can produce that may fall into any of these categories, including blogs, social media posts, video, and so on.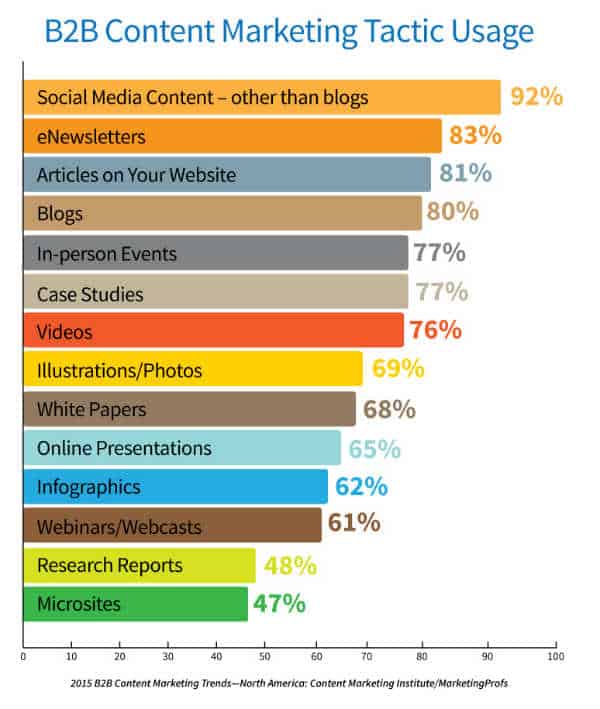 There are roughly six types of content that we've identified as being the most effective when it comes to driving leads for B2B.
Here is the order you should focus on to see results.
1. Core Website Content
We typically recommend that B2B companies start with core website content.
Core website content can be described as any landing pages on your website that convey the value of your product or service.
Take Hootsuite, for example: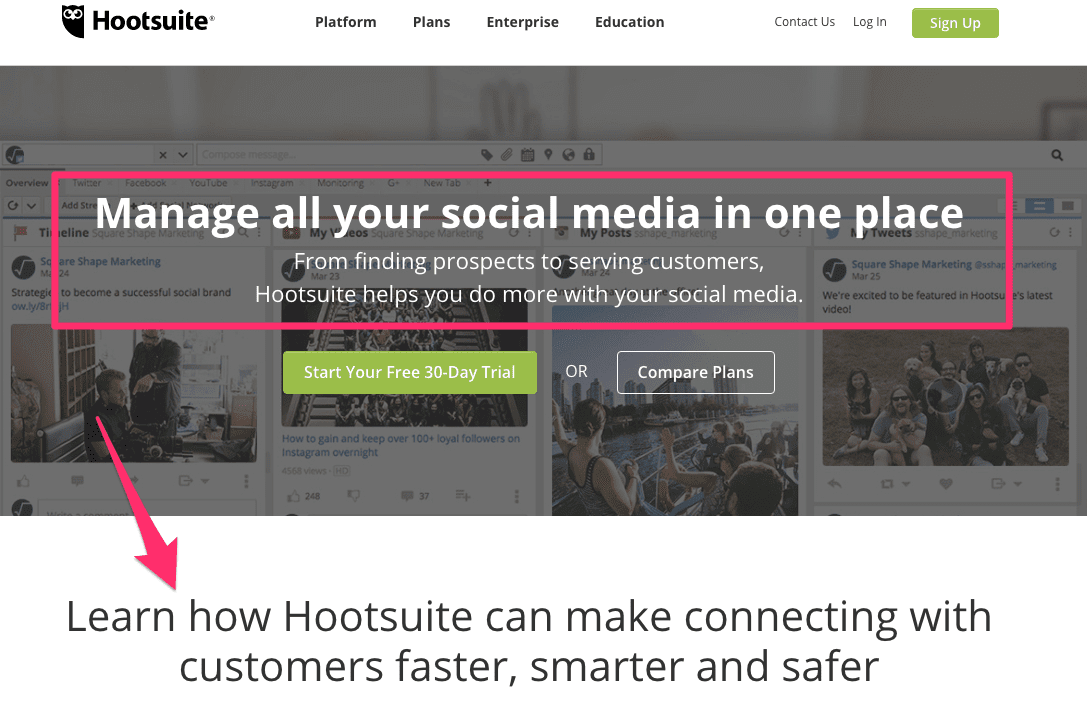 They have a couple of forms of core website content on their homepage.
The first gives an immediate benefit to using their product:
Manage your social media in one place

Make faster and safer customer connections
If you scroll down, you can see more content that expands on these benefits.

They explain the practicalities of how they can help you measure the ROI of your campaigns.
It's an actionable step that solves a problem many B2B social marketers face.
Web content can also include other landing pages, such as:
Services

Products

Features

Benefits

Industries

Solutions
If you look at Hootsuite's site, they have a dozen or so "Features" pages with additional content:

Each page can then be targeted with certain keywords that help those pages rank on search engines.
The goal of this content is to address common concerns that B2B buyers may face and show how the product or service can solve those problems quickly and effectively.
It's the foundation for driving buyers through your sales funnel.
2. Blog and Resource Content
Once your foundation is in place, the next step is to create fresh content.
Part of the way search engines index sites is based on frequency. The more often your content is updated, the higher your rankings should be.
The easiest way to do this is through a blog or a resource section of your site.
Take a look at Hubspot's homepage: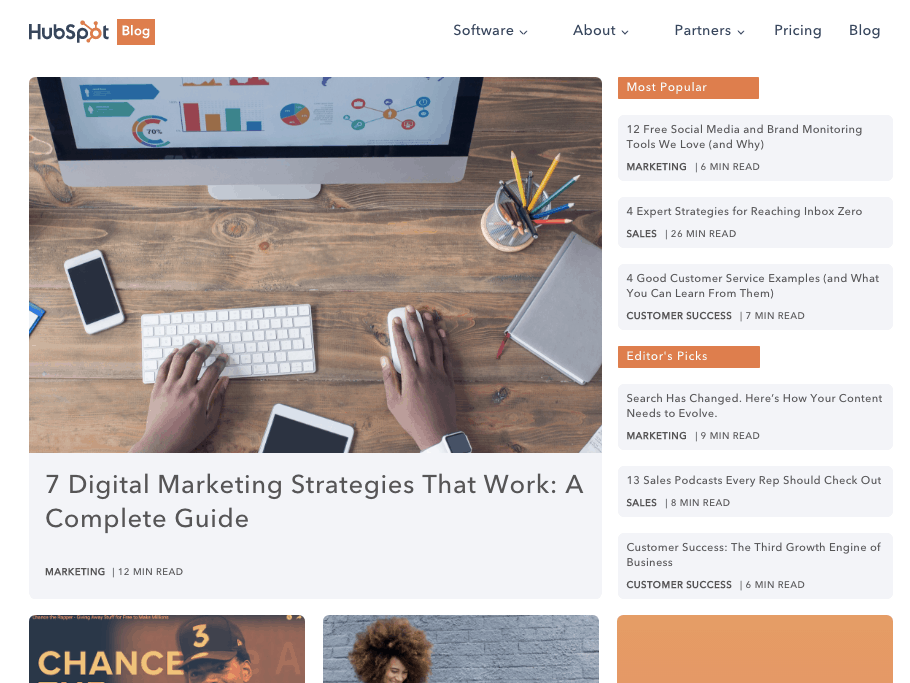 They feature a blog as a part of their main navigation. If you click the link, you're taken to a separate page filled with fresh content:
This acts as a sort of resource center for their whole site.
A blog like this is something that any B2B website can have.
But the important thing to remember is that this content needs to be actionable to a B2B audience.
Ideally, it has three purposes. It should:
Rank for high volume keywords

Be leverageable by sales and marketing

Be shareable and create awareness
Certain types of content work better for this, such as:
"How to" articles ("How to Double Your Sales in 10 Days")

Guides ("Quick Guide to Getting B2B Sales"_

Lists ("10 Tools for Generating More Leads Online")

Questions/Answers ("Why Isn't My Content Ranking?")
Take a look at Hubspot's blog again. Here is a snapshot of a few of their articles:
They use several content types (videos, reports, and articles), and in these instances use lists.
If you look at their "most popular" posts section, lists seem to dominate there as well: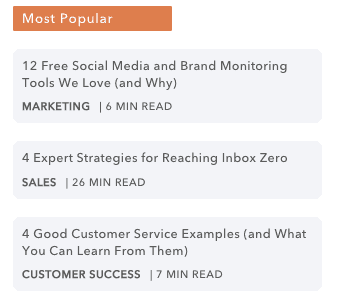 Different content types and titles will have different success rates based on your audience.
These are just the types that tend to do well for Hubspot's audience.
The goal with your blog or resource content is to give more insight into common problems, address concerns, and present information that may educate the buyer.
In addition to driving sales, this is about building a following so that you're seen as an industry expert, which we will touch on later.
3. Lead Generation Content
Because blog content is more about education, you still need a way to drive leads as you build your audience.
This is where lead generation content comes into play.
Lead generation content can include things like:
eBooks

Reports

Surveys

Guides

Free demos

Webinars

Event access

Videos

Downloads
You can include this content in your blog content as well as on your landing pages.
Take this example from SaaS company Diffbot's blog post: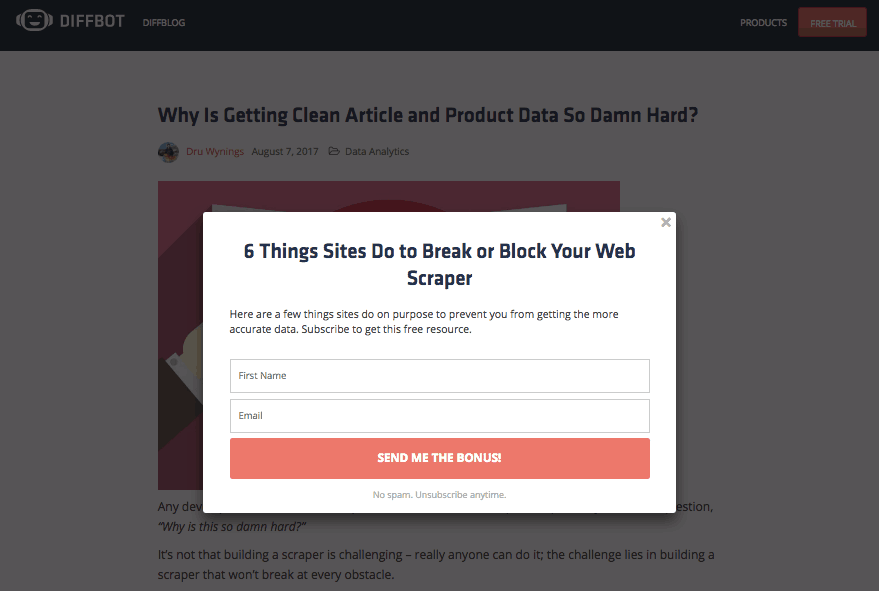 The downloadable resource appears as a popup (above) but also in the article itself (below):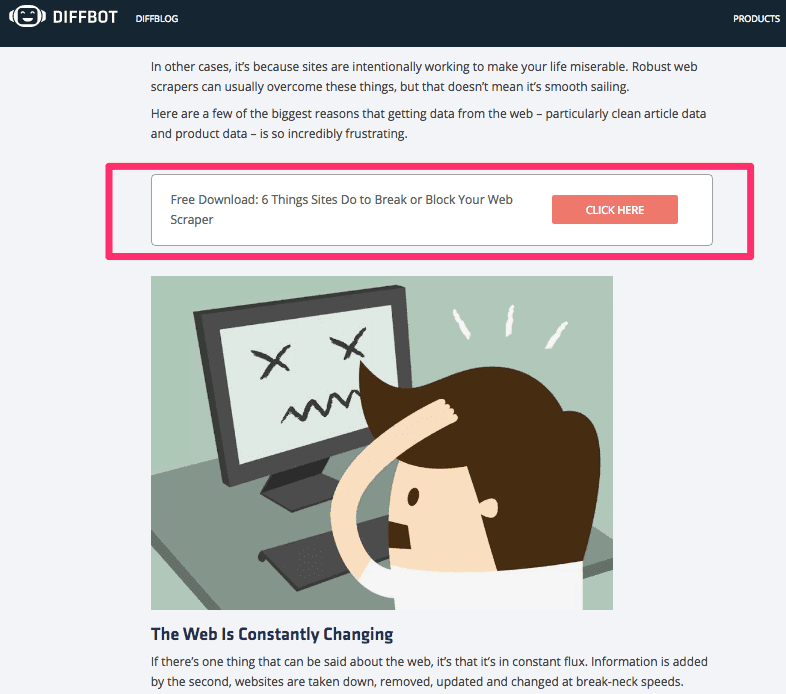 You can also include these on your landing pages and your homepage: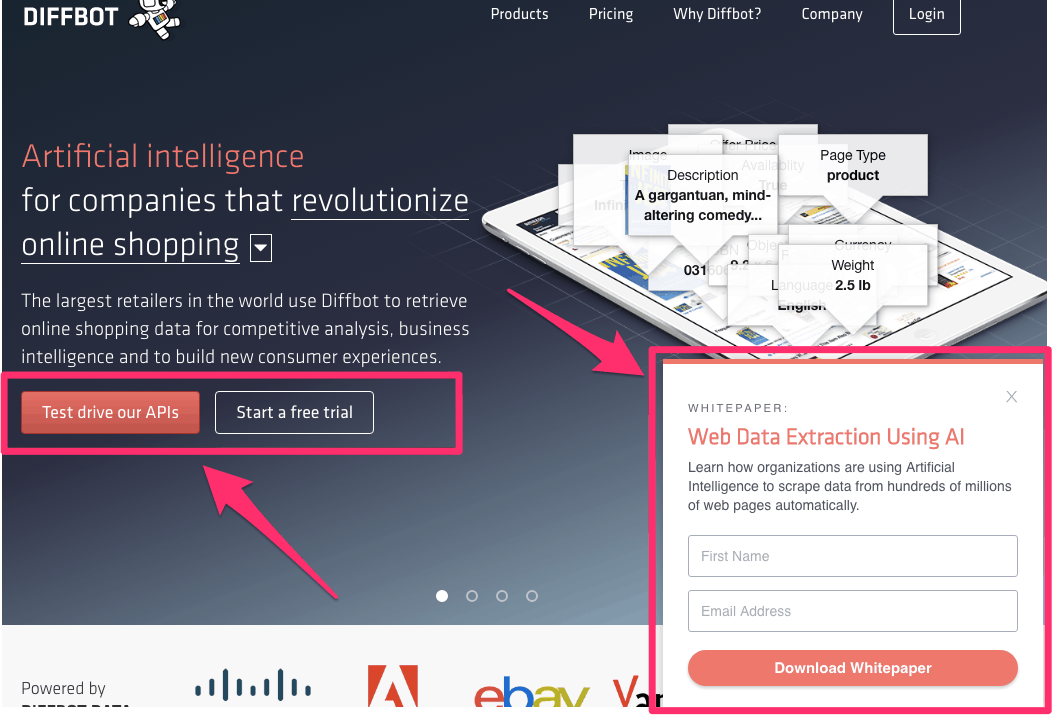 Diffbot does two on their homepage. One for a free trial and a popup for a white paper.
The types of content you choose for lead generation will depend on your audience needs as well as what you are interested in producing.
At Directive Consulting, we have actually seen the most success with video lead generation.
We gate our clients' video content so that they can capture emails while still providing something of value for their audience.
With this approach, we can decrease sign-up friction for users who are not interested in a  product or service while increasing the likelihood that interested parties will become actual customers.
This is the perfect way to leverage blog content (or landing page content) to create sales.
4. Account-Based Content
Another type of content you can focus on to continue to create leads is account-based content.
As we define it in our offices, account-based content is content that is directly promoted to the buying team of an account the topic pertains to.
It's specifically related to your target market, addressing a very specific topic or series of topics.
Take this example from InsightSquared who used data to identify those stuck in the sales process and created a mailer with the message, "Don't get cold feet."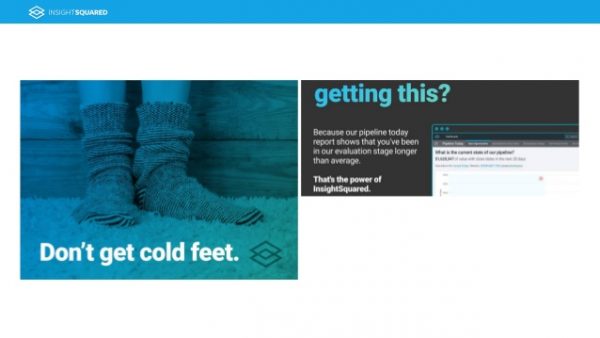 By using the data they already had, they were able to create highly-targeted content that spoke directly to their key market.
They also performed another experiment where they picked five accounts to receive a case of branded energy drinks with the message, "Fuel your sales team…" Their conversions rose 30 to 40% during the test.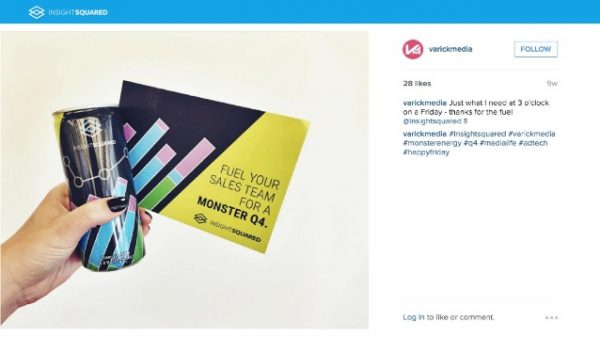 We like to create a lot of account-based content. Most of it follows a similar process:
Select accounts

Discover contacts and map to your accounts

Develop account insights

Generate account-relevant messages and content

Deliver account-specific interactions

Orchestrate account-focused plays
For example, we might create content for CEOs, VPs of Marketing or a Marketing Manager of B2B companies – the same people our sales team is targeting.
That content would reflect the logical connection to our services. We might do something like:
Benchmark Study of B2B Site Speed Across 1,000 Sites

Breaking Down B2B Content Promotion in 50 Steps

Average Content Publishing Frequency for B2B + Recommendations
Combined with lead generating resources like ebooks and other marketing materials, we have a built-in audience ready and waiting to engage.
In these cases, we're not just selling to them. We're helping them, too.
5. Thought Leadership Content
As previously mentioned, all of this content creation should lead to demand.
By using your website as a source of authority – identifying key problems in your industry, for example – you can evangelize the value of your product or service as the solution to those problems.
You can become a thought leader in your industry. Or, at the very least, you can host other industry experts to speak on your behalf.
For instance, CEO of L2, Scott Galloway, hosts a short series of YouTube videos called "Winners & Losers" directed at issues in the world of digital branding.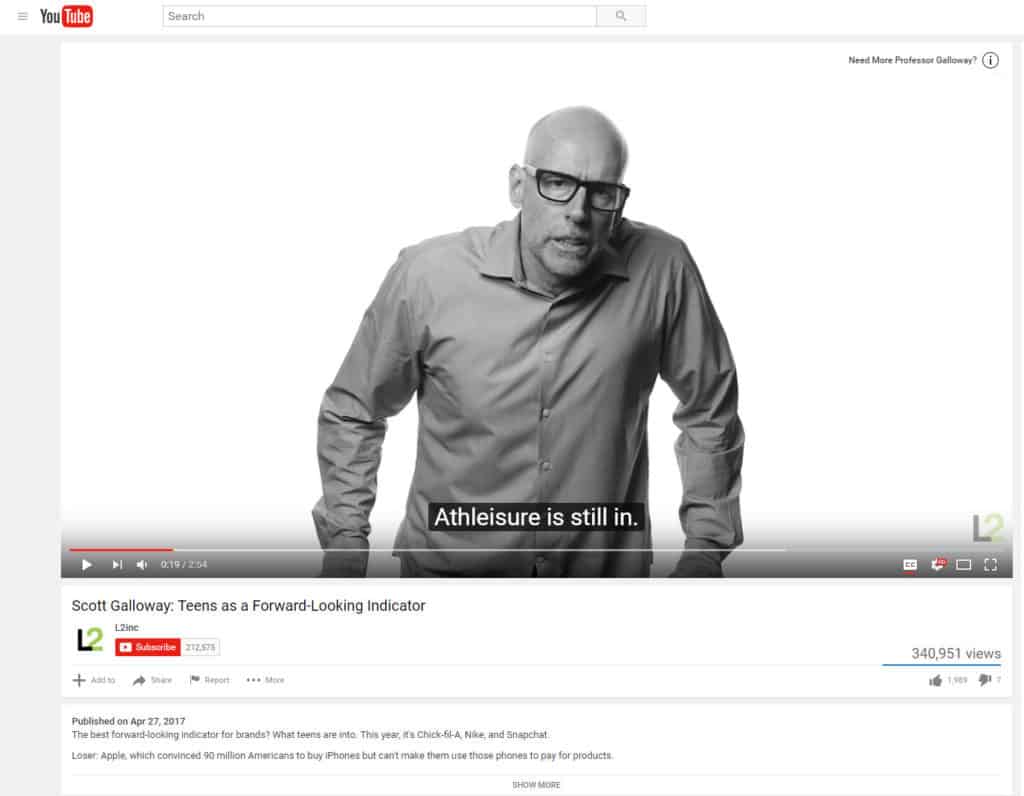 There are plenty of ways you can capitalize on thought leadership content, such as:
Speaking

Guest posting

Podcasts

Youtube

Expert interviews

Quora

LinkedIn Groups

SubReddits

Industry Forums
Quora, for example, is a popular question and answer site that allows you to build up your reputation as a thought leader.
Users can ask questions, and anyone with an account can respond.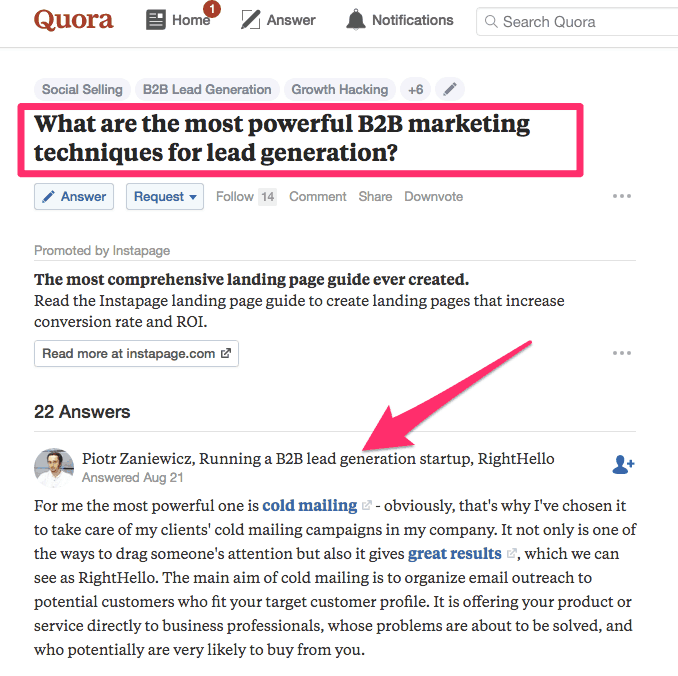 Quora also gives you related questions that can help you answer more questions and share your knowledge across industries: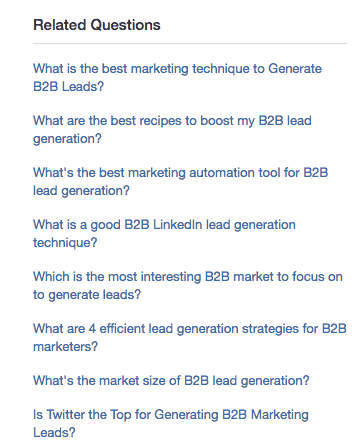 The key to success when it comes to thought leadership is consistency.
You can't just post a blog once, or guest post on one site, or answer one or two questions on social media, or post one video – you have to make it a regular practice.
When you publish consistently for an extended amount of time, you can build an audience. And every piece of content holds a larger value as the audience grows.
This way, shares, links, and leads are naturally earned.
Along the same lines as account-based content, however, the goal is to publish content for your specific audience. It won't work if you're targeting the wrong people.
For example, we have written content for blogs like Wordstream, Kissmetrics, and Moz.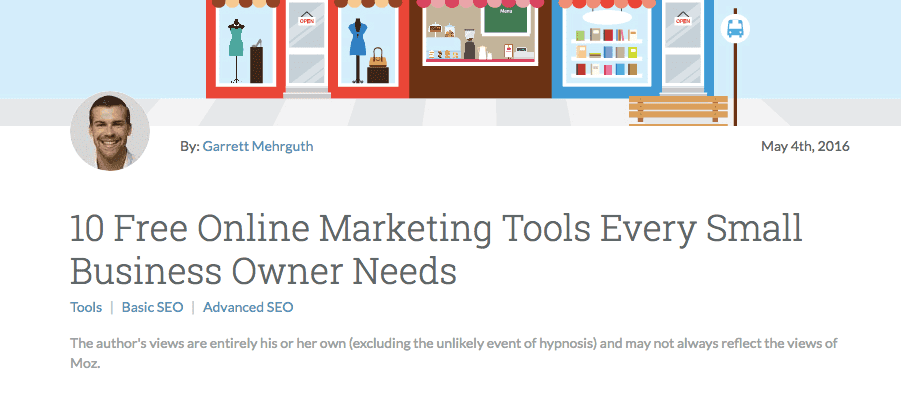 But we don't see as many leads from this content because we are writing to an audience that already uses these companies for services we offer.
We contribute as thought leaders to the industry at large, but we don't get leads from that audience.
A better way to do this is to create content for your blog that:
Sets you apart as a thought leader in your industry

Gains leads from your target audience
Now we look to be the sponsors of the conferences our audience attends, and we write for blogs where we know our audience will be.
6. Community Content
If you find that you are becoming enough of a thought leader (and have a large enough client base and enough traffic to your site), you can produce community content.
Community content focuses on being a resource for your customers.
Let's take another look at Moz, for example, a B2B software provider for SEO. At the bottom of their website you will find this:

It's a link to their Community Q&A section.
It will take you to their community forum where users can ask questions and receive responses: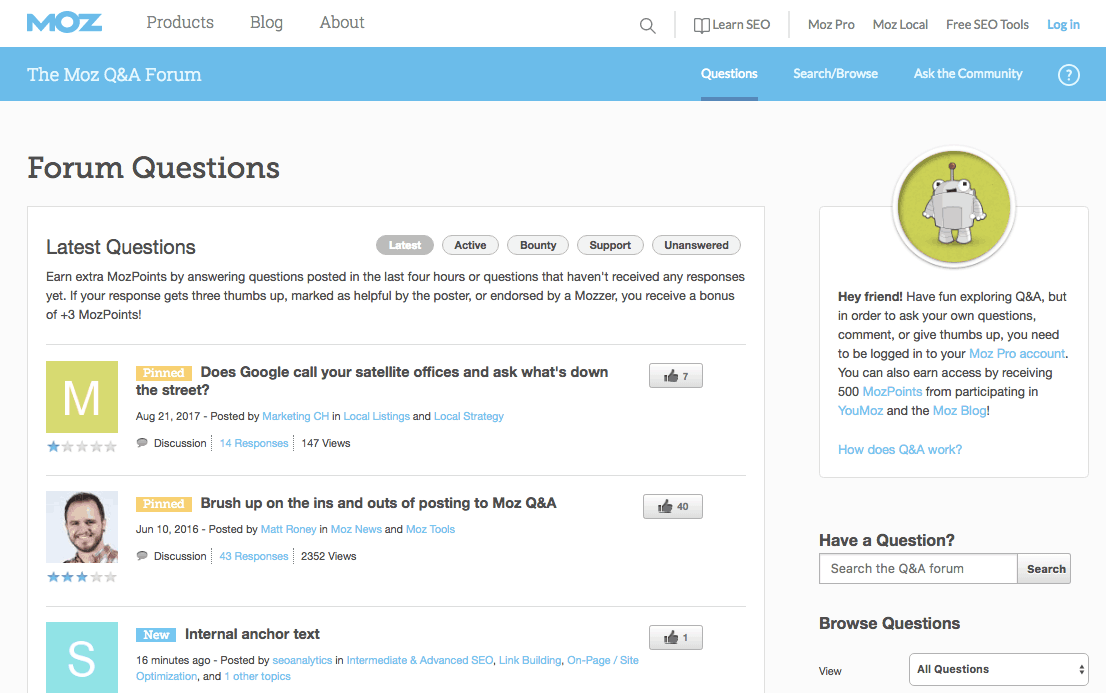 This not only brings traffic to their site, but it allows them to "help" instead of "sell" to their audience.
They also have a section in their "Marketing Resources" where they put links to their webinars and conferences.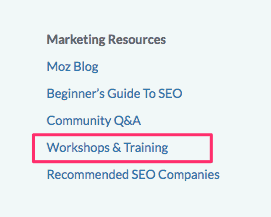 It's a central location for all of their content.
If you have the audience to do something similar to this, and the resources to do it, we would highly recommend creating some community content.
But the key is to have good organic traffic and an established brand. Without that, you may not have the ability to sustain it over the long term.
And remember that success is dependent on consistency, especially when demand generation is the ultimate end goal.
Conclusion
Content marketing is an excellent way to improve demand generation for your B2B business.
But you need to look at the types of content you want to (and can) produce for your audience as well as strategies that can make this content sustainable.
Consider your target audience and why they come to your site. If you can provide insights that help them solve problems or get them "unstuck" from a sales funnel, you will build a following.
To take that a step further, consider creating content that helps your audience instead of just selling to them.
Look to become a thought leader that can provide more than just a way for them to buy your product. Become a resource for them, and you will keep them coming back for more.
Keep reading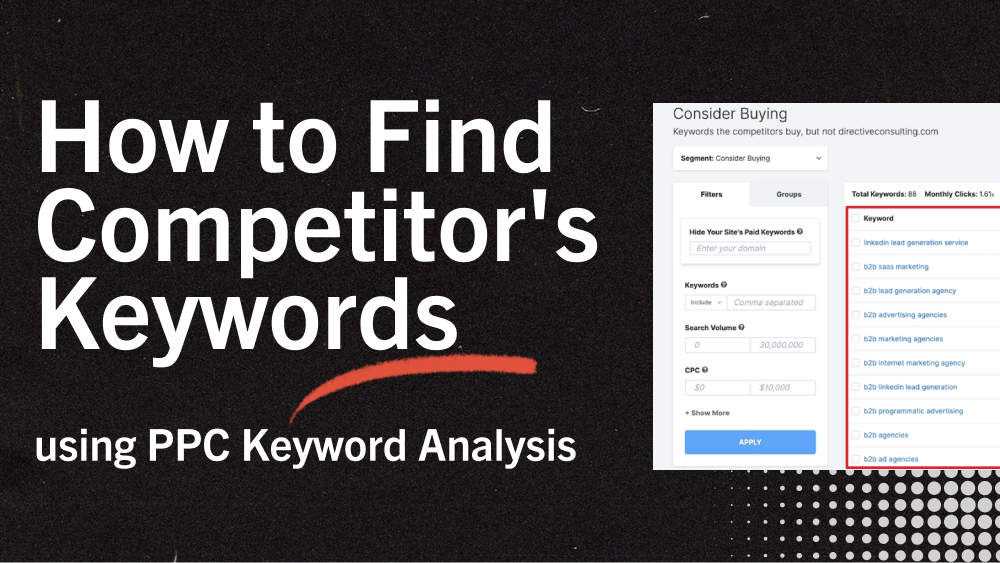 PPC
How to Find Competitor's Keywords with SpyFu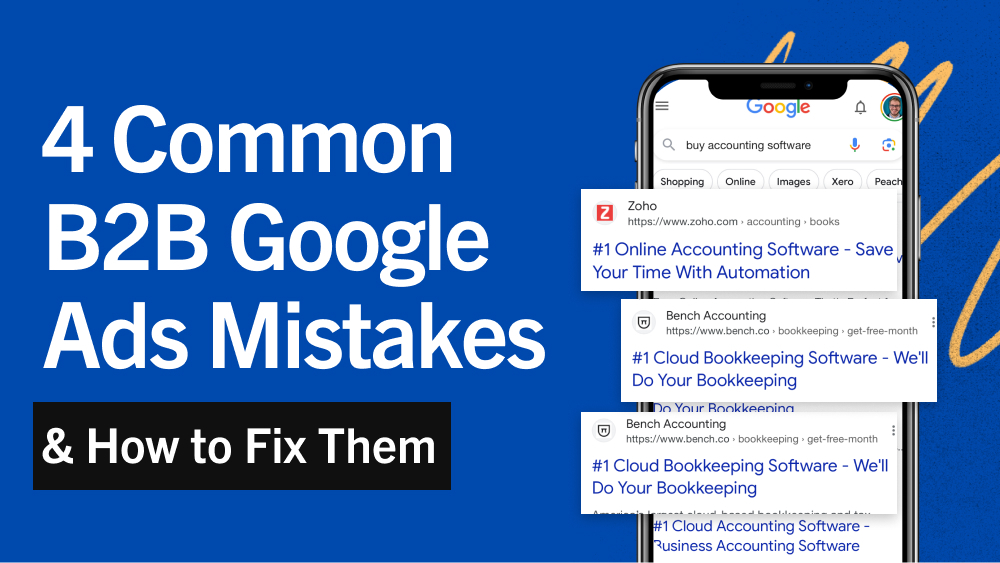 B2B
4 Common B2B Google Ads Mistakes and How to Fix Them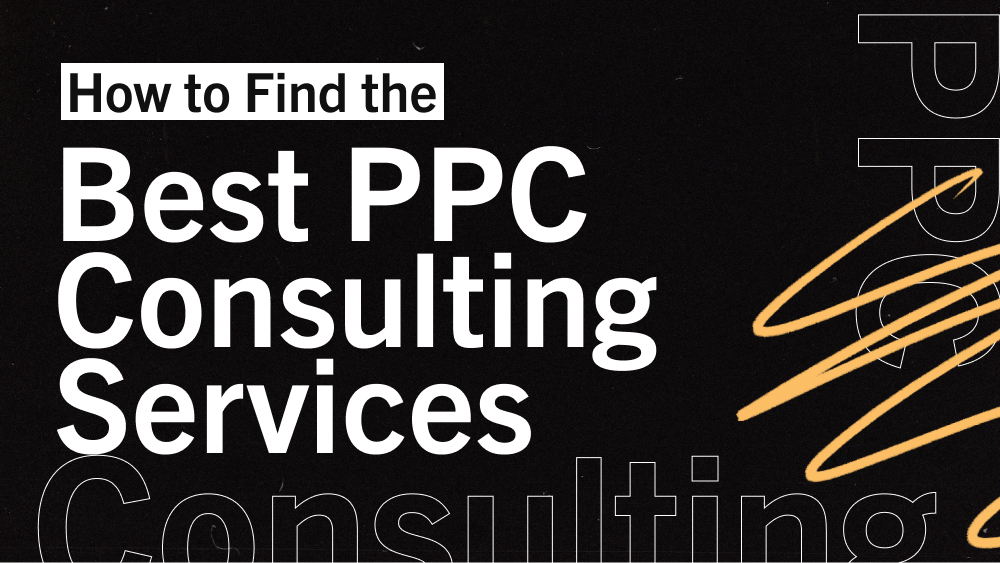 Agency Life
How to Find the Best PPC Consultant Services