Boost Your LinkedIn Engagement by 22% with These 3 Content Types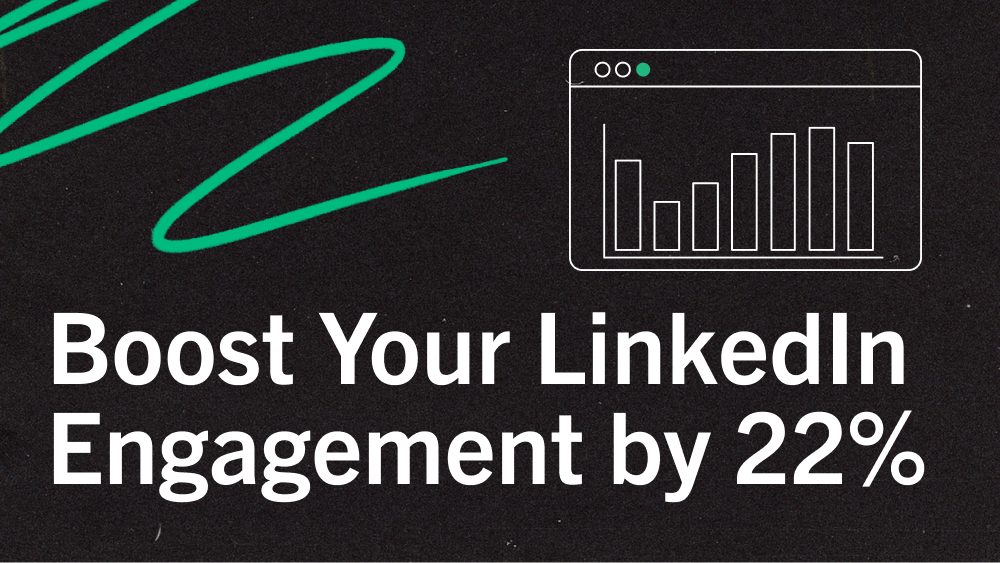 Posting on LinkedIn is easy, but figuring out how to make posts that resonate with your target audience requires skill. Instead of falling into the trap of over-experimenting and over-producing posts, here are 3 types of posts that are simple to reproduce and drive results. Our LinkedIn engagement grew by 22% in just 1 month and yours can, too! Start hitting your marketing goals with a Customer Generation approach to producing content that brings views, engagement, and followers.
1. Data-Driven Posts
In pursuit of growth, data is your most persuasive ally.
An effective way to boost engagement on LinkedIn is by creating posts that feature real data. By sharing tests, results, and case studies, you can demonstrate your expertise and provide valuable insights to your audience. This type of content establishes your credibility and encourages your followers to engage with your posts.
Did you start working with a new tool? Did you try a new strategy? Did you have a breakthrough? Share your initial thoughts and highlight whether it's improved performance.
For example, for 5 months, we tested an account list (aka TAM) of 6,500 manually verified companies instead of relying on LinkedIn's industry targeting. While the process was time-consuming, we saw a 2x increase in ROI.
By sharing real data, you can showcase your knowledge and encourage engagement from your audience. As you can see, our followers not only reacted to the post but also commented with follow-up questions, sparking additional engagement.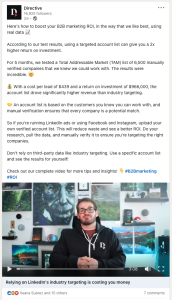 Speaking of data, data shows that you should only be posting once, maximum twice per day on LinkedIn to double your content's engagement rates. Therefore, before you flood your audience with 5 tests a day, consider taking a step back to focus on only creating content for your ideal customers. Regularly measure and analyze the results so you can identify what's working for your audience and what needs adjusting.
2. Posts Influenced by Trends
Pulse check: stay connected to stay relevant.
Another powerful way to increase engagement on LinkedIn is by creating posts that follow current trends. Whether it's the latest meme or a trending topic in your industry, creating content that is relevant and timely attracts attention and generates engagement.
For example, you could create a post using the latest meme format and tailor it to your industry or company. Alternatively, you could share your thoughts on a trending topic in your field and ask your followers for their opinions. By tapping into current trends, you can make your content more relatable and increase the likelihood of engagement.
However, with so many trends emerging daily, how can you stay ahead of the curve? We asked our in-house social media expert for advice:
Spend 3 hours a day on social media, but not all in one sitting
Curate a feed of industry leaders, your competitors, and relevant hashtags
Industry-specific podcasts and newsletters are a wealth of knowledge, too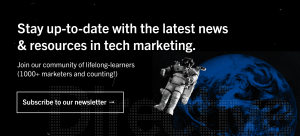 3. Posts Promoting Company Culture
Go from flat to full of life by humanizing your brand.
Finally, showcasing your company culture is a great way to increase engagement on LinkedIn. By sharing behind-the-scenes glimpses of your workplace, introducing your team members, and highlighting your company values, you can humanize your brand and foster a sense of community with your audience.
For example, you could feature an employee of the week, highlight a promotion, or share photos from a team-building event. By acknowledging the people and values behind your brand, you can create a more personal connection with your followers and increase engagement.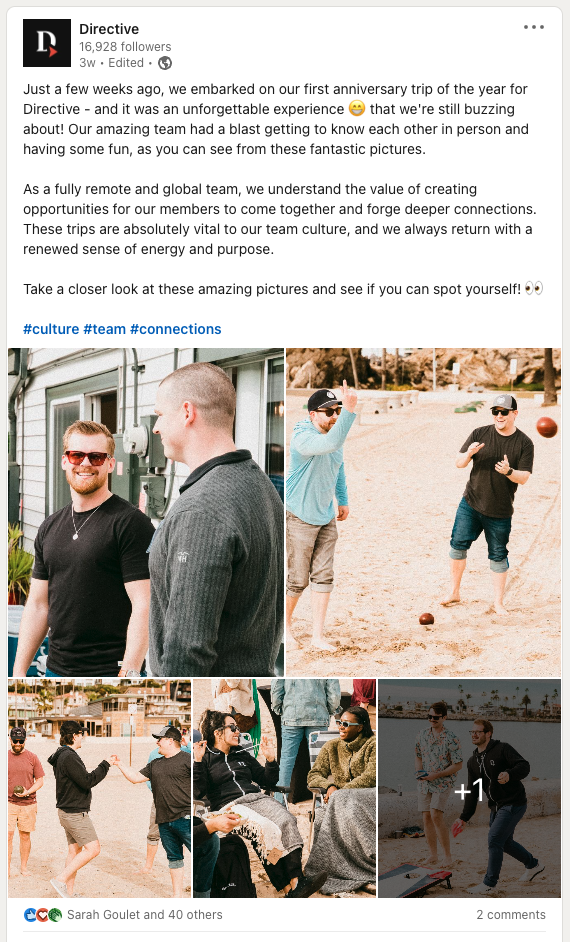 Additionally, get your team members involved by encouraging them to show off their expertise and share industry-related content. By motivating your employees to be active on LinkedIn, you can position your company as a thought leader and boost its visibility and reputation.
Give your team members the tools and space they need to start creating and finding their voice. Whether they're sharing personal stories or company-specific information, their posts will add to the personality and culture of your brand. Moreover, it shows that you value their individuality and support their growth outside of work.
Not every post will be a good fit for your company's page, but by sharing relevant content from your team members, you can increase engagement and draw in your target audience. As your audience gains a better understanding of your company culture, you'll see an uptick in traffic and followers. By allowing your team to shine, you'll bring your company's LinkedIn profile to life, too.
Start generating results with Customer Generation.
Increasing engagement on LinkedIn can be challenging, but by focusing on these 3 types of content, you can drive significant results in just 1 month. Remember, real data, timely content, and adding a human touch to your posts are all powerful ways to establish credibility, create personal connections, and boost visibility. Additionally, by adopting a Customer Generation approach to content creation and distribution, you will see real growth in engagement, views, and followers.
To maximize your brand's lifespan, combine your organic content with paid opportunities to boost performance. By fusing together your brand with performance through Customer Generation, you'll finally be able to reach your revenue goals each term. Book a call today to find out how you can start strategically building wins for your tech company.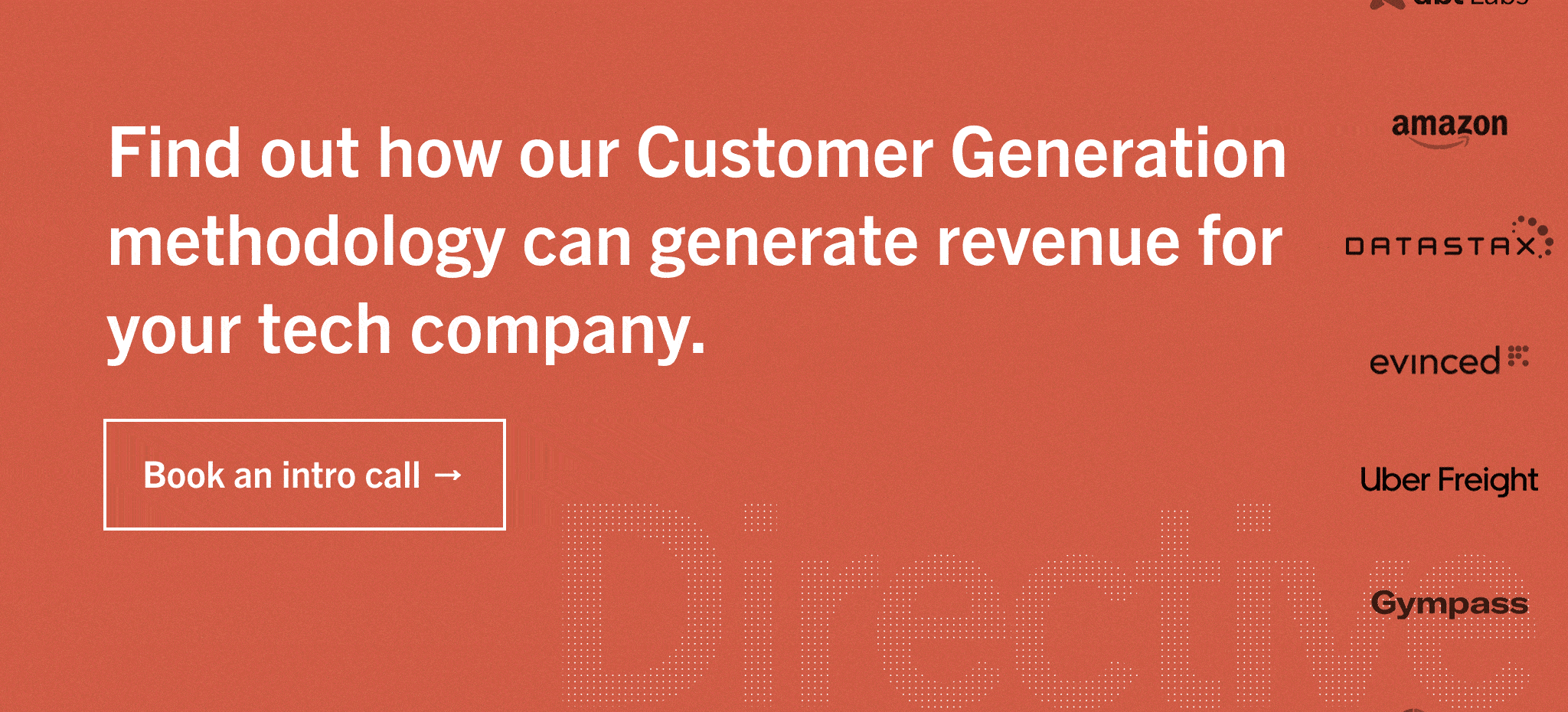 Keep reading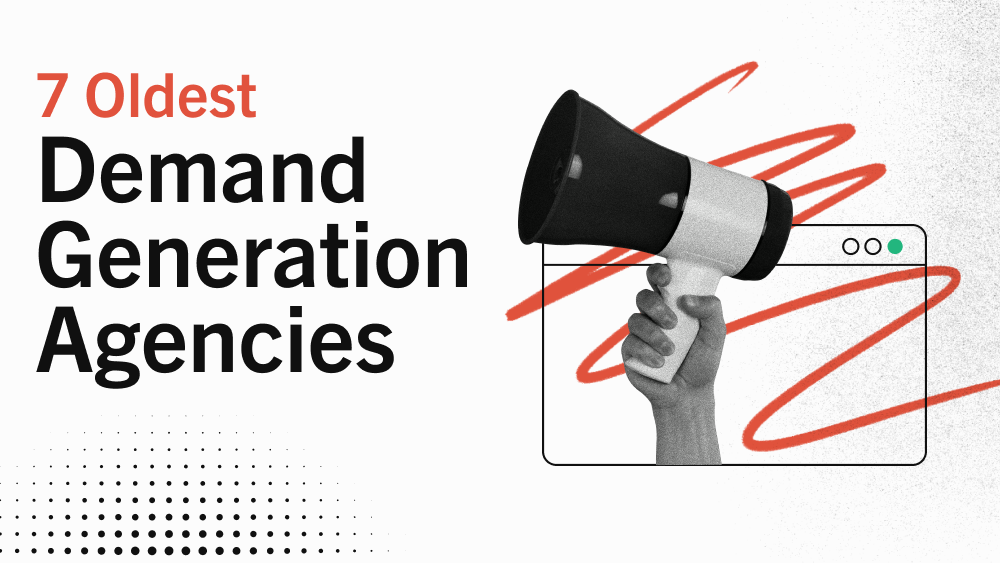 Agency Life
7 of the Oldest Demand Generation Agencies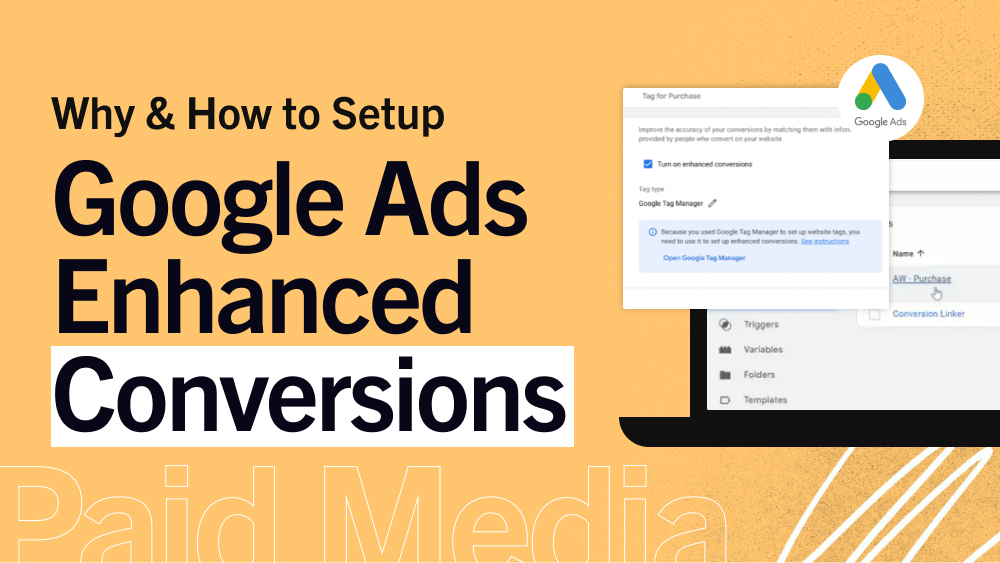 PPC
How to Setup Google Ads Enhanced Conversions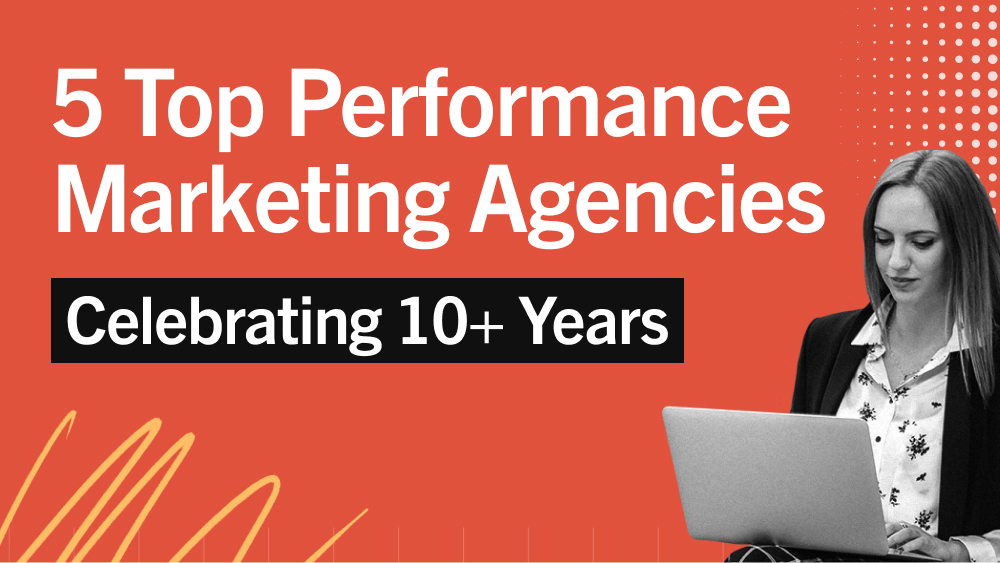 Agency Life
5 Top Performance Marketing Agencies Celebrating 10+ Years