Dynamic Search Ads Explained in Plain English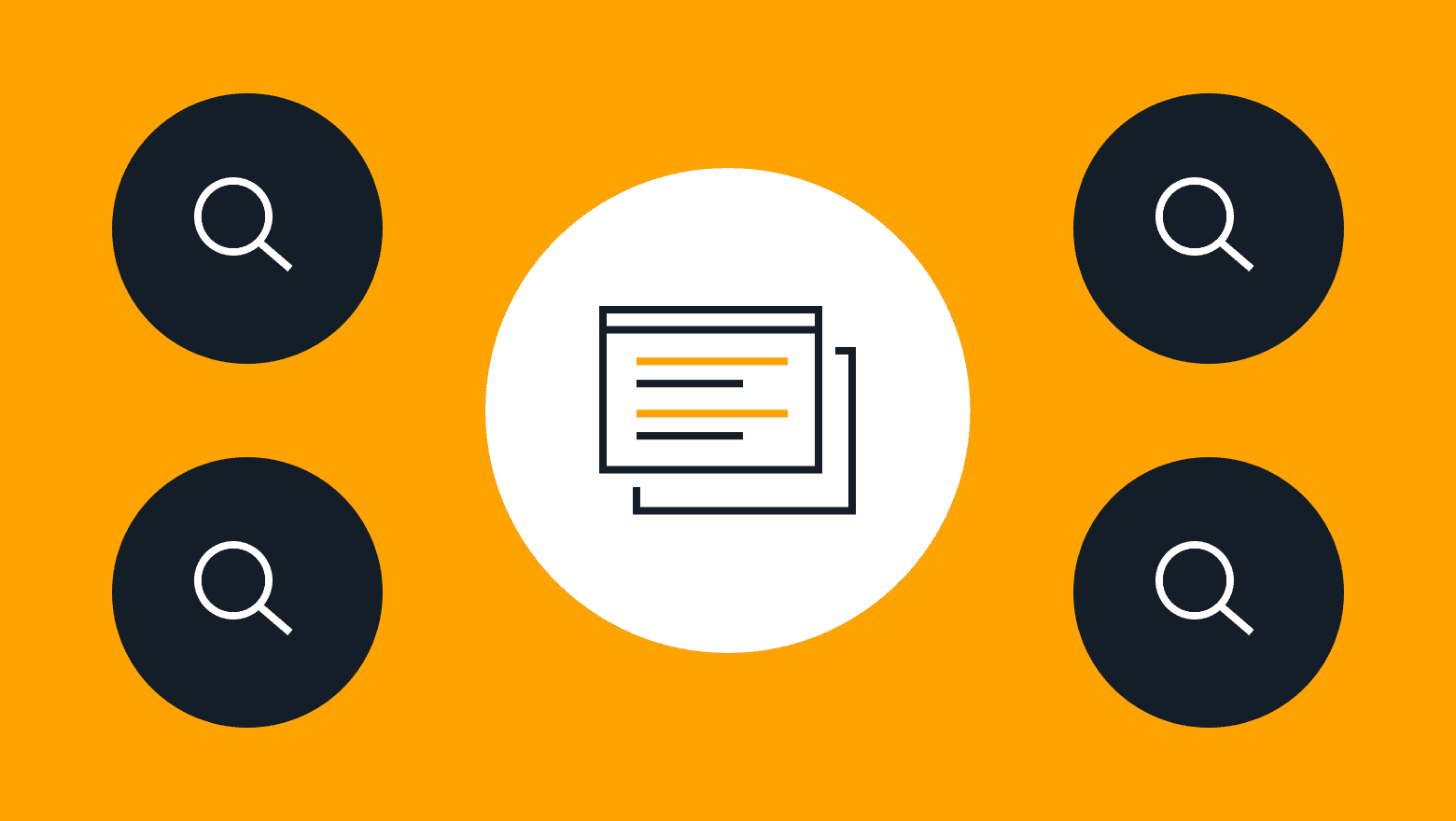 Are you leveraging dynamic search ads to get the best results for your digital marketing campaigns?
Dynamic search ads can be one of the best ways to connect with potential customers who are searching on Google for the products and services that your business offers.
Dynamic search ads have been associated with higher click-through and conversion rates than traditional search ads, if done correctly, despite being even easier to configure and run than virtually any other type of advertisement online.
Digital marketers need to understand the benefits of dynamic search ads so they can use them to create a google search campaign that gets results.
In this guide, we explain everything that digital marketers should know before incorporating dynamic search ads into their PPC advertising campaign strategy.
What are Dynamic Search Ads?
Most digital marketers are already familiar with search ads, the text advertisements that you see at the top of nearly every page of the search engine results. Here's a quick look at how these search ads usually appear in your browser: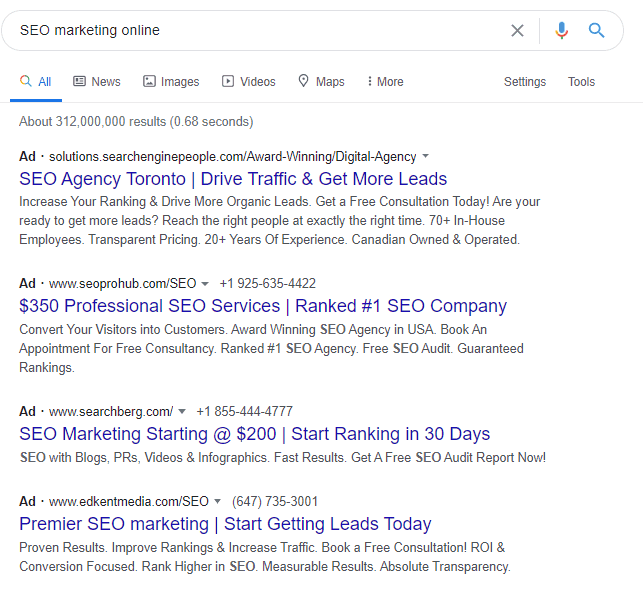 Image: Google Search Results for "SEO Marketing Online"
Looking at these examples, you'll notice there are five basic elements that make up a search ad:
Headline – The largest attention-grabbing text in the ad.
Description – A short description of the product/service that appears to readers and encourages click-throughs.
Display URL – The URL displayed above the headline.
Destination URL – The actual URL where visitors are directed once they click the ad.
Ad Extensions – Additional ad features that enhance an overall text ad. Extensions include call buttons with your phone number, location information, links to specific pages on your website, and space for additional text.
In a conventional search ad, a marketer would customize all five of these elements, choose which keyword(s) will be targeted, then bid on the appropriate keywords and run the advertisement.
There are three key differentiating factors that separate dynamic search ads from conventional search ads:
Generation: The text for dynamic search ads is partially generated by Google. Google automatically generates headlines, a display URL and a destination URL each time it shows one of your ads. All marketers need to worry about is writing a great description.
Targeting: Regular search ads are targeted using keywords. With dynamic search ads, Google matches the content on your website with the search intent of users and shows your ad whenever it seems relevant, regardless of the specific keywords that were used in the search.
Landing Pages: With conventional search ads, marketers choose which landing page will serve as the destination for a specific ad. With dynamic search ads, Google sends visitors to the most relevant landing page on your website based on the perceived search intent of the visitor. This might seem haphazard, but you can use settings to narrow this down to a set of desired pages and ensure the best possible experience for your visitors.
Ready to see a dynamic search ad in action? Check out these ad results we found from totally different searches: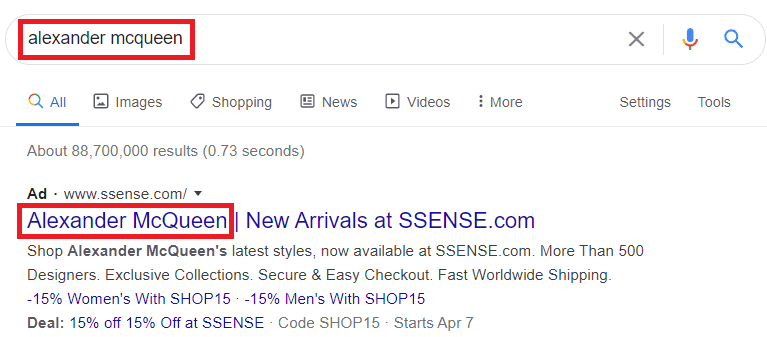 Image: Google Ad Results for "Alexander McQueen" search.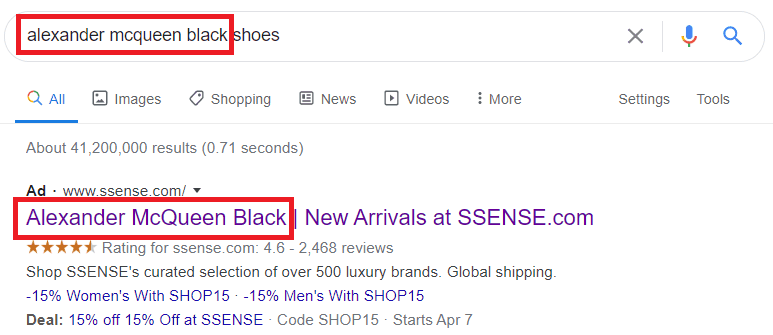 Image: Google Ad Results for "Alexander McQueen" search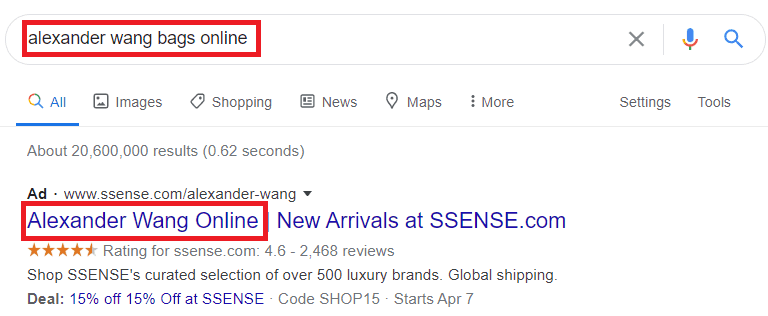 Image: Google Ad Results for "Alexander Wang Bags Online"
Now, are these ads really dynamically generated?
They appear at the top of the SERPs and look just like search ads, so it's difficult to tell.
One indicator is that we're seeing variations of our search term incorporated into the headline of each advertisement. Another indicator is that the second and third ads pictured have the exact same description, just like we would expect from a dynamic search ad.
As you can see, Google dynamically structures the ad with a customized header and targets it to the most relevant landing page based on its perception of search intent. By leaving keywords out of the targeting process and dynamically selecting a landing page for each ad, Google can connect any customer to any page on your site that it thinks will help users satisfy their search intent.
What are the Benefits of Dynamic Search Ads?
Now that we've explained what dynamic search ads are and how they differ from traditional search ads, let's review the unique benefits associated with incorporating dynamic search ads into your PPC ad campaign.
Blend In with Genuine Search Results
Dynamic search ads are displayed at the top of the SERPs and blend in with genuine search results. As a result, users are more likely to read your headline and carefully crafted description, which makes them more likely to visit a page on your site.
Easy Set-up and Configuration
Dynamic search ads take significantly less time to configure than other types of PPC advertising. With Google dynamically generating your headlines and landing pages, you just write the ad copy for the description, make some decisions about targeting in your campaign settings, and you're mostly done. You can also have Google auto-target your ads to relevant searches, making the process even more streamlined to get started.
Reduced Workload and Time Saved
For digital marketers running lots of PPC advertisements across several paid search campaigns, dynamic ads are a huge time saver. They're also a great option for eCommerce stores that sell hundreds or thousands of products and would take ages to customize individual Google search ads for every product on offer. Can you imagine having to optimize a unique Google Ad for every page of a massive eCommerce store?
Smart Bidding
Planning to promote your website content with dynamic search ads? Google's Smart Bidding allows you to automate your bid strategy and optimize for conversions with minimal effort. Smart Bidding uses machine learning to predict the impact of changes to your bid strategy on conversions and overall ROI. You can even use automated bidding signals to help you preferentially target the most valuable users with your dynamic search ads.
Increased CTR and Conversions
The net result of dynamic search ads is that they can increase clicks and CTR for the companies that use them. By how much? Here's an excerpt from one case study that Google shared regarding the overall impact of dynamic search ads for an online travel agency:
Launched in 2005, trivago has quickly become one of the world's largest hotel search engines. Operating in over 50 markets in more than 30 languages, the company helps millions of people compare over 900k hotels from hundreds of booking sites every day.  They created Dynamic Search Ads for all their markets using category recommendations coupled with conversion-based automated bidding. The results? Up to 140% higher CTR on search terms for DSA vs. original ads, significantly lower CPAs for established markets and significant conversion gains in newer markets.
Source: Google
Naturally, results may vary, but it's clear that dynamic search ads have the potential to massively impact your campaign performance by serving audiences with ads that are dynamically generated ads that match your website content to the search intentions of prospective customers.
Reasons for Caution
If the contents on your webpages are unclear, unoptimized, and ultimately do not communicate your product or solution properly, dynamic search ads will not guarantee performance improvements. Not all websites will benefit from dynamic search ads, and they typically have the best impact on eCommerce websites or websites with high volumes of individual & specific product pages.
By giving Google more control of when or where your ads will show, you will need to keep a close eye on search term reports to make sure your ads are being served for relevant search terms. One way to continue optimizing your dynamic search campaigns is by reviewing search term reports on a consistent basis and adding irrelevant search terms to your negative keyword lists on the associated campaign.
From our experience, a good way to test dynamic search ads is by pairing them with a remarketing list, creating a remarketing dynamic search ad campaign (RDSAs). This allows you to be more confident that the users clicking on your ads have a higher likelihood of being familiar with your brand, potentially improving your chances of conversion.
When in doubt, we always recommend testing this new ad type against your more traditional search campaigns.
Summary
Thanks for making it through our explanation of dynamic search ads!
We wish you plenty of success in incorporating dynamic search ads into your future paid search campaigns.
Keep reading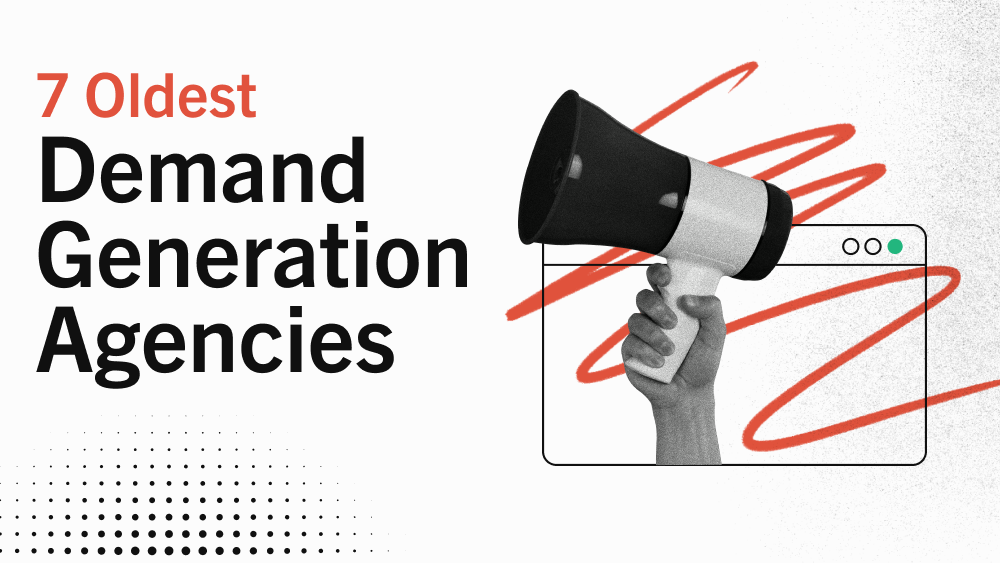 Agency Life
7 of the Oldest Demand Generation Agencies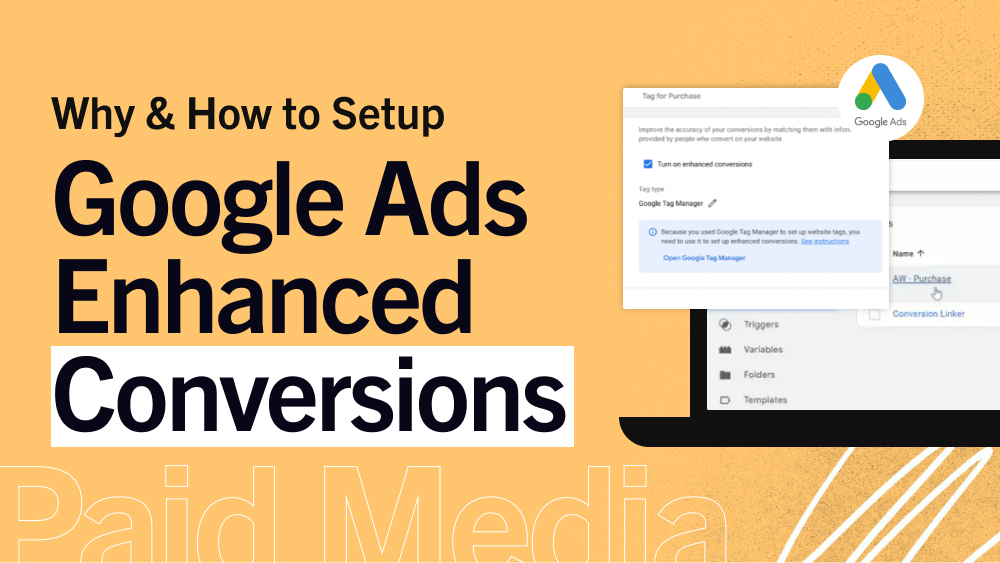 PPC
How to Setup Google Ads Enhanced Conversions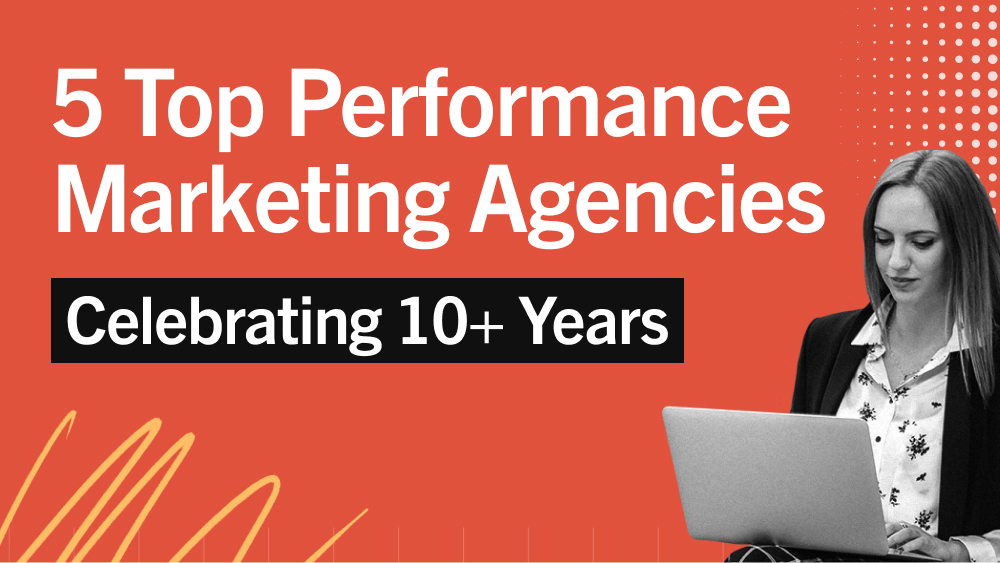 Agency Life
5 Top Performance Marketing Agencies Celebrating 10+ Years