The 7 Most Important Local SEO Ranking Factors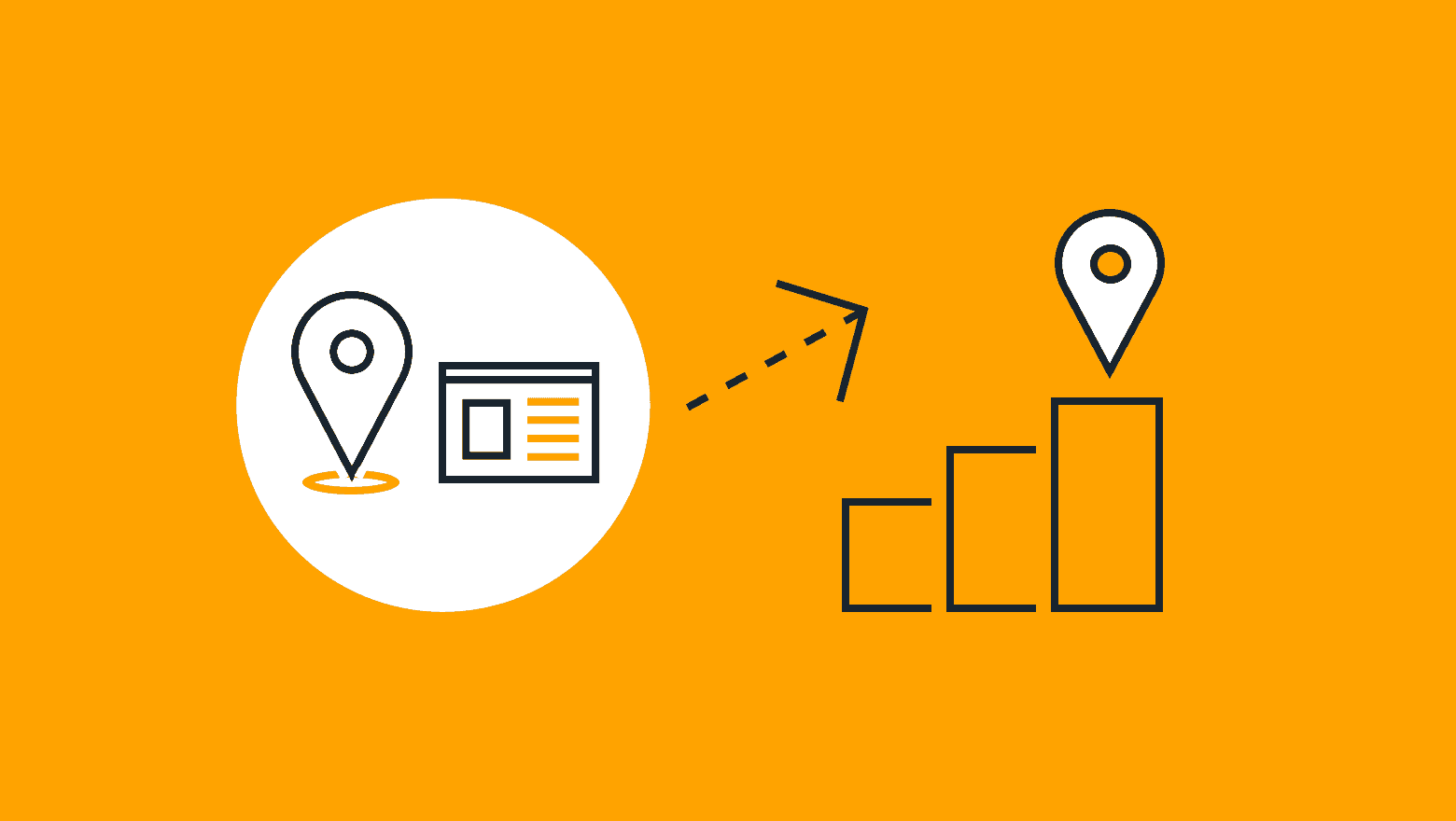 As a digital marketer, you should be familiar with the 7 most important local SEO ranking factors, especially if your business is dependent on local customers.
Without this knowledge, you'll prioritize ineffectively and pay attention to the wrong things when executing local SEO campaigns.
The great news is that we already know exactly what's required to optimize your online presence with local SEO and capture free organic traffic that's both relevant and valuable to your business. We've spent the time, read the research, and created the definitive guide on how to do local SEO – all so you don't have to go through the pain of figuring it out yourself.
To help you get started, we've created this resource highlighting the 7 most important local SEO ranking factors that digital marketers should focus on when executing a local SEO campaign.
What is Local SEO?
Digital marketers should already know that SEO stands for search engine optimization.
When we talk about SEO, we're normally focused on the organic search results for specific keywords and how to create content that can rank for a specific keyword on the search engine results pages.
With Local SEO, however, the focus is a little bit different.
When a user searches for a business that's close to them or in their local area, Google returns local search results. For example, if you were to search for "taco restaurants in Miami", you'd see this: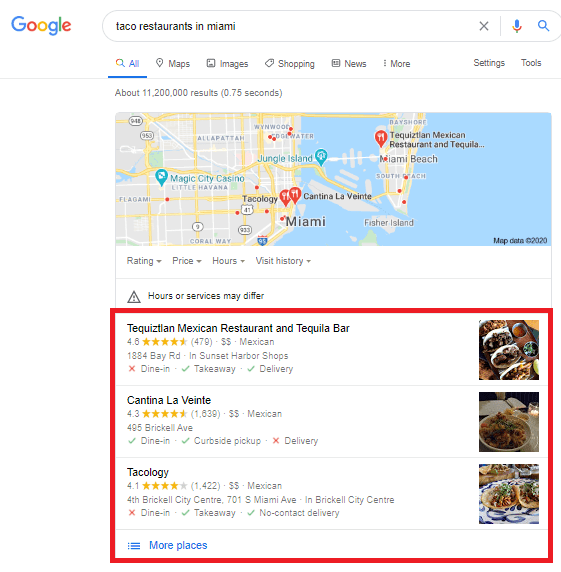 Image: Local search results for "taco restaurants in miami
These are local search results – search results that highlight businesses in a specific local area. Local SEO is all about optimizing your online presence to increase the visibility of your business in local search results just like these, but relevant to your business and local area.
Why Does Local SEO Matter?
There are three types of business for which local SEO is probably the cheapest, easiest, and most cost-effective method for reaching new potential customers:
Businesses providing an in-person service:  massage therapists, physiotherapists, dentists, bicycle repair shops, swimming instructors, indoor rock-climbing facilities, theaters, and more.
Businesses that serve a local area: plumbers, electricians, takeout restaurants, pest control, and more.
Businesses that only sell to customers in person: sit-down restaurants, ice cream parlors, breweries, retail stores, and more.
For these businesses, local SEO may be the fastest and cheapest way to increase visibility in local search results and start generating relevant organic traffic and business inquiries from local search.
7 Most Important Local SEO Ranking Factors
Local SEO ranking factors are the signals that search engines like Google and Bing analyze to determine whether a website or business listing should be ranked in local search results.
If you want your website or business listing to appear more frequently in local search results, we've identified the top 7 local SEO ranking factors that you should focus on when optimizing your online presence with local SEO.
Searcher Proximity
The number one ranking factor that search engines use for local search rankings is the proximity between the searcher and the physical location of your business.
To determine searcher proximity, Google needs two critical pieces of information:
Location data from the searcher
The physical address of your business
The shorter the distance between the searcher and your business, the more likely it is that your business will appear in relevant local search results.
City Match
City match is another one of the most important local SEO ranking factors we have identified.
If the physical address of your business matches the city where a search was conducted, your business is more likely to be included in the local search results. This is important for businesses that are located in <small town>, but get most of their business from customers who live in <big city>.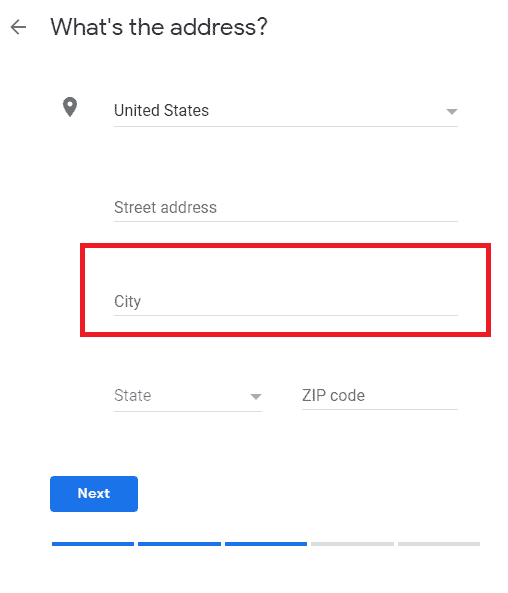 Image: Entering business address on Google My Business
The city you include with your physical address in business listings and on your website can have a major impact on how many people see your listings in local search.
Google My Business Categories
When you're starting a local SEO campaign, creating an optimized Google My Business (GMB) profile is one of the first things you should do.
As part of the set-up process, you will need to choose at least one category that best describes your business. Businesses are permitted to choose 1 primary category that will be given the most weight in Google's algorithm and up to 9 additional categories. Categories should describe your business itself, not your products, services, or amenities.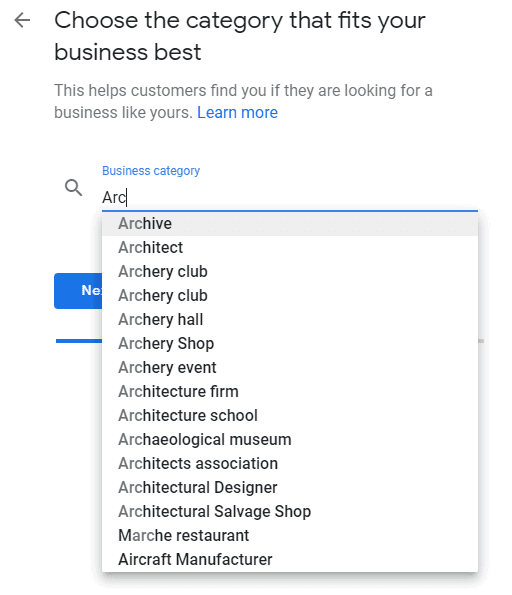 Image: Choosing a category on Google My Business
Some of the available categories include:
Archery Club
Architects Association
Building Materials Store
Flooring Contractor
Ham Shop
Orthopedic Clinic
Soccer Club
Google My Business lists nearly 4,000 business categories (the actual number is 3942). Businesses should choose the least amount of categories possible to describe what they do.
When a searcher types in a keyword that matches one of your business categories, your business is significantly more likely to appear in local search results.
Google My Business Title Optimizations
When you create a Google My Business listing, you'll need to enter a title for your business.
A 2018 study on local search ranking factors conducted by SEO Moz found that "Location Keyword in GMB Title" and "Product/Service Keyword in GMB Title" were both among the top ten factors that determined whether a business would appear in Google's 3-pack of local search results.
What does this mean?
It means that when a user searches for "plumber in new jersey", Google will most likely refer them to businesses whose GMB titles include the keywords "plumber" (product/service)  or "new jersey" (location).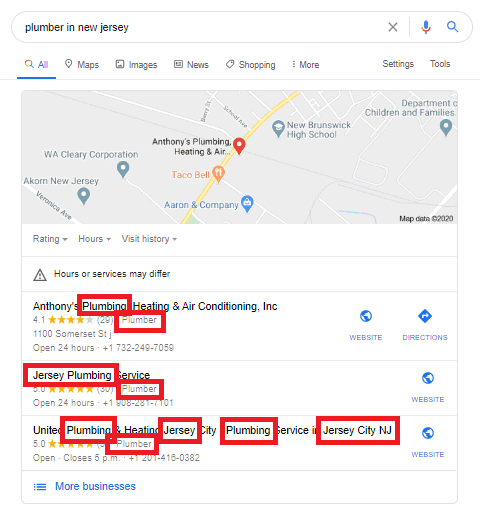 Image: Google local search results illustrate the importance of product/service & location in GMB title
While you may not want to change the name of your business, you should be aware that the most valuable GMB listings include a commonly searched product/service or location as part of the title.
Completeness of GMB Listing
The overall quality and completeness of your Google My Business listing has a significant impact on whether you'll be featured in local search results.
To complete and optimize your Google my Business listing, you will want to:
Claim or create a business listing
Verify your business
Configure users and user access to your GMB account
Make sure all of your business information is correct and consistent across all of your directory listings
Include photos and videos, and virtual tours of your business location
Add information about products and services
Add supplemental information, such as menus or price-lists
Quantity of Google Reviews
Google loves to see your business accumulating Google reviews and will reward you with more visibility in local search rankings.
More online reviews mean more social proof. They help Google verify that you're a legitimate business with satisfied customers, and they also show that you're actively promoting your GMB listing by getting your customers to review your business on Google's platform.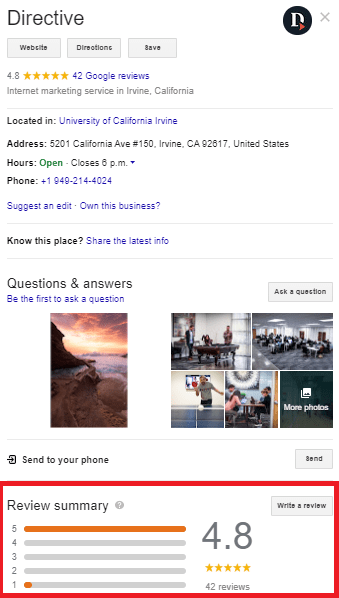 Image: GMB Listing for Directive – More reviews means more visibility in local search results!
Your reviews don't have to all be positive either – just make sure you respond to any negative ones in a timed, polite, and courteous fashion.
Structured Citations Quality/Authority
A structured citation is a listing on a business directory that includes your business name, address, phone number, and website.
The overall quality and authority of your structured citations is one of the most important local SEO ranking factors that determines how your business performs in local search results.
For the best results when building structured citations, focus on these four tips:
Target high-quality directory websites and industry-specific directories.
Avoid low-quality spam directories with minimal submission requirements and no verification.
Keep your business name, address, phone number, and website consistent across all directory listings, including formatting if possible.
Always build optimized listings in every directory, entering as much relevant information as you are able.
Summary
Thanks for checking out our list of the 7 most important local SEO ranking factors!
We hope you'll use this information to improve your visibility in search engines, capture more organic traffic, and generate more revenue with your next local SEO campaign.
Need additional SEO support? Book an intro call with our SaaS SEO agency to see how we can help you dominate the SERPs.
Keep reading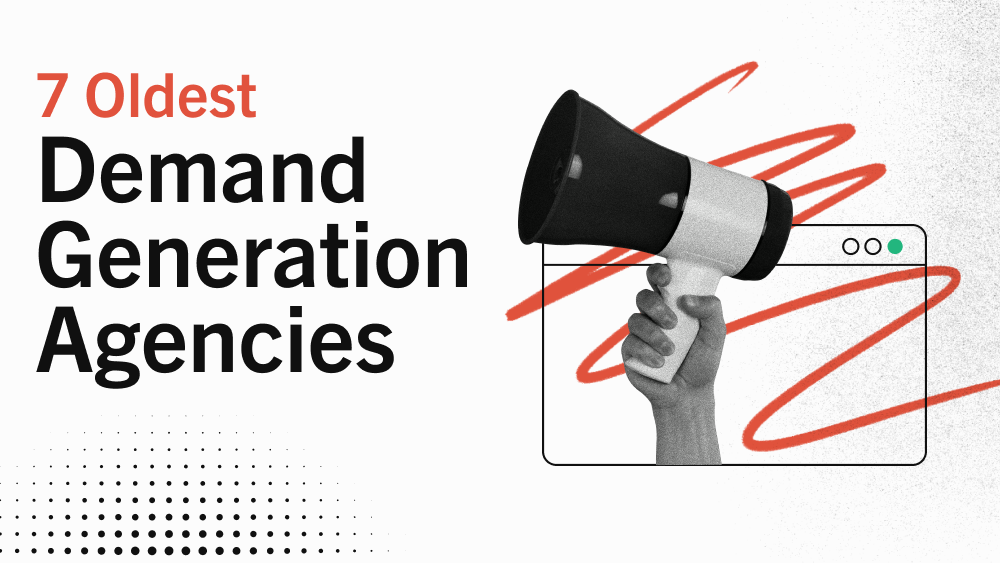 Agency Life
7 of the Oldest Demand Generation Agencies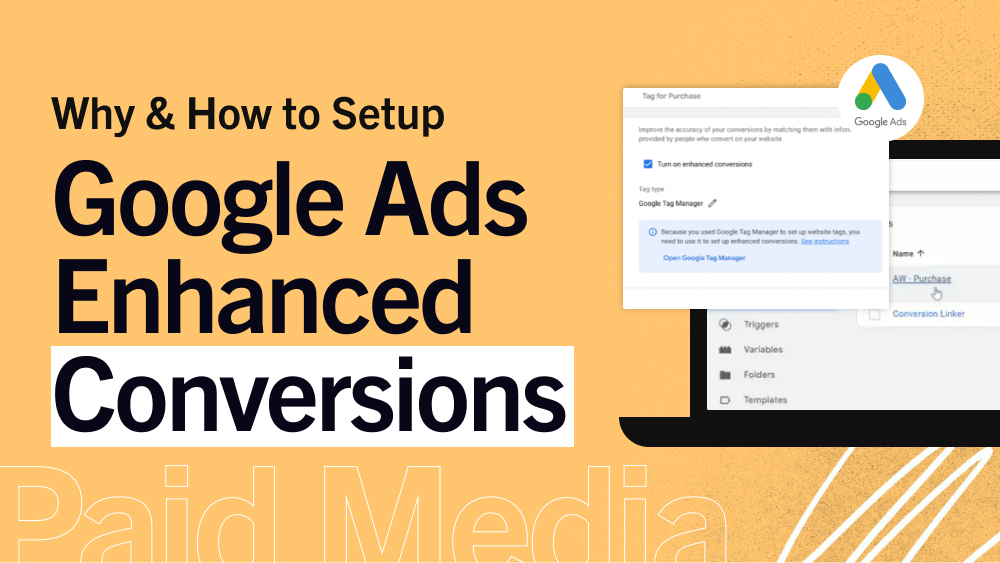 PPC
How to Setup Google Ads Enhanced Conversions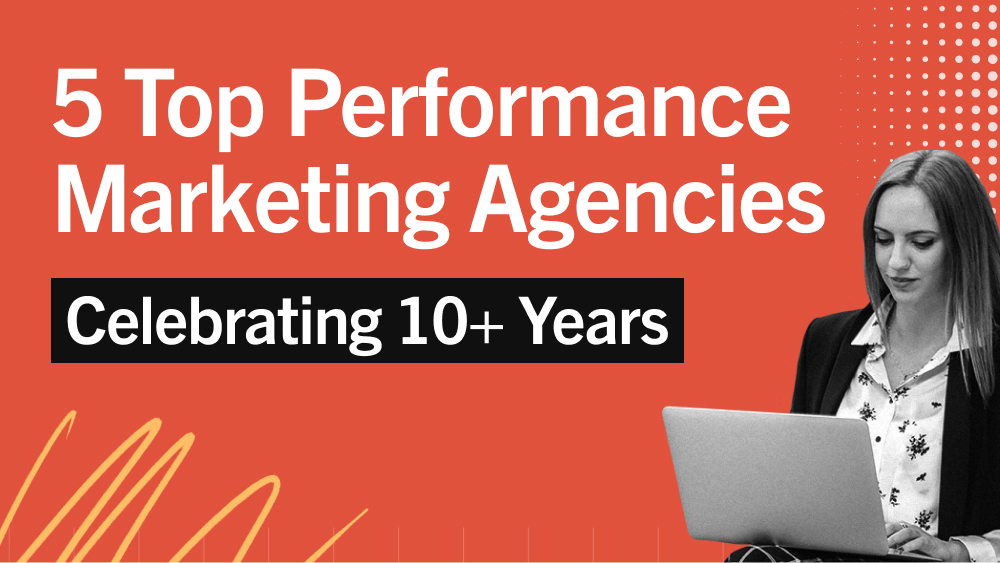 Agency Life
5 Top Performance Marketing Agencies Celebrating 10+ Years