Untapped Opportunity – Lookalike Audiences for LinkedIn, Facebook and Google Ads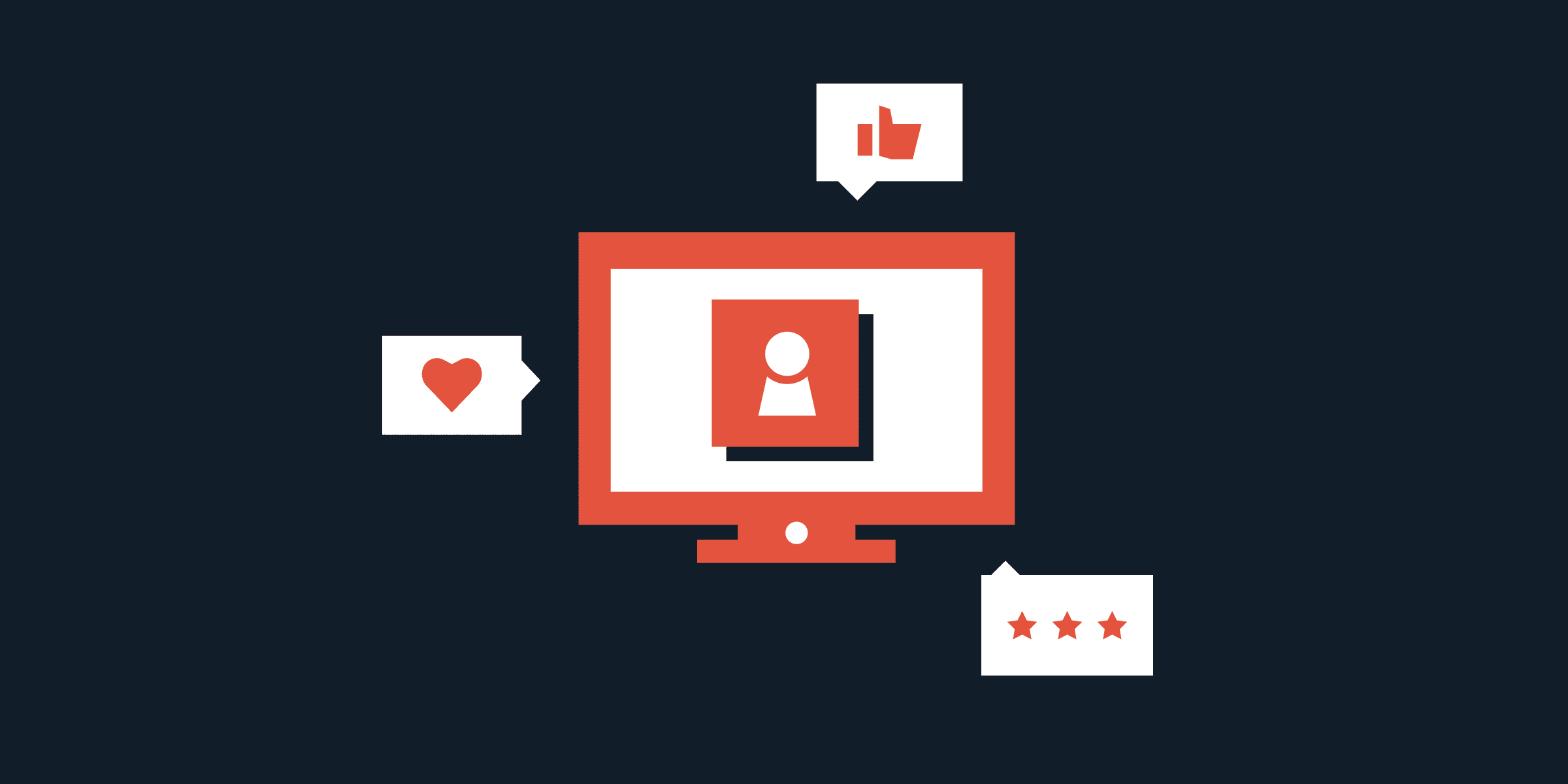 One of the significant challenges within paid advertising is prospecting while staying within your cost-per-lead (CPL) or cost-per-action(CPA) target. Your total addressable market is not always searching for what you offer through search engines, and they may have never visited your site, leaving remarketing out of the question.
Waiting for your ideal customer to discover you is not a powerful position to be in, nor a successful one. It is a daunting question that many digital marketers face: how can you reach your total addressable market efficiently without wasting your paid ad platform budgets?
Most platforms have a multitude of demographic and interest-based targeting options to reach new users. While you can layer various options together to build an audience you think may respond well, you can remove the guesswork and use your actual data from ad platforms to learn from through the use of lookalike audiences.
This effectively allows your department to market to prospects who are the right fit for the products or services you offer through the use of lookalike audiences.
Maximizing Potential on Key Audiences
Lookalike audiences can be a viable option to find new individuals that closely match users who have previously purchased, signed-up, or converted on your offerings. This can depend on your advertising goal.
Lookalike audiences are based on your curated audiences that exist/can be built within the various ad platforms. These audiences are referred to as source audiences.
Source audiences are most commonly site visitors or manually uploaded lists (customer emails, companies, etc.). Because you provide the source list, you can build different types of lookalike audiences that accomplish a variety of advertising goals.
These goals include awareness, lead generation, and engagement. This takes the guesswork out of the targeting options available, leaving more control in your hands and mitigating wasted ad spend.
Let's look at a few examples and how much we can efficiently increase our reach by:
In the screenshot below, you can see the original list of marketing qualified leads that were uploaded into Facebook was below 1,000. Through the use of the lookalike audience functionality, the audience size increased by +2,100%, translating to over 2,100,000 people to advertise to.

Similar results can be seen in the example below.
On LinkedIn, an account-based marketing list was uploaded, and through the use of lookalikes, the total audience with similar characteristics increased by 436%. This allows the team to efficiently continue to focus on their ABM accounts and market to an audience similar to our ideal customer profile. This combination helps us to hit our MQL goal.

While the name is a bit different on Google (similar audiences), the concept is the same as a lookalike. Below, we can see that Google generated a list of 300,000 – 500,000 users similar to those converting on our website.
That's a pool 417% larger than the original.

With a larger potential to efficiently scale your campaigns, using these features is a no-brainer. Let's take a look at a few strategies you can utilize through the use of lookalike audiences.
Setting Yourself Up For Success
The key to lookalike audience success is ensuring you have a high-quality source audience. If you are confident in the quality of your source audience, your lookalike should work efficiently, as your new audience will be similar to your existing ones.
Outlined below are various methods to leverage to build your lookalike audiences.
Customer Lists
No matter the vertical you are marketing in, chances are, you have a list of customer email addresses. By using a customer list as a source audience, you'll be able to reach new people who have similarities to your current customers. These people are likely to become new customers.
Google, Linkedin, and Facebook allow you to upload customer email lists. A common concern with custom lists is privacy. However, this is not an issue as their data is kept private and is only used by the platform to discover new users.
This is a useful tactic, as you are essentially building a copy of your existing customer base to scale your campaigns efficiently. For the highest ROI opportunity, segment your source list to high-value customers, to reach people likely to buy more often, spend more money, have a larger contract size, etc.
Customer Lists Are Effective For:
Scaling/improving transactions
Lead generation
Form Fills
If your marketing efforts are focused on lead generation, lookalike audiences based on form fills are a strategic tactic. With form fills, you can discover other users with a similar intent to those that previously filled out your form.
For this tactic to work, ensure that there are dedicated "thank you" pages that a user lands on after filling out a form. By creating a source audience based on "thank you" pages (this could be for a demo request, pricing inquiry, industry report, etc.), you can build an audience, based on the intent of the users who are in the market for, or doing their research around what you offer.
If you offer transactional options on your website and post-purchase users are lead to a "thank you" page, you can also build audiences from that URL to be used in a lookalike audience. This powerful tactic creates a lookalike based on a pool of users who have spent money on your site.
Form Fills Are Effective For:
Scaling transactions
Lead generation

Login Pages
If your site has a member's login section or your services or products are hosted online, you can build a source audience from the traffic that goes to your login page (ex:https://www.netflix.com/Login).
The people who travel to and use your site's login pages are likely current members/customers/account holders. Building a lookalike from these users is a smart way to discover similar people to the ones logging into your site. You can accomplish this by having your source audience target the URL of the login page. From that point, you would build the lookalike audience.
Login Pages Are Effective For:
Engaged Users
If your focus is building brand awareness or website traffic, basing lookalike audiences on engaged users is smart. This method will lead you to more users who will interact with your content.
Facebook has some excellent options for this, as you can create custom audiences based on engagement. When creating a new custom audience on Facebook, utilize one of the following.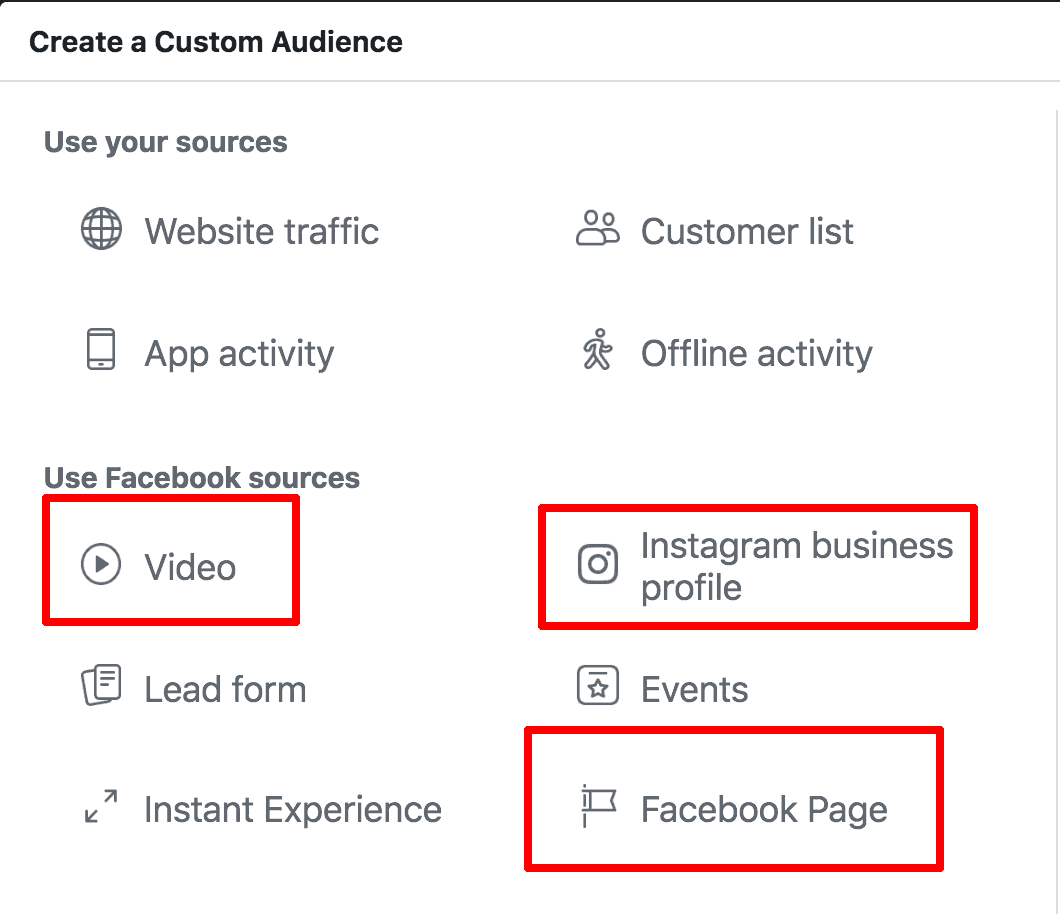 For "Video", you can build source audiences based on how much of your video they watched.

With the amount of video that users regularly consume on Facebook, this audience is an efficient way to scale and spread awareness for your brand.
For the "Instagram business profile" you'll have several options available to mix, match, and adjust, including "criteria type" and "time window". You can also include or exclude more people based on available criteria shown.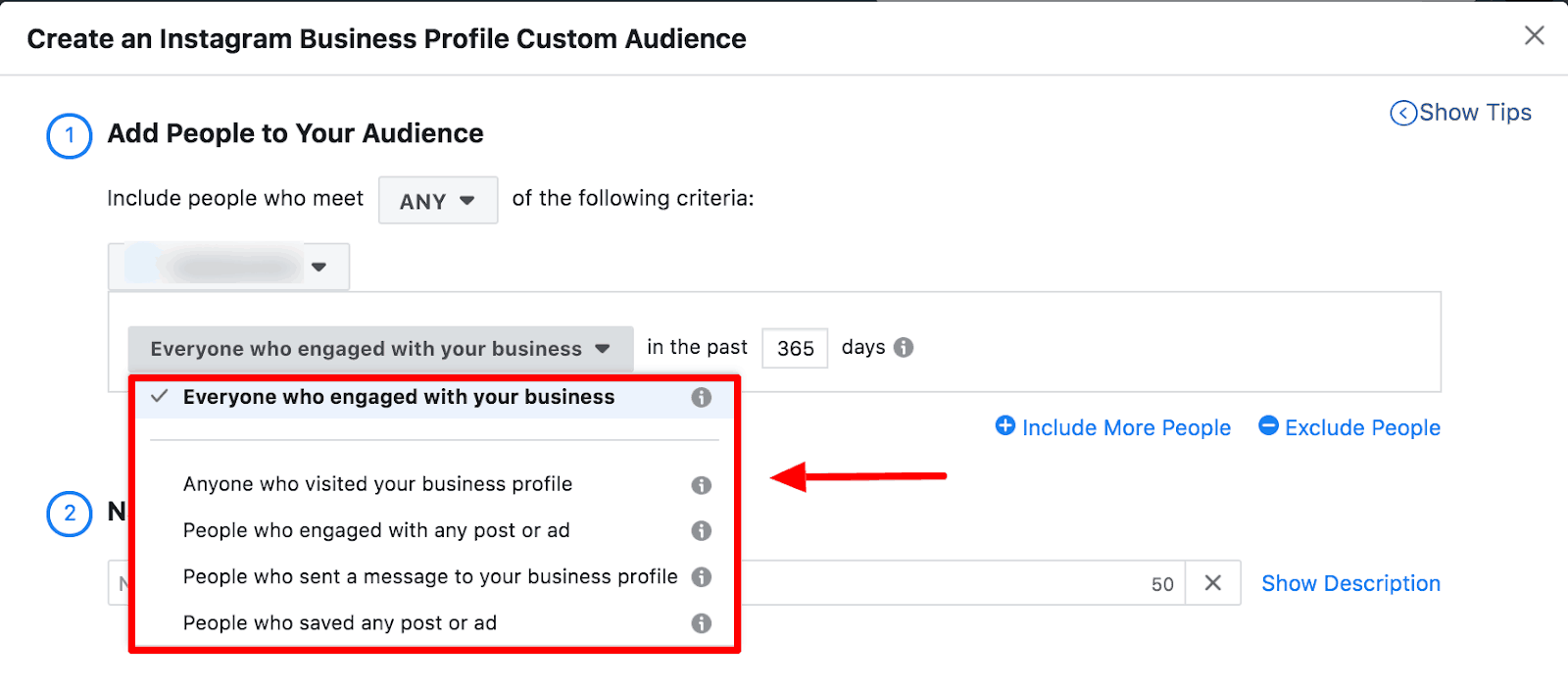 For "Facebook Page", the setup and options are similar as above but have different criteria available to choose from.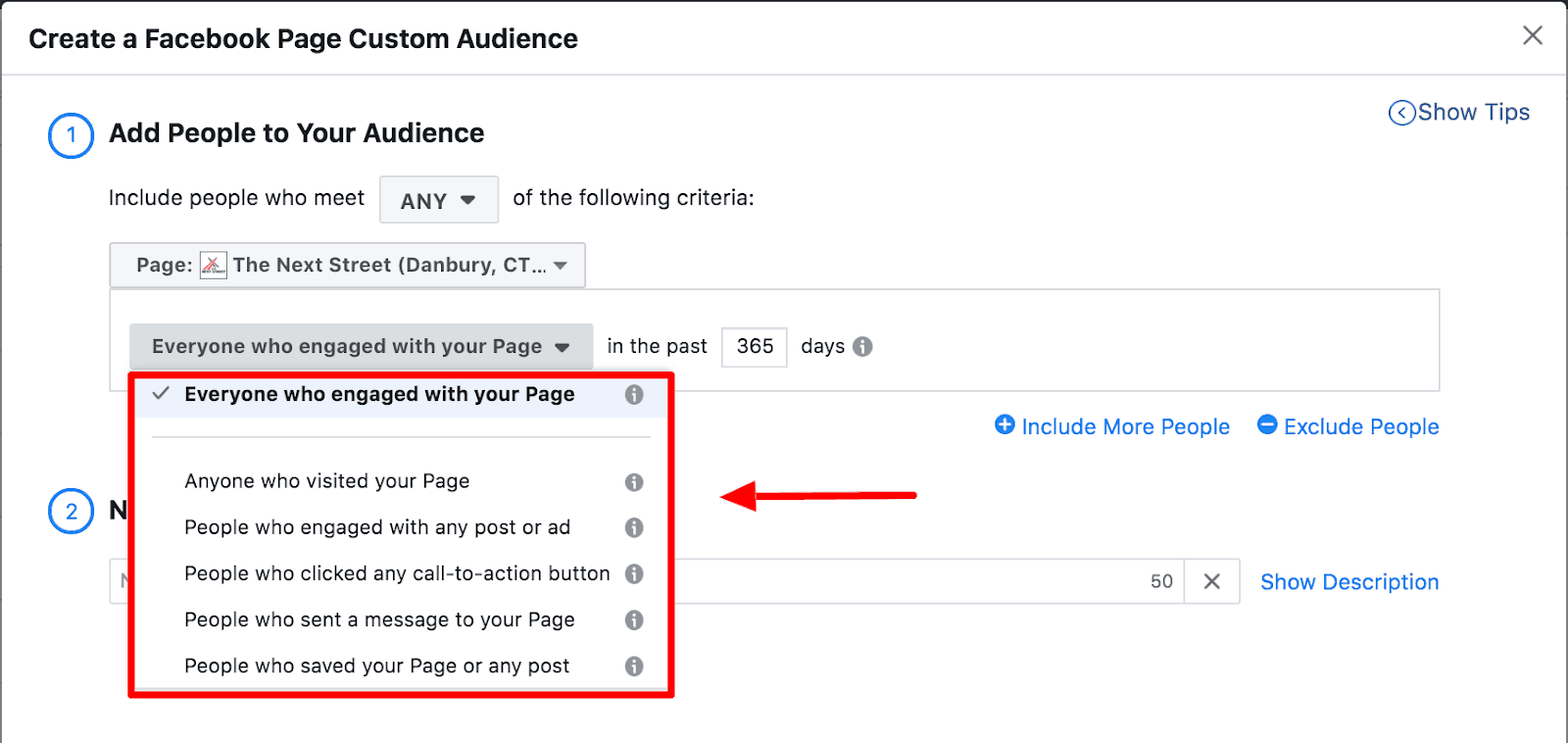 In Google Ads, you can also create source audiences based off of video. When building a new audience in Audience Manager, select "YouTube users".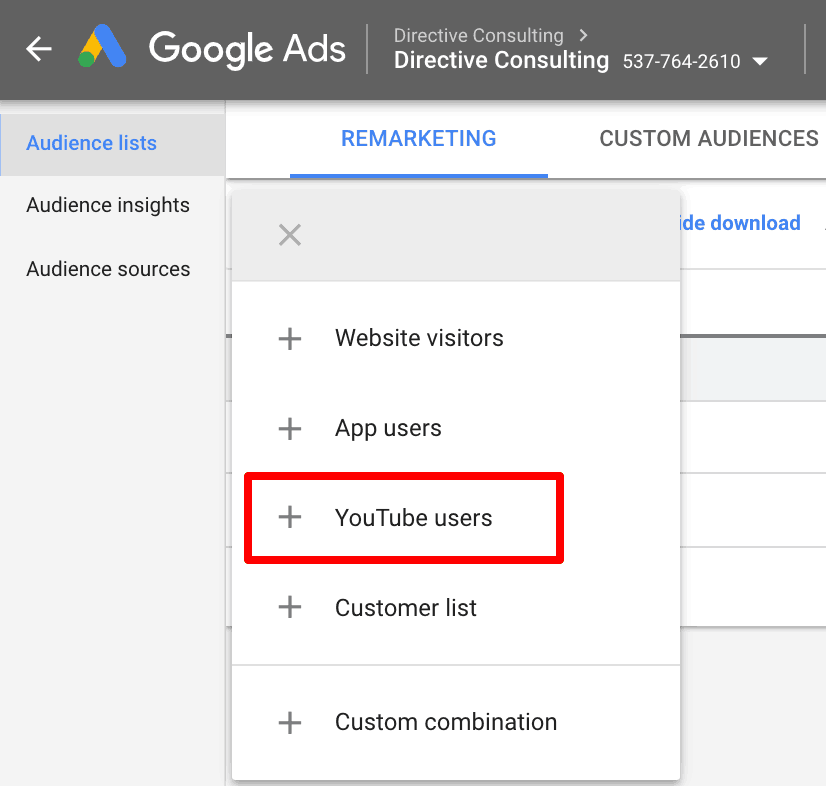 Here, you can adjust your source audience options including "List members", "YouTube channel", "Initial list size", and "Membership duration" (how long users remain in your audience). Clicking on "List members" will give you your main targeting criteria.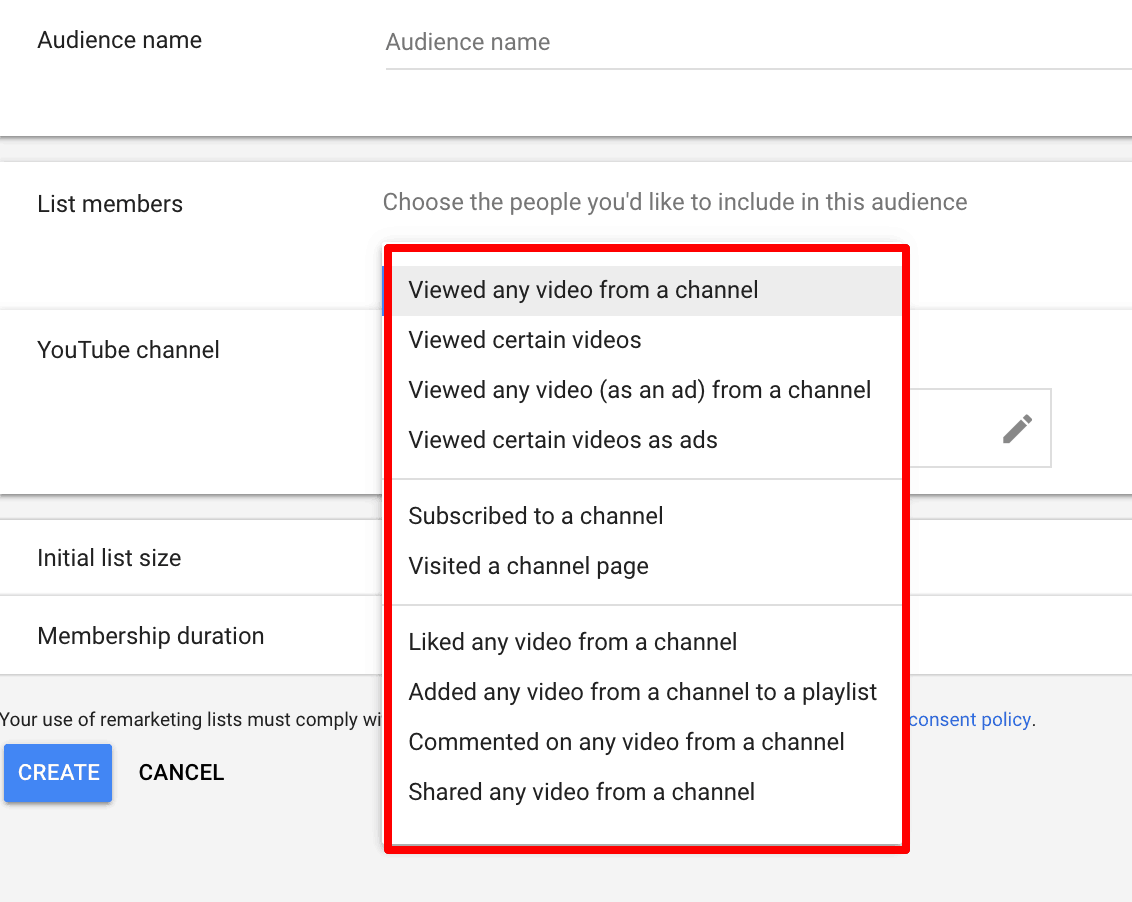 Here is where you decide what type of engagement you are looking to build off of from your YouTube channel.
Use the above source audiences to create lookalikes based on whichever engagement criteria you aim to meet with your Facebook or Google campaign.
Engaged Users Are Effective For:
Brand awareness
Further engagement
Key Content Pages
If you have key pages (demo videos, blog pages, guides, etc.), on your site that are visited heavily, then you have new source audiences you can build. Target those URLs. Then, build lookalikes from the audiences to reach more aligned users.
An example of this would be our "Top 5 B2B Marketing Ideas for 2019" post shown below.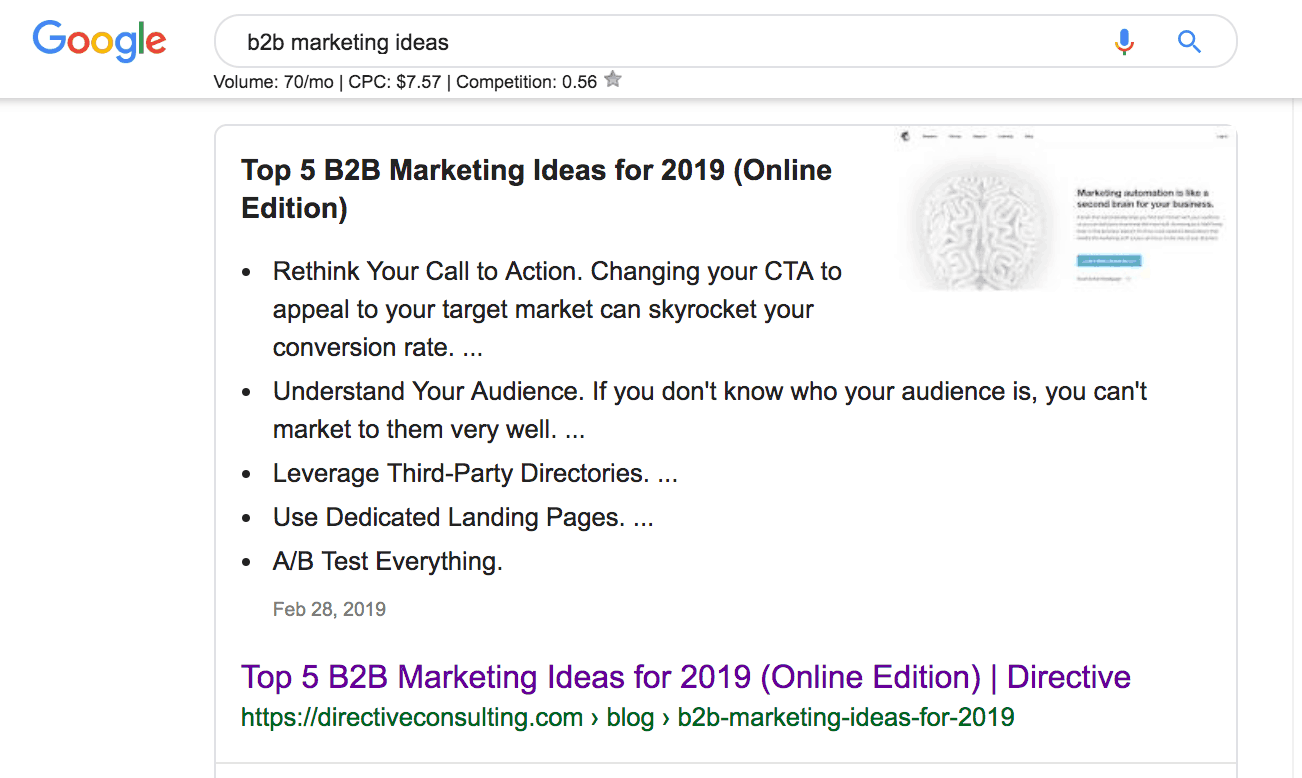 This post shows as a featured snippet on Google and ranks well organically for a relevant keyword, "B2B Marketing". Our team can confidently believe that visitors to this page include B2B marketers.
Because this audience is a part of our ideal customer profile, creating a lookalike means reaching more of our addressable market, at a fraction of the cost of traditional paid advertising.
Key Content Is Great For:
Brand awareness
Driving relevant traffic
Top-of-funnel content strategy
Steps to Clone Your Audience
Once the foundation has been set with robust source audiences, you can begin to build lookalike audiences across many different ad platforms. Below we'll walk you through how to create them on some of the most popular paid advertising platforms- Facebook, LinkedIn, and Google Ads.
Facebook
The first step is to make sure you have created and set up your Facebook pixel if you plan on using your website data. The Facebook pixel allows you to build audiences based on specific pages users have visited on your site. Additionally, you can create lookalike audiences based on uploaded lists.
1. In the platform, click "Ads Manager" to open the navigation window, and go to "Audiences".

2. In the audiences, click "Create Audience" then "Lookalike Audience.

3. Here, you can choose your source audience. Either search for an audience you already have built, or create a new source.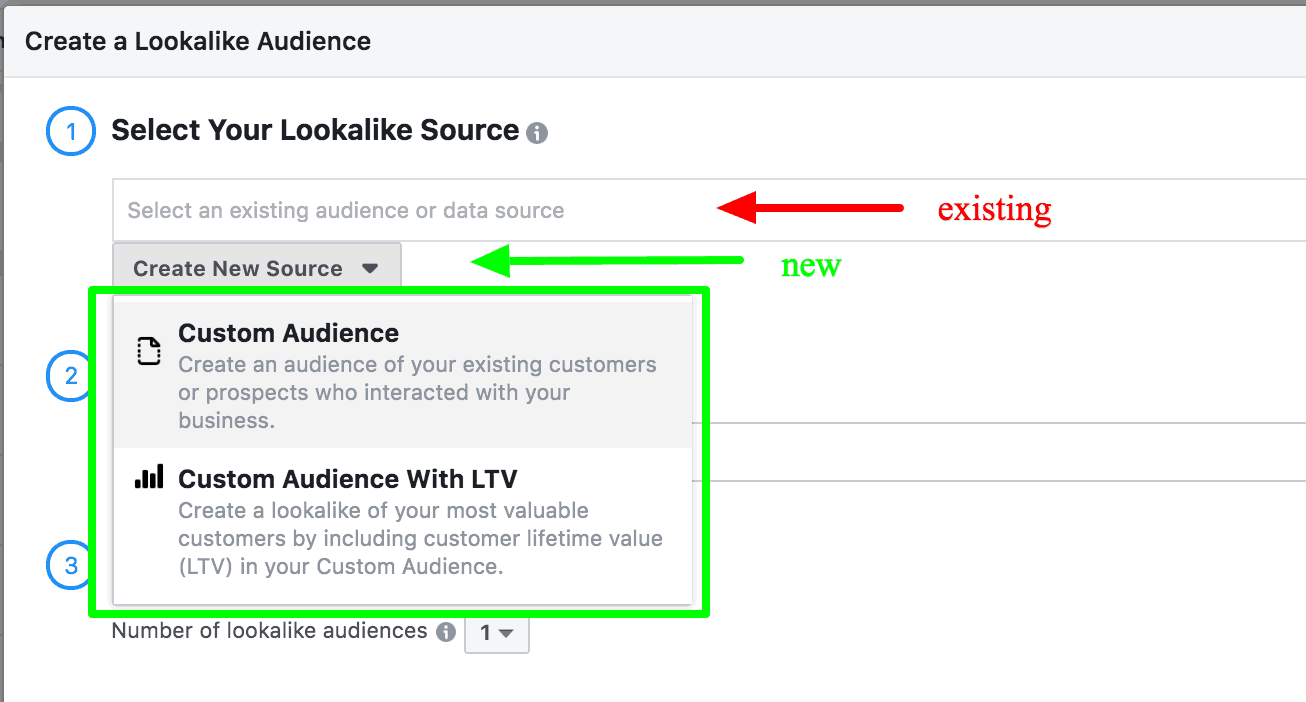 For this example, we'll create a new Custom Audience. If you have LTV (lifetime value) available, use it! It will build a stronger audience based on your valuable customers. If not, go ahead with "Custom Audience", which we'll review in this example.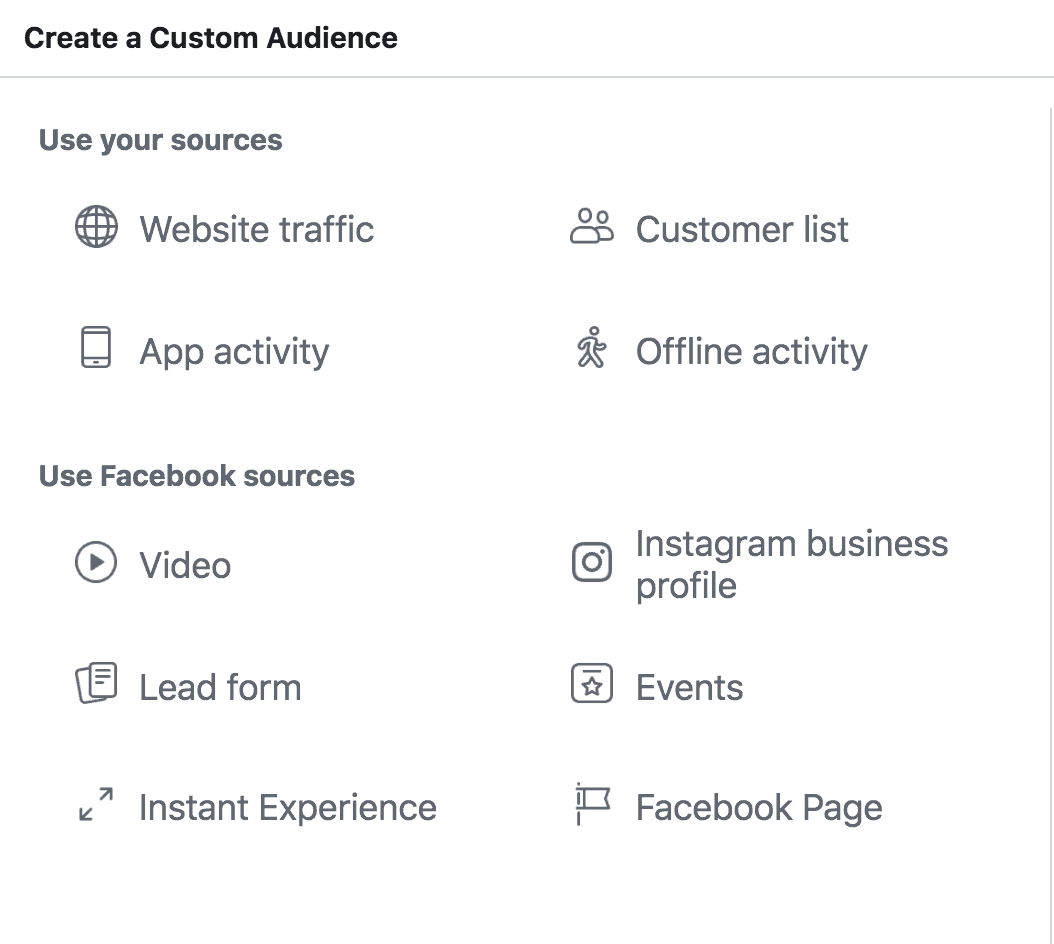 Next, choose where you want to source your audience from. Select "Website Traffic" if you're going to target a particular page on your website, or "Customer List" to build based on your customers. Select "Video" if you want to discover people who watch your content, or another option if it correctly matches your brand's business goals.
Today, we'll use "Website traffic" and target the "Thank You" page of one of our website assets.
Example of a "Thank You" page: page that appears after a user completes a desired conversion action.

4. Once you have revised the set-up of your source audience, input your audience location, and select your audience size.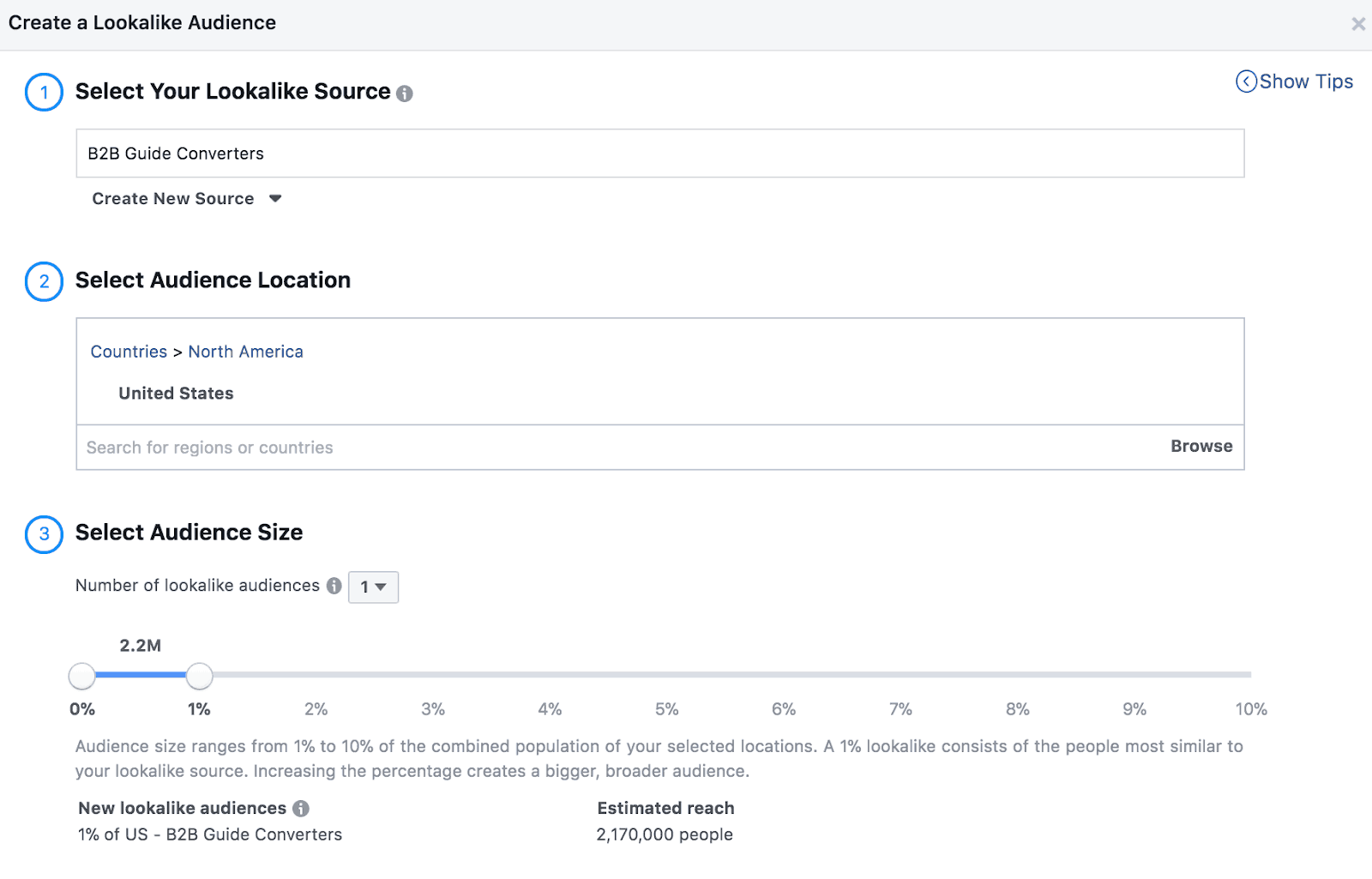 It is worth noting here that the higher the percent is that you choose on the bottom slider bar (shown above), the larger your audience will become. The smaller the percent you choose, the closer it will resemble your source audience.
Once you decide on your location and size, click "Create Audience" and you're done. Utilize this audience in an upcoming Facebook campaign. With the audience we created above, we can expect to reach people with similar characteristics to those who have downloaded our B2B Guide eBook.
Note: Your audience will grow over time. The original size will be minor but will continue to develop over the next day or so.
LinkedIn
Like Facebook, if you plan on using a website audience here, make sure your LinkedIn Insights Tag is set up. Manual list uploads are also possible on this platform.
1. In the LinkedIn Campaign Manager, go to your "Account Assets" and click on "Matched Audiences".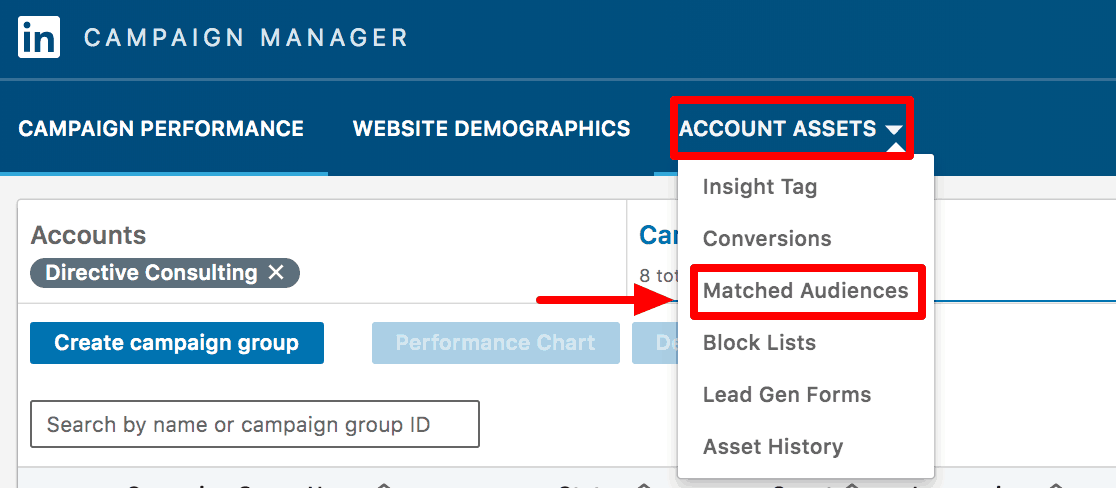 2. Once on the Matched Audiences page, click on the "Create Audience" button to the left and select "Lookalike".

If you have not created a source audience, you'll need to do that first before selecting "Lookalike". On LinkedIn, you can create an audience based on website URLs or list uploads. List uploads can include email addresses or company names/websites.
3. From here, name your audience and then select your ideal source audience. After doing this, click "Create" and you're done.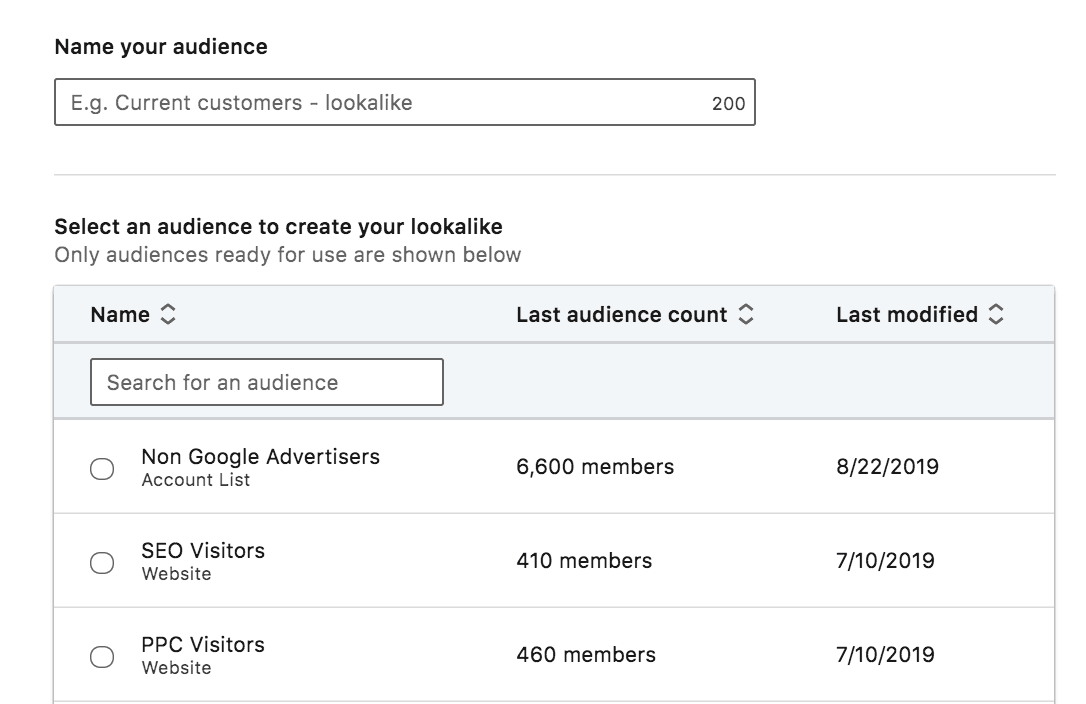 Note: After creating, your audience will begin to populate. Keep in mind; it may take more than 24 hours to fully build and be ready to be used in a campaign.
Google Ads
Google technically does not use "lookalike" audiences, but tries to accomplish the same idea using "similar audiences". If you plan on utilizing website audiences, make sure you've installed the Google Ads Remarketing tag, or the Analytics tag. This is important if you are going to use Google Analytics to send your audience to Google Ads, and your accounts are linked.
1. In your Google Ads account, on the top-left navigation bar, click "Tools & Settings", then "Audience Manager".

2. Google automatically creates similar audiences based on any established audience (website visitors, app users, YouTube users, customer lists) you have in your Google Ads account. If you do not have any audiences, click the blue "+" button, then select what type of source audience you'd like to use:

3. Select your source audience type and follow the in-platform instructions to create.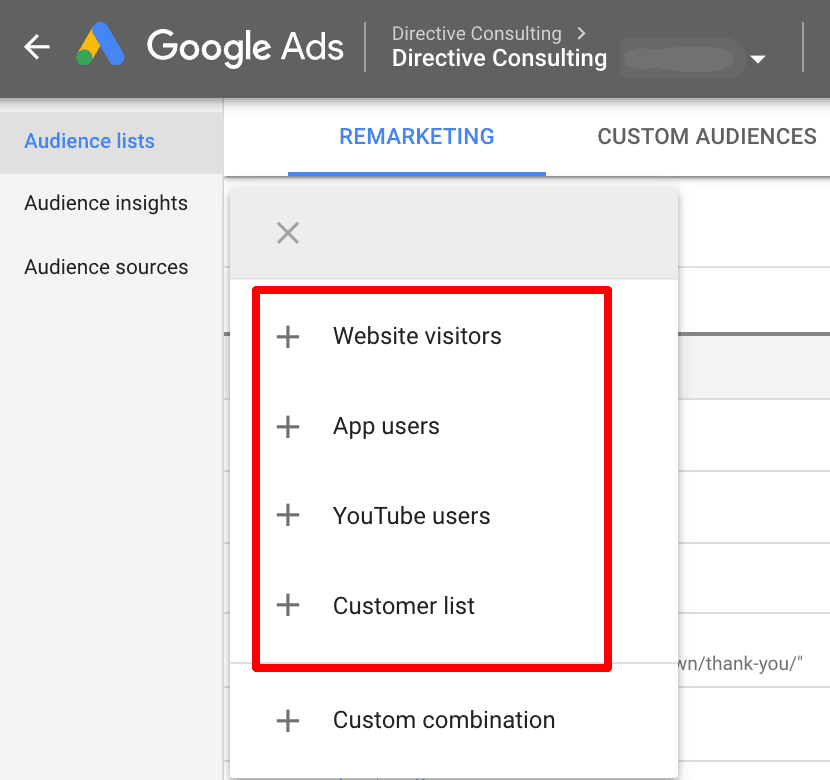 You will have the options of "Website visitors" (URL-based), app users, "YouTube users", or a "Customer list". "Custom combinations" are not available with similar audiences.
4. Once created, Google will automatically create a similar audience you can use and find in your Audience Manager* to add to your prospecting campaigns.

*Source audience must meet eligibility requirements. If Google is unable to find enough statistically significant similarities, it will not be eligible to use. The larger the pool, the more data Google has to work with and more likely you'll end up with a similar audience.
Data-driven Approach to Reach the Right Audience
If you know your target audience and utilize Google Analytics data consistently, you're improving your chances of creating a more efficient audience. But even this tactic can be inconsistent when building from a wide variety of different demographics or interest-based targeting options.
Instead, feed the ad platforms your valuable data to find statistically significant similarities. This can be used to double down on high performing audiences/pages and efficiently scale your prospecting campaigns. Not to mention, the lookalike audience setup is simple and won't take too much time for you or a team member to implement.
Keep in mind; these audiences are not 100 percent guaranteed to work, as is the case with most paid advertising strategies. So, monitor your campaigns and test various types of targeting options against each other. Find a mix that works for your product, business, and brand.
Keep reading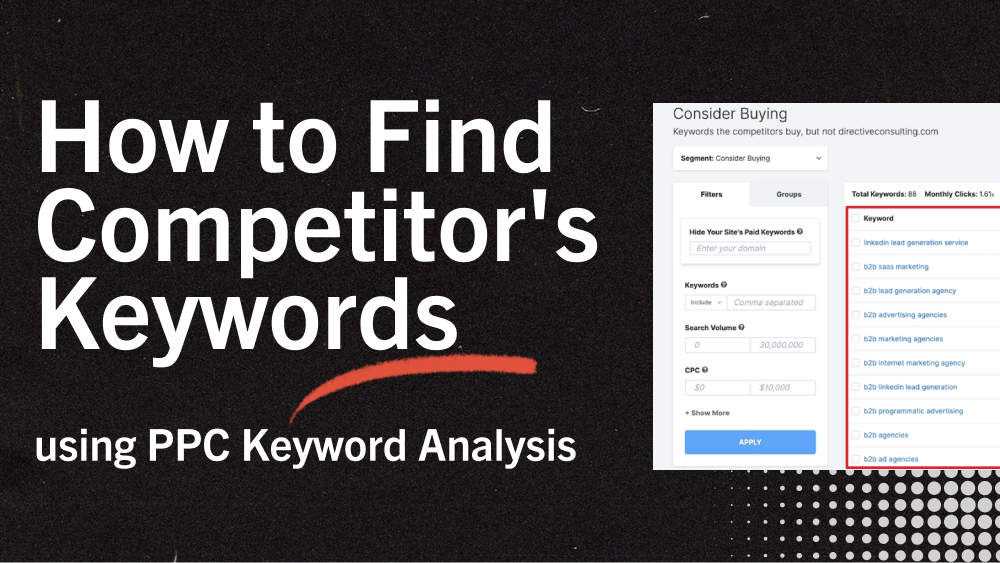 PPC
How to Find Competitor's Keywords with SpyFu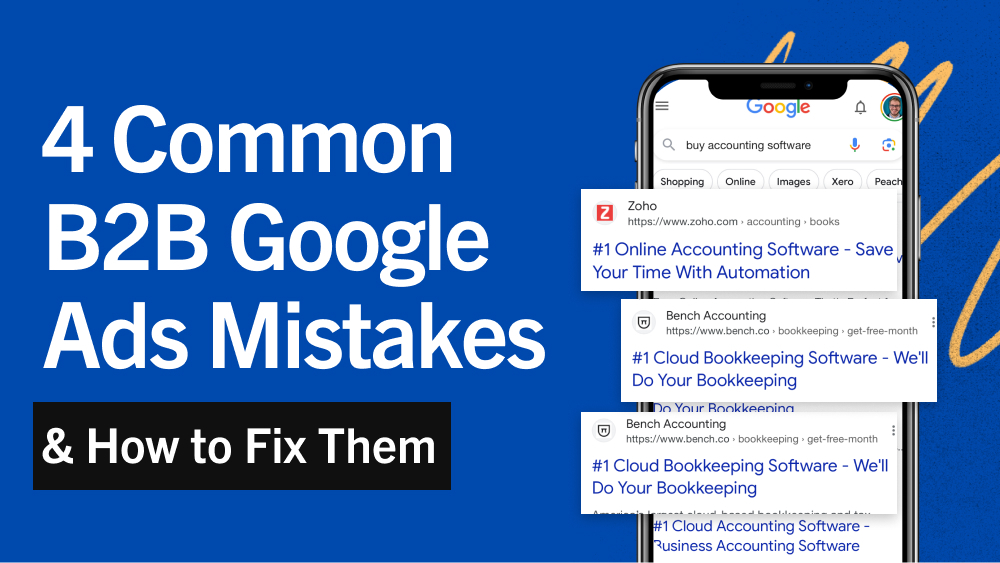 B2B
4 Common B2B Google Ads Mistakes and How to Fix Them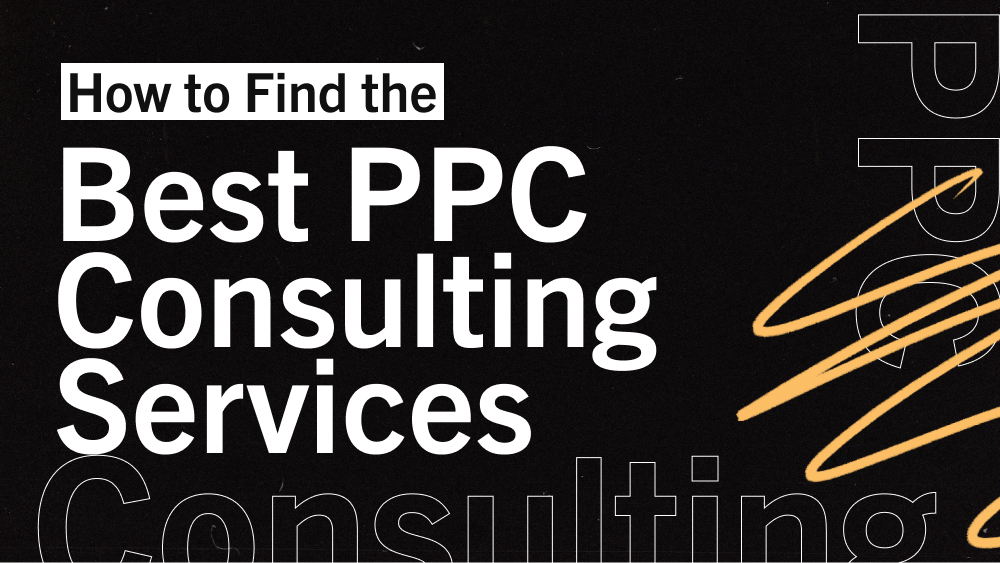 Agency Life
How to Find the Best PPC Consultant Services