Constructs to Avoid When Forecasting Marketing Efforts and Reporting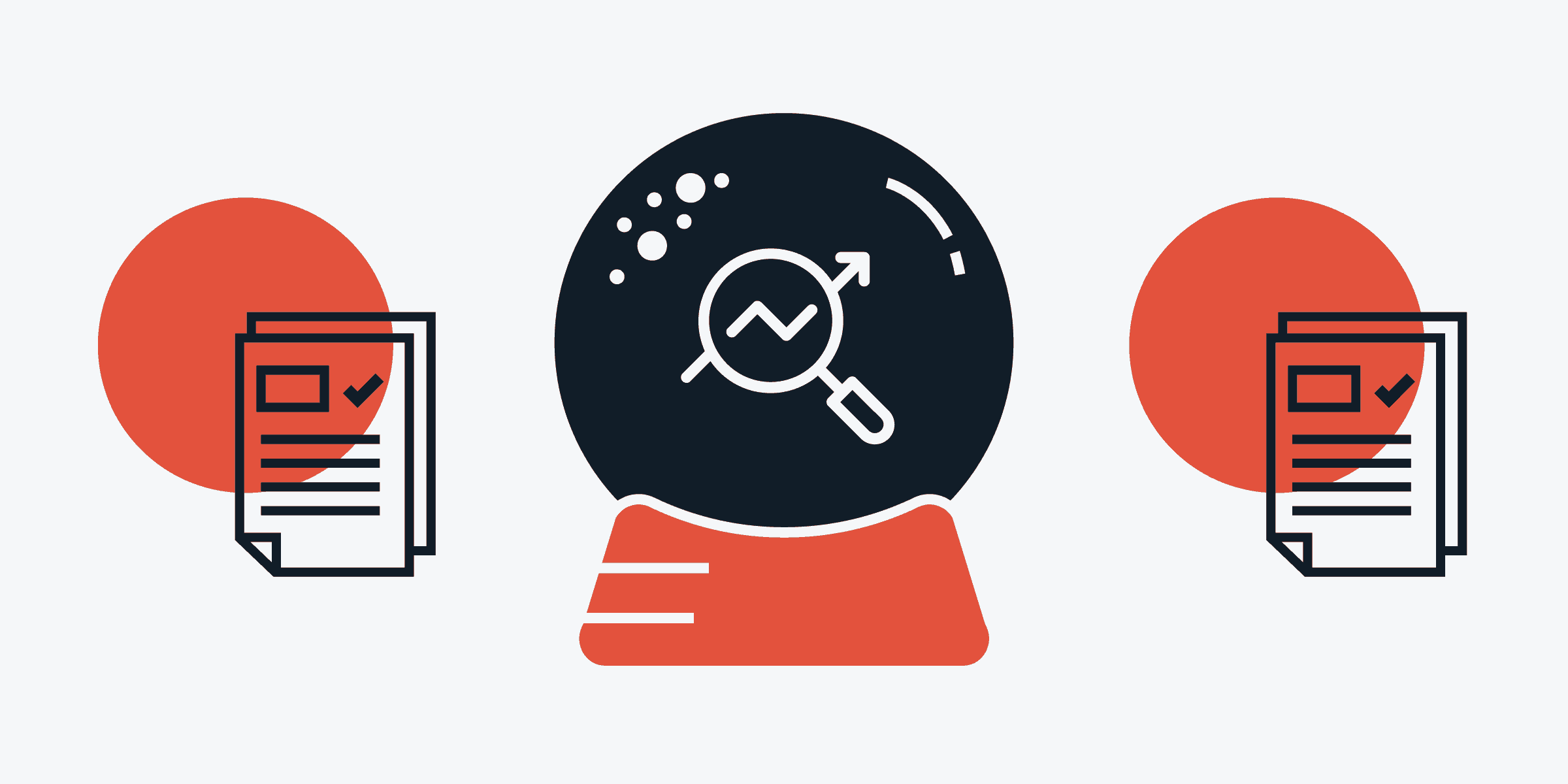 While there are positive trends to indicate a change from the status quo, marketing as a whole is frequently overlooked and underappreciated. For marketers, this is not a formidable combination for resources or buy-in.
The modern-day marketing leader needs to be ROI-obsessed and fixated on data to earn their seat at the table.
When marketers can change the dialogue from inputs (budgets and campaigns) to outputs (revenue), the department as a whole is viewed as a revenue-generator that requires investment to increase profits. This changes the conversation, so the marketing department is not a cost center that can be cut.
This strategy makes marketing forecasting and, moreover, the lense in which forecasting and reporting is approached, a foundational skill set for any senior-level marketer to hone.

Impact of Positioning Yourself
When searched, marketing forecasting has a few different definitions. The article you're reading now references a marketer's capacity to showcase the downstream impact of their activities.
For example, a digital marketing manager can look at historical data and project the number of leads a LinkedIn campaign will generate in month one, as well as month two, and the number of opportunities that will translate to by month three.
His or her work will be heavily campaign-focused. While this is vital within the marketing department, campaign performance won't be understood or well-received by leadership.
For a head of marketing, he or she will focus their marketing forecasting on revenue targets, using both historical company data and industry market trends. This person does this intending to support his or her team in the shortening of sales cycles, to close marketing-generated revenue, or to identify areas that require a course correction.
When a marketing leader reports on pipeline influence, target account efficiency, and on closed deals, it further positions marketing as the profit center that it is. If reporting focuses on budget or spend, you are a cost. You will notice your sales counterpart does not do this.
Forecast What Matters
The majority of the metrics marketers track are vanity metrics, which can lead to misguided information and negative consequences when conducting marketing forecasting. Poor forecasting has a domino effect, felt by the whole organization, as management teams use revenue and sales projections for operational planning and organizational budgeting.
The availability heuristic, a mental shortcut that triggers us to value things we can easily see, potentially plays a role in the marketing default to reference metrics and budget. However, the more visible the metric is, the less impact and value it tends to have on business goals.
As a marketing leader, focus on forecasting and reporting on key performance indicators (KPIs) that are most valuable to your organization.

When is the last time the CEO cared about the 100 likes you got on a Facebook post?  If they did, odds are they probably wanted to know if this lead to anything deeper in the sales funnel or the consumer decision-making process.
The goal of your marketing forecasting is accuracy. Avoid 'sand-bagging' estimates to exceed goals perpetually. Low projections in a performance-managed department should trigger corrective actions.
Miscalculations in your marketing forecasting could lead to unnecessary adjustments and also hurt the credibility and perception of the marketing department as a revenue-generating branch of the organization.
Choose the Right Forecasting Technique
Choosing the best marketing forecasting method is not a simple task, and sometimes more than one approach may be appropriate. When selecting your marketing forecast technique, assess (1) the availability of certain data points, and (2) the skill level of either yourself or the individual who will function as your marketing forecasting analyst.
A basic approach to forecasting when you have accurately available data and it is relatively consistent over time (you don't have to account for seasonality) is to use your relevant historical metrics to forecast future trends.

You can make a copy of this, for a historical data model broken down by channel, in Sheet 1.
It is critical to note that many marketers attempt to do quick forecasting by taking average figures of different channels and using that for their future projections.
Refrain from doing this. This is not marketing forecasting. The data will be skewed and inaccurate, which could impact your interpretation and lead to incorrect decisions, potentially costing your company money, time, and reputation.
Vision, Timing and Realistic Expectations
Company stakeholders will most likely be concerned with quarterly and annual projections. However, as the leader of the department, it is vital to conduct monthly marketing forecasting and to have analysis be abreast with the department's performance and status.
This will ensure that you remain agile and course-correct when needed to hit your quarterly and annual goals.
After the forecasted period, it will be necessary to analyze the data and annotate the most noteworthy information to make recommendations.
To analyze properly, compare the forecast vs. your actual outcomes. Use Sheet 2 of the model above to work off for forecast/projections vs. actual results.
As the leader and representation to fellow executives of the marketing department, it is imperative to keep a forward-looking eye, aligned with your company's mission and vision. However, it is rarely feasible, nor fruitful, to forecast further out than 18 months.
A plan orchestrated for the next year and a half still allows you to be specific and tactical. Looking farther out is an unstable territory with too many unforeseeable changes for the organization and the market.
Report on Your Marketing Forecasting and Findings
Once you have compiled all your relevant data points, storytelling becomes crucial.  Crafting a story around the data may seem like an unnecessary, time-consuming effort. As contradicting as it may sound, neuroscientists have confirmed that decisions are primarily based on emotion, not logic.
Data is cold, factual, and objective. It typically makes sense when it's displayed correctly. A story is warm, emotional, subjective. It has meaning!
From experience, while reporting on statistics and facts alone resonate with a subset, it will fail to inspire the majority and foster compelling change.

A story is highly structured, and a data story is no different. A simple form to follow is a 3-act story structure.
Beginning: There is a problem or an opportunity. This is your current state.
Middle: It is messy to solve. Your data will help here as you figure out how to assess the problem.
End: There is a solution that leads to a happy ending. This is where you shed light on actionable steps that your team needs to take.
You can create data scenes in several ways.
Marvel at the magnitude of the data: Connect data to common measurements. Most often, these measurements are size, distance, quantity, speed, and time.
Surprise the audience with a plot twist:  Zoom in and zoom out of the data. Set up an expectation and then take a turn that keeps your audience wanting to learn more.
Humanize the characters: Highlight your "hero", "adversary", "mentor", and more. Who is making the trends go up or down?
Your objective is to influence your leaders now. Utilize performance verbs in your communication. This can include terms such as "disrupt", "capture", or "invest". Like any other narrative, know what your audience expects and how they digest information.
When communicating upward, use language that resonates with executives. Discuss money (revenue, profit), market (market share), exposure (clients, partners, investors, employees), and more to make your story pertinent to their decision making.
Forward-Focused & Revenue-Focused Mindset
The ability to accurately forecast, report, and communicate provides stakeholders with more precision in organizational planning and also demonstrates the value you and your department deliver to the company.
Leading the change within your organization to streamline the marketing department as a whole to have a revenue-focused mindset will have positive ramifications on your organization in years to come that aren't quantifiable at present.
Keep reading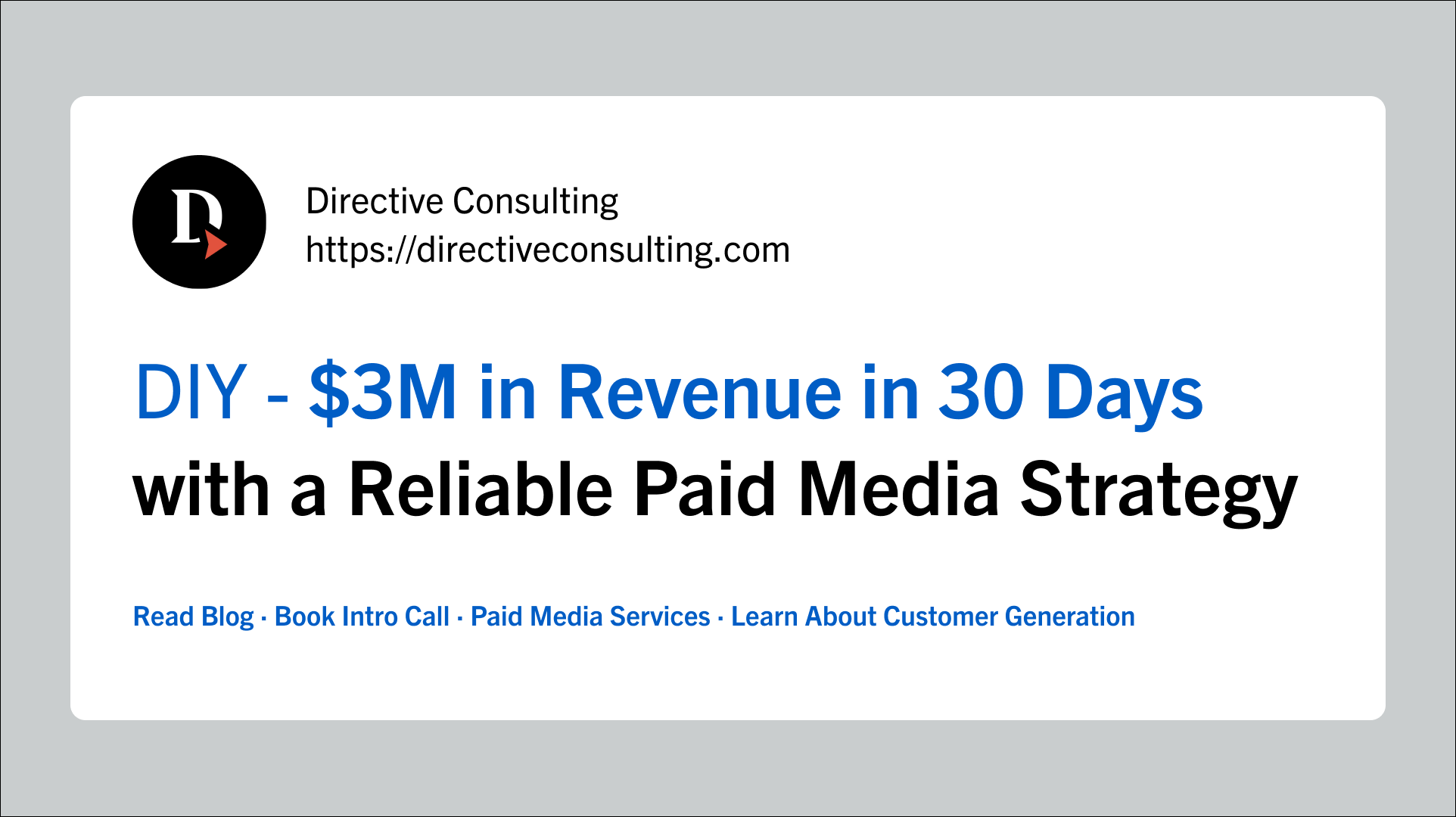 PPC
DIY: $3M in Revenue in 30 Days with a Reliable Paid Media Strategy
Social Media
Boost Your LinkedIn Engagement by 22% with These 3 Content Types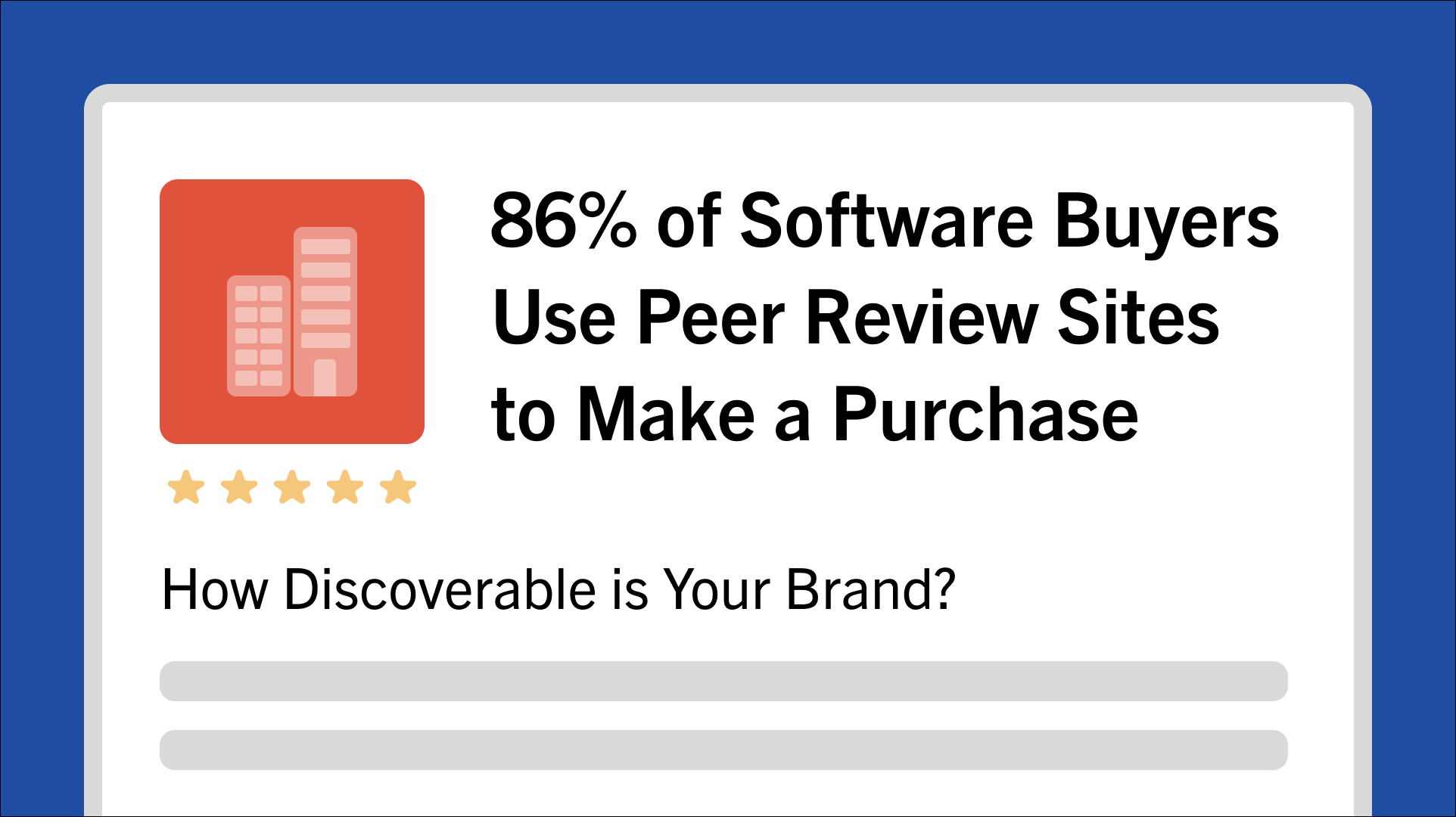 Sales
86% of Software Buyers Use Peer Review Sites to Make a Purchase. How Discoverable is Your Brand?