Moment with a Marketing Maverick – Derek Gerber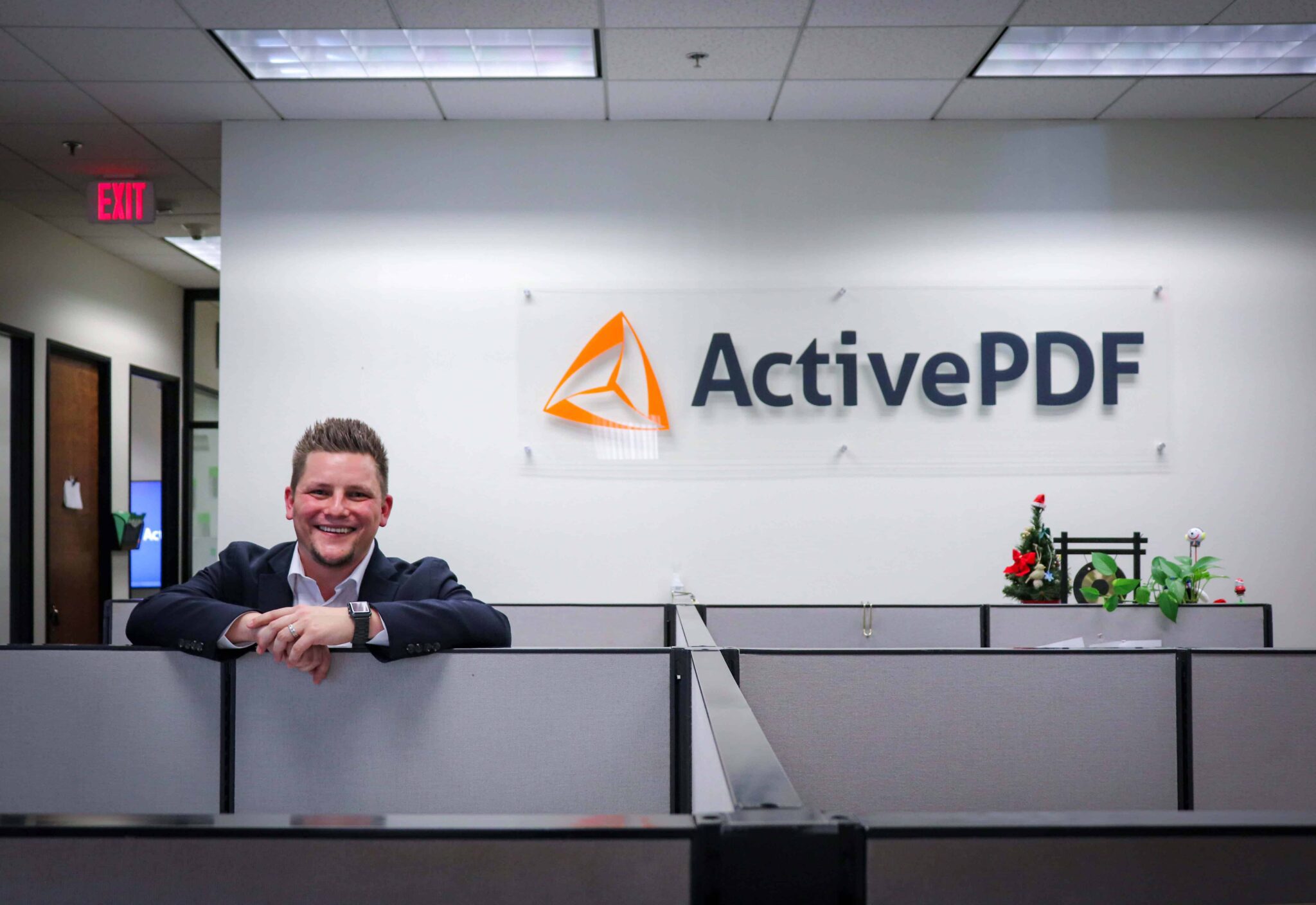 Derek Gerber is the global marketing director at ActivePDF, the leading global provider of automated, server-side PDF tools. Derek is responsible for the analysis of customer research, current market conditions, and sales enablement. 
Additionally, he has created numerous revenue-generating websites, automated marketing systems, telemarketing, print, and online digital campaigns.
Learn more about him below!
How did you get started in marketing?
A long time ago my father started a software company, and I was actually at CNN working with paid advertisements on television and digital media for online and mobile. At that point, I had a decision to make: continue that route or go build a business with my father.
So I actually got started in software because of my father, and we went and sold his company. We were really successful with it. Over time, it got me into the career I'm in today, and I love doing what I do!
What have been some of the biggest challenges you've faced as a marketer?
I think one of the biggest challenges in B2B marketing, that any marketer is facing these days, is that we tend to forget the sales process at hand. A lot of marketers don't have experience in the sales world, in terms of opening and closing deals all on their own, and that's actually where I came from.
I started in sales!
I made that transition into the marketing arena because I found out that during the lead generation process if I can generate higher quality leads and get those personas who are ready to buy right now to contact me, it's going to mean more in terms of customer loyalty and brand retention.
What does it take to succeed in the realm of B2B marketing?
B2B is very challenging. It's not about just having a product at the right time, it's about brand awareness and brand legitimacy, along with other factors. You may have the best technology, but without quality employees, people will pick the other team, every time.
What makes ActivePDF special is we have a motto here, 'peace of mind through great technology and people.' That's something I firmly believe in and bring to the table, as does the rest of our team. So, when it comes to B2B, it's about building personal relationships with people to make sure that you have their backs. That's what we strive and focus on.
What strategies would you say work best to convert leads into clients?
Some of the best strategies I believe for converting leads into clients is providing the content that they want up front. Today, people want instant gratification from what they're doing. 
When they have a challenge or a pain point in front of them, and they need to do something about it, it's crucial to provide genuine, organic, honest, and insightful types of content and understand where they're at.
That's the best way to form a relationship up front. Just coming through and saying "buy my stuff because it's so great" doesn't work. It may have worked before; however, these are different times, and people are much more knowledgeable.
There are so many options, and many things come to the table when it comes to terms of resources. People have a lot to choose from! So being that genuine and honest person is the best way to get through the door with clients looking for a reliable partner to help solve problems.
What do you see as the next big thing in B2B marketing?
I think the next big thing in B2B marketing is even more personalization. I think the infusion of AI and machine learning, in terms of integrating this technology better into a buyer cycle, is really what we're heading toward.
Many people love the anonymous side of browsing and checking out things without being contacted by a sales person per se, especially in B2B. I think what we're going to start to see is the transition toward personalized everything. This includes personalized storyboards, customized content creation that's dynamically generated with very little human intervention and more.
I believe AI and machine learning elements help marketers better understand clients as they're coming in the door, as we can capture even more data from those artificial conversations up front and the way we analyze their data.
What is one of the most important lessons that you've learned in your marketing career?
There are a lot of different things.
I could not be more thankful or more grateful for all of the opportunities and wonderful people I've worked with. My advice to any marketer is "you don't know it all." I think that's honestly where our partnership [with Directive] comes into play.
I think I'm really good at what I do. I think they're really good at what they do. Sometimes there's overlap in our common knowledge, and sometimes there are gaps we can fill together.
What I learned a long time ago was, to do these big, amazing things, you need a team of people in your corner to get it done and get it done right. Some people can put things together and try to willy nilly it and force it into play.
However, when you sit down with a partner who's knowledgeable, who can get these things done with me, set those KPI's, hit those goals and knock them off the list, that's a part of a partnership and a relationship that a lot of people don't teach you about.
Regarding lessons and advice, you don't know everything and you never will know everything. When you think you do, please check yourself. That's something we try and keep in mind here.
A lot of ego and confidence is good. You need that. But on the flip side, egotism and arrogance are not. There's no room for that. 
It's really about establishing relationships and partnerships with people that you trust and help you get your work done. That's the best lesson I've learned and the advice I can give you is to go build your network.
What role does Directive play for ActivePDF? Who is Directive for ActivePDF?
Directive and ActivePDF have a phenomenal partnership and come together to solve problems many companies face. We address these challenges in a way that is unique for us. When we came to the table, we had to learn a lot about each other and what we need to accomplish.
We had certain limitations here. I needed more hands on deck, but I also needed a partner in my corner that could strategize with me on how to get these things done. We wanted to grow volume, work on SEO, work on lead quality, and work on visitor quality on our site in terms of the number of pages explored.
We have all that data up front so for us getting started, it was really about finding a partner we trust to set the footprint. Now that we're growing into our relationship, even more, we're ready to take the next steps and pick new KPI's we can focus on because we accomplished a lot of our goals.
Directive to ActivePDF is a fundamental cornerstone of a partnership that we rely on to communicate to our market that we are their digital transformation automation partner. And, we are right here for you. Directive helps us tell that story across the board to millions and millions of people.
What would be your advice to marketers?
If you're new to marketing, remember why you're marketing. A lot of people think marketers are just there to pick colors and logos and have fun with these little things. But this is not within 100 miles of what real marketing is.
B2B marketing is different than it was five years ago and certainly different than it was 10 or 20 years ago. People today are looking for instant gratification and satisfaction. When I go to Google and want to find what I need, it better be in those top three search results.
So how do you get to that? Well again, you're not creating just colors and shapes. You're creating content that drives people down the sales funnel on their own. If marketers want to get better, pick up some sales books.
Start to understand your buyer persona. Start to understand that buying journey. Start to understand what it actually takes to go from generating a lead through a trial all the way to a closed deal at the end of the buying cycle.
There's so much more to learn about it. It's not just about making Facebook updates, but understanding that you're going to generate revenue from that form of content. Find that purpose, build a plan, commit yourself to it, and set the target.
However, don't just come up and say, "Hey, we're going to have 10 Facebook updates today." That's not marketing, that's not what we do, in B2B especially. So, get out there, find who your target is, stick to that, pick up some books, and learn everything you can about sales before you try B2B marketing on a big scale. I think it'll entirely change your perspective. 
Keep reading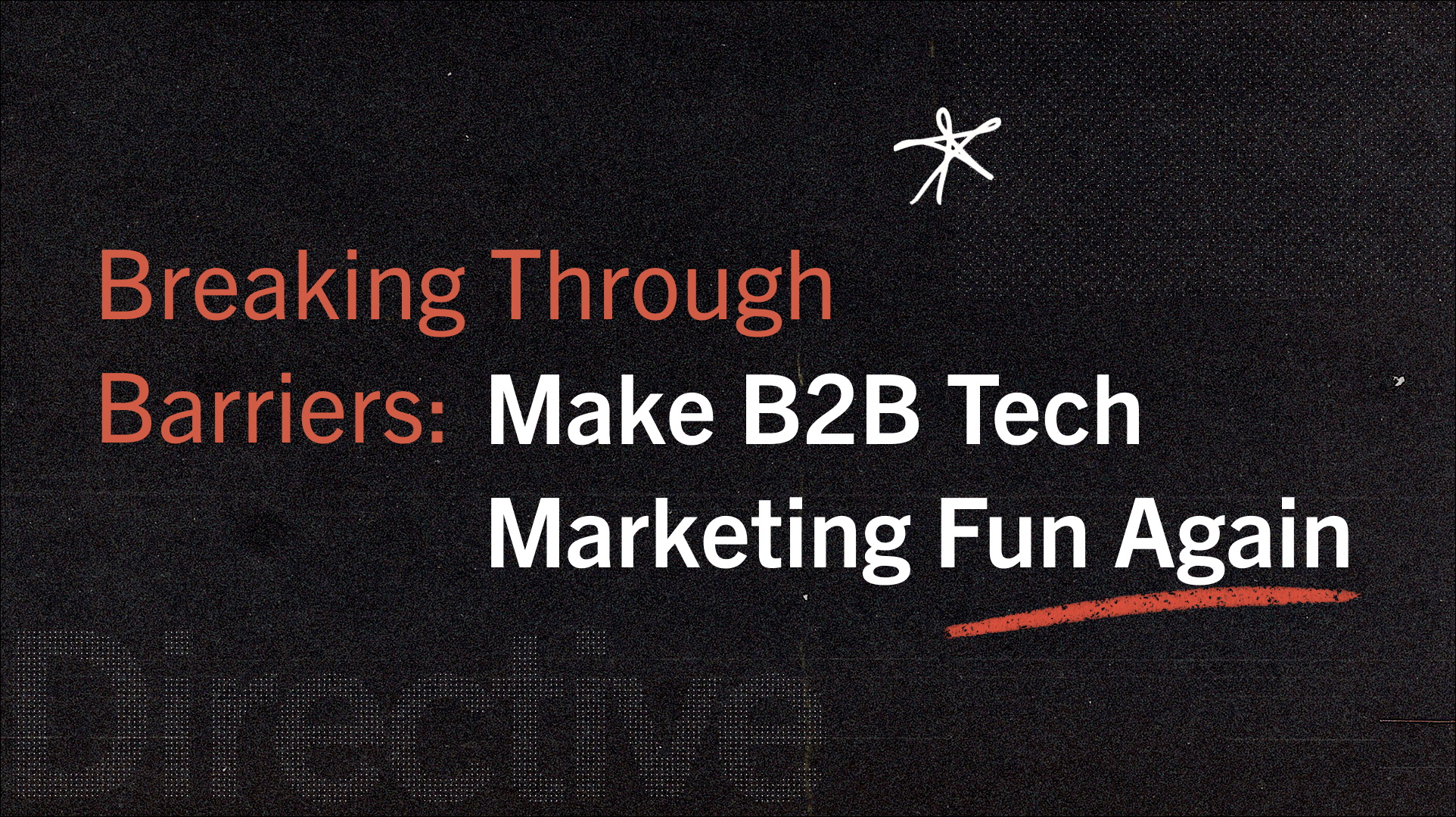 B2B
Breaking Through Barriers: Make B2B Tech Marketing Fun Again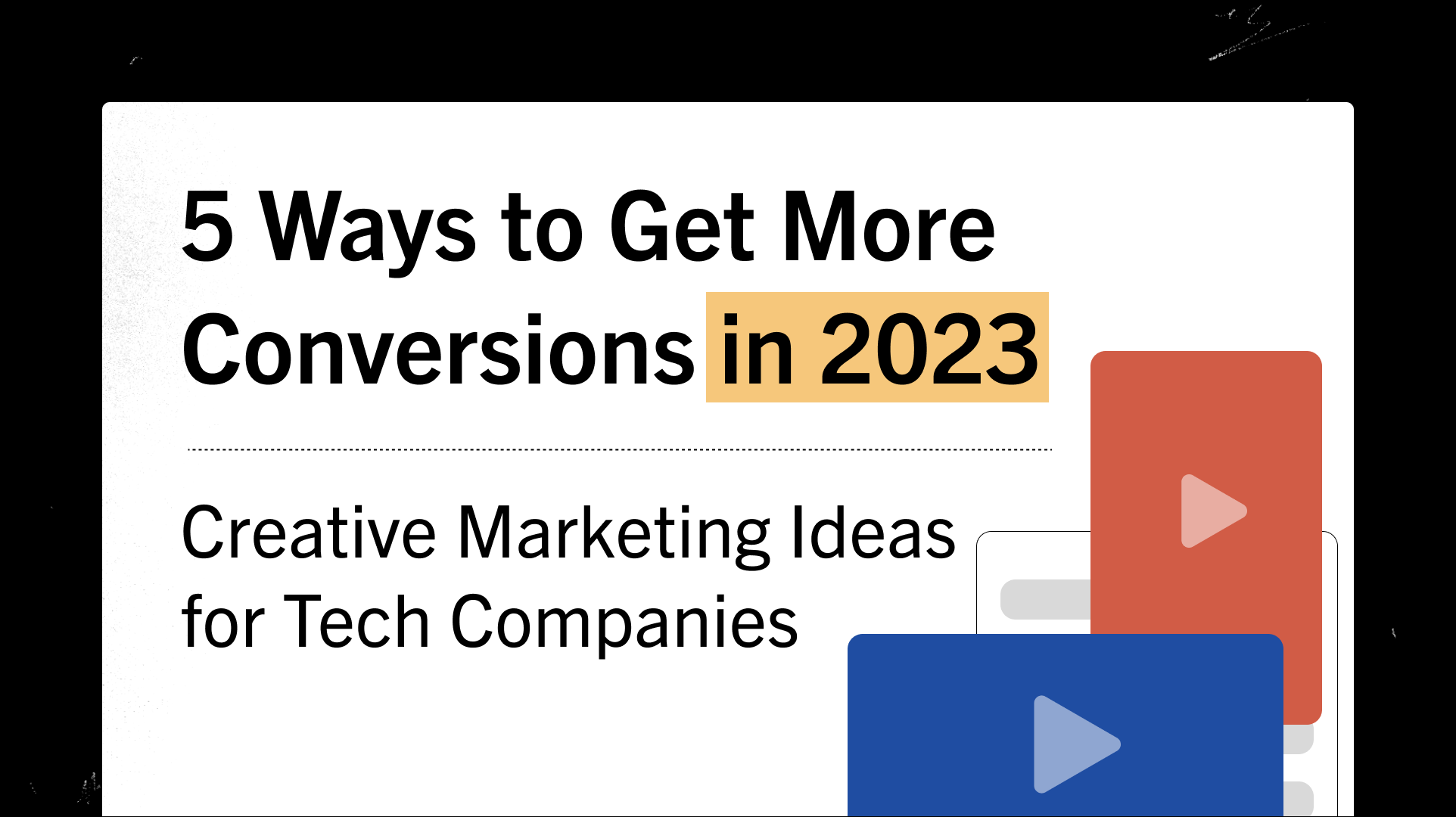 Content Marketing
5 Ways to Get More Conversions in 2023: Creative Marketing Ideas for Tech Companies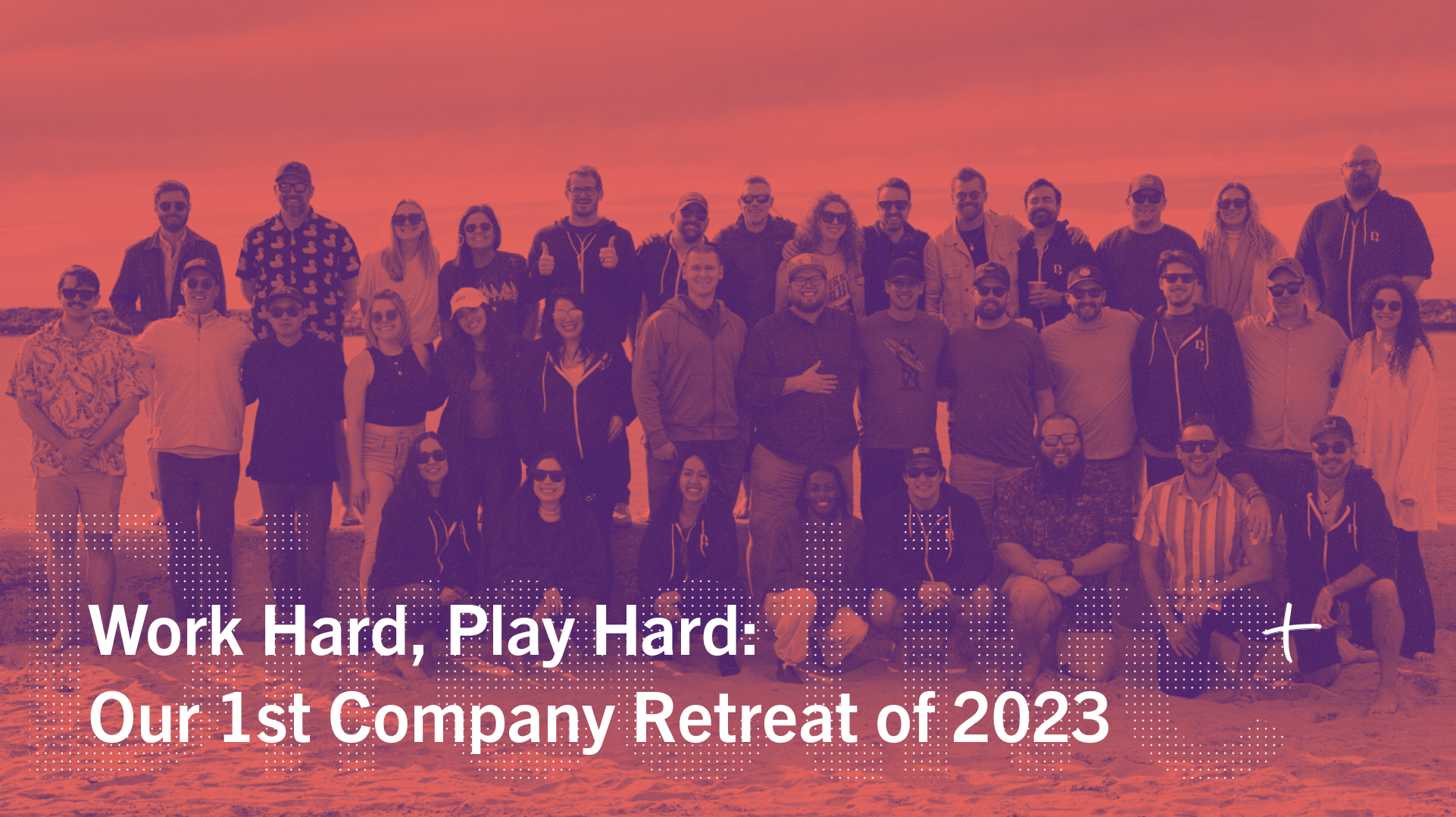 Events
How to Host Impactful Company Retreats as a Remote Team