5 Top Performance Marketing Agencies Celebrating 10+ Years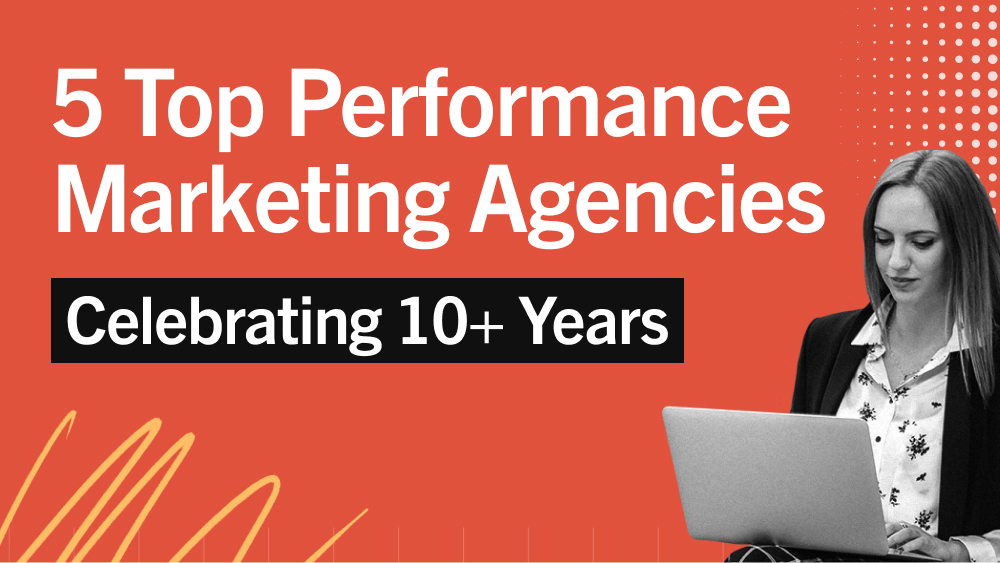 There are a ton of marketing agencies out there claiming they can do it all. But let's be real: doing everything often means excelling at nothing. If you're serious about crushing your growth goals, you need a specialized performance agency. And not just any newbie on the block — you need a seasoned pro who's navigating the shifting currents of the industry.
So, how do you separate the all-stars from the amateurs? We're here to help. This article dives into the must-have qualities of a top-notch performance marketing agency that have been around for 10+ years.
To make your life even easier, we've shortlisted the top 5 agencies you should have on your radar. Ready for some serious growth? Let's dive in.
What are Performance Marketing Agencies?
Performance marketing agencies laser-focus on driving tangible results, through developing and managing marketing strategies. Marketing pros refer to these measurable results as "key performance indicators" or KPIs (think clicks, conversions, or even direct sales.)
These agencies should know your target audience as well as you do. This isn't a new concept to the marketing landscape; it's a refined one.
Performance marketing has matured alongside the digital landscape, consistently adapting to the ever-changing worlds of the internet and social media.  In an overcrowded field of marketing agencies, those specializing in performance marketing stand out by ensuring that every strategy, and every action, delivers quantifiable value to the businesses they serve.
Choosing the Right Performance Marketing Agency
Choosing the right performance marketing agency goes beyond the allure of promised results — anyone can talk a big game. So, how do you make sure you're choosing the right agency? To sum it up: don't just look for an agency that promises the moon.  Here's a breakdown:
Consider their alignment with your brand. We're talking big-picture — boosting sales, ramping up visibility, or perhaps a mix of many objectives. The agency needs to get your vision, get you, believe in your brand, and have a clear path to help you achieve it.
Transparency and communication are the golden rule. An effective partnership thrives on open dialogue. An agency should be an open book for discussing strategies, sharing performance metrics, and presenting results. Think of it as a two-way street where the lines of communication are always open.
Flexibility and a knack for innovation are must-haves. The digital world doesn't stand still, and neither should your agency. You'll want a team that proactively adapts and always seeks ways to innovate. They should be on the cutting edge, cooking up fresh strategies to keep you ahead of the curve.
Expertise and specialization should be paramount. 'Do it all' is code for 'does everything mediocre.' Look for an agency that offers exactly what you need help with. If an agency has prior experience in your industry, consider it a big plus. They'll bring valuable insights to the table, tailoring strategies that resonate with your specific audience.
Performance Marketing – Explained
When it comes to making a lasting impact with your marketing dollars, not all agencies are created equal. Sure, a general marketing agency might offer you a wide swath of services, but are they accountable for the outcomes? Enter the realm of performance agencies, where the focus shifts from general activities to concrete results.
Benefits of Performance Marketing
Accountability: In the performance marketing space, agencies are held to the fire for actual results, instilling a level of trust and confidence that's hard to find in other corners of marketing.
Measurable success: In a world where data is king, performance marketing reigns supreme. With well-defined KPIs, you can continuously track the effectiveness of your campaigns. It's not about gut feelings; you need hard numbers that prove ROI.
Cost-effectiveness: No more rolling the dice on strategies that might work. In performance marketing, you're putting your money on outcomes, not just efforts. This ensures a more efficient use of your budget, and more importantly, peace of mind knowing you're investing in strategies that genuinely work.
Targeted reach: Broad strokes? Not here. Performance marketing lets you connect with your audience on a more personal level. It's about targeted, precision-based reach that ensures your message is hitting home, not getting lost in the digital abyss.
5 Top Performance Marketing Agencies Celebrating 10+ Years
When it comes to choosing the right agency, it's not as simple as which company has been in the game the longest. Our criteria for choosing the best fit should also consider exceptional service and innovative strategies.
Here's our list of the 5 top-performing marketing agencies, in alphabetical order.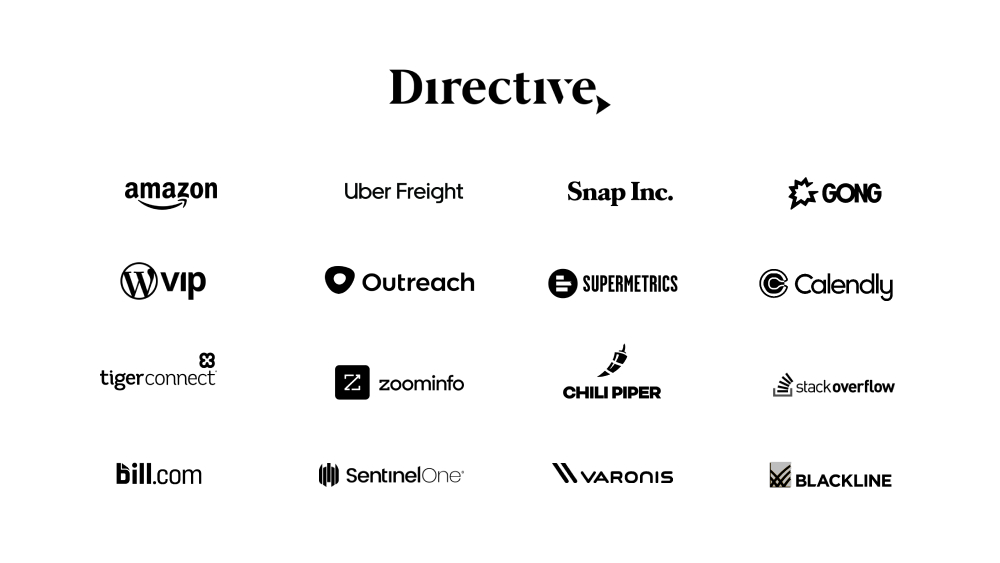 Agency #1 – Directive Consulting [Celebrating 10 Years]
Directive entered the marketing world in July 2013 with a crystal-clear mission — to challenge the status quo and elevate standards. Their rise from humble beginnings to an impactful, time-tested agency is a testament to their dedication to their clients. They don't just go through the motions; they set the pace.
Core Values and Mission Statement
Innovation, integrity, and a relentless drive for excellence — that's the DNA of Directive. They're not content with just doing business as usual. They aim to deliver tangible results that significantly impact the bottom line. Directive's mission is to help 15,000 people do better SaaS marketing by 2024.
Notable Clients and Case Studies
When it comes to their client roster, Directive isn't just adding names to a list. They're building partnerships with industry leaders, making waves in the tech world with over 200 top-tier clients, including big hitters like Adobe and Amazon. But it's not the names that impress; it's the outcomes of the success stories.
Innovative Strategies and Approaches
Digital marketing is an ever-evolving game, and Directive is always a step ahead. With innovative approaches in SEO, SEM, and more, they differentiate themselves from the competitors. Directive recognizes the importance of staying ahead of the curve and adapting to future challenges in the world of performance marketing.
Technology and Data-Driven Solutions
Directive thrives on data-driven decisions. Utilizing cutting-edge technology, they offer solutions that are not just impactful but also scalable. They're not in for the short haul; they build strategies that adapt and grow.
Thought Leadership and Industry Contributions
Directive is a team of thought leaders who contribute actively to the growth of the evolving industry. They're a trusted voice in the marketing landscape, whether it's insightful articles, podcast interviews, or speaking at conferences. All things considered, Directive brings a blend of collaborative spirit, technological prowess, and a relentless commitment to excellence, making it a top choice for businesses looking to make real gains.
Directive Consulting is a Leading Agency in the Field
If you're in the tech industry, you know the intricacies of marketing in such a competitive field. Boasting a team of over 150 specialized tech marketers, Directive has the trust of more than 200 tech companies, generating over $1 billion in revenue for their diverse clientele that ranges from early-stage startups to industry giants like Adobe and Amazon.
Unlike agencies that offer "one-size-fits-all" solutions, Directive provides a fully integrated approach that caters to each brand's unique needs, giving each company the attention it needs. Their key services encompass common offerings like paid media and SEO, but also offer specialized strategies that extend into lifecycle marketing, creative design, and even financial modeling.
Directive also employs a proprietary "Customer Generation" methodology that goes beyond merely capturing leads. Instead, they focus on acquiring high-value customers, emphasizing the complete user lifecycle.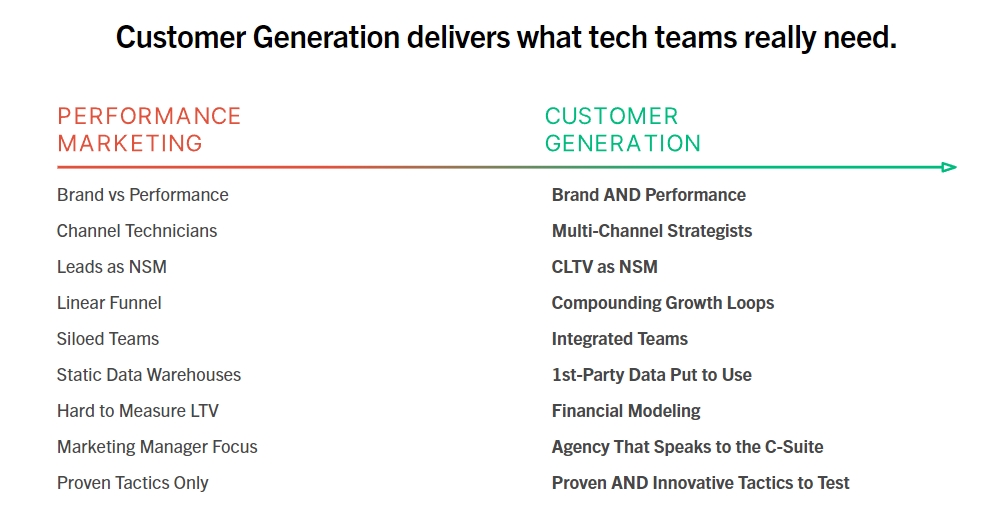 They differentiate by committing to innovation, like devoting $3 million annually to marketing R&D to develop new success strategies. Their performance metrics align both immediate KPIs and their North Star Metric, ensuring a focus on long-term growth rather than quick wins.
With a track record of success, you can't go wrong with Directive as your partner.
Agency #4 – Simple Tiger [Celebrating 19 Years]
Simple Tiger offers comprehensive marketing solutions tailored to meet specific business needs. Simple Tiger is one of the oldest agencies in the SaaS and B2B space and was founded in 2005 by Jeremiah and Sean Smith.
Overview and Strengths
Simplicity is their strength. By offering clear and comprehensive strategies, Simple Tiger ensures that clients' marketing efforts are aligned with their goals. Their specialty in search engine optimization and commitment to getting their clients the fastest possible success makes them a standout option.
Services Offered:
Conversion Rate Optimization
SEO and Content Marketing
Link Building
Paid Advertising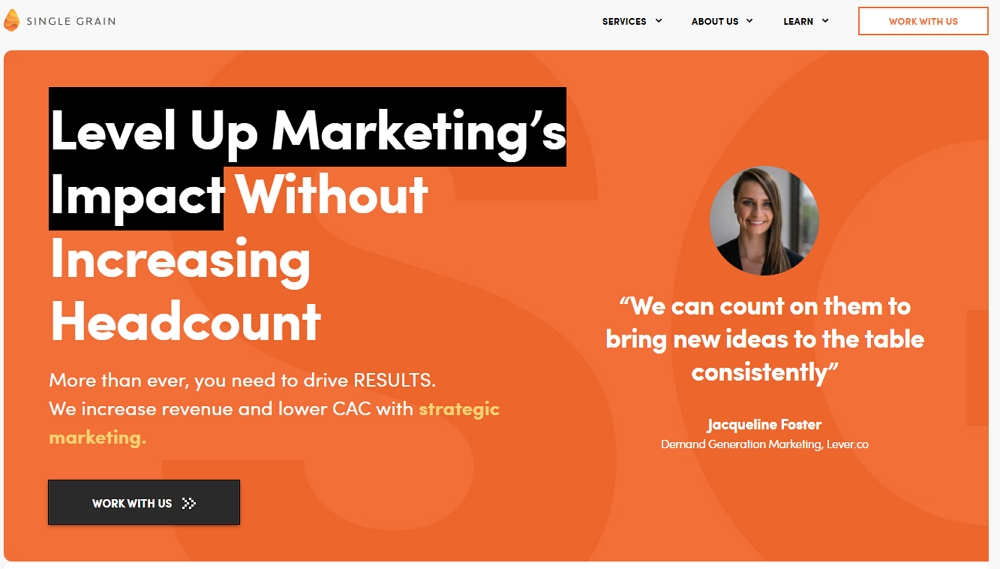 Agency #2 – Single Grain [Celebrating 19 Years]
Single Grain was established by founder Eric Sui back in 2005. Sui later repurchased the agency back in 2014 for $2.00. Single Grain is known for being a digital marketing agency that combines expertise and innovative solutions for their SaaS and B2B clients.
Overview and Strengths
Single Grain has carved out its specialties in E-commerce, pay-per-click, search engine optimization, lead generation, conversion rate optimization, and performance marketing. With a team of highly specialized marketing experts, they excel in search engine optimization, social media marketing, and data-driven strategies.
Services Offered:
Conversion Rate Optimization
SEO and Content Marketing
Paid Advertising
Analytics and Reporting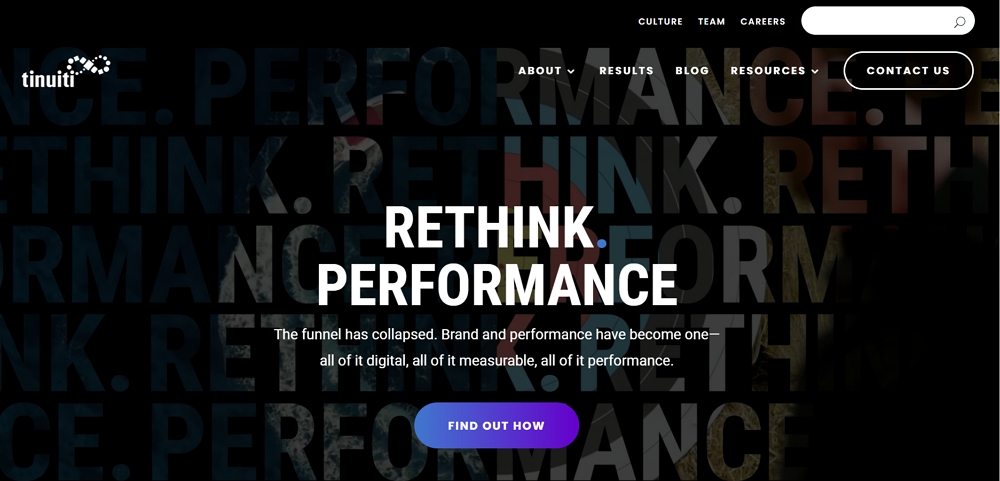 Agency #5 – Tinuiti [Celebrating 20 Years]
Tinuiti is a team of brand performance marketers that focus on maximizing clients' growth through integrated, full-service marketing efforts. Tinuiti was founded by Ben Kirshner in 2004 and rebranded from its original Elite SEM name.
Overview and Strengths
Tinuiti claims themselves as the largest independent performance marketing firm out there, boasting a holistic approach that spans from affiliate marketing and Amazon Seller's Central to SEO and content marketing. Their data-backed strategies are crafted to help brands forge enduring relationships with their target consumers.
Services Offered:
Conversion Rate Optimization
SEO
Paid Media
OTT and Streaming
Affiliate and Influencer Marketing
Creative
Analytics
Commerce sites like Amazon, Walmart and Target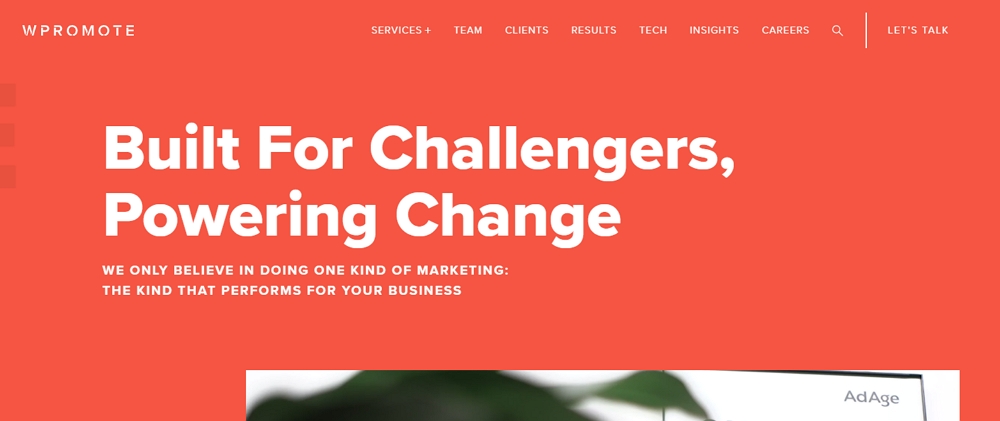 Agency #3 – WPromote [Celebrating 23 Years]
WPromote was founded in 2001 by Michael Mothner while he was still in college. The firm came from humble beginnings in their founder's dorm room and rose to one of the fastest-growing and widely recognized performance marketing firms in the country.
Overview and Strengths
With a focus on crushing business challenges, WPromote has mastered the art of delivering measurable results earning over 52 awards including 2021 Agency of the Year. Their combination of visually appealing content with solid performance marketing strategies has earned them a place among the best performance marketing agencies.
Services Offered:
Conversion Rate Optimization
SEO and Content Marketing
Paid Advertising
Email Marketing
Affiliate and Influencer Marketing
Analytics
FAQS
What is the importance of Performance Marketing and its significance?
Performance marketing is a critical component of today's business landscape. It allows companies to measure their marketing efforts and optimize strategies for better results.
How were the Top Performance Marketing Agencies of 2023 determined?
The selection process involved careful analysis of expertise, client success stories, innovation, year founded, and overall market impact.
What services can I expect from these top marketing agencies?
From search engine marketing to social media marketing, a full-service agency will offer comprehensive solutions tailored to meet specific business goals. Other key service lines should include:
Digital advertising services
Digital marketing strategy
Paid social advertising
Affiliate and influencer marketing
Content marketing
Analytics and Reporting
How can partnering with a top-performance marketing agency benefit my business?
Working with a top-performance marketing agency can drive measurable results, increase brand visibility, and foster growth. Ultimately, top-performing marketing agencies offer the highest ROI.
Are these top-performance marketing agencies suitable for businesses of all sizes?
No, these agencies are best suited for businesses that are in a position ready to scale and can fully leverage the specialized services offered.
What are some Key Performance Indicators (KPIs) used in Performance Marketing?
When it comes to Click-Through Rate (CTR), think of it as your campaign's pulse. It measures more than just clicks; it reveals how engaged your audience is. A strong CTR? That's a sign your message resonates.
Moving on to Conversion Rate: This is where the rubber meets the road. This KPI zeroes in on the percentage of visitors who follow through with a desired action from a specific call to action. Whether they're signing up for a newsletter or hitting 'buy now,' this rate tells you if your content has real pull.
Customer Acquisition Cost (CAC) serves as your financial guide. It distills all the expenses — ads, labor, tools — into a single figure. On a high level, this number helps you make smarter budget decisions and sharpens your overall performance marketing strategy.
For Return on Ad Spend (ROAS), think of it as your ROI spotlight. It shows how much bang you're getting for your advertising buck, this should be your most influential number for measuring the effectiveness of each campaign.
Tips for Selecting the Right Agency for Specific Business Needs
While there is no definitive "perfect agency", here are five practical tips to help you cut through the noise in your decision-making process:
#1: Look For Specialization
Don't just skim the surface — dig deep into an agency's specialty areas. If you're in the SaaS sector, you want an agency that understands the intricacies of SaaS marketing, not just general marketing know-how.  Various industry knowledge is key in today's world.
#2: Scrutinize Client Success Stories
Past performance is a reliable indicator of future results. Take the time to delve into an agency's case studies and testimonials. Reach out to some of their past clients if possible; their insights might be the golden ticket you need to make your decision.
#3: Make Sure You're Listened To
An agency could be a rockstar in their field, but if they don't "get" your brand and your goals, it's a no-go. Ensure that they're willing to adapt their strategies to align with your specific objectives.
#4: Over-Communicate
How quickly does the agency respond to your queries? Do they clearly explain their strategies and metrics? Good communication is the backbone of a successful partnership, and an agency that values transparency will instill confidence.
#5: Prioritize Adaptability
The digital landscape changes at breakneck speed. Your chosen agency should keep up and strive to be a frontrunner in adopting new techniques and technologies. The best results speak for themselves.
Conclusion
Ready to take the next step? We're here to help your business thrive. Book a discovery call and position your company at the forefront of your industry.