Remarketing vs. Retargeting: What's the Real Difference?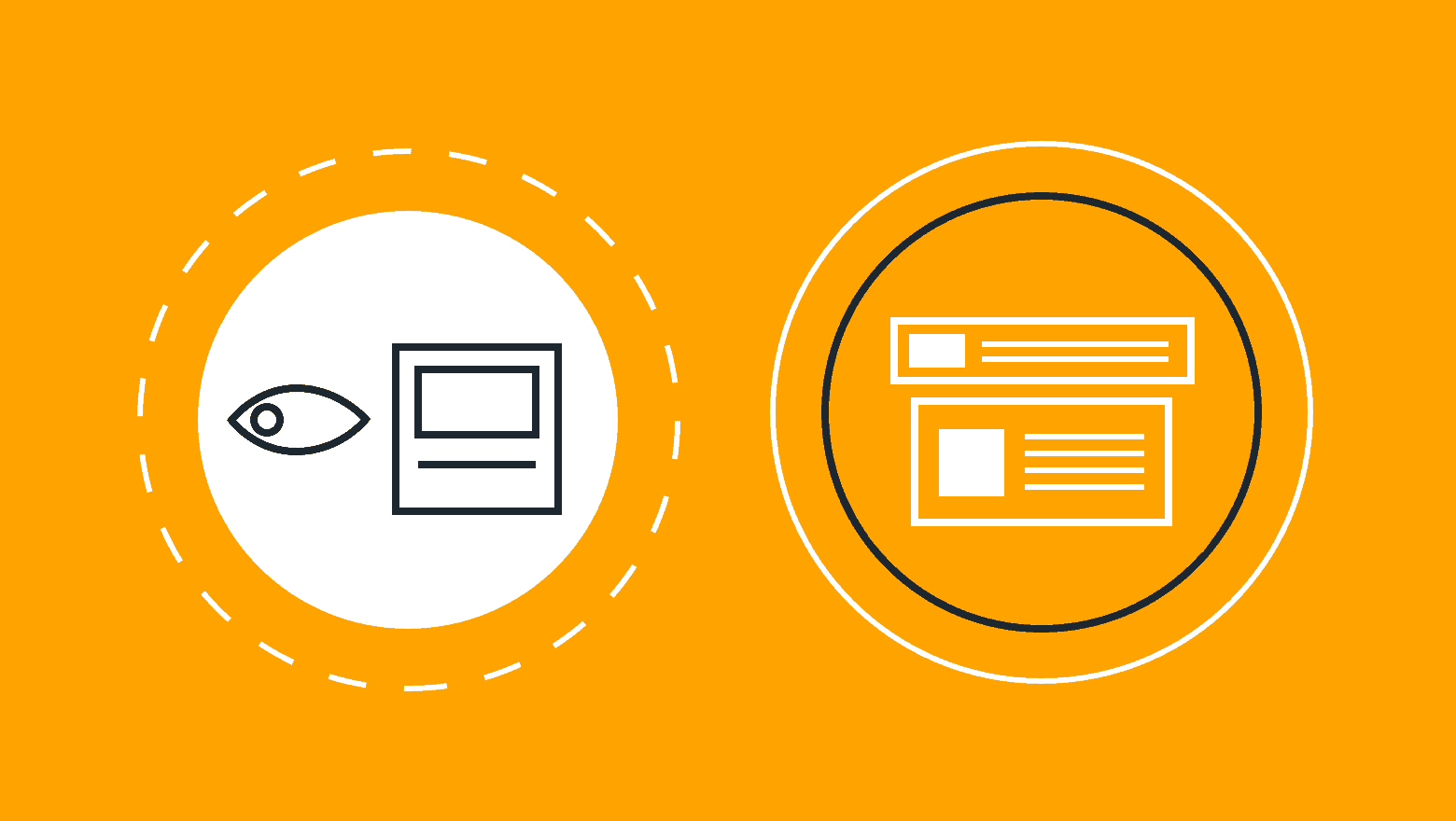 Do you know the difference between a remarketing vs. retargeting campaign in digital advertising?
The terms remarketing and retargeting have both been used to describe marketing campaigns that target users who have previously interacted with your brand. The confusion about these terms stems from the fact that email marketers and display advertisers have used both terms to describe what they do – even when what they do ends up being very different. As a result, some marketers use these terms interchangeably while others insist that they mean totally different things.
In this guide, we'll give our perspective on the similarities and differences between remarketing vs. retargeting in digital marketing. We'll also give examples of each to help you decide which strategy you should use to help drive conversions for your own campaign.
Remarketing vs Retargeting: What's the Real Difference?
To make this a fair comparison, we want to present all of the main perspectives when it comes to Remarketing vs. Retargeting.
Perspective #1 on Remarketing vs. Retargeting: Not the Same Thing
Remarketing and Retargeting campaigns both work by targeting audiences that have interacted with your brand in the past, attempting to re-engage them, and encouraging a purchase.
Retargeting campaigns do this with display advertisements, using tools like AdRoll, ReTargeter, and Google Ads. Display advertising networks use browser cookies to gather user behavior data, then serve ads to users based on their browsing history.
Remarketing campaigns do this with email marketing, using tools like MailChimp, Constant Contact, and SendinBlue. Remarketing campaigns usually involve collecting contact email addresses from users as part of an account creation process, tracking account behavior, and triggering personalized email campaigns based on account activity or inactivity.
Who Sees it That Way?

Image: AdRoll distinguishes between remarketing (for email) and retargeting (for ad networks).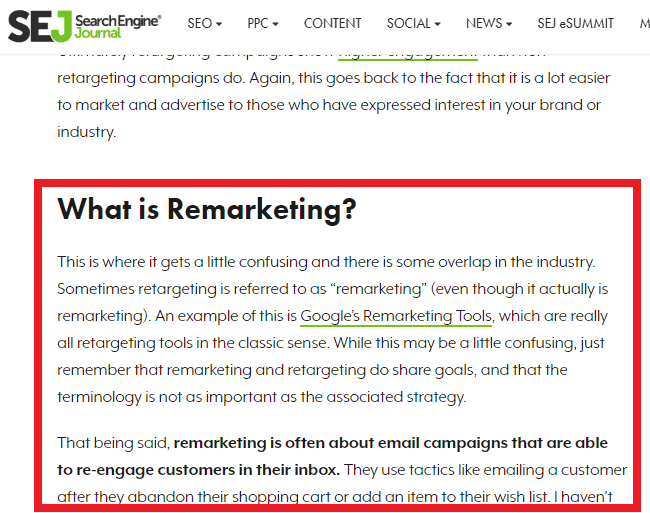 Image: Search Engine Journal posits that Google's Remarketing Tools should actually be called Google's Retargeting Tools, since it's for PPC display advertising and not for e-mail.
Alexa


Image: The Alexa blog differentiates between retargeting with paid advertisements and remarketing to past customers using collected email addresses
Perspective #2 on Remarketing vs. Retargeting: Interchangeable Terms
Remarketing and retargeting are interchangeable terms that describe the same essential process: marketing to customers that have previously interacted with your brand.
Remarketing mainly uses cookies to capture user behavior data and serve display ads to users as they browse the web. Email remarketing campaigns that use collected contact information are considered a sub-set of remarketing – not a totally separate thing. In this perspective, all customer re-engagement efforts would be considered remarketing.
Who Sees it That Way?

Image: MailChimp says that remarketing includes both display ads and follow-up emails.

Image: According to the relevant Wikipedia article, retargeting and remarketing are the same thing. E-mail retargeting is listed here as a sub-type of behavioral retargeting that uses cookies to match website users to a known email address before sending a follow-up email.
Perspective #3 on Remarketing vs. Retargeting: The Google Perspective
Google uses the word "remarketing" exclusively when referring to its capability to target advertisements at audiences who have previously interacted with your website, brand or social media profiles.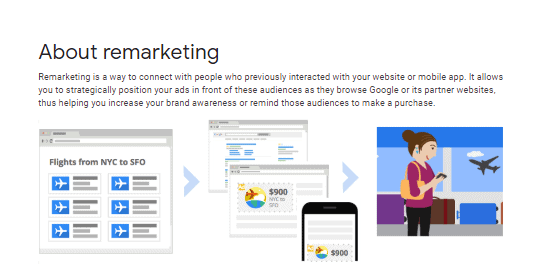 Image: About Google's remarketing tools for digital advertisers
This perspective seems to exclude e-mail outreach as a form of remarketing, but it has been widely adopted by digital marketers and advertisers who focus on paid display advertising when it comes to connecting with audiences.
Remarketing vs. Retargeting: Which Perspective is Correct?
We don't think that any of these perspectives are necessarily more "correct" than the others.
However, we do feel that digital marketers should recognize the differences between remarketing campaigns that use display ads vs. those that use email, and when to use each one.
For that reason, we think it's beneficial to view remarketing (with email) and retargeting (with display ads) as separate, but related parts of your overall marketing plan.
Remarketing vs. Retargeting: When to Use Each One?
When to Use Display Ad Retargeting
A retargeting campaign can be planned and managed on a display advertising platform like Google Ads or AdRoll.
Retargeting ad campaigns target users that have interacted with your website or brand in the past.
Retargeting can also be used to target audiences who may not have interacted with your brand directly, but have interacted with similar brands or made searches relevant to your brand in the recent past.
Every digital marketer should know how to set up a remarketing campaign using Google Ads.
You should consider launching a retargeting display ad campaign when:
Your Ad Budget is Low
If you're experimenting with a low daily PPC budget, you should consider allocating that budget to a retargeting campaign. When you can only afford a few clicks each day, you want to make sure they're coming from the most qualified prospects – ad platform Criteo has found that clicks from retargeted ads convert at a 43% high rate than normal display ad clicks.
You Want to Increase Brand Awareness
Put yourself in the shoes of your customer. They visit your website and browse for a while, but leave without purchasing. Later, they encounter one of your ads while browsing the web. They may not click on it, but the repeated exposures to your brand spaced over time create good conditions for improved recall. That person now remembers your brand, and they're more likely to think of you in the future when it's time to purchase.
You Need More Engagement
Marketing platform Wishpond has discovered that retargeted ads have 10X the click-through rate of regular display ads, making them one of the most efficient means of driving more traffic to your website.
When to Use Email Remarketing
An email remarketing campaign uses personalized emails to engage or re-engage with users depending on their on-site behaviors. Customer lifecycle emails, shopping cart abandonment emails, and cross-selling emails with related products are all examples of remarketing campaign emails.
We'd recommend using email marketing exclusively with website visitors that have subscribed to receive emails or opted into an email list. From there, you'll have several opportunities to target these users with personalized, context-specific and highly targeted email campaigns.
We'd recommend using email remarketing for:
Targeting Inactive Users
A customer who makes a purchase from your website usually gives their email as part of the purchase process. When that customer goes 30 or 60 days without visiting your website again, it's time for a follow-up remarketing email to remind them about your great products.
Reducing Shopping Cart Abandonment
If a user abandons their shopping cart before hitting the "checkout" button, a short e-mail can act as a gentle reminder for the user to return to your website and finalize their purchase.
Creating Cross-Sell Opportunities
If a customer makes a purchase from your online store, a follow-up email featuring products that complement the original purchase can result in additional sales.
Summary
Thanks for reading about the differences between remarketing vs. retargeting!
The semantic debate over these terms will most likely continue, but the most important thing for digital marketers is to understand the different remarketing techniques that exist, then implement those techniques to drive marketing campaign success.
Keep reading
Agency Life
Top 5 Oldest Performance Marketing Agencies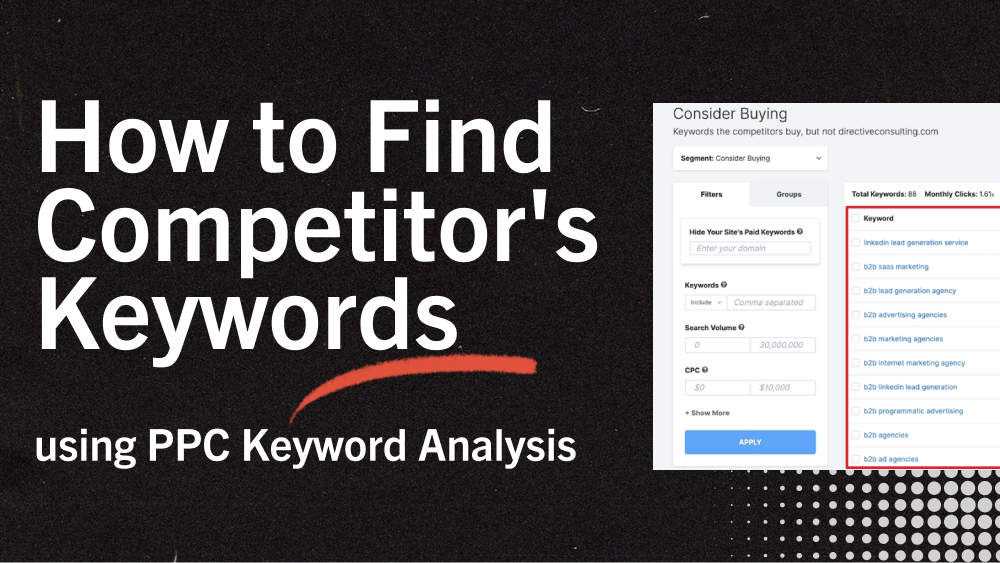 PPC
How to Find Competitor's Keywords with SpyFu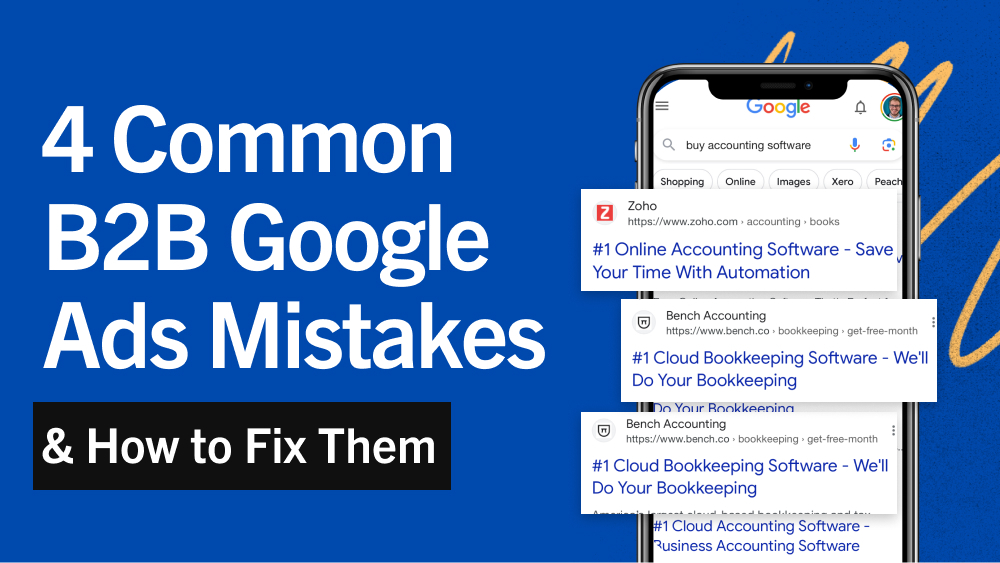 B2B
4 Common B2B Google Ads Mistakes and How to Fix Them