6 Best SEO Competitor Tracker Tools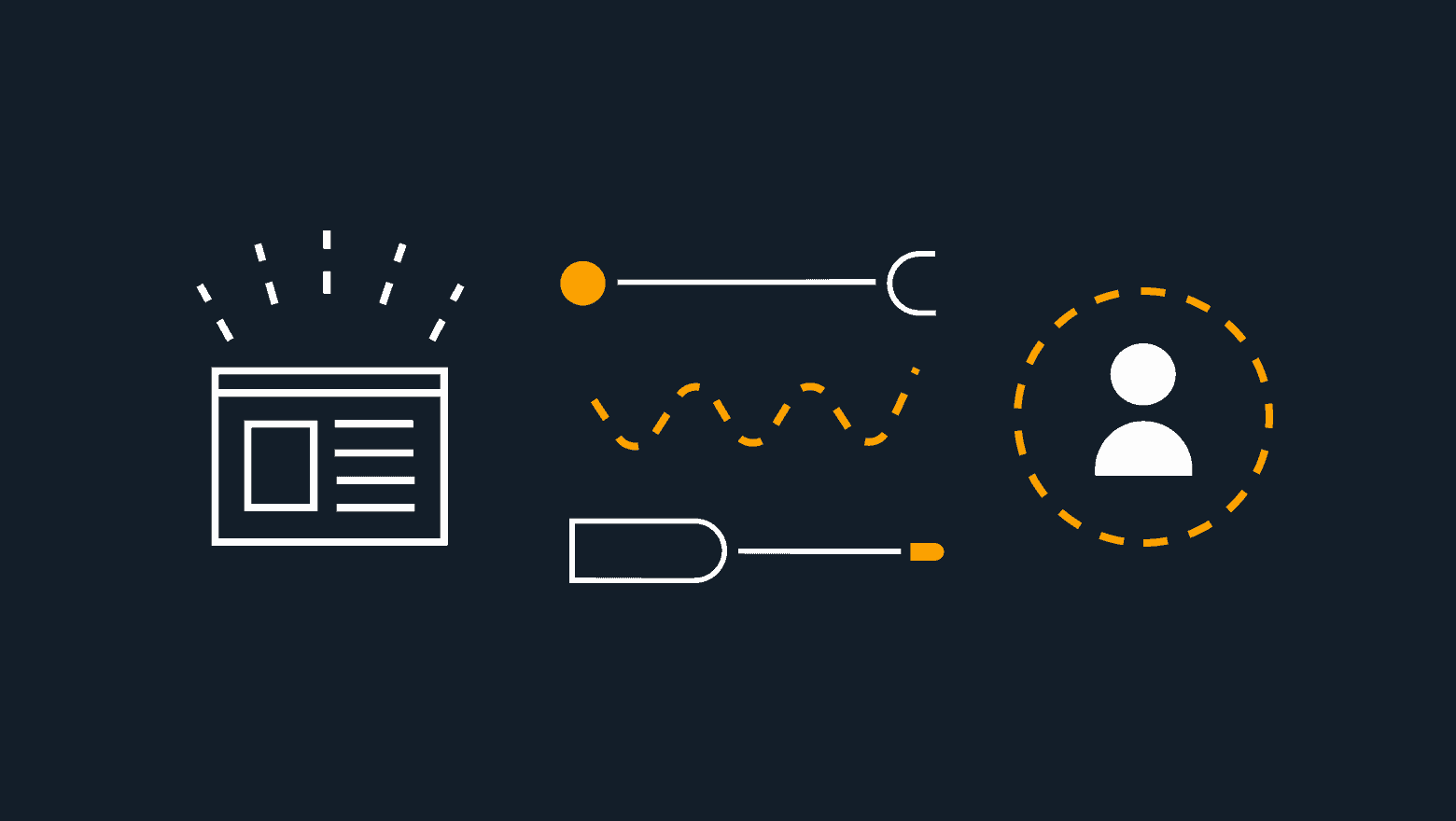 Looking for the best SEO competitor tracker tools to help you get ahead of your competition in organic search rankings?
Competition for the top-ranking positions in Google search results is intense -, especially for the most valuable keywords and search queries. The most successful digital marketers understand that spying on their competitors can help identify the best opportunities to generate the most organic search traffic with the least effort and expense.
The best way to spy on your competitors and gather actionable competitive intelligence is to use competitor analysis tools. With the right SEO competitor tracker tools, you can see what keywords your competitors are ranking for, monitor changes to their backlink profiles, keep tabs on what content they release and when, and a whole lot more.
To help you get started with SEO competitor research, we've put together this list of the 6 best SEO competitor tracker tools.
6 Best SEO Competitor Tracker Tools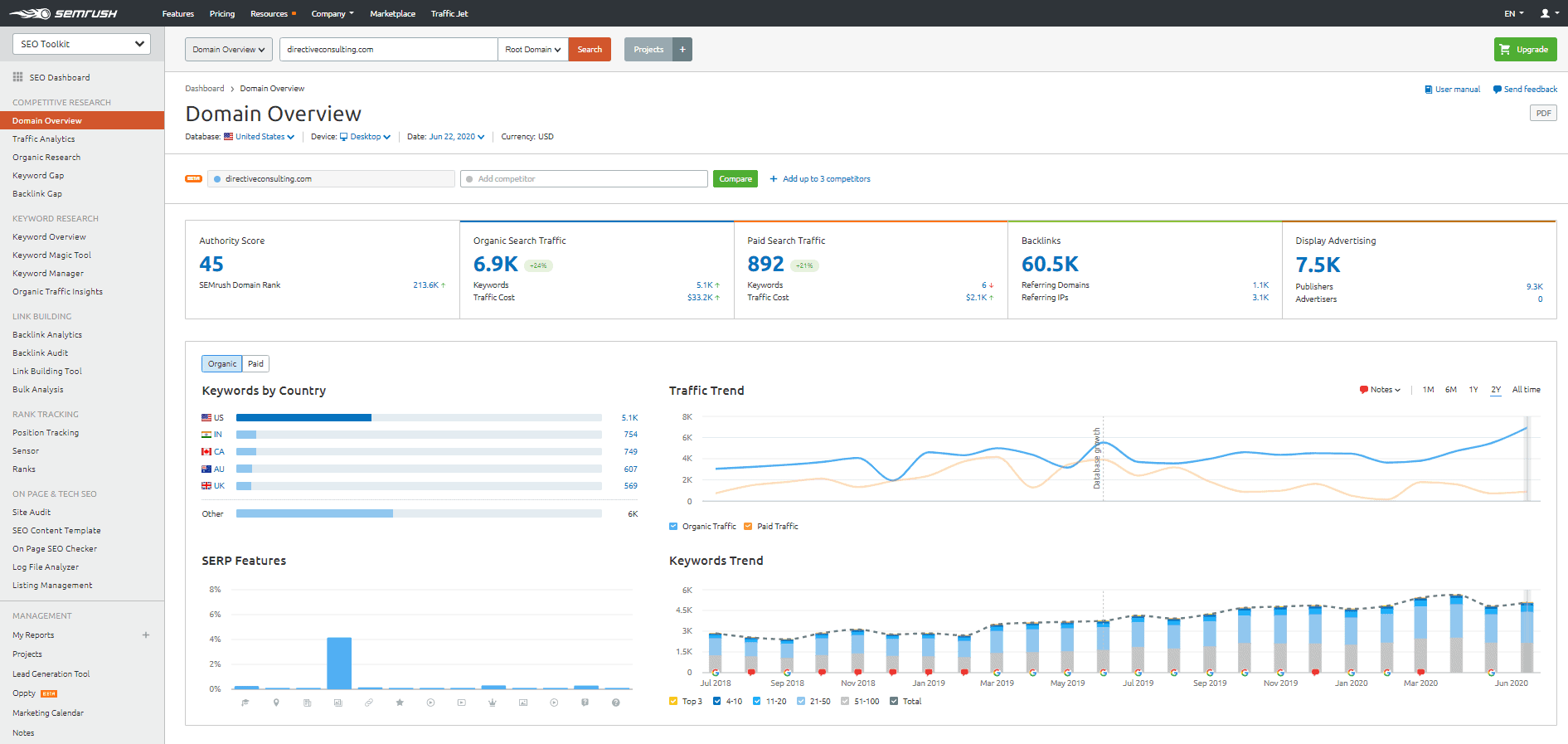 Overview: SEMrush is an industry leader in SEO software solutions. Digital marketers rely on SEMrush for its technical SEO audit capabilities, keyword research functionality, and powerful competitive intelligence – along with many other useful tools and features.
Key Features: SEMrush offers 5 competitive research functions for digital marketers:
Domain Overview – Enter any domain name and get a complete competitor overview, including keyword rankings, backlink profile, top content, and more.
Traffic Analytics – Analyze web traffic, collect audience insights, and discover top pages for any online competitor.
Organic Research – See what keywords your competitors are ranking for and which keywords are producing the most traffic.
Keyword Gap – Find gaps in your keyword coverage by comparing your keyword profile to your competitors.
Backlink Gap – Analyze competitor backlink profiles and compare them with yours to discover new backlink generation or outreach opportunities.
Pricing: A free SEMrush allows a limited number of competitive research queries per day. For unrestricted access, users can purchase a subscription package starting at $99.99/month.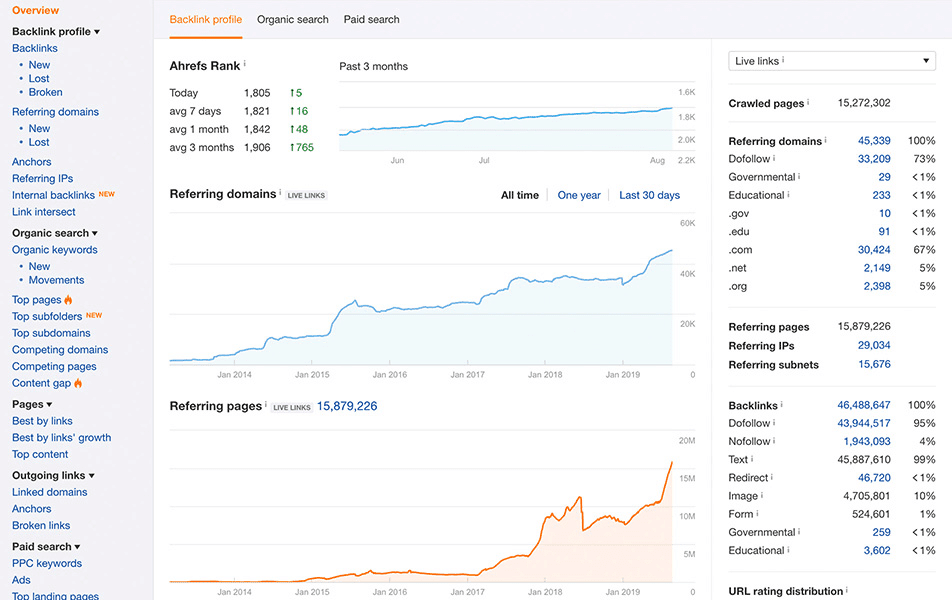 Overview: Ahrefs is one of the leading SEO software tools with a variety of high-impact tools for digital marketers. The Ahrefs Keywords Explorer and Content Explorer tools help marketers discover new ways to capture organic traffic, while ahrefs Site Explorer offers an in-depth look at valuable competitor data.
Key Features: Ahrefs Site Explorer combines three different types of competitor intelligence into a single interface:
Organic traffic analysis – Determine what keywords your competitors rank for and which pages on their site generate the most organic traffic.
Link profile analysis – View backlink profile data for your competitors and replicate their best links to make your pages even more successful.
Paid traffic analysis – Find out what keywords your competitors are targeting with paid advertising campaigns, see their top landing pages, and even view their ads.
Pricing: Get started with Ahrefs by purchasing a free trial account for just $7. Subscription packages start at $99/month for Lite and up to $999/month for agencies who need lots of data for multiple projects.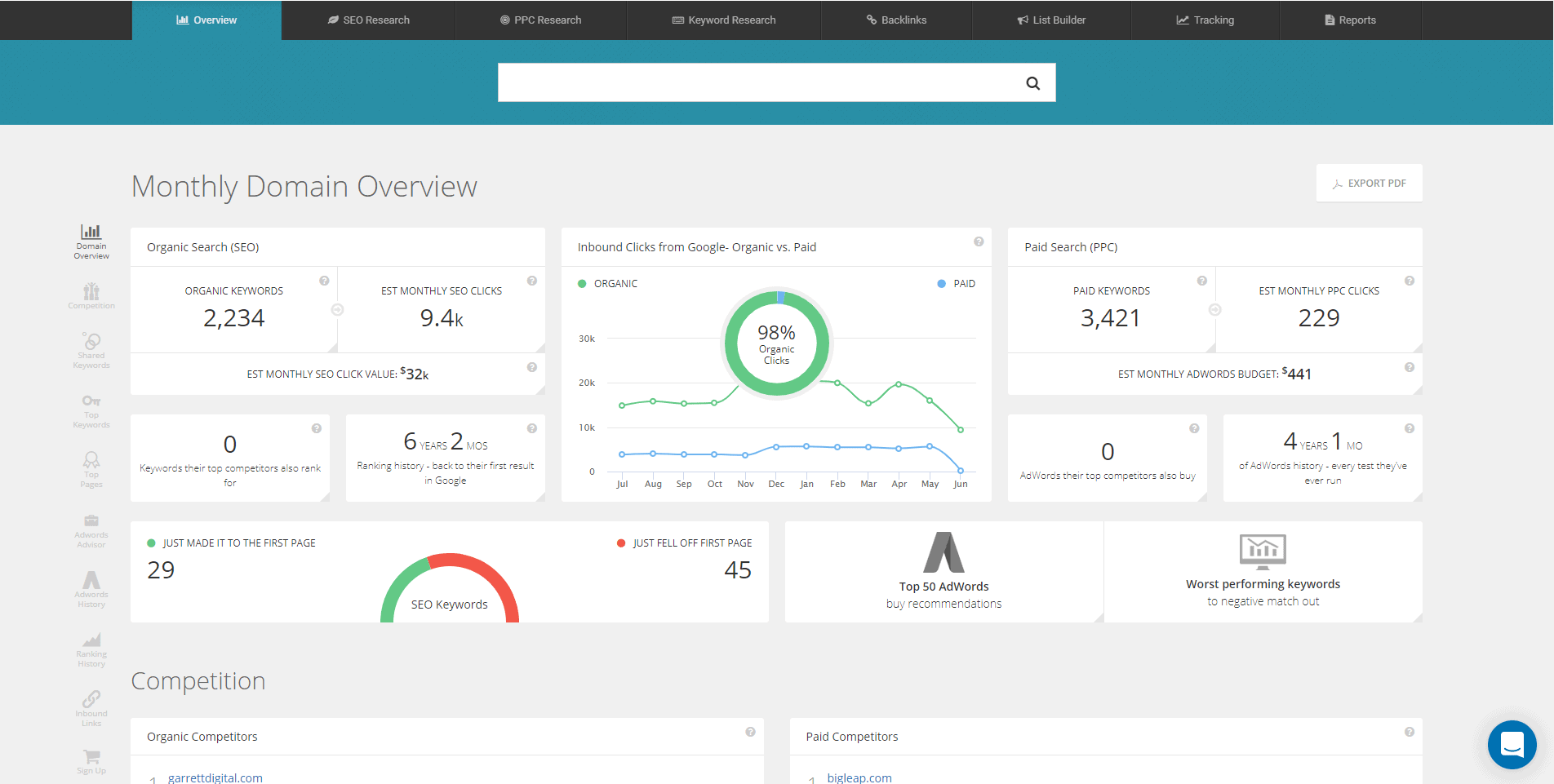 Overview: As its name suggests, SpyFu is all about giving digital marketers the tools they need to spy on their biggest online competition. SpyFu is one of a few SEO competitor tracker tools on this list that is almost entirely focused on competitive intelligence.
Key Features: SpyFu offers a multifaceted, in-depth look at the organic search performance of any online competitor. You can start by typing in your own web domain – SpyFu will automatically identify competitors online based on websites that share many common keywords with your website. You'll be able to track their keyword rankings, monitor link profiles, and perform gap analysis – all from the same intuitive web-based interface.
Pricing: SpyFu subscription packages start at $39/month for the basic plan and go up to $299/month for the team package. The best part is that all subscriptions offer unlimited search results, so you'll always be able to see complete data for your competitors – even the lowest subscription tier.
Overview: Another one of our SEO competitor tracking tools with a major emphasis on competitive intelligence, iSpionage helps digital marketers conduct digital espionage (exclusively the legal kind!) on their biggest search competitors.
Key Features: iSpionage offers a simple, web-based interface for accessing all of the relevant keyword and domain information about your SEO competitors. With iSpionage, you can spy on your competitor's top pages, best-performing organic keywords, and search rankings. You can also access paid search data for online competitors, including ad content and keyword targeting.
Pricing: iSpionage does allow a free trial of its SEO competitor tracker tools, but with a limited number of search queries. Paid subscriptions start at $59/month for small business owners and solo marketers, and go up to $299/month for agency clients.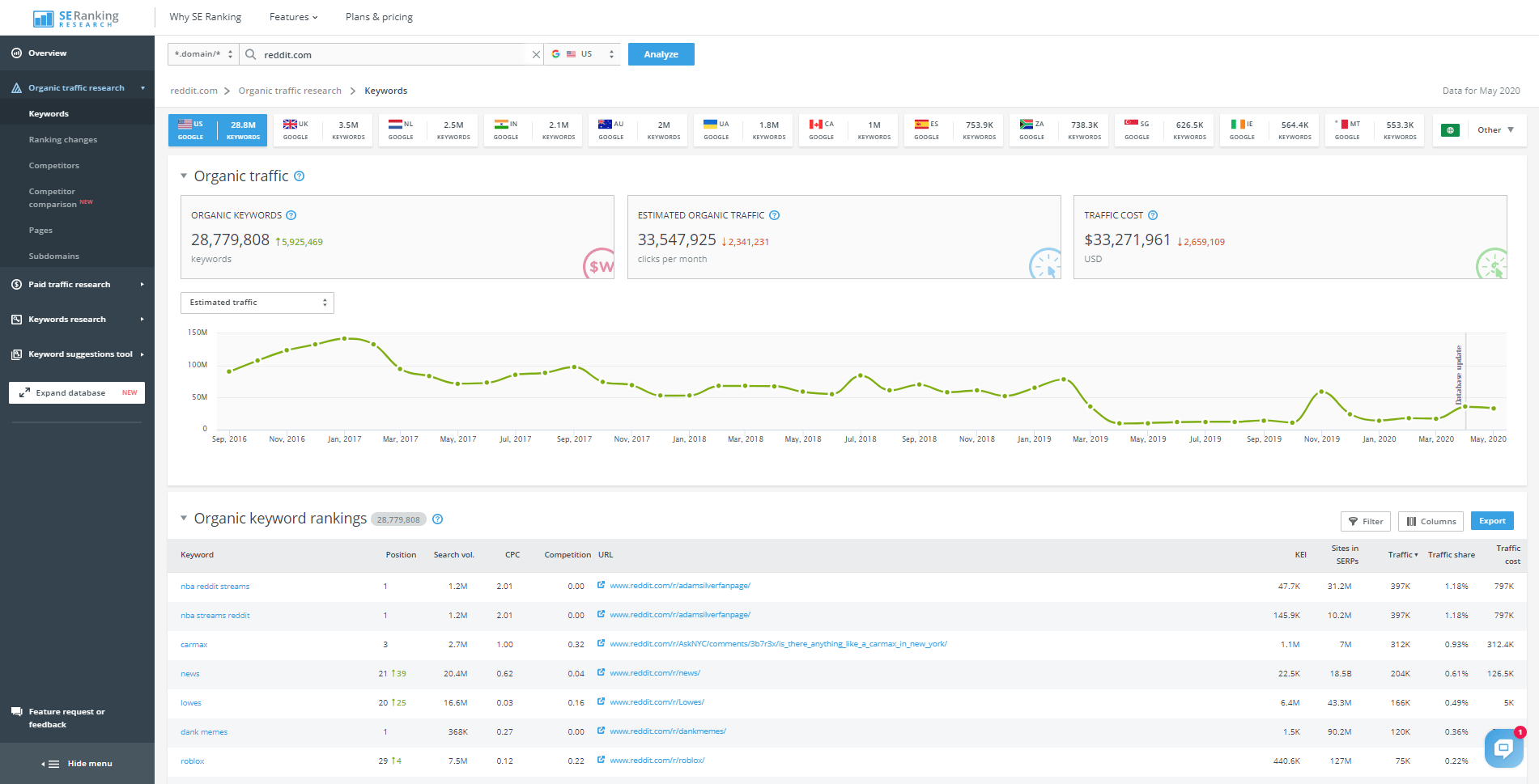 Overview: SE Ranking offers a complete suite of SEO tools for digital marketers, including a website audit tool, keyword rank tracker, on-page SEO checker, and more.
Key Features: When it comes to SEO competitor tracker tools, SE Ranking offers a few features that digital marketers should know about:
Competitor SEO Research Tool – This tool makes it easy to identify your biggest SEO competitors, view their top pages and subdomains, learn what keywords they rank for, and monitor ranking changes.
Backlink Checker – The backlink checker here also works for competitor analysis – you can access complete backlink profiles for any website of your choice.
Pricing: Subscription packages range from $39/month to $189/month, but there is a free trial available for new users.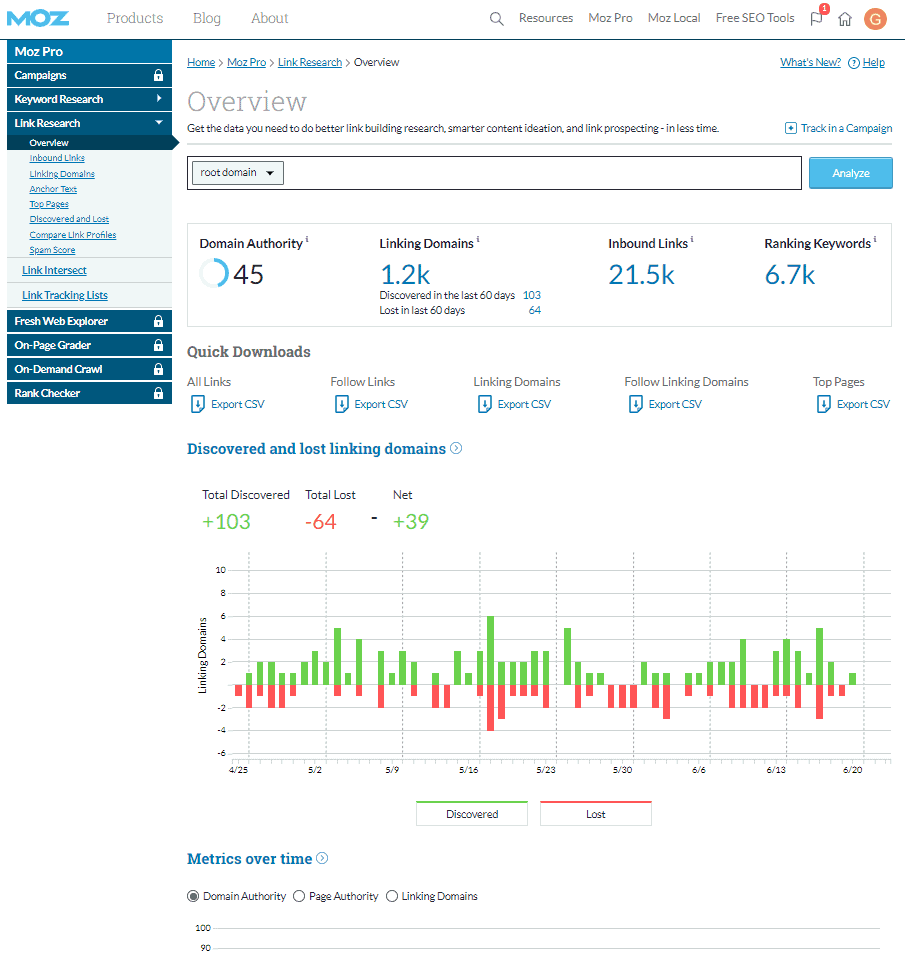 Overview: Founded in 2004, Moz was one of the first providers of SEO tools for digital marketers. Today, Moz remains an industry leader and provides some of the most functional and capable tools, including one of the best SEO competitor tracker tools on this list.
Key Features: Digital marketers who subscribe to Moz Pro get access to two useful tools for competitor research: keyword explorer, and link explorer. With the keyword explorer, marketers can easily access organic rankings and traffic data for any of their online competitors.
The Moz link explorer can be used to analyze competitor backlink profiles. Moz maintains one of the largest link databases outside of Google. It contains information on over 7 trillion pages across 718 million domains with over 40 trillion links – all updated by web crawlers on an ongoing basis.
Pricing: Moz offers a 30-day free trial for new customers. After that, it's $99/month for a standard subscription, $149/month for the recommended Medium package, and $599/month for premium.
Summary
Thanks for checking out our list of the six best SEO competitor tracker tools!
We hope this list inspires you to start gathering competitor intelligence as you create a marketing strategy for your next SEO campaign.  Need help tracking your SEO competitors? Book an intro call with the best SaaS SEO agency around.
Keep reading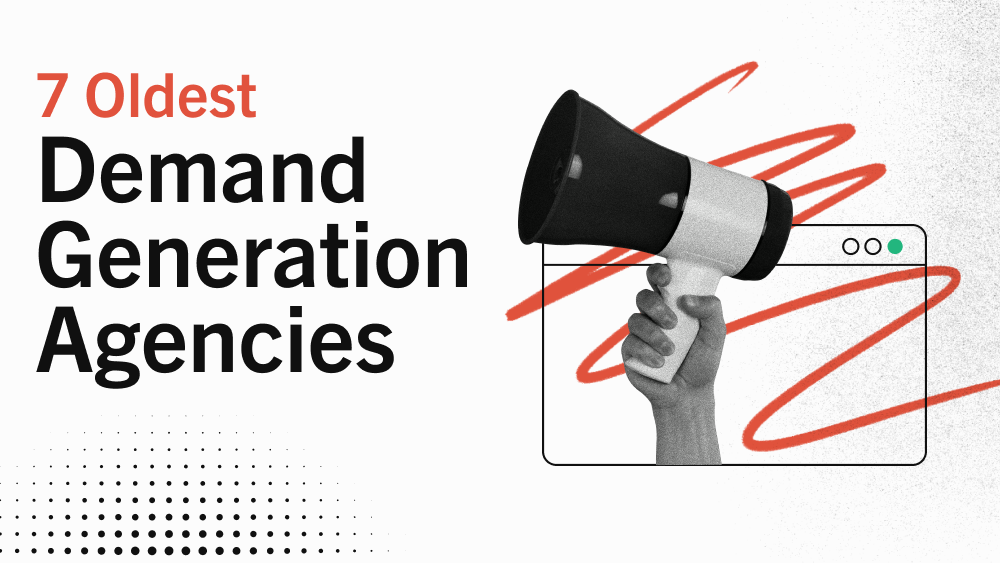 Agency Life
7 of the Oldest Demand Generation Agencies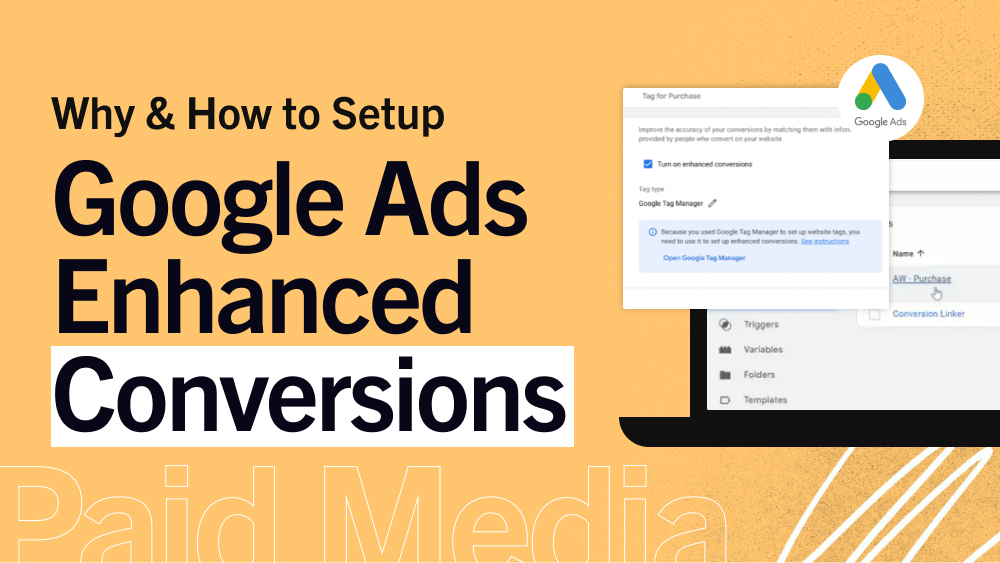 PPC
How to Setup Google Ads Enhanced Conversions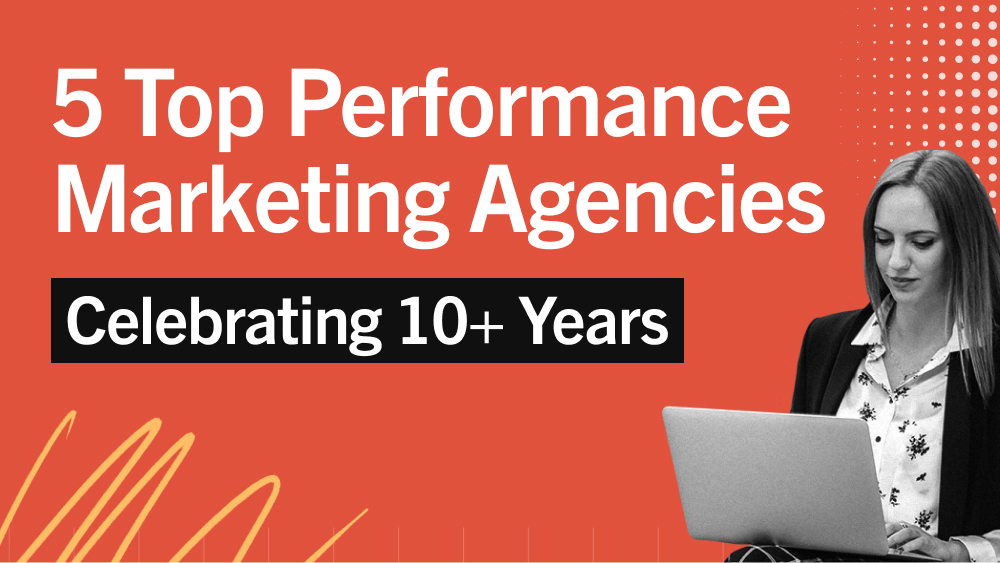 Agency Life
5 Top Performance Marketing Agencies Celebrating 10+ Years