SpyFu vs. SEMrush: What's Best for You?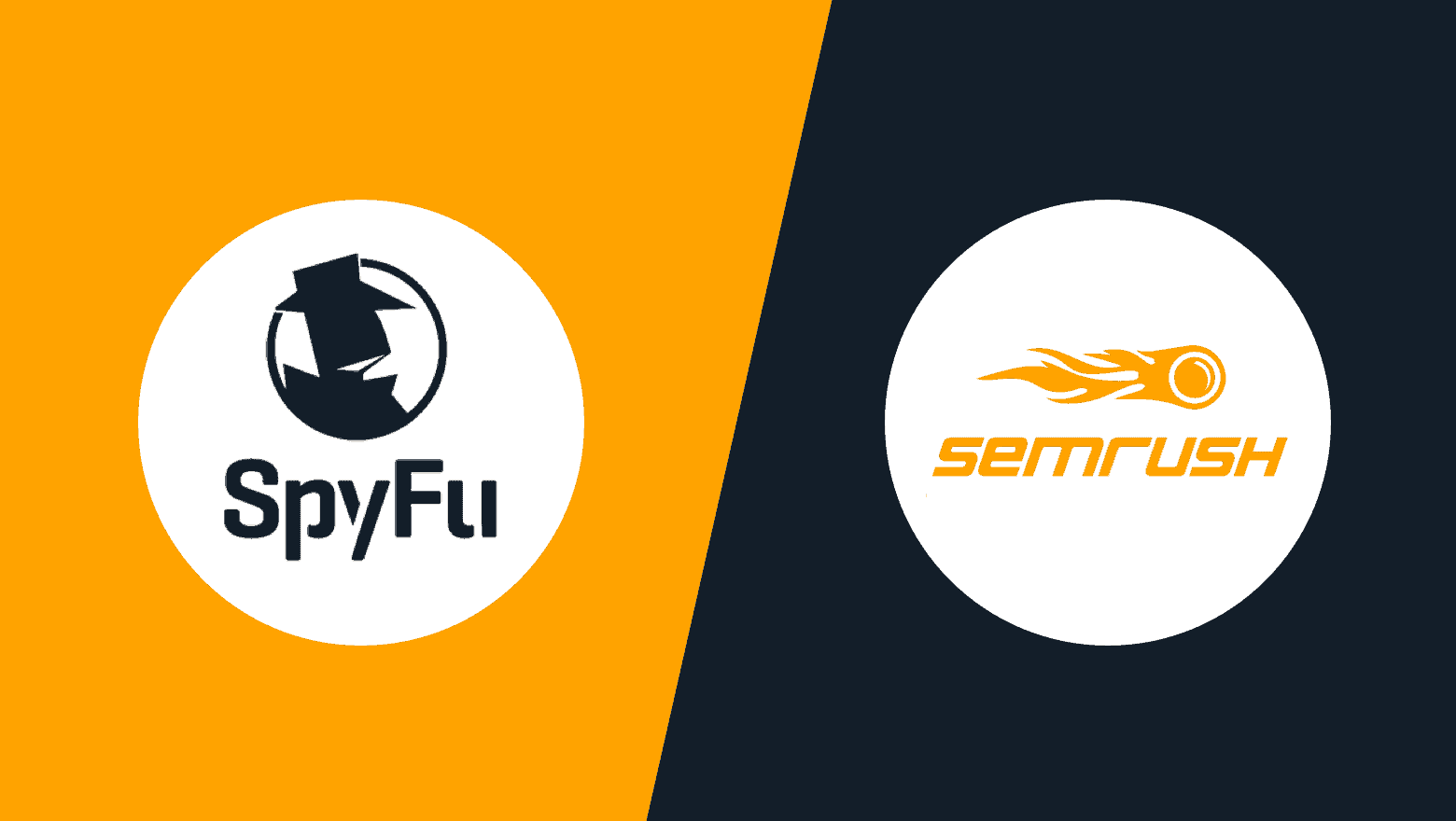 Trying to choose between SpyFu and SEMrush to help with your next marketing channel campaign?
Whether you're working on a PPC advertising campaign or trying to grow organic search traffic, choosing the right SEO tools is a critical success factor in online marketing. Marketing tasks like PPC keyword research, technical SEO, and competitive analysis can be heavily streamlined with the right SEO tools, leaving digital marketers with more free time to focus on higher-value tasks.
If you're comparing SEO tools like SpyFu vs. SEMrush, you're probably trying to weigh the value of SpyFu's competitive analysis capabilities against the all-in-one capabilities that SEMrush seems to offer. While there's plenty of feature overlap between the two platforms, each one offers something special that makes it uniquely valuable in the marketplace for SEO tools.
In this article, we're dissecting the key differences between SpyFu and SEMrush so you can decide which one is better suited for your business. We'll look at the most important features, similarities, and differences between the two platforms before giving our final recommendation on which one you should try first.
Comparing SpyFu vs. SEMrush
SpyFu and SEMrush are very different SEO tools.
SEMrush is more of an all-in-one platform – we'd put it in the same category as tools like Ahrefs and Moz Pro. SpyFu is more focused on competitive analysis and presents a more narrow set of features than SEMrush does.
Our goal here is to present the best features of both platforms, so we've adopted a simple scoring system with five equally weighted categories.
SEO Tools & Features (20 points)
Competitor Research  (20 points)
PPC Tools & Features (20 points)
Unique Features & Selling Points (20 points)
Pricing & Value (20 points)
We chose these categories because they represent areas where SEMrush and SpyFu overlap in functionality, so there's a possibility of showcasing features from both platforms. These feature categories are also important for our audience of digital marketers. Whether you're focused on SEO, PPC, or competitor analysis, we'll highlight what each of these platforms can do to help make your life easier.
Now that we've covered the details, let's dive in and start exploring the similarities and differences between SpyFu vs. SEMrush.
SpyFu vs. SEMrush: SEO Tools & Features
SEO tools and features include things like keyword research tools, technical SEO auditing capabilities and backlink checkers. These are tools that digital marketers can use to save time when optimizing their web pages for search traffic. When it comes to SEO tools and features, both SpyFu and SEMrush have plenty to offer. Let's see how they compare:
What's the Same: SpyFu and SEMrush both offer robust keyword research functionalities. With SpyFu, you can enter a keyword and instantly access all of the most important metrics like search volume, estimated clicks and which domains are ranking for that keyword. There's also an organic search ranking analysis that grades the ranking difficulty for your keyword and estimates the traffic value for the #1 spot on the search engine results pages (SERPs).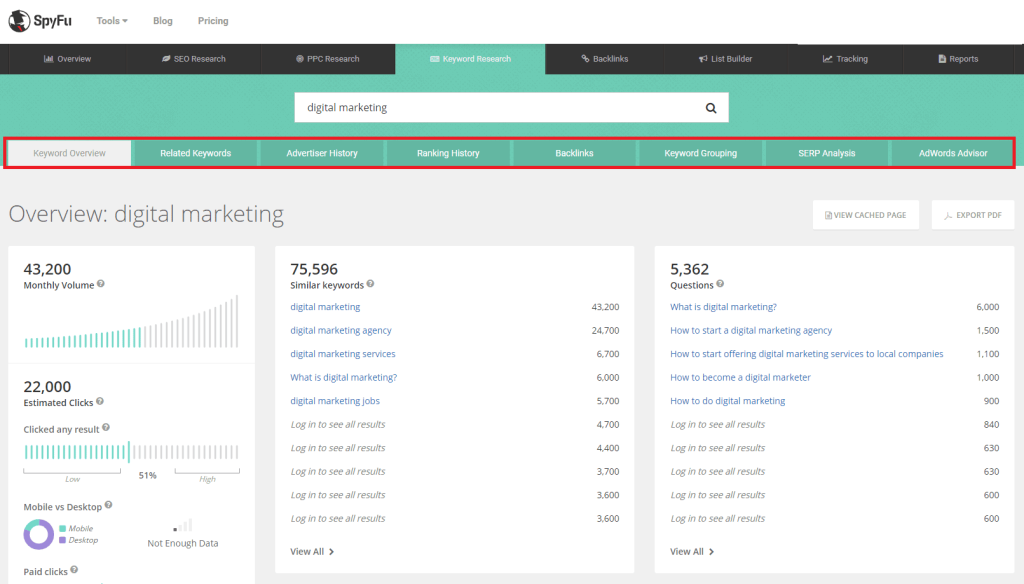 Image: SpyFu Keyword Research Tool
Digital marketers can scroll through the "Keyword Overview" to see a full summary of all the data that was collected on their target keyword, or cycle through the green tabs (outlined in red above) for a more detailed look at the SERP analysis, backlink profile, ranking history, or for related keywords.
SEMrush offers many of the same functionalities through its keyword research report.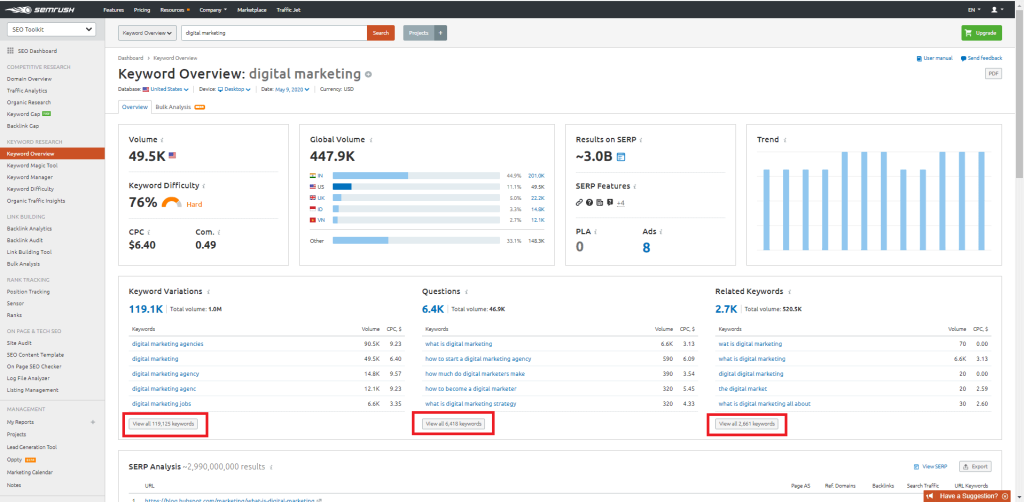 Image: SEMrush Keyword Research Tool
On SEMrush, the "Keyword Overview" tool can be used to access basic metrics and related keywords, as well as a SERP analysis. There's also a separate tool that quantifies keyword difficulty and helps digital marketers which visualize which SERP features Google is using on the results pages for their target keywords.
Both SpyFu and SEMrush offer a backlink checker tool, as well as the capability to track your own keyword rankings using their platform.
What's Different: While SpyFu delivers in a lot of areas, one SEO feature that it's missing is auditing capabilities. With SEMrush, digital marketers can perform a website audit that detects over 130 different technical and SEO mistakes.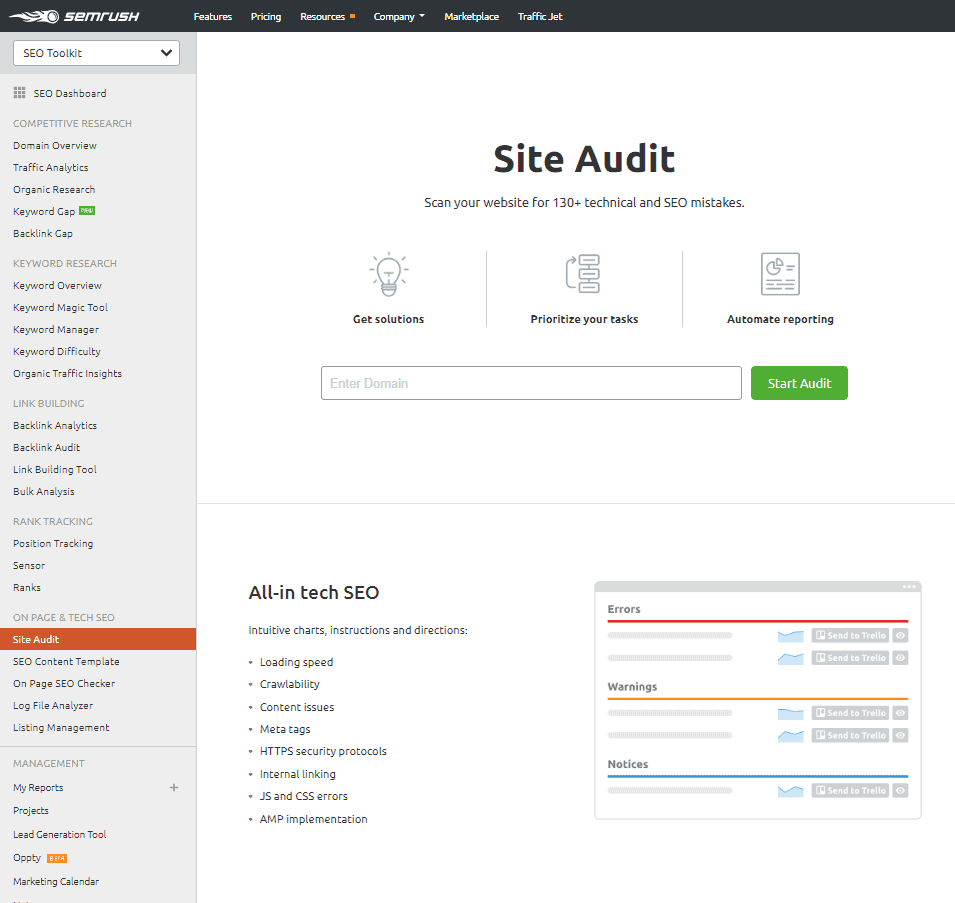 Image: SEMrush Site Audit Tool
There's also a backlink auditing tool that helps digital marketers identify spam links or otherwise toxic backlinks that could negatively impact their rankings in the search results. These are tools that digital marketers can't really live without, as neither technical SEO or toxic backlinks should be neglected.
Score:
SpyFu: 15/20
SEMrush: 19/20
There's plenty of feature overlap here, and plenty of utility in both tools – but SEMrush gets the edge for its technical auditing capabilities that SpyFu simply doesn't offer.
SpyFu vs. SEMrush: Competitor Research
Digital marketing is fundamentally competitive in nature. Only one piece of content can appear at the top of the SERPs for each keyword, and only one advertiser can win any given PPC keyword auction. With competitor research, digital marketers can gain insight into the operations of their competitors, making it easier to replicate their successes and avoid repeating their mistakes. SpyFu and SEMrush both offer amazing competitor analysis capabilities, but let's take a closer look and see who does it better.
What's the Same: SpyFu and SEMrush both offer some clever tools for spying on both SEO and advertising competitors. The best thing about SpyFu is that all of the competitor analysis reports are integrated into a single tool. You simply type in the name of your competitor into the search bar and you'll be able to click through the tabs and discover everything you need to know about them.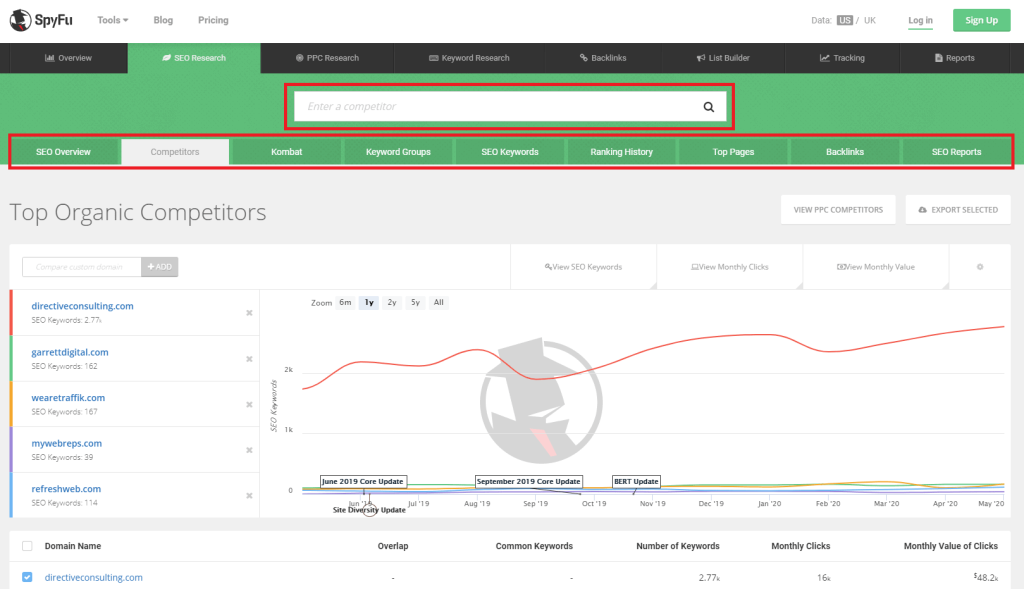 Image: SpyFu SEO Competitor Analysis
SpyFu's single interface for competitor analysis includes:
An overview of the biggest competitors for your target domain
The Kombat Tab, where you can access a Venn diagram of shared organic keywords between organic competitors of your choice
The keyword groups where your competitor has the most ranking keywords
The most valuable keywords that your competitor ranks for on the SERPs.
Organic ranking history for all keywords for the target domain
Top Pages for your target domain (the ones generating the most organic traffic each month)
A comprehensive backlink report on your chosen competitor
You can also use SpyFu for PPC research. Once again, you'll type the competitor's name into the search bar and receive a single comprehensive report with all the information you need.
With SEMrush, you've got access to several of the same competitor analysis capabilities.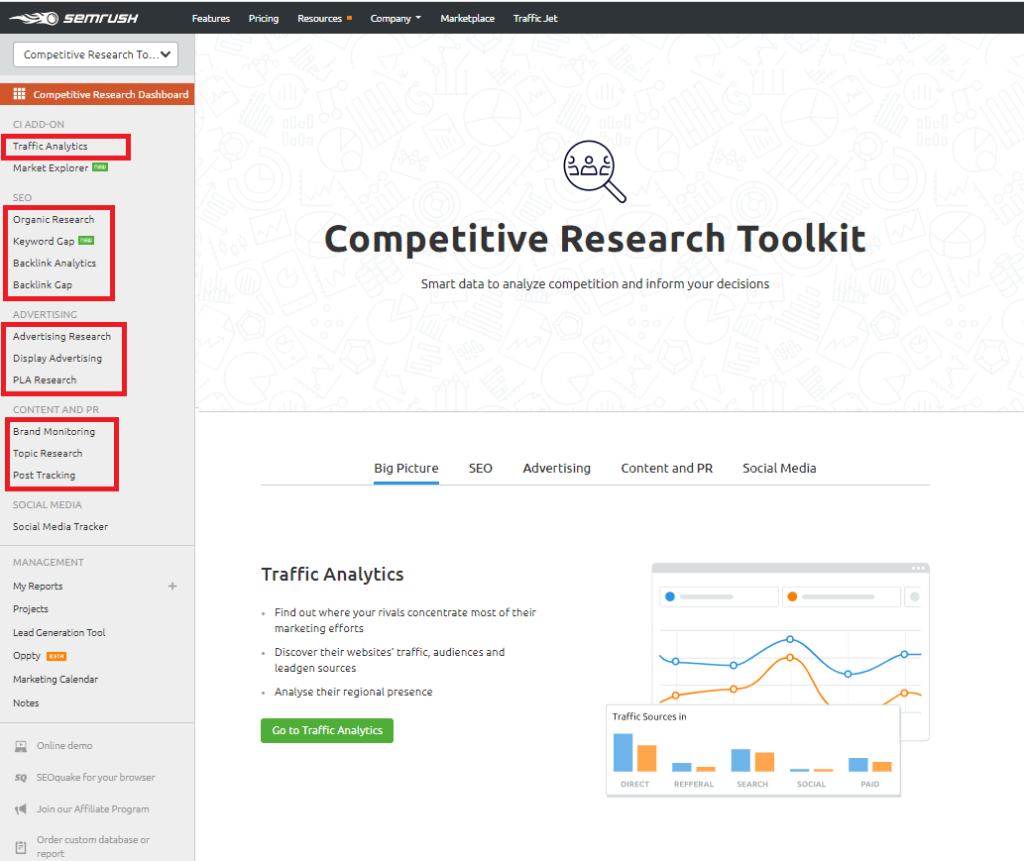 Image: SEMrush Competitive Research Toolkit
With the traffic analytics tool, digital marketers can access deep website analytics about their competitor's domain, including their top pages, traffic distribution by region, traffic sources and more. The bad news is that Traffic Analytics and Market Explorer are both part of the Competitive Intelligence add-on, which costs an extra $200/month on top of the regular SEMrush subscription fee.
There's also a keyword gap analysis tool that's similar to SpyFu's Kombat report, and an organic research tool for seeing which keywords your competitors are ranking for.
What's Different: The biggest difference between SpyFu and SEMrush when it comes to competitor analysis is the interface design. The SpyFu platform was purpose-built for competitor analysis, so all of the data is integrated into a single report and it's easy to filter through and find everything you need. With SEMrush, you're looking at three or four separate reports to gather competitive data. This is part of why we prefer SpyFu over SEMrush for competitive analysis.
On the flipside, SEMrush offers a few competitor analysis features that SpyFu is missing. In particular, digital marketers can use SEMrush to monitor their social media mentions and to create a backlink gap analysis report.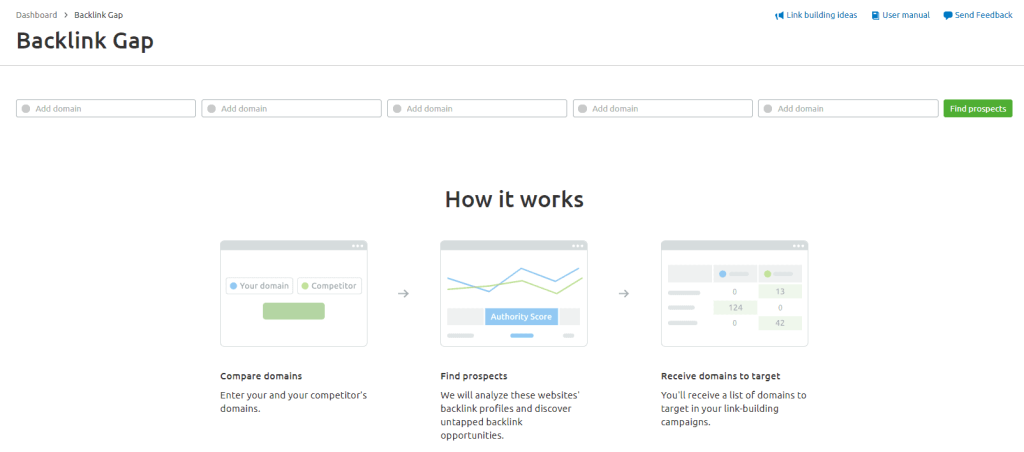 Image: SEMrush Backlink Gap Analysis
The backlink Gap tool uses competitor analysis to help digital marketers discover the best domains to target with their backlinking efforts.
Score:
SpyFu: 19/20
SEMrush: 17/20
SpyFu's user interface for competitor analysis is unbeatable, but SEMrush held its own in this comparison by providing several unique features that are obviously valuable for digital marketers.
SpyFu vs. SEMrush: PPC Tools & Features
PPC tools and features support digital marketers running paid advertising campaigns on digital ad networks. SpyFu and SEMrush both offer some useful capabilities for PPC, but this turns out to be one of the major areas of difference between the two platforms.
What's the Same: SpyFu and SEMrush are fairly evenly matched when it comes to advertising research. SpyFu again offers a single integrated report for PPC competitor analysis.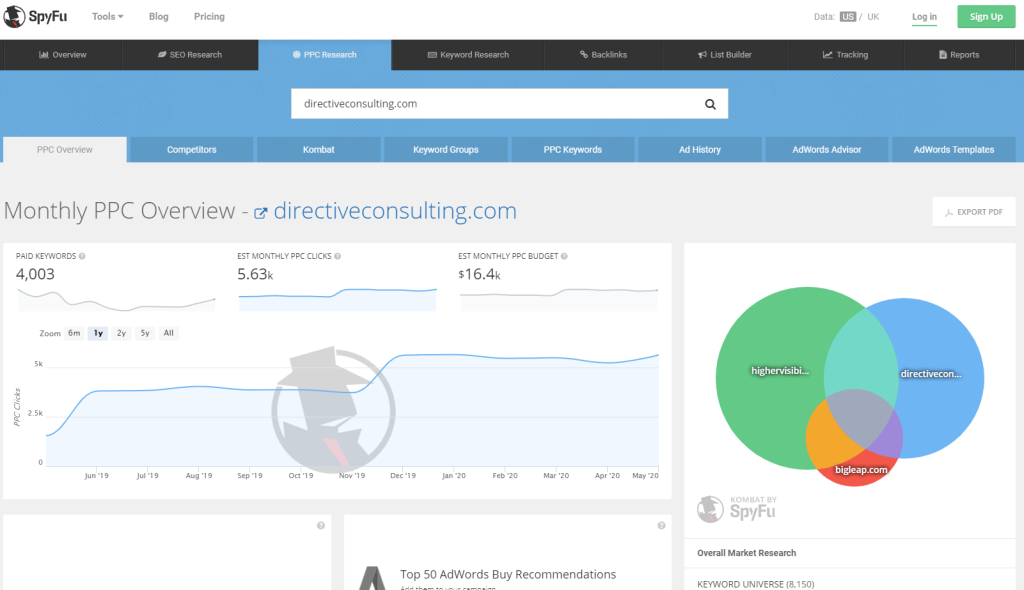 Image: SpyFu PPC Competitor Research Report
Digital marketers can enter any domain address and discover their biggest PPC competitors, keyword overlap diagram and most profitable PPC keywords. There's also an AdWords Advisor tool that recommends the most profitable AdWords keywords for the target domain.
SEMrush users can use the platform's Advertising Research module to discover their competitors, analyze their keyword profiles, and even view exactly how their live ads look on Google and other ad networks.
What's Different: While SpyFu's PPC features are focused on competitor analysis, SEMrush offers additional tools that help digital marketers execute on their online advertising campaigns. Marketers can use the CPC map to benchmark cost-per-click for their industry and develop a more cost-effective bidding strategy, or design new ad creative using the SEMrush Ad Builder.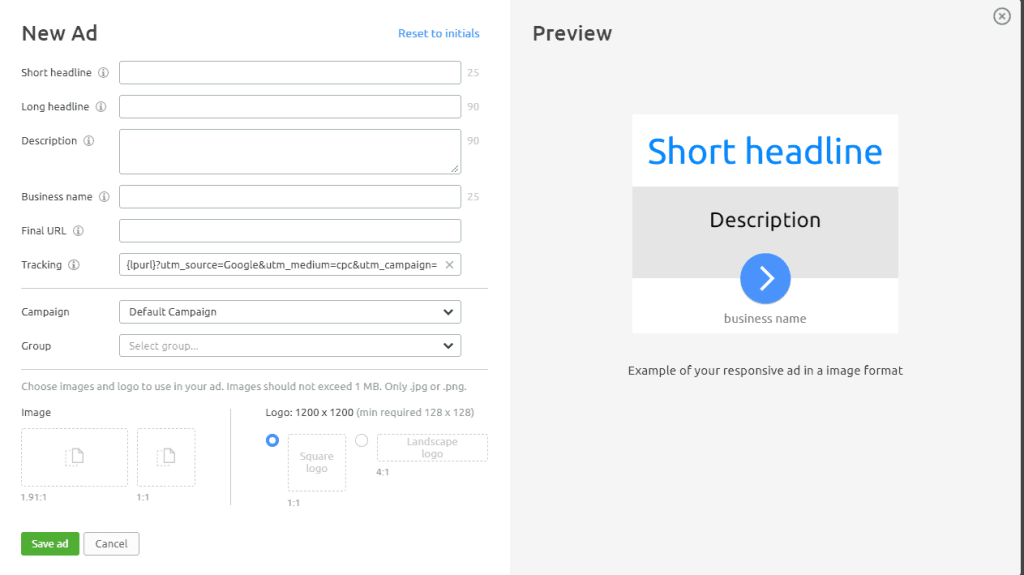 Image: Customizing a Responsive Display Ad with SEMrush
The Ad Builder is nice to have, but it's nearly the same as the Google Ads interface (which is free) and not nearly as powerful as tools like Canva or Bannersnack. Most digital marketers will probably be using a different tool to build their display ads.
Score:
SpyFu: 18/20
SEMrush: 17/20
This one was tough, but we had to give the edge to SpyFu. While SEMrush offered a few extra features, we think SpyFu covered all of the most important features and did them well. With in-depth competitor keyword research and the AdWords Advisor and List Builder tools, digital marketers have everything they need to build a strong PPC campaign with SpyFu. Still, SEMrush brought a lot to the table and might be preferred by marketers who value features like PLA research and CPC maps that are SEMrush exclusives.
SpyFu vs. SEMrush: Unique Features & Selling Points
We've already mentioned several features that are unique to both SEMrush and SpyFu, but we've included this section to highlight any other features we've overlooked so far and to identify the most important factors that make each of these platforms stand out.
SEMrush Unique Features: Now is the time to point that in addition to SEO, PPC and competitor research, SEMrush also offers an amazing social media toolkit and content marketing platform for digital marketers. With the social media toolkit, marketers can automate social postings, keep track of their mentions and create or manage social media ads.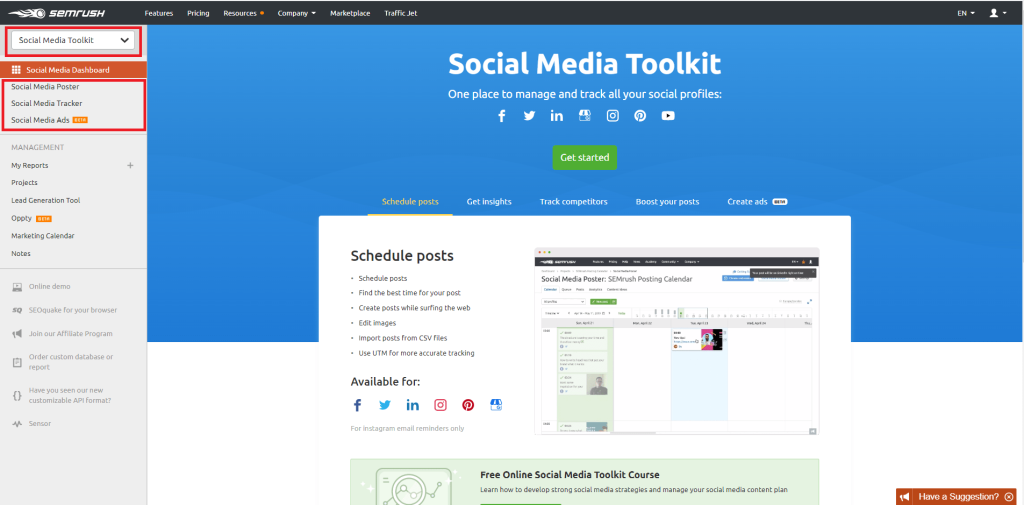 Image: SEMrush Social Media Toolkit
With the Content Marketing Platform, digital marketers can manage their content creation efforts from start to finish and even perform automated content audits to identify low-performing web pages that are ripe for improvement. Another great feature is the SEO Content Template: SEMrush analyzes the top 10 ranking pages for a specific keyword, then creates a list of SEO recommendations to help you optimize your content and out-rank the competition.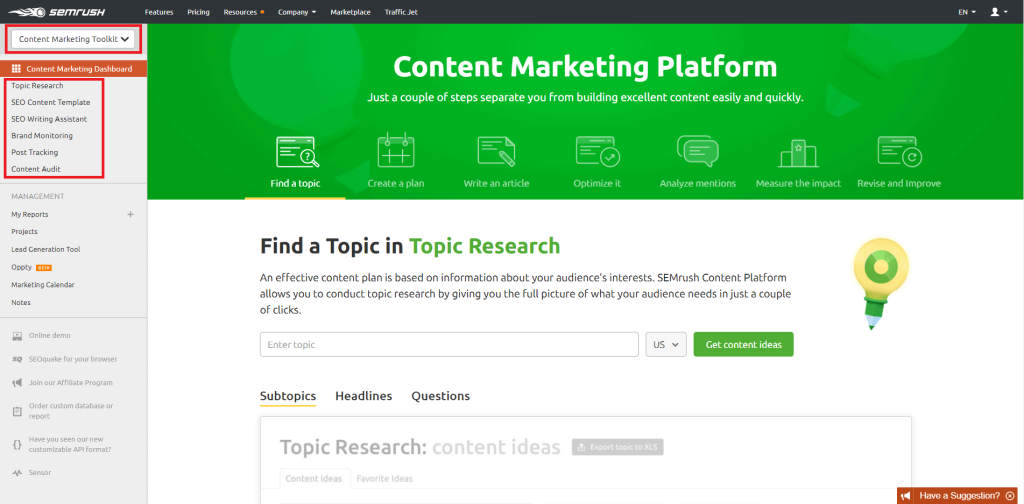 Image: SEMrush Content Marketing Platform
Between social media, content marketing, SEO, PPC and competitor analysis, SEMrush is one of the only genuine all-in-one digital marketing platforms with tools to support virtually any campaign type.
SpyFu Unique Features: As a leading competitor analysis platform for online marketing, SpyFu maintains a comprehensive database of text and display ads that have been distributed on major ad networks over the past nine years. Digital marketers can enter their competitor URL into the search bar, then click on the "Ad History" tab for instant access to nine years of historical data on their competitor's advertisements.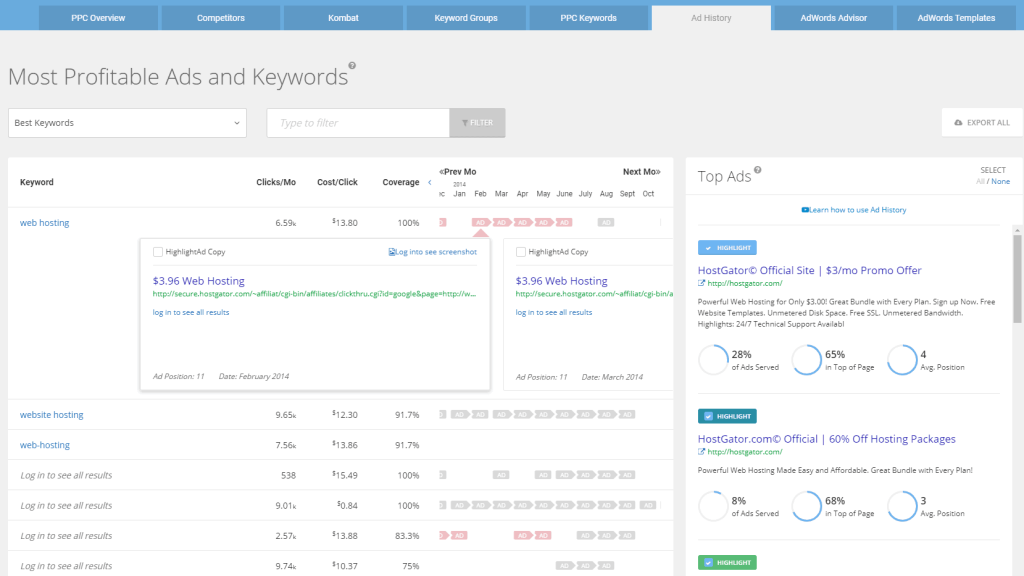 Image: SpyFu Ad History Tool
The most unique thing about SpyFu is the way that it formats competitive research data into a single report that's easy to dig through for insights. This feature alone makes it the strongest competitor analysis tool we've seen and a mainstay in our arsenal of digital marketing tools.
Score:
SpyFu: 15/20
SEMrush: 19/20
While SpyFu exceeds expectations on some of the more specific and detailed aspects of competitor analysis, SEMrush delivers a broad set of features and tools that can support every type of online marketing campaign. That versatility has made it the platform of choice for digital marketers.
SpyFu vs. SEMrush: Pricing & Value
SEMrush Pricing: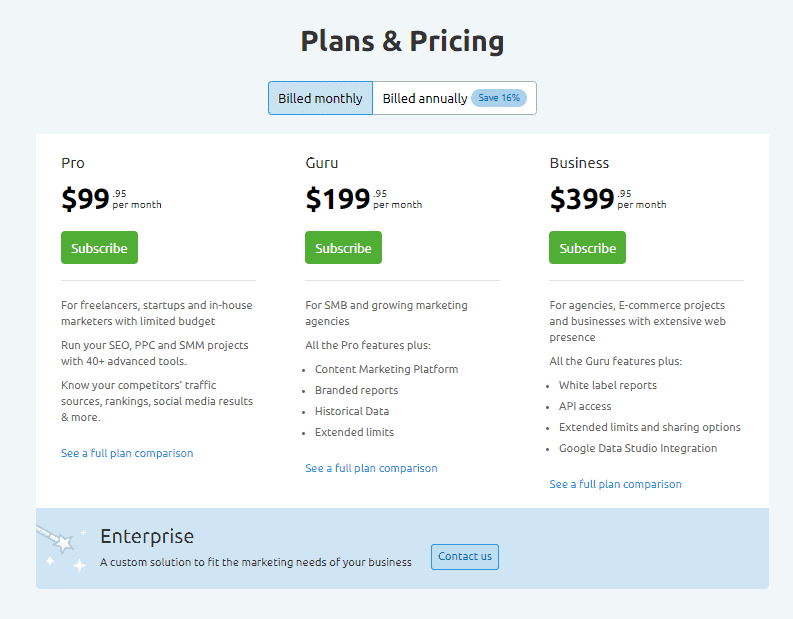 Image: SEMrush Pricing
SEMrush offers three different subscription tiers and you'll immediately notice that some key features are only found in the Guru and Business packages. In addition, all of these packages are for only one user and you'll have to pay $70-$140 extra for each additional user seat.
SpyFu Pricing: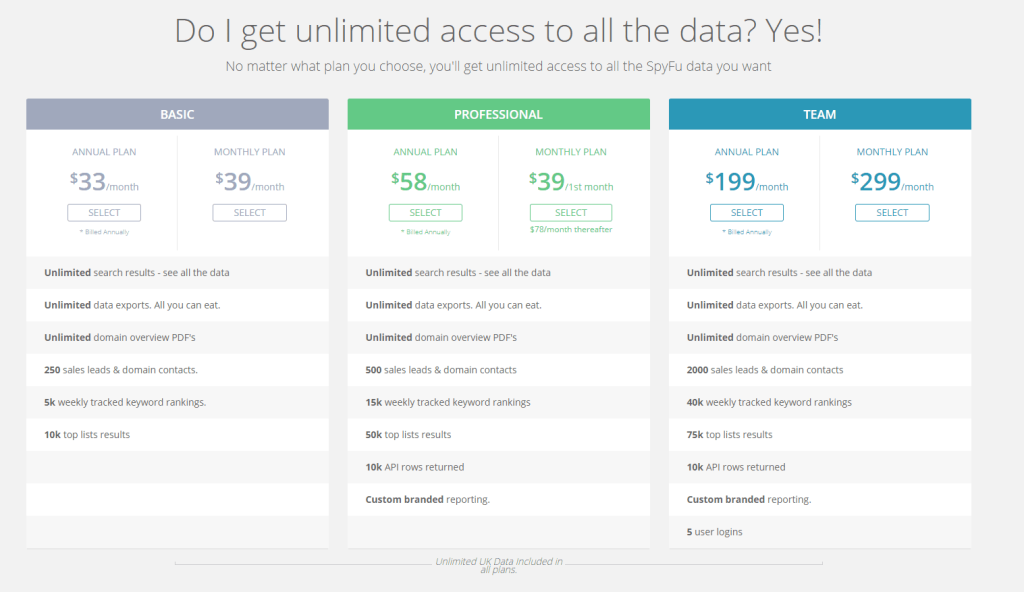 Image: SpyFu Pricing
With SpyFu, we like that virtually all of the most important features are included with all subscription packages. The main difference is the amount of storage you're allotted for tracking keyword rankings, sales leads, domain contacts and other data types. The teams package includes five logins for just $199/month billed annually.
Score:
Spyfu: 16/20
SEMrush: 14/20
Both of these SEO tools are a great value for what they offer. SpyFu is definitely more affordable, but SEMrush offers plenty of features that are more than worth the extra cost.
SpyFu vs. SEMrush: Final Score
Thanks for making it all the way to the end of our comparison!
We've tallied up the scores and we're ready to announce the winner: SEMrush wins!
While SpyFu was clearly the better choice for competitor analysis, it only narrowly outperformed SEMrush for PPC features – and it really could have gone either way. Still, SEMrush had better features for SEO and extras like the social media toolkit and content marketing platform add a lot of additional value.
The final score was…
SEMrush: 86
SpyFu: 83
Summary
When it comes to choosing between SpyFu vs. SEMrush, why not simply choose both?
At just $39/month, SpyFu offers one of the most streamlined and comprehensive interfaces we've seen for competitor analysis. There's simply no better tool for tracking what your competitors are doing online, both for organic search marketing and for PPC, but you'll eventually need other features that SpyFu doesn't offer.
And that's where SEMrush comes in, offering features like technical SEO auditing, content audits and backlink audits that marketers really can't live without. SEMrush is literally jam-packed with features that digital marketers will find useful for all types of marketing campaigns.
We hope this guide made it easier for you to differentiate between SpyFu vs. SEMrush. Ultimately, we'd recommend SpyFu for more experienced digital marketers that are focused on competitor analysis and SEMrush for digital marketers looking for a "first SEO tool" or platform with a more comprehensive set of features.
Keep reading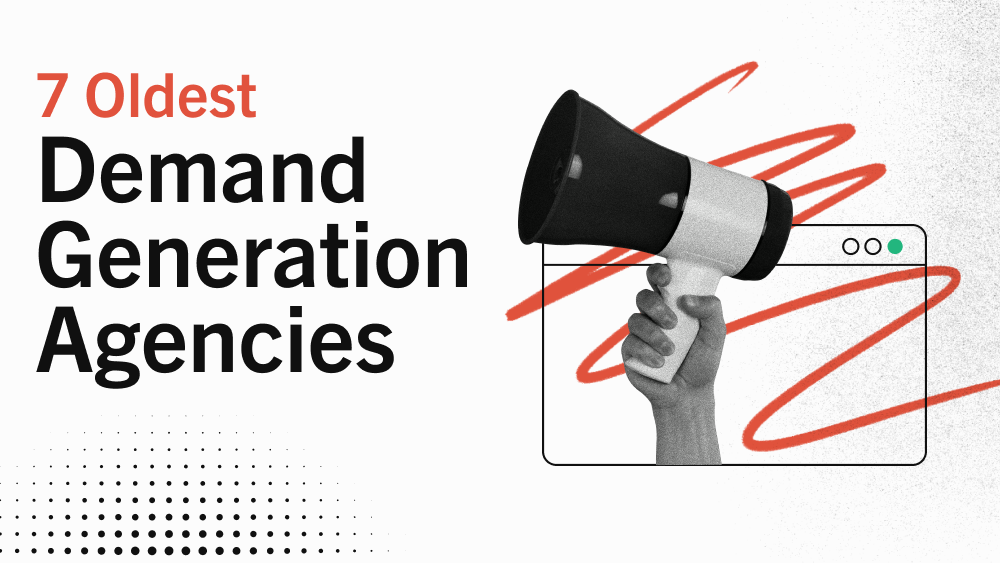 Agency Life
7 of the Oldest Demand Generation Agencies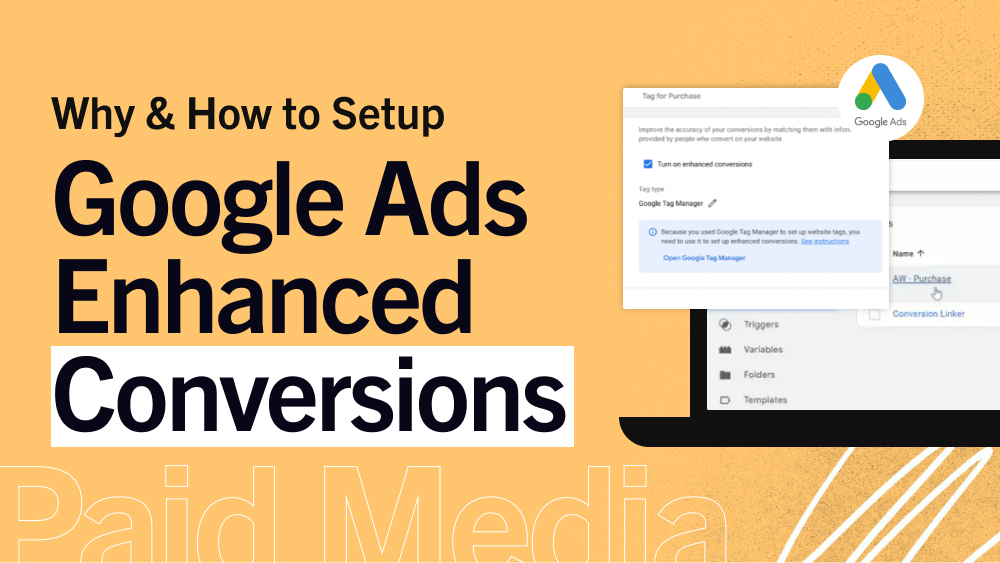 PPC
How to Setup Google Ads Enhanced Conversions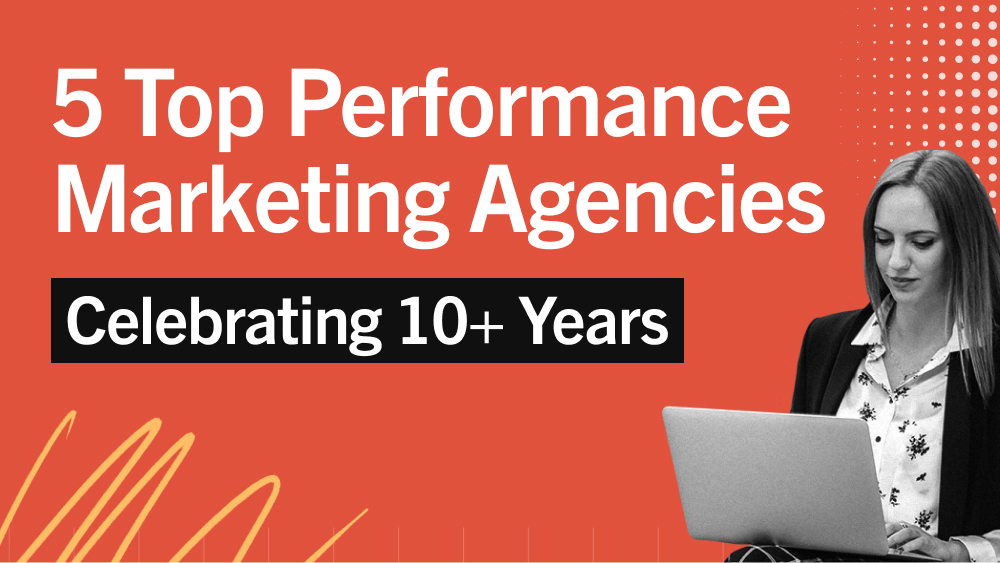 Agency Life
5 Top Performance Marketing Agencies Celebrating 10+ Years