The Ultimate Targeting Guide for LinkedIn Advertising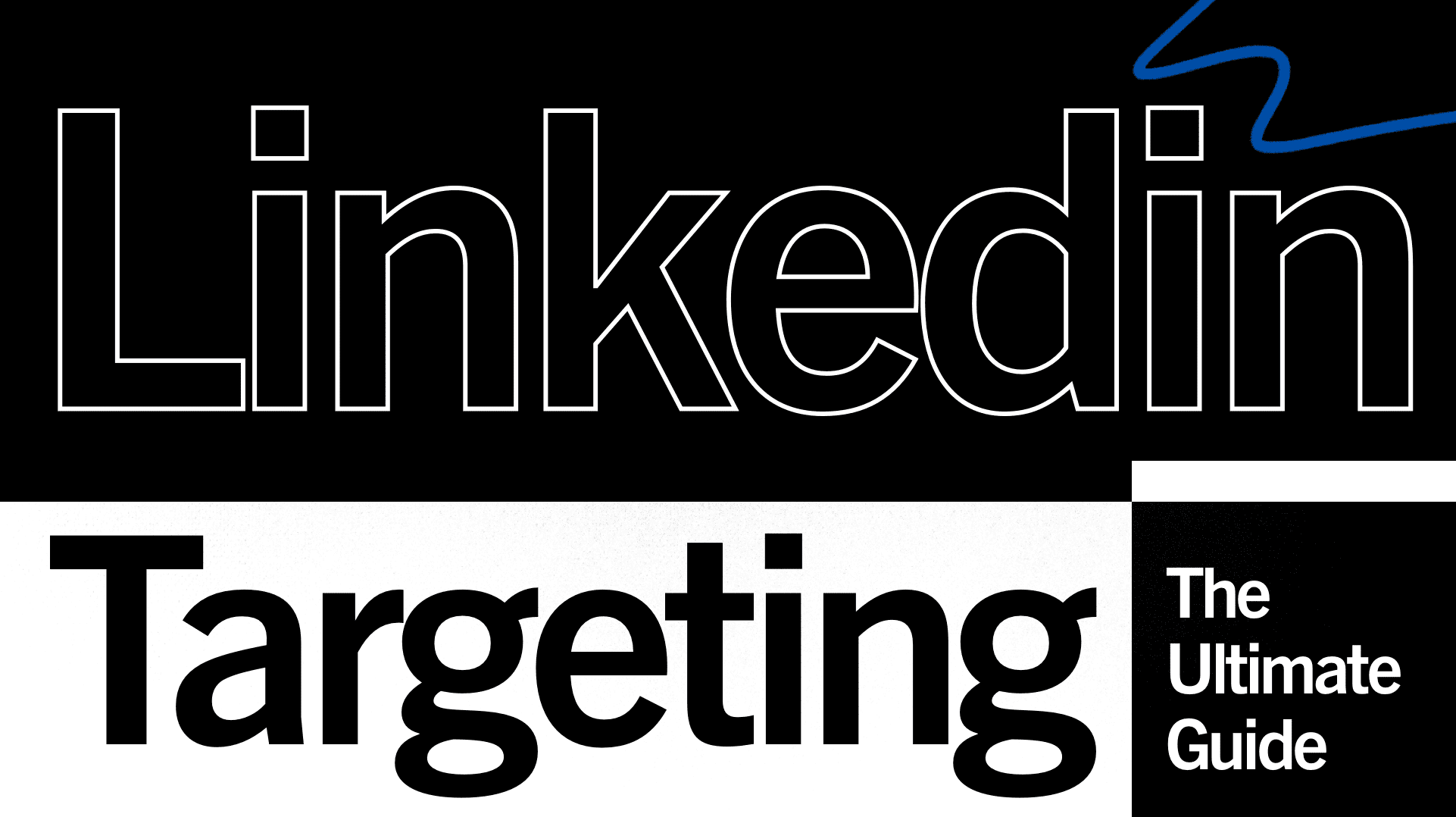 Advertising to your ideal customer can be complicated. With Google, you have numerous audience targeting options available, which can feel overwhelming for you and your marketing team.
Additionally, Google often makes assumptions about which audiences fit into each bucket; granted, it is based on online behavior. Facebook also has a variety of options, but often it can be challenging to find specific job titles or companies you are trying to reach.
With LinkedIn, professionals update their profiles regularly, try to grow their network and make themselves stand out through various skills or groups they join. What does this mean for digital advertisers? Reaching your ideal customer has never been more comfortable using LinkedIn.
This powerful platform allows advertisers to reach ideal users through a variety of targeting options. With over 575 million professionals on the platform and 260 million logging in each month, this platform can help you reach high-quality customers you've been focused on in a variety of ways.
Today, we'll break down different targeting options available with LinkedIn advertising as well as look at real examples and how they've performed. Is your team equipped to get the most out of this channel?
Read more about LinkedIn Conversation Ads that Actually Work [With Examples]
Getting Started
No matter what your campaign goal is, aligned targeting is the key to LinkedIn advertising success. The first step is to choose a realistic goal. After that, the real fun begins.
Location
As most marketers know, LinkedIn allows you to target your campaign to specific locations. This is the one targeting type you will be required to use. With location, you'll have two options on how you want to reach your desired locations by clicking the following:
A drop-down will appear giving you the following to choose from:
When deciding on a target location, you can go as wide as targeting by continent, you can stay hyper-focused and target specific cities, or find another option that works for your team.
(Example of continent targeting)
(Example of city targeting)
Use the search bar to input your desired location/s. You can also exclude locations to tighten your targeting focus.
Profile Language
Below the location is the "Profile language" option. This is where you choose which language your target users' profiles are in. Make sure your ad copy matches this language as well.
Narrow Further
Once location and language are figured out, you can launch your campaign. However, this audience would be pretty general, and you'd likely be spending on users outside of your ideal customers. To cast a capable LinkedIn net, layer more options on top of your location. To do this, select "Narrow audience further (AND)":
Audience Attributes
Audience attributes allow your team to expand your target audience based on information displayed on a user's LinkedIn profile. This can include company name, demographics, education, job experience, and interests:
Company
This section contains several ways to shape your ideal audience.
Here's an explanation of each, via LinkedIn:
Company Category: Allows you to target companies by custom segments such as S&P 500
Company Connections: Allows you to reach the 1st-degree connections of employees at companies you select. This is only available for companies with more than 500 employees.
Company Followers: Allows you to target your own LinkedIn Page followers. To use this targeting facet, your Ads account must be associated with your LinkedIn Page. When not utilizing this facet, by default your campaigns may reach both followers and non-followers.
Company Growth Rate: Allows you to target companies by their rate of growth year over year, determined by factors such as employee growth or inferred data from other similar companies within the same location and industry.
Company Industry: The primary industry of the company where the member is employed, as stated by the company. Additional industries may be inferred about the company and included for targeting.
Company Name: The organization a member lists as his or her employer. These are based on LinkedIn Pages, which are maintained by company employees.
Company Revenue: Allows you to target companies by their estimated annual revenue.
Company Size: Allows you to reach members based on the size of the organization where they work. Company size is determined by the number of employees listed on the organization's LinkedIn Page.
Demographics
As marketers know, these filters allow you to target based on gender or age and are vital to campaign results.
For age, you'll be able to choose from a few different age brackets:
*Note: You cannot use age or gender to discriminate for employment, housing, education, or credit.
Education
If you want to reach a particular segment of people using education-related targeting, you'll have a few useful options available:
According to LinkedIn:
Fields of Study: The major or area of study within a member's degree. Standardized from member-entered degrees.
Member Schools: The school, college, university, or other learning institution where a member completed a course.
Degrees: Recognized ranks granted by a college, university, or other learning institution.
Using a combination of these can be a beneficial method to narrow your targeting and focus on individuals of a certain educational background, whether it be to promote a relevant product/service or find someone who would be an optimal fit for an employment opportunity.
Job Experience
The filters available for "job experience" are highly prevalent with successful LinkedIn campaigns:
Here's how LinkedIn defines each:
Job Function: Based on standardized groupings of the job titles entered by LinkedIn members.
Job Seniority: Describes the rank and influence of a member's current role in their organization.
Job Title: When members update their LinkedIn profiles with new roles, these job titles are grouped by LinkedIn's algorithms and organized into standardized titles.
Member Skills: Highly relevant keywords found within a member's profile and skills section that indicates expertise in a particular area. Member-entered skills in the Skills & Endorsements section on their profile, skills mentioned in their profile text, or inferred skills based on their listed skills.
Years of Experience: Allows you to reach a target audience based on the years of professional experience they've accumulated over their career. We exclude any gaps in experience and also do not double-count overlapping positions.
Keep in mind, if you incorporate job titles into your targeting, "job functions" and "job seniority" become unavailable. This prevents users from creating conflicting targeting options. For example, if you want to target "Vice President of Marketing" via job titles, it would conflict with targeting an accounting job function or managerial job seniority. On the other side, if you select seniority or function, titles will not be available.
Don't forget to converse with your sales team. If they've been successful with specific job titles, this is the metric to hone in. Mixing and matching these filters can help your organization reach specific and vital decision-makers.
Interests & Traits
With interests, target users based on various social aspects of LinkedIn:
These are defined by LinkedIn as follows:
Member Groups: LinkedIn Groups where members who share interests or professional associations can gather, discover new information, and ask questions. *Note: To prevent ad targeting discrimination based on protected characteristics, member groups may not be used exclusively.
Member Interests: Interest categories identified by and inferred from member actions and engagement with content on LinkedIn.
Member Traits: Direct and inferred behavior traits based on member actions on LinkedIn, profile information, and more.
Groups are a valuable tactic to target users who regularly engage with their LinkedIn profile. This goes beyond a user simply setting up his/her profile with general professional details. These users are typically more engaged, and a quality and relevant advertisement targeted to these groups should see excellent engagement.
Matched Audiences
Audience attributes allow you to build audiences based on filters set in place by LinkedIn. Matched audiences give you creative control to create audiences based on your website traffic, manually uploaded lists, and more:
Let's dig into a few and how to set them up:
Retargeting
If your team is looking to run any remarketing campaign, you'll have a few different options within LinkedIn.
Let's dig into one of the more commonly used retargeting options: Website retargeting. Utilizing your site's audiences is a useful way to advertise to users already familiar with your company/brand. If they know you, there is more trust in place than if they were encountering your brand for the first time. These users are more likely to perform to take the desired action!
If you haven't set up any website audiences yet, here are simple instructions on how to do so.
Find the main page of your LinkedIn campaign manager. Click on "Account Assets" on the top navigation bar, then select "Matched Audiences":

Once on the "Matched Audiences" page, click "Create audience" on the right-hand side of your screen, then select "Website":

You'll be able to name your audience and decide how to build it:

Next, select "have URLs that contain the specified text". This option works well when you have similar pages with URLs that share commonalities. By choosing this option and inputting "services/PPC" we'll be able to build an audience from three different pages on our site relating to our PPC services, as three URLs on our website contain this in the URL string.

Essentially, we are building an audience more quickly than if we targeted a single page. All three pages we are building the audience from include the same type of user: someone looking for or learning more about PPC agencies.

Once you have decided on the specific URL or fraction of the URL, click "Update".

Next, give the newly created audience time to build, depending on how much traffic the specified URL gets. Once the audience reaches more than 300 users, navigate back to your campaign's targeting, and you should see your newly created audience available to select from Matched Audiences > Website Audiences:
The way you choose to utilize website audiences to target can improve your campaign's performance overall. Build audiences based on cart abandoners, people who have requested a demo, read a high-intent piece of content, etc.to drive users further down the marketing funnel.
In addition to the traditional website or web page retargeting, you can also create retargeting audiences based on users who have visited your company page, people who have signed up for events your company posted on LinkedIn, people who have interacted with any of your lead forms on LinkedIn, and people who have watched any duration of a video you posted on LinkedIn. With all these options, there is a ton of room to get creative and build very specific audiences based on how they interacted with your brand, and what message/offer is best for them based on those previous interactions.
Uploaded Lists
Have an email list of ideal customers? What about a list of target accounts? Take this opportunity to reach them directly. To upload your desired list, navigate to the "Matched Audiences" pages again, but select "List upload" when creating an audience:
Name your audience, and choose whether to upload a list of emails or a list of company names, via a CSV sheet:
After you select your contact/company list, select "Upload." Here are some top practices on uploading lists:
Once your list is uploaded, give it around 24 hours for LinkedIn to match all the emails to active LinkedIn profiles or find all the LinkedIn profiles associated with the uploaded companies.
As soon as the audience is ready, select it from "Matched Audiences" > "Uploaded Lists":
With contact lists, you can re-engage users in your CRM, target people who have signed up for your newsletter, reach target customers, etc.
Lookalike
If your uploaded lists aren't large enough, or you want to scale your campaigns further, you can create "Lookalike audiences" based on uploaded lists and site audiences. LinkedIn will find users with similar characteristics to your audience and build a new and broader audience.
This feature can also be accessed on the "Matched Audiences" page by clicking "Create audience" then "Lookalike":
You can select the source audience you want to build from and then create:
This new lookalike audience can be found within the "Uploaded Lists" section of your targeting creation as well:
If you reach success with some of your uploaded lists or website audiences but feel you have capped out, using a Lookalike audience can be a favorable way to scale excellent performance.
Third Party
Like list uploads, the third party option allows you to select company or contact as the criteria. You do not build these within LinkedIn however, and as the name suggests, you must build these in a 3rd party platform that has a direct integration with LinkedIn.
Common examples of this would be integrating a specific list within Marketo to the LinkedIn platform, so you can retarget users already in your CRM. (Third Party Contact option).
A common use of Third Party Company, would be ABM type platforms, such as 6sense or Terminus, where you can build company lists based on intent criteria, which can then be sent directly to LinkedIn to target those specific companies in ad efforts. With any sort of company list however, you'll want to remember to layer on some demographic targeting options, so you are not hitting every single person at the companies, and instead focusing on the right people at the companies.
Exclusions
Although there are numerous LinkedIn advertising metrics to choose from, you must tighten up your campaigns via "Exclusions":
Selecting "Exclude audience" will bring about the same options you can use for targeting, but to exclude instead. For marketers, this is helpful to ensure you do not waste spend by any means.
For example, one of our clients only services companies with 1,000+ employees. By using exclusions, we can be confident in our targeting:
Utilize this section to remove any unwanted targeting segments that could be reached, based on your original selections. This includes excluding people who have already converted on the asset/offer you are advertising. Remember to remove yourself as well!
Combining Targeting
You will not be able to build effective targeting by only choosing one of the targeting options available. Combine relevant segments to increase your chances of hitting your ideal user.
LinkedIn will have combinations already available to use by clicking  "Audiences" during your targeting build:
Additionally, you can "See all audiences" at the bottom of the scrollable list. This provides you with a list of pre-made audiences and their descriptions:
Most likely, you know your target audience better than LinkedIn. However, you will probably have better luck in creating your own recipe. Let's take a look at audiences Directive has created for one of our clients, the goal for each, and the performance data.
**Note: For all targeting discussed below, exclusions were used but were not shown as specific company names used in the exclusion lists.
Function + Seniority
The goal with the audience below is to reach users who have experience in their roles and are decision-makers in IT:
While we are targeting relevant users, this is the most general of our audiences. It is used to cast a wide net as it has the largest reach of 2.4 million LinkedIn users. We prefer to use this targeting to offer top-of-funnel assets including, eBooks or guides that would be relevant to people in this space.
Audience build: Location + Job Seniorities + Job Functions – Exclusions (company names, company size, asset converters)
Job Titles
With this type of targeting, we are trying to reach specific job titles of people in the IT space:
This type of targeting is more focused and has shown to drive enhanced quality leads. Here, we offer more of a middle-of-funnel offer, like an analyst report. With location targeting added as well as specific exclusions set, the audience consists of around 240k LinkedIn users.
Audience build: Location + Job Titles – Exclusions (company names, company size, asset converters)
Groups
Knowing that LinkedIn users who engage with groups are more involved with the platform, target all relevant groups around a competitor tool (product "x"), and offer a comparative report between your solution and product "x."
When LinkedIn users discover your ad, they will likely do their due diligence and research, whether they are making the right decision by being a part of the "product "x" community.
This audience is focused, and even after you add all of the relevant groups, this audience should be at about 8,100 LinkedIn users after adding locations and exclusions.
Audience build: Location + Groups – Exclusions (company names, company size, asset converters)
Skills
Like groups, this type of targeting can be used to target individuals using a competitor's solution. By finding users who claim they are skilled using product "x" and offering the comparative report, you force them to consider if they are making the right decision by becoming a product "x" professional.
Audience size can vary here greatly, depending on the skill being targeted. When our team tested this, we found our audience to be a reasonable 120k.
Audience build: Location + Skills – Exclusions (company names, company size, asset converters)
Results
Now that we've gone over a few different types of targeting let's look at the performance metrics of each from our team's testing.  
| | | | | |
| --- | --- | --- | --- | --- |
| | Titles | Function/Seniority | Groups | Skills |
| Spent | $5,564.12 | $5,676.06 | $1,488.93 | $2,668.40 |
| Impressions | 91,615 | 223,265 | 21,661 | 55,833 |
| Clicks | 642 | 861 | 257 | 176 |
| Avg CPC | $8.67 | $6.59 | $5.79 | $15.16 |
| CTR | 0.70% | 0.39% | 1.19% | 0.32% |
| Leads | 153 | 140 | 58 | 70 |
| Conv. Rate | 23.83% | 16.26% | 22.57% | 39.77% |
| Cost/Lead | $36.37 | $40.54 | $25.67 | $38.12 |
A few key things to note:
Our job titles targeting seemed to be overall the most efficient as it brings in numerous leads at a reasonable cost, compared to all targeting types.
Function/Seniority targeting was excellent for obtaining a high level of exposure and still producing conversion volume. It does have the highest cost-per-lead. This means, if we were tight on budget, this campaign would be the first to lose spend.

Groups targeting had the best CTR (click-through rate), telling us our targeting is great for getting these users to engage with our content. The low CPC (cost-per-click) also helps us bring in leads at a meager cost. The issue with this targeting is the small size, and lack of scalability.

Skills targeting seemed to be our best bet at converting users with almost a 40% conversion rate, indicating the mix of messaging and offer resonates with our targeting. The issue here is it has the highest CPC, meaning the leads we get are somewhat expensive compared to other targeting methods. If we were tight on budget and were looking to increase lead volume, we'd likely reduce the budget here.
Final Considerations
Before your team moves forward, here are some final details to digest before you begin.
You'll notice a "Forecasted Results" window to the right of your screen when picking and layering different targeting options:
Use this tool to understand how large or small your audience is, and get a forecast on possible spend, impressions, clicks, and results. There is no "right" or "wrong" when it comes to audience sizes. Depending on your advertising strategy and goal, you may have a campaign with as many as 3 million members, or as small as 1k members. The one rule here is your audience must have at least 300 members in it.
When experimenting with the numerous targeting options available, do not pick too many targeting options as there is a 100-choice maximum. This does not apply to the uploaded company or email lists, but it does mean you will not be able to target those 150 job titles your executives may have their eyes on.
To ensure you have as much control as possible, turn off "Enable Audience Expansion" under your exclusions, which will automatically be turned on within your targeting:
If you leave this checked, LinkedIn may serve your ads to people outside of the target audience you have created. Be safe, not sorry, and ensure your ad spend is going to the right eyes to avoid wasted spend.
Your team understands your target audience better than anyone. Play with the targeting to create an audience for your LinkedIn advertising that works specifically for you. There is no time for bringing in unqualified leads due to the wrong type of person clicking on your ads: you have too much targeting control to have leaks. If you'd prefer to let Directive's SaaS PPC experts manage your LinkedIn advertising and take it to the next level, book an intro call today! 
Keep reading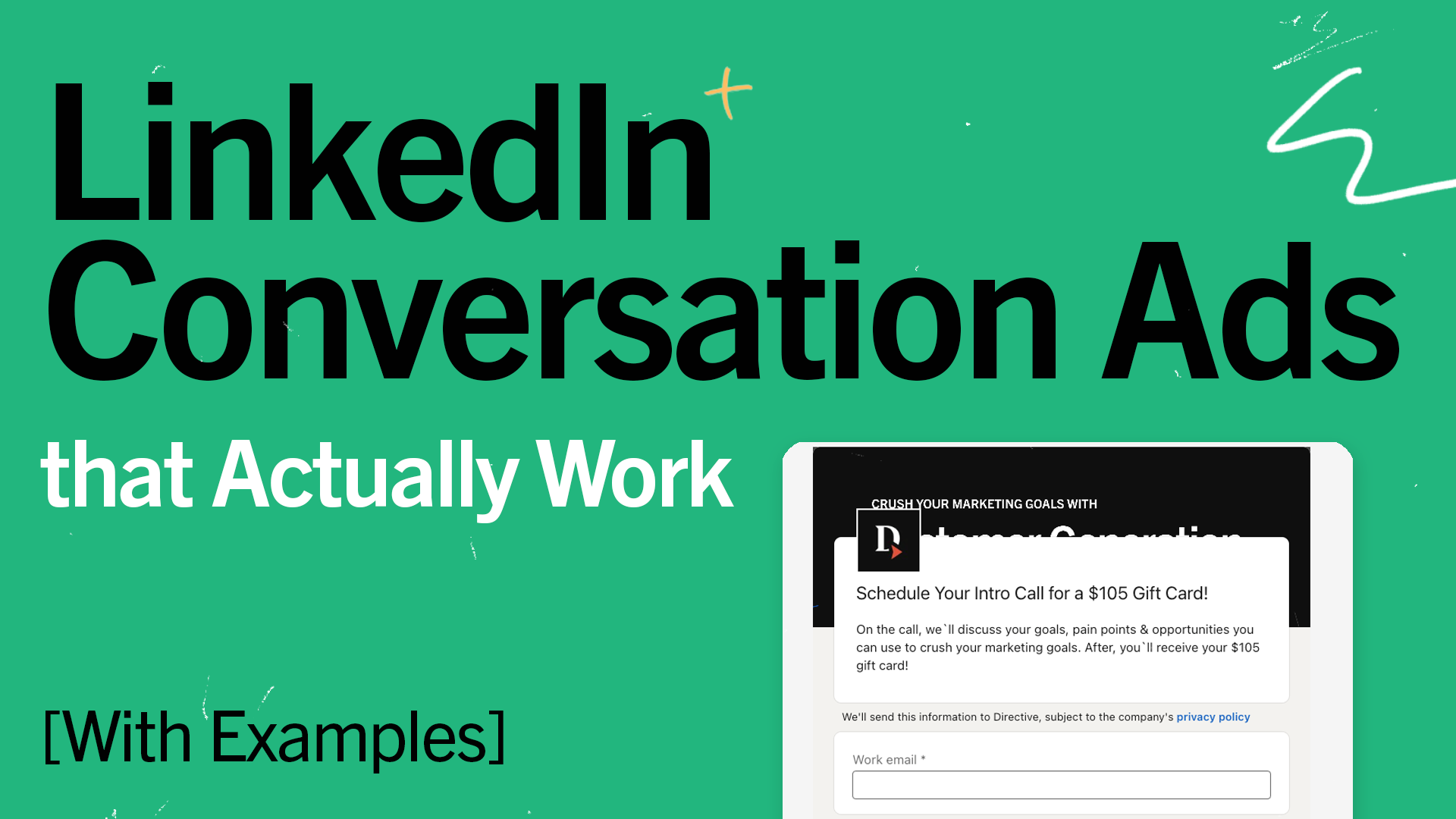 PPC
LinkedIn Conversation Ads that Actually Work [With Examples]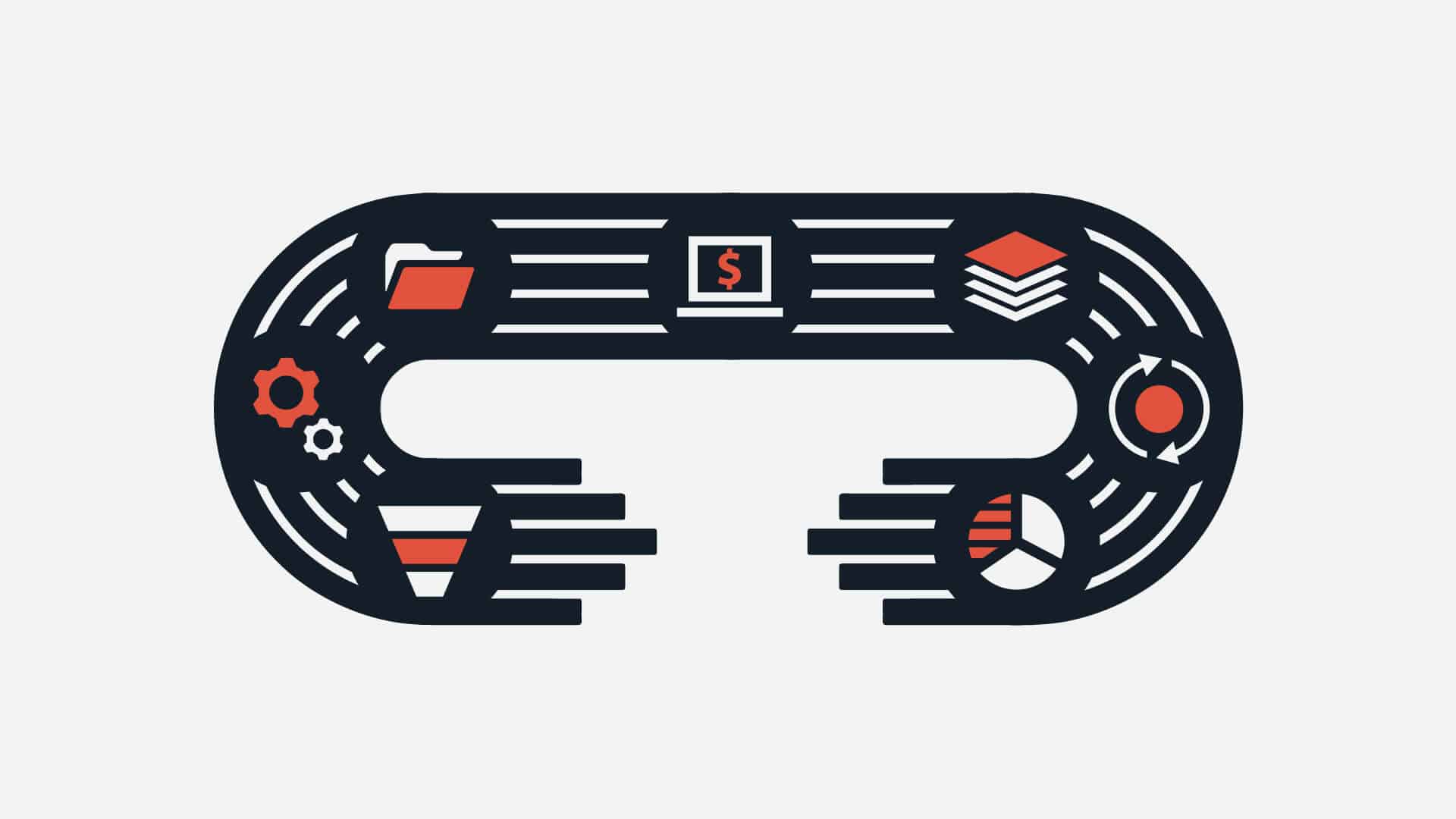 Perspectives
7 Simple Ways to Lower Your LinkedIn Advertising Costs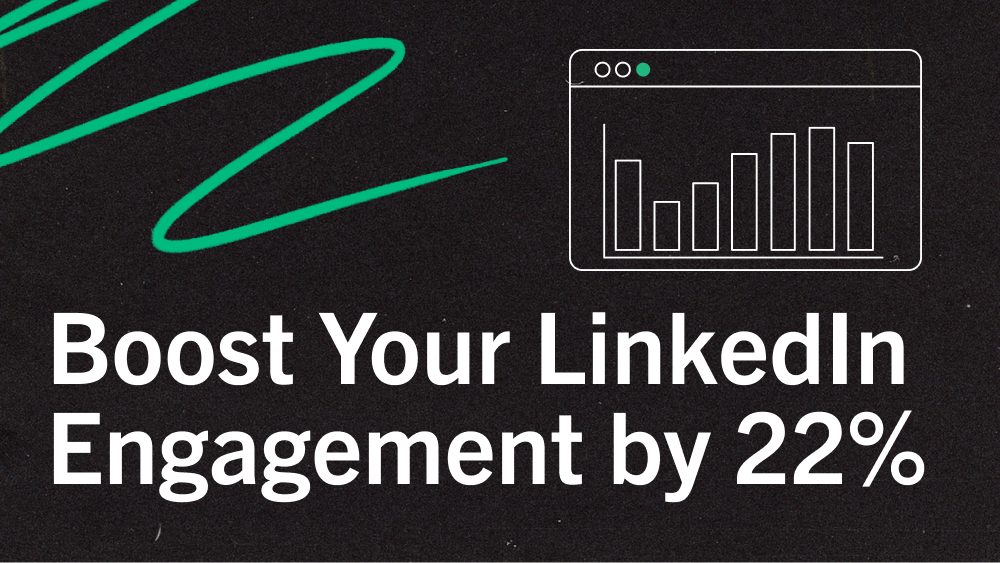 Social Media
Boost Your LinkedIn Engagement by 22% with These 3 Content Types