Augment 80% of Your SEO Tactics with AI. Here's How We Did It.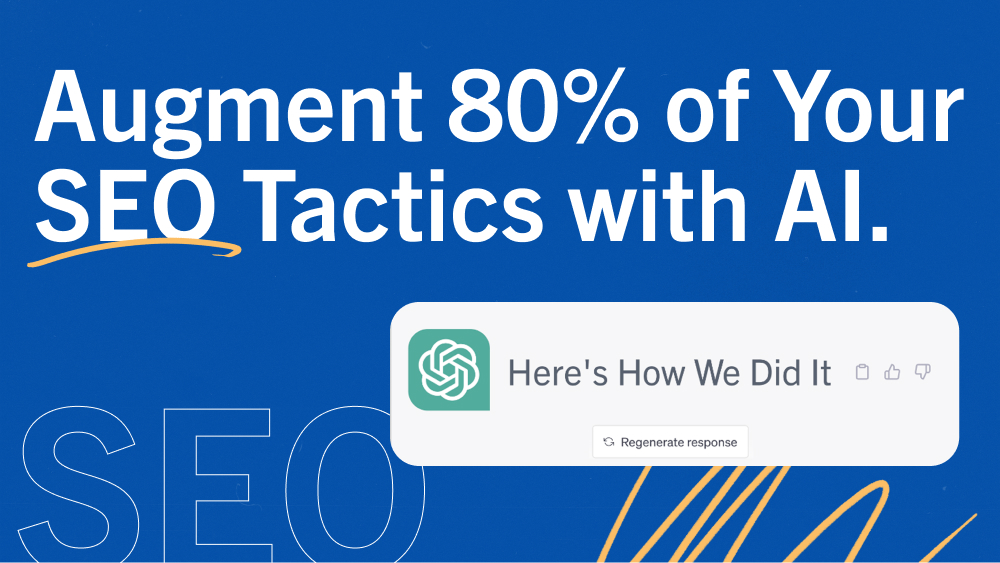 Looking for ways to boost your SEO performance with AI? At Directive, we've tested a variety of AI tools and techniques, pushing the boundaries to analyze and optimize data at an extraordinary scale. The outcome? 4 exceptional use-cases that have taken 80% of our SEO tactics to new heights. By integrating AI into SEO, we empower our clients with personalized and impactful strategies that drive revenue growth, while liberating our team to focus on strategic development and innovative problem-solving. Incorporate these 4 AI-powered SEO tactics into your marketing strategy today to tap into the boundless possibilities for your business.
Augment routine SEO tasks with AI tools to unlock growth efficiency.
1. Audience Research
Keyword Research
Keyword research serves as a powerful tool that provides valuable insights into audience interests, needs, and search behaviors. It empowers us to optimize our strategies for search engine visibility and capitalize on emerging trends and opportunities.
To cut down on research time and prioritize targets, we conduct initial keyword research with ChatGPT and then cross-reference the results with Google Search Console performance.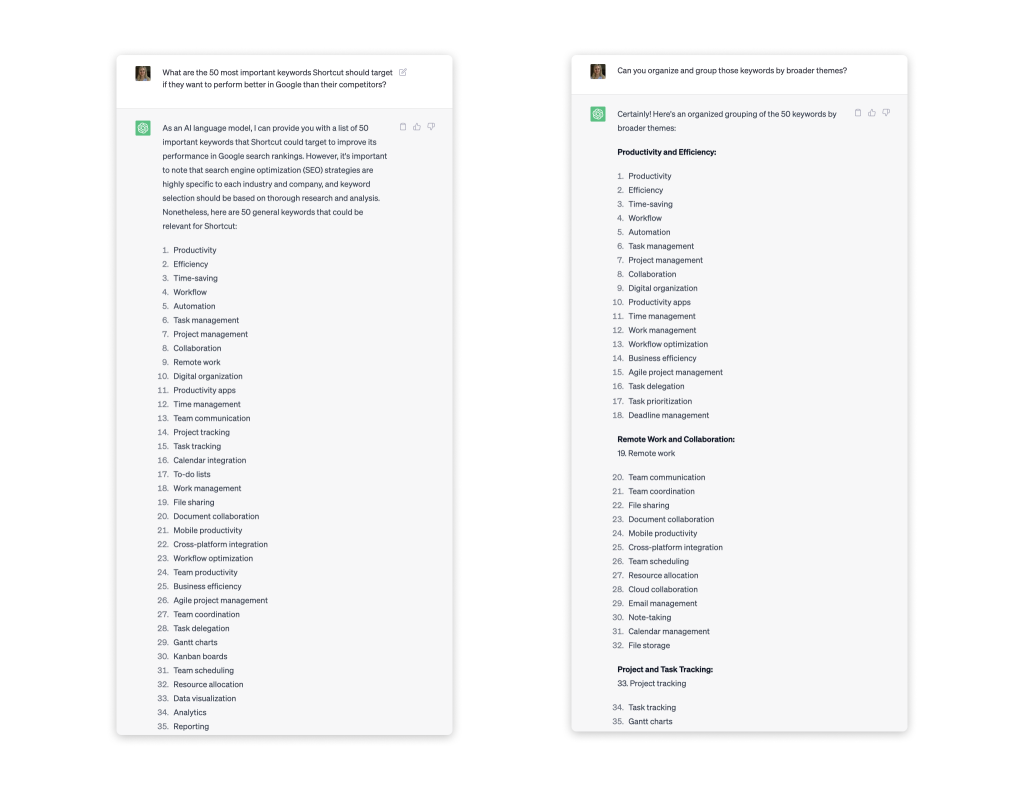 Initial keyword research for Shortcut, a project management software for software development teams.
Then, with Haley AI, you can quickly generate keyword clusters / grouping.
Ideal Customer Profile Research
Understand the language and vocabulary used by your target audience with buyer persona research. This way, you can optimize your content to align with the search intent of your audience.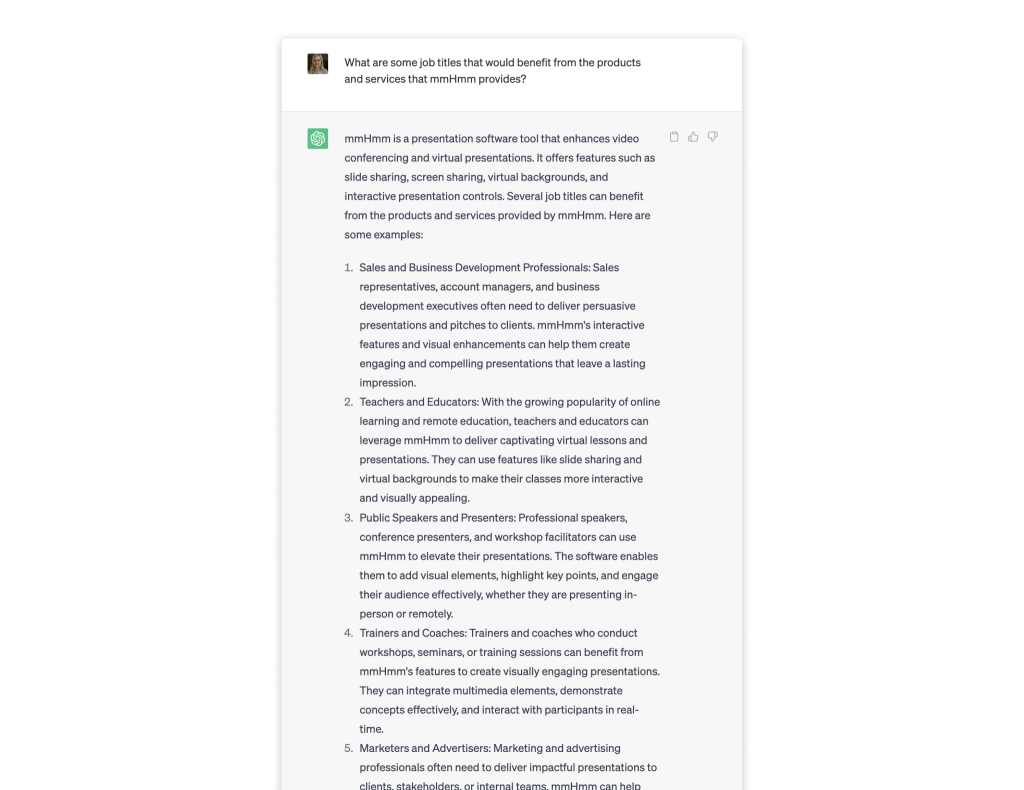 Job title research for mmhmm, a video call and quick video recorder app.
JTBD Research
We use the Jobs to be Done (JTBD) framework to understand why customers make the choices that they do in their job role. Once you've defined and segmented your customers, you can uncover their JTBD using AI.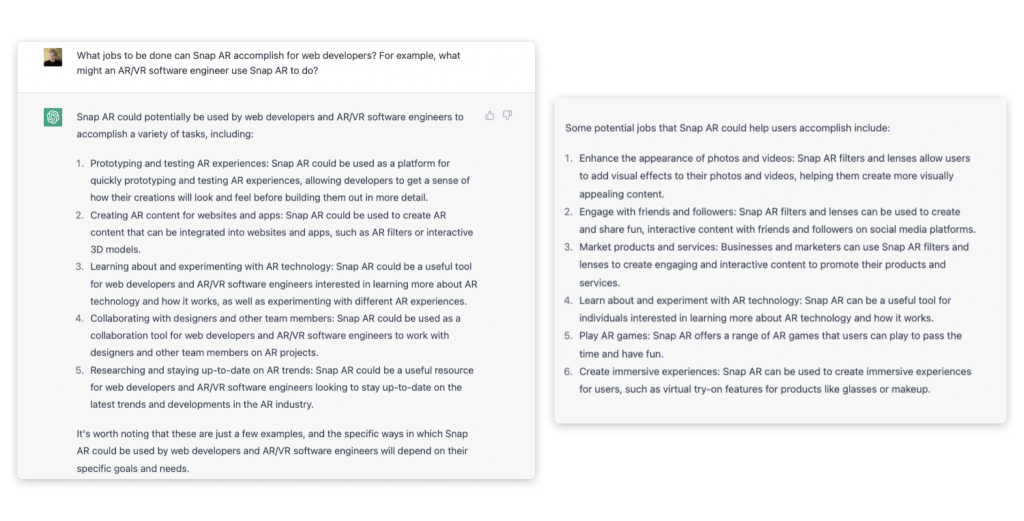 JTBD research for Snap AR, a software platform for AR creators.
2. Content Creation
Quality SEO-optimized content, even if it's produced with AI, can drive organic traffic, engage audiences, and boost search engine rankings. However, creating high-quality content is often time and resource-consuming, hindering efficiency and productivity. With AI, we've been able to streamline and automate various content-related activities including:
Brief creation
Content roadmap creation / topic ideation
Full content creation
Meta titles / description writing
Grammar checking
Text summarizer for long-form content intros
Email drafting / summary writing
Writing summaries on algorithm updates, including advising on what things to check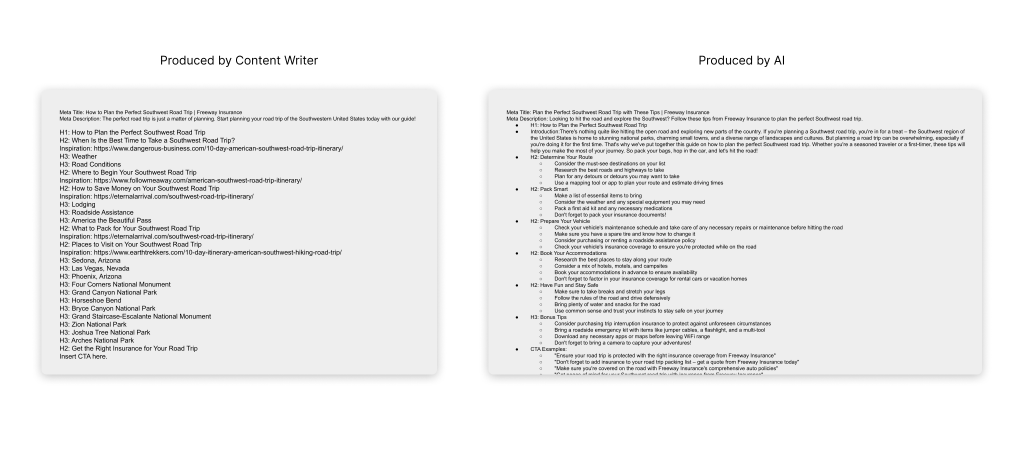 In 3 Brief tests, AI produced a higher quality Brief than our manual process based on Strategist feedback.
By embracing AI in content creation, we've made significant cost and time savings by decreasing manual work, unlocking unprecedented efficiency and productivity while delivering exceptional SEO results.
Note that while AI is great for some types of content, it doesn't work for everything! Here's where we have and haven't found success.
| Good For | Bad For |
| --- | --- |
| Brief topics that are evergreen | Briefs that are "newsy" and timely |
| Briefs that are factual and information-based | Briefs that are largely opinion-based |
| Briefs with a broader audience | Providing the "why" behind Brief recommendations |
| Providing multiple Meta and CTA alternatives to clients within the Brief so clients have a variety to choose from | Briefs for topics for very newly-established brands or very young industries |
| Briefs in established industries / brands | Providing interlinking recommendations |
| Briefs that focus on steps / processes | Briefs that compare companies to one another |
| | Supplying external sources and outbound links for info (the current models usually generate "fake" sources) |
3. Technical Tasks
Technical SEO is essential for enhancing user experience, optimizing website visibility, and reducing marketing costs. It ensures fast loading times, easy navigation, mobile-friendliness, and higher search ranking, leading to improved engagement and conversion rates. It also reduces reliance on paid marketing efforts, resulting in cost savings, especially when the technical tasks are completed faster. We've used AI for:
Basic code updates / code review
Schema markup validation
Valid Hreflang attribute review such as ISO language codes
Regex and XPath filter creation
Writing summaries that explain complex SEO items to clients
HTACCESS file edits
| | | |
| --- | --- | --- |
| We don't manually draft Regex anymore to segment data in GA4 or Google Analytics. | OpenAI / GPT-3 handles technical code requests with ease and decreases employee error, reducing liability. | Use ChatGPT to check for valid Hreflang attributes such as ISO language codes. |
4. Digital PR & Backlinking Projects
While higher-skilled tasks in PR demand human expertise for their nuanced nature, AI plays a valuable role in enhancing various research and drafting processes typically assigned to entry-level PR professionals. These include:
Drafting press releases
Conducting influencer / journalism 'sourcing'
Finding spheres of influence websites for pitching
Sentiment analysis of websites or specific webpages
Drafting survey questions for use in Digital PR content creation
Proprietary research creation for pitching campaigns (ie. analyzing large datasets such as social media data or web analytics data to identify trends and patterns)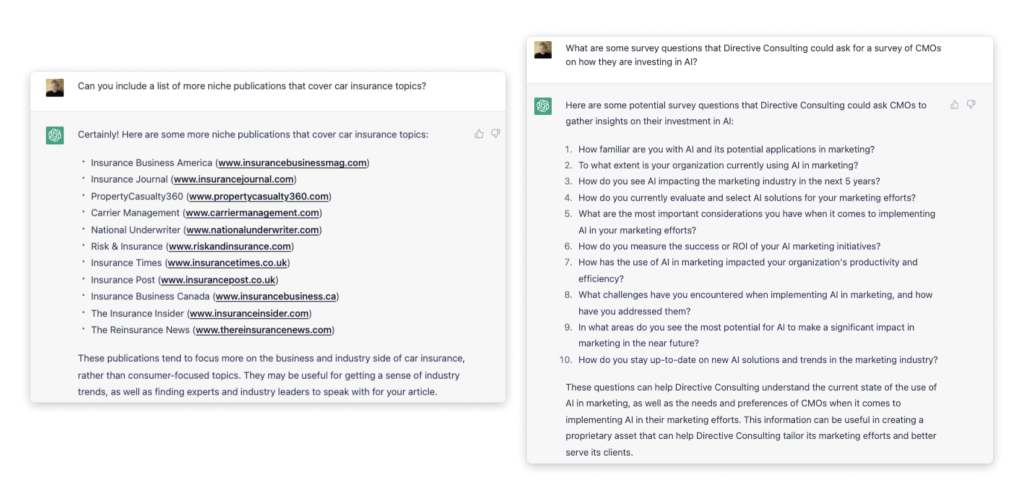 ChatGPT prompts for publication identification and survey research.
The roadmap to successfully implementing AI into your SEO workflows.
The roadmap to successful AI implementation requires careful consideration and proactive measures to address potential pitfalls. Today, our team mostly relies on existing AI tools because the investment into 3rd-party or in-house developers would offset the potential savings. As a result, considerations for AI software security and accuracy of information are crucial. The emergence of LLMO (Large Language Model Optimization), potential shifts in user behavior, and concerns around plagarism should also be taken into account.
To navigate these challenges, proactive communication and testing are key. Here's how to set your team up for success:
Planning and preparation: Identify the goals and objectives of the GPT / AI implementation and select the AI tool to implement.
Training and onboarding: Ensure that all relevant team members are trained and onboarded on how to use the tools. This involves instructional materials, holding workshops or training sessions, and assigning mentors to support team members as they learn. Security training is imperative, too, so your team knows not to share private data such as revenue or business numbers.
Testing and piloting: Once your team members have been trained, we recommend testing AI / GPT with a small group or on a limited scale before rolling it out more widely. This will help identify any issues or problems that may need to be addressed before it is fully implemented.
Implementation: Once the AI tools have been tested and any issues have been addressed, it can be rolled out to the rest of the organization. Communicate the changes to all relevant team members and provide support as needed during the implementation phase.
Review and evaluation: After ChatGPT and / or other AI tools have been implemented, review and evaluate its performance to determine whether it is meeting the goals and objectives that were set at the beginning of the implementation process. This way, you can identify the areas for improvement and ensure that the tool is being used effectively.
Industry-leading AI tools in owned and earned media that you can implement today.
Here's our tested list of industry-leading AI tools for various SEO functions, including content creation and digital PR. Narrow your selection based on their suitability, cost, and integration with your existing workflow.
Content
Jasper AI: Built for scaling content and art, Jasper is trained to produce high-converting marketing copy / content.
Articoolo: Generates high-quality, original content based on a user-provided topic. It can produce content in a variety of styles and formats, including articles, blog posts, and social.
Top ChatGPT alternatives to use in 2023.
Digital PR
Persado: Generates personalized subject lines, headlines, and content for emails and digital campaigns. Increase open and conversion rates by using machine learning algorithms to analyze past campaigns and to identify patterns that lead to successful outcomes.
NewsWhip: Track and analyze content across social media platforms. It helps PR professionals identify trends and opportunities and measures campaign effectiveness.
Brand24: Monitor social media and other online sources to track mentions of a brand or topic. It can help PR professionals identify and respond to opportunities and threats in real-time.
Embrace AI for SEO excellence.
Harnessing the power of AI in your SEO strategies has the potential to revolutionize your performance and unlock unparalleled success. However, it is still important to have human oversight. While ChatGPT provides valuable insights, it's essential to exercise a critical eye and complement its output with your own expert knowledge. By carefully reviewing and incorporating your own expert touches, you can maximize the effectiveness of AI and elevate your SEO efforts to new heights.
By leveraging AI, we empower our clients with personalized and impactful strategies that drive revenue growth while freeing our team to focus on strategic development and innovative problem-solving. Embracing AI in audience research, content creation, technical tasks, and digital PR and backlinking, allows us to achieve significant cost and time savings, increase efficiency and productivity, and deliver exceptional SEO results.
Today, we've augmented 80% of our SEO tactics with the power of AI. Now you can tap into its limitless potential for growth, too. With careful planning, training, and implementation, you can harness the power of AI to streamline workflows, stay ahead of the competition, and achieve unprecedented success in the ever-evolving SEO landscape.
To learn more about how you can gain a competitive edge in the world of SEO with AI, let's get on a call. We'd love to partner with your team to drive meaningful growth and revenue for your tech company.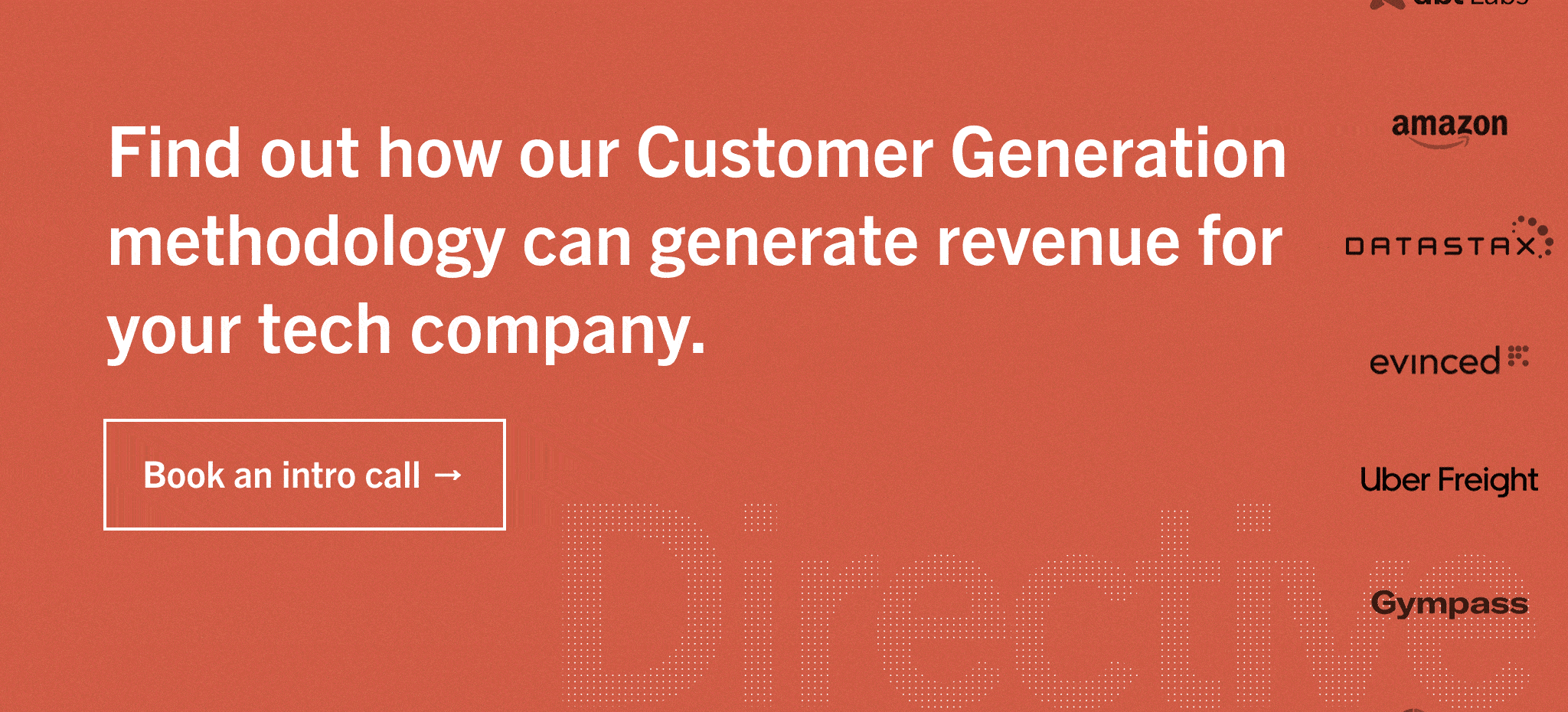 Keep reading
Agency Life
Top 5 Oldest Performance Marketing Agencies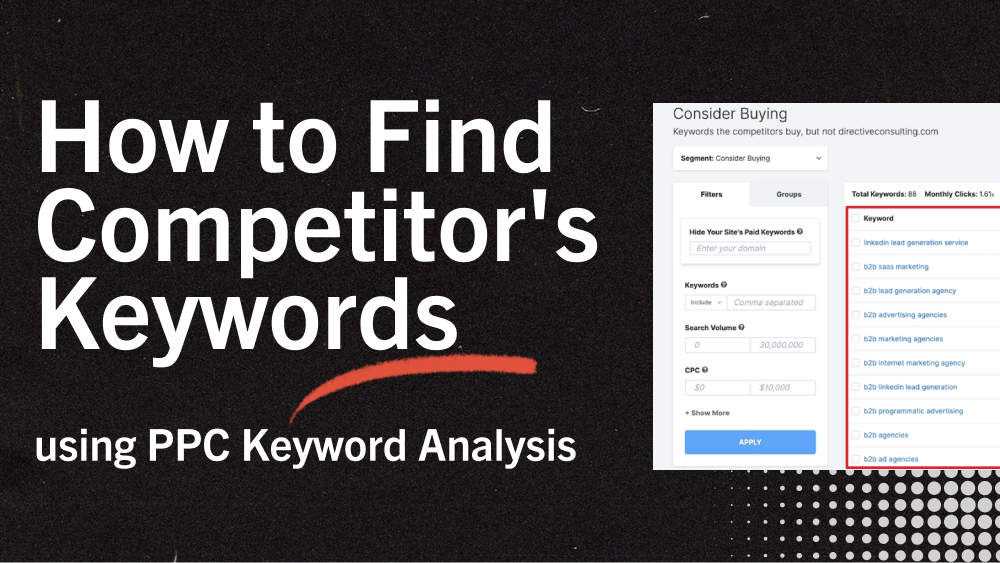 PPC
How to Find Competitor's Keywords with SpyFu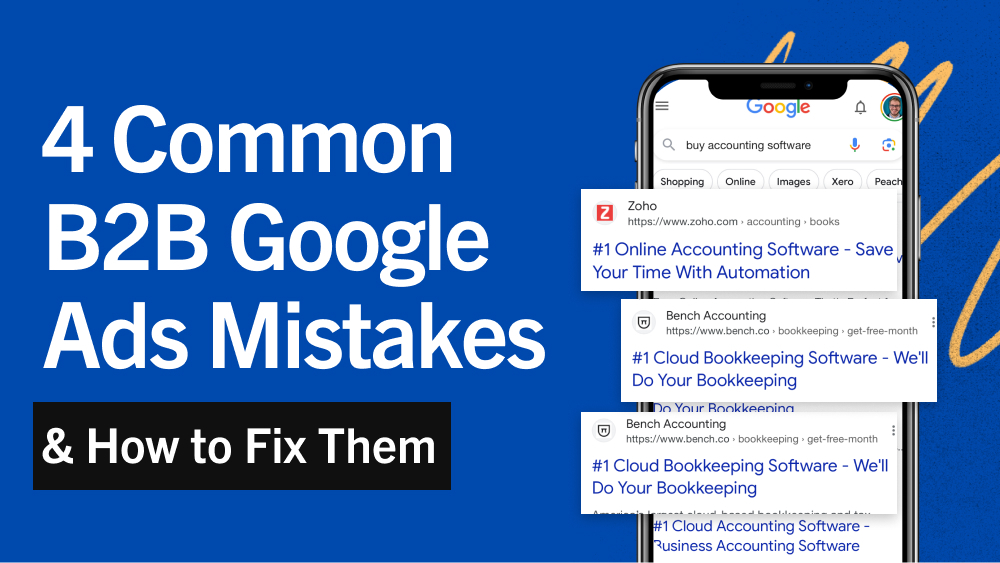 B2B
4 Common B2B Google Ads Mistakes and How to Fix Them