Top 7 Benefits of Local SEO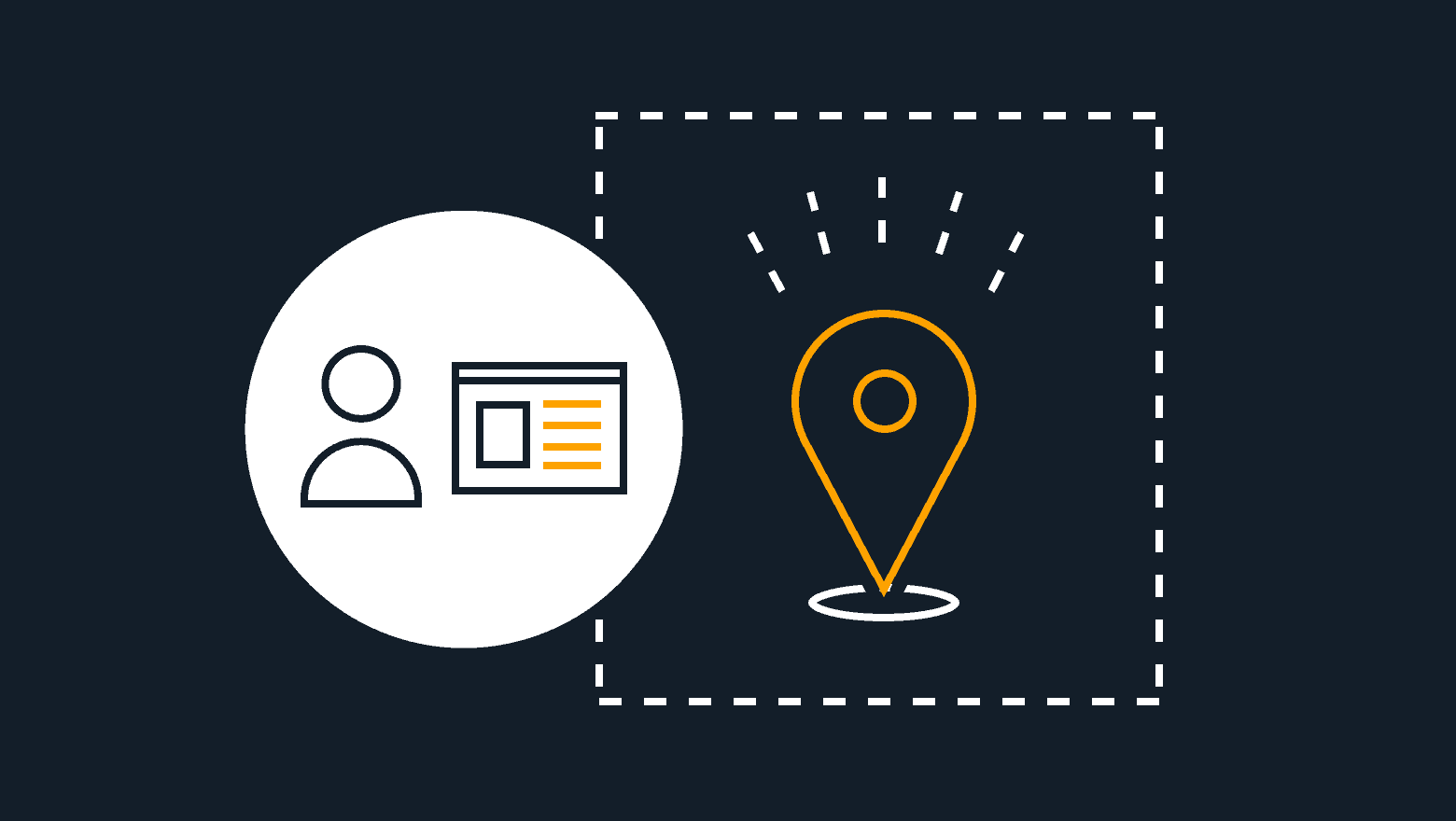 Are you familiar with the benefits of local SEO?
Search engines like Google and Bing use local search to help connect searchers with businesses near their location. If you operate a small business with brick-and-mortar locations, local SEO can help improve the visibility of your business in local search results and make it easier for searchers in your area to find your business online.
Digital marketing professionals should be familiar with how to do local SEO and the benefits that it can provide for local business owners.
In this resource, we offer a basic definition and overview of local SEO, explain why it's important, then list the top 7 benefits of local SEO that digital marketers need to know.
What is Local SEO?
Most digital marketers have already heard of search engine optimization (SEO), which is a set of techniques for creating and promoting content to rank on search engines and generate organic web traffic.
Local SEO is a set of techniques for optimizing your online presence to gain more visibility, drive organic traffic, and present a positive brand image in relevant local search results.
While traditional SEO techniques are applicable for digital or web-based businesses, local SEO is most relevant for businesses that provide a physical product or in-person services to local customers.
If your business delivers an in-person service (e.g. massive therapist, plumber, electrician) or requires customers to visit your physical location to purchase (e.g. restaurant, ice cream parlor, rock climbing gym), local SEO may be the best channel for connecting your business with potential customers in your area.
Why is Local SEO Important?
If you're a small local retailer or service provider, local SEO is one of the most cost-effective ways to get the word out about your business and broaden your pool of potential customers. When you optimize your online presence for local search, potential customers are more likely to see your business listed in their search results and you'll obtain more customer inquiries.
On a broader scale, local SEO also includes taking care of your online reputation. That includes responding to customer inquiries and feedback on digital platforms, as well as responding to reviews (both negative and positive). Positive reviews act as social proof of the quality of your business, making it more likely that searchers will want to purchase from you.
Top 7 Benefits of Local SEO
Increase Business Discoverability
Local SEO is a set of activities whose main goal is to make your business more visible and discoverable on the Internet. This is primarily achieved through citation building and the configuration of directory listings across major business directories.
There are hundreds of general and industry-specific business directories on the Internet where you can submit information about your business and generate citations and backlinks to your website.
The best way to increase the visibility of your business on search engines is to create optimized directory listings on local search directories like Google My Business, Bing Places, and Yahoo Localworks.
Appear in the "Snack Pack" of Local Search Results
When you create an optimized Google My Business listing, you may find that your business starts being listed in the "snack pack" of local search results. Also known as the "Google 3-Pack" or "Local 3-Pack", the "snack pack" displays the three local business listings that are most relevant to the searcher's inquiry and closest to their location.
Appearing in the snack pack can be extremely valuable for your business, as these results are displayed near the top of the page and get most of the clicks when searchers are looking for a local business to visit.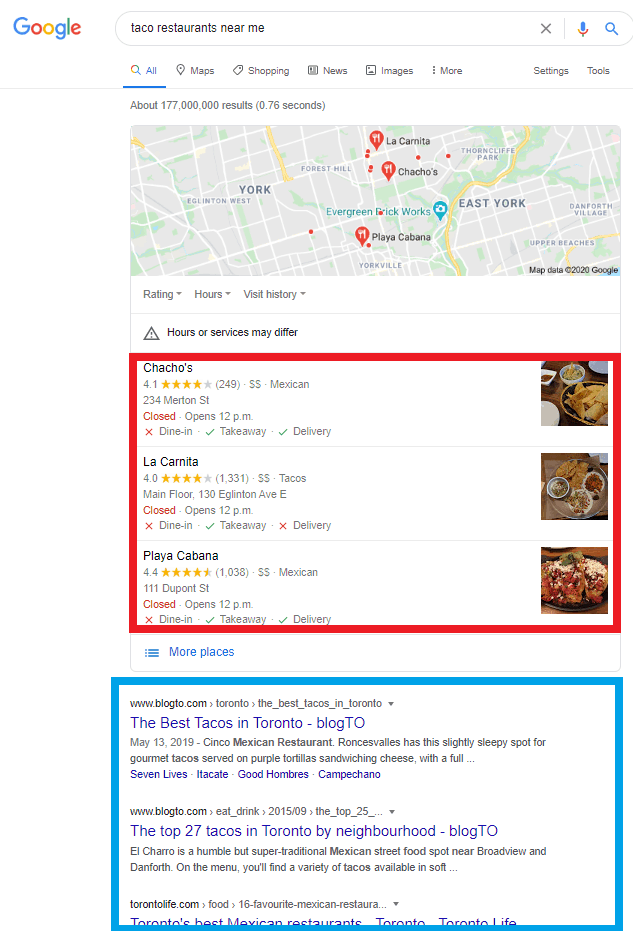 Image: Google local search results for "taco restaurants near me". Snack pack results are outlined in red, while organic results are outlined in blue.
Capture Targeted Local Traffic
The best thing about local search is that it levels the playing field between small businesses (with small marketing budgets) and large businesses (with enormous marketing budgets) when it comes to competing for search engine traffic.
Normally, a business that wants its website at the top of the search engine results pages must either pay for ad space (PPC advertising) or create SEO-optimized content to target organic search results.
Local SEO provides a third route to the top of the SERPs, which consists of optimizing your local business listings and managing your business reputation online. When businesses do these two things, Google rewards them with higher rankings in local search results and the opportunity to generate more website traffic and more business inquiries from potential customers in the local area.
Reach Customers on Mobile Devices
Mobile devices use location services to help search engines return more relevant results.
When someone takes out their mobile phone on the bus and searches for "restaurants near me", Google uses location services to pinpoint that person's location at the time of the search and identify nearby businesses that satisfy the person's search intent.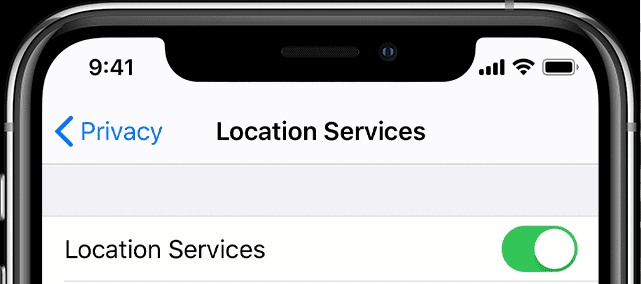 Image: Location services allow search engines to deliver local search results to mobile phone users based on their real-time location. When searchers are close to your location, local SEO helps your business appear more frequently in their relevant search results.
Location services on mobile devices make local SEO even more effective, as users can more easily find your business by using their mobile device to search while visiting your local area.
Reduce Marketing/Advertising Costs
Local SEO activities can be labor intensive if you don't use any software to streamline the process, but they're one of the cheapest ways to start seeing your business at the top of the SERPs.
Many components of local SEO optimization are free or low-cost, such as generating local citations and building directory listings that enhance visibility.
Enhance Social Proof
Digital marketers and small business owners can use local SEO tools and software to communicate with their customers across different social media platforms and enhance social proof of their business value.
Image: Positive reviews on business review websites like Yelp can improve your local SEO ranking signals and increase your presence in local search results
Having more positive reviews across major review sites like Yelp enhances local search visibility. Businesses can offer special incentives for customers who are willing to post positive reviews after a great experience.
Deliver a Multi-channel Customer Experience
Optimizing your online presence with local SEO helps you engage customers across multiple touchpoints as they move through the customer journey.
Prospects can find your business on Google Places/Snack Pack/Search, visit your website for product/service information, check your online reputation on review sites and social media, then call you by phone for additional information.
By the time they call, you've already been heavily vetted and the customer is closer to converting.
Summary
Thanks for checking out our list of the top 7 benefits of local SEO.
For businesses that provide in-person services, local SEO is one of the best and most cost-effective SEO strategies for getting onto the front page of search results and capturing more relevant, organic traffic.
Digital marketers should incorporate local SEO into their online marketing efforts when it makes sense to get the best results for local business owners. Need helping incorporating local SEO into your marketing? Book an intro call with the best SaaS SEO agency around!
Keep reading
Agency Life
Top 5 Oldest Performance Marketing Agencies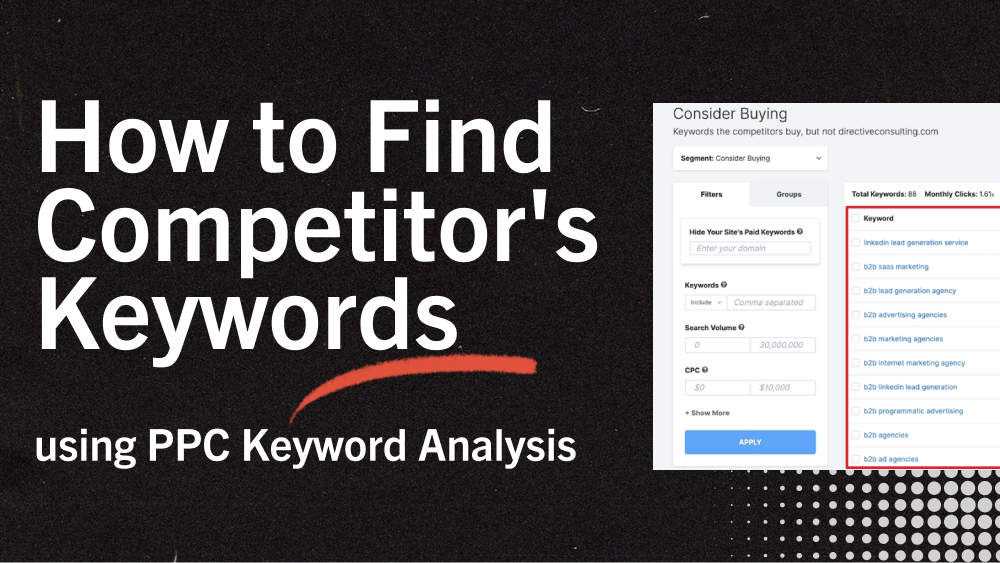 PPC
How to Find Competitor's Keywords with SpyFu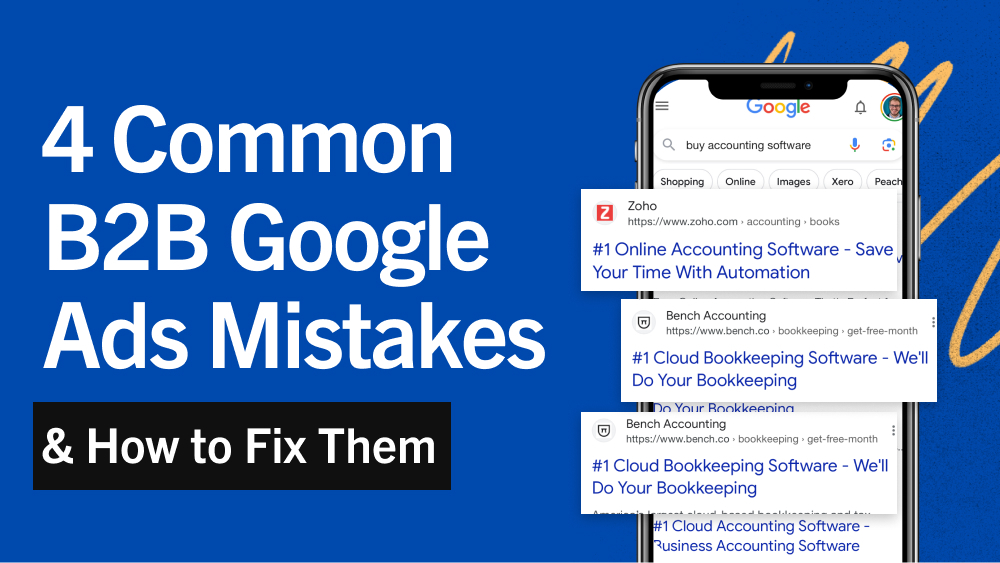 B2B
4 Common B2B Google Ads Mistakes and How to Fix Them