7 Best Backlink Checkers for SEO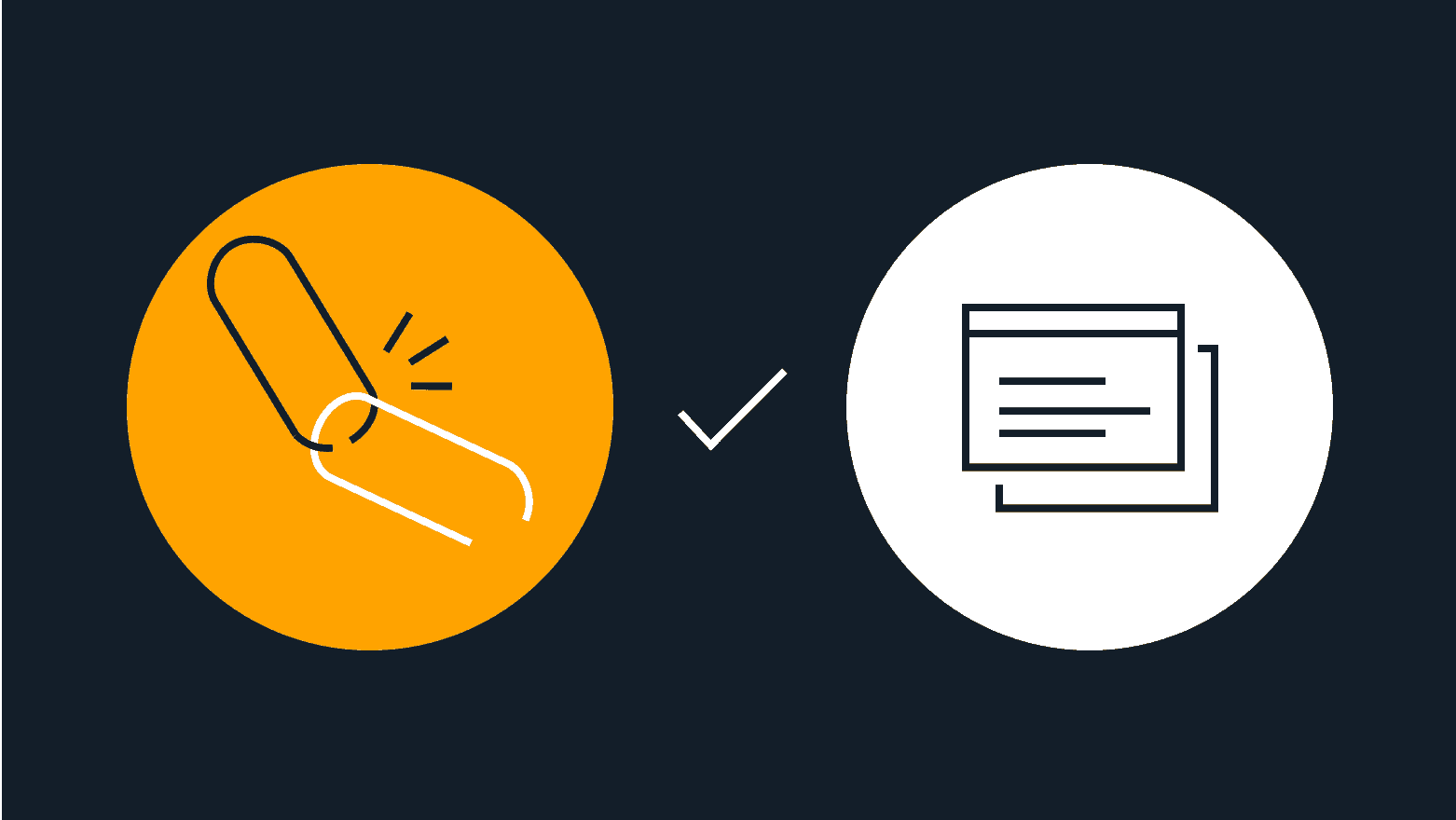 Looking for the best backlink checker tool to help you keep track of your content promotion and link building efforts?
When search engine algorithms are ranking your web pages in their results, several of the most significant ranking signals are related to your backlink profile. Web pages rank better when they have more backlinks from trusted, high-authority websites. A diverse backlink profile with lots of different referring domains is also better than having all of your links come from a single source.
On the other hand, spammy links from disreputable domains can negatively impact your search engine performance. That's why it's important to use the best backlink checker available to monitor backlinks, perform backlink analysis, and disavow links from suspicious domains.
To help you get started, we've created this list of the 7 best backlink checkers that you can use to keep tabs on your backlink profile.
7 Best Backlink Checkers for SEO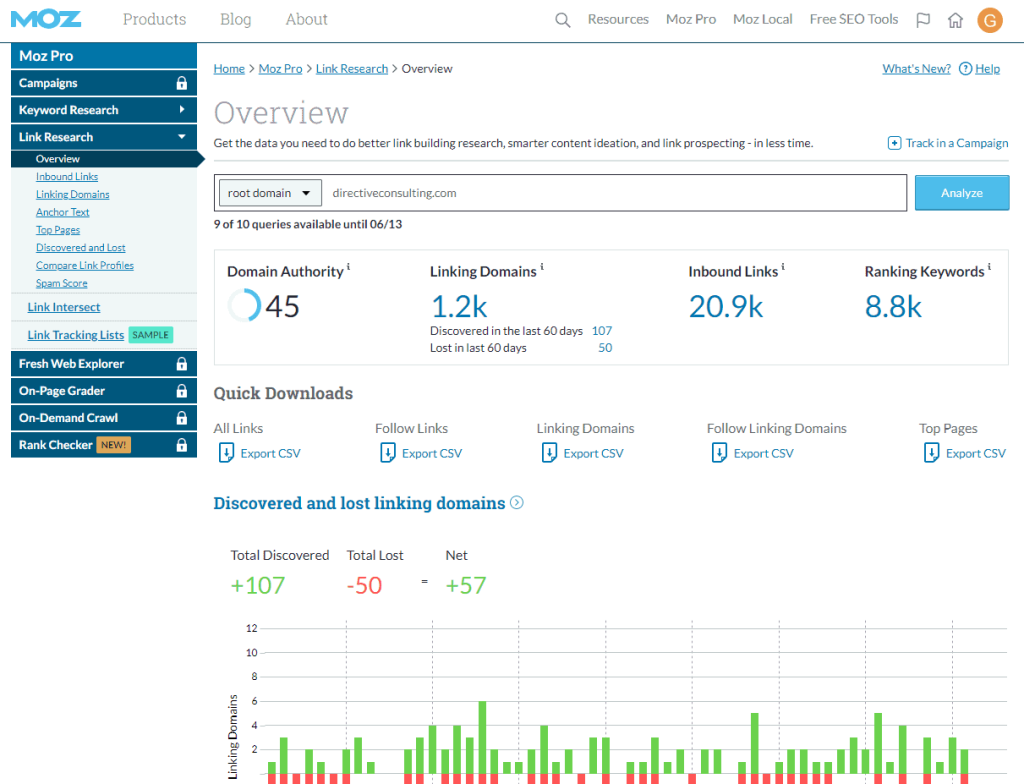 Overview: Founded in 2004, Moz has over 15 years of experience in search engine marketing. The Moz Link Explorer offers digital marketers access to one of the most comprehensive link databases anywhere, with over 36.5 trillion links discovered across 6 trillion pages.
Key Features: With Moz Link Explorer, you can choose to analyze backlinks for either a single web page, a subdomain, or an entire website. Once you click the analyze button, you'll be able to access a complete backlink profile with detailed segmentation, rich visuals and downloadable spreadsheets in case you need to dig even deeper. You may also be interested in learning about your Domain Authority, a metric created by Moz to evaluate the ranking potential of a website relative to others in the Moz index.
Access: You can access the free version of Link Explorer by registering on the Moz website with your email address. There's also a 30-day trial of the full-feature product for new users. Subscription packages start at $99/month.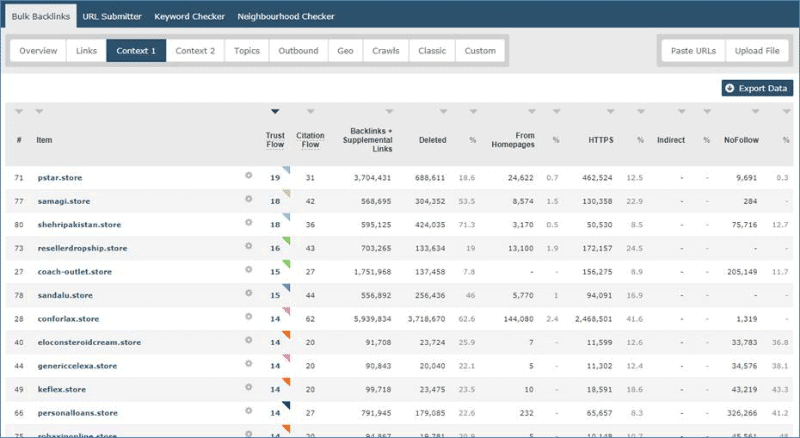 Overview: Launched in 2008, the UK-based Majestic is one of the leading SEO tools used by digital marketers. Majestic offers a range of SEO capabilities, including keyword research and analysis, rank tracking, and a powerful bulk backlink checker.
Key Features: Digital marketers can use the bulk backlink checker to obtain granular backlink data from a large volume of URLs with a single search. The bulk backlink checker handles batches of up to 400 URLs using the paste URLs feature, or up to one million URLs from a file upload. Marketers can analyze backlinks for an in-depth list of competitors, use the trust flow metric to identify their biggest competitors, then replicate their link-building strategies to boost SERP rankings.
Access: Bulk backlink checker is available only with the paid version of Majestic. Subscription rates start at $41.69 for the most basic feature package.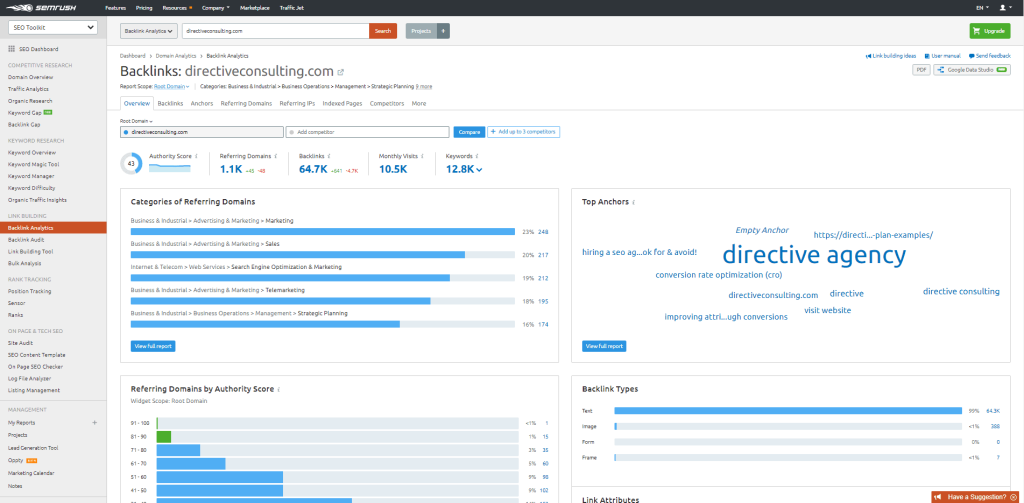 Overview: SEMrush is a comprehensive search marketing tool with SEO tools and features for on-page, off-page and technical optimization. SEMrush also provides one of the best backlink checkers on this list.
Key Features: If you're just learning how to create a link building campaign, SEMrush offers several tools that can make your marketing life a little bit easier. The backlink analytics tool gives you instant access to detailed backlink profile data for any domain you choose. You can also use the backlink gap tool to compare your backlink profile to those of your competitors and find the best opportunities to secure high-authority links. There's also a simple bulk backlink analysis tool that lets digital marketers analyze up to 200 URLs. Finally, the link building tool offered by SEMrush can help you plan and execute your content promotion and link building campaigns.
Access: There's a free version of SEMrush available with most features available, but limited access to data. Paid subscription packages start at $99.95/month.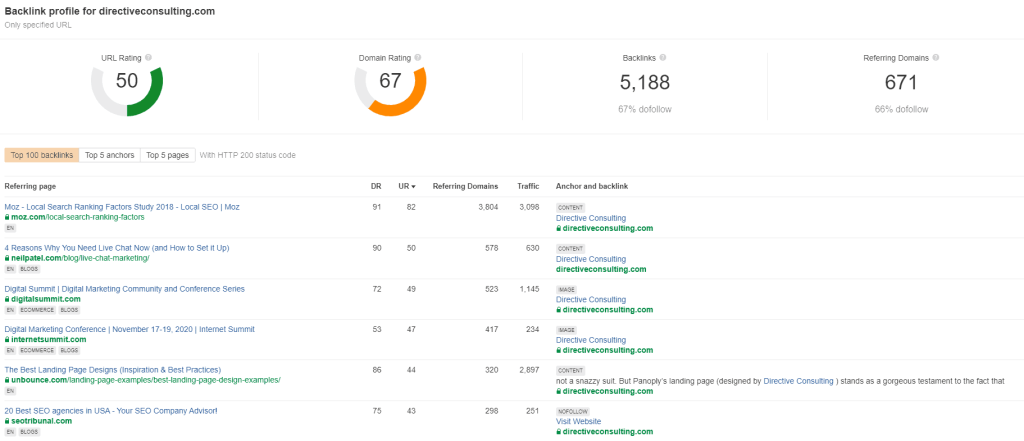 Overview: Ahrefs uses the power of big data to deliver exceptional SEO research tools and capabilities for digital marketing professionals. The organization's databases include information on 160 million web domains, 10.3 billion keywords, and nearly 20 trillion internal and external backlinks. Check out these additional Free Link Building Tools for even more options.
Key Features: Ahrefs claims to possess the world's largest index of live backlinks, in addition to its massive keyword and search query data sets. With the free version of this powerful tool, marketers can quickly check their top 100 backlinks, the five most common anchors used to link to their domain and the top five landing pages on their websites with the most inbound links. The paid version of Ahrefs backlink checker offers a comprehensive backlink profile with full access to the Ahrefs link database.
Access: Subscription packages for Ahrefs start at $82/month when you choose a basic subscription plan with annual billing.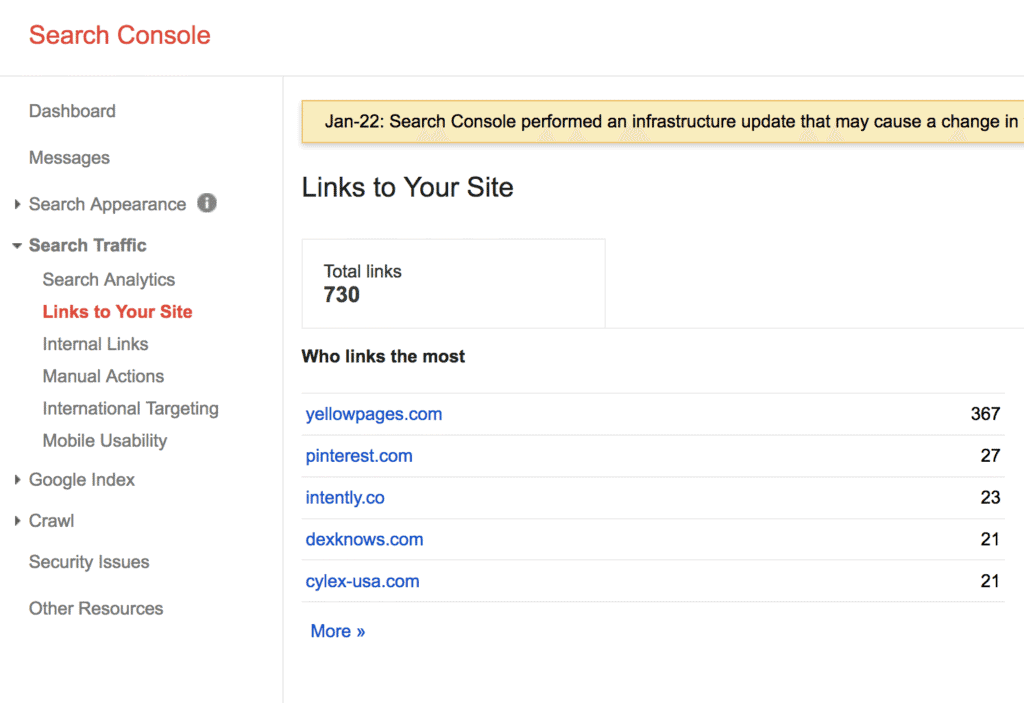 Overview: If ranking on Google search results is a priority for your marketing campaign, Google Search Console is the best backlink checker tool that you can use to assess your backlink profile and disavow any undesirable links.
Key Features: There are several cool features you can leverage using the Google Search Console. One thing you'll notice is that Search Console segments link to your backlink profile into external and internal links. This makes it easy to evaluate which of your pages could use some additional internal links pointing at them to boost their rankings. Another thing you can do is click the "More" button under "Who links the most". You'll then see a button that lets you download your latest links into a spreadsheet and see who's been publishing new links to your web pages. This capability is useful for sorting through and auditing your backlink profile for low-quality links.
Access: Google Search Console is a free SEO tool available for anyone with their own web domain.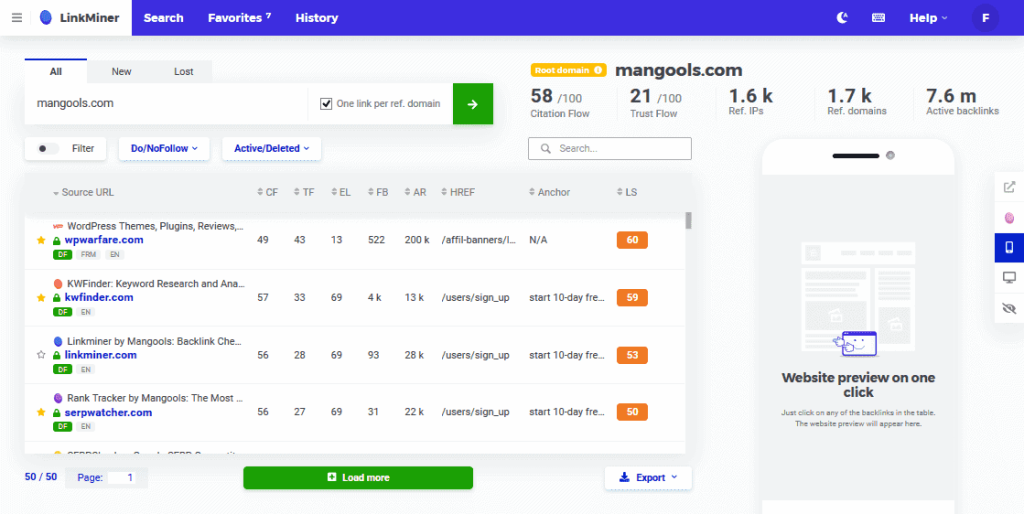 Overview: Mangools has more than 18,000 customers and has earned a reputation for providing exceptional ease-of-use and value with its line of free and paid SEO research tools for digital marketers.
Key Features:  LinkMiner is one of the best backlink checkers with a unique angle: backlink competitor intelligence. Digital marketers are encouraged to mine the backlink profiles of their competitors, identify their highest-performing backlinks, then build link prospecting campaigns to replicate the best ones. The tool offers a simple interface and basic customization optimizations back by an extensive database of 9.5 trillion backlinks scraped from over 2 trillion individual URLs.
Access: The Mangools basic plan starts at just $29.90 per month when you pay up-front for a full year. There's also a free 10-day trial (no credit card required) where you can test-drive the full product before signing up.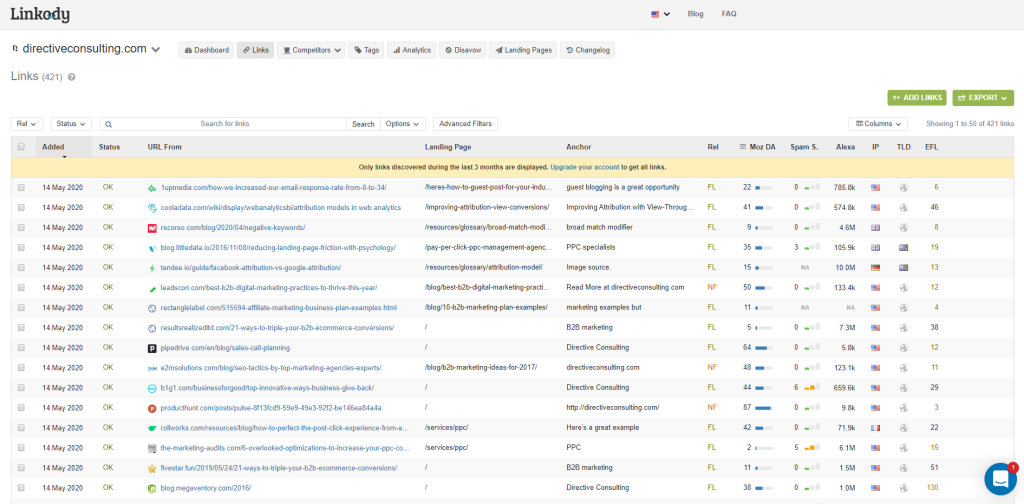 Overview: Despite its place at the bottom of this list, Linkody offers one of the best backlink checkers tools that are rich with features and ideal for data-driven marketers.
Key Features: Linkody has plenty in common with other backlink checkers on this list. The tool offers access to a huge database of links in a convenient format that's easy to filter, sort and segment to your exact specifications. Linkody pulls data from multiple sources to provide digital marketers with additional metrics on targeted domains, including Moz Domain Authority, Alexa Traffic Ranking, Trust Flow and social sharing metrics. The Linkody Analytics tool automatically produces charts and graphs using your backlink data and the PDF Report Generator function is an excellent feature for digital agencies keeping clients in the loop on content promotion and link-building results.
Access: Starting at just $11.20/month, Linkody is one of the most powerful and most affordable backlink checkers on this list. There's also a complimentary 30-day trial with no credit card required.
Summary
We hope this list makes it a little bit easier to choose the best backlink checker to assess and monitor your backlink profile! We'd recommend taking advantage of free trials where available to ensure you choose a tool that meets your backlink analysis needs. In need of additional backlink support? Our SEO agency for SaaS can help scale link building for your brand. Book an intro call today to see how.
Keep reading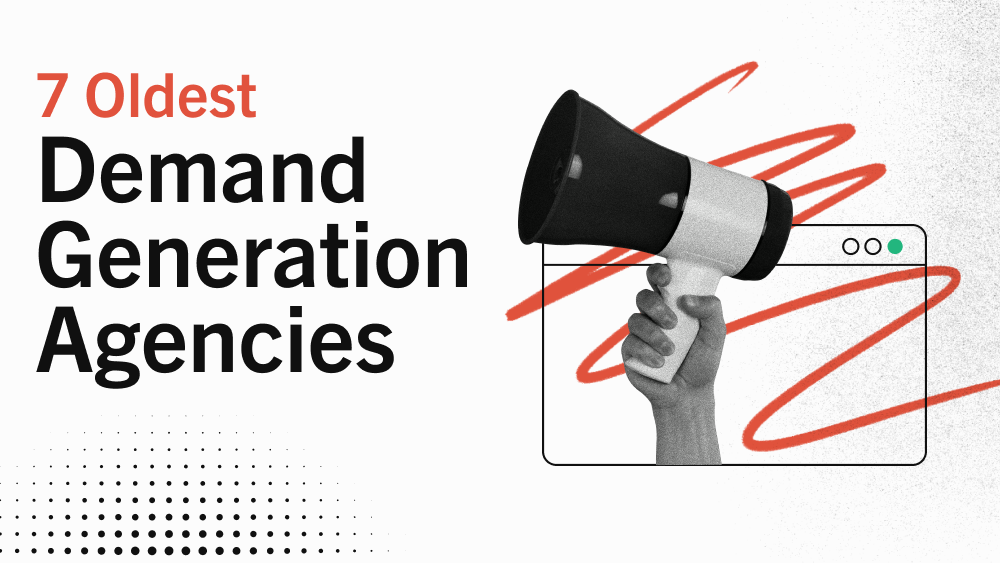 Agency Life
7 of the Oldest Demand Generation Agencies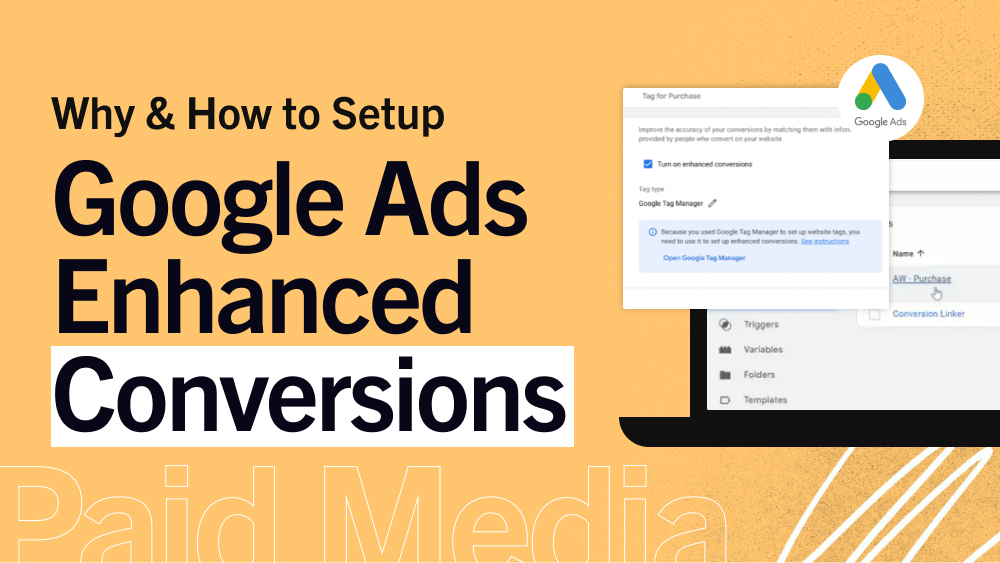 PPC
How to Setup Google Ads Enhanced Conversions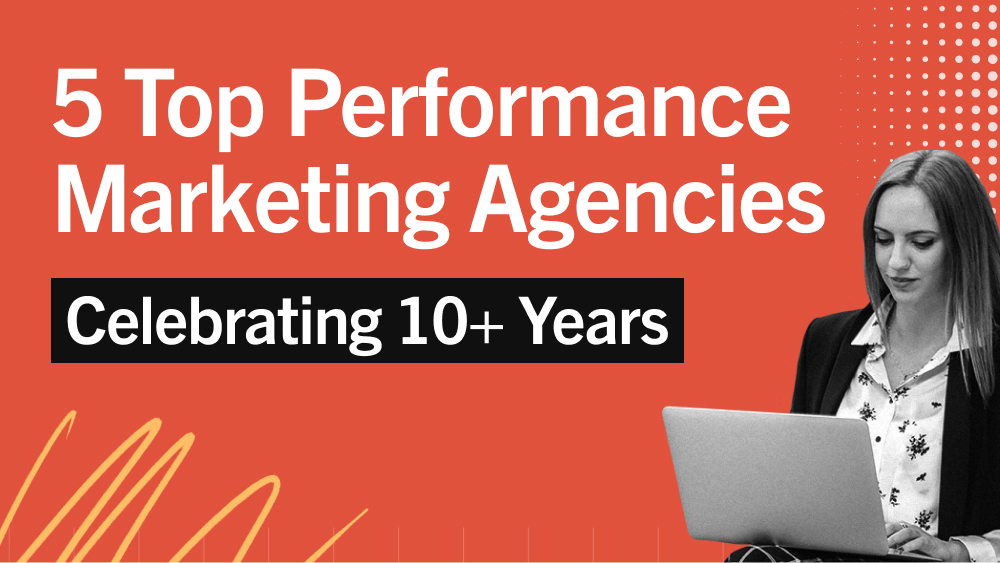 Agency Life
5 Top Performance Marketing Agencies Celebrating 10+ Years