Top 10 Free Link building Tools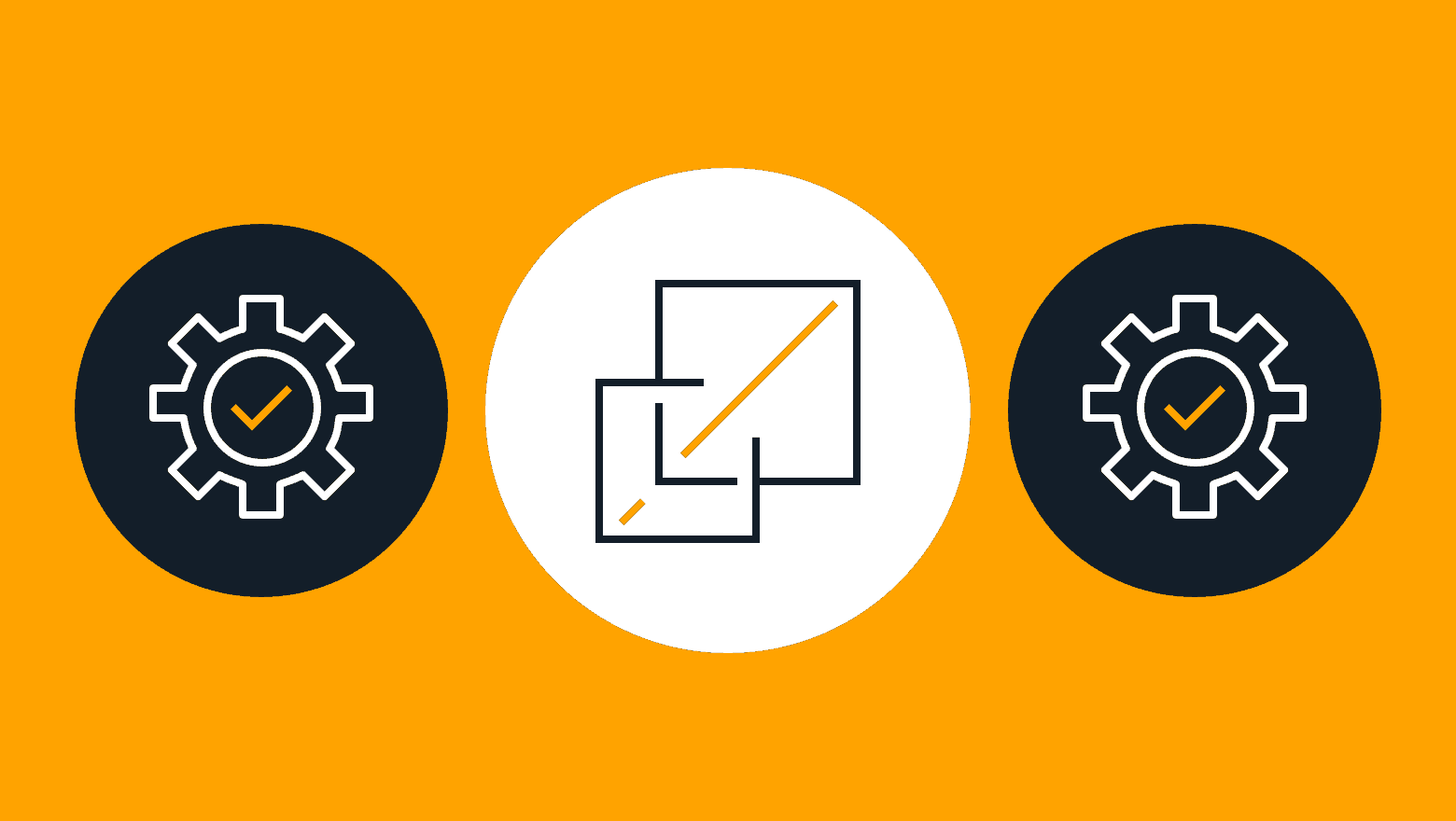 Did you know that you can use free link-building tools to promote your content more effectively and increase your ranking in the search engine results pages (SERPs)?
Link building describes the process of encouraging other websites to link to your content. Link-building tools can connect you with new audiences, increase your domain authority, and is also one of the most important signals that search engines use to rank your content in the SERPs.
In this piece, we're going over the top 10 free link-building tools that tech marketers can use to get more external links to their content on social media platforms and from other websites.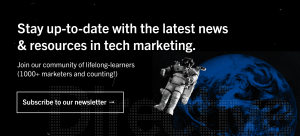 Top 10 Free Link Building Tools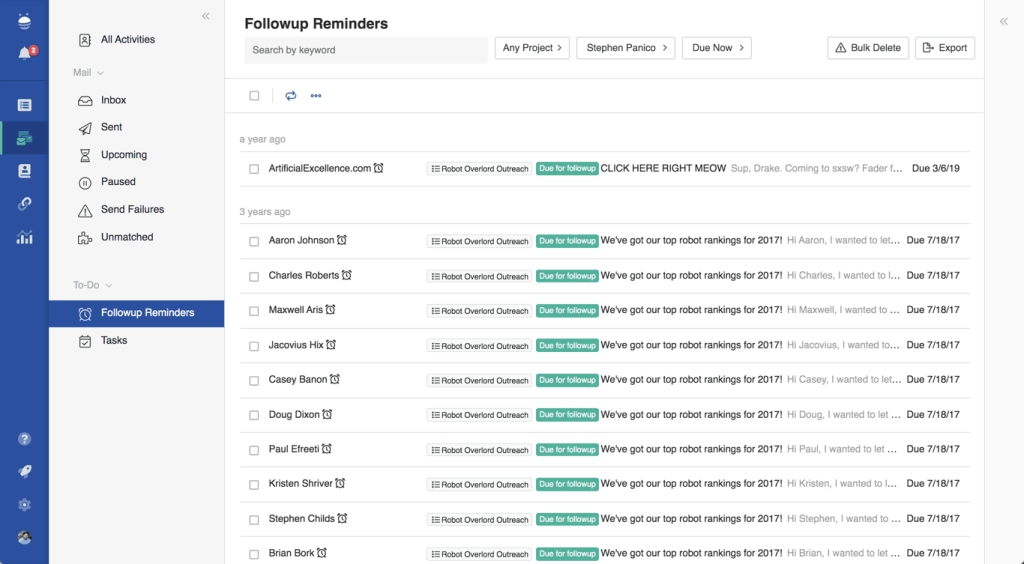 How it Works: Effective link building usually starts with reaching out to key influencers and publishers in your niche to shop around your content. Your goal here is to discover influencers with audiences that might be interested in your blog post, infographic, or another piece of content on your website and encourage them to link back to your page.
This is exactly what BuzzStream covers. The platform makes it easy for you to discover influencers in your niche, conduct outreach to influencers and other publishers that may want to feature your content and manage your relationships as you expand the reach of your brand.
What's the Deal?: As one of the leading free link building tools for digital marketers, BuzzStream is very competitively priced. The basic package starts at just $24 monthly for a single user and there's a 14-day trial available so you can get the full experience before you purchase.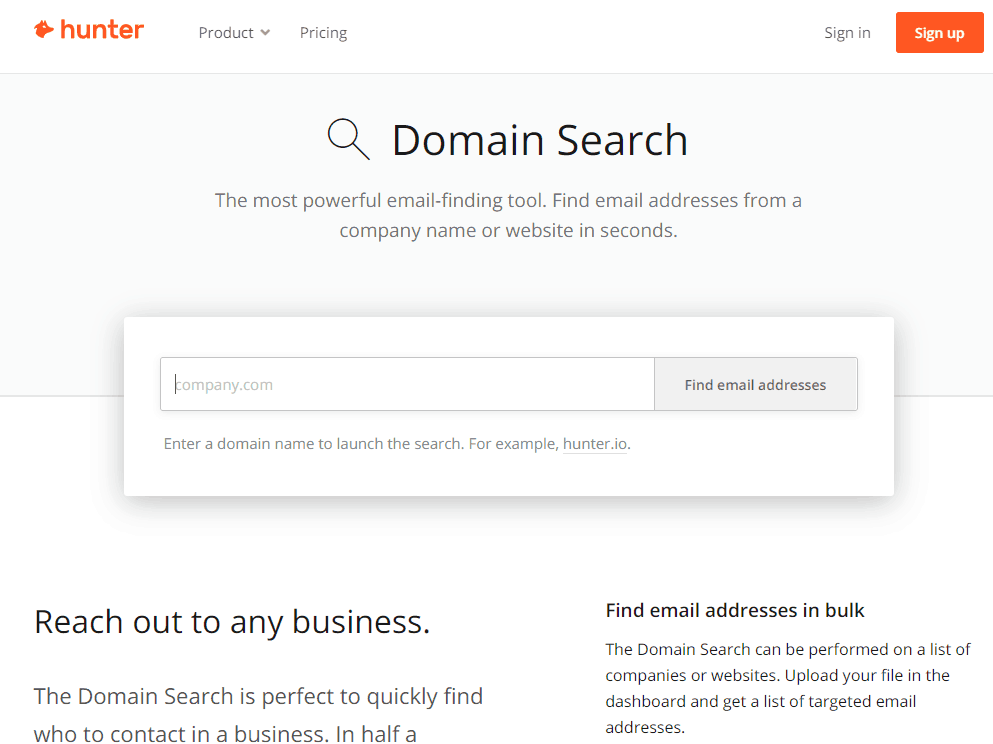 How it Works: Conducting outreach is probably the most important aspect of link building. To conduct outreach at scale and generate large volumes of link building opportunities, digital marketers must be able to efficiently capture contact information from the websites they are targeting for backlinks.
This is exactly the need that Hunter.io covers. The platform makes it easy for digital marketers to track down contact information for websites and professionals, and there's even a tool for email verification. All email addresses come from public sources on the web, but Hunter.io aggregates them in a convenient format that can feed directly into your link prospecting campaigns.
What's the Deal?: Hunter.io manages billing according to how many searches you need each month. Users can enjoy 50 monthly searches for free (and without premium features), before upgrading to the $49/monthly starter package that supports 1000 searches, domain search exports, multiple Gmail connections and priority support. There are opportunities to scale up service for an additional cost if your business needs to conduct more searches.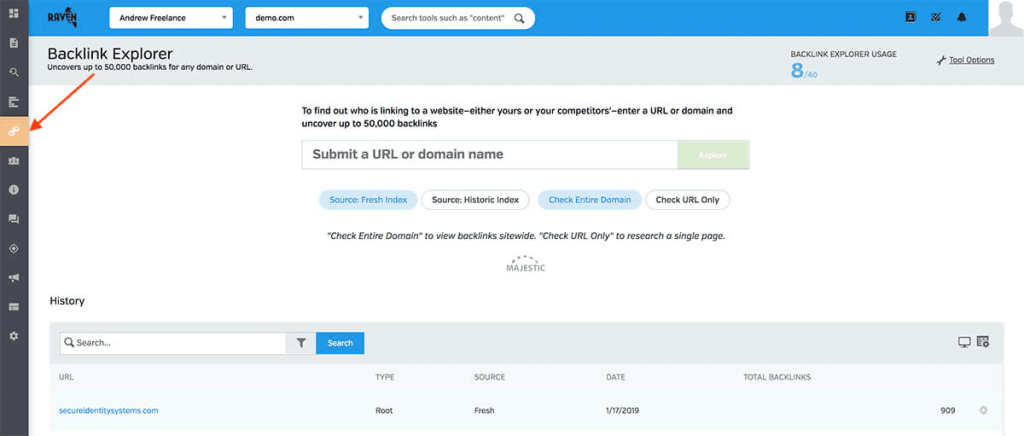 How it Works: Raven SEO is an all-in-one SEO platform with strong capabilities as a free link building tool. Users of the platform can perform a backlink analysis with three essential components:
Link Analysis –  The tool generates a profile of existing backlinks on your website, including the number of backlinks, how many pages on your domain are receiving links, anchor text usage, link quality and other factors.
Competition Analysis – After reviewing your own backlink profile, you can take a look at backlink profiles for your competitors to discover how they're generating traction.
Link Opportunities – This is where Raven SEO really shines. It takes your competitor's backlink profile and generates a list of opportunities for you, including websites where you might be able to secure links of your own.
The competitive analysis aspect of Raven SEO makes it especially useful as a free backlink tool for digital marketers laser-focused on beating key competitors in the SERPs.
What's the Deal?: Raven SEO is one of the most affordable all-in-one SEO tools. Pricing starts at just $7 monthly and there's a free 7-day trial available for all users.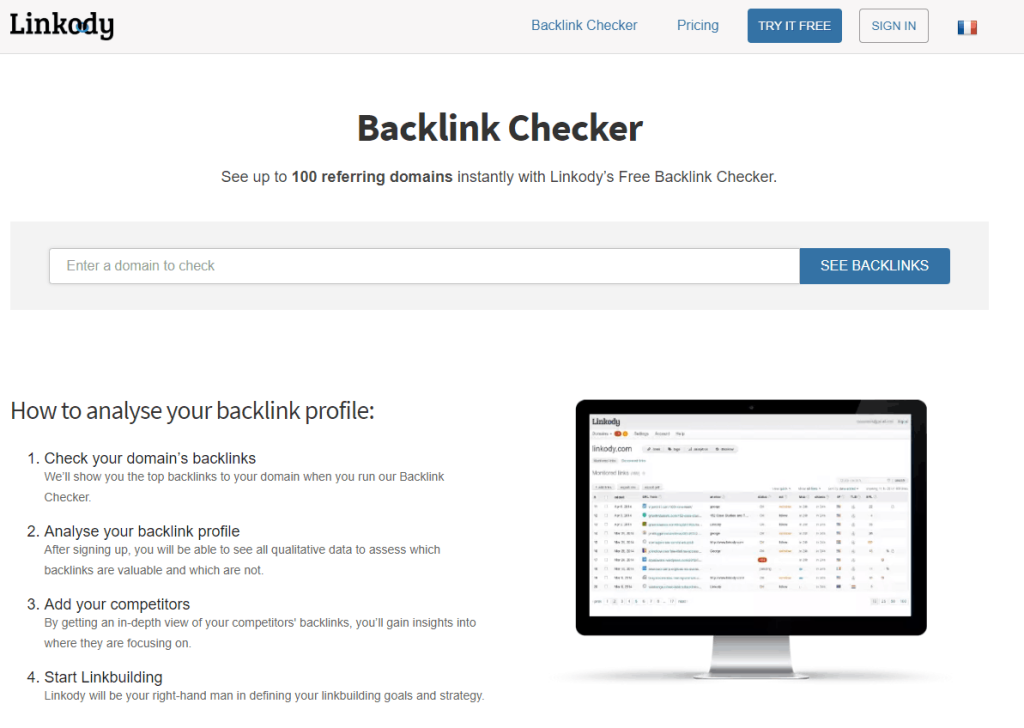 How it Works: Your backlink profile is one of the most important signals that search engines use to evaluate website authority. Linkody offers one of the best free link building tools that let you check backlinks to your domain, analyze your profile of backlinks, compare your link profile with the competition and formulate a winning link building strategy. The free backlink checker tool lists backlinks in order of domain authority for the linking domain, making it easier than ever to identify the best-quality links that are driving success for your competitors.
What's the Deal?: Linkody is a great deal. You can check the top 100 backlinks for any website using their free online tool that allows unlimited searches. Need more data? There's a 30-day trial that doesn't even require a credit card to get started. Once you're sure you love the tool, the basic paid package for webmasters is just $15/month.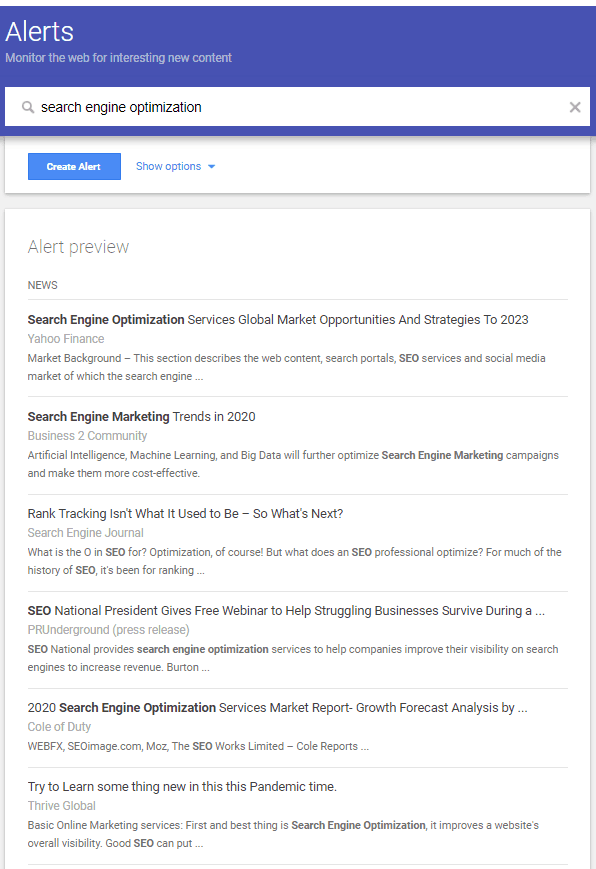 How it Works: Google Alerts is a completely free content monitoring service that all digital marketers should know about. Marketers can configure the tool to discover new mentions of specific keywords on the internet and push alerts about those mentions to an email address or RSS feed. This makes it easier to identify hot new content in your niche that you could potentially target for backlinking opportunities.
What's the Deal?: Google Alerts is a completely free content monitoring service! Every digital marketer can benefit from configuring a Google Alerts feed around their campaign keywords and tracking new mentions of those keywords through the Internet.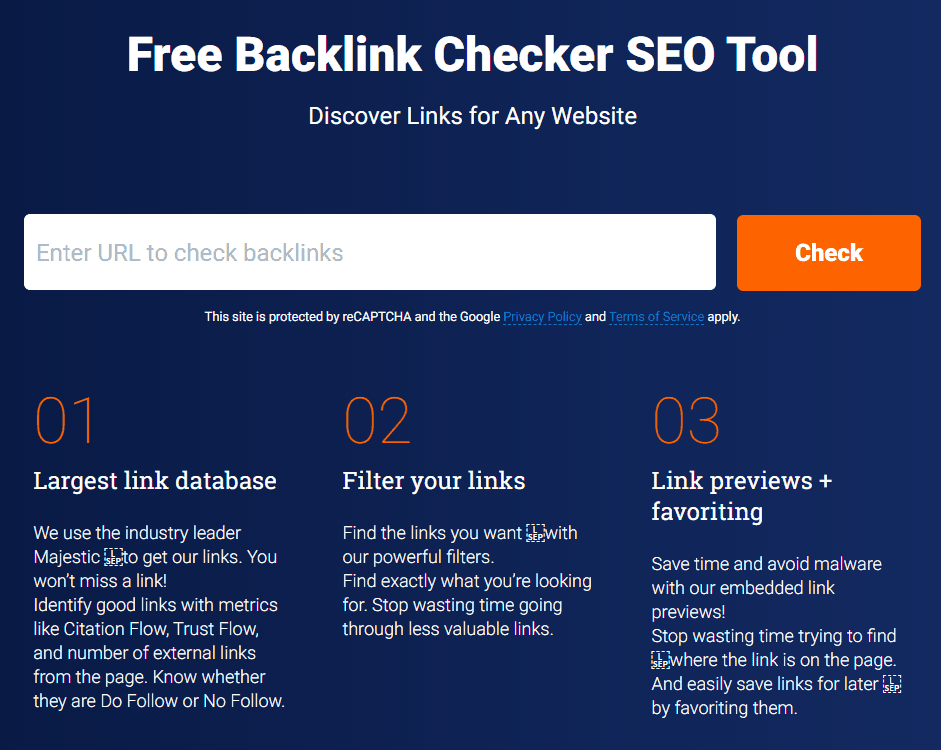 How it Works: Just like the name suggests, Monitor Backlinks is an SEO tool that makes it easy to keep track of backlinks for your own domain or just about any other. With their free online tool, you can type in any domain name and access a list of hundreds of backlinks to that domain. Results can be organized by URL, trust flow, status, and a range of other metrics. With the paid version, you can customize weekly automated emails where you'll receive updates on new backlinks that your competitors are getting.
What's the Deal?: Monitor backlinks offers a very powerful backlink checking tool for free – just use it on their website to your heart's content. For additional features, you'll need to sign up for the paid version. Subscription packages start at just $25/month for a single domain.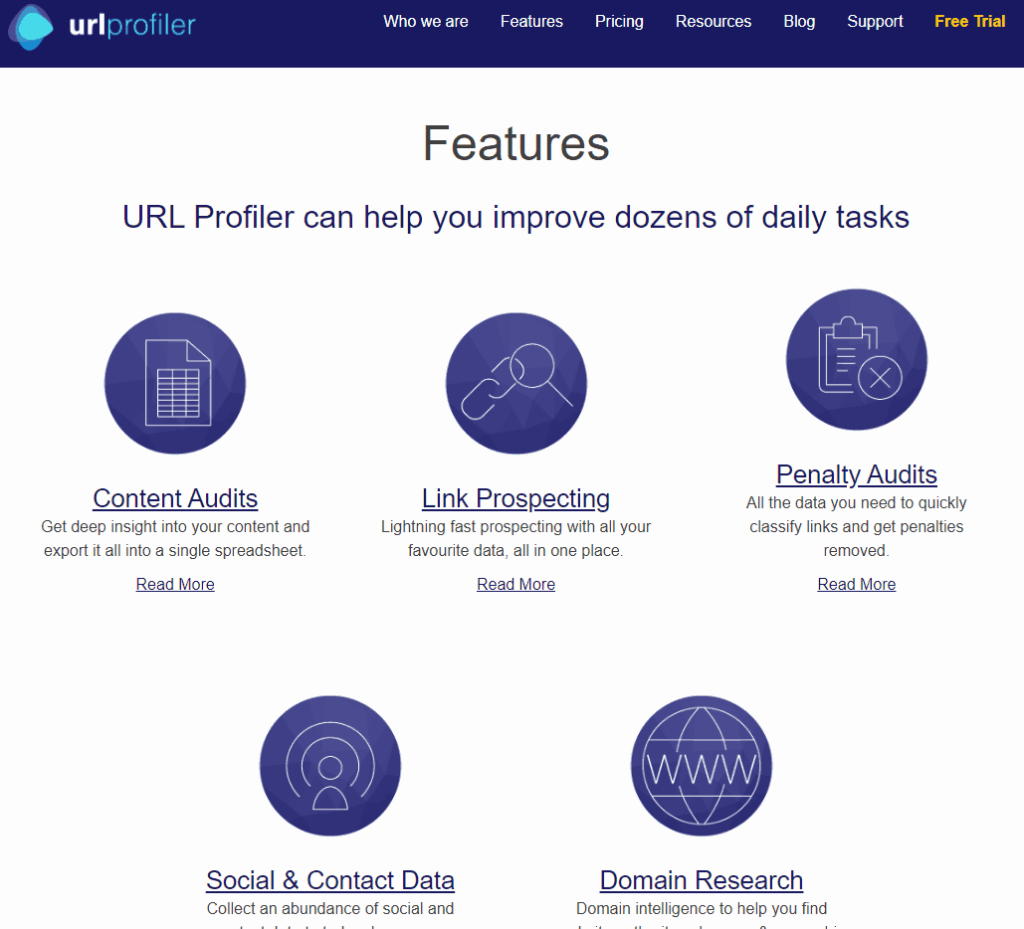 How it Works: While not technically a free link building tool, URL Profiler offers a range of features and services that support link building activities for digital marketers. They offer free tools like a SERP scraper and Twitter scraper that can generate lists of domains or users around a common theme to support your outreach efforts. You can also import data from your preferred all-in-one SEO tool to analyze link metrics & social shares or audit any unnatural links to your pages.
What's the Deal?: The paid version of URL profiler starts at just $19.95 monthly. There's a free 14-day trial available for digital marketers to test out the platform before purchasing. The SERP scraper and Twitter scraper tools are free and available through the URL Profiler website.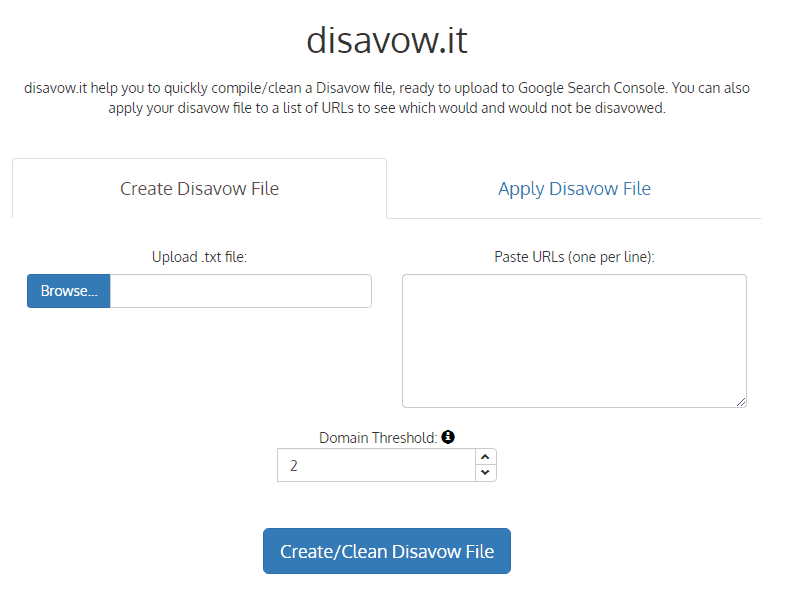 How it Works: If you receive backlinks from a website that is spammy and in poor standing with SERPs, this can potentially have a negative impact on SEO performance for your website. The solution here is to disavow those links, essentially asking Google to disregard them when evaluating your page.
Disavow.it makes it easy to put together a list of shady backlinks to your site, which you can then submit to Google Search Console in a disavow file to ensure you don't get penalized for having shady links.
What's the Deal?: This tool is available online for free!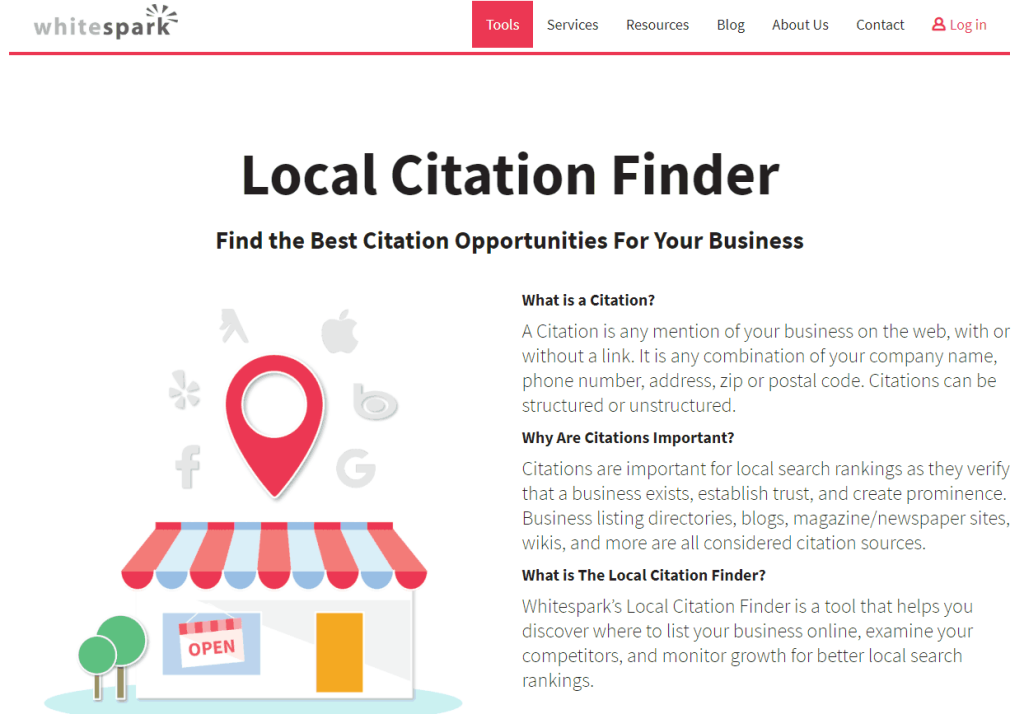 How it Works: Whitespark offers a range of tools and features that support digital marketers focused on local SEO. Whitespark offers a local citation finder, which is just like a backlink checker but for local search. The tool helps businesses find local directories where they can solicit citations and backlinks to increase their SERP rankings and appear more often in local search results.
What's the Deal?: Free users get just 3 searches/day using the citation finder, but there are several features missing. The small business package starts at just $17/month billed annually and includes tools for citation comparison, competitive analysis, monitoring, progress tracking and the ability to export results to spreadsheets for reporting and further analysis.
Check My Links Extension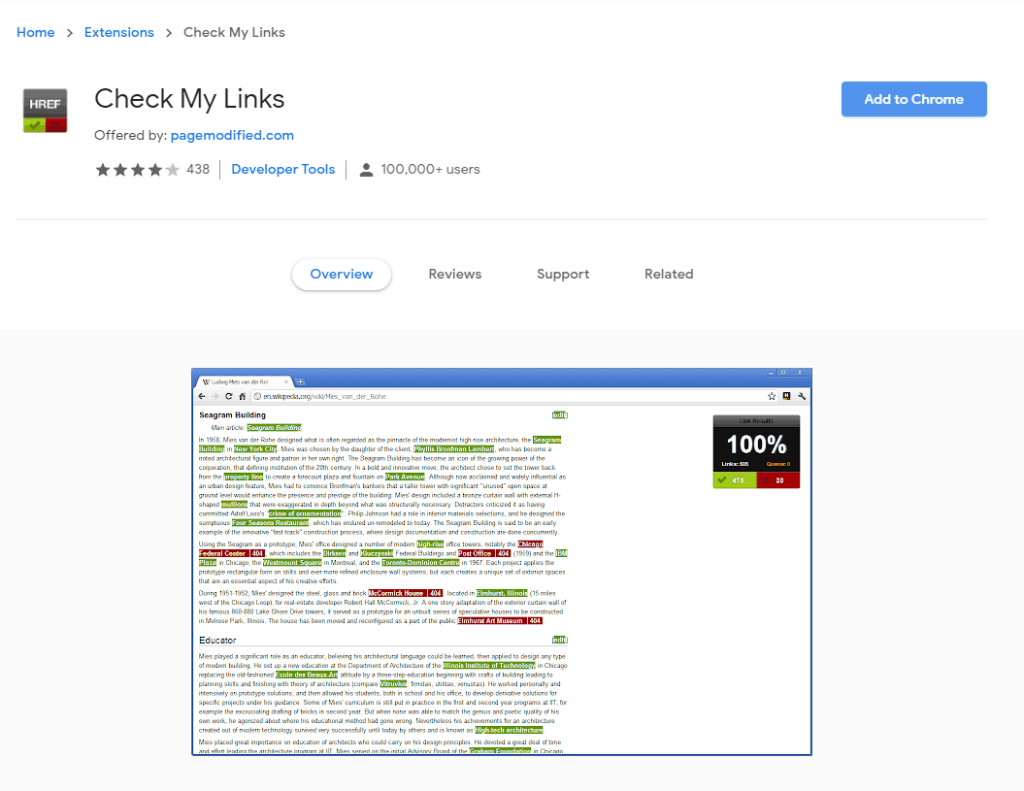 How it Works: Check My Links is a free link building tool offered as a Google Extension by Page Modified. Digital marketers can use Check My Links to execute a link building strategy identified as "broken link building". Here's how it works:
Identify a website where you would like to solicit a backlink
Use Check My Links to comb through their pages and discover any broken links on their website
Send an email notifying the webmaster of the broken link and offer a solution: replacing that link with a link to your website instead!
Because you're helping other webmasters improve their site functionality, they may be more receptive to rewarding you with a backlink from their page.
Websites disappear all the time, which means there are millions of broken links all over the Internet that could be directed to your website instead – so what are you waiting for?
What's the Deal?: This tool is available online for free as a Google Chrome extension.
Summary
Your backlink profile is one of the most important ranking signals used by search engines. We hope you can use these free link building tools to identify the best link building opportunities and secure backlinks that catapult your content to the top of the SERPs.
If you want to take your SEO efforts to the next level, you can count on our expert tech marketing team to get you there. We specialize in Customer Generation and have a proven track record of delivering exceptional results.
Book a call with us today to learn how you can gain a competitive edge in the world of SEO with Customer Generation. Let's work together to drive meaningful growth and achieve your business goals!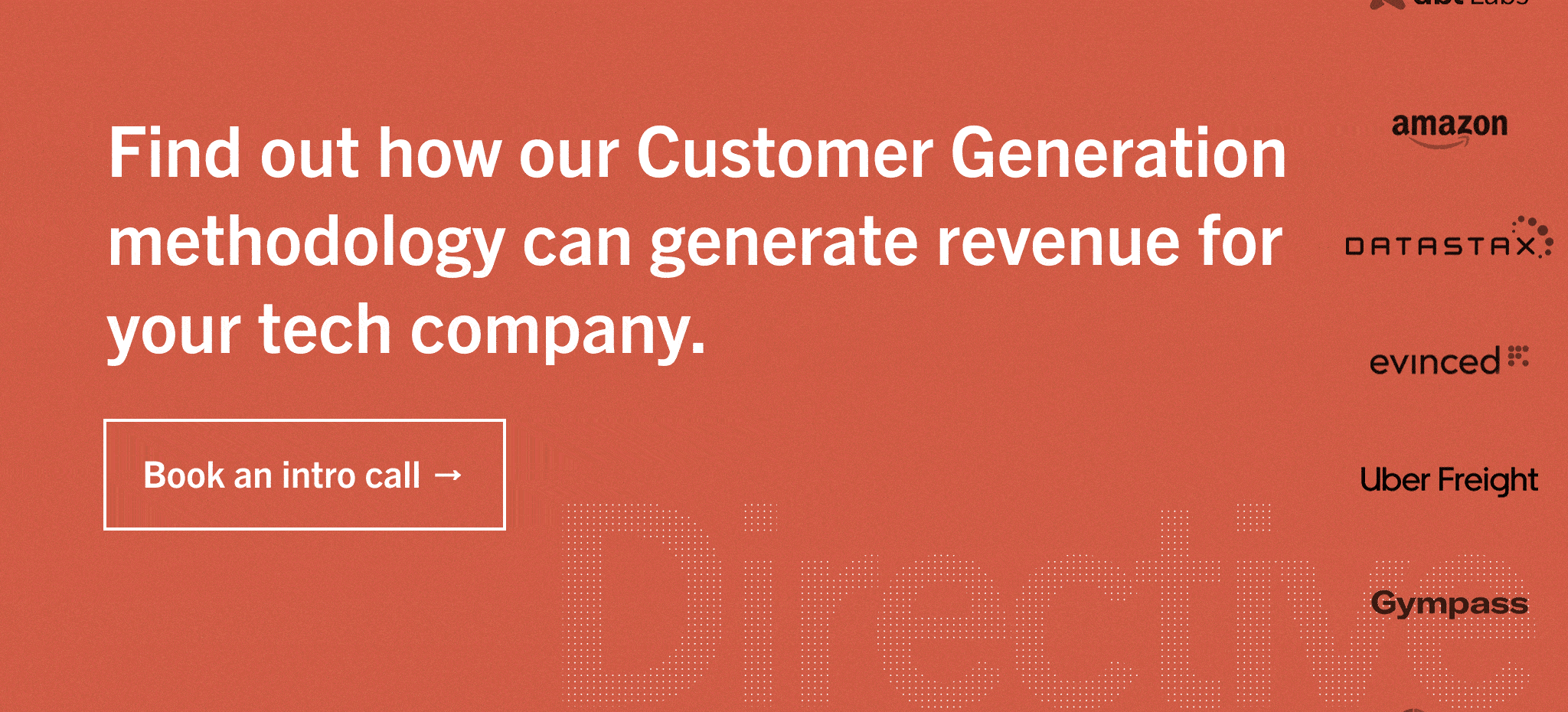 Keep reading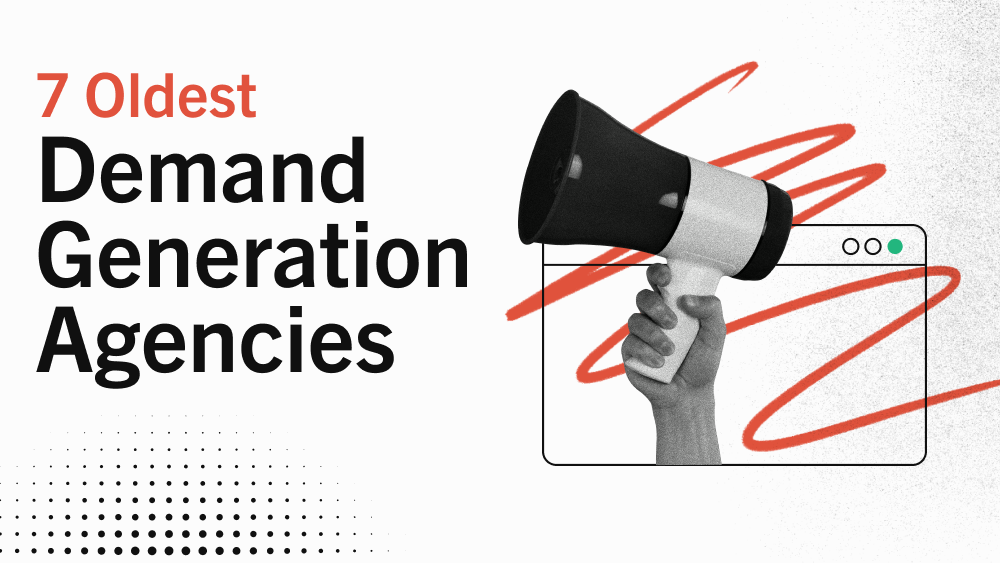 Agency Life
7 of the Oldest Demand Generation Agencies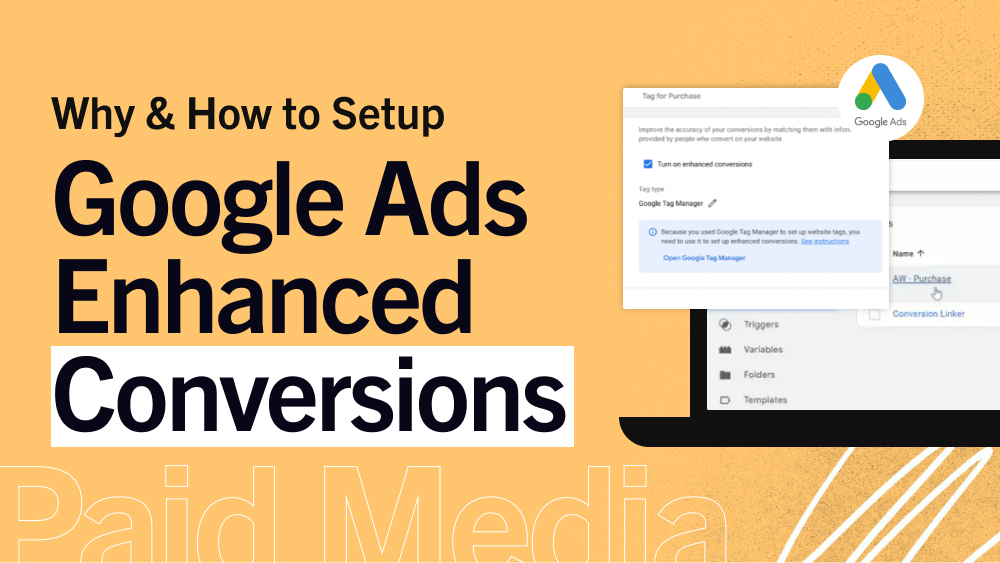 PPC
How to Setup Google Ads Enhanced Conversions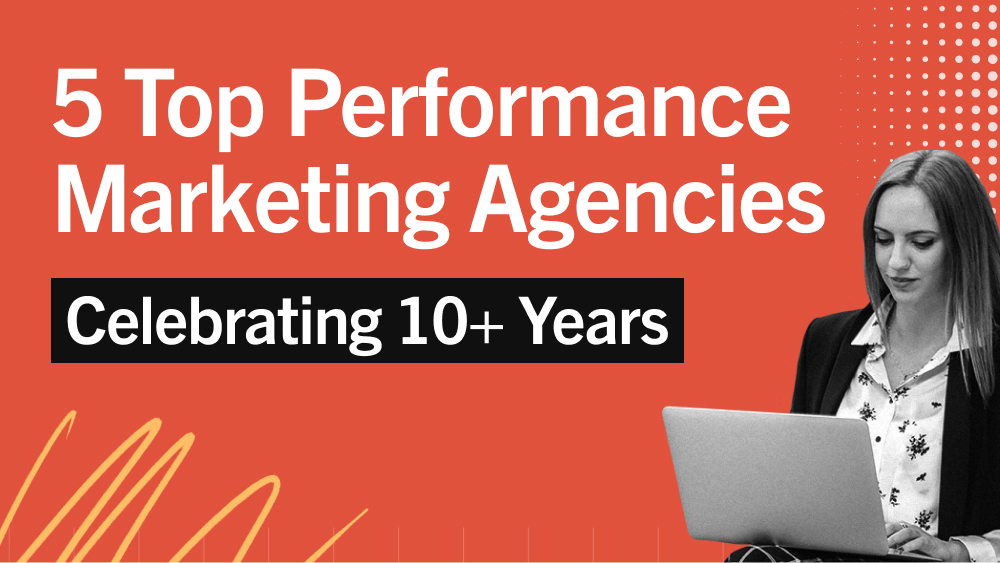 Agency Life
5 Top Performance Marketing Agencies Celebrating 10+ Years