5 Best Competitor Keyword Checkers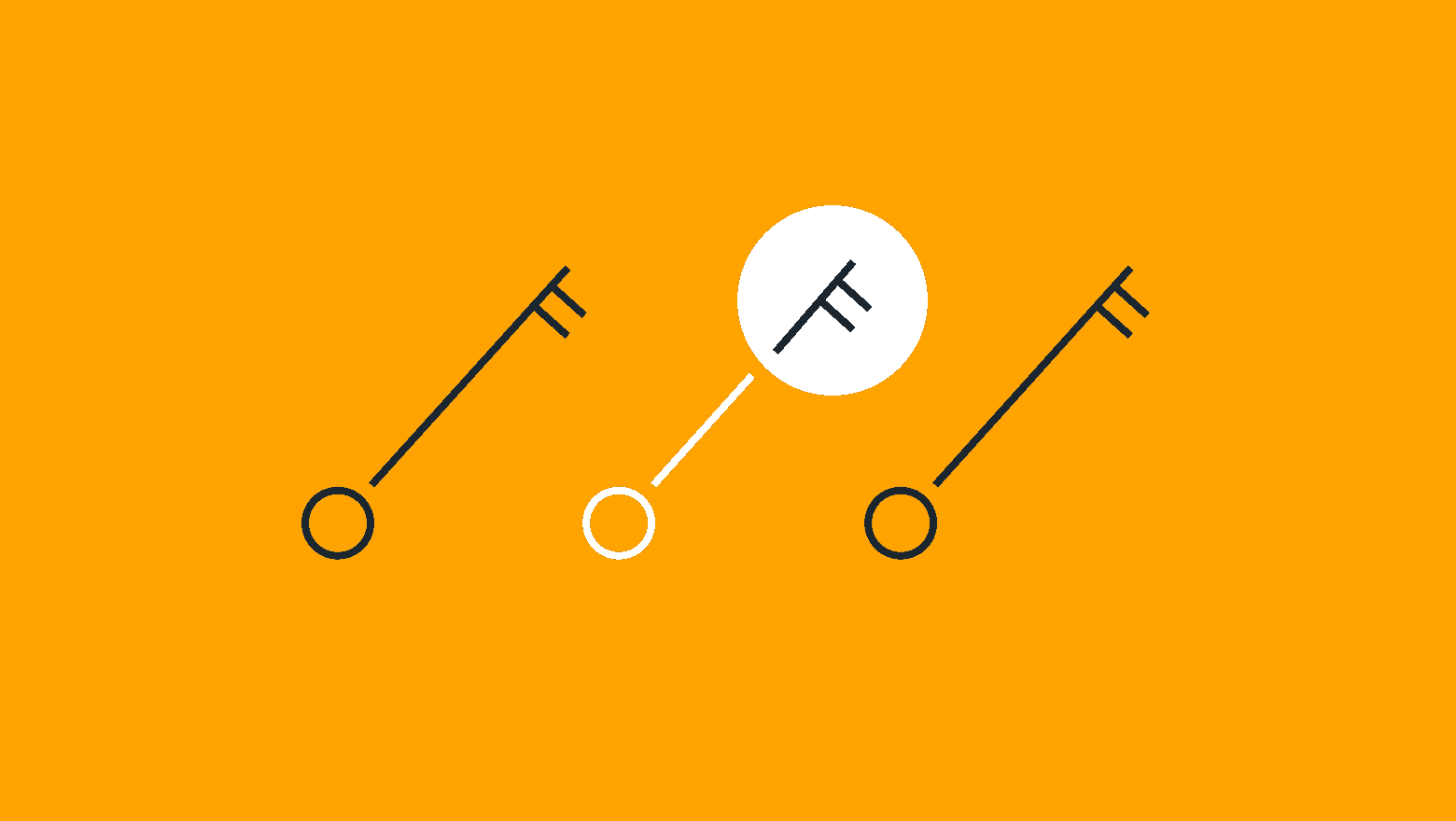 Looking for the best competitor keyword checkers to help you spy on your SEO competition?
SEO competitor research is an essential step in developing an SEO keyword strategy that maximizes the organic search traffic you receive from search engines. With the competitor keyword checkers available today, it's become easier than ever to identify the keywords that your competitors are targeting and incorporate them into your own organic search campaigns to capture even more search engine traffic.
To help you choose the best competitor analysis tool for your organic search campaigns, we've put together this list of the top 5 competitor keyword checkers.
5 Best Competitor Keyword Checkers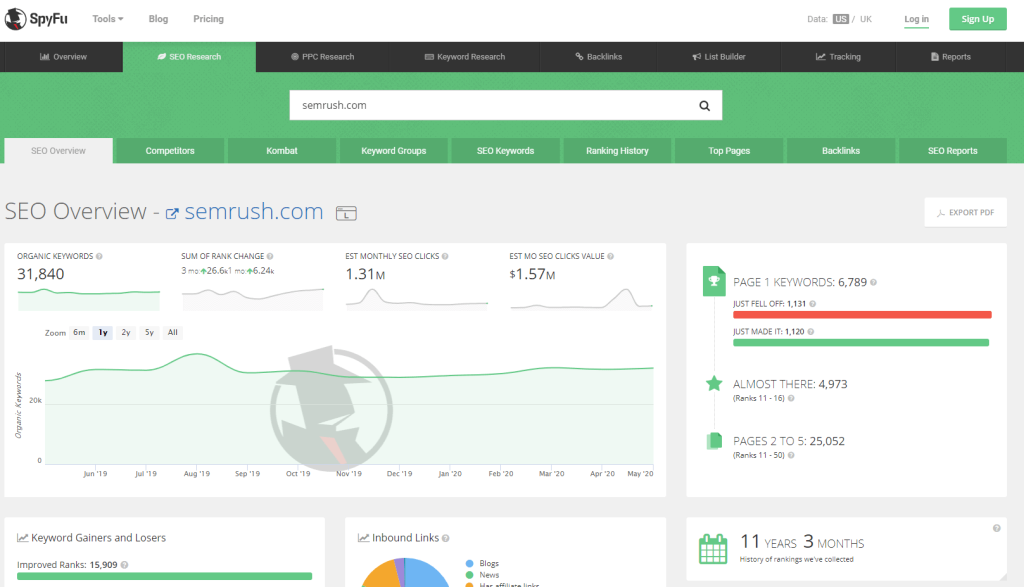 Overview: SpyFu is a dedicated competitor intelligence platform that's geared towards digital marketers who are focused on identify and targeting competitor weaknesses.
Features: One of the major things we love about SpyFu is that digital marketers can access all of the competitor intelligence for an individual competitor with a single search and using the same interface. After typing in your competitor's domain name, you'll get instant access to:
A list of the biggest competitors to that domain in the SERPs, based on how many common keywords they share
Diagrams that depict keyword overlap between the target domain and its competitors, helping you identify areas of poor keyword coverage
Automated keyword grouping by  search term or vertical, helping you focus on the keywords most relevant to your campaign
Competitor backlink profiling and assessment
A breakdown of keywords for that competitor, including which ones they rank for, how many appear on the first page, and which keywords are driving the most traffic and value.
Pricing: SpyFu offers an extended free trial with no sign-up required, but you'll get access to plenty of additional data by subscribing. An annual plan is just $33/month, making this one of the best-value subscription products for digital marketers.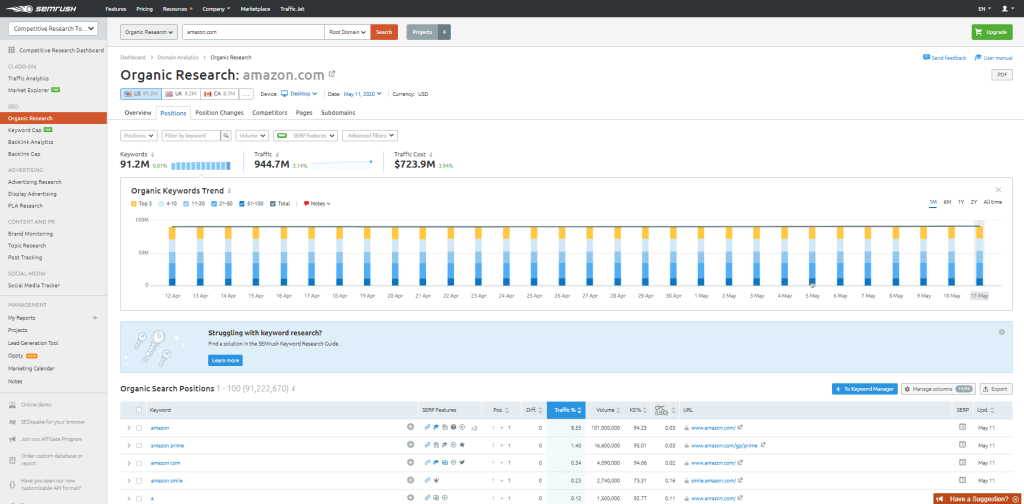 Overview: SEMrush is a full-service search engine marketing platform with an entire toolkit of features dedicated to competitor research and analysis.
Features: SEMrush makes it easy to dig up information on competitor websites in your niche and the organic keywords they're targeting. Simply navigate to the competitor research dashboard, choose "Organic Research" under SEO, then type in the domain name of your competitor to see exactly what keywords they're targeting and which ones are generating the most traffic. You can also see how many SERP features on Google are linking to the target domain and which pages on that domain are getting the most hits from organic search.
Pricing: SEMrush offers a free version with some feature limitations, so you'll need to upgrade before you can access a complete and fully segmented competitive analysis report. The Pro subscription package for SEMrush starts at $99.95 per month for a single user.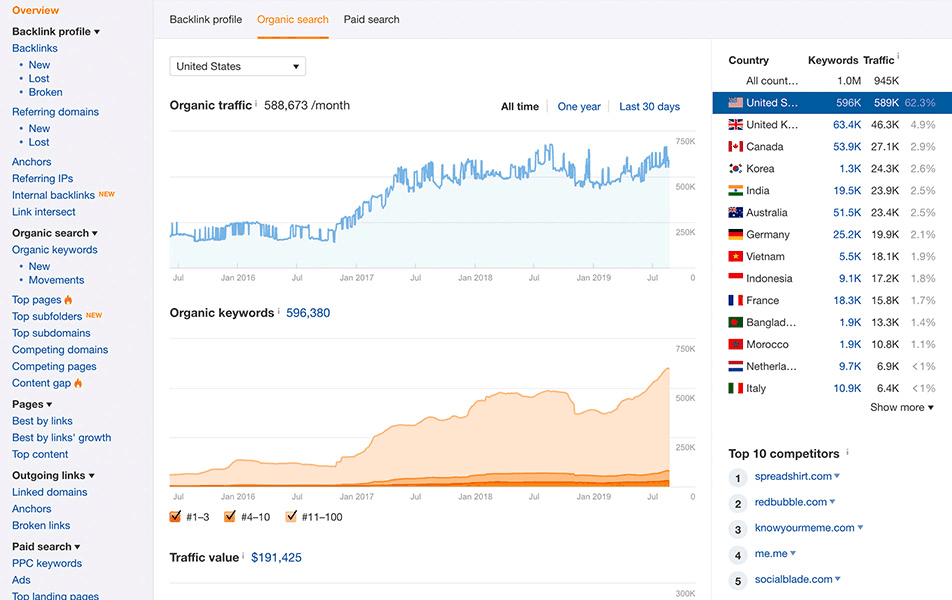 Overview: Ahrefs has a strong reputation in the marketing industry for providing reliable SEO auditing and research tools. The platform offers an integrated approach to competitor analysis that helps marketers construct a more holistic view of how their digital competitors are performing in organic search.
Features: With the Site Explorer tool, Ahrefs has combined paid and organic traffic research as well as backlink profile monitoring into a single tool. Digital marketers can type in the domain URL of a competitor to assess:
Which keywords they're ranking for on search engines, which ones drive the most traffic and which pages that traffic is landing on.
Which keywords they're bidding on for paid search campaigns and where that traffic is being directed.
How many backlinks they have and where those links come from, another important determinant of organic ranking performance.
These three types of data provide an integrated overview of marketing and promotional activities for your competitors, streamlining the process of evaluating keywords for inclusion in your SEO strategy. Ahrefs maintains a database of over 16 trillion backlinks and 7 billion keywords across more than a billion pages, so there's plenty of data to parse through as you analyze what your competitors are doing to rank on Google.
Pricing: Need to get started today? Ahrefs offers a free trial for just $7 that includes all of its essential features. If you love the platform and wish to subscribe, packages start at $99/month for the Lite version.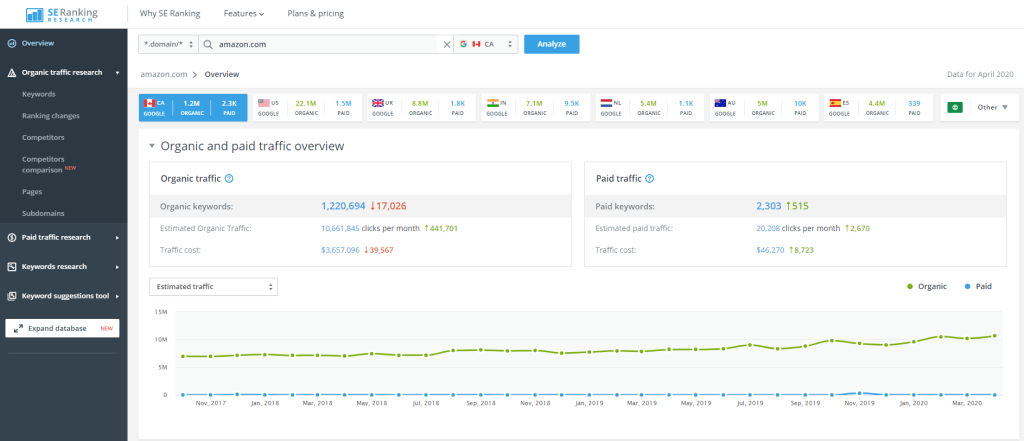 Overview: SE Ranking is a popular SEO keyword tool that offers exceptional competitor analysis capabilities and presents the results in a well-designed dashboard that's ideal for digital marketers.
Features: SE ranking offers the best-integrated results dashboard for competitor keyword research. Digital marketers can scroll through their results for a given domain search and access information like…
Top organic keywords
Top organic competitors
Comparison of semantics with competitors
Distribution of organic keyword rankings
Distribution of organic competitors
Top pages in organic search
Top subdomains in organic search
…all on the same page!
There's also a backlink checker available as a separate tool to round out your competitor analysis.
Pricing: There's a free version of SE ranking available, but it's mainly there to showcase features and you won't be able to access all of the data you need to fully analyze your competitors. For that, you'll need a subscription plan.
SE Ranking offers a unique subscription model: there's a base price, but you can get discounts by signing up for a longer subscription and having your keyword rankings updated less frequently. This makes it possible to get full access for under $20/month depending on your needs.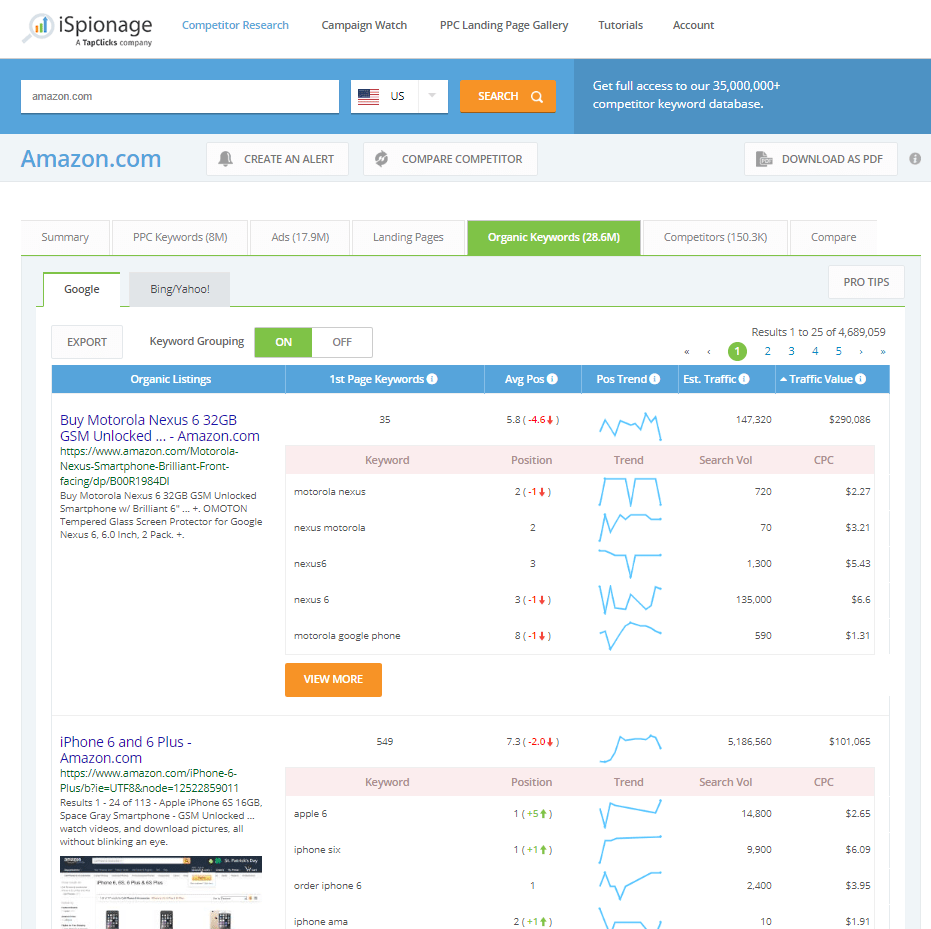 Overview: iSpionage is a dedicated competitor intelligence platform that helps digital marketers focus on the most important organic search factors when evaluating keyword competitors.
Features: iSpionage offers a simple competitor keyword checker interface for digital marketers. When you enter a domain name, you'll see a chart like the one pictured above with organic listings, 1st-page keywords, average ranking position, trends, search volume, estimated traffic and traffic value for that domain. You can click through the tabs on the top to investigate additional data, including PPC keywords, landing pages and competitor domains.
When it comes to performing a competitor keyword analysis, iSpionage recommends focusing on:
First-page keywords in Google
First-page keywords in Bing
Search ranking trends
Traffic value of keywords
Position changes for first-page keywords
These factors can help you identify which short or long-tail keywords perform best for your competitors, understand the value of ranking for those keywords and assess how difficult it could be to compete for that traffic.
Pricing: Subscription packages for iSpionage start at $50/month. You can sign up for a free trial to test out the full platform at no cost, or access a limited version of the tool for free on the iSpionage website.
Summary
If you're going to succeed in organic search, you need to be able to see what your competitors are doing so you can emulate their successes and capitalize on their weaknesses. With these competitor keyword checker tools, you'll be able to get the upper hand on competitors, exploit their weaknesses in SEO or keyword coverage, and capture more relevant organic traffic from search engines.
Need additional help gaining a competitive advantage in the SERPs? Book an intro call with our SaaS SEO agency to see how we can assist.
Keep reading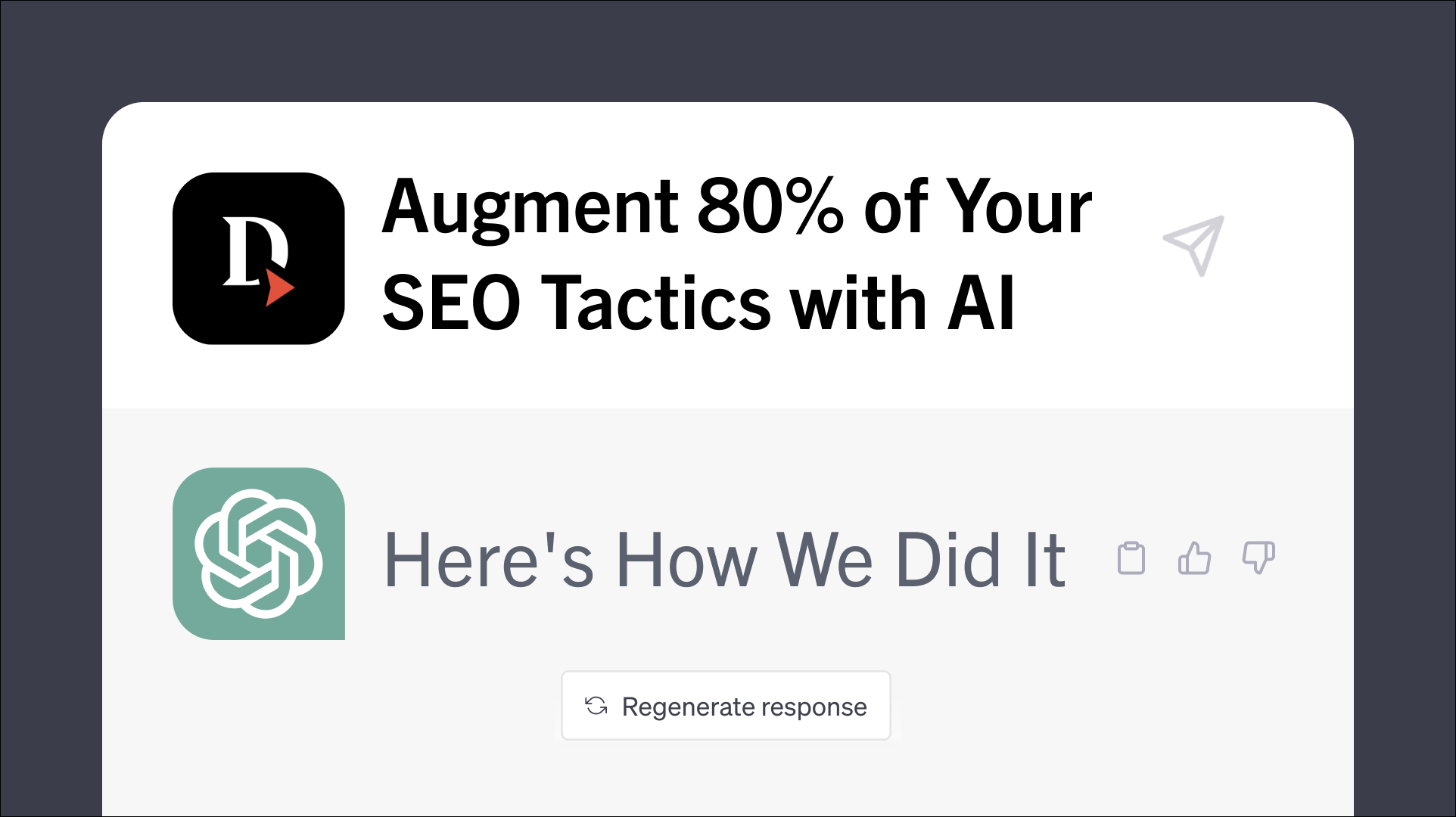 Blog
Augment 80% of Your SEO Tactics with AI. Here's How We Did It.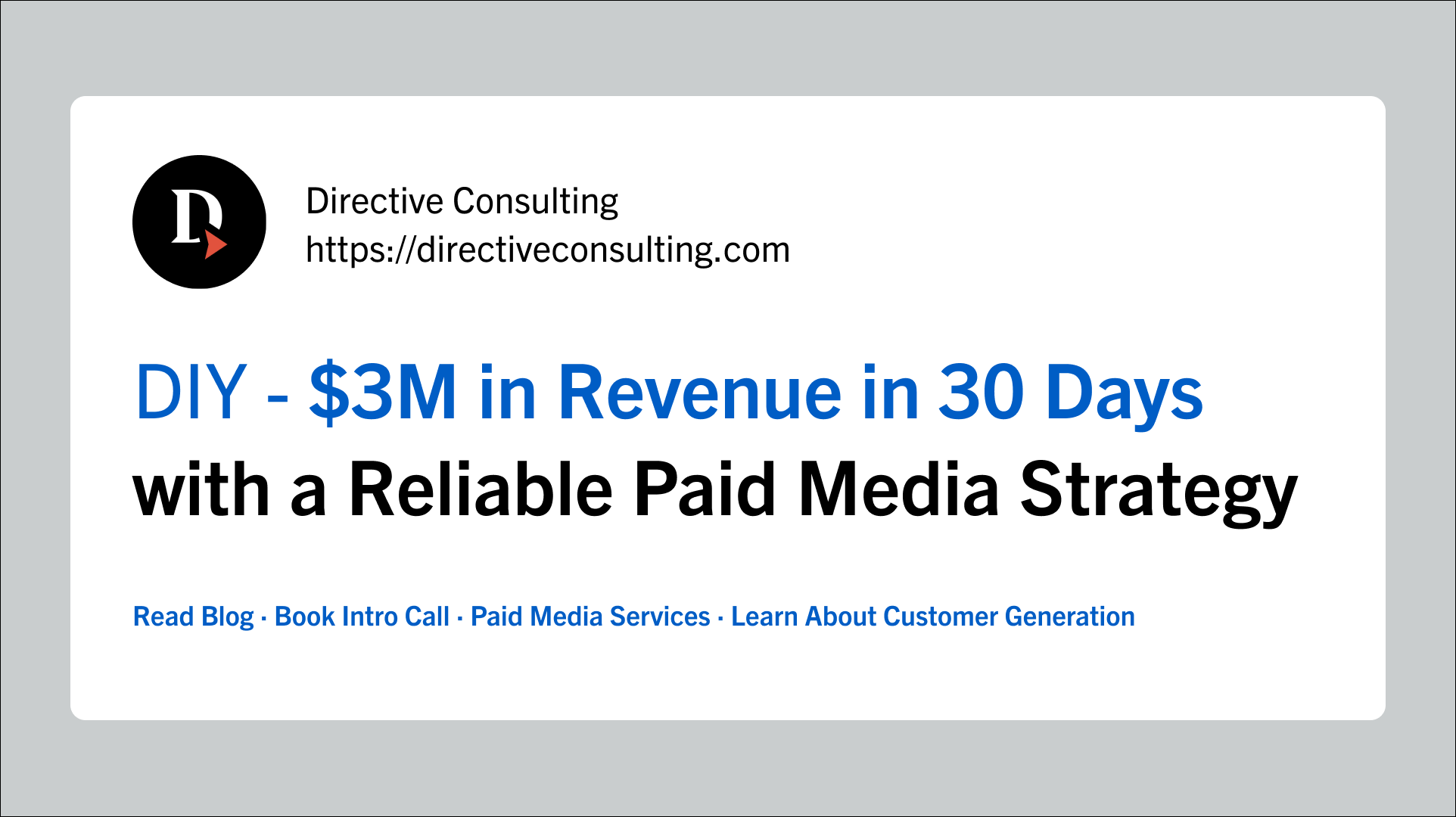 PPC
DIY: $3M in Revenue in 30 Days with a Reliable Paid Media Strategy
Social Media
Boost Your LinkedIn Engagement by 22% with These 3 Content Types