Creating SaaS Content That Impacts SEO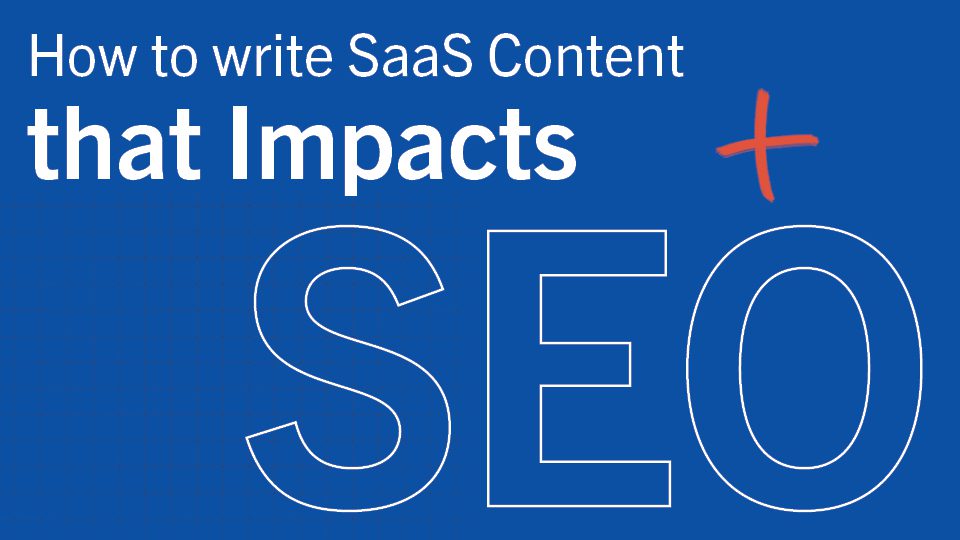 Successful content finds the balance between writing for search engines and humans. With SaaS, it's vital to produce content that speaks to nagging questions and pain points in alignment with your target customer base – optimizing this content for search is what increases the visibility of content. Can you have content that speaks to customers and Google? Yes. 
The Importance of Creating Content for SaaS
Quality content marketing has the potential to achieve a multitude of things for your brand, including vanity engagement metrics such as:
An increase in impressions
Improved click through rate
Increase inorganic traffic. 
It can additionally lead to deeper social engagements with your brand such as social shares, which can lead to a greater circulation of brand awareness and drive additional traffic back to the site. 
However, amongst all of the potential benefits that might come from investing in content marketing, the real end-game boils down to two: Conversions and customer loyalty. 
What is SaaS Content?
65% of B2B content consumers agree they prefer credible content from an industry influencer – That's where SaaS content comes into play. In order to deepen a brand's relationship with potential consumers, as well as retain existing buyers, they need to position themselves as a partner in the buyer's goals. 
SaaS content relies on data-driven insights to produce factual, actionable, and resourceful content that consumers can leverage as a fixture to make their life easier. Quality SaaS content lets customers lead creation, developing content across the entire buyer's journey. 
How B2B SaaS Content Differs From B2C Content 
With B2C, content relies less on data-driven pull but rather employs an emotional one in order to convince consumers to, well, consume their product. These two approaches to content marketing differ across four main areas: 
Intent
Messaging
Channel
Format
SaaS Content 
B2C Content 

Data-driven.
Intends to position itself as a thought leader in its industry.
Creates content that touches on all pain points of the buyer's funnel, showcasing how the product helps solve the customer's problem. 
LinkedIn is the primary way to circulate content. 
Blogs, whitepages, case studies, guides. 

Emotionally Compelling.
Intends to convince consumers that they are the most cost-effective and emotionally satisfying option. 
Creates content that veers towards becoming viral, emotionally compelling, and satisfying. 
Benefits from promoting across all social media channels.
Blogs and live social media marketing. 
Intent
When you hear SaaS or B2B content, you'll probably hear the term "thought leadership" as well. This isn't just a buzzword – It's also the intent of SaaS content, aiming to position itself as a thought leader in its space to convince decision makers within a company that its brand is the most knowledgeable to help them hit their goals.
B2C companies aren't trying to necessarily convince you that they're the expert in a particular good amongst a sea of competitors, just that they are the best choice for a particular personality or lifestyle. Consumers want to feel heard, seen, and empathized with. 
Messaging
When companies seek out a SaaS provider, they're looking to optimize a particular part of their operations. SaaS content prioritizes messaging that clearly showcases a brand's pain points across the entire funnel, ultimately positioning itself as the solution. This might look something like this: 
Top Of Funnel: "What Is Content Marketing?" 
Middle of Funnel: "How to Use Content Calendars to Effectively Scale Content Creation."
Bottom of Funnel: "5 Ways [SaaS Provider] Can Help Manage Large-Scale Content Production."
From top to bottom, this strategy highlights a pain point that the consumer might be interested in, like content marketing, then builds targeted articles to showcase its knowledge in scaling content. It positions itself as the choice option for solving the consumer's primary pain point. 
Channels
Promotional efforts for SaaS content can seem limited compared to those found with B2C content. This is because the target audience is much smaller than your general consumer of goods. While SaaS content can still gain traction across all social media channels, typically professional networking sites like LinkedIn are the best option for connecting with target customers – A company's decision makers. 
Format
Since SaaS content aims to build trust between its brand and potential customers, it needs to position itself as  a credible influencer in its industry. Produce a mixture of the following: 
Data-driven blog content
Whitepapers
Case and use studies
Guides
These help inform customers of a SaaS provider's capabilities to solve their unique problems while also showcasing examples of when they did successfully support clients in overcoming challenges. Conversely, B2C content shoots for virality, hoping customers have an emotional reaction to content and come back for more. 
Benefits of SEO Content Optimization
When search engine optimization (SEO) and content form a marriage, it truly is a beautiful thing. SEO not only achieves greater visibility for published content, driving traffic to the site and thus increasing the potential for conversions, but also supports the creation of content that your users actually care about. 
Improved Keyword Rankings: 68.4% of high volume keywords are attributed to content that has been live for almost a year. Optimizing content for a primary keyword as well as associated, secondary keywords can help increase keyword rankings long term. 
Increase Impressions and CTR: Leveraging keyword optimization (partnered with technical SEO best practices) to regularly update metadata and headers can encourage content to pick up new keywords and increase visibility within the SERPs for targeted queries. The more impressions, the more times content appears in results, and the higher potential for users to click through to your content. 
Drive Traffic to Other Pages: 53% of B2B sessions are generated through organic search. Improving organic rankings can lead to more traffic across other pages on your site. Implementing thoughtful internal linking and CTA strategies within a particular piece of content can drive traffic to pieces of content across the funnel, leading users to converting product, solution, or other landing pages. 
Establish EAT: When selling products and services to other businesses, you're not only asking them to trust you with their money and resources but their data as well. Understandably, this requires a lot of trust. Creating well-researched, data-driven content, written by credible thought leaders within your industry sends EAT signals to Google that reaffirms your brand is the right choice to return results for a specific query.
Deepen Your Relationship With Users: A potential customer needs to consume at least three to five pieces of credible content before even considering engaging with a sales representative, let alone committing to a contract or buying a product. Credible content that speaks to the customer's pain points and clearly identifies how to solve them positions itself as the choice solution. Internal links to MoFu and BoFu moves users to additional content for them to consume, deepening their trust along the way. 
Where Does SaaS Content Usually Fail? 
Ideally, you'll get your SaaS content right on the first try. Realistically, you'll adjust your approach a few times before you hit a sweet spot. Content that impacts SEO is a marathon, not a sprint, and takes consistent maintenance to move in alignment with your industry, customers, and their needs. 
To understand how to create quality content that impacts SEO, first understand where SaaS content typically fails. 
Lack of Content Strategy: Without a content strategy in place, there is little or no roadmap to follow when producing impactful content. Conduct market research, investigate what competitors are doing right, and identify gaps that you need to close in order to catch up. 
Targeting Too Many Users: Plainly put – Your product is not for everyone. And that's okay! While you would love to convert every type of user into a customer, if you try to speak to all of them at once you'll create a piece of generic content that, in actuality, speaks to no one. Identify the user who is the best fit for your brand and let them lead your content creation process.
No Keyword Research: Keyword research delivers insights into what actual users are searching for, which can naturally lead to topic ideation. Write for what users want to know and optimize metadata accordingly to increase visibility within the SERPs. 
Focusing on Search Volume: While broad, head terms with a 10,000 or more monthly search volume is enticing, these terms are also the most difficult to rank for due to their competitiveness and usually aren't in alignment with your user's search intent. 
Lacking Data: When writing for SaaS, there is a greater emphasis on credibility and EAT. Well researched, data-driven pieces are what deepens a potential customer's confidence in your brand. 
What Defines Quality Content, Anyway?  
According to Google Quality Guidelines, quality content posses the following characteristics:
Has a high level of EAT
Contains quality, credible body context that is in alignment with the intent of the main content. 
Has relevant and descriptive metadata and title. 
Rich and updated information about the brand, maker of the website, and/or author of the page in order to show the user why they should trust the content. 
Quality DA for the website housing the content. 
Customer Generation: Create SaaS for Search Engines and Humans
Customer generated content places the customer in the driver's seat of all campaign creation – including content creation – In order to drive sales quality leads (SQL) over marketing quality leads (MQL). 
The aim of this approach is to drive leads that are most likely to convert rather than drive a mass amount of broad traffic back to converting pages.  
Lean Into SQLs Rather Than MQLs: Would you rather have 1000 people see your content or 25 people who you know are going to convert? Invest in a targeted content creation process where you define your ideal buyers who are a fit for your product or service and create content for them by centering it around their pain points. This results in niche cluster content optimized for long-tail keywords as you move deeper into the buyer's journey and connect the dots between users, content, and your product.
Meets Your Customers at Every Pain Point in Their Journey: Content that is designed for both SEO and buyers should deliver a holistic understanding of how a customer fits into your product and, conversely, how your product can partner with a user to hit their goals. Develop content across the entire buyer's journey and leverage internal linking and CTAs to guide them to optimized product pages. 
Incorporate Creative Design, Deliver Empathetic Content: Users not only respond to the information presented but also the way in which this information is presented. Leverage a thoughtful page design that not only makes the content easy to understand, information easy to find, but also warm, engaging, and definitely not overtly promotional. 
How to Write SEO Content That Impacts Google and Customers 
Turn to The Competitive Landscape to Gauge Potential  
You don't need to reinvent the wheel in order to be successful. Some of the greatest successes have been thought leaders who looked at their inspiration, identified where they could improve, then executed it in their own product. Lean on the inspiration already available to you. 
Leverage tools like SEMrush's keyword gap tool to compare your site against industry competitors. Specifically look at:
Weak keyword gaps: Where you and your competitor are ranking, but they're winning. 
Untapped keyword gaps: Keyword opportunities you have yet to begin to rank for. 
Scrape this analysis and pull out keywords that are in alignment with your ideal customer. 
Pro Tip: When identifying competitors to analyze, go beyond your immediate industry competitors. Once you have a selection of keywords, plug them into a manual Google search to see what is ranking on page one. These are your competitors for this particular keyword. Turn to their content to identify how to produce a competitive piece. 
Conduct Niche Topic Exploration
Once you have a direction, based on keywords pulled from a gap analysis, explore associated topics, themes, and questions potential customers are interested in. This will develop a robust collection of topics to create content around. 
As you get more niche with your topics, you'll notice more long-tail queries with considerably low search volume. Say it louder for the people in the back: Embrace the long-tail keywords. Here's why: 
They are typically less competitive and, therefore, easier to rank for. 
They speak more closely to what users are actually asking than a broad head term does. 
Pro Tip: SEMrush's content marketing topic research tool is a great resource for automating this process. Plug in your primary keyword or theme and receive a populated list of associated topics, search volume, and common questions scraped from Google's people also ask section. 
Organize a Plan of Attack into a Content Calendar
So you have a lot of potential and opportunity but no organization. Organize your target keywords into a content calendar to develop a concrete path forward with content strategy. 
To produce organized content production, lean on the topic cluster approach. This is where you have a piece of pillar content that serves as an anchor of which niche, cluster content lives. Going back to our content marketing example, this might look like: 
Pillar page: A long-form piece on "The Ultimate Guide to Content Marketing." This provides a high-level overview of essential, need-to-know information about content marketing. 
Cluster content: "X Steps to Conducting Keyword Research for Content." After reading the ultimate guide, the user wanted to learn more about how to do keyword research. This piece of content goes into greater detail about a specific question related to the original pillar page.
Cluster content: "What Metrics to Look At When Measuring The Success of Content." This is another piece of content that dives deeper into a question that might have stemmed from reading the original pillar page. 
Pro Tip: When developing a plan of attack, tackle one to two pillar pages and associated cluster content per calendar. Build a solid foundation for a specific topic before moving into another one. 
Build Out Keyword Research for Specific Topics 
Develop pillar and cluster content around primary keywords, flesh out the bulk of the content using secondary keywords as support. 
When building content, turn to related or variations of the primary head term to build out additional headers. This will add structure to your content while also delivering SEO value. 
Pro Tip: When conducting keyword research, explore related and broad match keywords, as well as questions to expand on your primary term.  
Design Content for UX
Long gone are the days of needing to hit a certain word count above 1,000 words in order to be seen as competitive. If the answers your user is looking for is lost within a mass of fluffy filler content, then your content is rendered useless. Good content is: 
Findable: Easy to navigate to and, more importantly, return to.
Accessible: Can be used by all individuals, regardless of education level, experience, or disability. 
Useable: Readers can engage with the piece in a frictionless way and find the answers they need. 
Understand the key information your customers want to know and ensure it is presented in a clear and consistent manner. 
Pro Tip: Include internal links around these key areas to encourage engagement and move user's through to other valuable pieces of content or converting landing pages. 
Implement Thoughtful Interlinking and CTA Strategy
Speaking of internal links… 
This is your opportunity to essentially take the user's hand and guide them through your site. Lead them to the solutions to their nagging pain points (Spoiler: It's you. Your product or service is the ideal solution). 
Pro Tip: Include internal links according to the buyer's journey. If the article is a top-of-funnel topic like "What is Ecommerce Inventory Management," you might consider interlinking to middle-of-funnel pieces like "How to Use Shopify to Optimize Inventory Management" or "How to Create the Best Product Bundling Strategy for Inventory Management." This moves users deeper into the funnel and closer to converting. 
Incorporate Customer Led SEO Content Writing Tips
Accessible and usable content does the following: 
No jargon: Don't assume every potential customer has the same background knowledge, or leave the user feeling confused and ashamed for not already knowing a concept.
Active language: Create actionable content.
Speak to the user: Customer led content places the user's needs first. 
Short sentence structures: Quality over quantity. Explain concepts concisely. 
Create Resourceful Content Not Promotional Content 
User's don't want to buy something that's being pushed without an explanation of why they need it. Producing content that is overly promotional can position your brand as caring more about a sale than actually improving the life of your customer. 
Develop content that prioritizes helping the user first before getting them to convert. Include organically placed internal links and CTAs to product, solution, and converting pages as a subtle addition to the context. 
How to Scale Your SaaS SEO and Content Efforts
As your SaaS content efforts begin to ramp up and gain traction, you might find yourself seeking opportunities to scale production.
Lean on Content Management Tools
Content management tools can serve as an invaluable addition to your suite of resources. It can create a single source of truth for your content team, where you can map out all topics in the pipeline, each article's associated workflow, and where you are in the process. 
General project management tools like Asana have opportunities to leverage already built editorial calendar templates to keep tabs on content workflow. Content specific platforms such as Airtable, provide an even more detailed way of managing content creation from ideation all the way to hitting publish. 
Recruit Help from Third-Party Experts
Oftentimes, it takes a team to achieve something great – and this doesn't necessarily need to be exclusive to your internal team. If you're struggling to find the resources to dedicate the attention needed for creating a profitable content strategy, consider partnering with an external team that can generate customer-led content on your behalf.This can free up time on your internal team while adding manpower to efficient scale. 
Outsource Writing 
The tricky part of writing SaaS content is the greater emphasis on developing credible content written by industry experts. You're off to a great start, producing a handful of credible, data-driven content every single month. Suddenly, the demand increases, and now you need to produce double (or even triple) the amount of well-researched content within the same timeframe.
If you find your team is struggling to develop a large volume of content or content that delivers the deep knowledge of a technical topic, connecting with knowledgeable writers within your industry can help relieve stress of your content workflow.