How to Optimize Your Google Ads Budget From KPI Metrics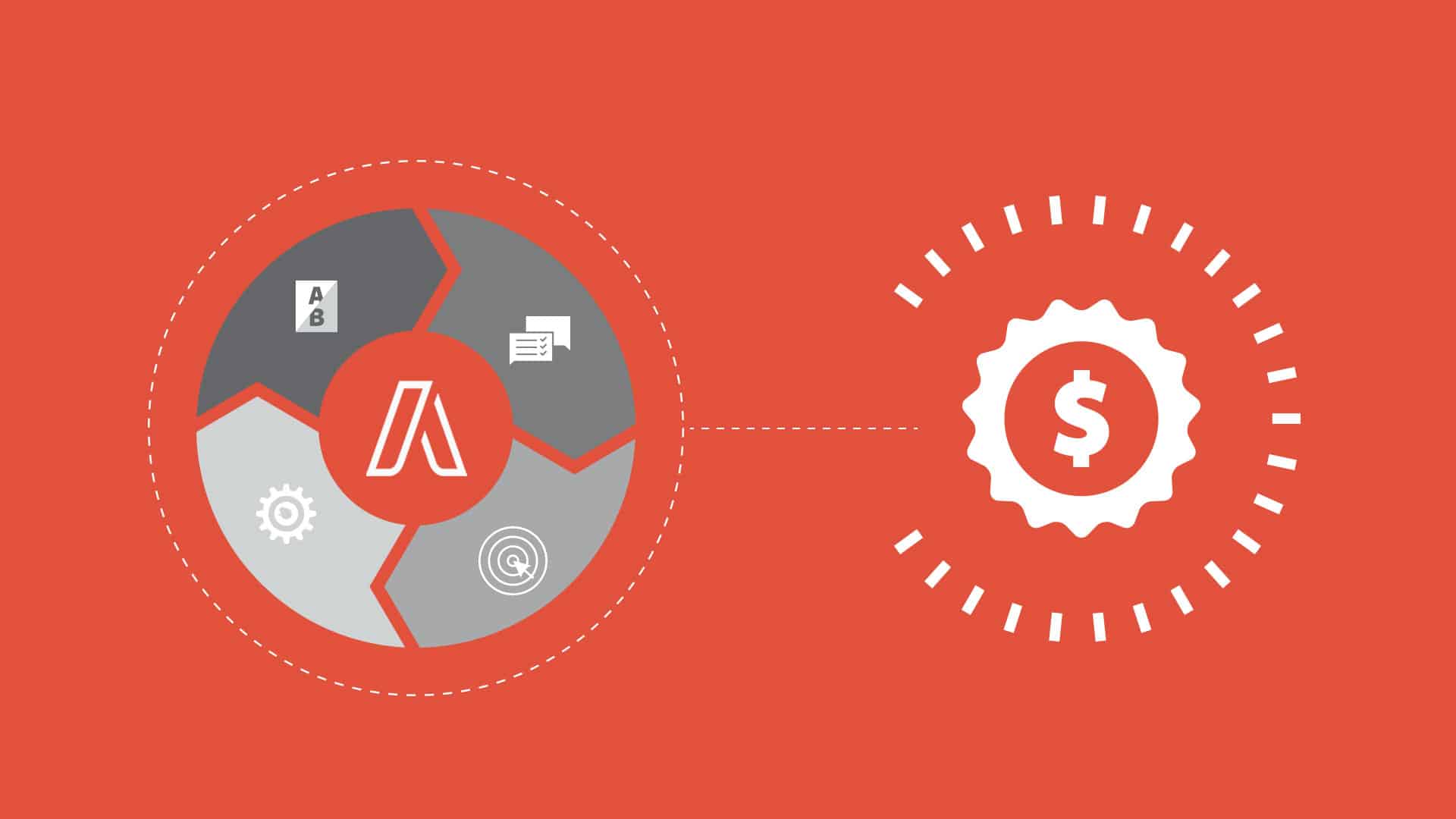 How much should you be spending on Google Ads? There's more that goes into the budget planning process than choosing a number.
Here are a few things you need to keep in mind and some tips on how to choose a budget that will work for your company, your industry, and your desired outcomes.

What Is the Average B2B Budget for Ads?
Budgets will inevitably vary by organization depending on financial restrictions and campaign goals. However, understanding what the average company spends on advertising can still be helpful.
A few years ago, the biggest U.S. spenders came from the retail and automotive industries respectively.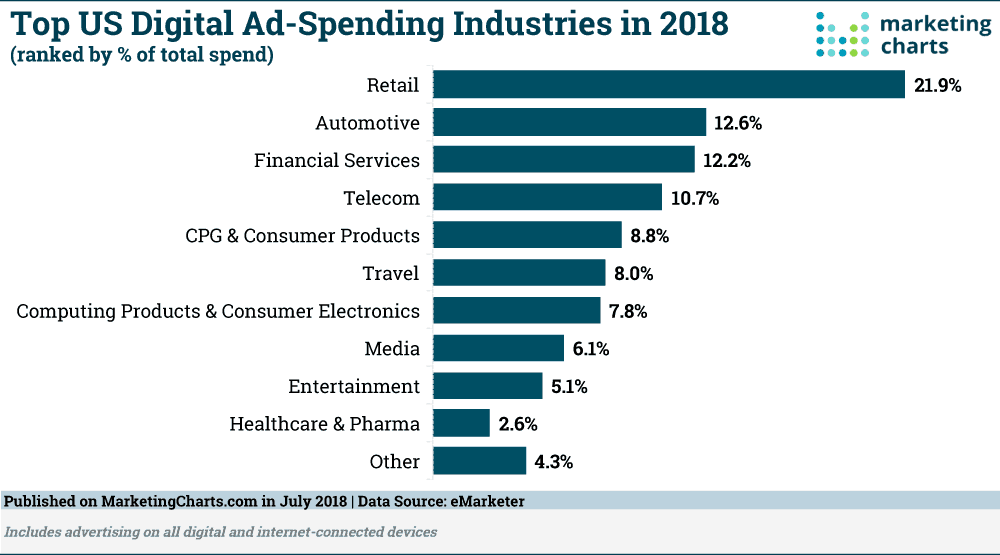 In 2018, the average firm was expected to allocate 42% of their marketing budget to online initiatives, and this rate is looking to grow each year.
Additionally, in a 2018 report from Hanapin Marketing, 62% of respondents said they planned to increase their PPC budget in the next year. 78% of those surveyed specifically planned to increase their Google Ads budget.
This makes sense when you consider that on average, businesses earn $3 for every $1.60 spent on Google Ads.
But here's the catch: Depending on the industry you're in, not all spending is the same.
Even if every company had a Google Ads budget of $1 million, few would see the same ROI for their campaigns.
That's because Google Ads work better for specific industries over others.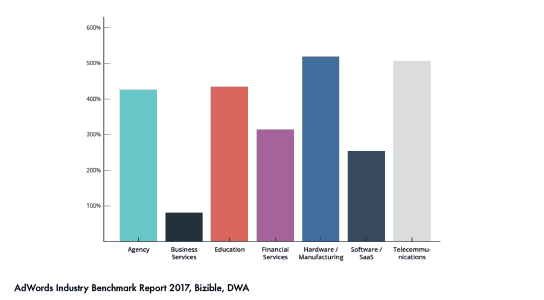 SaaS companies, for instance, tend to see higher ROI from their campaigns than business services.
This makes sense because a lot of Google Ads' success depends on chosen keywords. For example, insurance companies may find added difficulties because "insurance" as a keyword is one of the most expensive. Finance industries may be in the same boat if they try to rank for keywords like "loan" or "mortgage."
When it comes to ROI, it makes sense that a B2B company that wants to rank for the keyword "business services" might not see that much success. It's considered highly competitive!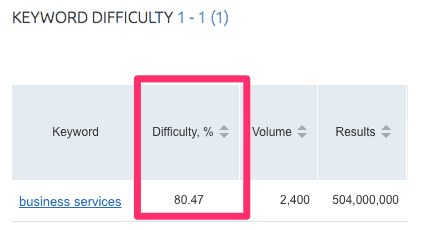 Additionally, understanding things like keyword costs, general industry spending habits, and potential ROI can all help you keep things in perspective when setting your budget.
But that still leaves the ultimate question: How much should you be budgeting on your Google Ads campaigns?
Here are the 3 key questions you should ask yourself when determining your spending:
How do I set up a Google Ads budget?
How much is the cost per click (CPC) for the keywords we want?
Which key performance indicators (KPIs) matters most to our company?
Here are a few ideas on what the answers to those questions might look like.
How do I Set Up a Google Ads Budget?
Like other types of PPC advertising, Google Ads work by placing bids.
You're not spending thousands of dollars on those bids at once. You typically will select a monthly budget for spending, which you can change based on the results you see over time.
The trouble with having to plan out an easily-changed monthly budget is that it can be tempting to adjust it continually as you track your metrics.
When it comes to budgeting, I've found it's better to do keyword research first, rather than set a CPC cap. This helps to get an idea for what competitors are bidding on and how much it will cost to compete.
You'll also learn which keywords are more valuable based on how many people are bidding and what their prices are; then shape your budget around that!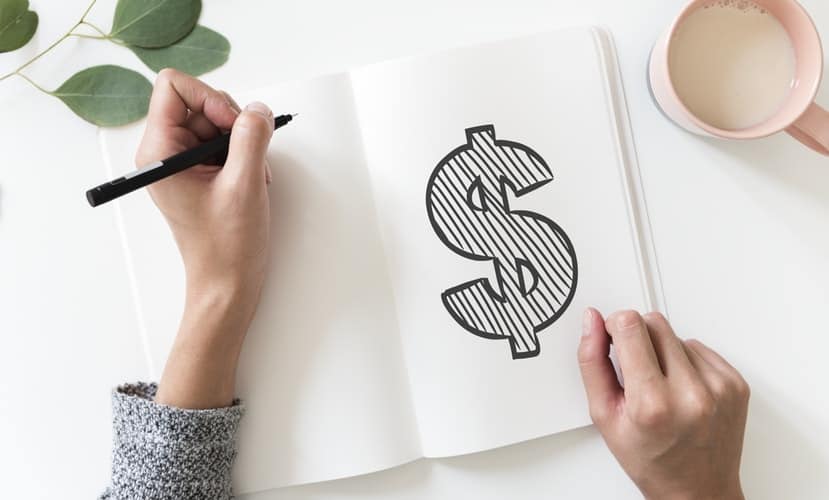 At Directive, we manage daily budgets by taking a prioritization approach where the aim is to reduce the amount of impression share being lost to budget in our top performing campaigns.
Once the top performing campaign isn't losing impression share to budget, we allocate budget to the next best campaign and so on.
This kind of approach to budget management ensures that the account is spending money in the best possible places.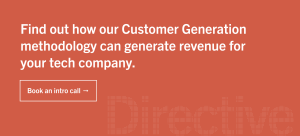 What is the CPC for Your Desired Keywords?
You will also want to determine your budget based on the success of your chosen keywords.
For example, if you decide to use keywords that have high competition, you may not see as much ROI for your ad spending as you would for less competitive keywords.
The average CPC for any given keyword is calculated by a relatively simple formula: CPC = Total Costs / Total Clicks.
To give you some idea, the average CPC for the B2B industry is $1.64.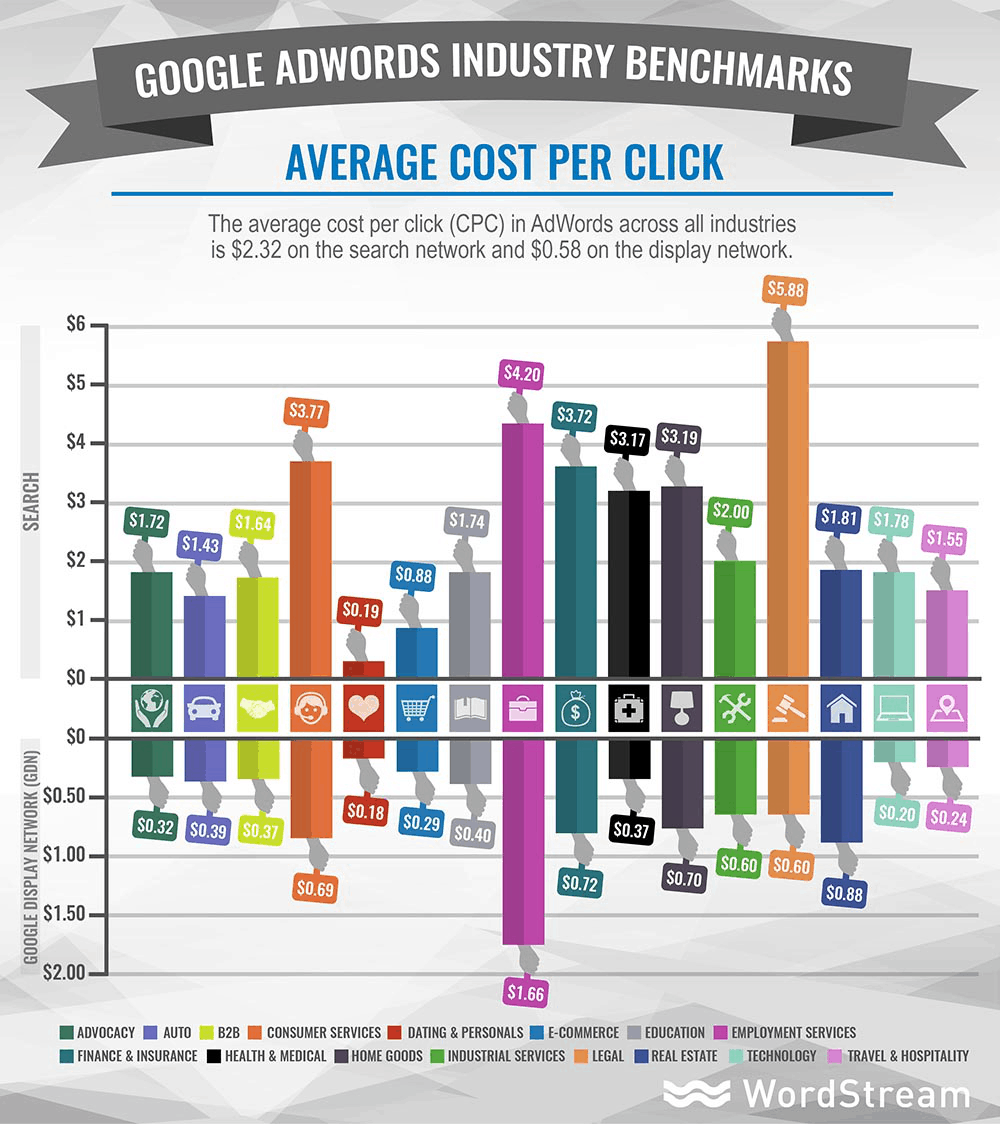 While you do have control over the maximum CPC you pay for each keyword, you will always pay more for highly competitive keywords.
There are a few strategies when choosing a budget for CPC:
Do keyword research first and get an idea for what competitors are bidding on and how much it will cost to compete.
Set a budget limit and choose to bid on fewer keywords or run fewer ads.
Determine which keywords you want and create your budget around their CPC.
If you have an idea of the budget you want to spend, you may be better off setting a cap for your CPC and choosing keywords in that range.
On the other hand, if you know your budget is flexible, spend more time on keyword research. Then you can choose those with the best potential ROI and set your budget there at the start.
AdEspresso recommends that you first select a range of acceptable CPC for your ads. Then, calculate the number of visits you will need to generate one sale, like so:

Once you have that, you can determine the ROI of each sale.
For example, let's say you only have a conversion rate of 1% but are spending more than $1 per click. In this case, you may be losing money unless you have a significant number of visits!
If you see conversion rates at 2-3% or higher, then a $1 CPC is acceptable.
To determine if your traffic will be high enough to sustain your desired CPC, you can use Google's Keyword Planner.
Under "Tools" select "Get search volume and forecasts" and enter in your chosen keywords.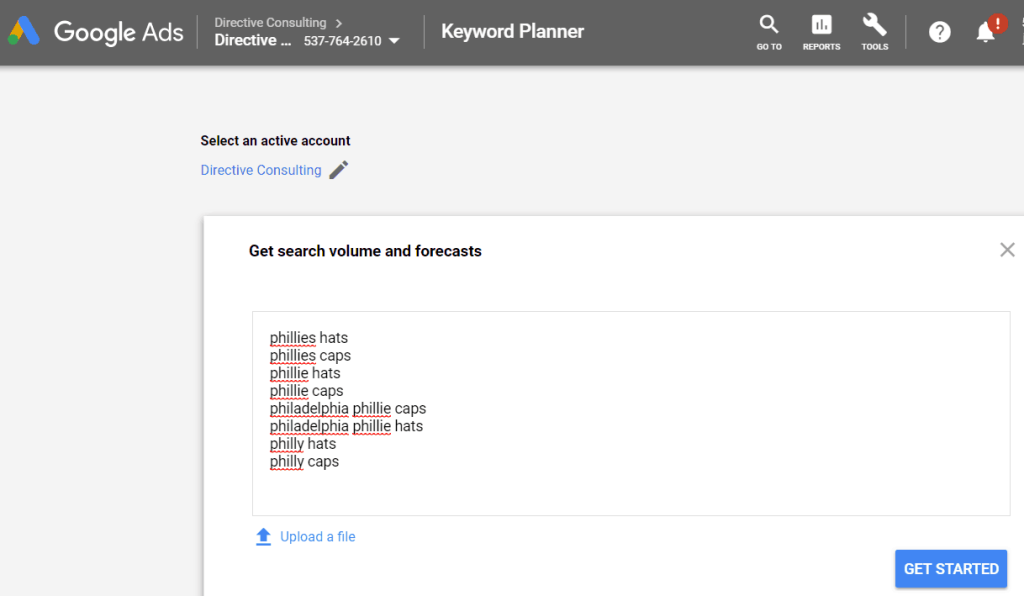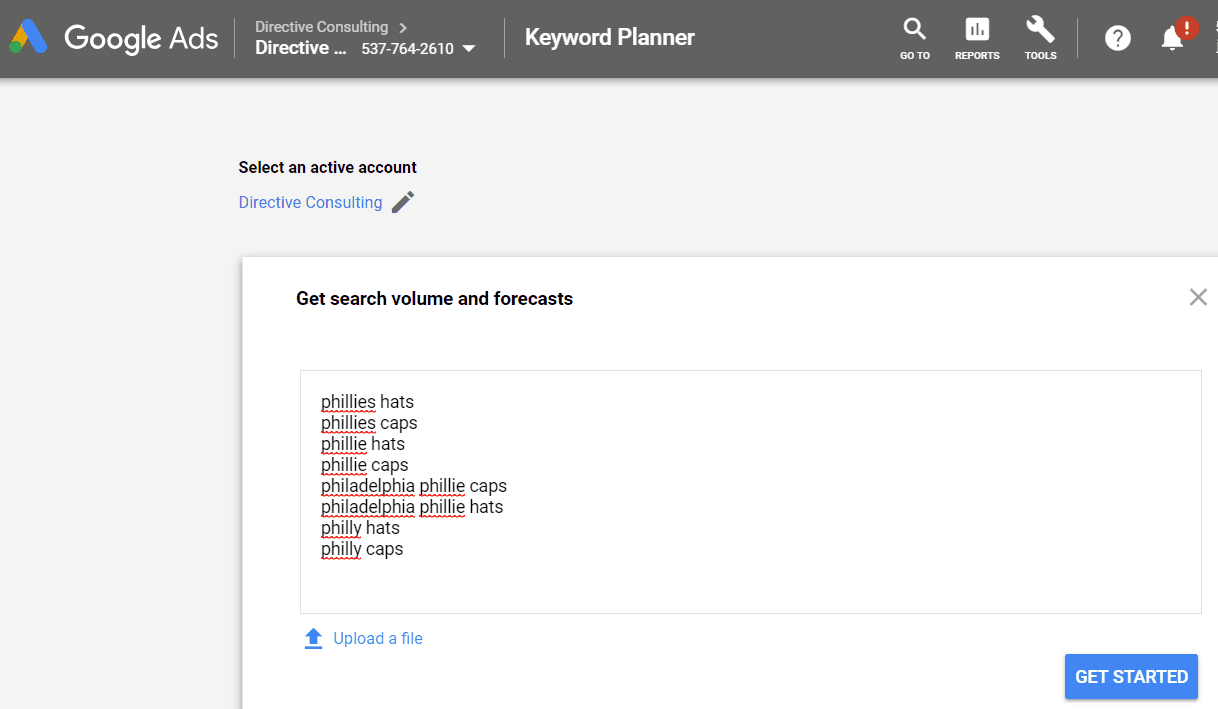 From there, select "Get Started," and you should see something like this: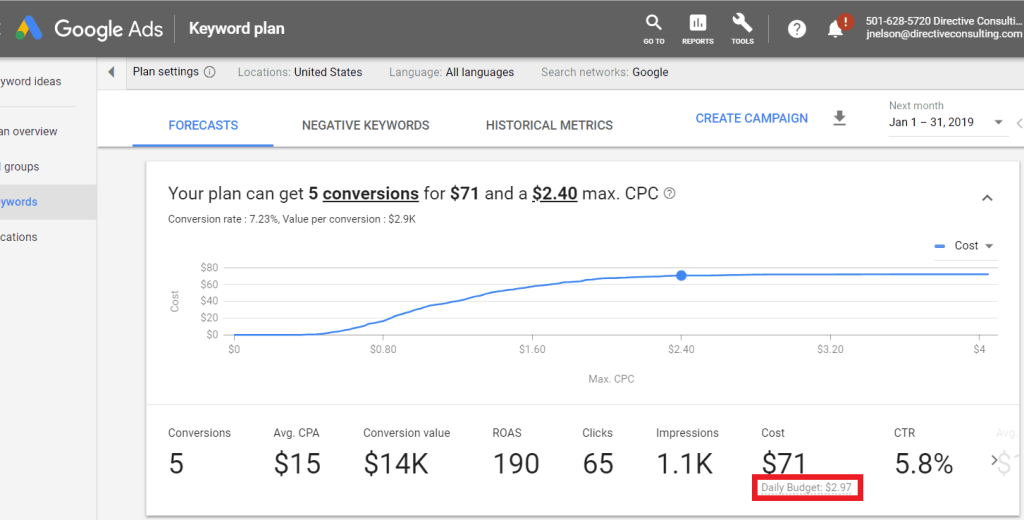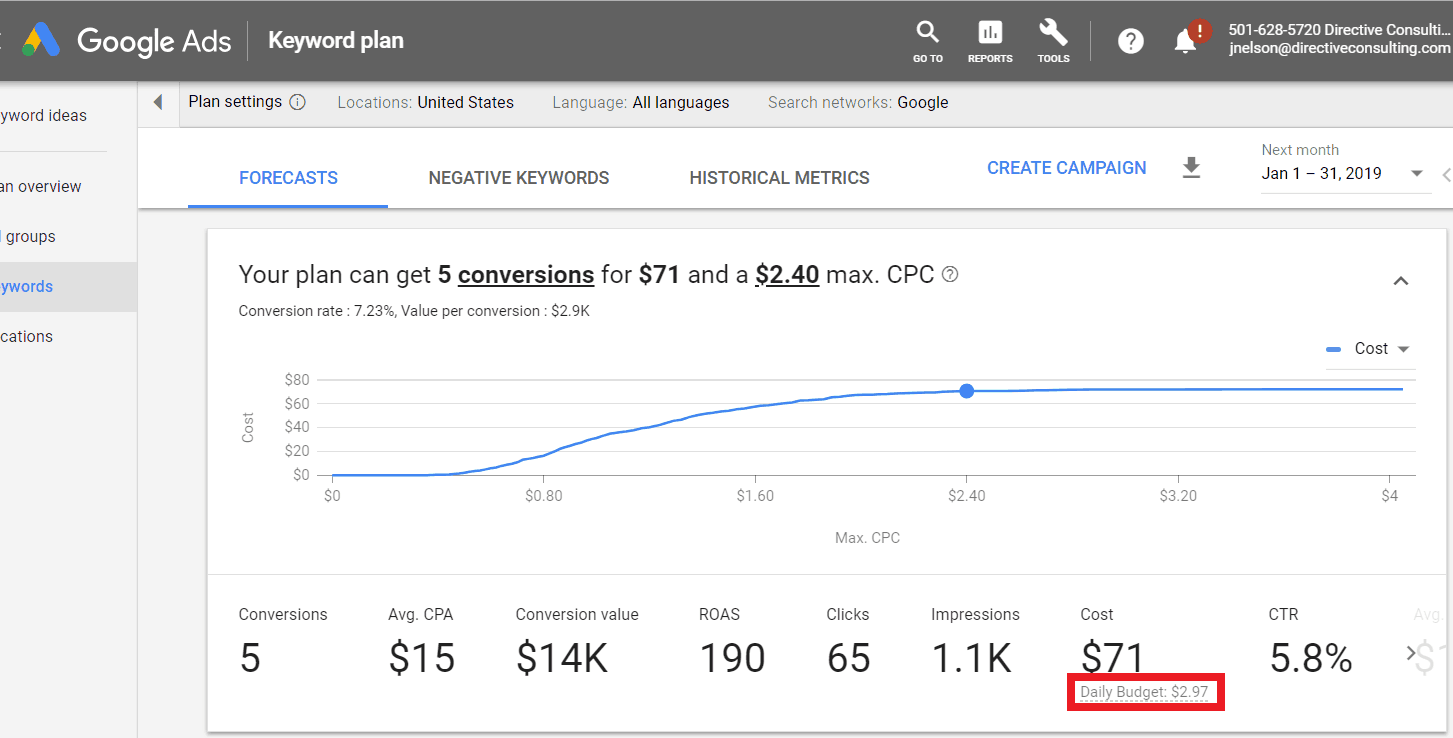 Your daily estimates will be in the bottom right-hand corner. If you hover over the graph, you will see your suggested CPC maximum.
After entering your bid, you will see the daily cost and traffic estimates for your keywords.
You can then multiply the total daily cost estimate by 30.4 (the average number of days in a month) to determine your monthly budget.
For example, if your daily total was $4.25 for an ad group, your monthly budget for that ad would be $132.24.
4.25 x 30.4 = 132.24
Depending on how many ads you run, this should give you a sense of how much money you should spend.
If you don't want to spend time analyzing each bid, you can also set them to run automatically using Google's Enhanced CPC (ECPC) bidding.
ECPC works by automatically adjusting your manual bids for clicks that seem more or less likely to lead to your goals.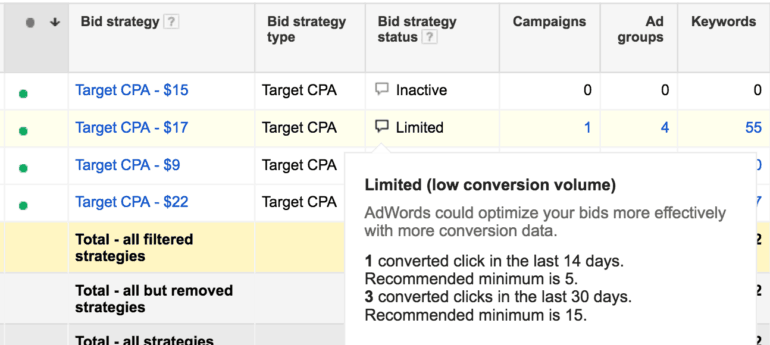 ECPCs can be helpful if you're not too concerned about your budget flexing up and down. But fluctuation may happen because ECPC will increase your bids on your behalf based on a set of predefined signals, like browser type, location, and time of day.
However, if you have a set or limited budget that must be adhered to strictly, you may want to focus on manual bidding so your budget remains consistent.
What KPI Metrics Matter the Most to Your Company?
Of course, CPC isn't everything. Other performance indicators will also affect your Google Ads budget.
KPI metrics help you measure the performance of your ads over time, so you know whether or not campaigns are meeting your expectations.
Some typical KPIs might include:
Impressions – Every time your ad is displayed it's considered an "impression."
Click-through rates (CTR) – A CTR measures how often your ads are actually clicked.
Conversion rates – This measures actions taken after someone has clicked your ad and landed on your site (did they fill out your form, etc.).
Cost per conversion – This shows you the average amount of money you spend on PPC for every conversion earned.
Average position – Average position is an indication of where your ads fall when they're triggered and how much traffic each location receives.
Quality score – Quality score is an expression of how reliable your company is at showing relevant content in your ads (low scores pay more).
While all of these KPI metrics are technically important, some may mean more to you and may be more helpful in determining your budget.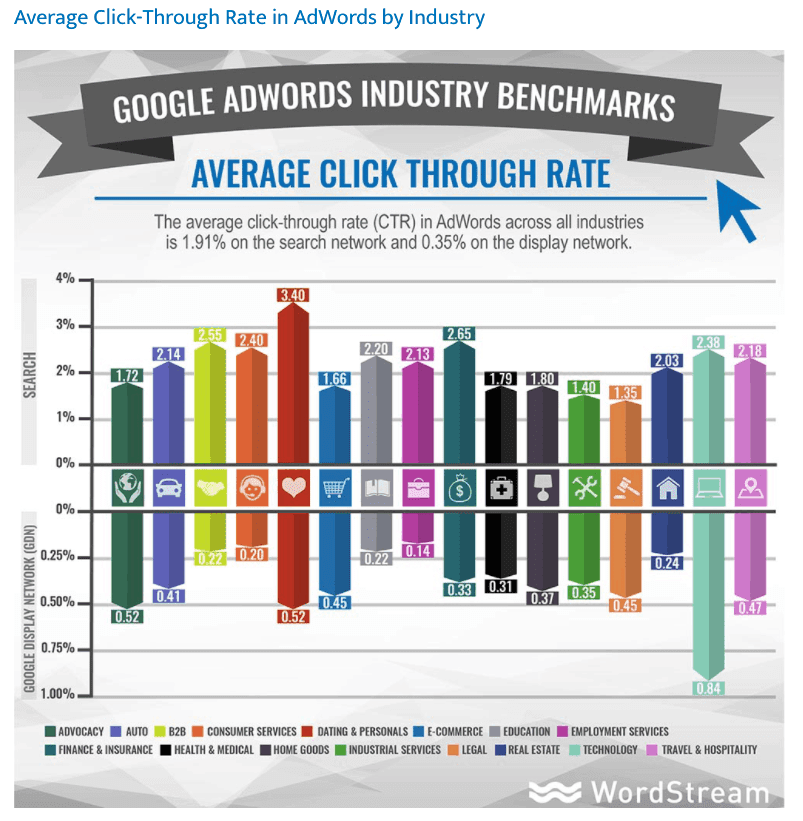 For example, your ads may see relatively similar ROI no matter which location they're placed in, so "average position" wouldn't be as important to you. You may choose not to bid on certain areas.
On the other hand, cost per conversion may be a much bigger deal if one of your goals is to increase sales.
If you're spending money on ads that aren't converting, you're wasting a considerable portion of your budget on something with little to no ROI.
Keep in mind that KPIs can vary widely within particular industries and for specific companies.
So the KPIs your competitors are measuring (or other companies who aren't in your industry are measuring) may not be appropriate for judging the success of your campaigns.
You'll want to spend some time figuring out which KPIs matter the most so you know where to put your money for the best results!
How to Determine Your Google Ads Budget
In putting all of the above together, you should have a good idea of where to begin when it comes to setting your budget and monitor KPI metrics.
You will want to start by determining how much of your company's total marketing budget should be allocated to PPC.
For most B2B marketers, PPC advertising takes up between 8-10% of the budget.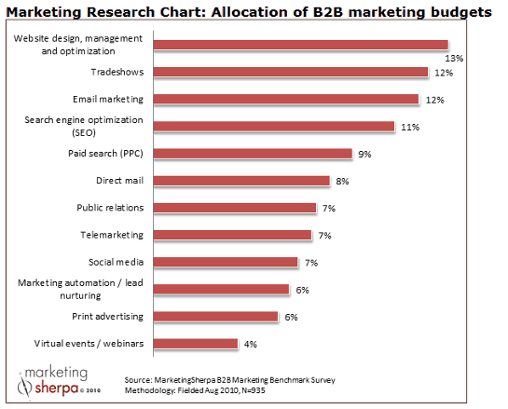 You also want to take into account how much of your marketing budget you want to allocate to Google Ads specifically.
There are plenty of other PPC options that may appeal to you too, especially if your company is in an industry that doesn't always see high ROI with paid search.
You want to make sure the channel you're spending the most on is also the one with the best ROI. At the very least, you may want to divvy up the budget between different channels.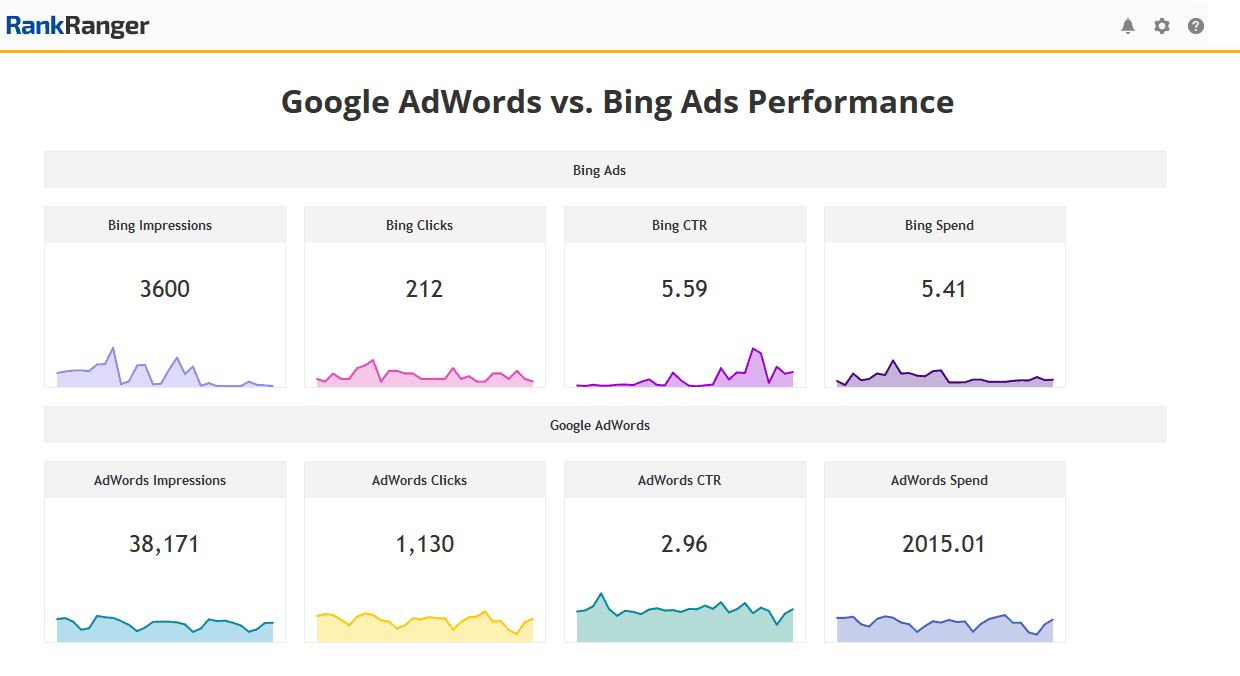 Remember, you should also do some research into which keywords will have the best impact in your industry. Keep in mind that your budget can make room for any keyword strategy you choose.
For actual budget numbers, you want to calculate the CPC and ROI of your keywords (as shown earlier using Google's Keyword Planner). That will show you the exact amount of money to allocate per campaign every month (based on daily estimates).
That formula would be: Daily estimates x 30.4 = monthly budget.
It's important to understand that you can see success with any budget, so don't think that you need $1 million for your ads to do well.
You need to know which ads will give you the most return for your money and which Google Ads spending habits will break the bank.
Conclusion
Since you must base your budget on many variables, such as your current marketing budget, your desired spending amount, your ultimate campaign goals, your chosen keywords, your CPC rates, and your KPI metrics to track progress—there's no specific formula for how to determine your paid search budget.
The more time you can spend developing researching keywords with better CPC in your industry and narrowing down your KPIs before you create your campaigns, the more successful they will be.
Additionally, make sure you're taking the time to watch your campaigns closely, especially if you're using ECPC. This will allow you to see which campaigns are giving you the best ROI and which ones are wasting your money.
Using a Customer Generation approach to your marketing strategy ensures that your paid efforts are tied directly to your customers. If you're interested in learning how our tech marketing team can start generating revenue for your company, let's get on a call.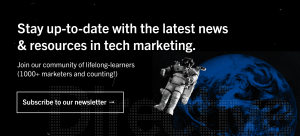 Keep reading
Agency Life
Top 5 Oldest Performance Marketing Agencies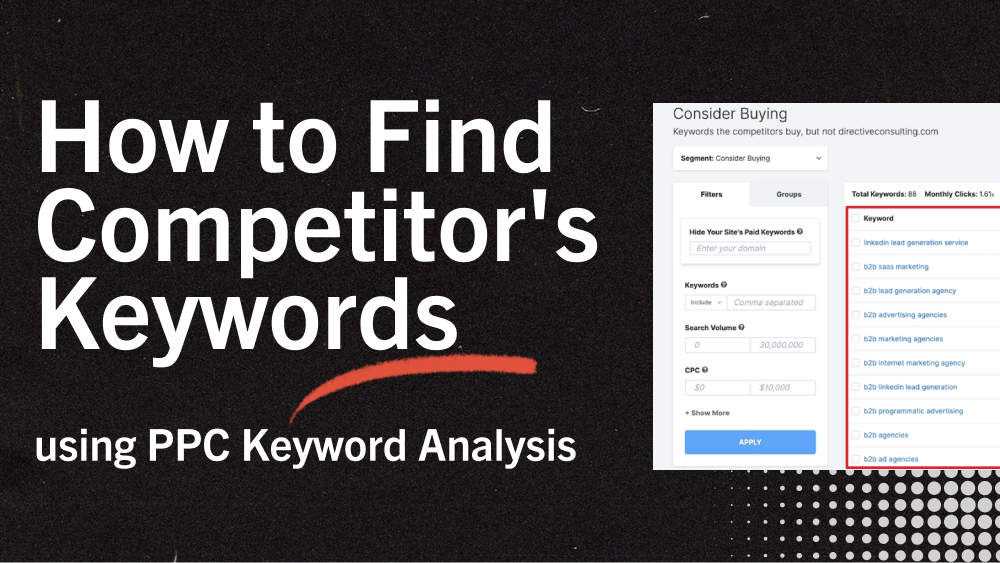 PPC
How to Find Competitor's Keywords with SpyFu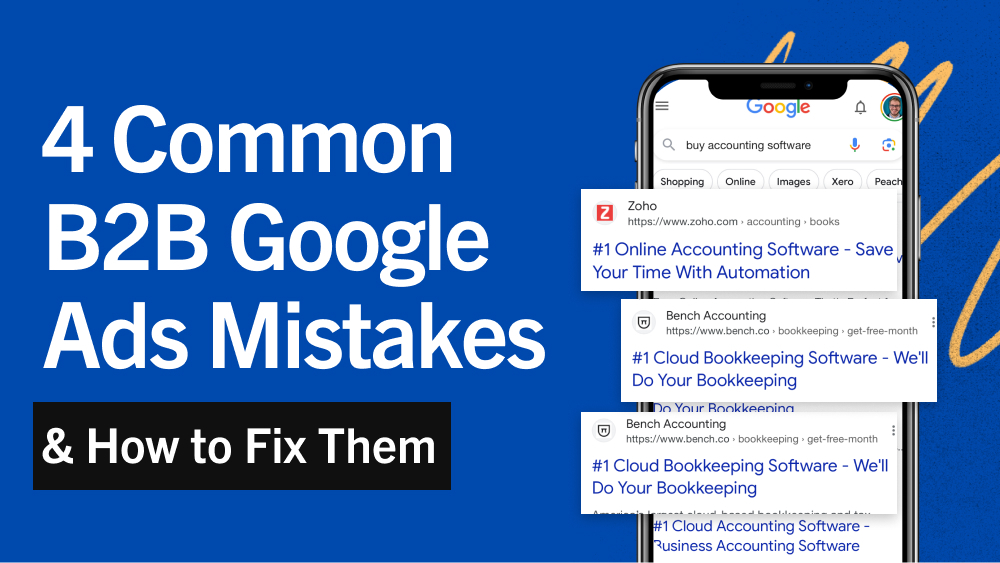 B2B
4 Common B2B Google Ads Mistakes and How to Fix Them