How to Find Competitor's Keywords with SpyFu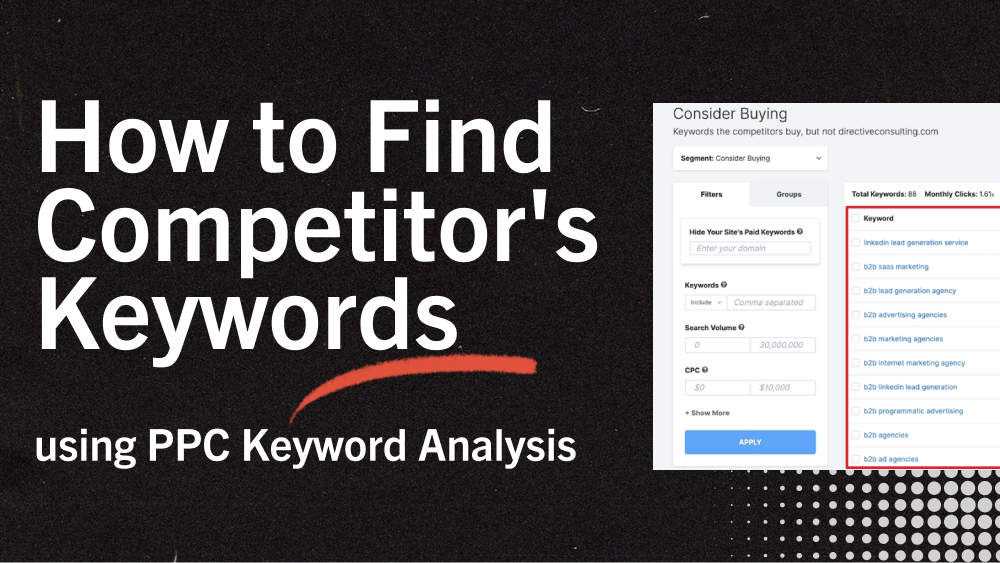 Why You Should Spy on Your Competitor's Keywords
In PPC, you compete in keyword auctions to determine ad placement. Higher positions and impression share lead to greater exposure through coveted top-of-page positions.
To gain a competitive edge in paid ads and increase your visibility on the Search Engine Results Page (SERP), it's essential to understand your competitor's keyword focus using PPC keyword analysis tools.
By analyzing your competitors' keyword strategies, you can replicate their success, target missed opportunities, and drive more conversions.
At Directive, we rely on numerous tools to complete a competitive keyword analysis for PPC, like SEMrush, Ahrefs, and more. But our team's favorite PPC competitive analysis tool is the site SpyFu.
Main Features: SpyFu specializes in competitor keyword research and Google Ads insights. You'll need a paid account to access all the tools, but tons of features make it worthwhile to invest in (its basic subscription starts at $16/month annually or $39/month monthly with a free trial available).
How It Works: Enter a website domain or keyword, and SpyFu reveals organic and paid keywords, ad history, competitor data, and more. It helps you uncover profitable keywords competitors are targeting, analyze ad strategies, and identify valuable keyword opportunities, all while making exporting and sifting through the data easy.
Interested in watching this blog in video form instead?
What is PPC Competitor Keyword Analysis?
A PPC competitor keyword analysis is your gateway to deciphering your competitors' paid media data. It entails identifying their strengths and weaknesses and vigilantly monitoring shifts in their advertising strategies—all of which can be efficiently executed using SpyFu. This analysis is the cornerstone of any robust PPC strategy. Regularly monitoring your competitor's keywords empowers you to stay one step ahead and align your tactics with the ever-evolving competition.
What are the Benefits of PPC Competitor Keyword Analysis?
Know Your Competitors
Most business owners can rattle off the names of their biggest competitors in the marketplace, but how many digital marketers are fully aware of their biggest competitors in paid advertising?
Your offline competitors are the companies that most effectively capture the business of your target customers. On the other hand, your biggest PPC competitors are the advertisers whose ads show most frequently for the keywords that your campaign is targeting.
If you want to start outranking the competition and capturing more impression share for your target keywords, you'll need to identify your competitors' keywords.
With SpyFu, you can quickly aggregate top ad competitors on a separate tab.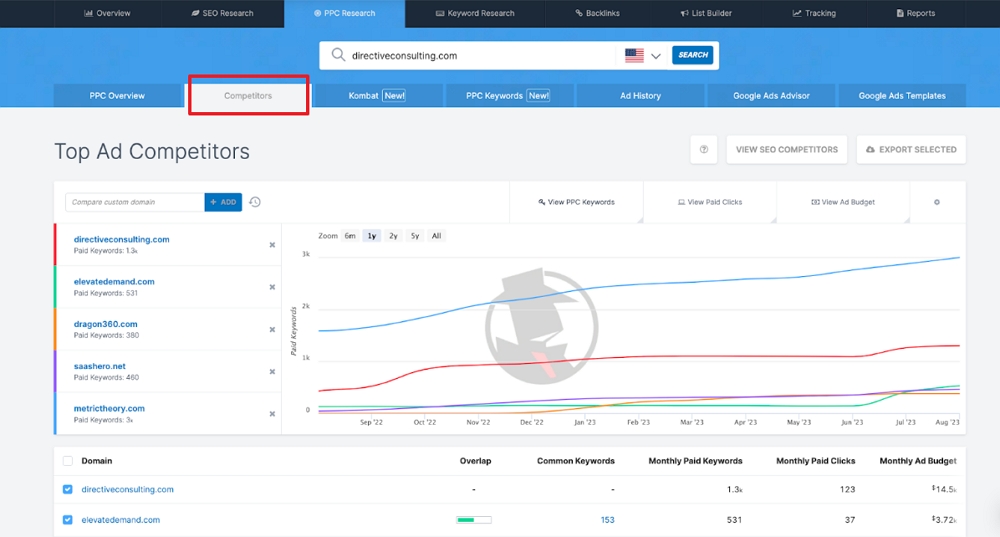 You can also see your keyword overlap with them, even if you're not bidding on your competitors' relevant keywords. It's a convenient way to identify valuable keywords for bidding, especially ones you might be missing out on.
Enhance Your Keyword Coverage
With a PPC competitor keyword analysis, you can determine your competitors' keywords that generate the most clicks. Good news: It's easy!
When you run Kombat mode in SpyFu, you also get to see the search volume over the past month, Average CPC, the average cost, how many advertisers SpyFu has seen for that specific keyword, as well as splits between organic and paid clicks and desktop versus mobiles searches.
Here's an example of how we do it:
Log in to https://www.spyfu.com/
Click on "PPC Research"
Click on "Kombat"
Enter your domain and click "SEARCH"
A Venn diagram will appear with you and two other competitors. SpyFu will automatically populate two other competitors, but you can pick the domains of competitors you want to look at.
Scroll to "Segment" and change to "Consider Buying". These will be keywords both competitors bid on, but you do not.
Click "EXPORT ALL".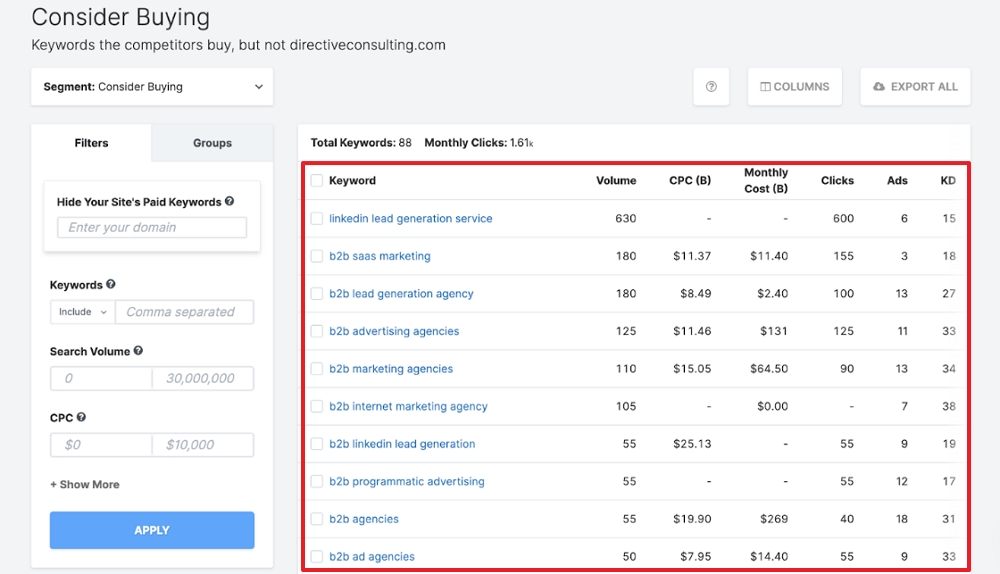 Now you'll have a list of keywords your competition bids on, but you don't! Next is to find the right keywords for your digital marketing campaign. You can sift through all of your competitors' keywords that you don't already bid on and add the highest-performing and best-value keywords to your campaign. This is one of the best ways to broaden your keyword targeting and increase your ads' reach.
Capture More Clicks Strategically
Using SpyFu for your PPC competitor keyword analysis to enhance your keyword coverage and refine your ad messaging ultimately means that you will attract more clicks from your target audience.
SpyFu gives you the right information to thoroughly analyze your competitors' advertising funnel from start to finish. Then you can design your optimized funnel based on knowing what's working for them.
This will help you to beat their quality score, capture more impression share, and get more clicks to your top pages.
Combined with filters and other options, this premium tool can identify direct competitors and industry competitors' strategies.
SpyFu's Ad History tool helps with the research process by showing you your competitor's most profitable ads and keywords historically by keyword.
You can even click on the ad copy to see the exact search results page from the search engine where the data was collected to help see what your potential customers see.
Using this information, you can see what unique value propositions competitors highlight in their ad copy and make decisions for your copy based on how your ad would appear against others.
Boost Conversion Rates Effectively
The key to driving conversions lies in the relevance of your offer on landing pages and its alignment with user intent.
Your goal is to achieve a high level of alignment between what the user wants (aka what they search for), what your ad promises them, and what your landing page delivers them. The better all three of these align, the more you'll see a higher ad quality score, an increased impression share for your target keyword, and increased conversions.
SpyFu's Ad History tool allows you to see the keyword data, ad, and landing page for your competitors. It gives you insight into the competition's buying journey so you can analyze it for flaws and places where you can create a more personalized experience with content.
A better user experience post-click will bring you better conversion rates.
How to Execute A Competitor Keyword Analysis with SpyFu
Identify Competitors: Begin by visiting the Competitors tab on SpyFu to compile a list of domains that intersect with your paid search results. Select the top two competitors as your starting point.
Evaluate Keyword Targeting: Use SpyFu's Kombat tool to unveil your competitors' targeted keywords. Switch the segment to "Consider Buying" to pinpoint their most profitable keywords, identifying highly relevant ones you might have missed.
Optimize Ad Text: Dive into your competitors' Ad History to scrutinize the copy they employ to drive conversions for their best-performing keywords.
Refine Landing Pages: Continue exploring your competitors' Ad History, this time focusing on where their ads lead per keyword.
Embrace this approach, and you'll be primed to execute a thorough competitor keyword analysis using SpyFu. Just imagine the insights you can unlock, not just with this tool, but many more in your arsenal.
PPC Competitor Keyword Analysis FAQ:
Q: How do you target competitors' keywords?
A: Perform a thorough keyword audit by comparing your shared keywords and removing those that lack relevance for your business. Pay special attention to keywords associated with higher domain and trust authority, as these present valuable targeting opportunities. Take the time to assess the Search Engine Results Pages (SERPs) for each highlighted keyword in each case.
Q: How do I find my Google Ad competitor keywords?
A: You can use free tools like Google's Auction Insights or paid tools like SpyFu to review competitor keywords.
Q: What are some keyword research tools I can use to find my competitors' top keywords?
A: SEMrush, Ahrefs, SpyFu, and Google Keyword Planner are all some of the best tools to find your competitors' keywords. While SEMrush and Ahrefs are typically used in tandem with organic traffic campaigns, they provide different ways to view the competition's reach. Finding low keyword difficulty terms will also aid in your SEO keyword strategy when producing blog posts and other helpful content so you can conquer wherever your competitor ranks.
Q: How do I find low-competition keywords for free?
A: Leverage Google Search Console, Google Ads' Keyword Planner, and Google Trends to conduct thorough SERP analysis. Additionally, you can use free versions of advanced technologies such as ChatGPT, Semrush, and ScreamingFrog. These resources offer valuable insights that can significantly enhance your keyword research and overall SEO competitor analysis.
Q: Why is it important to find my competitors' keywords?
A: Finding keywords your competitors use is essential because it keeps you up to speed with the keyword tactics your competition is using to find success and helps you find keywords you might have missed. Gain a competitive advantage and drive better results by working smarter, not harder.