How to Learn SEO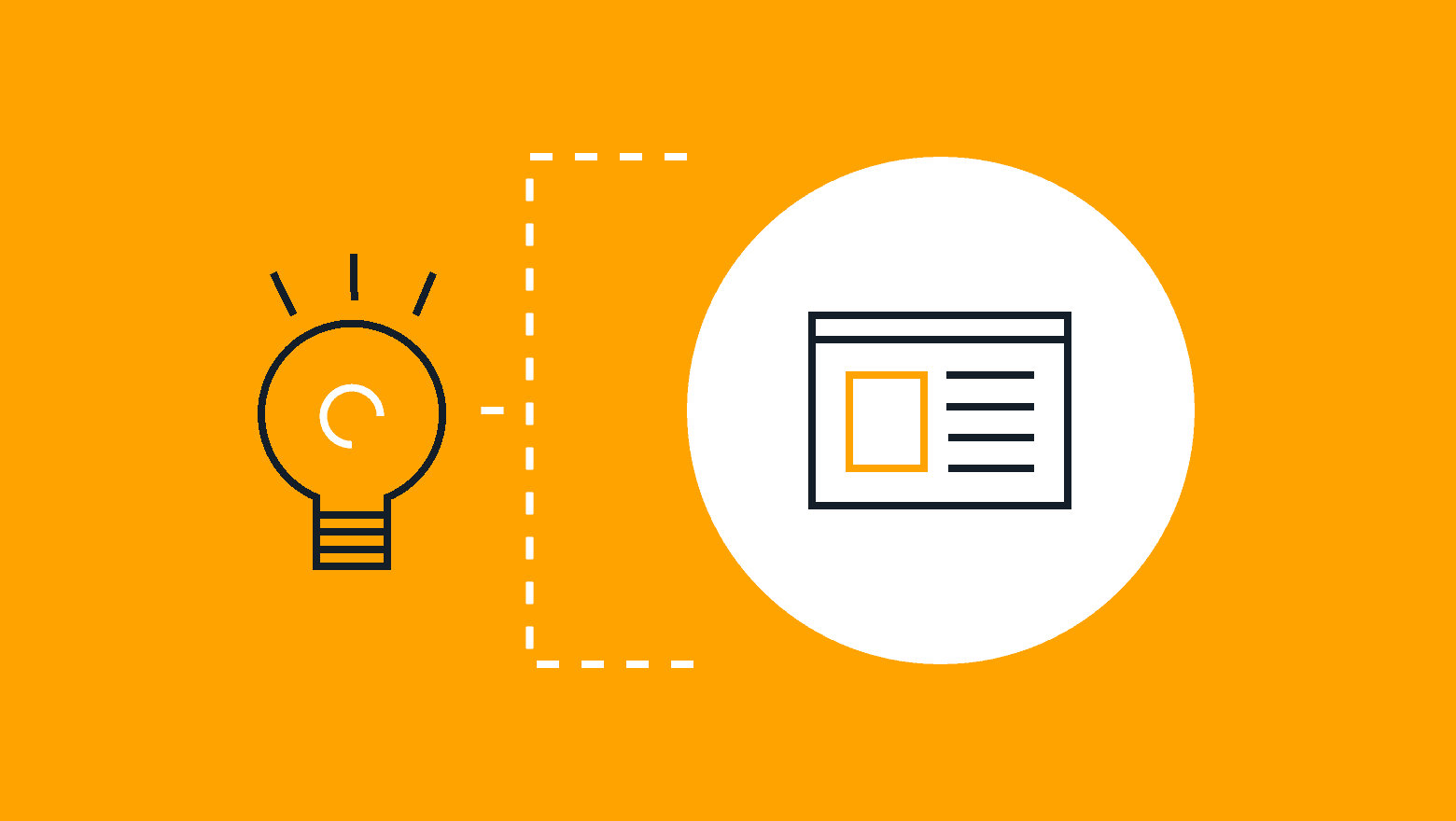 Wondering how to learn SEO?
Search engine optimization (SEO) is one of the most exciting areas of digital marketing. SEO experts develop techniques and best practices for creating content that ranks high on the search engine results pages (SERPs) of leading search engines like Google and Bing.
Content that ranks highly in organic search can drive hundreds or even thousands of relevant, targeted visitors to your website each month, helping you generate more sales and increasing awareness about your brand.
If you're just getting started with search engine optimization, you may be wondering how to learn SEO the best way when there are so many resources available. To make it easy, we've put together this comprehensive guide that covers the best way to learn SEO. Keep reading to discover more about how to learn SEO and launch your first successful organic search campaign.
How to Learn SEO
Start with an Overview
If you're new to SEO, the first thing you should do is try to understand the definition of SEO and get an overview of the most important activities.
Search engine optimization is the process of designing, planning, creating, and promoting websites and content with the goal of increasing the visibility of your websites in organic search results. Most SEO activities fall into one of the following five categories:
On-Page SEO – Optimizing the structure and content of your individual web pages to rank for a specific keyword.
Off-Page SEO  – Promoting your website content with social sharing, guest posting, and link building campaigns that generate backlinks to your pages and signal your trustworthiness and authority to search engines.
Technical SEO – Optimizing the technical performance of your website to eliminate errors that impact crawlability and user experience.
User Experience (UX)Optimization – Optimizing the functionality and user-friendliness of your website to minimize bounce rate, maximize pages per session & average session time, and satisfy the search intent of your visitors.
Local SEO – Enhancing the visibility of your business in local search results by managing online directory listings and customer reviews.
To succeed in organic search, you will need to increase your skills in all of these areas. The best SEO experts have mastered all five categories of SEO activities and know which optimizations are the most important for driving overall campaign success.
Brush Up Your Search Engine Knowledge
SEO experts spend their time trying to understand everything there is to know about search engines how they operate.
In the early 2000s, the world of digital search was relatively new and marketers still didn't know very much about how Google's algorithms worked. Thanks to the massive volume of data collected and analyzed across millions of organic search campaigns, experienced digital marketers now have a fairly good idea of which factors are the most important when it comes to determining how a web page is likely to rank in the SERPs.

Image: Google's home screen is the most trafficked page on the Internet, with the search engine estimated to process 700,000 search queries per second.
Search engines like Google use web robots known as crawlers to search the Internet for new or recently updated pages. Crawlers navigate the web using links and their job is to update Google's index with newly published or recently revised content that the search engine may want to return as part of its search results.
Crawlers analyze every element on every page of your website to determine its subject matter and contents, then pass that information along to Google's index. When a user types a query into Google, the Google search algorithm searches the index for the most relevant results and displays them to the user.
Take an Online SEO Course
Taking an online SEO course is one of the best ways to start gaining theoretical knowledge and hands-on experience in search engine optimization.
In the early days of SEO, it was nearly impossible to find high-quality online SEO courses because so little was known about the mysterious Google algorithms that create the organic search rankings. Today, taking an online SEO course is one of the best ways to structure your learning and make sure you're progressing step-by-step while managing the most important details and covering all the most critical topics.
The best online SEO courses will help you learn and develop the most important skills needed to run an effective organic search campaign, including:
Set Up Your First Website and Domain
We firmly believe that the best way to learn SEO is by actually doing it. While theoretical knowledge is obviously important, there's no substitute for the genuine trial-and-error learning you'll experience when you start to set up and manage your first SEO campaign. That's why we think it's important to start getting practical experience by setting up your first SEO campaign as soon as possible.
The best thing about getting started with SEO is that it's quite inexpensive. All you need to get started is your own website with a registered domain name. Some web hosting providers can set you up with a one-year web hosting plan and your own web domain for just a few dollars a month.
If you don't have the web development experience to build your own website, you could try outsourcing or use a website builder like Wix or Squarespace to streamline the process.
Learn about the Best SEO Tools
In the early days of organic search marketing, SEO was always considered a manual and labor-intensive process. Now, digital marketers can get their hands on high-tech software applications that help streamline and automate key SEO activities. The most efficient digital marketers have SEO software tools ingrained deeply into their processes and working methods.
Here are some of the best SEO tools that you should consider using to support your organic search campaigns:
Google Webmaster Tools – The most important Google Webmaster Tools for SEO are Search Console and Google Analytics. Google Analytics allows digital marketers to track user behavior data for website visitors and segment that data across audience demographics to develop marketing insights. Google Search Console helps webmasters measure search traffic, address performance issues, and verify crawlability and mobile-friendliness.


Image: Google Search Console interface

SEMrush – This all-in-one digital marketing software solution offers a range of valuable tools to support your SEO efforts. The SEO Toolkit includes competitive and keyword research, technical SEO auditing capabilities, link building, rank tracking, and additional features to help you save time while capturing more valuable organic traffic.


Image: SEMrush offers an all-in-one solution for digital marketers working on organic search campaigns.

BrightLocal – BrightLocal is a software platform built specifically for local search marketing. Digital marketers can use this platform to build and manage citations and directory listings, manage and solicit online reviews, and ultimately increase the visibility of their businesses in local search results.


Image: BrightLocal Citation Tracker Interface
Put Your Knowledge to Work
Once you've configured your website and domain name, and chosen the best SEO software tools, it's time to start putting your knowledge into action and executing on your first SEO campaign.
The latest research indicates that Google's search algorithm uses over 200+ different ranking factors to rank web pages in the SERPs. With so many ways to optimize your website, how will you know where to start? If you've taken an online SEO course, you should already have been presented with a step-by-step methodology that takes you through the entire process. If not, follow these steps when putting your SEO knowledge to work:
Register your domain and install Google webmaster tools
Create the core pages of your website, following best practices for on-page SEO optimization
Use Google Search Console to make sure your website is crawlable and mobile-friendly
Do keyword research and competitive analysis to identify a list of relevant keywords that you should be targeting
Create a content strategy targeting keywords that relate to your business, product, or service
Plan individual content pieces by looking up their target keyword in the SERPs and benchmarking them against other pieces that are ranking well.
Write content that follows best practices for on-page SEO optimization.
Conduct a technical SEO audit of your website to identify any errors or technical problems that could negatively impact your search rankings.
Launch a link-building campaign and start promoting your fresh new content with guest blog posts, social media sharing, and other backlink building tactics – this is off-page SEO.
If your business operates locally, start building structured citations and managing online reviews based on Local SEO best practices.
Start measuring your user experience metrics with Google Analytics, then optimize your website to provide the best possible experience for users.
Listen to Leading SEO Experts
Once you have your first SEO campaign under your belt, you should start feeling more familiar with the most important tasks and activities associated with SEO.
The next step is to keep getting more experience and developing your own processes for successful campaign management and execution. These things come with time, but you can accelerate the process by keeping your ear to the ground and listening for new trends and insights from leaders in the organic search marketing industry. At the very least, you should be following these three leading voices in the SEO community:
Brian Dean – The founder of the SEO blog known as Backlinko, Brian Dean produces some of the most engaging and informative guides and blog content ever published on the topic of SEO. You'll find loads of valuable SEO information along with the latest tips and trends that are driving performance across the industry.
Rand Fishkin – Rand Fishkin is the Founder & CEO of Moz, having worked at the famous SEO pioneer company since 2001. The Moz blog publishes a weekly video series called "Whiteboard Friday" where SEO professionals from the company break down key concepts and offer actionable tips for overcoming some of the most common SEO campaign pitfalls.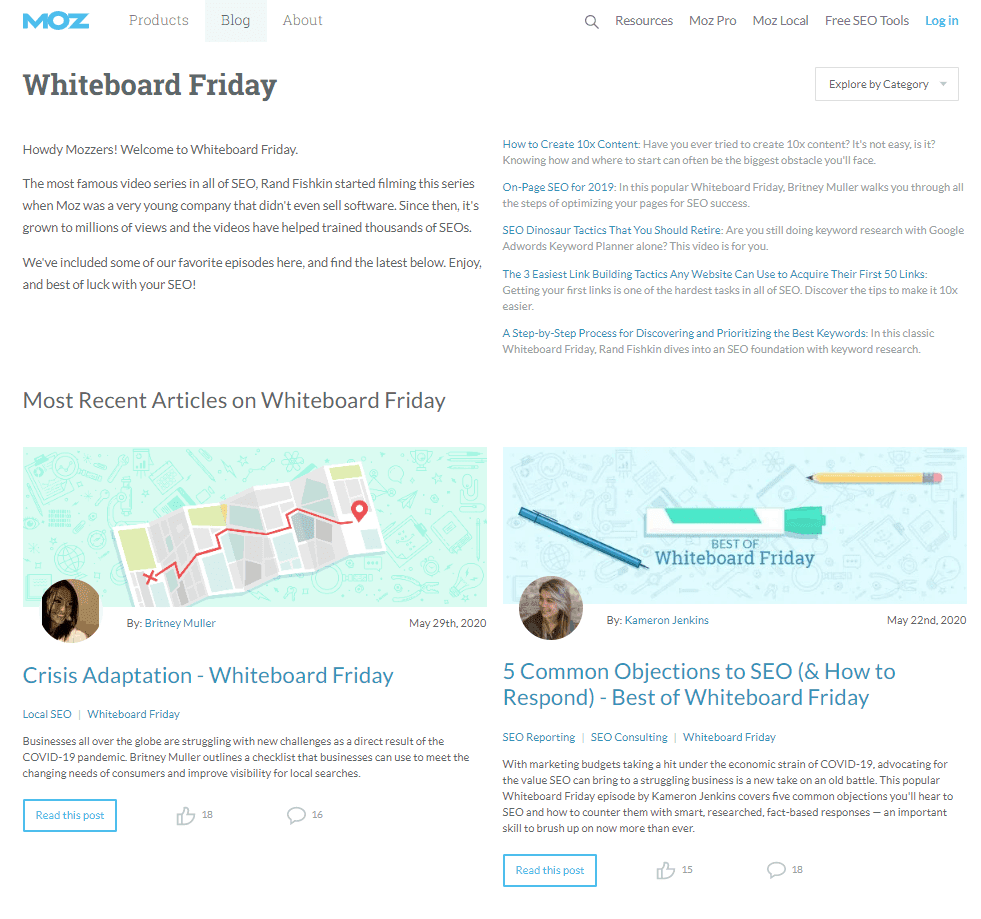 Image: Whiteboard Friday is one of the best information sources for up-and-coming SEO experts
Google – Google is the most trafficked website on the Internet and the most popular search engine. To get the most up-to-date news on changes to Google's ranking algorithm, make sure you subscribe to Google's blogs. Google publishes a blog know as "The Keyword" and another called "Think with Google", both of which offer valuable updates and insights into SEO and online marketing from Google's unique perspective. You can also follow the Google Webmaster Central Blog for specific updates about web crawlers, indexing, and details on how Google ranks web pages in the SERPs.
Follow the Best SEO Blogs
You can learn a lot about search engine optimization by reading the Internet's leading SEO blogs. Blogs allow you to keep up with trends by checking out the latest posts and updates or dig through old/archived blog posts for older information that might still be useful. The three blogs we'd recommend most are:
Find a Job Doing SEO
When businesses or marketing agencies hire for digital marketing or SEO roles, they aren't necessarily looking for someone with a college degree.
What they are looking for is someone with a proven track record of understanding SEO optimization requirements and managing them successfully throughout an organic search campaign.
Once you have run one or two of your own campaigns and successfully created content that ranks on the SERPs, you may choose to start applying for SEO or marketing-based roles where you can continue to expand on your SEO skills.
Summary
Thanks for taking the time to explore this guide on how to learn SEO.
The great thing about learning SEO is that you can benefit from the decades of experimentation and testing done by digital marketers to help uncover the secrets of the algorithms that Google and Bing use to rank web pages in the SERPs.
We created Directive Institute to make sure that we can pass on the SEO knowledge we've accumulated and help the next generation of digital marketers create more successful organic search optimization campaigns.
Sign up for a free trial and find out just how easy it can be to learn SEO with in-depth information and step-by-step video tutorials on Directive Institute created by the best SaaS SEO agency in the industry.
Keep reading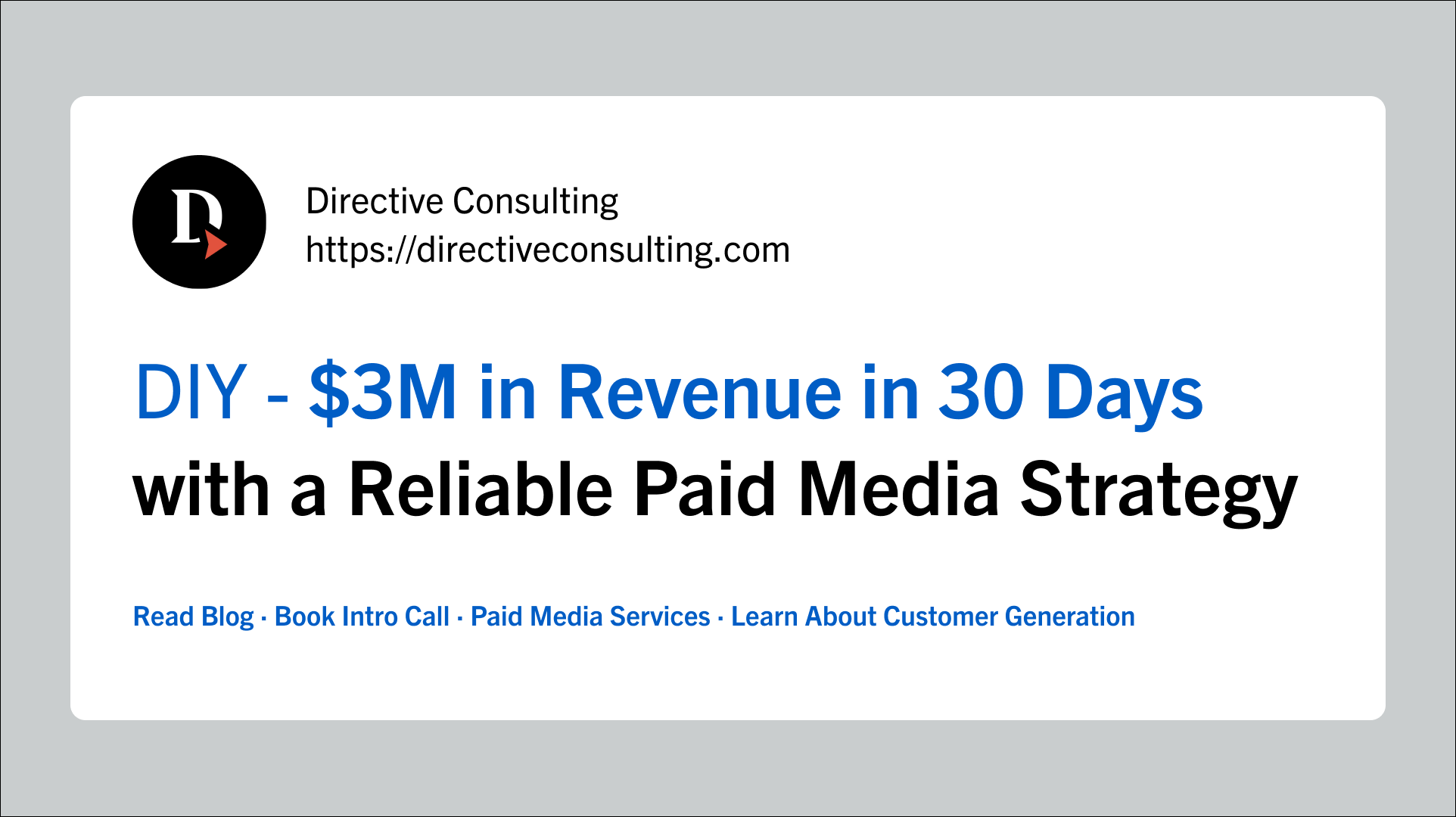 PPC
DIY: $3M in Revenue in 30 Days with a Reliable Paid Media Strategy
Social Media
Boost Your LinkedIn Engagement by 22% with These 3 Content Types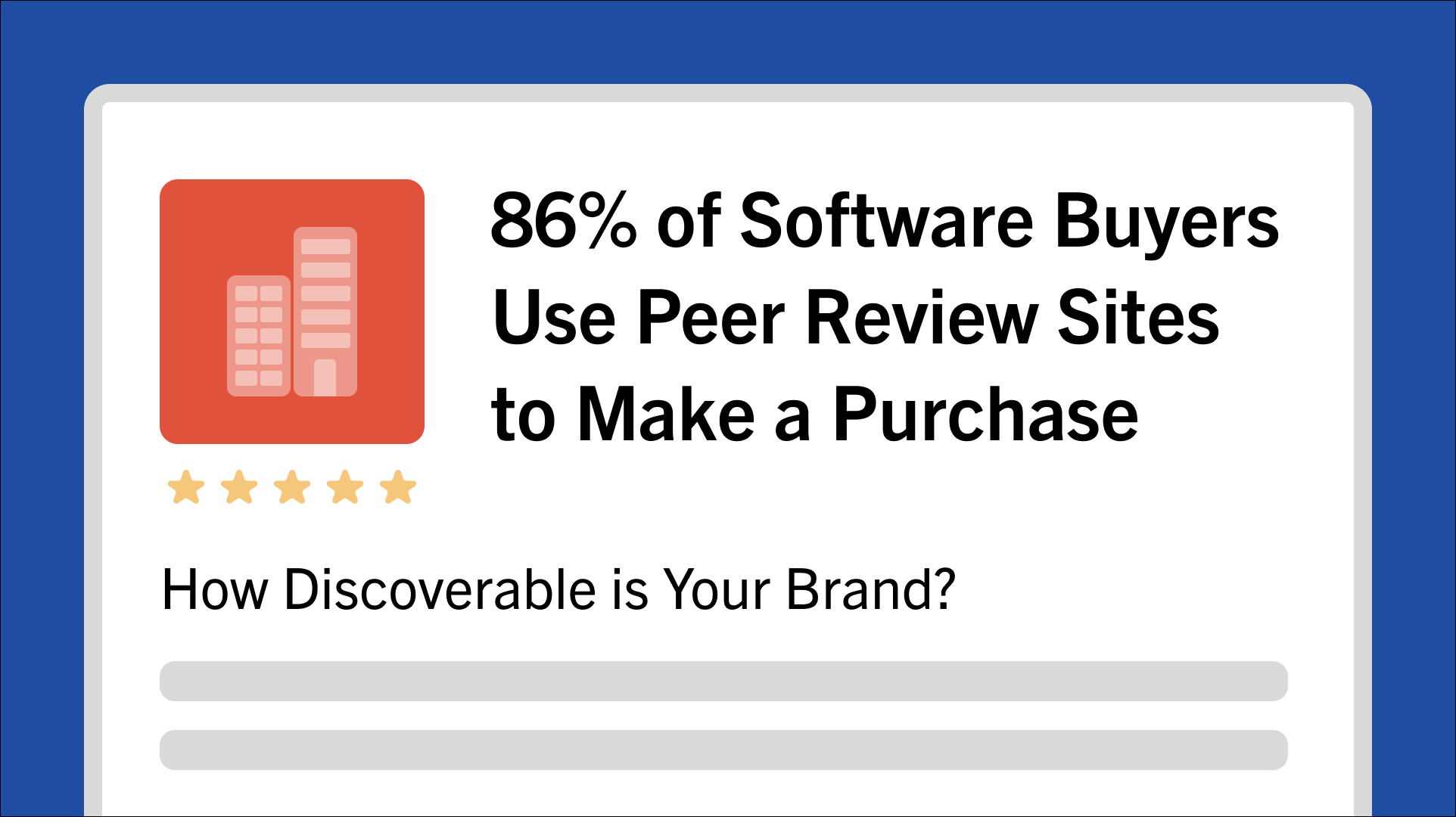 Sales
86% of Software Buyers Use Peer Review Sites to Make a Purchase. How Discoverable is Your Brand?