Instapage vs. Unbounce – What's Best for You?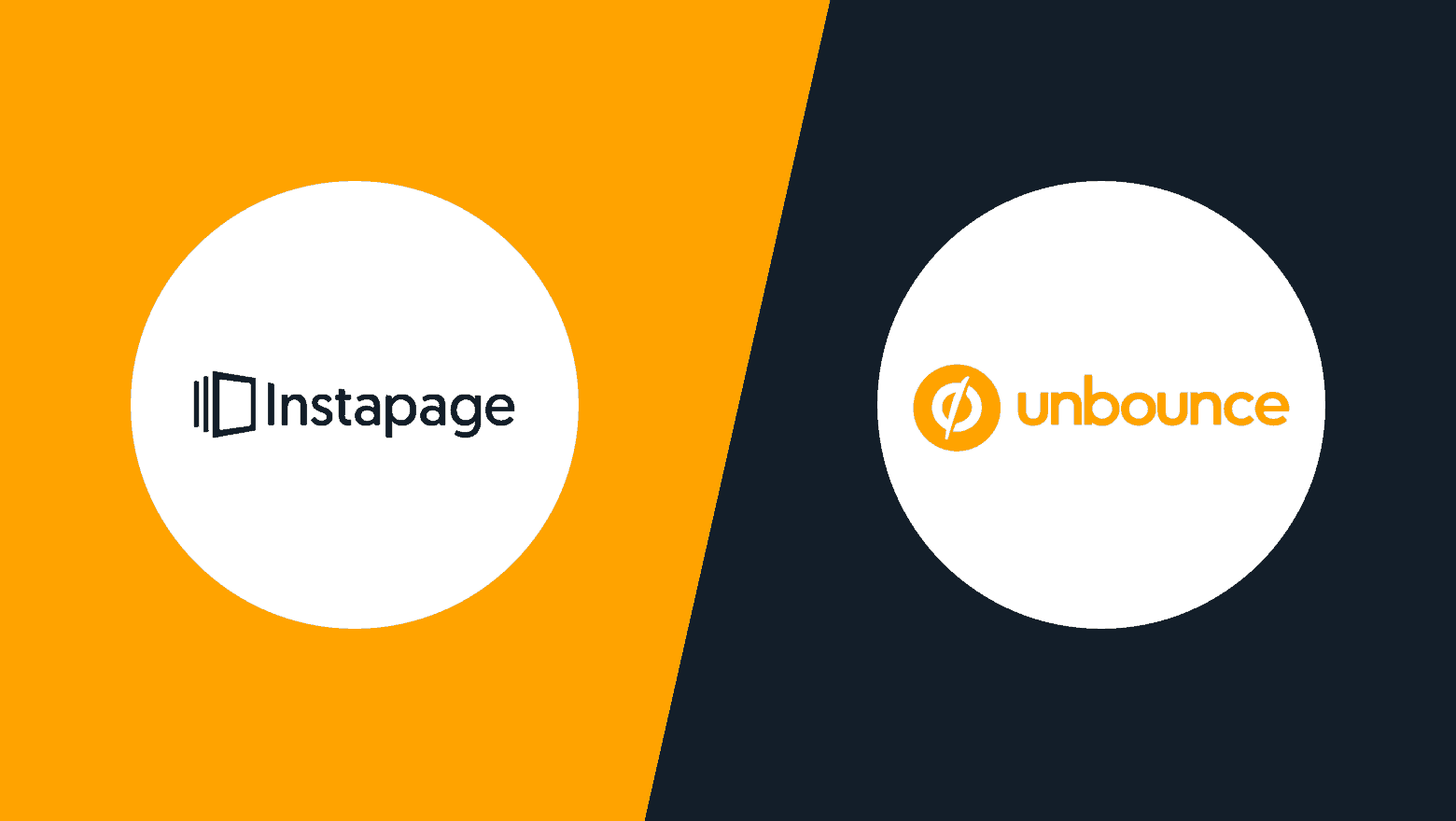 Instapage vs. Unbounce: Which landing page builder is the best option for your business?
Each one offers something unique for digital marketers who rely on landing page builder tools to support their pay-per-click advertising efforts. While there's plenty of feature overlap, digital marketers choosing a landing page builder for the first time should be aware of the subtle differences between them before making a purchasing decision.
To help, we've created this resource to help you choose between Instapage vs. Unbounce. We'll highlight what's the same and what's different so you can choose the best landing page software for your business.
What is a Landing Page Builder?
A landing page is the page that your target audience members land on after clicking through on one of your PPC advertisements.
The best digital marketers build highly focused landing pages for each campaign. Each landing page will be optimized and targeted for a specific customer persona, ad group and advertising message to deliver the best overall experience and drive conversions. Knowing how to create a landing page that converts is obviously important, but it still takes a lot of time to deploy landing pages at scale for a major campaign.
Landing page builder software tools make it easier for digital marketers to produce high volumes of conversion-optimized landing pages and test them against each other in a much shorter period of time and with far less manual work.
Comparing Instapage vs Unbounce
Instapage and Unbounce are two of the leading landing page builder software tools available in the market today.
Founded in 2012, Instapage is a landing page builder tool whose core features include landing pages, personalized targeting, content experiments, campaign visualization tools and lead capture.
Unbounce was founded in 2010 in Vancouver, Canada. Unbounce allows marketers to create high-converting landing pages with a range of powerful features and customization options.
To make this comparison as fair as possible, we've created a simple point scoring system that focuses on the most important features of landing page tools. With a total of 100 points up for grabs, here are the 6 categories we'll be looking at:
Landing Page Builder (20 points maximum)
Templates (20 points maximum)
Content Experiments (20 points maximum)
Personalization & Targeting (10 points maximum)
Integrations (10 points maximum)
Unique Features (10 points maximum)
Pricing (10 points maximum)
Now that we've covered the details, let's compare these landing page builders and see which one comes out on top!
Instapage vs Unbounce: Landing Page Builder
Instapage and Unbounce each offer a drag-and-drop landing page builder that makes it easy to customize landing pages without any special knowledge of coding or graphic design. These editors are great because what you see is exactly what you get – simply move elements around until you're happy with the layout and you're ready to launch.
Digital marketers can customize every element on their landing pages, including call-to-action buttons, colors and fonts, images, ad copy and even social sharing buttons.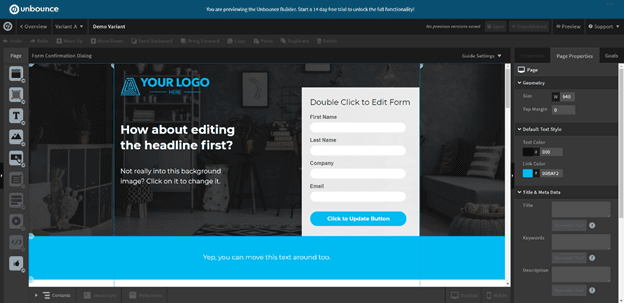 Image: Unbounce Landing Page Builder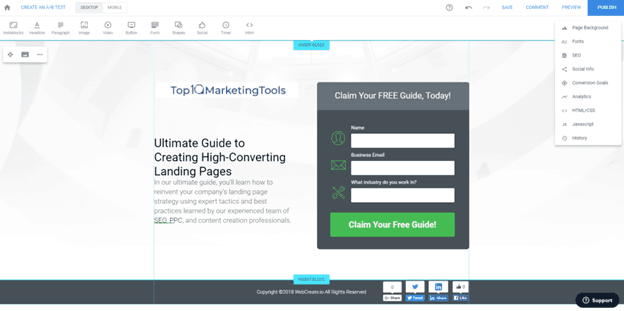 Image: Instapage Landing Page Builder
Unbounce and Instapage are both user-friendly and deliver on the promise of making it easy to create beautiful and high-converting landing pages.
Score:
Unbounce: 19/20
Instapage: 16/20
Both landing page editors are powerful, but they're not the same. Instapage doesn't offer the same flexibility as Unbounce does, but it's still a good option for marketers that value ease-of-use over customization. We found the Unbounce user interface more intuitive and it was much easier to incorporate custom HTML and CSS into our landing pages.
Instapage vs Unbounce: Template Collection
Templates are a great design tool for digital marketers who work from inspiration and would rather improve on a great design than start over. Unbounce and Instapage both offer a huge collection of templates, but while Instapage has over 200 in its collection, Unbounce has just around 100 templates to choose from.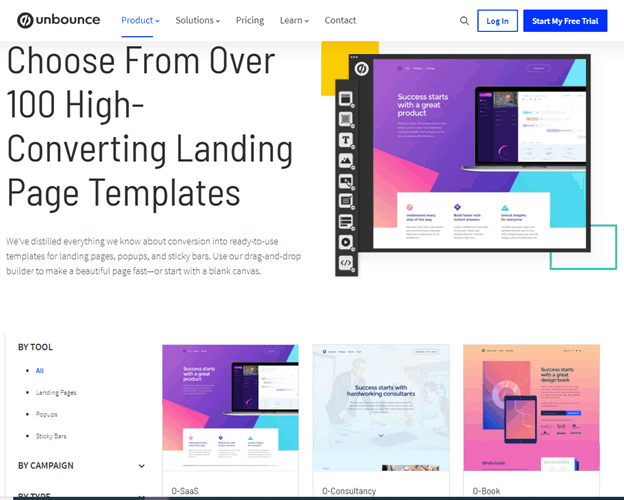 Image: Unbounce 100+ Landing Page Templates
One thing we loved about both tools was that we could browse their template collections directly through their websites without having to access the platform. It was great that we could see exactly what templates were offered and start imaging how we might customize them for our own campaigns. We also like that templates were organized by campaign goal, so marketers could easily find a template that matches their campaign objective (webinar registrations, email opt-ins, free trial sign-up forms, etc).
Score:
Unbounce: 17/20
Instapage: 18/20
Instapage and Unbounce both offer lots of templates and an easy way to browse through them. Instapage has a lot more templates to offer, but many of them are categorized as "legacy layouts" and follow a generic design that may not appeal to modern digital marketers. Despite having fewer options on paper, Unbounce has great variety and visual appeal in their designs.
Instapage vs Unbounce: Content Experiments
A/B Testing Capabilities
A/B testing is a core functionality for both Unbounce and Instapage. Either platform will enable digital marketers to create experiments where different versions of the same landing page are presented to target user segments to determine which one converts at a higher rate.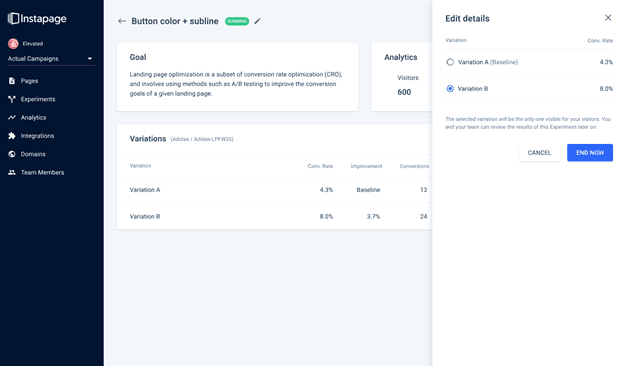 Image: Instapage A/B Testing Interface
While Unbounce and Instapage offer a basic A/B testing function, digital marketers should also be aware of tools like Google Optimize and Optimizely that take a more complex and data-driven approach to analyze experiments. With Unbounce and Instapage, you'll have to apply your own statistical methods to figure out which landing pages are really outperforming the others.
Score:
Unbounce: 15/20
Instapage: 15/20
Unbounce and Instapage both include A/B testing, which is fantastic, however, they don't have the same depth of content experimentation features as a dedicated conversion rate optimization (CRO) tool like Optimizely or Google Optimize.
Instapage vs Unbounce: Personalization and Targeting
Dynamic text replacement is a landing page feature that automatically replaces words on a landing page with the keywords that the user typed in before clicking on an ad. Both Unbounce and Instapage use Dynamic Text Replacement to drive conversions by delivering more personalized landing page experiences for users.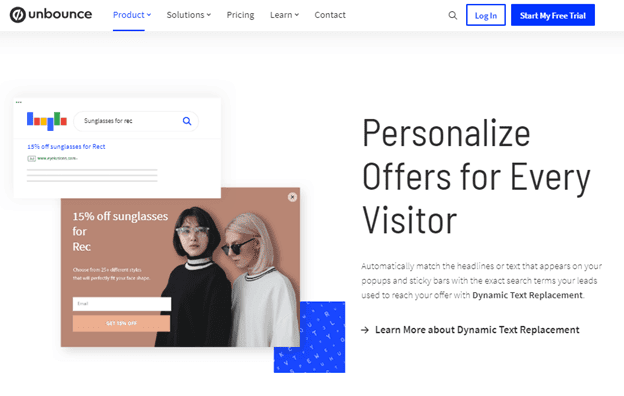 Image: Unbounce Dynamic Text Replacement
With Instapage, marketers have even more options for targeting users with specific landing pages. Instapage includes personalized targeting features that can be linked to virtually any known user attribute, including the referral source, UTM tags in the URL, or the type of ad that brought them to the page.
Score:
Unbounce: 8/10
Instapage: 9/10
Unbounce and Instapage are both effective at offering personalized experiences to visitors at scale.
Instapage vs Unbounce: Integrations
Unbounce and Instapage both offer extensive integration options for their landing page software. Integration options for both include CRM tools, chat software, social media extensions, email integration, automation tools, analytics and even webinar hosting.
Instapage offers 70+ integrations with lots of popular marketing tools, which makes it easier for digital agencies to integrate Instapage into their tech stack.
Unbounce offers more than 100 integrations for its users. We've noticed that Unbounce does a great job of covering its feature gaps by strategically building integrations with leading products in other niches. This has allowed Unbounce to focus its efforts on where it drives the most value – its feature-rich landing page builder.
Score:
Unbounce: 9/10
Instapage: 7/10
Integrations are important usability factors for agencies that need landing page builders to work with their existing marketing & analytics stack. Unbounce seems to do a much better job of this, especially when it comes to marketing attribution integrations.
Instapage vs Unbounce: Unique Features
Heatmaps
Heatmaps are a user behavior monitoring feature that gives marketers insight into how users interact with a given page. With Instapage, marketers can leverage heat maps to see how far their visitors are scrolling down the page, which page elements they interact with most frequently, and even where they move their cursor.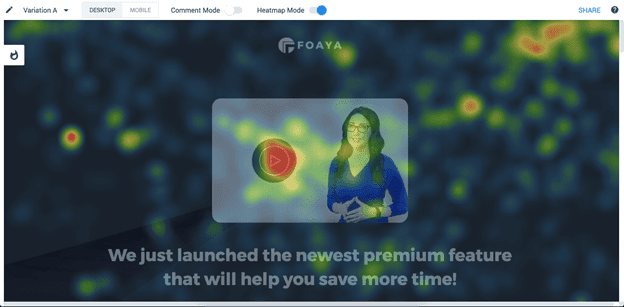 Image: Instapage Heatmaps
While Unbounce does not offer a heatmaps feature, it does allow users to integrate with Hotjar and Crazyegg, two other software solutions that provide heatmaps and user behavior analytics. Marketers using Unbounce don't necessarily have to go without heatmaps, but it's certainly more convenient to have them built-in as Instapage does.
Pop-ups and Sticky Bars
Pop-ups and sticky bars are marketing features that sit on top of your landing page and engage users directly with relevant and targeted messages. When a visitor lands on your page with the intention of browsing, a pop-up or sticky bar can alert them to a special event or offer and nudge them further down the sales funnel. While Unbounce allows marketers to create and customize pop-ups and sticky bars for every page, Instapage is, unfortunately, missing this useful feature.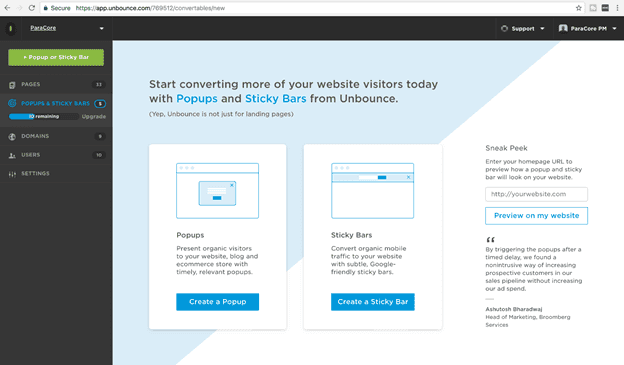 Image: Unbounce Pop-ups and Sticky Bars
Score:
Unbounce: 9/10
Instapage: 8/10
Heatmaps are a useful but non-essential feature when it comes to assessing how visitors interact with a landing page. We give the edge to Unbounce here because customizable popups and sticky bars drive real conversions, which is ultimately better for our bottom line.
Instapage vs Unbounce: Pricing
Unbounce and Instapage are using the software-as-a-service (SaaS) business model to deliver their products, so users will be paying a monthly fee for a subscription package with defined features and access.
Here's how the pricing options compare between these two landing page software tools:
Instapage Subscription Options
Business: $199/month ($149/month if paid annually)
Enterprise: Request Demo
Unbounce Subscription Options
Essential Plan: $99/month (20% discount if paid annually)
Premium: $199/month (20% discount if paid annually)
Enterprise: $499+/month (20% discount if paid annually)
Score:
Unbounce: 9/10
Instapage: 7/10
We give Unbounce the edge here for three reasons:
Unbounce offers an essential package that's more affordable for small businesses, while the cheapest Instapage package is $199.
Compare the Instapage Business plan to Unbounce Premium Plan. They're the same price, but while Unbounce offers 500,000 unique visitors and 150 published landing pages in their $199 plan, Instapage offers just 30,000 unique visitors and 30 published landing pages.
Instapage vs Unbounce: Final Score
We tallied up the scoring and here's what happened: Unbounce wins!
We narrowly preferred Instapage for its landing page templates and personalization capabilities.
We found that both tools were pretty much equal when it came to A/B testing capabilities and running content experiments.
However, when we looked at the overall quality of the landing page builder, extra features, pricing, and integrations, it was clear that Unbounce was the top performer.
The final score was…
Unbounce: 86
Instapage: 80
Summary
Thanks for reading our comparison of Instapage vs Unbounce.
We hope our comparison helps you realize the benefits of a landing page builder and choose the right option to support your next digital marketing campaign.
Keep reading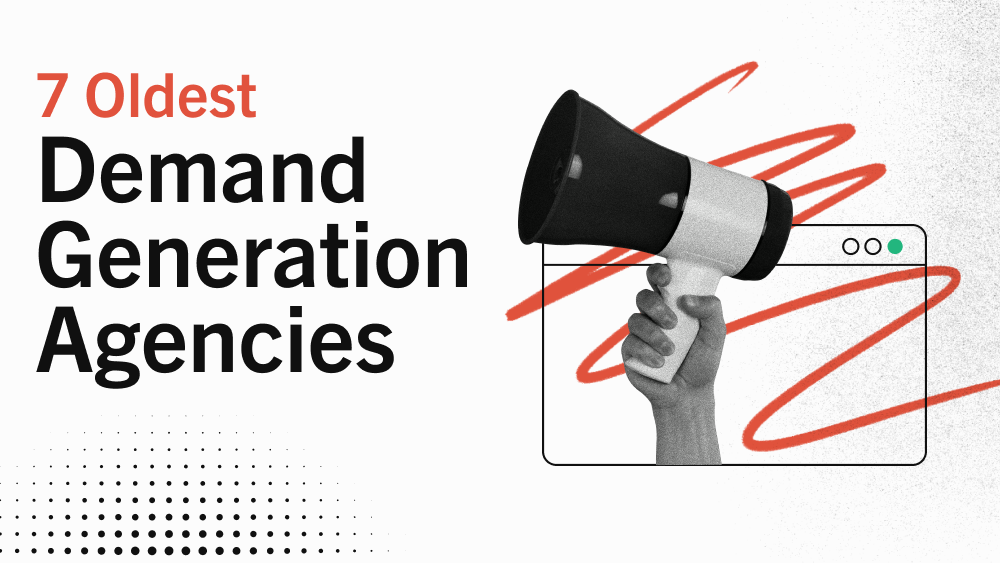 Agency Life
7 of the Oldest Demand Generation Agencies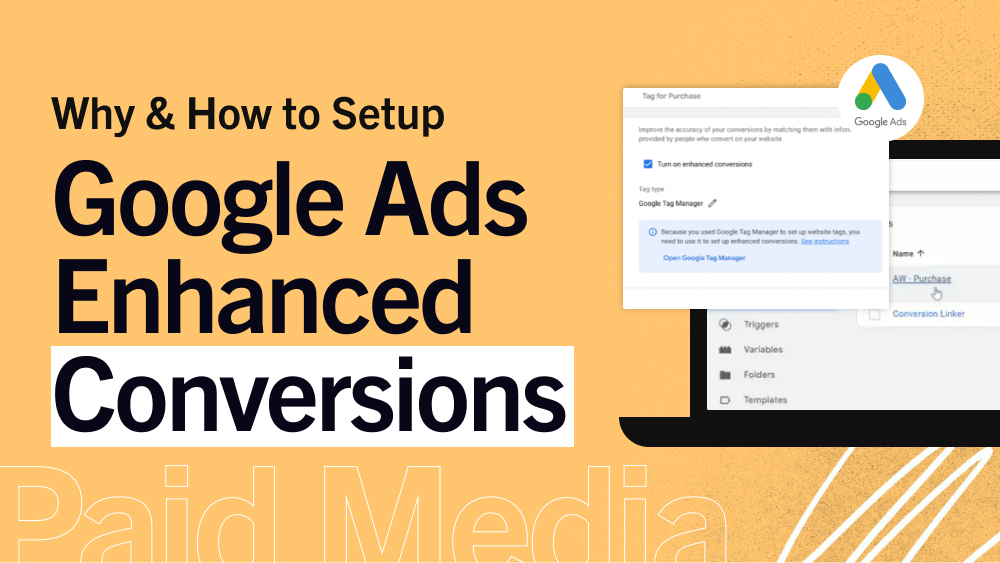 PPC
How to Setup Google Ads Enhanced Conversions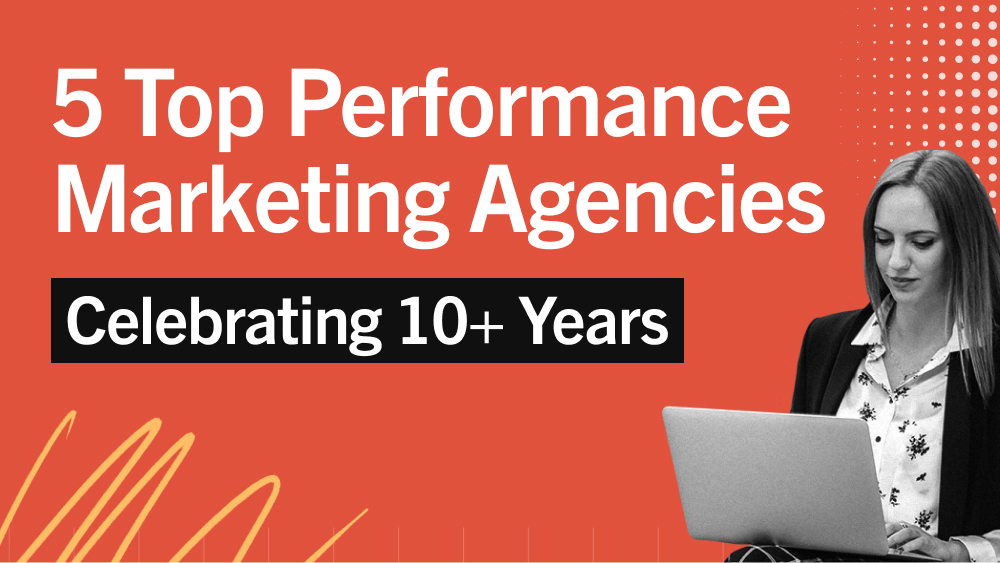 Agency Life
5 Top Performance Marketing Agencies Celebrating 10+ Years