Responsive Display Ads Explained: When to Use?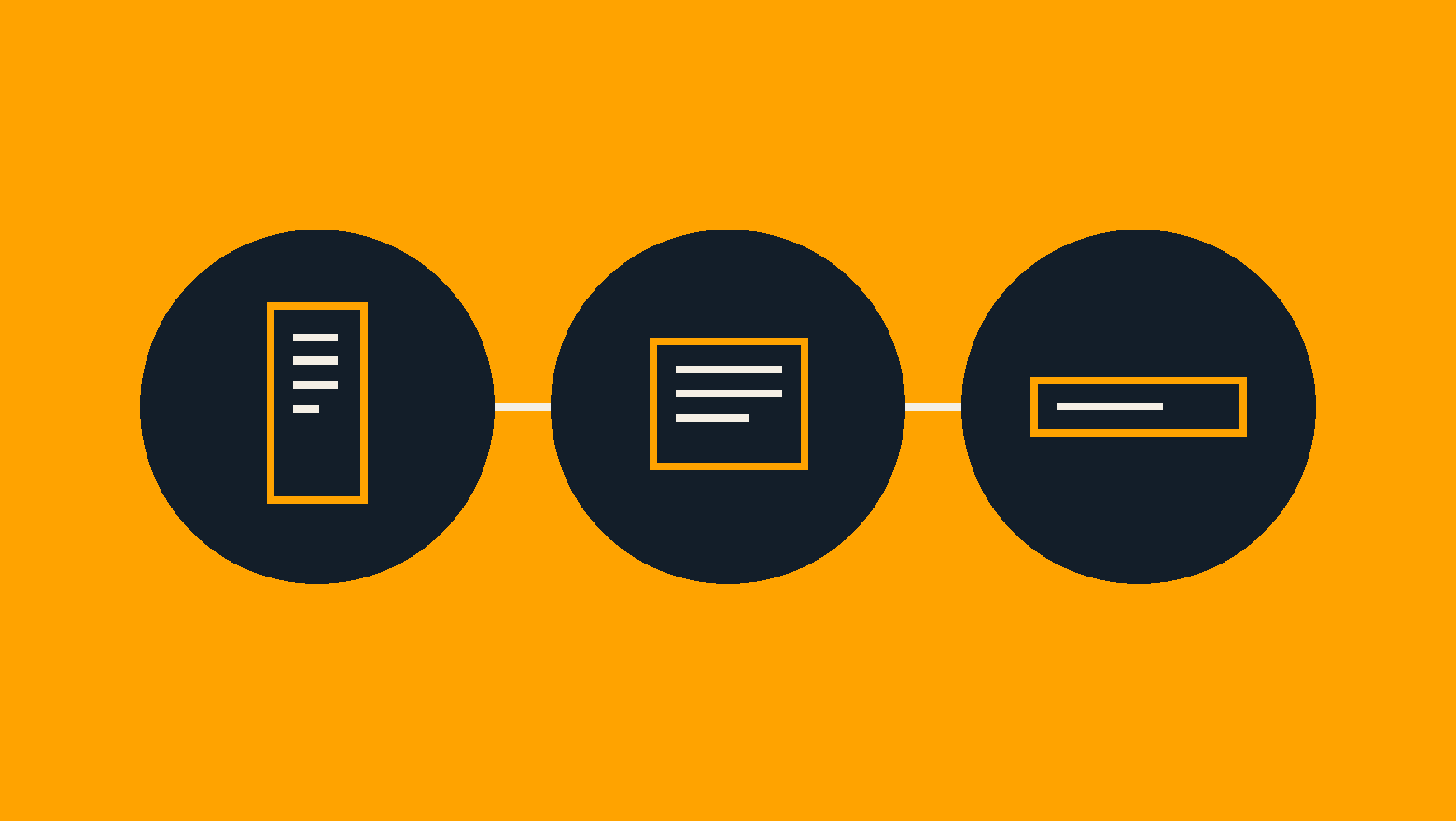 Have you tried optimizing your PPC advertising campaigns with responsive display ads?
Responsive display ads are the new default ad type on the Google display network, and they offer two important features that make them attractive for digital marketers:
Responsive display ads are device responsive, automatically changing their size and appearance to fit the screen of the device used to view the ad. This means that responsive display ads should look great on desktop computers, tablets and mobile devices.
Responsive display ads are automatically generated from image assets and ad copy that digital marketers provide to Google. Google uses these assets to optimize for performance by presenting the right combination of assets to the right user at the right time.
Whether you're an experienced digital marketer or you're learning how to create a display campaign for the first time, you'll need to understand the benefits and limitations of responsive display ads.
To help you get started, we've created this short guide on responsive display ads and when you should them in your PPC advertising campaigns. We'll explain how to create responsive display ads, highlight the benefits, and outlined some of the most important best practices you should follow when working with responsive ads on the Google Display Network.
How to Create Responsive Display Ads
To get started with responsive display ads, you'll need to set up a display advertising campaign in Google Ads. Start by navigating to your Google Ads account and signing in. You should arrive on the Overview page pictured below. From here you can click the blue plus button to set up a new campaign, or click the "Campaign" tab on the left sidebar to choose an active campaign for your responsive display ad.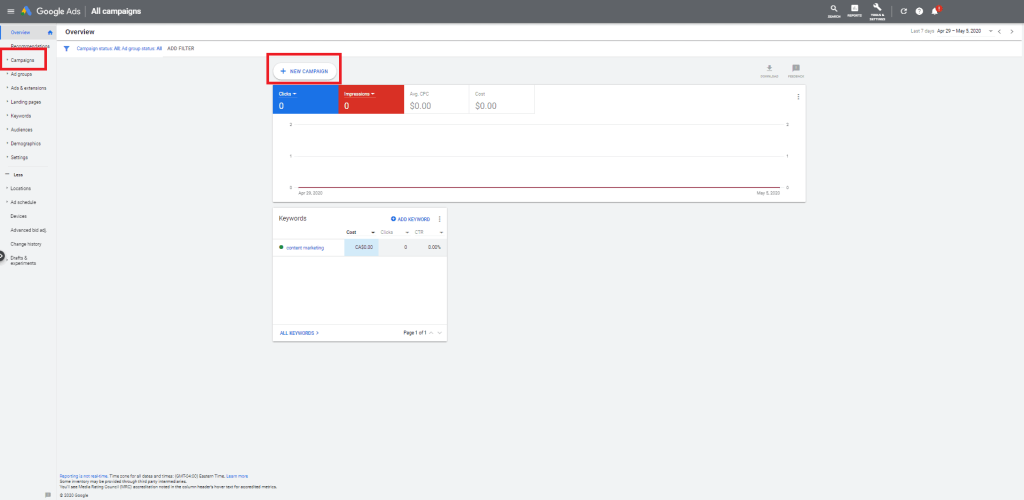 Image: Google Ads Overview dashboard
Next, you'll be asked to set up your ad campaign by choosing a campaign goal and a campaign type. In the example below, we've highlighted "Brand awareness and reach" as our campaign goal. Whichever campaign goal you highlight will also show you what campaign types you can use to accomplish that goal, so make sure you choose one that says "Display" (otherwise you won't get to make a responsive display ad). You'll then want to select Display as your campaign type and enter your URL when prompted before continuing to the next step.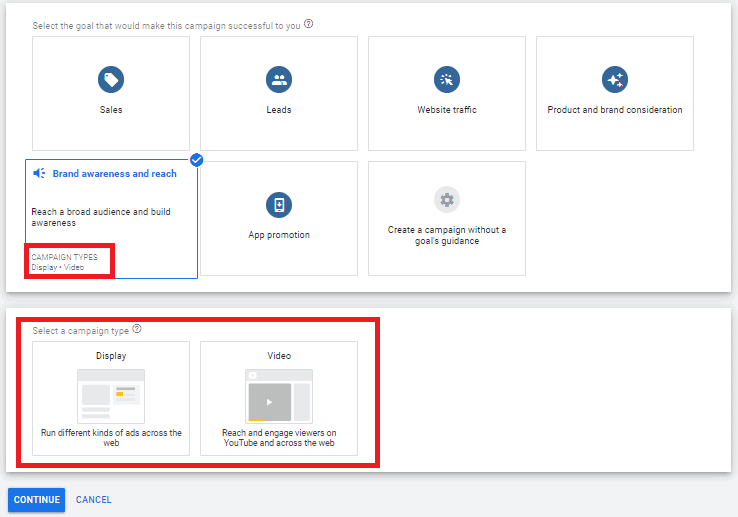 Image: Google Ads Campaign Setup
The next interface will prompt you to configure bidding, budgeting and audiences for your new display campaign. That's the subject of another article, so let's skip ahead and assume that you've already set up a campaign, set up your audiences and you're now ready to create your first responsive display ad.
Now, make sure you've got your display campaign selected in the collapsible sidebar on the left side. If you can't see the sidebar, we've highlighted the button that opens it in orange in the image below. Next, click on Ads, then click the blue plus button and select "Responsive display ad". You'll need to choose an ad group to target with your ad, but then you'll be ready to start creating.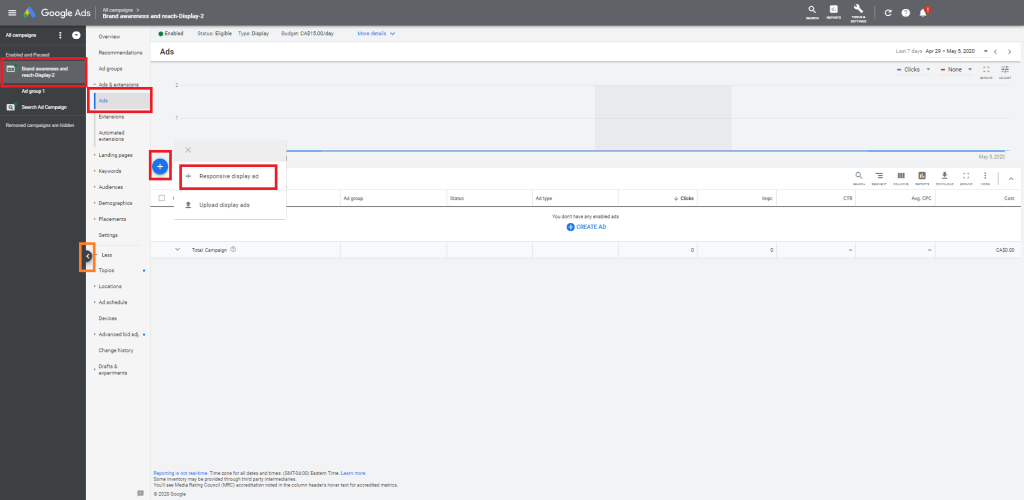 Image: Setting up Google Responsive Ads: Make sure you've selected your display campaign in the collapsible sidebar, then click on the blue plus sign to see what ad types you can create. Responsive display ads are the new default ad type for ads on the Google Display Network.
Now it's time to start creating your Responsive display ad. Here's how the one-page interface for creating Responsive display ads looks on Google: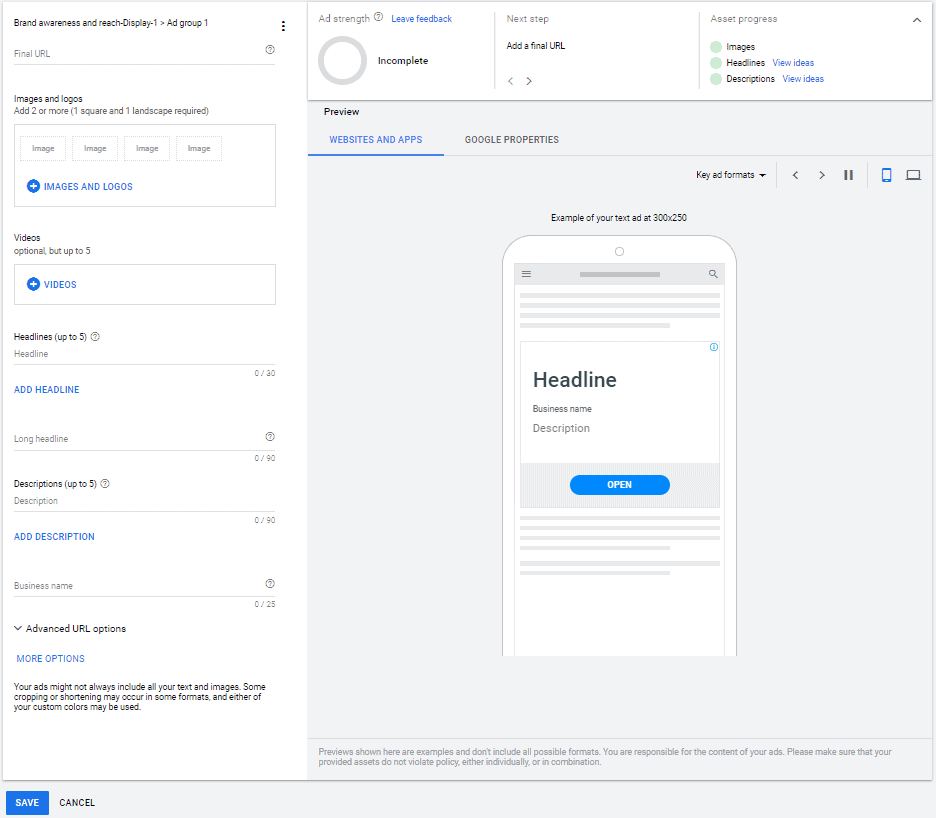 Image: Google Responsive display ads interface
From here, it's easy to customize your responsive display ad with assets of your choice. You will need to upload at least one square image and at least one landscape image for use in your ad creative. You may choose to include video in your ads (must be embedded from YouTube) and to upload logos for inclusion as well (recommended size for logos is 1200 x 1200 pixels).
You will be asked to write at least one short headline of 30 characters or fewer, one long headline of up to 90 characters and one description of up to 90 characters. You will also need to provide the name of your business and the URL of your landing page where audiences will be directed when they click on your ad.
You can click on "advanced URL options" to customize tracking parameters for your Ad or click on "More Options" to customize the CTA that will feature alongside your assets.
That's it – you're all done! Just click save when you're finished and you'll be able to start targeting your audiences with your new responsive display ad.
What are the Benefits of Responsive Display Ads?
There are three key benefits associated with deploying Responsive display ads on the Google network.
No Design Skills Needed
Google automates the design of your ad creative using the assets that you provide. That means no graphic design and no time spent arranging your ad copy and images to create the perfect layout or aesthetic – it's all done for you.
Automated Ad Testing
The most important benefit of responsive display ads is that they make it easy for users to automate multivariate testing for display ads. Digital marketers can provide up to 15 images, 5 headlines, 5 descriptions and 5 logos for each responsive ad. Google presents ads to its users by combining these assets in different ways and identifying the best performers from thousands of possible variations of your ad. You get optimized ad performance, but Google does all the hard work.
Quick Set-up and Configuration
The third most important benefit of Responsive ads is the quick set-up time. Automating creative composition and multivariate testing for your display ads means that you can get a campaign up and running in minutes instead of weeks. That means the average digital marketer can get ads into the marketplace and start generating revenue much more quickly than before.
Optimize Your Responsive Display Ads: 5 Best Practices
We end off this guide with five of our best practices and tips for getting the most out of responsive display ads.
Maximize Your Assets – Google tests your responsive display ads automatically by showing different combinations of your ad creative to users. To get the most benefit, make sure you use the full allotment of descriptions, headlines and images that you're allowed for your responsive ads. This will give Google the best possible chance of identifying high-performing variations that send your conversions through the roof.
Target the Ideal Audience – Responsive display ads still benefit from all of the amazing targeting options available on the Google Display Network. Incorporating responsive display ads into your dynamic retargeting campaigns can help you present more personalized ads that drive previous buyers back to your website and turn them into repeat customers.
Don't Be Repetitive – As always, your ad copy should be optimized around a specific keyword – but it's important not to be repetitive. When crafting your assets, don't include your focus keyword in every single headline or every single description. Experiment with descriptions that mention special offers, discounts, sales, a shipping or return policy, features, benefits, or customer pain points.
Understand Text Combinations – Responsive display ads can be displayed in many different ad spaces, but they usually contain the same elements: one headline, one description, your business name, an image and a CTA. Make sure you study the previews closely when constructing your ad copy so you can see your ad the same way audiences might view it on the Google display network.
Know the Limitations of Responsive Ads – Despite the benefits associated with responsive display ads, there are some limitations that digital marketers should be prepared to navigate. If your business has regulatory requirements to include specific text such as disclaimers in your ads, the formatting restrictions of Responsive display ads probably won't work for you. There's also the limited ability to customize your CTA which could negatively impact results.A third issue is brand safety & overall aesthetic: what if Google arranges your creative assets in a way that reflects poorly or even damages your brand? Some brands genuinely need that extra bit of control over how their ads are composed, as well as where they're ultimately presented to the target audience.
Summary
Thanks for checking out our guide to responsive display ads!
The responsive ad type is a great option for digital marketers that need to quickly get an ad campaign up and running without spending a lot of time or resources to design and customize ad creative.
Responsive ads are also great for "casting a wide net", as marketers can reach users throughout the display network and on all types of devices using responsive ads. Still, the greatest benefit of responsive ads is that they automate multivariate display ad testing, saving digital marketers the hundreds of hours it would take to produce ad variants and test them manually.
We hope this article helps you recognize the unique value of responsive display ads and include them in your next advertising campaign test. Need additional help? Contact our PPC agency and book an intro call today.
Keep reading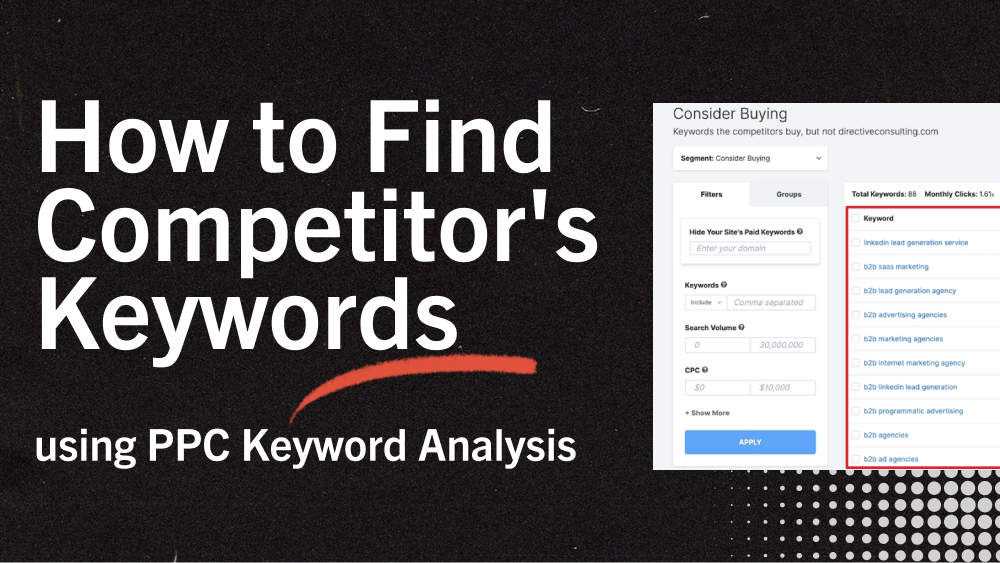 PPC
How to Find Competitor's Keywords with SpyFu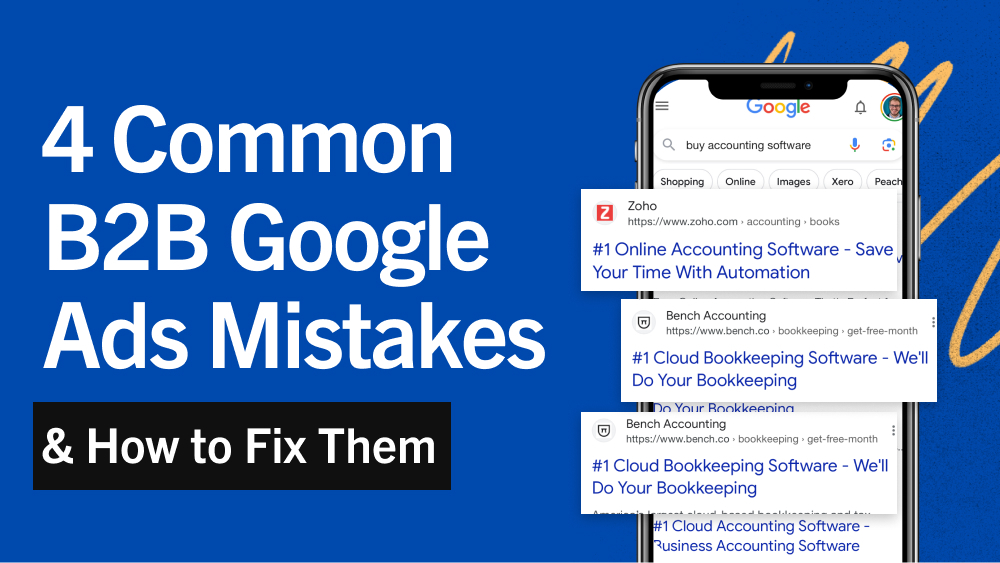 B2B
4 Common B2B Google Ads Mistakes and How to Fix Them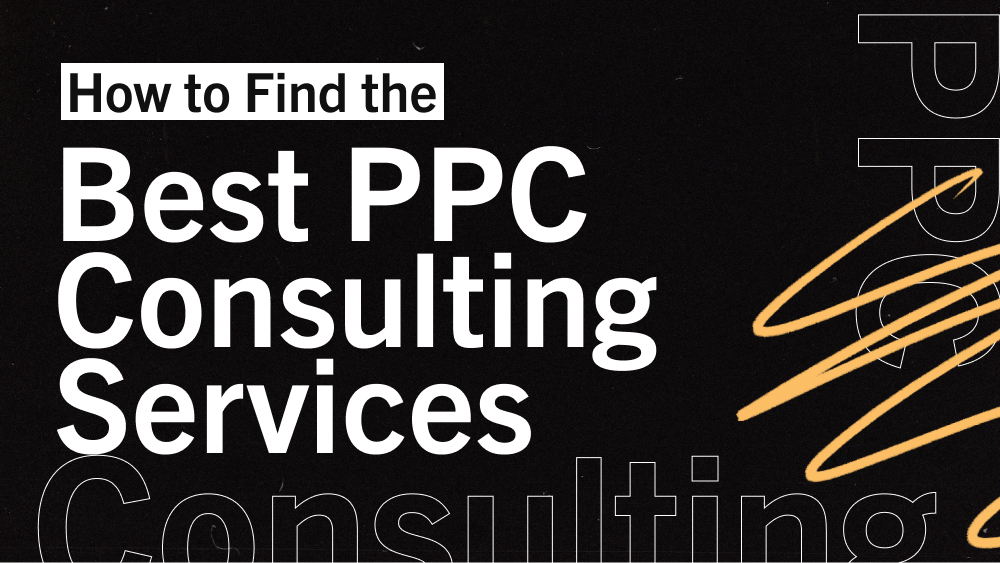 Agency Life
How to Find the Best PPC Consultant Services