What is an SEO Keyword Strategy?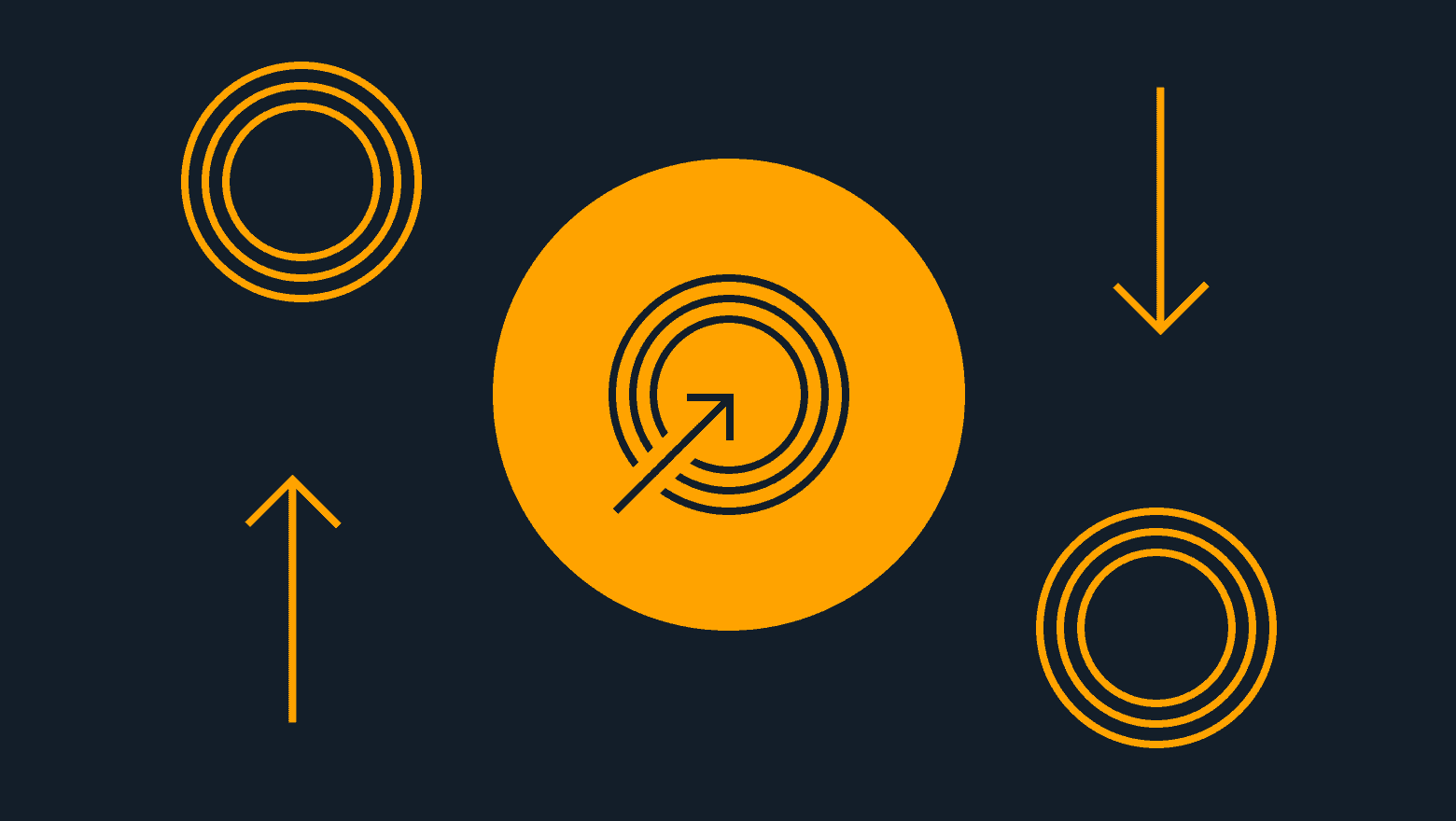 Are you working to develop an optimized SEO keyword strategy for an upcoming organic search campaign?
The common goal of an organic search campaign is to have the content you create appear in the search engine results pages for users who might be searching for content related to your product or service. Search engines rely heavily on keywords to understand the contents of your web pages and rank them for the appropriate keywords.
Your SEO keyword strategy determines which keywords your campaign will target to maximize the volume and relevance of the traffic you receive from search engines like Bing and Google.
We've created this short guide to help digital marketers understand the importance of an SEO keyword strategy and how to develop effective keyword strategies for their own campaigns. We'll develop a clear definition, highlight why a keyword strategy is important, and outline a process for implementing effective keyword strategies in your own marketing campaigns.
What is an SEO Keyword Strategy?
You can think of search engines as match-makers between content creators and content seekers.
Search engines try to understand the real intentions behind the keywords that searchers are using, then deliver content in the form of search results that effectively satisfy those intentions.
For content creators, an SEO strategy is a formalized attempt to:
Understand what keywords are being used to search for content related to your products and services
Optimize individual pages of your website to target those keywords that are most relevant for content seekers in your niche
Ensure that SEO-optimized web pages effectively satisfy user search intentions
Deliver a relevant content experience for visitors who land on your pages through organic search
Why is SEO Keyword Strategy Important?
An effective SEO keyword strategy can frequently make the difference between a high-performing organic search campaign and one that fizzles out without making much impact.

Image: The Importance of SEO Keyword Strategy
To understand the importance of SEO keyword strategy, digital marketers need to understand how search engines use keywords to connect audiences with the most relevant content and organizations that can meet their needs.
Search engines use specialized web robots known as crawlers to discover new web pages on the Internet and analyze their themes, contents, structure, and subject matter. Crawlers don't read pages the same way that humans do – they directly read the HTML documents and files that comprise your web pages. As a result, crawlers rely on the presence and placement of keywords to help search engines understand the contents of a page and how it should be ranked.
Search engine users attempt to find content that meets their needs by typing keywords into a search engine. When a user makes a query, the search engine uses an algorithm to search its databases for the web pages that are most relevant to the user before displaying those pages as search results.
This chain of events is what makes your SEO keyword strategy so crucial for campaign success.
If your web pages don't reflect a carefully constructed SEO strategy, search engines will have difficulty putting your content in front of the right audiences that are genuinely interested in your products and services. An effective SEO keyword strategy makes it much more likely that the content you create will be discovered and enjoyed by audiences with a genuine interest in the products and services that you offer.
Developing Your SEO Keyword Strategy: Process Outline
Now that we've developed a clear definition and explored the importance of an effective SEO keyword strategy, we outline a process that you can use to develop a keyword strategy for your own digital marketing campaigns.
To formulate your keyword strategy, you'll need to perform some keyword research, choose the best keywords to target with your campaign, then execute on your strategy using SEO techniques and best practices. Let's take a step-by-step look at how you can get started.
Construct a Keyword Matrix
The first thing you can do to kick off your SEO keyword strategy is to analyze your own business using a keyword matrix. A keyword matrix helps you start developing keyword ideas that are based on your current product/service offerings. Create a table with four columns that look something like this:

Image: Keyword Matrix Template
Next, fill in your keyword matrix with information about the products and services you offer. Under "Head", list adjectives that describe your products and services. In the "Body" sections, list the names of the products and services you offer. Under "Tail" list out some adjectives that describe your organization. You should end up with a matrix similar to this one:

Image: Keyword Matrix Example
Now you can read across the list to generate ideas for keywords to target. From this list, we can quickly brainstorm keyword variations that searchers might use to find our business:
Best online marketing company
Top content writing firm
Fastest content marketing agency
Best advertising management service provider
Analyze the Competition
The next step in developing your SEO keyword strategy is to analyze the competition.
For this, you'll want to use an SEO competitor analysis software tool like SEMrush or SpyFu.
Start by choosing a known competitor in your niche, then enter their domain name into SpyFu to take a look at their organic search performance: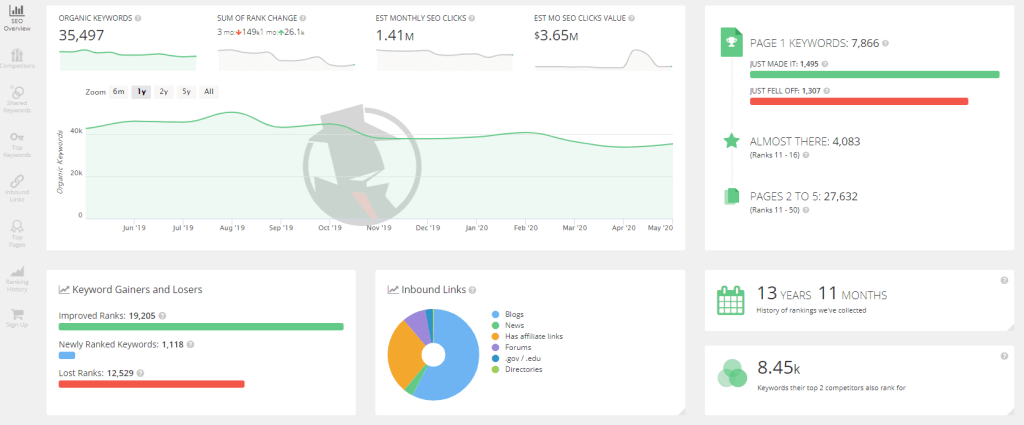 Image: Competitor SEO Analysis with SpyFu
The competitor we looked at here is ranking on the first page of Google for nearly 8,000 keywords. You can access the full list, then filter it down to focus on keywords that are relevant to a specific vertical.
Next, take a look at your competitor's website and focus on their product/service pages. They'll probably offer many of the same services that you do, but pay attention to how those services are described and what keywords they use so you can pick up additional keyword ideas for your SEO keyword strategy.
Repeat this process with a few competitors and you'll have a good sense of which keywords other companies in your niche are optimizing their content around to generate organic traffic.
Use Research Tools to Discover New Keywords
Now that you've analyzed your own business and your competitors, you can use a keyword research tool to get a sense of what search terms people are actually typing into Google when they look for your products or services. If you're just learning how to do keyword research for SEO, the Google Keyword Planner is a great starting point for discovering new keywords.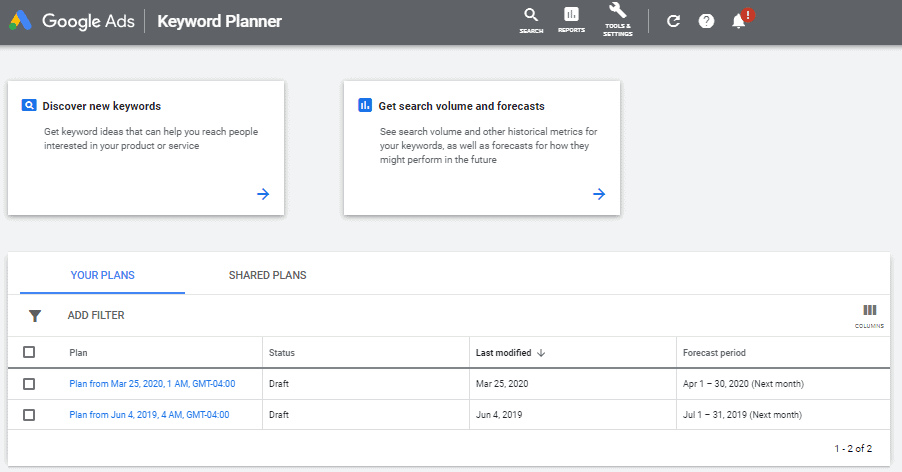 Image: Google Keyword Planner
Google's Keyword Planner can be used to structure targeting for your PPC campaigns, but it's also valuable for discovering new keywords and investigating search volumes and trends for keywords you may want to target. Start by clicking on "Discover new keywords" and entering one of the keywords on your list to get some new ideas. You'll be presented with a list of related keywords, along with metrics like search volume, competition and typical bid amounts for those keywords in the Google Ad Network.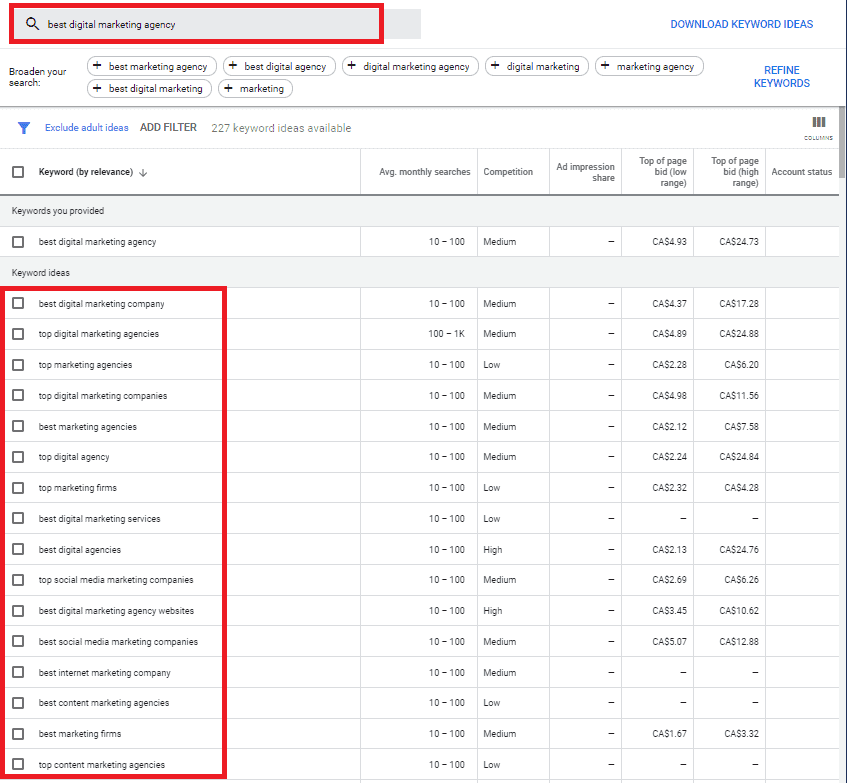 Image: Google Keyword Planner Results
Once you've added the most relevant related keywords to your list for each product/service you offer, it's time to move on to the next step: choosing which keywords to target.
Choosing the Right SEO Keywords for Your Campaign
There are no hard-and-fast rules for choosing the right SEO keywords to target with your campaign, but there are several things you should keep in mind.
As a general rule, each page on your website should be optimized for exactly one keyword. If your SEO keyword strategy includes 100 keywords, you may need to create 100 pages. As such, you should start to eliminate the least relevant keywords from your strategy and focus on the ones you believe will drive the most relevant and high-converting organic search traffic for your website. Here are a few things that factor in:
Keyword Search Volume: A keyword that gets 10 searches per month is likely to bring in less organic search traffic than a keyword that gets 1000 searches per month. Ranking for low-volume keywords can sometimes be less valuable, but ranking for high-volume keywords is more competitive. Your SEO keyword strategy needs to strike a balance here.
Keyword Relevance: Ranking for relevant keywords means your website will receive relevant traffic. Don't sacrifice the relevance of your traffic for more volume, as you'll create a poor user experience and lower your conversion rate.
Keyword Search Intent: Choose keywords and phrases that reflect the search intent satisfied on that web page. If your page offers reviews and comparisons, optimize around a long-tail keyword that reflects that. If your page offers a guide or tutorial, include "guide", "how to" or "tutorial" as part of your focus keyword.
Keyword Competition: If there's plenty of competition for a specific keyword, it will be more difficult to rank your content. Additionally, if PPC advertisers purchase lots of ads for your keyword, then your search results will always appear underneath three to four advertisements, sometimes even below the fold, which can have a negative impact on your CTR. For best results, choose a mix of high-competition and low-competition keywords to incorporate into your SEO keyword strategy.
Long-Tail vs Fat-Head Keywords: In our keyword matrix, we focused on formulating long-tail keywords with 3-4 words of length. In general, fat-head keywords (1-2 words) are less specific and more competitive – you'll face a lot of competition for less targeting traffic. In contrast, long-tail keywords can be 3-5 words in length and are more specific with less competition and less search volume. We'd recommend targeting a mix of mostly long-tail keywords so you can benefit from more relevant organic traffic.
You can also look at Google Trends to analyze patterns in keyword usage and find keywords that are increasing in popularity but may not yet have a lot of competition.
Executing on Your SEO Keyword Strategy
Once you've narrowed down your list of potential keywords, you're ready to implement your SEO keyword strategy.
You'll need to create a single web page for each keyword that you wish to target, implement on-page SEO optimization techniques with respect to your focus keyword, and ensure that your page effectively satisfies the needs and expectations of visitors who arrive from organic search.
Summary
Thanks for reading our guide on SEO keyword strategy!
A well-crafted SEO keyword strategy is an essential first step in optimizing the content you create for organic search. We hope this guide helps you capture more relevant traffic with your upcoming organic search campaigns.