What is an SEO Audit? Essential Guide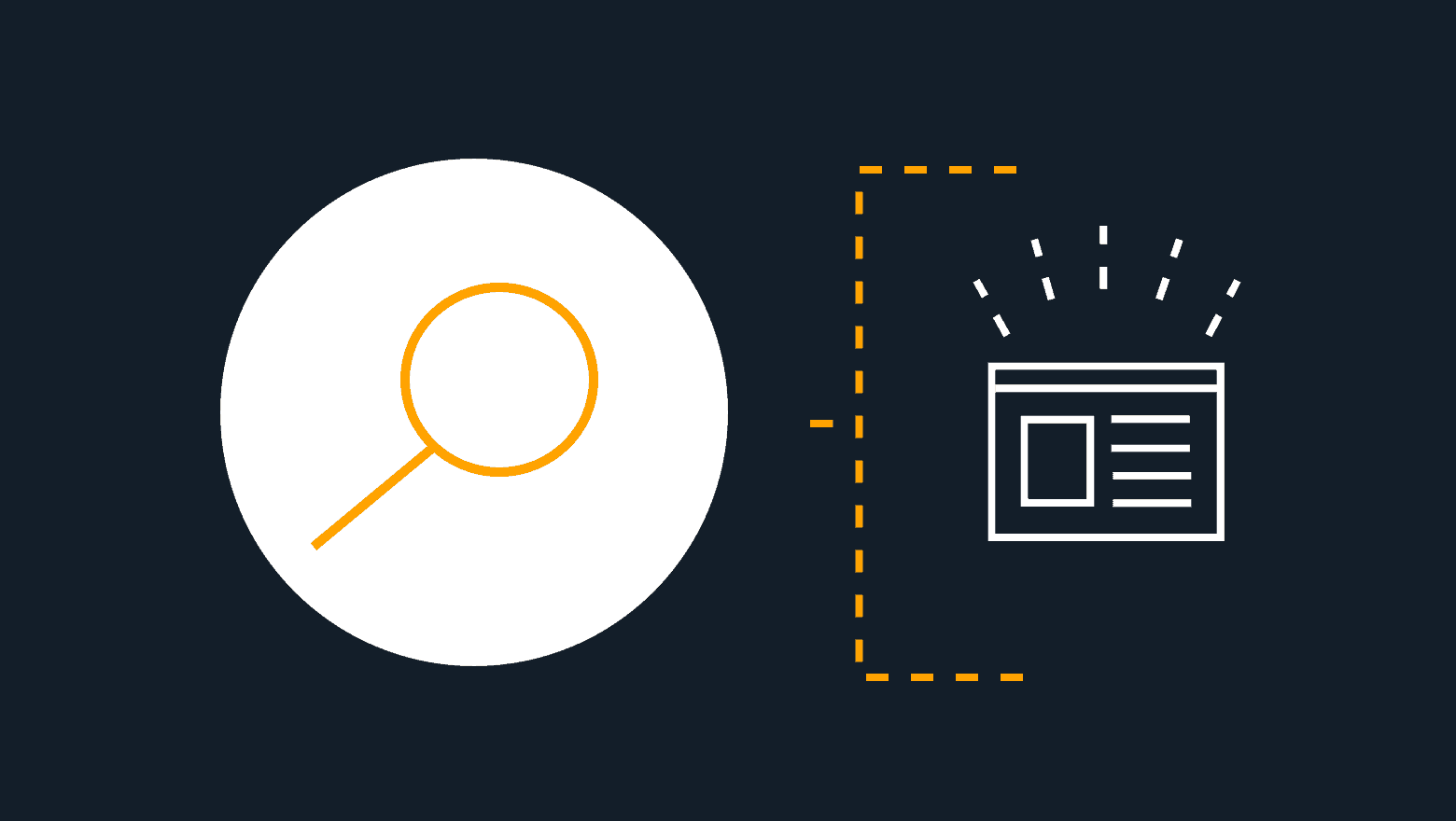 If you're new to search engine optimization, you may have heard that performing an SEO audit can help you improve organic search visibility for your website – but what is a SaaS SEO audit exactly, and how do they help your website rank higher in the search engine results?
That's exactly what you'll learn in this guide.
We'll explain the basics of SEO auditing, including:
What is an SEO Audit?
What are the components of an effective SEO audit?
What are the benefits of completing an SEO audit?
What SEO tools are available to assist with SEO auditing?
What is an SEO Audit?
An SEO audit is the process of reviewing your website's structure, content, and technical implementation to verify and improve their optimization for organic search performance.
Search engines like Google use over 200 different signals known as ranking factors to determine how your website will rank in the search engine results pages (SERPs). Understand these ranking factors and how they work, digital marketers have developed SEO best practices for maximizing the visibility of websites in organic search results.
The purpose of an SEO audit is to ensure that a website follows SEO best practices in all areas, including technical implementation, organization, content, user experience, and off-page promotion.
Benefits of Completing an SEO Audit
Auditing your website's best practices for SEO on a regular basis can have a significant positive impact on your overall performance in organic search.
Digital marketers should perform SEO auditing on a regular basis to check for issues that could negatively impact performance.
Not all components of an SEO audit need to be executed with the same regularity. A content gap analysis can take 10 or 15 minutes and might only be necessary once every 30 days or 45 days while checking your backlink profile for new spam links takes just a few minutes and should be done at least weekly.
Here are a few of the benefits that digital marketers can expect when performing regular SEO audits.
Improve Organic Search Visibility
Fixing technical, on-page, and off-page SEO issues lead to improvements in organic search visibility. That means ensuring that crawlers can access your website, optimizing individual pages of your website effectively around unique keywords and search intent, and removing any negative backlinks.
Enhance User Experience
SEO audits enhance the user experience by helping marketers detect issues like slow page loading, broken images, or missing alt text that impacts website usability.
Improve Website Performance
SEO auditing helps you address issues that impact the overall performance of your website, including everything from page loading times to conversion rates.
Identify New Revenue Sources
An SEO audit can help you identify new revenue sources, including new keywords that you can try to rank for and backlink opportunities that you can target to enhance your off-page SEO signals and earn more referral traffic.
Avoid Google Penalties
Google penalizes web sites that don't follow best practices or play by the rules when it comes to search engine optimization. SEO issues like having duplicate content on your website, lots of low-quality backlinks, or a high bounce rate can result in penalties from Google that negatively impact your performance in the SERPs. Regular SEO auditing helps you discover and address these issues before they result in penalties that impact your bottom line and take a long time to reverse.
Now let's take a look at five components of an effective SEO audit.
Components of an Effective SEO Audit
A comprehensive SEO audit includes several different types of analysis, corresponding to the various categories of Google ranking factors used by the search engine to evaluate and rank web pages. Google ranking factors are frequently divided into three categories:
Technical SEO Factors – Ranking signals based on the technical implementation of your website.
On-Page Factors – Ranking signals that are measured on individual web pages of your website.
Off-Page Factors – Ranking signals that are measured away from your website, such as social media shares or backlinks.
In addition to checking for best practices in these three areas, we also recommend two other types of analysis when executing a comprehensive SEO audit of your website: user behavior auditing, and content gap analysis.
Technical SEO Audit
In a technical SEO audit, digital marketers search for technical website implementation issues that could negatively impact organic search performance.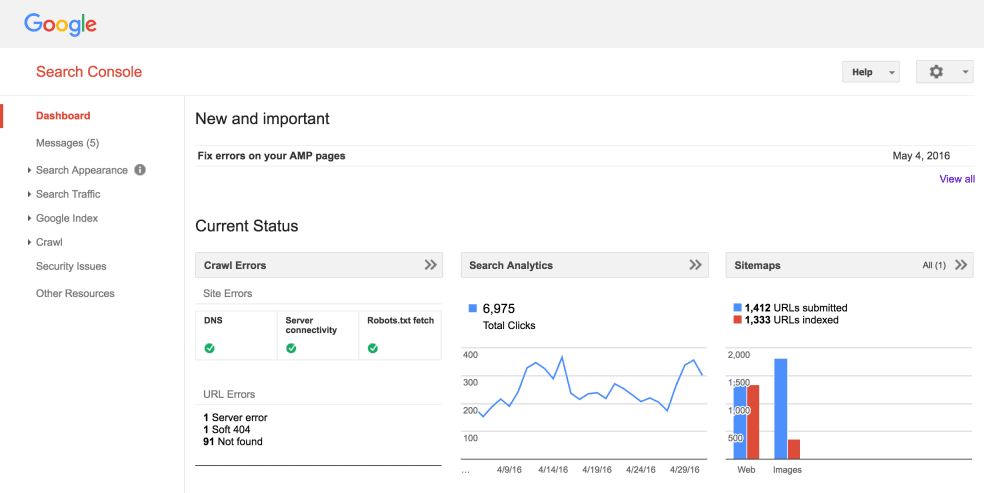 Image: Google Search Console can help you identify crawl errors on your website as part of a technical SEO audit.
Search engines use specialized web robots known as crawlers to discover new content on the Internet and index it so it can be included in relevant search results. If search engine crawlers have difficulty discovering content on a website due to technical issues, that content may not be indexed properly and will fail to rank in search results.
Technical SEO audit checks for issues such as:
Missing XML Sitemap
Robots.txt implementation errors
Canonical URL errors
Broken or missing links
Broken redirects
DNS configuration issues
Missing HTTPS security
Page load times and site speed issues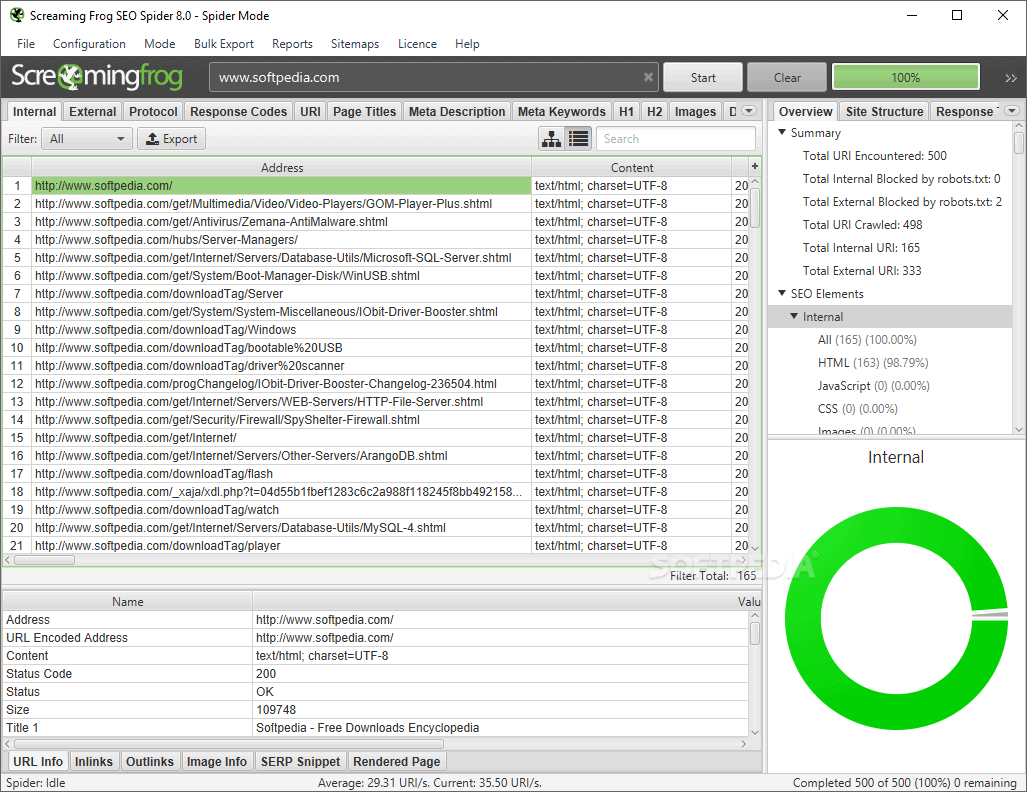 Image: The SEO Spider tool by Screaming Frog is one of the best technical SEO audit tools available in the marketplace today. Digital marketers can use SEO spider to analyze every page of their website and automatically detect over 100 different types of technical and on-page SEO issues.
On-Page SEO Auditing
An on-page SEO audit deals with ranking factors that are measured on your website at the page level.
When search engines crawl your website, they analyze the contents of each page and blog post to determine its theme, subject matter, and overall importance to your website. Digital marketers use keyword optimization to ensure that search engine crawlers can correctly interpret the contents of each page and rank them those pages for the appropriate search queries.
Some of the most common on-page SEO issues include:
Duplicate content
Multiple pages optimized for the same keyword (this is known as "keyword cannibalism" and should be avoided)
Missing, empty, or duplicate title tags
Missing meta descriptions
Too many or too few mentions of the target keyword
Low word count on the page
Broken internal or external links
Backlink Auditing
Every comprehensive SEO audit should include backlink auditing, a look at your website's backlink profile to ensure that it is optimized to drive organic search performance.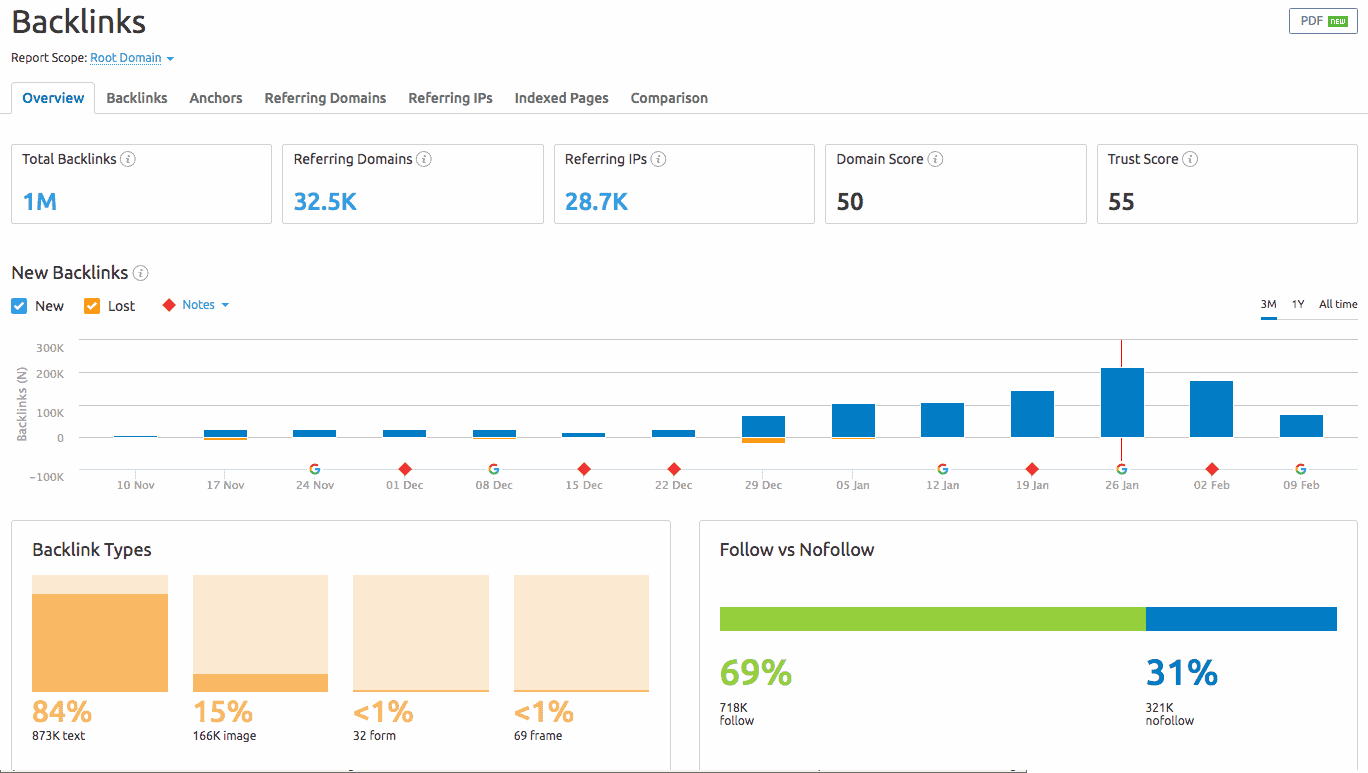 Image: Digital marketers can use the SEMrush Backlink Audit tool to get a complete look at their backlink profiles and easily uncover toxic or spam links that could negatively impact search performance.
Digital marketers can use SEO tools to access comprehensive data on all pages and sites that link back to their website. This data, known as a backlink profile, can be used to enhance organic search performance in several ways:
Backlink Gap Analysis – Marketers can identify link building opportunities by analyzing their backlink profile and comparing it with the backlink profiles of their biggest competitors online.
Identifying Negative SEO Attacks – Have you ever noticed a sudden drop in your organic search performance? You may have been a victim of a negative SEO attack.
A negative SEO attack is when a malicious actor publishes a high quantity of spam links to your domain, usually from a domain with a negative reputation. This can trick search engines into penalizing your website for having too many spam links. A backlink audit can be used to quickly discover spam links to your domain that were created in a negative SEO attack.
Disavowing Negative Backlinks – Once you have identified low-quality or spam links, you can create a disavow file and submit it to Google to avoid being penalized.
Identifying Wasted Backlinks – Marketers can dig deeper into their backlink profile to identify web pages with lots of backlinks, but poor organic search performance. Refreshing the content of these pages and optimizing them around new keywords can help improve the performance of such pages.
User Behavior Audit & Analysis
In a study of SEO ranking factors, SEMrush used a machine-learning algorithm to analyze search results for over 600,000 keywords. The findings indicated that user behavior factors are the most important ranking factors used by Google to determine how a page will rank, even more so than technical, on-page, or off-page ranking signals.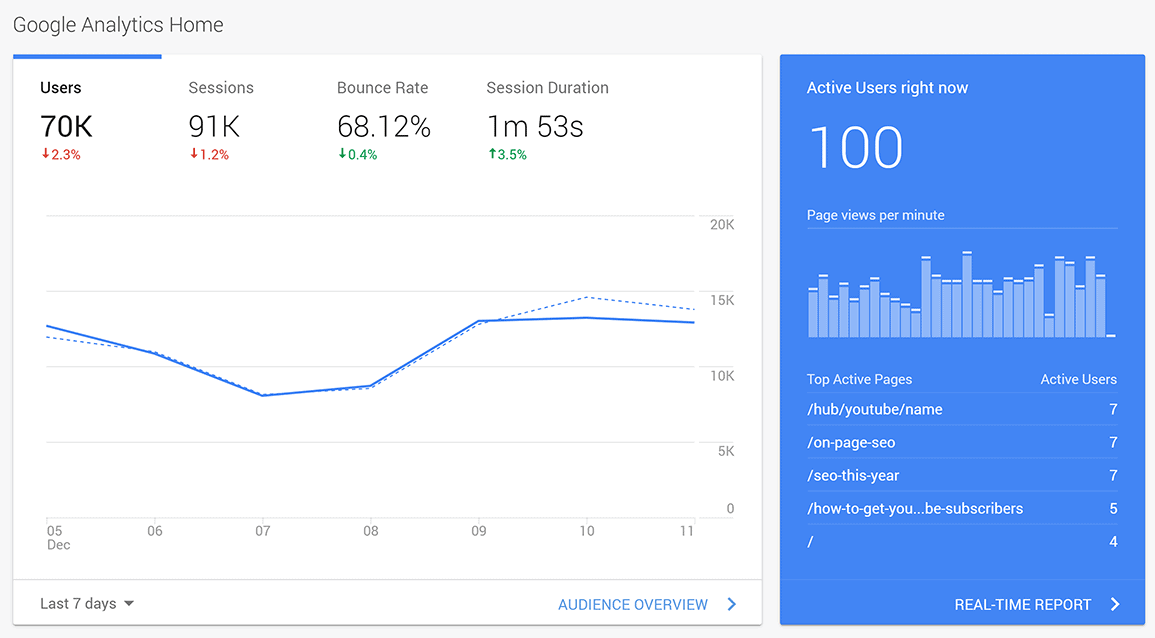 Image: Google Analytics offers digital marketers access to comprehensive user behavior data, including bounce rate, average session duration, and pages per session.
When a user visits your website directly from a Google search results page or uses the Chrome browser to visit your website, Google captures data about their behavior and interactions on your website. The three most important user behavior factors that digital marketers should focus on are:
Time on Site – A visitor that spends a lot of time on your site probably found the information they were looking for in their search. As a result, Google will be more likely to send other users with similar queries back to your site.
Pages per Session – A visitor that lands on your website from a Google search result and visits more than a handful of pages is a positive indication that your website satisfied their search intent. As a result, Google will be more likely to feature your website in search results for similar queries in the future.
Bounce Rate – A high bounce rate means that visitors to your website frequently leave without visiting a second page or interacting with any on-page elements. If Google measures a high bounce rate when users click through to your website from their search results, they will be less likely to feature your website in future results for those queries.
Digital marketers can access page-level user behavior metrics through Google Analytics to determine which pages can be further optimized to improve organic search performance.
Content/Keyword Gap Analysis
The purpose of a content gap analysis is to examine the existing content on your website and identify new opportunities to create content that can meet the needs of your audience.
Digital marketers can complete a content gap analysis by mapping out their customer's most important questions, goals, and concerns throughout the sales process and ensuring that each component is effectively addressed by a page on their website.
A content gap analysis can also be done by comparing your keyword rankings to the keyword rankings of your competitors.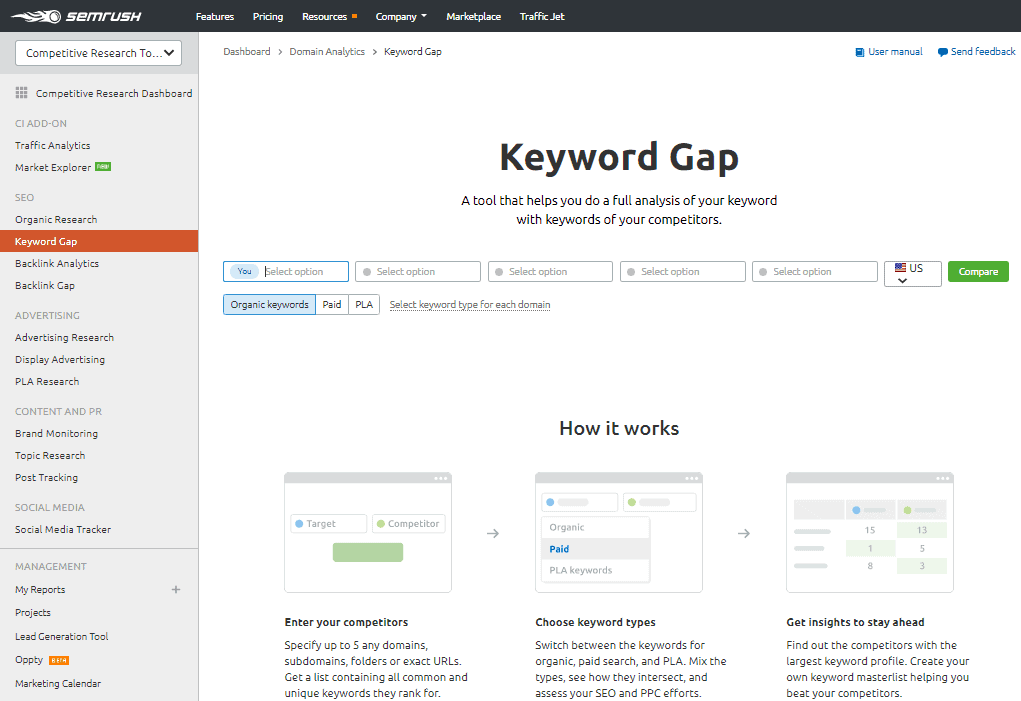 Image: The SEMrush Keyword Gap tool makes it easy to discover new keyword opportunities by comparing your keyword rankings with the keyword ranking profiles of your competitors online.
The goal here is to identify new keywords, related to the products and services you offer, that you may wish to target with new blog posts or content pieces for your website. This component of SEO auditing can help you focus your content creation efforts to generate the greatest impact for your website with each new publication.
Summary
Thanks for checking out our Essential Guide to SEO auditing! We hope this overview has given you fresh insights into what an SEO audit is, what kinds of things you should be looking for, the benefits of an SEO audit, and the tools that you will need to be successful.
For a more detailed look at how to do an SEO audit, check out our comprehensive course at Directive Institute. Need SEO help? Book an intro call to work with the best SaaS SEO Agency!
Keep reading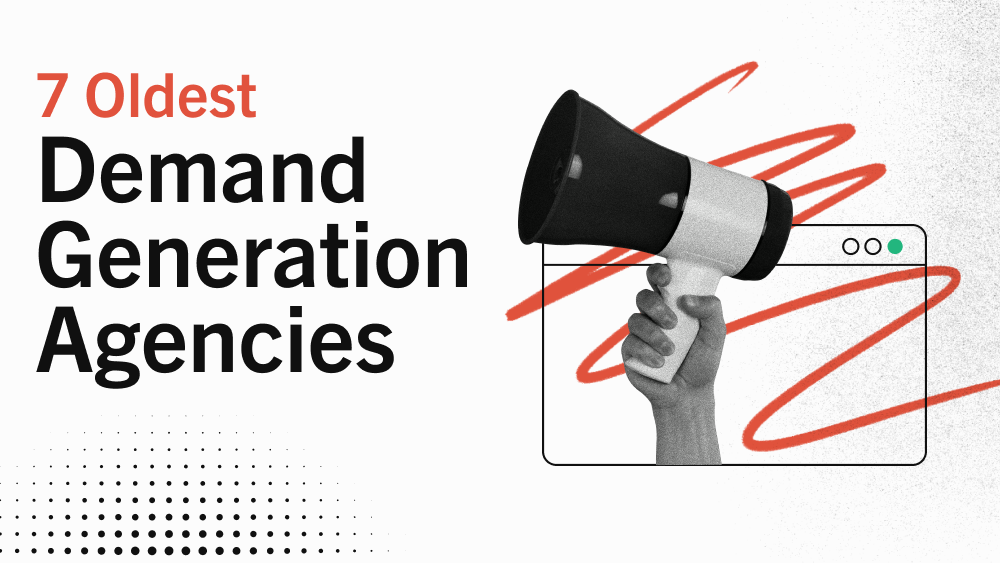 Agency Life
7 of the Oldest Demand Generation Agencies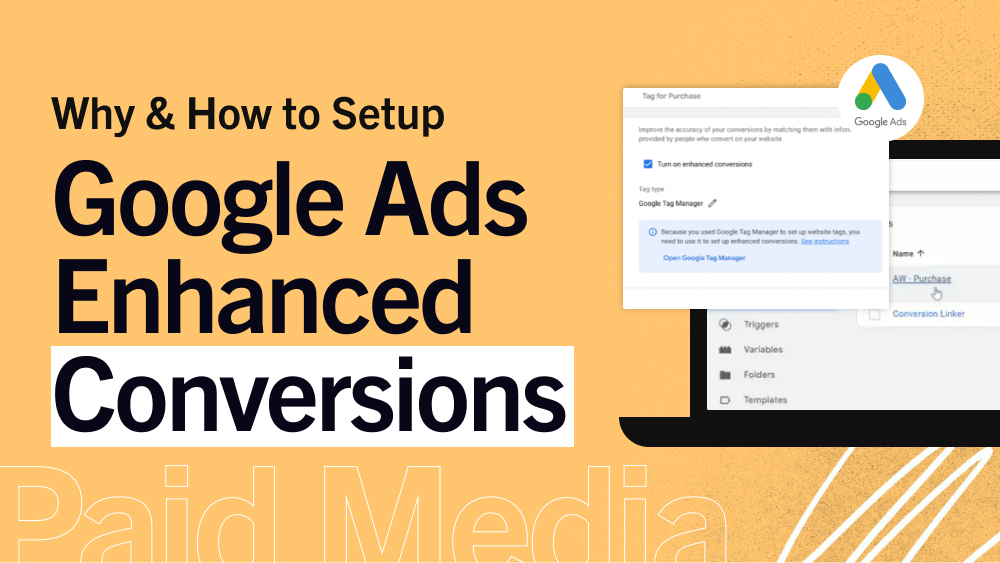 PPC
How to Setup Google Ads Enhanced Conversions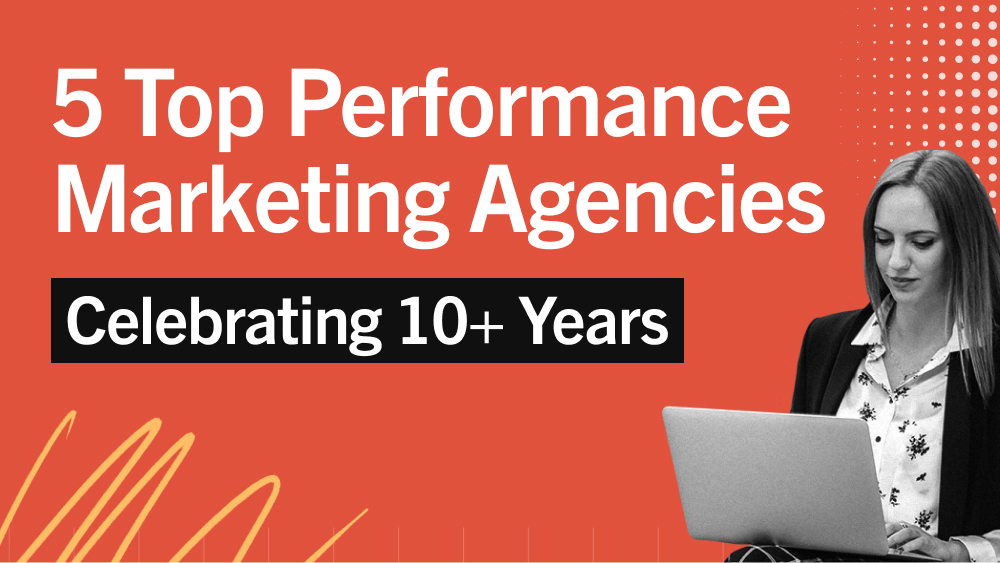 Agency Life
5 Top Performance Marketing Agencies Celebrating 10+ Years