Guide
SaaS SEO: Your Guide To Customer-Led SEO
The Comprehensive Guide To Winning Targeted Customers With A Customer-Led Framework
Whether we like it or not, every SaaS business is dealing with the same issues: longer sales cycles, complex software products, and a lengthy buying journey that often requires up to 15 touch points before a prospective customer even engages with your brand.
As many software categories grow crowded with new competitors, it's more important than ever to build a strong digital presence and be discoverable online.
The customer-led SEO method we've developed at Directive cuts through the shifting plains. It helps your SaaS company achieve what traditional SEO practices can't: speaking directly to each of your customer segments instead of just being "first" in line on SERPs.
SaaS SEO: The Comprehensive Guide To Customer-Led SEO
SEO is paramount in the customer journey and the customer-led method for SaaS companies. If done right, it all starts and ends with your customer at the forefront.
Luckily, you don't need to be an SEO expert to reap the benefits of this practice. In this guide, we'll cover everything you need to know about SEO for SaaS. Continue scrolling to learn about the basics—and why they no longer work. 
Just interested in the new way to do things? Click here to jump to Directive's customer-led SEO approach.
Why SEO for SaaS Companies is Paramount
Fifteen years ago, a technology buyer would get in touch with a salesperson (probably over the phone), review the product specifications provided by the seller, and make a purchasing decision. The buyer-seller relationship was direct; sellers held control over the buying process.
Now, the power dynamic has shifted. Buyers are empowered to go online, read reviews, compare different vendors, and do all of their own research before they ever speak to a sales rep from your company.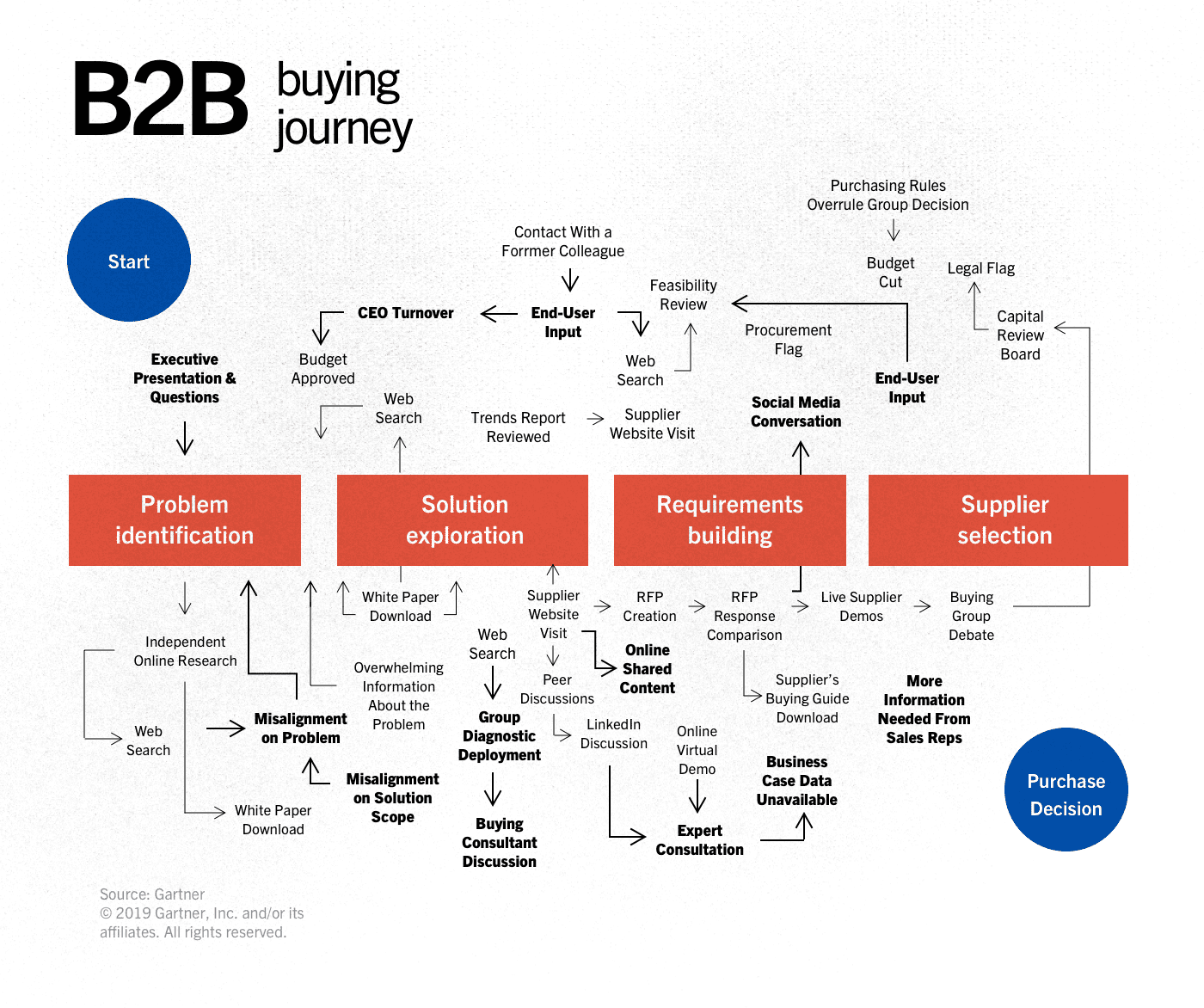 In fact, researching independently online is where B2B buyers spend the most time in their purchasing process.
When buying behavior shifts, the way businesses market themselves has to as well. For software companies, being discoverable has become critical to fueling growth. And one of the first places people go online is—you guessed it—a search engine.
"Discoverability" is the best way to summarize the need SaaS companies have for a sound SaaS SEO strategy that's specific to their industry. Reaching the top page is the north star. Results that make the first three spots take the lionshare (75%) of all search traffic.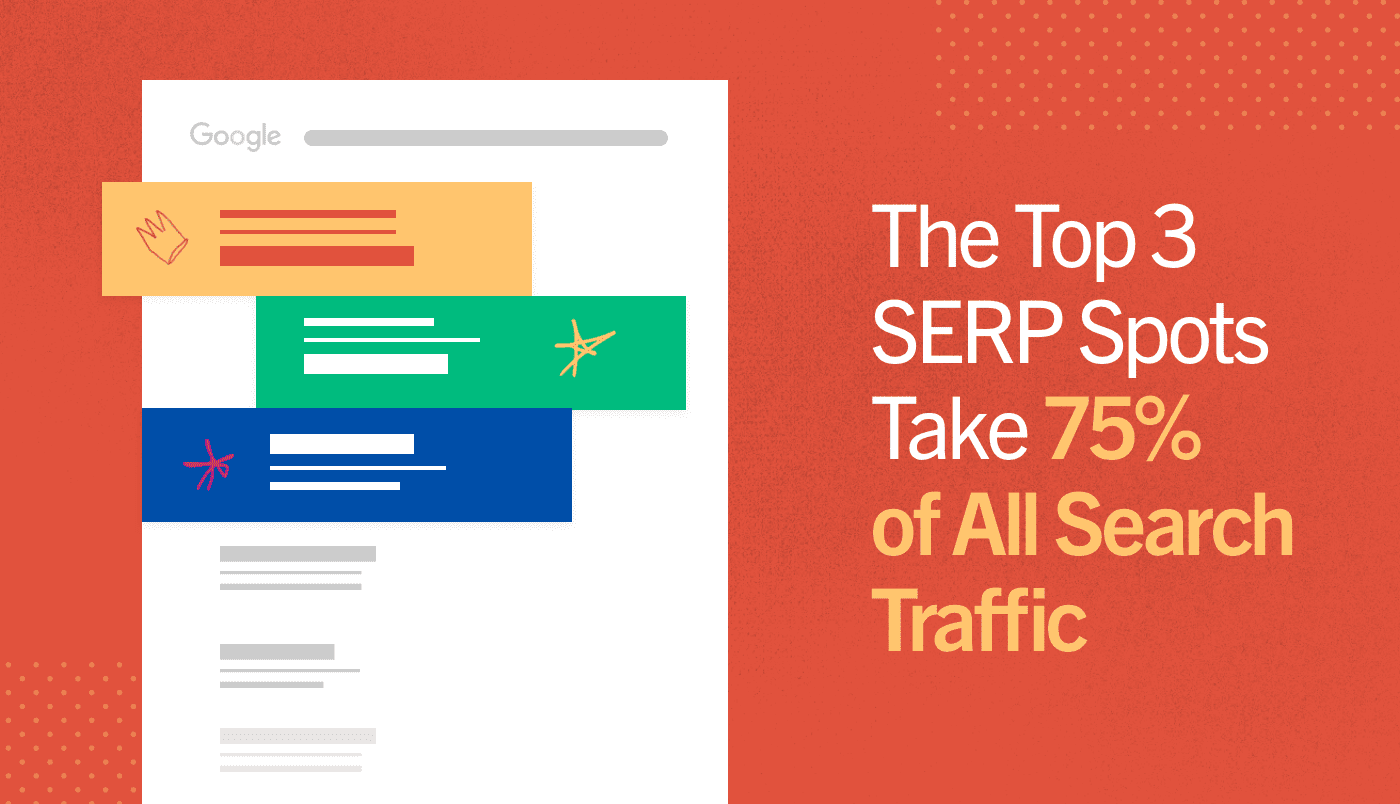 People expect quick and accurate answers to their questions. They don't want to scroll through pages of results to find what they're looking for. That's why ranking on page 1 (preferably near the top) is so important.
There's an old joke among SEOs that page 2 of Google is the best place to hide a dead body.
(Make of that what you will.)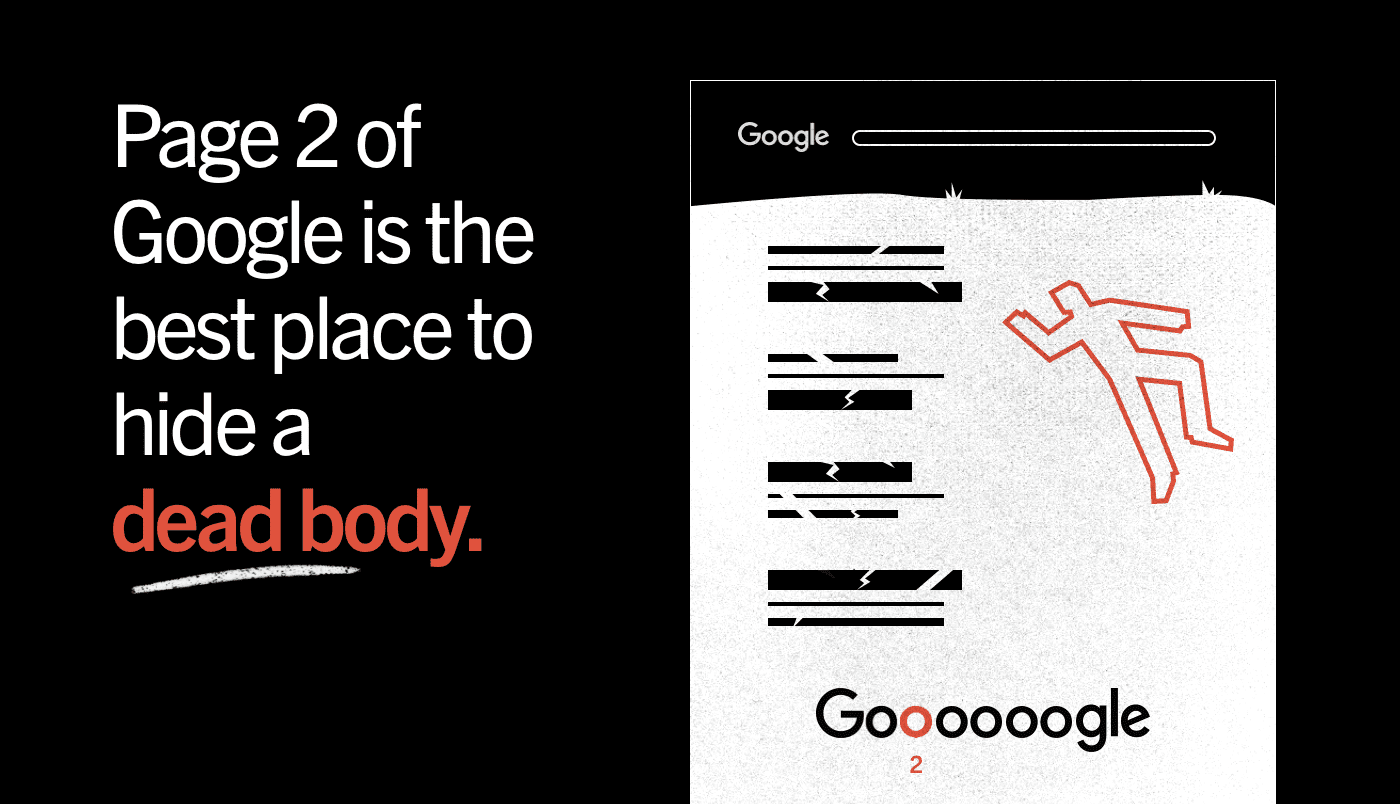 Reaching the holy grail of position #1 is tougher than ever. SaaS brands need a new approach to SEO. Instead of being keyword-centric and writing about every topic imaginable, use customer intel as the foundation to set your website up for SEO success. 
At the start, that's customer segmentation: figuring out who your target buyer is and what makes them tick. What types of information are they looking for? Which search queries do they use to find it? Your SaaS SEO strategy should revolve around that. 
From there, topic clusters are built. You'll create one pillar page to describe the overarching topic, problem, or experience your target user needs help with. Then, each cluster is broken down to map the customer funnel.
The result? A SaaS SEO strategy that reaches your target buyer, and provides them with the information they need to progress along the sales funnel. 
SaaS SEO vs. Traditional SEO
SaaS SEO is a marketing channel designed to bring sales qualified leads (SQLs). Vanity metrics–like traffic, keyword ranking positions, and click-through rate–are only half the battle. What really matters is the number of new users you're bringing to your software. 
That's the kind of stuff that gives you SEO ROI.  
Here's where things get difficult: the unique SaaS business model requires its own set of rules and frameworks.
A SaaS solution is one that's hosted on its own server, making it accessible to its users on multiple devices via web browser. Customers buy a subscription and pay for the software on an ongoing basis, usually monthly or quarterly.
These differences mean SaaS sales cycles are often lengthy, depending on the price of the product. It's typical to have multiple stakeholders involved in the buying process, requiring longer negotiations to get a deal across the finish line.
Your marketing likely has to account for a variety of personas: individual contributors, managers, executives—the list goes on. 
Someone at the manager level has entirely different responsibilities and pain points from a C-suite executive. The content you create as part of your SaaS SEO strategy must be hyper-targeted to account for these differences. Putting on your "customer hat" is a requirement for a cohesive customer-led SaaS SEO strategy.
If that wasn't complex enough, SaaS solutions are known for their robust features and frequent product updates. Most SaaS products are complex to begin with. But when you throw new features into the mix, there's an ongoing need for new go-to-market material to keep your current and prospective customers in the know.
B2B buyers look for specific content depending on the stage of the sales funnel they're lingering within. Leaning into a customer-led SEO approach that sheds the old ways of practicing SEO and embraces customer-led strategies drives growth.
Listicles, how-tos, and other types of high-level content are best placed at the top of the funnel. Buyers progress to case studies and reports when they've identified a pain point that needs solving. They finally reach product demonstrations and tutorials to give them confidence in their purchase. 
With every new piece of marketing collateral comes the opportunity to capture more traffic and convert new customers—further proving the need for an SEO strategy.
Developing a comprehensive SEO plan for a SaaS company requires strategic consideration at all stages of the funnel. Every aspect of your website, from the product pages to the blog, must be properly optimized to meet your target customer at different digital touch points throughout their buying journey.
And, it needs to be mapped to business goals. No flying by the seat of your pants, publishing new content because you want to write about it. 
Your SaaS SEO strategy should focus on attracting high-value, long-term customers. The holy grail? Making 3x more revenue than the cost you spent to acquire each user.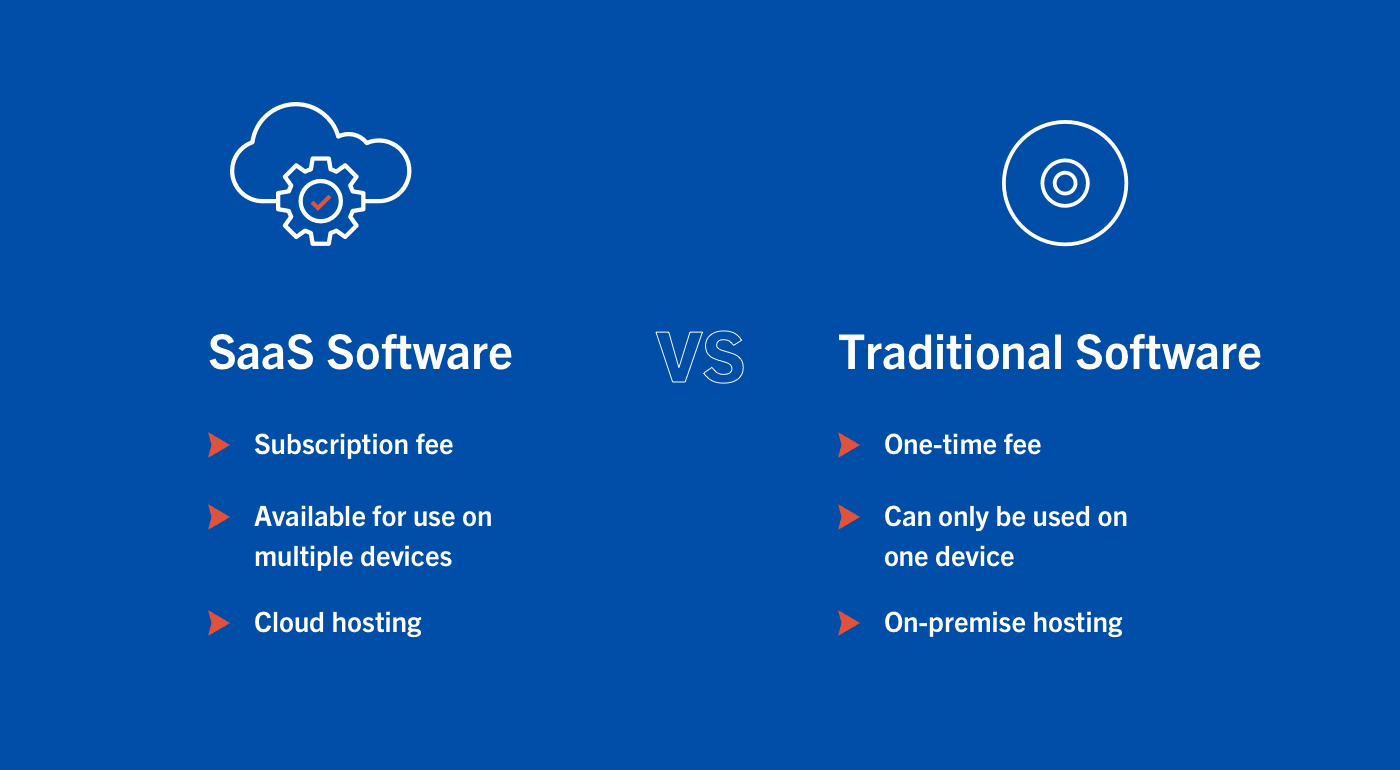 SaaS SEO Case Study
Matillion Increases Organic Conversions by 64%
Matillion, a provider of cloud-based data integration solutions, saw a 64% increase in organic conversions in one quarter. That came off the back of a 268% YoY increase in blog traffic. 
Our team at Directive concentrated its efforts on link building, creating internal links, and implementing conversion rate tactics as part of the bottom-funnel SEO strategy. Our efforts highlight that SEO for SaaS works when you're focused on the right things as part of a greater digital marketing strategy.
Where the Standard SaaS SEO Framework Falls Short
In the SaaS industry, the typical framework an SEO would follow isn't built for the hyper-specific needs of SaaS products. There's the usual keyword research, internal linking, technical SEO, building external links, expanding backlink portfolio, gaining listings on G2 or Capterra, and on-page and off-page SEO.
In short, there's a framework at play that follows the usual SEO plan of action.
Technical SaaS SEO
Technical SEO is the process of enhancing the backend elements of a website to help search engines crawl and index the site more effectively.
Because there is some level of technical knowledge required to execute on technical SEO items, these responsibilities are often a joint effort between both marketing and product development teams.
"Technical SEO serves as the foundation for the rest of the work you're doing. You can't build a nice house on a broken foundation."
– Nate Torres, Senior Account Strategist, Directive
A search engine's goal is to provide the best, highest-quality URLs for any given search term. A site that takes 30 seconds to load, has aggressive popups, and leads you to virtual dead-ends doesn't fit that bill… Hence why usability-related metrics form the bulk of Google's 200+ factors. 
To improve your website's technical SEO and usability metrics, there are seven key factors to focus your attention on:Core Web Vitals
Mobile-friendliness

Structuring

internal links strategies

404 errors

Duplicate content

Core Web Vitals
On-page Copy

Schema markup
Technical SEO can feel daunting to marketers who have no technical background or expertise. However, there are many tools available on the market that make it easy for people of all skill levels to run technical audits and keep tabs on your site's technical health — no need for a computer science degree.
Here are a few of our favorites:
For more technical SEO software recommendations, check out this full list of the best SEO audit tools for 2023.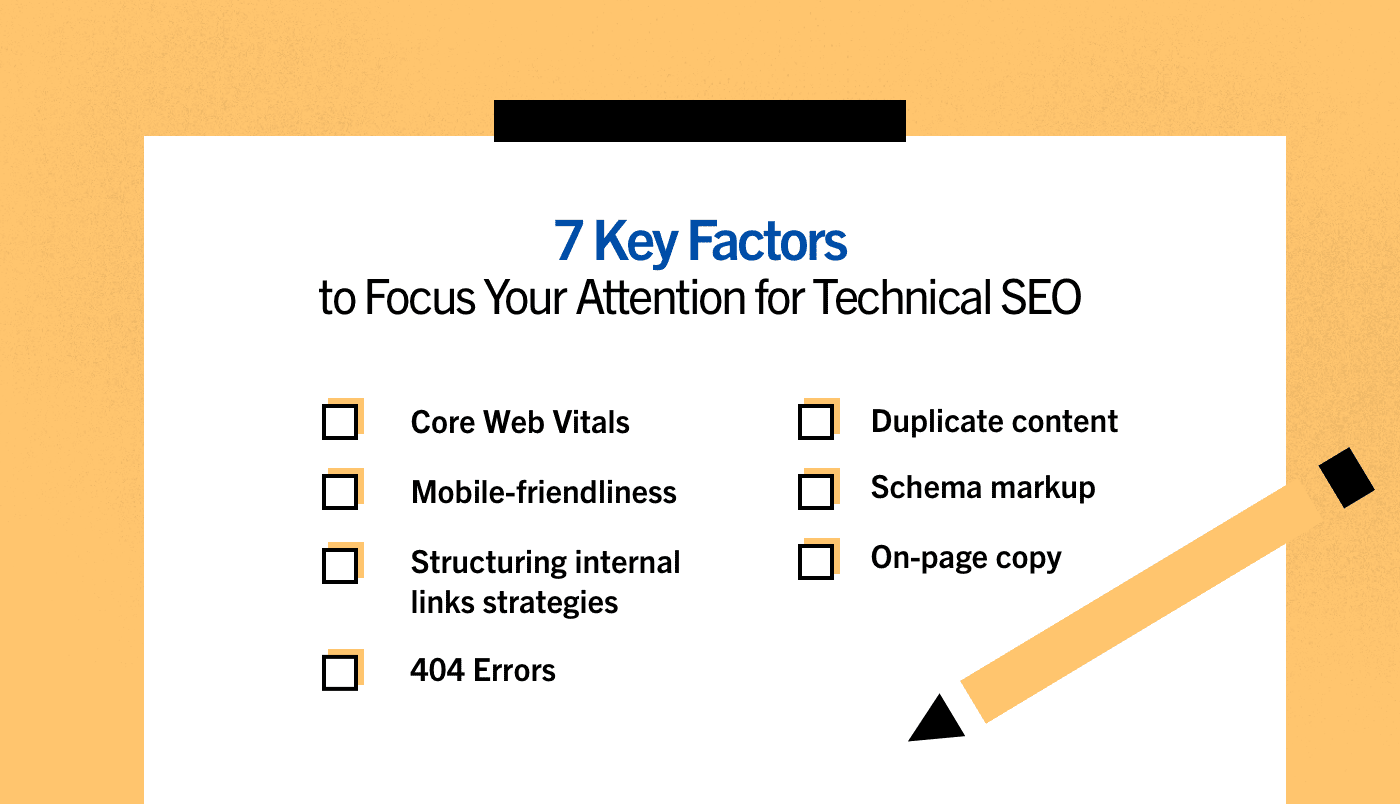 Off-Page SEO for SaaS
The term "off-page" is used to refer to any SEO activities that happen outside of your own website. You may also hear it referred to as "off-site" at times. This usually refers to the act of link building, but can also include other off-page activities–such as social media networking and digital PR.
Google considers website authority a paramount ranking factor. Its 1997 PageRank algorithm update revolved around the idea that the more links a website had pointing to it, the more valuable the website. 
Link building, coupled with high-quality content are two of the most important factors Google takes into account to properly rank your content. 
Ask yourself: why do we link to other websites in our content? It's usually to cite an external data resource or provide the reader with additional information.
Giving a backlink is one way of saying, "I trust this website and think it would be a valuable resource for my readers." Google recognizes this and rewards websites with strong backlink profiles in the SERPs.
This leads to the obvious question: How can you build more valuable backlinks to your site, build your domain authority, and appear in organic searches? Over half of the content online doesn't have a single backlink–which speaks to how difficult they can be to obtain. 
Still, there are a few strategies you can incorporate into your SEO campaign, whether you're a growing small business or a startup, that'll help improve your SaaS off-page SEO strategy. That includes things like: 
Cold outreach

Broken link building

Creating citable content (guides, free in-depth resources, infographics)

PR-driven outreach

Building a social media presence
But your off-page SEO efforts won't be fruitful if your on-page content isn't optimized to be valuable to a targeted audience. This is where a customer-led approach to content comes into play. 
"Think about what type of original data people in your industry are looking for and try to create an asset around this. Anything that's a trends or statistics piece is a great example. Citable content generates links on autopilot."
– Brendan Hufford, Director of SEO, Directive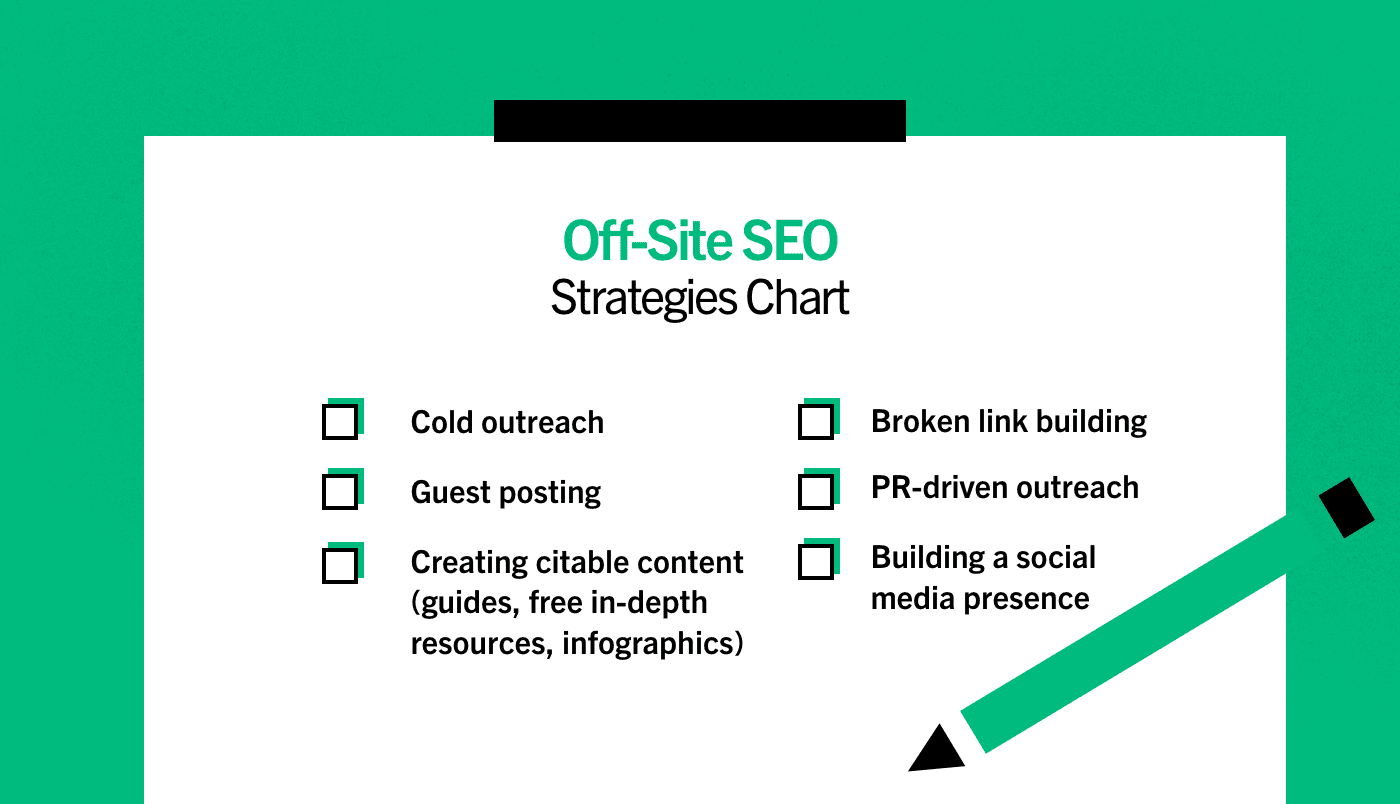 On-Page SEO for SaaS
In contrast to off-page, the term "on-page" SEO refers to optimizations that take place on your website. Put simply, it's the process of adjusting different internal web elements for improved visibility in the SERP. This is also sometimes referred to as "on-site" SEO.
Content is the foundation of on-page SEO.
Your website can't rank for keywords that it doesn't have content on. And this includes more than just long-form content (i.e. blog articles). All content on your website gets crawled and indexed—including core product/service pages, "about us" pages, and even careers pages.
Through on-page SEO, you're optimizing all of these pages to ensure they're search-friendly.
For example, say your company sells payroll software. Throughout your website, you want to target the keyword "payroll software" as well as any other keyword variants that your audience may use to find this type of solution, such as "HR payroll software."
Using these terms throughout your site tells Google that your solution is affiliated with "payroll software" and it should populate your site in the search results page for that keyword.
Seems easy enough, right? Of course not. If it were that easy, everyone would be doing it.
On-page ranking factors Google takes into consideration include:
Title tags

Headers

Images

File names

Image and file sizes

URL structure
With tools like Semrush, Moz, HubSpot, or Ahrefs software companies can quickly get up to speed with their content marketing strategy without having to completely lean on a B2B SEO agency.
Keyword Research and Optimization for SaaS
Keyword research is the process of identifying search terms and phrases that your audience uses to search for topics related to your business. 
It's a fundamental SEO practice that requires you to gain a deeper understanding of your audience and their search behavior.
Oftentimes, the words you use to describe your business and/or product aren't the same words your audience actually uses in search. This critical step allows you to gain insight into the actual phrases your audience uses and develop a content plan based on your findings.
There's a phrase that describes this: Search intent. 
The intention of a Google search generally falls into one of the following categories: 
Informational

: The user is searching to learn more about something. For example, "what does ERP software do".

Transactional

: The user is looking to buy something. For example, "how much does accounting software cost".

Navigational

(or branded terms): The user directly searches by brand or domain name. For example, "Quickbooks reviews"
From the examples above, it's easy to see that this type of search intent is clear: the user knows exactly where they want to end up. For this reason, there's not much to optimize for in terms of SEO.
It's highly unlikely that your website would ever rank organically for your competitor's branded terms and vice versa. Many businesses choose to run paid ads for these terms instead, which ensures that you rank for both the paid and organic results.
We can also view search intent as a funnel: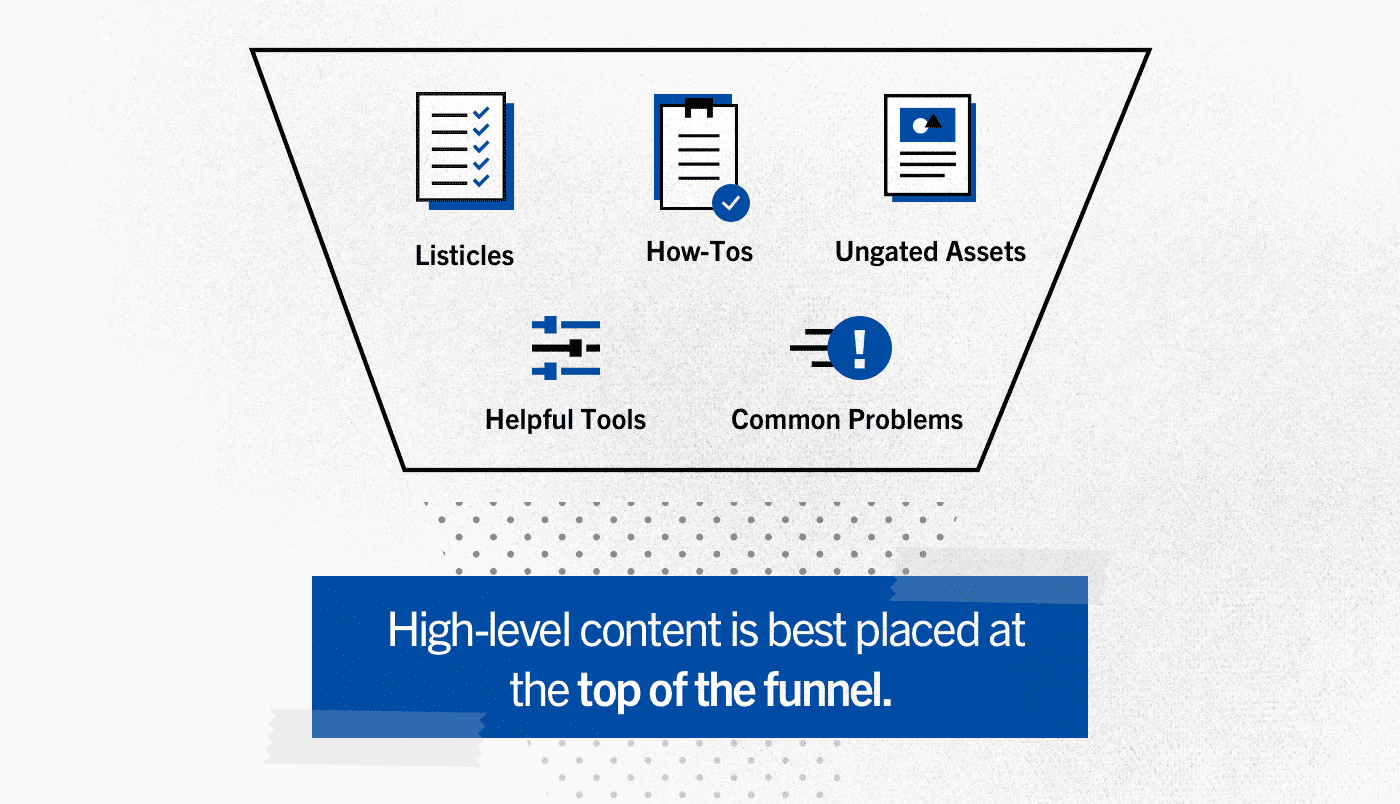 Let's look at a real example:
A Directive client that offers a call tracking solution sought out to target the term "conversational intelligence" on their website. 
Upon running a quick Google search, our team noticed that the search results for "conversational intelligence" are populated with pages that have nothing to do with software. Instead, the results primarily point to books on the subject.
Based on what we know about Google and its ranking system, this means that most searchers who look for "conversational intelligence" aren't looking for software. 
Our client would likely never rank for this term because it doesn't satisfy the search intent of the user.
To offset this issue, we looked at competitor's keywords, as well as third-party directory listings to see how the client's software was described elsewhere on the web. Our research landed us on the term "conversation intelligence" as the better alternative, so we worked to optimize the client's website to target this keyword instead. 
In under 60 days, our client landed the top search result for "conversation intelligence."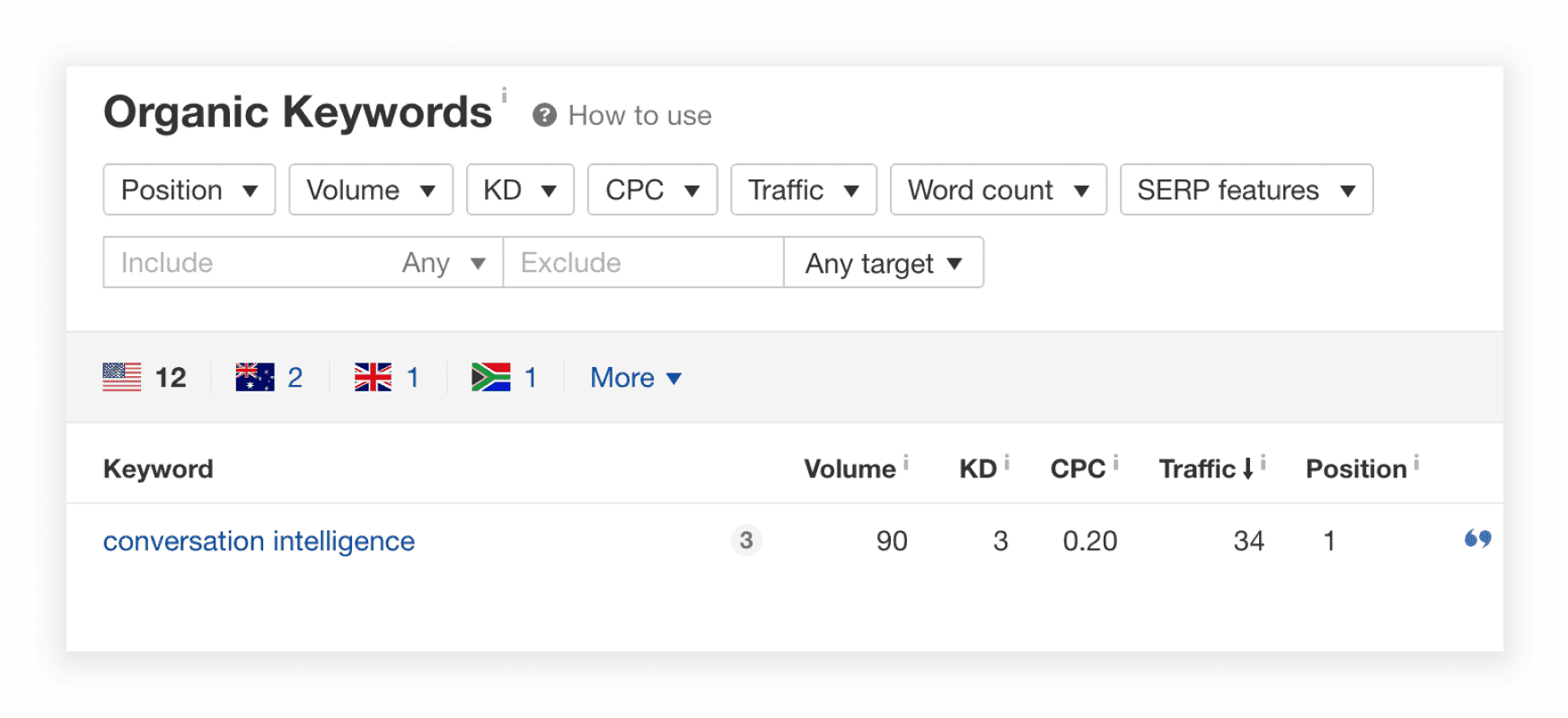 This is just one example showing how important it is to understand the search intent of a query.
Every time you go to optimize a page or create a new piece of content, ask yourself, "what's the purpose of this search?" and don't forget to run the query you're targeting through a search engine to see the results. 
Doing this will allow you to view the page through the lens of the user and create content that directly matches their intent.
Content Marketing for SaaS
Content marketing is what elevates all your technical, keyword, on-page and off-page SEO efforts as you create a process to drive organic traffic. 
In short: organic traffic can't exist without content marketing as "fuel."
The data also backs it up. Some 62% of B2B buyers depend on content to make a purchase decision. Another 56% of B2B buyers want to see organized content from vendors— which doesn't come as a surprise considering the average B2B buyer consumes an average of 13 content pieces per month. 
With content marketing, your immediate goal is to rank, but your ultimate goal is to be of value to your intended audience. That's why it's paramount to create content for the needs of people first instead of web crawlers.
Content marketing, or the creation and distribution of content, can take many forms. A few that go beyond long-form blog content for lead generation are:
Web content

Resource content

Glossaries

Pillar pieces

How-to guides

Videos

Case studies

Statistics articles

Industry reports
There's also strategic content promotion and distribution to think about. Creating content is just one part of a much larger strategy. You're not done with a piece of content just because you hit the "publish" button. Maybe you wrote the best, most comprehensive article on a subject. But if no one sees it, it's not doing your business any favors.
The good news? Luckily, you don't always have to churn out new content to show Google that your website is active. Updating old content with new information can have just as much SEO value as creating new pieces from scratch.
"When looking for content to update, find articles that have recently declined in traffic and keyword visibility. Pieces that have performed well in the past and that still have high search volume are the ones you should prioritize."
– Juliann Rosales, Account Strategist, Directive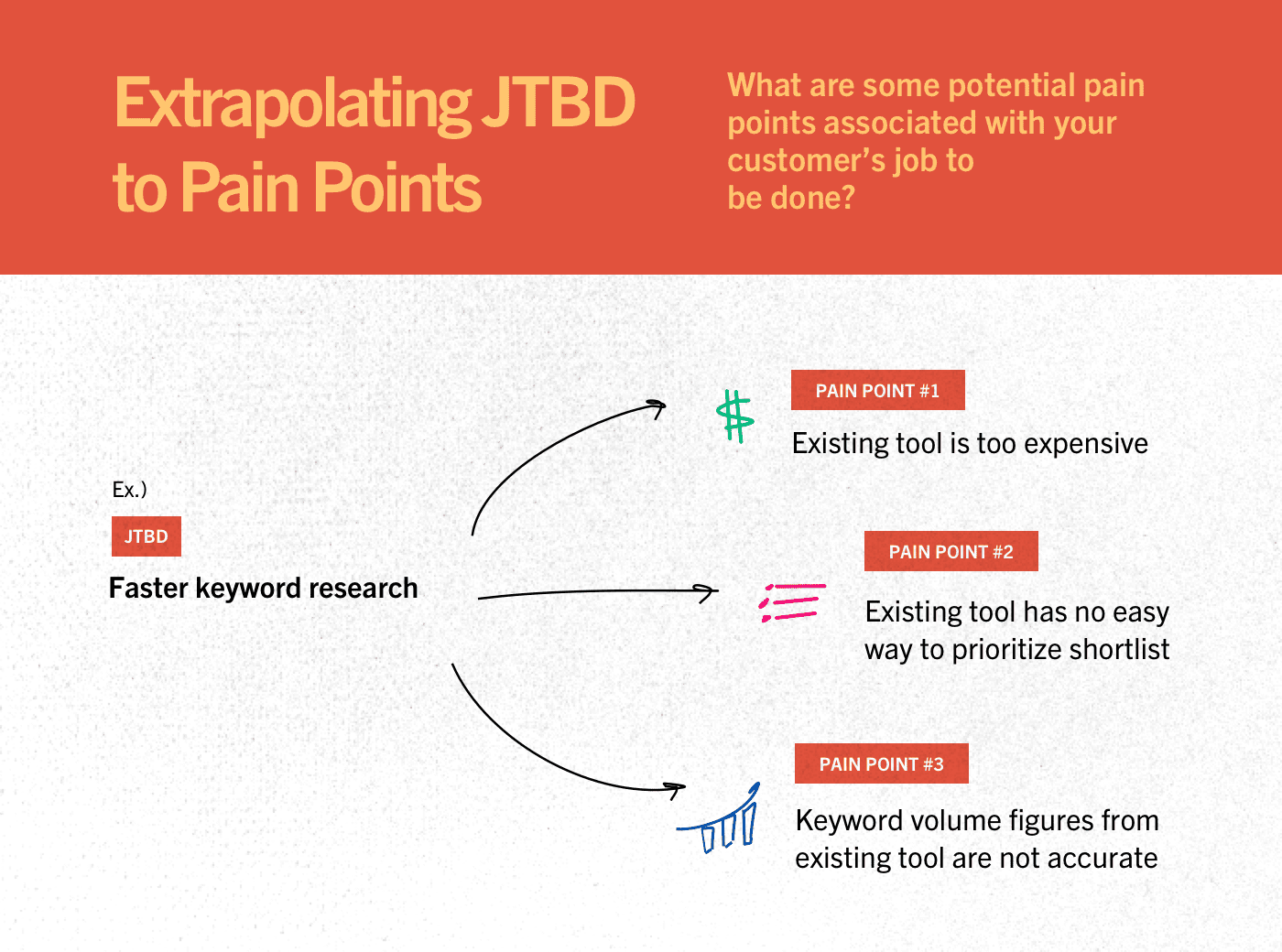 The Old Way of Thinking About SEO
What we've summarized is the old way of approaching SEO for SaaS brands.
The old way targets keywords to drive traffic without using the ideal customer profile to pinpoint the language that resonates with them. You're just posting new content you think your audience will find.
The Customer-Led SEO approach, however, puts customer insights first. It maps SEO content to the jobs to be done based on the role and segment each target buyer falls under.
Let's take a look at the key differences between old and new thinking:
Customer Intent Analysis
Analyzing Google SERPs for features instead of user testing SERPS to understand customer intent for customer generation.
Focusing Your Copy
Adding SEO copy to landing pages instead of using the customer's language to meet objections, clarify messaging, and drive conversions.
Customer Journey Mapping
Creating SEO content based on keywords that do not drive leads instead of mapping content to the customer journey.
Misaligned Insights
Putting data analysis first vs. customer insights first
Aimless Legacy Metrics
Reporting on keywords instead of customer segment dashboards
Wasted Time and Energy
Making technical tweaks instead of iterating, testing, and prioritizing continuous growth
Customer-Led SEO for SaaS Brands
Once upon a time, SaaS SEO strategies centered around creating SEO copy and optimized landing pages.
SEO has changed. It's no longer a technical discipline focusing on keywords and rankings; it's a product function and a marketing function. This stems from the fact that everything starts with the customer.
The most successful SaaS SEO programs build content carefully crafted around their customer segments with a content strategy that speaks to the jobs to be done approach for their ideal customers.
It's why Directive built a new, more effective approach to SaaS SEO called Customer-Led SEO. It strips the SaaS-centered SEO strategy down to directives and steps that get to the core of customer's needs through a principled approach.
Customer-Led SEO discards the classic funnel approach to SEO for a full-cycle approach created to get, sell, and keep customers. 
Search engine optimization has linearly focused on rankings and driving traffic for too long. Instead of amassing content with no clear strategy or first-party data for targeting, today's effective SaaS SEO strategy refines the metrics it tracks to measure marketing success and creates emotional experiences with B2C-like targeting.
Trying to simply rank for product-related keywords is proving to be futile in the face of a customer-led approach to marketing. 
While targeting a product keyword might win you a handful of semi-interested customers, Directive's customer-led approach gives you the power to influence business KPIs like customer lifetime value, customer acquisition cost, and trial conversion rate.
The Tenants of Customer-Led SaaS SEO
Leading with a customer-led SEO approach comes with its own set of best practices. The foundation? An in-depth look at who your customers actually are.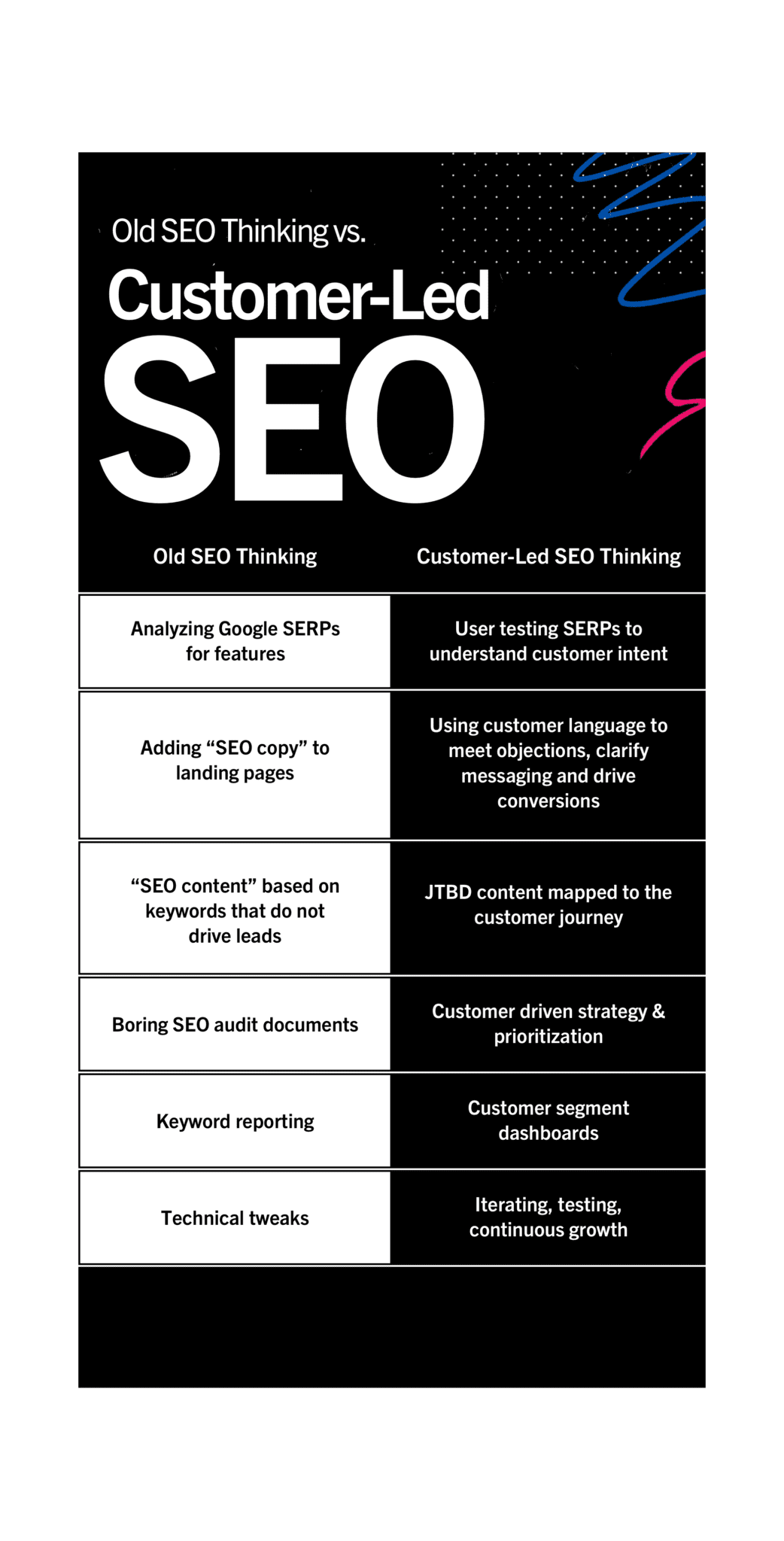 Customer Insight is the Best Data
Competitors, rankings, links, page speed, indexation. There are tons of SEO metrics available to SaaS brands. They're sexy metrics that pull you in–but can lead you down the wrong path.
The most valuable data is insights from your customers. At Directive, customer interviews and customer research drives our approach to customer segments, keyword research, landing page creation, and content strategy. 
Without key customer insights, you're left grabbing at air as you try to speak right past the needs of your customers. As you adopt a customer-led approach to SEO, taking the time to run proper customer research pays off in the form of retention and revenue. (AKA, the two metrics that matter most for SaaS companies.)
Rely on audience research tools like:
But don't forget to get data from the horses' mouth. Run customer surveys. Host focus groups to figure out their biggest pain points and how they're solving them manually. Ask customers how they found your software in the first place. 
That's the type of data that's golden for SaaS SEO strategies. 
Content Built for the Jobs to Be Done (JTBD) Framework
You have to discard the notion that you can get tangible results by simply writing decent SEO content. In the end, it serves no other purpose than appeasing the search engine gods while you bleed on the customer retention front.
Instead, shift your focus from Google to real people: your target buyers. Focus on customers' jobs to be done (JTBD) and create content that meets them where they are, with the content they need. 
In short: what content can you create that'll make your ideal customers' lives easier? 
By using content as a channel for education, SaaS companies can drive better qualified leads, and increase retention and product usage… alongside the fancy SEO metrics that look impressive, but don't actually move the needle.
"We conduct user interviews and have an exhaustive review mining process. Some aggregator platforms like G2 Crowd ask specific questions in the reviews making it easy for us to distil relevant "jobs" from them. We also define critical "jobs" we wish to support as a part of the vision for our app.

"We use these jobs to be done with product feature based SEO (for example multi page testing) to help readers move from awareness to consideration or consideration to decision. We are using traditional funnel terms for ease here but the focus is always to serve informational intent and queries."
Trina Moitra, Head of Marketing at Convert.com
Scale to Meet the Breadth and Depth of Customer Needs
We're going to let you in on a dirty little SEO secret: It only works when it scales. 
SEO is the vehicle that gets you to meet your customers where they are as well, as where they likely will be. 
When you think about your customer, you realize that for every segment, there is a unique mix of intents, pressing questions, and jobs to be done. To remedy this, create interactive content like templates, glossaries, guides, and education libraries. Each of those formats scale to meet customers where they are at every step of the journey.
Always ask yourself: 
How can we make each of their lives easier? 

What upfront value can we provide to them at no cost? 
Elevating your customers' needs before your own is the true customer-centric approach. As you help others, you rise with the tide. No wasteful product-led keyword strategies or resource-draining content necessary.
Iteration and Learning powers Growth
A one-and-done approach does little to nothing to maintain and scale your customer-led SEO strategy. Writing content briefs, publishing a slew of content, and never revisiting it isn't enough.
As you get and keep customers from your SEO strategy, there's a need to constantly update, iterate, and improve your core landing pages so they continue converting traffic into customers. Using key customer insights to create, test, and improve your pages is the only way to create defensible growth.
Anything less and even a customer-led approach to SEO will inevitably see stagnation. In the face of the changing SEO landscape, as well as the needs and preferences of your customers, continuing to innovate and refine your content—in whatever form it's in—is a surefire way to invite longevity.
Remember: A great SEO strategy marketing makes your SaaS company more money. Maintenance and content iteration are key parts in making that possible in the long-run.
Why a Customer-Led SEO Approach Works for SaaS
A customer-led approach is how TokenEx, a cloud-based data security company, was able to increase brand discoverability and create a 500% increase in QoQ conversion rates. 
It shifted its approach to content towards a pain-point-centered strategy that directly spoke to the needs of customers. Off the back of that, we were able to build a core solutions page on an up-and-coming industry topic that wasn't being covered well. 
Along with keyword research and on-page optimization, its core solutions page brings in the second-highest amount of traffic to their website. It's also responsible for the increase in conversion rates.

When you focus on B2B SaaS companies, you quickly realize that they have incredibly specific customer profiles. This means they need to fiercely focus on both acquiring and retaining customers.
To connect both SEO-specific metrics with the high-impact ones we track at Directive, we rely on the LTV: CAC model to be able to prove a return on investment from SEO efforts.
The model is simple. It measures the ratio of customer lifetime value against all the costs that go into acquiring that customer. 
The optimal LTV: CAC ratio is 3:1. Anything higher than that is an indicator that you're under-spending on marketing. If the ratio is lower than 3:1, it's safe to assume that your marketing is costing too much.
The modern B2B SaaS marketing approach centers around customer success. What's more, customers report that the user experience is more important than the price. As much as 84% of companies see an increase in revenue when they focus on their customer experience.  
The bottom line? SaaS companies that are growing are much more likely to be investing in customer success. SEO strategies encompassing that notion are the ones most likely to meet the ambitious KPIs you've set for your marketing funnel. 
Start Generating Customers From SEO Today
It's time to graduate beyond the aimless legacy metrics of demand gen towards SEO strategies that drive legitimate revenue.
Book an Intro Call
Customer-Led SEO: The New Standard for SaaS SEO Strategy
It's clear that the SEO tactics that worked in 2010 aren't the best practices we're using today. 
Granted, activities like keyword research, content creation, and technical SEO form the foundations for SaaS SEO strategies.
But it's only when you focus on customer-led SEO that you can leverage it to drive revenue and growth for free. (Which means more money in your pocket as you maintain the ideal 3:1 LTV:CAC acquisition ratio.)
Directive's customer-led SEO approach creates customer experiences that are tailored to your customer segments by turning the product-led approach on its head. 
Doing this creates a trifecta that drives awareness, acquisition, and retention. As a SaaS SEO Agency, Directive Consulting's SEO services revolve around and use the new customer-led model for SaaS companies to gain more qualified customers. 
Interested in more? Learn about our in-depth customer generation model that leads to real customers and revenue.
Agency Life
Top 5 Oldest Performance Marketing Agencies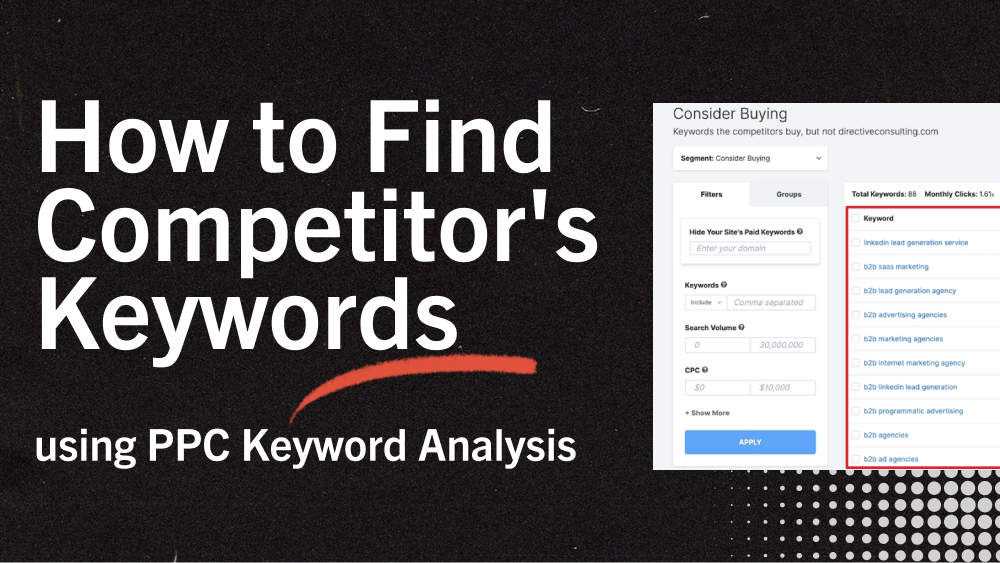 PPC
How to Find Competitor's Keywords with SpyFu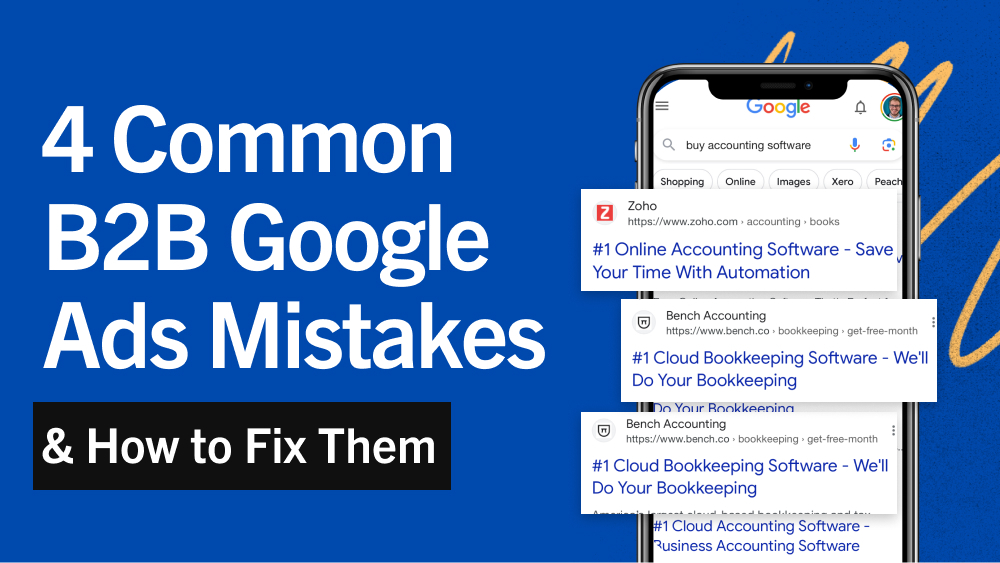 B2B
4 Common B2B Google Ads Mistakes and How to Fix Them