Yours in Marketing – Episode 0 ft. Garrett Mehrguth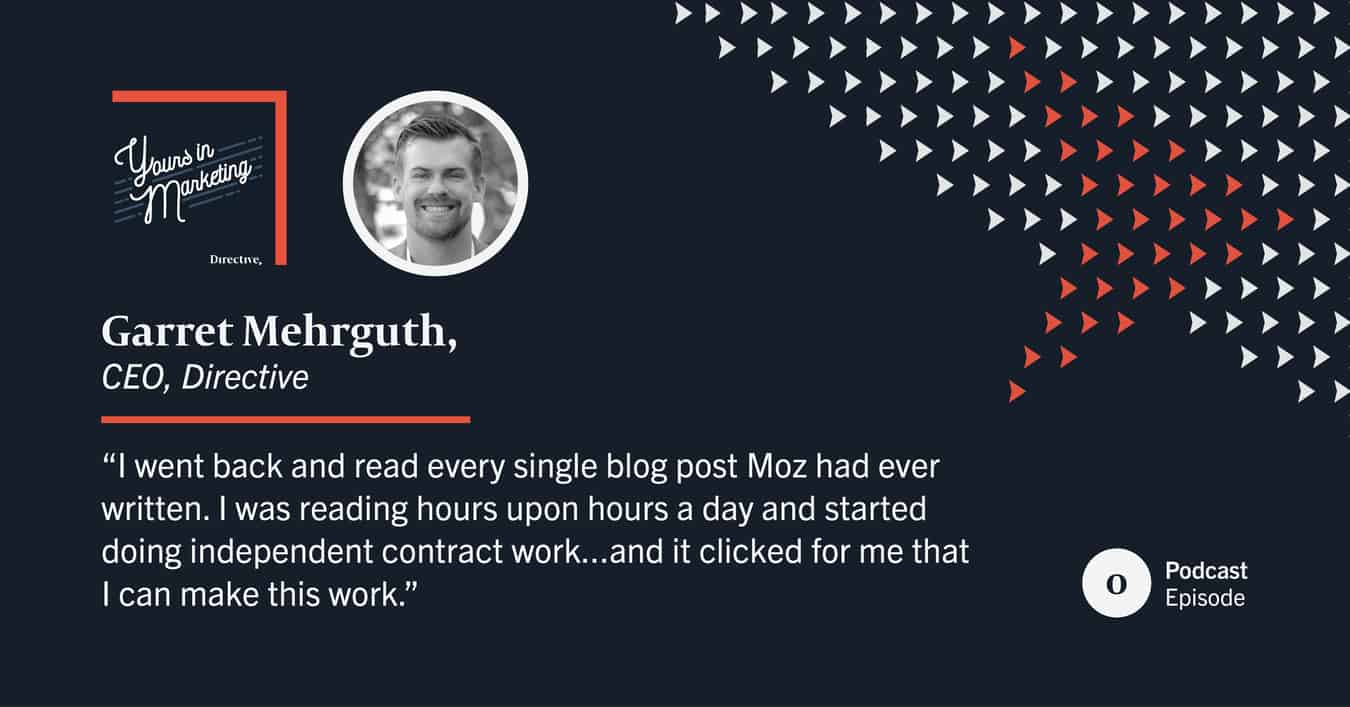 Welcome to Yours in Marketing! This is a podcast where leaders and marketers are invited to see B2B from a unique viewpoint.
We talk marketing, sales, and leadership with some of B2Bs brightest minds in a fresh, new way. When we aren't interviewing fascinating marketers and B2B leaders, we dive deep into the inner workings of our own workplace, Directive, and our experiences with business-to-business marketing.
In this episode, I speak with Garrett Mehrguth, the CEO and founder of Directive. We tackle the history of Directive from start to present, and dive into future aspirations as well.
Blake: Hey B2B leaders. Welcome to Yours in Marketing, I'm Blake Emal. On today's inaugural episode, I speak with the fearless CEO of B2B search marketing agency, Directive, and my friend, Garrett Mehrguth.
This episode should give you an idea of what we're trying to build here on the Yours in Marketing podcast. You'll also get a glimpse into Garrett's backstory as well as my own.
Subjects include company culture, motor scooters, cross country moves, and other shenanigans. Ready to hop in?
Blake: For this episode, we dive into what this is all about and why it's different and why you should want to listen to this as a B2B leader. It's going to be a little unique.
You're going to get thoughts from people in a way that maybe you haven't before, and it's not going to be a tactic show. It's not going to be about the 13 most important things you have to do to improve your SEO in 2019; it's not like that. It's going to be a lot more, hopefully exciting and unique, and we're going to get into the minds of our guests.
But for this episode, we want to introduce you to the format of the show and to us. So, I actually want to interview Garrett a little bit, get to know him, his background, and then he'll do the same for me. And we'll talk about the format of the show as well.
In the future, we've got some great interviews lined up. So, first of all, unusual last name. How is it pronounced?
Garrett: Mehrguth. Pronounced (*mare-goot). My grandma's last name was Guth, and she married my grandpa, and his last name was Mehrguth. So, she went from good in German to more good.
Blake: Yeah, in German, that literally means more good. My last name is actually also German. It's pronounced Emal (*eh-mel), used to be Immel, changed it when I moved over to America.
So, Garrett, let's talk a little bit about how you started Directive. Getting back to the roots of it all, then we'll bring it full circle to where we are now. So, tell us the story behind the founding of Directive.
The Start of A B2B Search Marketing Journey
Garrett: This is going to surprise a lot of the listeners, but at 21 to 22 years old, you're not compounded and filled with the brim of vision. So, the way it really started was, I applied to Boston, Bain, and Mckinsey, different consulting firms.
I was going through the application process, and the big companies in consulting have custom application portals. In those portals, you have to apply, right?
So, you find your university as part of your application process, and I couldn't find mine, Azusa Pacific University. For those who don't know it, APU is not the most famous university for big five consulting firms.
I had applied "other" for that section, and I essentially got an auto response. I thought, there's no way I'm not good enough to do this. I can do this. I got my degree in economics in three years. I was captain of the soccer team. You want high performers? I'm a performer; I did my master's in a year. I'm like working five jobs right now; I can do this."
Then I got this auto response essentially saying, "You're not good enough; you didn't go to this school."
I think that stuck with me, even with the way we hire talent here at Directive like, it's not about your resume, it's about your character, and it's about your work ethic. It's about your principles, it's about your values, but I took that. I thought, "You know what? Forget those guys and forget those companies. I'm going to start my own consulting firm, and then they're going to have to buy me one day or something, but I'm going to do this."
How Directive Came to Life
Garrett: After I got off my pedestal, I had to think, "Okay, what am I actually going to consult on?"
Right?
What do I actually know enough of, at 21 or 22? I don't know; it's less about what I knew and more about what people thought I knew, and that's how I could do sales. Essentially, that's how I could get customers.
I knew that older men and women who were leaders in business and other places, they didn't know the internet. They were looking at younger generations to help them here.
Honestly, I said, well I've got the younger generation part down. I should just learn the internet. I went out there and read everything that Moz had written, everything Wordstream, PPC Hero, Distill, Seer Interactive…basically all the blogs out there. I just kept reading and reading. I think I went back and I read every blog post Moz had ever written.
I was getting my MBA, I was doing independent contractor work for a couple of people, I was selling social media calendars on Fiverr for $5, and that's how I learned how algorithms work.
I was on Fiverr, and I kept asking, "How do you get on the main home page of Fiverr?" I figured out how to do the tags and my keyword titles and learned how the really basic search engines work.
Garrett: So, I started learning all these new things. I thought, "Oh my gosh, what if I did that for Google?" One day I was driving around on my moped because obviously, that was early times.
I think I started with 20 dollars, but I was driving my 1978 Peugeot, 103 SP, which is actually in the lobby of our current office in Orange County. I was handing out flyers, and I found a Mediterranean restaurant. I loved his product mainly because I had his chicken Shawarma all the time. Great Product. 🙂
Also, I knew the people could get behind their product, and I was very much behind their product. I brought to their attention that they had no Facebook page, no Yelp page, and I could help them out.
I couldn't make a website yet, but I could make those things. I could hand out flyers. I could hustle. And, I let them know they we should probably clean up the place a little.
I didn't realize it then, but I was consulting. I was helping this guy be more successful with this business. I did that for 30 days. Then, when it was time for payment, my contact said he forgot his checkbook that day and to come back the next day.
When I came back, the entire place was boarded up. It's crazy to think that is how Directive started!
It wasn't some great deals vision. It was some stupid 21, 22-year-old driving around on a moped, handing out flyers, getting stood up from his first account and we persevered and got to where we're at today.
I got the moped in the lobby, and I framed that contract with the grease stains up in my office just to remind myself to stay humble. This is where we started.
Today, it's about doing the right thing for the right people and trying to be better every day. That's when this little mantra of mine came about, "learn, engage, create."
I wanted to learn something new every day and engage with it from practicing on a client, writing it down, leaving a comment on a blog post, and more, I can create more value for myself and our clients.
That's kind of what's allowed us to go from a 20-dollar-agency, who had no clue what they were doing and selling five-dollar social media calendars on Fiverr, to where we're at today.
And, we're only just getting started, and it's cool.
How To Attack Challenges and Stay on Track
Blake: So, I'm sure along the way, once you knew that Directive was going to be an actual company, that you were going to get real clients consistently. I'm sure you still hit your roadblocks after that point. Can you talk a little bit about maybe if there was a time where you thought maybe Directive wasn't gonna make it?
Garrett: Oh my gosh, I don't think about that anymore. We have so much talent and we're starting to capture the right market share, we have our positioning right.
We're working really hard, and the team has a great culture. I don't worry about us not making it anymore.
Currently. It's like, "Can we make it faster?" I have a tendency of wanting to go too fast, and I'm learning to slow down a little bit.
When you slow down, sometimes you go faster. It's pretty crazy.
When we started, I remember I was working 6 am to 9 pm often, because I was hosting these meetups or I was speaking at all these meetups.
Every day felt like a roadblock, but one of the first wake up moments I had was when I was in this Uber, which I could barely afford. I was going out with some friends. I think I was 23 or 22, and he was telling me how he did SEO too. I had to ask him a question, which was how much he charged for his services.
At this time, I didn't know a lot about the industry or the market. I was trying to go to conferences; I was asking other agency leaders how much they charged as well.
I was charging 400 dollars a month, and I was scared to charge more because I thought I would lose clients. What if we're not worth it? And this guy who frankly, honestly had no knowledge of SEO, didn't have the passion for SEO, didn't have the team I had was charging at least 2,000 dollars a month, minimum.
I was shocked. I told him how much I charged, and he started laughing. I learned I needed to charge more.
So, that was a roadblock because, when you don't charge a lot, you can't hire the most exceptional talent possible. When we first started, my barriers were more just around learning to manage people and learning how to manage people that I frankly wasn't paying a lot because we weren't making much yet.
The talent here at Directive is a blessing. I'm grateful every day about how much sharper and smarter people are than I am at what they're doing. It wasn't the case, when you first start, you're working with a lot of people who are just learning too, and some of them might not be up to par.
You're also not great at hiring at first, so I was hiring people that might not have the most exceptional character or drive.
I also had smaller roadblocks where my account managers were misspelling someone's name or something similar.
That just hurts, to have these big dreams, this big vision of what you're trying to accomplish, and it's big for you. You're charging 400 a month, and striving to get to 2,000 dollars a month. That's big at that time, right? Like that's five times the price increase.
That's a big thing at the time, and people can't spell the client's names, right? Those are the roadblocks for you to sit in there and you just want to cry. However, you have to remind yourself that you are not going to fail. You have to tell yourself, "I can do this. I'm going to succeed."
But your reality sometimes doesn't look like a success. I'd be sitting in this warehouse where we started, where they're doing judo classes downstairs. They were slamming bodies off the ground, and I'd be in this little warehouse where it's leaking. I'd have to put a bucket by my desk so that it catches the water, right?
We were paying $150 for a desk, and we didn't know if we could afford it. We were like in the lowest of the low. You try to stay positive, and that's the struggle. When you don't want to fail so bad, but your reality is the most likely thing is failure.
Getting through that, that's the hardest part for sure.
Avoid Being Your Biggest Roadblock
Blake: Well, what about your current roadblocks? What's difficult for you right now?
Garrett: Right now, the most challenging spot is realizing that when you're managing, I think we're at 60-plus people, and your energy matters.
My current roadblock is myself. I don't think we can start to look at others and say, others are the roadblock. We start by looking internally, right?
I internalize where I'm at personally and look at our B2B search marketing agency really transparently.
That's when you grow. I'm my biggest roadblock right now.
How do you stay positive when you lose a $15,000 a month client and then hop on a podcast 10 minutes later? How do you keep your energy right? How do you keep your focus right? And be like, it's okay. We can get another, right? We can keep growing.
We've built something special here. So, my roadblocks are really learning and understanding that it's not WHAT I do anymore. It's HOW I do things that is important.
For me, I used to focus on tactics such as writing four blog posts that week. I'd work on three accounts. I'd sell these five deals.
I realized that this was immature as a leader, as my value was in myself as an individual contributor. I feel that I've transitioned now to where my value centered around how I empower everyone around me.
It's not about what I get done each day. It's okay if you don't get anything done in a day, but you honored and valued or had one essential conversation with one influential person.
Whether they're the front desk person at Directive or whether it's an account manager,  if I have that right conversation in that right moment, that's my day, that's where my value comes into play.
After learning that this is the focus, I'm trying to avoid being the roadblock by learning how to be a better leader to the men and women here.
And I think that's the most significant focus.
Garrett: Other than that, current roadblocks obviously include keeping clients, as we're no longer the cheap vendor.
When you have a valuable service that is also priced to a higher value, there are always people who will want cheaper. So, if you don't live up and create that value for somebody, it's very easy to turn an account because, frankly, now you're expensive.
There's a fine line in between value and being over-priced. You have to bring it, as a culture, as a team on a daily, weekly, monthly, quarterly, and annual basis to keep accounts.
When you want to be a market leader, have premium pricing, and have a premium service, everything has to be exceptional. So, I'm figuring out where the culture that I'm in charge of and helping develop, is creating wins for our clients and ensuring that culture is bulletproof.
This way, we can have an economic disruption. We can have a service disruption, we can have an internal structure, we can lose an account, and it doesn't affect the culture.
Sometimes, it makes us stronger. We keep learning from it, right? We do better postmortem. We learn more from why that client left us as we do all those things and that allows us to grow.
So, my current roadblocks are really figuring out what in our culture is holding the team back and how can I create a culture that empowers them to keep improving and growing.
Future is Bright
Blake: You touched on this a little bit, but I would like to know, what's next for the future for Garrett and Directive. What's next?
Garrett: What's next? A lot of things.
To start, I always like to say that your output is directly correlated to your inputs. When I start running out of ideas, I go crazy on Amazon and buy new books.
I learn, engage, create, and then my next idea is evident because I'm so in my organization, right?
As a leader, you know your problems, but sometimes the solutions, the next steps, and the big vision isn't so obvious.
So, one of the things we're doing is watching our innovation department. I'm super excited about this.
We're going to be taking a percentage of our total revenue and putting it into innovation. We took one of our rock stars, Brian Bui, and he's going to lead this department. He just built this quality control system that we have in SQL, right?
We can see every one of our clients, account managers or specialists, everyone that's working on that, and it's actually in sequence. This way, we can see insights instead of a dashboard.
We can see in real time how everyone's performing, year-over-year, period-over-period, across every one of our core KPIs, for every one of our clients, from every person on that account individually as well. When you think about it, it's a result only culture, and if someone's not doing well, you can just have a conversation about that. It doesn't matter if they've been here for 30 years or three months.
You're going to have a conversation about performance, and it doesn't depend on any "friendships" or anything like that.
It's really just about asking, "Is the work good or bad?"Let's develop how can we make it better.
So, that's one of the next things we're doing. I think that's what I'm pretty excited about right now is just building up this innovation department because it allows individual departments like SEO and PPC to focus on just doing world-class work.
Fast Facts About Your Host
Blake: Love it. All right, well hopefully you got the passion coming across to you from Garrett side. He's a powerhouse, and he's taking care of business. I would love to give him a chance to interview me a little bit.
Garrett: So, the audience might not know this, but you drove from Florida?
Bake: Yes.
Garrett: To California.
Blake: That's correct.
Garrett: While you were doing that drive, what was your go-to playlist?
Blake: Okay. I actually listened to podcasts. There's a podcast called Myths and Legends that talks about myths in Greek mythology. So cool. Love that podcast.
If I'm listening to music, it's going to be, honestly, just like top hits on Spotify. I'm not super in-depth into indie music. I don't know anything about music. I just like something that has a good beat that I can sing along to. So, usually, when I'm listening to music in the car, I'm singing really loud. That's kind of my go-to. So, it's basically anything that's poppy.
Garrett: Okay, so you're a big Ariana Grande fan?
Blake: Oh yeah, love the new album.
Garrett: So, maybe a lot of our listeners have transitioned professionally, was there a point of that drive where you had maybe a breakdown? Where you were just wondering, did I make the right choice with Directive and what was going through your mind?
Blake: Yeah, absolutely. So, I have a young family. There were a lot of moving parts when making a big decision like this, living in Florida, there weren't a lot of opportunities there.
I knew that there was something more significant for our family and me personally out there.
I was looking at a bunch of different opportunities and actually was pretty close to moving to Boston, instead of California, which is the complete polar opposite. I was able to discuss it with my family and look at the opportunities.
It was definitely a difficult decision to make, not something that you do on a whim because it's a change and uproots your entire life by moving to a new place.
But, when I came in contact with Garrett and Tanner, the COO, I had good discussions that felt like they were going to empower me to become better, just like Garrett mentioned.
And I feel like the culture is everything that he said when I was interviewing him. It is so collaborative and engaging, and it's also really reliant on talented, hardworking people, and I fit that mold I believe, and so once I made the decision on the way over, I don't think that that was a huge roadblock. I don't feel like I really stumbled over that decision once I made it, but definitely took a lot of guts just to pick what I was going to do.
Garrett: Well, I mean I think we only had like a 10-minute conversation, right?
Blake: That is correct.
Garrett:  I knew the second I spoke with you that you were a rock star. Was there any shiny stuff about Directive (benefits, perks, etc.) that you looked at or did that have nothing to do with it?
I have a belief that a lot of people make benefits to attract people and they don't do benefits to honor their current people. So benefits end up being more like ornaments on a tree, than actual substance.
Like, this tree that is entirely dead that looks like crap. And they're like, look at all the shiny ornaments on this horrible crappy tree. Like, the tree is the culture, the tree is the substance, but the focus is on the ornaments.
For you, what were you looking for? Not just in Directive, like were you looking for ornaments? Or were there certain ornaments that did actually matter to you? Did you completely ignore the ornaments? What was that like for you?
Blake: Let me give you some context. So, I'm from Utah and Utah is actually kind of a small tech market right now. It's kind of booming with tech jobs and a lot of marketing jobs as well. And the companies there, their go-to move to build culture is to put a ping pong table in immediately.
Garrett: I used to have one of those, what are you trying to say, Blake?
Blake: I love ping pong let me tell you. But then they have all of these amenities, right? But that's not the culture. Those are amenities. The culture was rooted in the ping pong table. The culture wasn't rooted in the people.
I spoke with you and Tanner for 10 or 15 minutes, and I think both parties knew at that point that it was the right decision and the reason for that was because I knew already that they were fighting for me. I knew that they had my back and were going to empower me.
So, ultimately for me, the ornaments, the amenities, that's not what excites me, that's the cherry on top. Now, if I showed up here and there was no amenities, nothing, just you come to work, you do your work, and you leave, then obviously that's not going to be great long term. We want to have a little bit of that fun. You want to have some of the amenities, but it's really about the people.
Garrett: It's easier to buy a pool table.
Blake: That's true.
Garrett: It's easier than having to look at yourself internally and fix a bunch of problems. I think that is something, hopefully for listeners to catch; it's not about what you can put on your job postings. It's about what happens when people show up and actually work there.
Retention is a heck of a lot more important than acquisition for both clients and people. Now, when you kind of got started in marketing, when was that first moment of joy, where you had to call your significant other or your best friend at the time? When was that first moment of joy for you in marketing?
Blake: That's actually a really pointed question because the reason that I stuck with marketing was because I had been at other jobs, really not anything really corporate or anything, but that I just didn't feel like I made any difference and that it mattered what I did.
There was nothing measurable; I wasn't improving anyone's life. You can look at any job and maybe see it that way, but when I got into SEO to start with, what I saw was, there are actually people behind these accounts, and if I make them more money, they're going to be happier, and their families will be happier.
I know I want to make more money, and I want my family to be happier, so why wouldn't I want that for the clients? And so, I started working specifically with French clients in SEO, just doing optimizations.
That was it.
That was all that I knew how to do for like the first three months of doing marketing, period. We saw some great results just from some small necessary optimizations. It was a fantastic feeling because I didn't feel like, oh, I'm just bagging groceries, I'm just washing cars, those things are great, don't get me wrong.
People need to do those things. But ultimately, I wanted to do something that actually made a difference and was fulfilling that I could tell that the other party was benefiting, and they had a better life because of what I did.
Garrett: One of those things Blake and I talked about was, besides being awesome, that you had your own podcast.
You are a world-class search marketing consultant; you live and breathe this stuff. I know our listeners are going to be super excited to hear, not only the way you prepared for the podcast, the questions you asked, but also your insights. You're also a Utah sports fan. What is that like? I think people want to know, does it feel good? Is it difficult? What's it like being in Utah sports fan?
Blake: It's miserable in every single way. Being a Utah Jazz fan feels great. Jordan definitely pushed off in 98 we should have had that title. I'm not bitter about it at all.
Being a BYU sports fan is horrible because we are never good. We never can recruit anybody, and yeah, it's absolutely miserable. Thankfully we don't have an NFL team, so I can support the Seattle Seahawks who have had marginal success over the course of time and a Superbowl ago.
Garrett: And I think in closing, what are you most excited about in this B2B search marketing podcast?
Because what happens if you're in an industry like marketing is that any time something new and shiny comes along, you think: "we need to be doing that too. Everybody's blogging obviously for SEO, so we need a blog."
Blake: Oh, I don't actually believe that.
Garrett: Or hey, to do our marketing right, we need a podcast. Look at x, y, or z competitor. They're very successful. They have a podcast. We don't, their success is probably from the podcast, right? And it'd be like actually talk to the people at that really successful company, and they were really honest with you, it might not have anything to do with the podcast. So. like if we took away all of the marketing value, no all the business value, why are you still excited about doing podcasts?
Blake: There's certainly a place for tactics and methods, right? That stuff needs to happen so that SEO workers can Google things on how to do their job, right?
But ultimately, I'm excited about this because it's different. It's not going to be the tips that you need to know to hack your business. These are not growth hacks. I'm not going to do a list here right now and tell you that the ten best SEO tools, I will not do that.
Neil Patel can do that, we're good.
I believe in this because it's interesting to hear from B2B leaders and get inside their heads. Everybody, or at least a lot of the people that are in their shoes or similar roles, are going to feel and think the same things, but they won't vocalize it. To have their voice spoken and to have other thoughts that might be inspiring or helpful to other B2B listeners, that excites me a lot.
To have it in a different format where I don't just have to ask you, all right, how do I grow my business? I can ask you things that are more prying, that are more interesting because you're a human being.
You're not just like some B2B search marketing robot. So, that's what really excites me about it. I think we've got some great segments that we're going to provide as well. Ultimately, it's just going to be different and interesting as opposed to actionable and insightful. It will be those things but in a different way.
Garrett: I love it. I'm so excited to be doing this with you. What a blessing. Yeah, we can't wait, everybody. So, this is Yours in Marketing, and we're excited to grow together and make this the most interesting, engaging part of your day.
Blake: All right. That's it, folks. Have a good one.
Blake: Thank you so much for listening to Yours in Marketing. Make sure to subscribe to the podcast, wherever you get your podcasts. So, you never miss out on interviews or tips from all of our fascinating B2B leaders.
Keep reading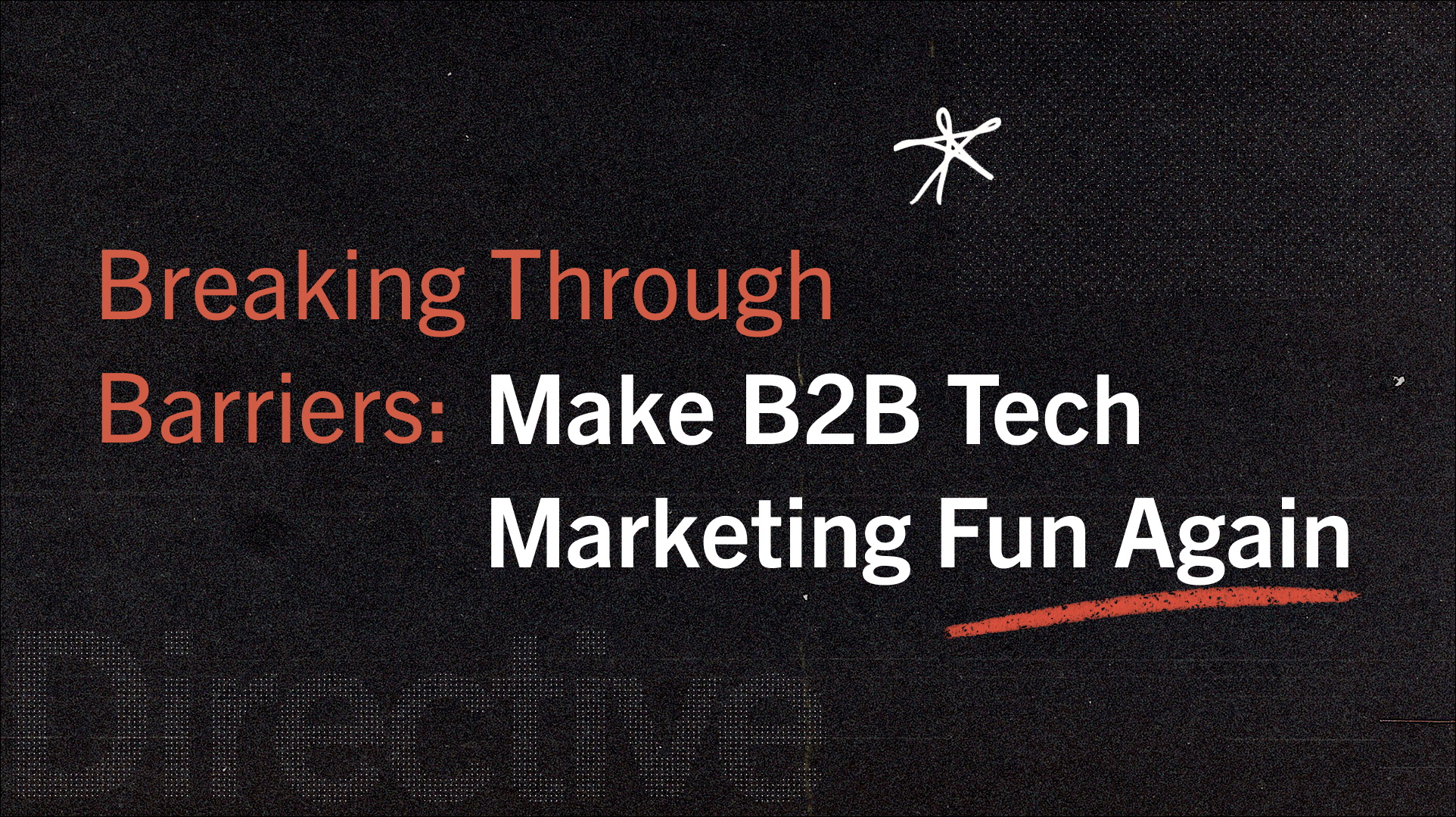 B2B
Breaking Through Barriers: Make B2B Tech Marketing Fun Again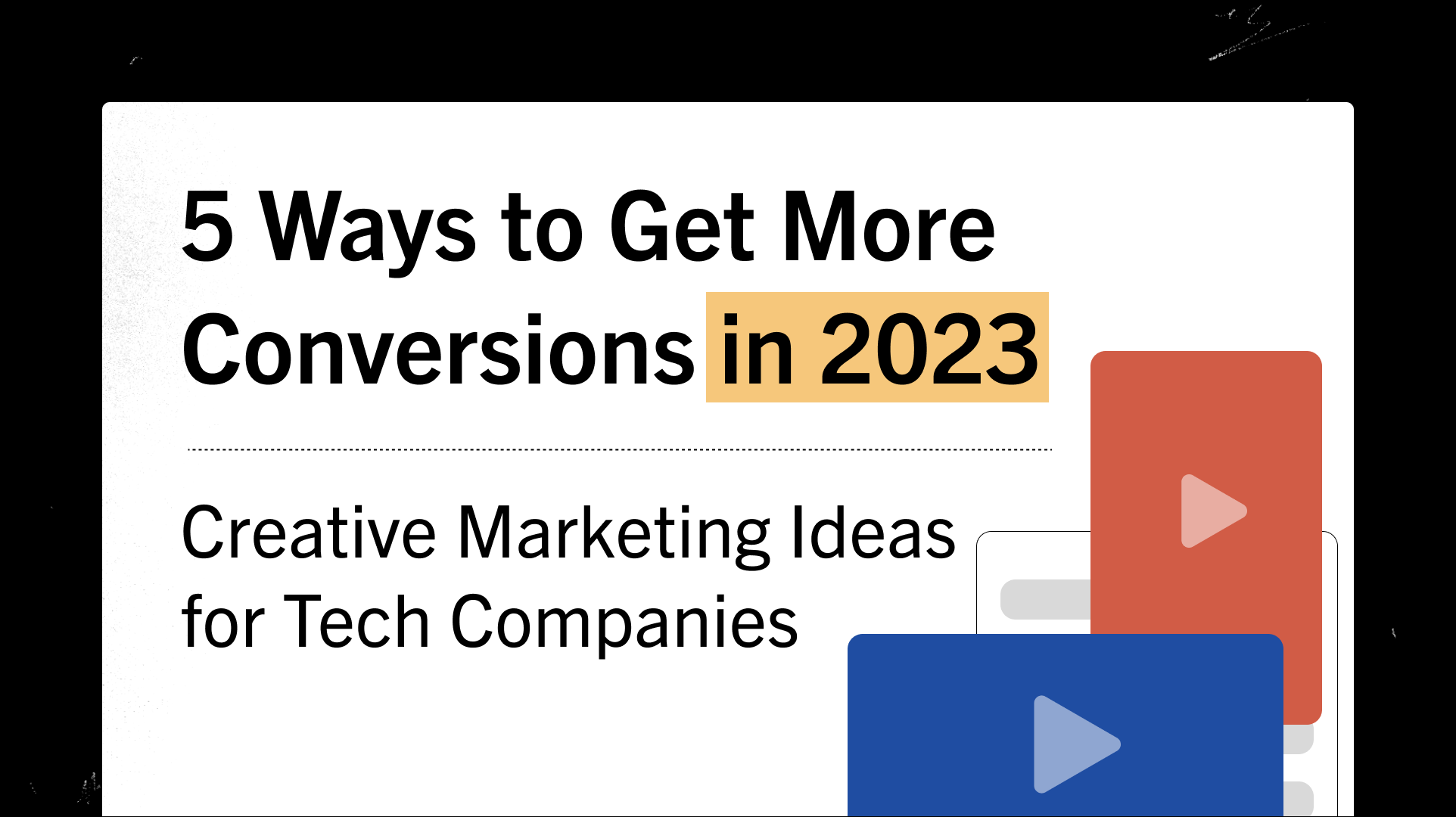 Content Marketing
5 Ways to Get More Conversions in 2023: Creative Marketing Ideas for Tech Companies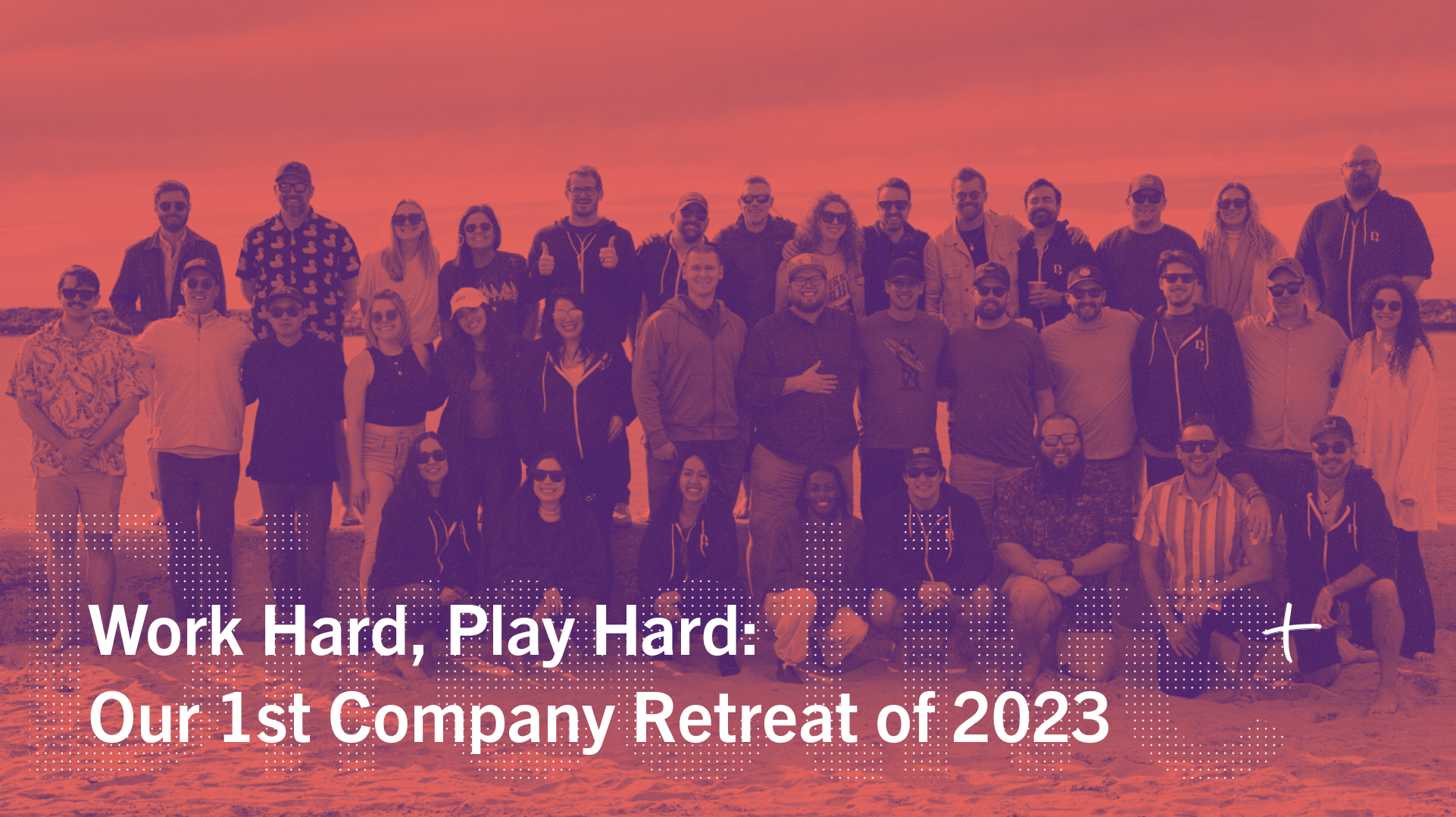 Events
How to Host Impactful Company Retreats as a Remote Team