Ahrefs vs SEMrush – What's Best for You?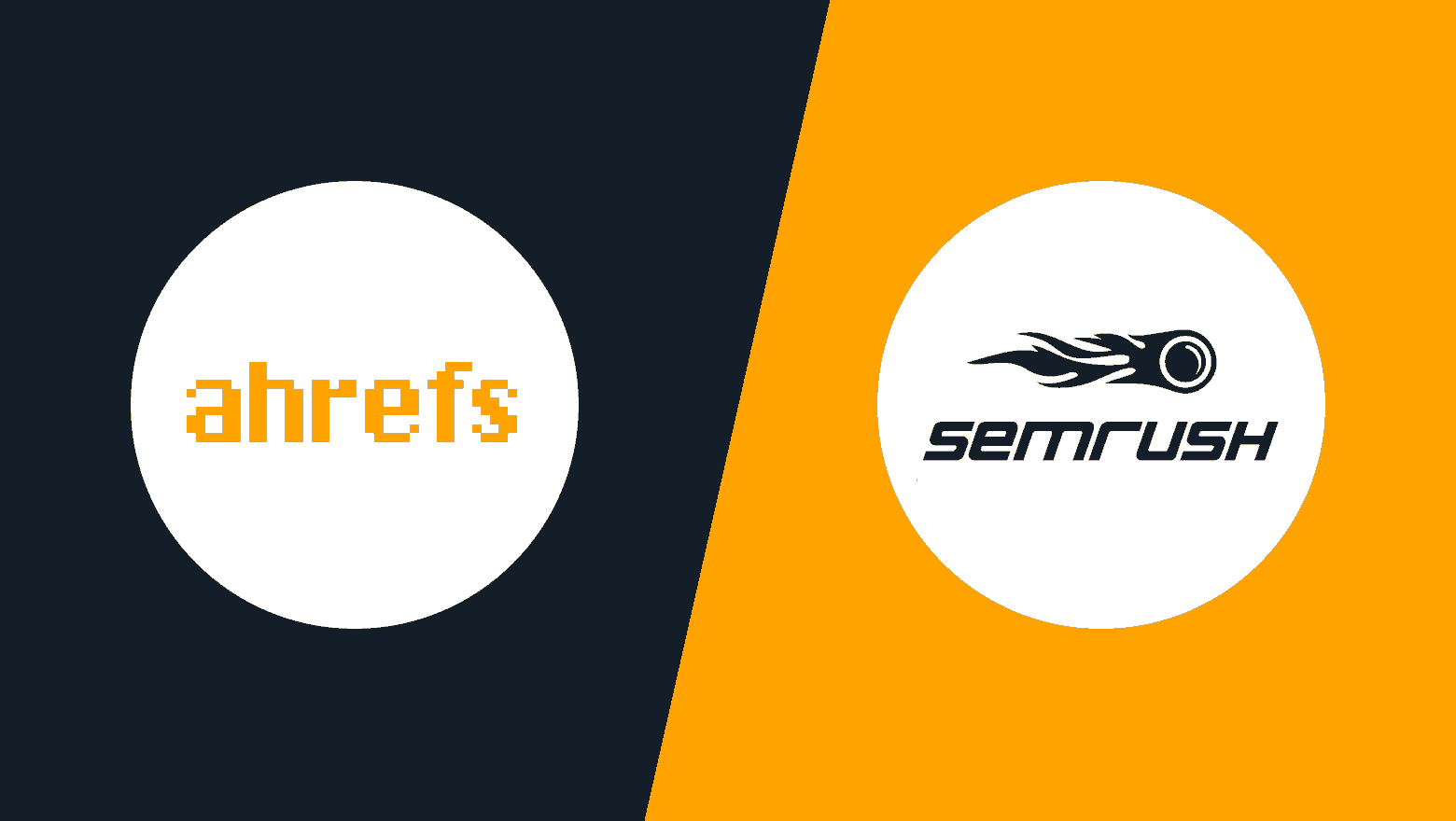 Need to decide between Ahrefs vs SEMrush to power your digital marketing campaigns?
Ahrefs and SEMrush are two of the best all-in-one search engine optimization (SEO) software solutions. Digital marketers around the world rely on Ahrefs and SEMrush to support critical SEO activities such as keyword research, link-building, technical SEO auditing and gathering competitive intelligence. Wether you are a small startup, or an established SEO Agency for SaaS, these tools have become necessary to incorporate into your workflow.
While there is a significant overlap in functionality between SEMrush and Ahrefs, each of these SEO tools brings something unique to the table that enhances its appeal for digital marketers.
In this article, we'll help you make sense of the differences between Ahrefs vs SEMrush so you can choose the best option to power your business. We'll compare the most important features of each of these tools so you know exactly what to expect when making your decision. At the end, we'll give our final word on how to choose which option is best for you.
Comparing Ahrefs vs SEMrush
To help make this comparison as fair, balanced and useful as possible, we've adopted a simple rating system to evaluate the merits of Ahrefs vs SEMrush. We will analyze these tools across five different feature categories that are most important for digital marketers working to climb in the search engine results pages (SERPs).
With a total of 100 points up for grabs, we've divided our comparison into five categories that will each receive equal weighting. We're awarding 20 points each for the first four categories, as they make up the core features of both SEO tools. We'll also award a maximum of 20 points for the pricing and overall value provided by each tool. Our five categories are:
Keyword Research Utility (20 points maximum)
Competitor Intelligence & Analysis (20 points maximum)
Link Monitoring & Research (20 points maximum)
Technical SEO Audit Capabilities (20 points maximum)
Value & Pricing (20 points maximum)
If you disagree with our rating system, we'd love to know how you would improve it. We tried to focus on features because factors like user-friendliness or ease-of-use can be interpreted subjectively and vary from person to person. Is there anything else you would have liked to see included? Tell us!
Now that we've taken care of the details, let's compare Ahrefs vs SEMrush across our five categories and see who comes out on top!
Ahrefs vs SEMrush: Keyword Research Utility
Keywords are one of the most important components of an effective SEO campaign. Digital marketers use keyword research to determine how members of a target audience are searching for their products or services and how to optimize content to reach that audience through search engines.
Digital marketers use keyword research functionality to find and assess the profitability of keywords to optimize their website and campaigns around. Every digital marketer should try to become an expert on how to do keyword research for SEO.
What's the Same?
Ahrefs and SEMrush both scrape millions of web pages on a daily basis to provide their users with the latest relevant search data with respect to individual keywords. Each one includes a keyword research tool that reveals global search volume, average cost-per-click, overall competition/difficulty, trend data, and loads of other useful information for any keyword users' input.
Image: SEMrush Keyword Overview
While both tools offer a data-based overview of any keyword, digital marketers can also use either Ahrefs or SEMrush to explore new keywords and discover long-tail keyword variations. Both tools are equipped to suggest additional keywords and both allow digital marketers to create, save and export lists of target keywords. Note that Ahref's Keyword Explorer and the Keyword Magic Tool offered by SEMrush are similar tools with different names. They both support keyword discovery and allow marketers to create and segment lists.
Overview: Ahrefs Keyword Explorer
What's Different?
Ahrefs uses Clickstream data to generate its reports on web search traffic. Clickstream data is collected from real user interactions, so Ahrefs has a strong reputation for providing the most accurate information compared to its competitors. Ahrefs also has access to some interesting data points because of its relationship with Clickstream, including the average number of clicks per month on searches for a target keyword and which keywords get the most repeat searches.
Image: Ahref "Clicks" Metric
SEMrush offers a keyword difficulty analysis tool that supplies additional information on keyword competitiveness and how the SERPs are listing results for target keywords.
Score:
Ahrefs: 19/20
SEMrush: 18/20
Both offered great tools and something unique, but Ahrefs Clickstream data and extra analytics make it a slightly more reliable option.
Ahrefs vs SEMrush: Competitor Intelligence & Analysis
There can only be one domain at the top of the SERPs, and if you want it to be yours then you should probably start by figuring out what's working for your competitors.
Competitor intelligence is an important aspect of SEO optimization because it is much easier to replicate strategies that work for others than to reinvent the wheel and try to create a brand new strategy of your own. Digital marketers also need to know what keywords their competitors are ranking for, how high they're ranking in the SERPs for each keyword and where they're getting links from.
With this knowledge, marketers can develop SEO strategies to compete either directly or indirectly for increased organic search traffic.
What's the Same?
SEMrush and Ahrefs provide many of the same competitor research functions. Digital marketers can enter any URL into either tool and see a full breakdown of search data for that domain, including what keywords it ranks for, total search traffic, and how many Google search features that domain is currently included in.
Image: SEMrush Organic Competitor Research
Both platforms also supply competitor analysis tools that facilitate direct comparisons between domains across various metrics. SEMrush offers Keyword Gap and Backlink Gap analysis tools that make it easier for marketers to assess how the keyword coverage or backlink profile on their domain compares with the domains of the competition.
Image: Ahrefs Competitor Research Tools
What's Different?
Ahrefs and SEMrush each bring something unique when it comes to competitor analysis. For SEMrush, it's the branded Keyword Gap and Backlink Gap tools. These tools include cool visualizations like the Venn diagram in the image below which shows the overlap in keyword targeting between 3 competing websites.
Image: SEMrush Keyword Gap Tool
For Ahrefs, the competitive advantage for competitive analysis comes from advanced metrics. Users can pick their five biggest competitors and automatically monitor them using the Ahrefs Rank Tracker tool, keeping track of their search traffic, SERP features and overall ranking progress. Metrics like CPC, clicks, return rate and more are also available for competitor domains.
Image: Ahrefs Competitor Metrics
Score:
Ahrefs: 17/20
SEMrush: 17/20
Both tools had strong features in this category and covered all the basics. We love SEMrush Gap analysis tools but we were equally impressed by the additional metrics and monitoring that Ahrefs offers.
Ahrefs vs SEMrush: Link Monitoring & Research
Backlinks are the most important component of off-page SEO and the largest single factor that determines the likelihood that your content will perform well in the SERPs. By analyzing competitors' backlinks, digital marketers can work out which types of links are having the biggest impact and discover new opportunities to generate backlinks of their own.
What's the Same?
When you first look around Ahrefs for a backlink analysis tool, it's not immediately obvious where to find it. But once you open the Ahrefs Site Explorer tool, you'll find one of the most powerful backlink analysis tools available. Ahrefs users can type in any URL to get a list of backlinks and referring domains for that URL. Marketers can also look into referring IPs, investigate internal backlinks and segment backlinks by new, lost or broken.
Image: Ahrefs Backlink Research
SEMrush provides many of the same features as Ahrefs when it comes to backlink research and monitoring. Users can access backlink analytics on any URL just by typing in the domain name and there's also a backlink audit feature that's useful for disavowing bad or toxic links.
Image: SEMrush Backlink Analytics
What's Different?
The biggest difference between SEMrush and Ahrefs when it comes to backlink research is that SEMrush provides a backlink management interface that digital marketers can use to track their backlink acquisition efforts. SEMrush users can conduct backlink research to find the best targets for outreach, then use the link building tool to set up and track outreach campaigns to get more backlinks.

Image: SEMrush Link Building Tool
For Ahrefs, the key differentiator is that it has the fastest backlink crawler and an index of over 14 trillion links to pull data from.
Score:
Ahrefs: 18/20
SEMrush: 20/20
Ahrefs and SEMrush are probably the two best backlink research tools available. We gave SEMrush a perfect score on backlink research because they cover all of the most important research while providing a link building tool as an extra feature. Ahrefs also scores highly for its incredible volumes of accurate data.
Ahrefs vs SEMrush: Technical SEO Audit Capabilities
Technical SEO is something that digital marketers simply have to get right. For a page to rank successfully, it has to be technically optimized so that Google's web robots called crawlers can read and understand the content. Technical optimization also includes things like mobile responsiveness and page speed that impact user experience with downstream effects on overall search rankings.
What's the Same?
Ahrefs and SEMrush both offer a largely automated technical SEO audit tool. These tools will crawl every page of your website and give you feedback on improvements you could make to optimize technical SEO. They include things like deleting zombie pages, fixing broken links or redirects and making sure all pages of your website are easily discovered by crawlers.
Image: Ahrefs Site Audit Results
In the image below, you can see that SEMrush takes a user-friendly approach to present the results of technical SEO audits. Digital marketers receive a simple percentage score for site health and while there are thousands of notifications generated, SEMrush picks out the top issues and displays them in a simple actionable list.
Image: SEMrush Site Audit Results
What's Different?
Honestly, not much. Besides some subtle differences in the presentation of data and reports, Ahrefs and SEMrush are quite similar when it comes to technical SEO auditing.
Score:
Ahrefs: 18/20
SEMrush: 19/20
Despite similarities here, we're giving SEMrush a slight edge. We like how the top issues are presented and overall the user interface feels cleaner and easier to use.
Ahrefs vs SEMrush: Pricing
Ahrefs and SEMrush offer a robust feature set that's useful for everyone from freelance digital marketers to Fortune 100 companies. Here's a quick summary of the subscription options offered:
Ahrefs Subscription Options:
Lite: $99/month (1 user)
Standard: $179/month (1 user)
Advanced: $399/month (3 users)
Agency: $999/month (5 users)
SEMrush Subscription Options:
Pro: $99.95/month (1 user + $70/month per additional user)
Guru: $199.95/month (1 user + $140 per additional user)
Business: $399.95/month (1 user + $140 per additional user)
Enterprise: Available upon request.
Score:
Ahrefs: 13/20
SEMrush: 13/20
While Ahrefs and SEMrush are two of the leading SEO tools available, there are other competitive products with lower subscription costs, comparable features, and whose monthly fees are not so closely tied to the number of users. Both Ahrefs and SEMrush are great value, but their high-end subscription costs may deter smaller businesses who might use the tools just occasionally but would still benefit.
Ahrefs vs SEMrush: Final Score
Thanks for making it this far with us!
We reviewed the final scores for our comparison and here's what happened: SEMrush wins!
SEMrush and Ahrefs are equally fantastic for competitor analysis roughly the same price. While Ahrefs was the obvious best choice for keyword research, it came up just short in the technical SEO and link monitoring categories – but not by much at all.
The final score was…
SEMrush: 87
Ahrefs: 85
Summary
This is one of the closest comparisons we've done between two all-in-one search marketing solutions that are at the top of their niche. We were impressed by everything that SEMrush and Ahrefs had to offer and we'd gladly recommend either tool to digital marketers looking to improve their content marketing and dominate the search results.