5 B2B Marketing Strategies to Show Up on the First Page of Google without Ranking Organically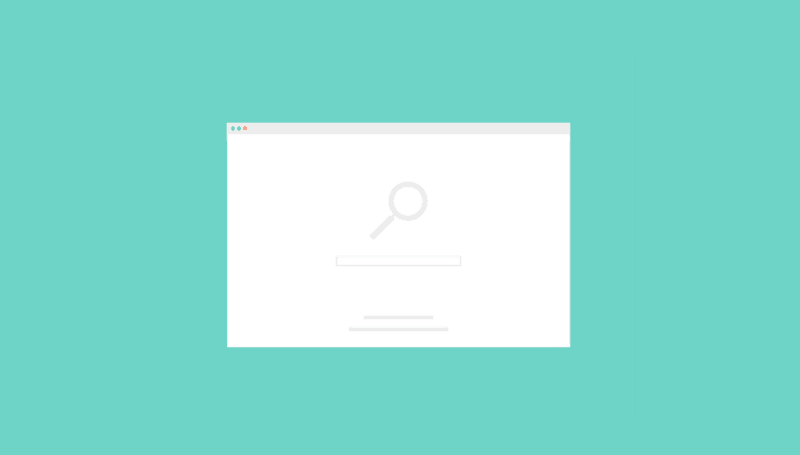 There are absolutely no guarantees with SEO.
You could spend thousands of hours (and dollars) trying to organically rank for big keywords and still find your website stuck in the SERP swamps.
Not every company has the kind of time and resources to sink into SEO, anyway.
The reality is that unless you're already one of the biggest, baddest brands out on the market, you're probably not going to rank on the first page.
That's harsh but true.
So if you're trying to rank for the biggest, baddest keywords to rank for – forget it.
Millions of other sites are trying to do the same thing, and the odds probably aren't in your favor.
But that doesn't mean hope is lost. You just need to change your B2B marketing strategy.
There are ways you can rank on Google's first page (just maybe not with all that organic, natural, gluten-free traffic you were hoping for).
Why It's Nearly Impossible to Rank Organically
Search engine marketing is more than just organic traffic.
Organic traffic relies heavily on keyword formulas. But massively popular keywords are also massively competitive.
These tend to be something like "best + keyword" or "top + keyword" or even "keyword + review."
For example, look at the types of businesses that rank for "best email marketing software":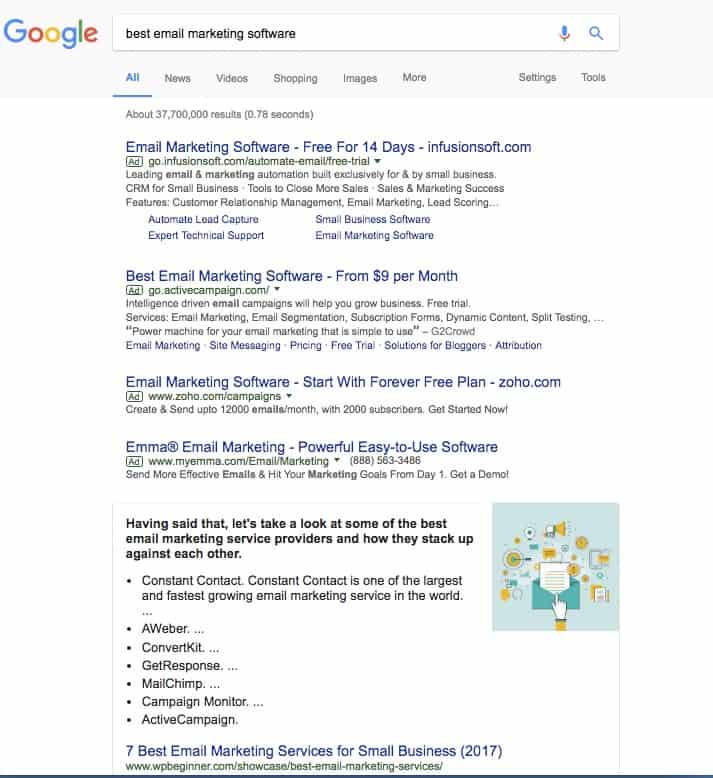 You will notice there are over 37 million hits for that search alone. The first four results are paid ads, followed by a rich snippet.
If you scroll down a little further, you will notice that the rest of the organic results are reviews.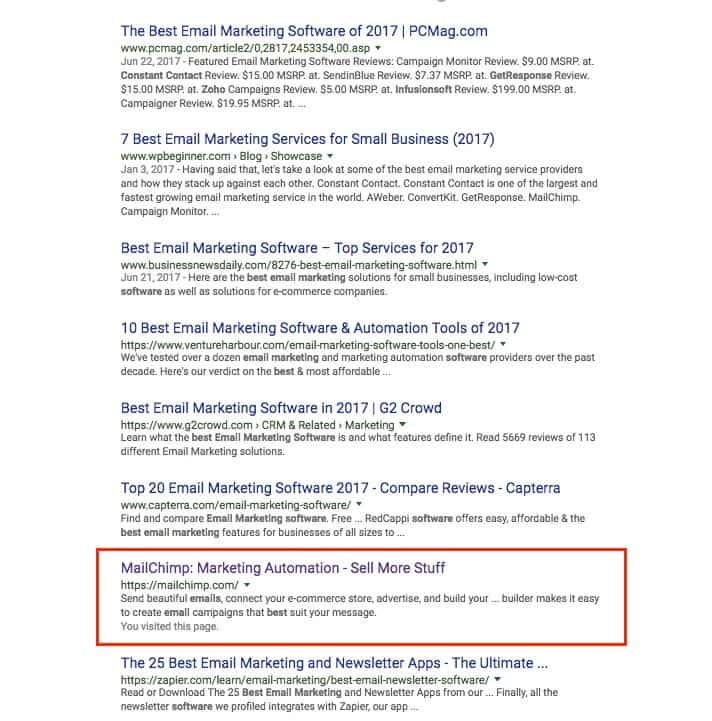 The first instance you get of a real email marketing company is near the bottom of the first page.
And guess what? It's MailChimp, one of the biggest B2B email marketing companies out there.
So the chances of your business ranking anywhere close to a keyword like this are nil.
The reason for this is two-fold:
Your site probably hasn't been around long enough and doesn't have the authority

The competition for your chosen keywords is too high
You always have the option of trying to rank organically for smaller keywords, of course. You should still target long-tail keywords whenever possible.
But that also means you risk missing major sales from companies looking for big businesses that come with big keywords.
So are you totally screwed over if you can't rank organically?
Of course not. Take another approach with your B2B marketing strategy.
Here's what you need to do instead:
1. Launch a Paid Search Campaign
Money is always the answer to shortcut a lot of SEO problems.
You will notice that Google's first page results are often riddled with paid ads. A search for "email campaign software" turns up four ads almost immediately.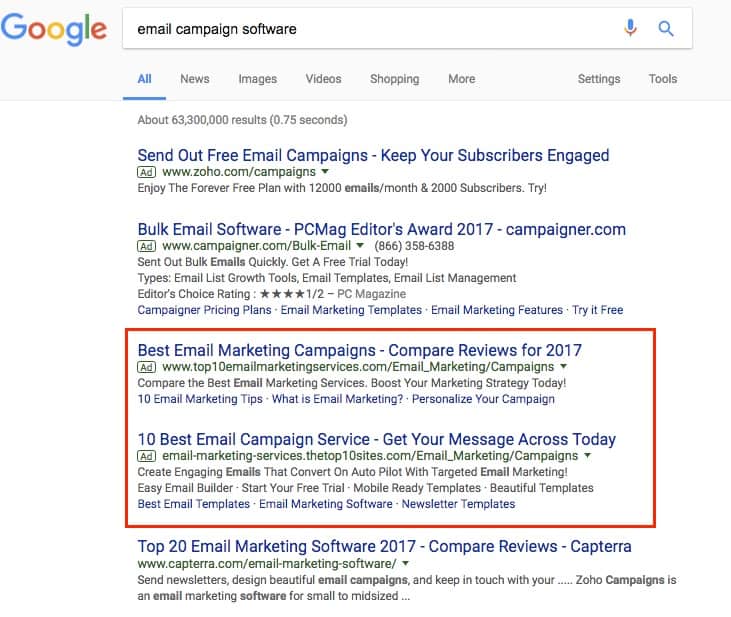 But you'll notice that not all the ads are from large companies. Sure, you have Zoho and Campaigner in there, some of the top-rated ones in the business.
However, you also have links to lesser-known review sites, too (we'll get to those in the next point).
The perk of paid campaigns is that you don't need to wait to get onto page one.
As opposed to organic optimization, which requires long-term link building and improving the keyword orientation over time, PPC is different.
Sure, you may have to shell out some money to net the bigger keywords, but even if you're going after less competitive keywords, you still have an advantage.
It's a quick fire way to get ranking on a higher page of SERP.
PPC also gives you a way to track your results in a way that organic link building doesn't.
You know your Cost Per Click and your Cost Per Acquisition.
PPC metrics are thankfully transparent. You can immediately see what's working, what's not, and what you need to do to improve.
So if you're not sure you have the ability to rank organically, dip your toe into the water with paid search.
2. Use Strategic Digital Placements
Digital placements offer another workaround if you don't want to spend a ton of money on paid campaigns.
These influential third-party sites often fall somewhere between paid and organic results.
For example, they're commonly directory and review sites, like Yelp and Clutch, that function almost like mini-SERPs.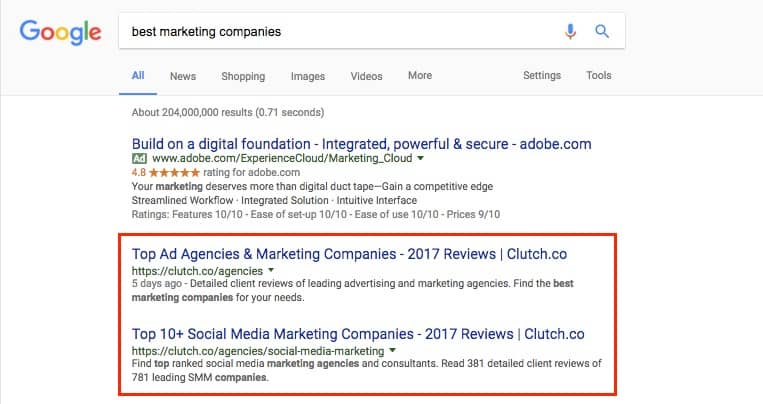 Instead of attempting to rank directly on Google, you can submit your company information to directories and review sites because they've already done the work for you.
Then you can optimize your presence on those sites to pull in more interested prospects who're evaluating their options.
The biggest benefit to this is that you can rank without actually having to rank.
The second benefit is that it's far more cost effective than paid ads.
The third benefit is comparison shopping. Customers can see how you stack up against your competitions in a way they can't with Google search results.
This is especially true if you're at the top of the directory's list.
It's also far easier to get reviews from these sites which then helps boost your conversions, too.
In fact, one Avanade study found that 61% of B2B buyers look to third-party review sites before approaching a business.
Another study done by Clutch found that the quantity of reviews on these sites directly correlates to traffic, noting, "Each additional review added slightly less than 20 monthly views to a company's profile."
In short, if you can't rank on Google, rank on a directory that already ranks on Google.
3. Get Your Images on the First Page
Images also play a big role in Google's SERPs.
Google Image Packs are image results displayed as a horizontal row of visual links that click through to a Google Images search. Like so: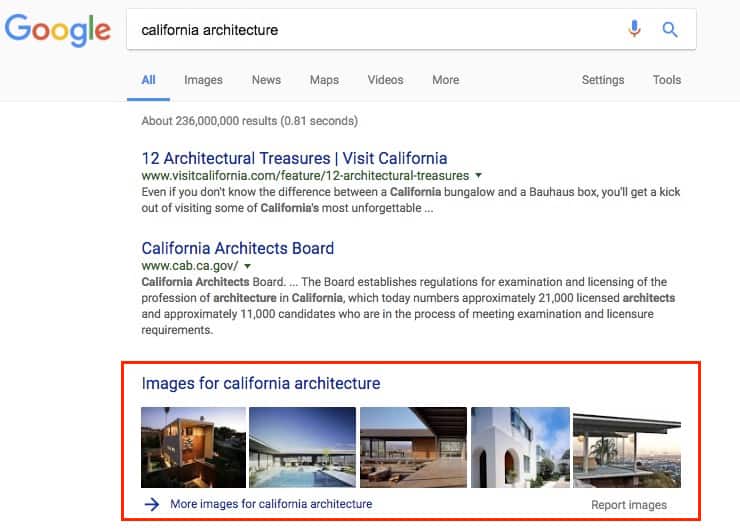 They usually appear in searches where Google deems that visual content is valuable.
Statistically, a third of all searches performed in Google are for images, and 12.5% of SERPs show Image Pack results.
The trick is that you have to be in a highly visual industry – think commercial photography, real estate, and so on – to really rank for these.
A workaround for B2B companies (especially eCommerce ones) wanting to take advantage of something similar to Image Pack is to submit products to Google Shopping.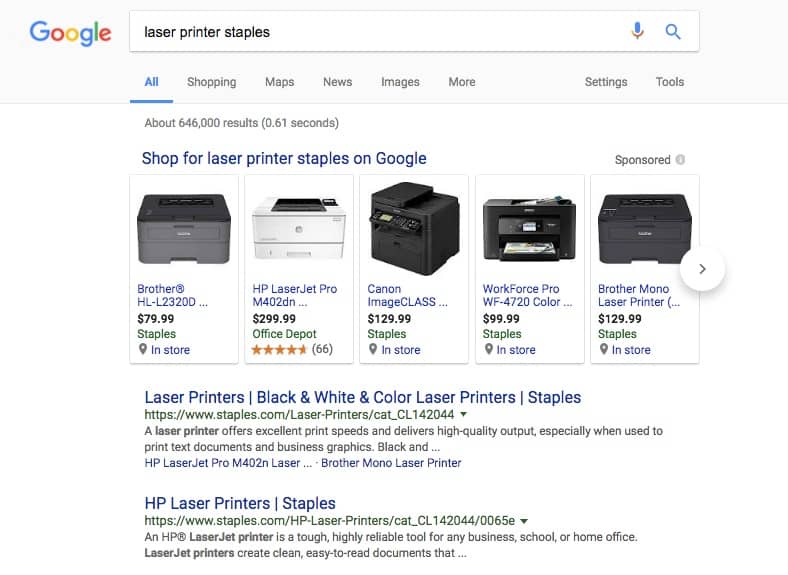 This has a similar result for SEO in that your product images are front and center.
There's also a few other things you can do to ensure your shopping images appear front and center, like optimizing your product feed and utilizing keyword research to rank for your desired products.
Optimizing shopping campaigns isn't easy. But it's one of the best ways to cut to the front of the line and dominate SERPs that you'd otherwise have no business showing up on.
4. Generate Some News (Google News)
As they say, there's no such thing as bad press. Except maybe no press, that is.
In addition to rich snippets and paid ads, Google has also been adjusting their algorithms to feature links to sites that appear in the news (or generate their own news).
The Google News result block appears when you search for brand mentions or trending topics.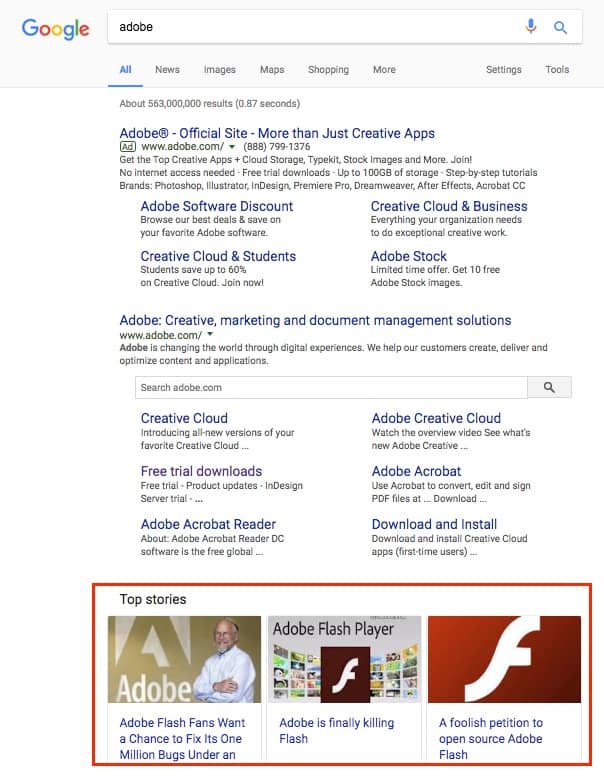 These news block can have up to three links with the first link often enhanced by a thumbnail image.
This can be an excellent tool for B2B companies that regularly publish content, news and updates about their company, or are featured in the news in one way or another.
Becoming a Google News publisher yourself isn't easy. So once again, think outside the lines.
Let's repeat the strategy you just used for digital placements above.
Find out who already is a Google News publisher in your space. Do a few searches and see whose content is already showing up. Then you can track down those individual journalists writing each piece to pitch your next great campaign.
5. Videos
If you really want to go the extra mile to rank, try video.
Videos already make up 64% of all Internet traffic and are predicted to grow to 80% by 2019.
Emarketer estimates that $14.38 billion is spent on video advertising, with a mobile growth rate of 65% annually.
The best strategy is to use videos specifically for ranking on Google's SERPs.
Here's what I mean.
Basecamp and other SaaS or B2B software companies will create video tutorials that answer the questions people are already typing into search engines.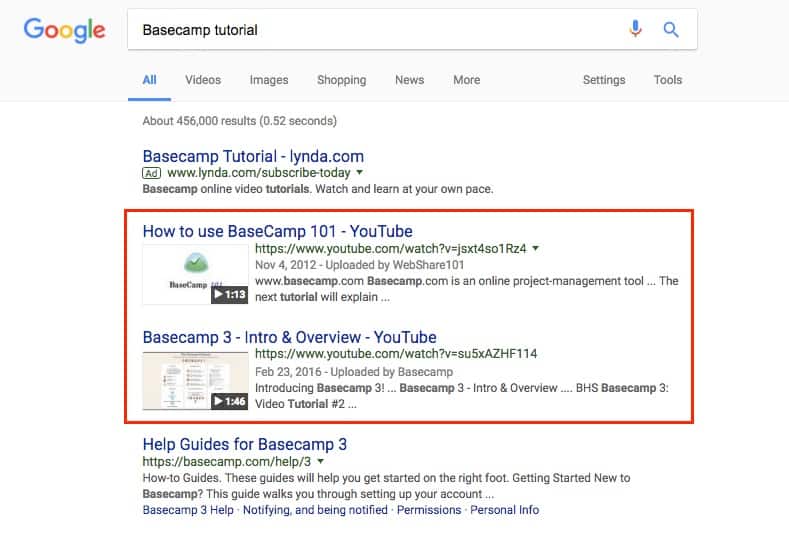 This means including videos on landing pages that target specific terms, the same way you would with keywords. Only, in this case, you're more likely to rank for video search terms organically.
People are already asking these questions. Your customer service department is one of the best places to start.
And then you can expand those initial ideas to the following keywords so that you're more likely to rank:
Tutorial

Review

Test

What is

How to

Demonstration

Explanation

Video
When looking to produce videos, you want to make sure that you're making videos that add real value, though.
You don't just want a giant ad for your business because there's bound to be less interest (no offense).
If you're an ecommerce site, consider doing product demos and reviews.
In addition to posting videos on your own site, you should definitely create a YouTube channel if you're going with this approach.
Google owns YouTube. It's the second largest search engine and the third most visited site next to Google and Facebook.
So if you're looking to rank on Google, YouTube is one of the best stepping-stones to get there.
Conclusion
Look, ranking on Google's homepage organically is tough.
And it's probably downright impossible for the biggest key phrases in your industry.
Those are already dominated by the biggest companies in the world spending millions on advertising and promotion.
That's OK, though.
There are fortunately a few options still available to you.
The trick is to change the rules of the game. Don't compete head-on with these behemoths.
Go around them. Change up your B2B marketing strategy.
Launch new paid campaigns to dominate the first few positions. Get listings in all of the prominent digital placements that are doing the hard work.
Get your campaigns in the news, use shopping campaigns to monopolize image search, and make videos to answer the questions your customers are already asking.
Attack your rankings from all angles, and you stand a much better chance of showing up on that coveted page one.
Keep reading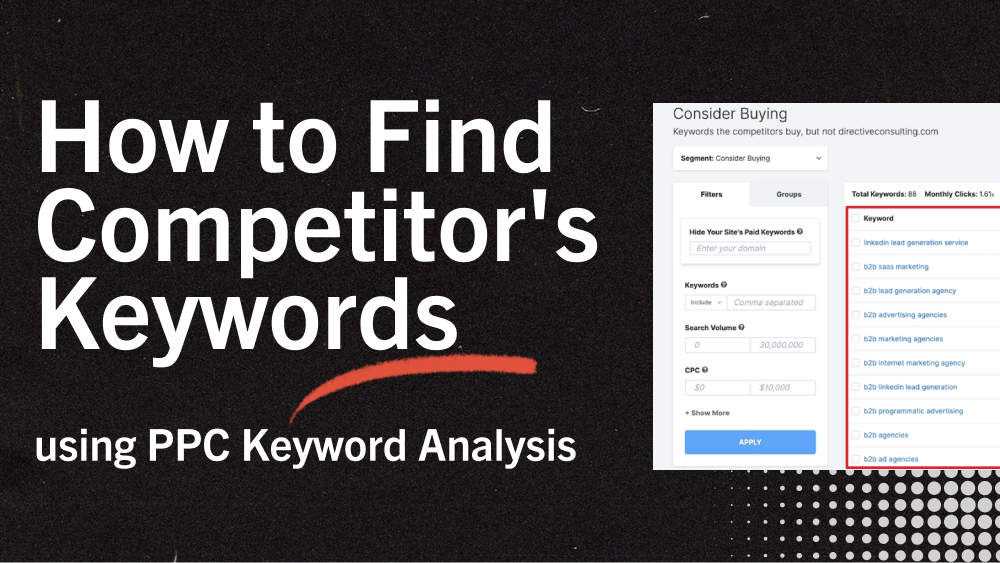 PPC
How to Find Competitor's Keywords with SpyFu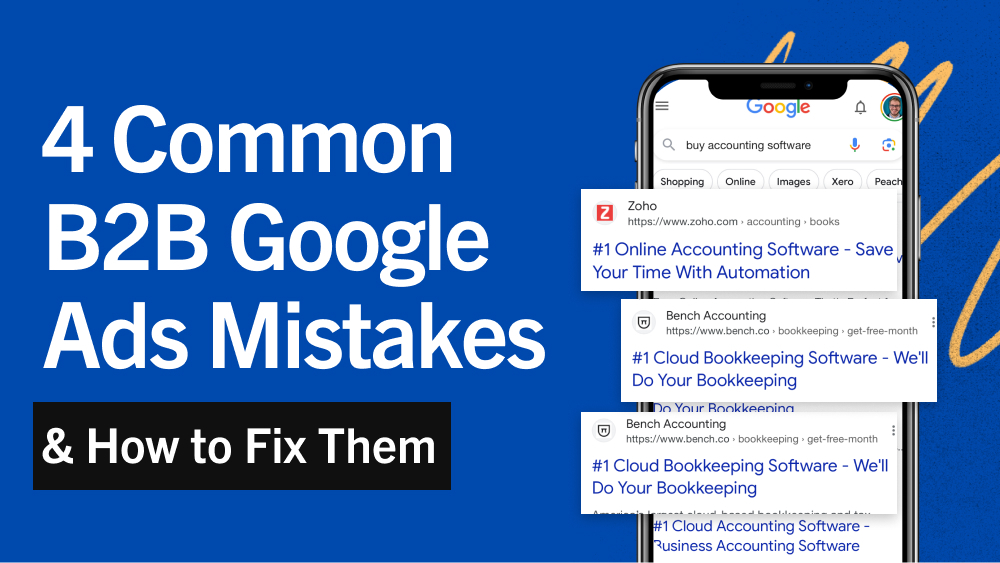 B2B
4 Common B2B Google Ads Mistakes and How to Fix Them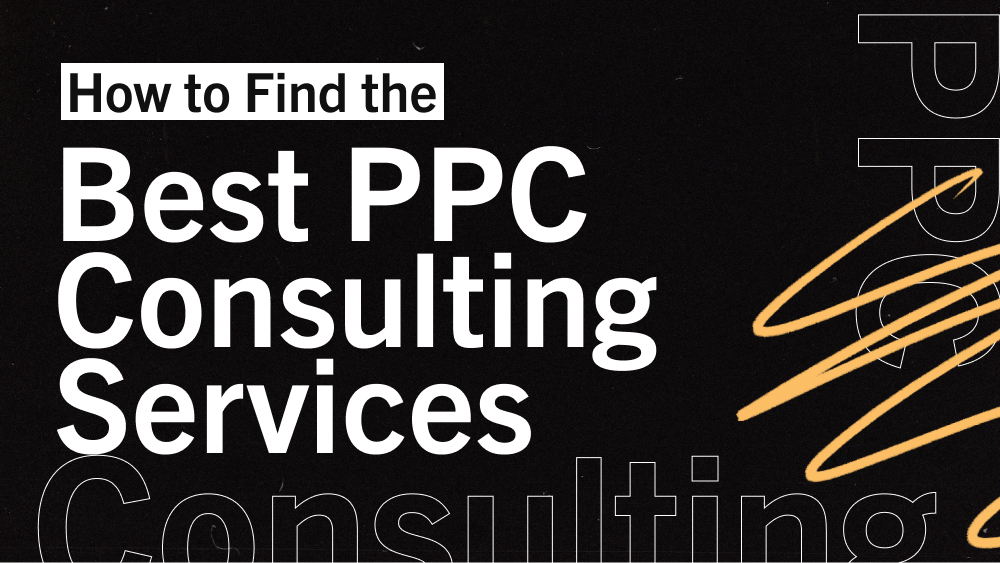 Agency Life
How to Find the Best PPC Consultant Services