Top 12 Call to Action Examples to Improve Conversions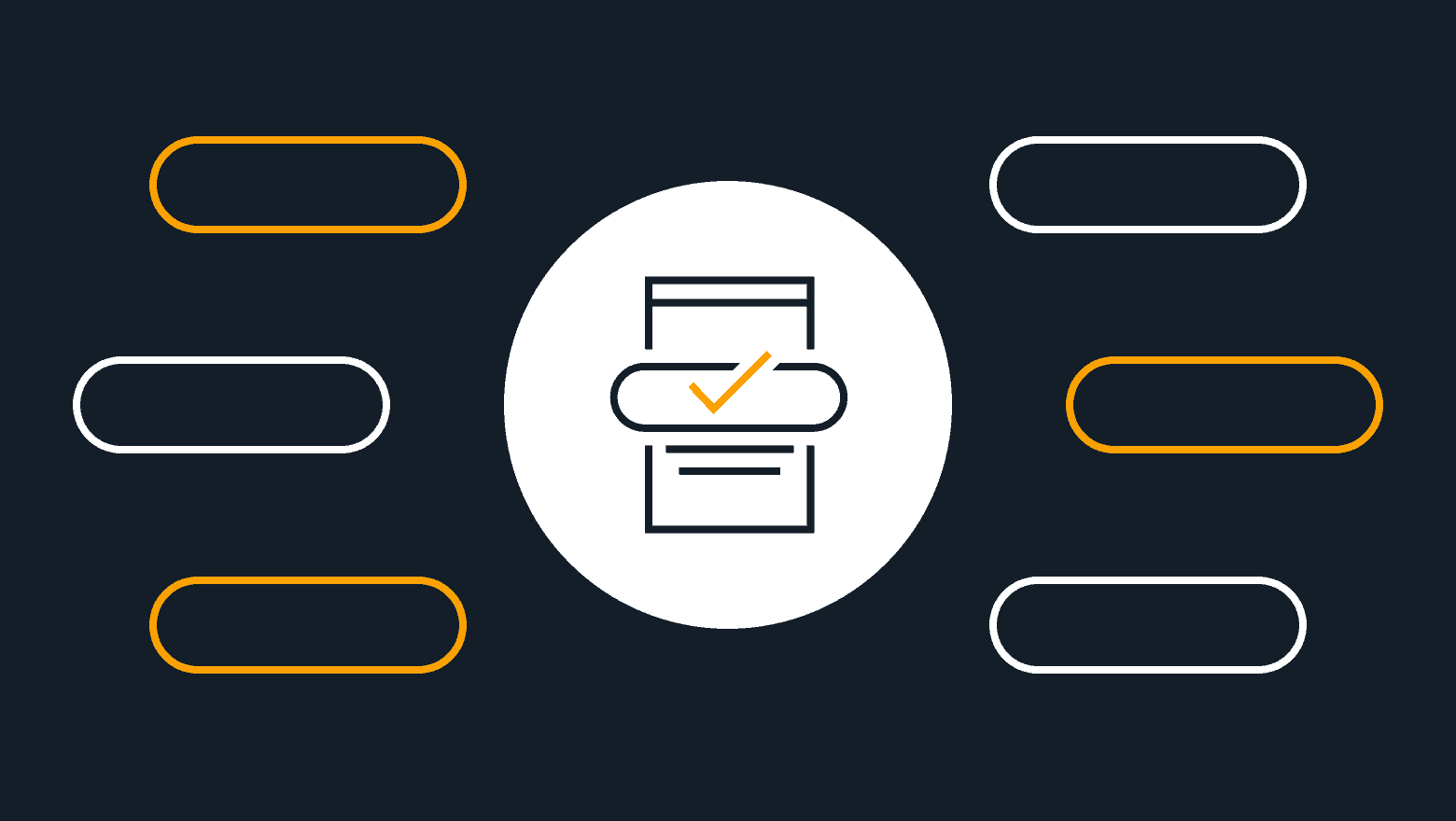 Looking for some call to action examples to help you optimize your landing pages?
To get the most value for their marketing efforts, digital marketers must carefully optimize their landing pages to increase conversions and drive campaign success. That includes optimizing Call-to-Action (CTA) buttons by testing different variations of CTA copy to determine which one performs the best. A compelling call to action can make the difference between an impression and a conversion, so it's worthwhile to try several variations until you can identify which one performs the best.
As you learn how to optimize a CTA, there's no need to come up with brand new CTA copy from scratch. We'd recommend looking at some common call to action examples on other websites and tweaking them to fit your own campaigns.
To make it easier, we've curated this list of 12 Amazing Call to Action Examples to improve conversions. We hope these examples will inspire you to optimize your landing pages with an amazing CTA.
What is a Call to Action?
In a nutshell, a call to action is a specific type of ad copy that directly tells the reader to do a thing.
What is that thing?
That thing is whatever brings the reader into the next stage of the sales funnel. It could be asking them to purchase a product, to sign up for an e-mail newsletter or to accept a free trial offer.
On your website, CTAs will encourage readers to purchase products and services, sign up for free trials, watch a demo or submit their email address for a newsletter or free download.
While it's possible to set up a generic CTA button that says "Submit" or "Click Here", we think it's much better to customize slightly longer CTAs using the 5 elements of a great CTA.
5 Elements of a Great Call To Action
The entire purpose of a CTA button is to encourage readers to click on it. We need to give readers a compelling reason to take the next step, promise something of value and get them excited. We also need to show or tell them exactly what the next step is to get what we're offering, and we can build trust by being transparent throughout the process. All of these ideas are covered by the 5 elements of a great call to action.
Verb – Verbs are action words. In a CTA, verbs are used either to tell the reader what steps to take next or to describe what will happen when the reader clicks through.
Value Proposition – Readers respond to your CTA because it offers them something of value. That thing could be information, access, or a free sample.
Urgency – A great CTA creates a sense of urgency. The reader should be encouraged to act now – not later.
Convenience – An effective CTA has convenience built into its value proposition. A CTA that promises to deliver the offer quickly and conveniently is sure to convert at a higher rate.
Overcoming Objection/Relieving Anxiety/Reducing Friction – Reducing friction is all about making it as easy as possible for someone to take the next step. That means anticipating any objections or anxieties that readers might have and overcoming them within your CTA.
As we go through the call to action examples below, we'll highlight how they use the 5 elements of a great CTA to effectively communicate with audiences and encourage readers to take the desired actions.
Top 12 CTA Examples to Improve Conversions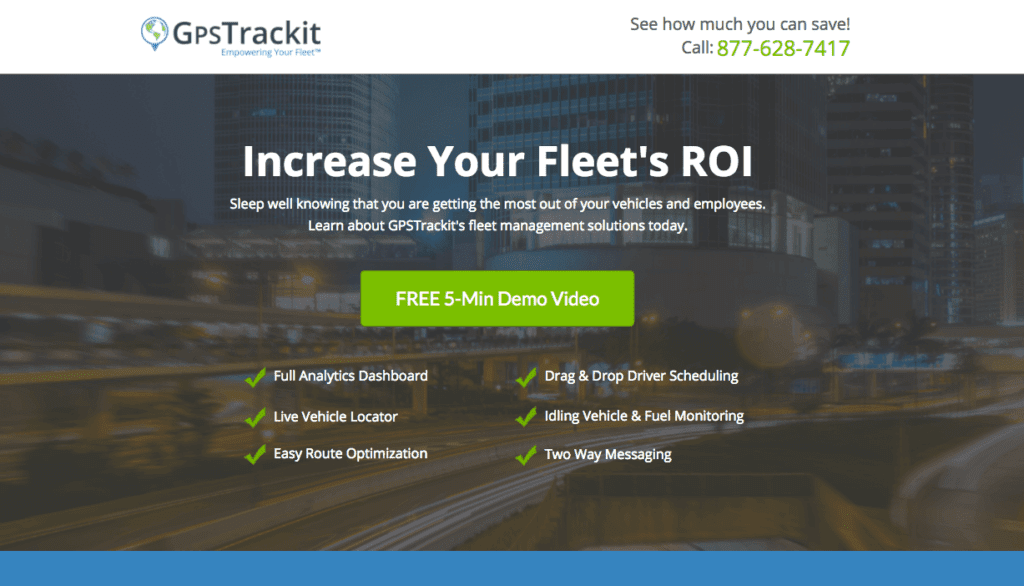 Why it Works:
GPSTrackIt offers a fleet tracking software solution for the trucking industry.
The company uses its website to generate leads for its sales team by offering a free demo. While most SaaS companies have prospective customers schedule a demo with a member of their sales team, GPSTrackIt recognized that scheduled demos are difficult to schedule and rarely bring together all of the decision-makers needed to move forward. By offering a free demo that prospective customers could watch on their own time, GPSTrackIt could get their product in front of more people with less hassle and potentially fill their sales funnel with even more qualified leads.
This CTA button did a great job of communicating with its audiences. The words "demo video" are the value proposition – that's what prospects are looking for, they want to see the platform in action. The CTA also promises that the demo is FREE (removing objections/anxiety) and that it only takes five minutes (convenience).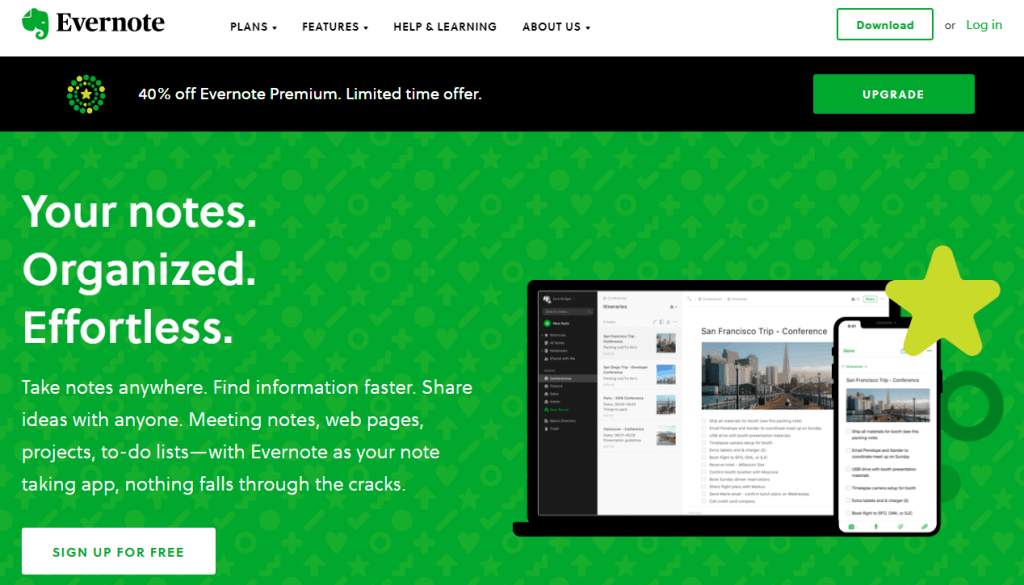 Why it Works: Evernote's home page does a great job of giving users just enough information to want to start using the program. There is a compelling headline and a carefully crafted description that identifies use cases and promises an amazing experience.
The CTA button here tells users to "Sign Up for Free". The value proposition here is free access to the software, which the reader can get by "signing up" (this is the desired action). Letting the audience know that the sign-up is free removes a potential objection. We also like how this page offers a discount on the premium version with an "Upgrade" CTA, which communicates to the audience that they would be paying some money to get a better version of the product.

Why it Works: Netflix knows what users want when they navigate to its website – they want to try out the service for free to see if it's worth subscribing. Netflix also wants users to sign up for its streaming service with their email address, so they've constructed their entire home page around this email opt-in form and "Try It Now" CTA button, which cleverly hones in customer intentions.

Why it Works: Drift's product is a website overlay that lets webmasters or digital marketers communicate directly with users that are browsing their websites through chat widgets.
Drift uses this opt-in form to deliver live demos of its product from its own website – you just type in your business email address and you'll be presented with a mock-up of exactly how the tool looks on your website.
We like this CTA because it hones in on what prospective customers would want to see and creates a value proposition around that. It also feels very convenient, as the CTA implies that you can get access to the demo by providing just your email.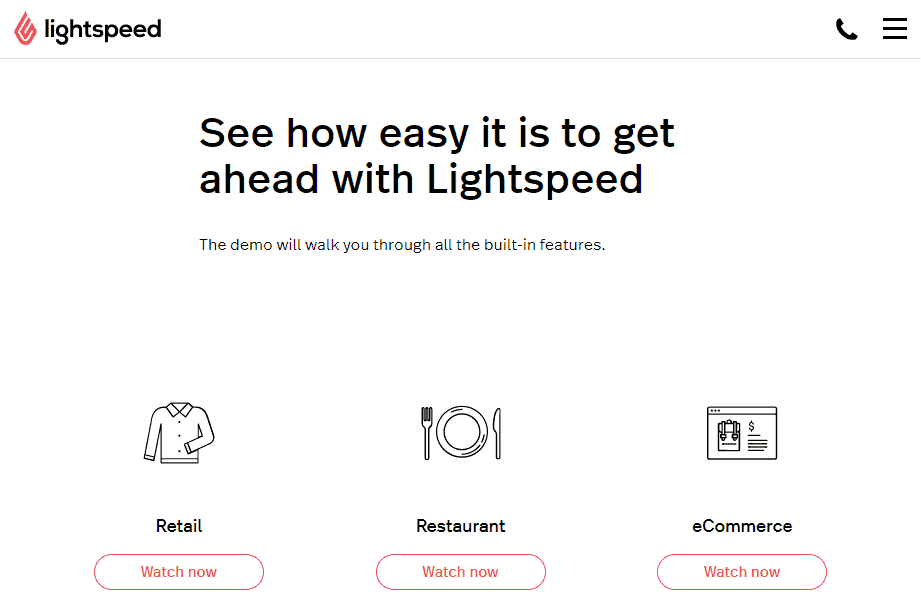 Why it Works: Instead of scheduling live demos, lightspeed makes it ultra-convenient for prospective customers to check out the features and benefits they have to offer.
The "Watch Now" CTA communicates to the audience that they won't have to wait or schedule a demo – these videos are instantly available and will show you exactly what features you can expect and how easy it is to get started.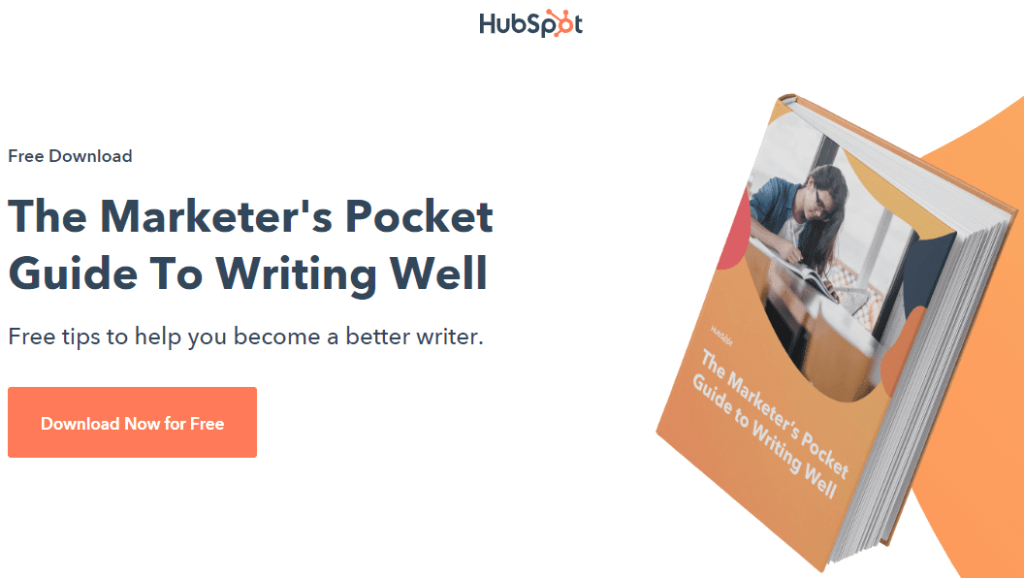 Why it Works: The word "free" appears three times in the sales copy for this HubSpot eBook offer, including in this compelling call to action example. This CTA is full of powerful words that follow the five elements of a great CTA:
Download – this is the verb and the value proposition. The eBook download is what the audience wants.
Now – communicates convenience, promises instant access without any waiting or extra steps
Free – removing anxiety, promises the audience that it won't cost them anything to download the book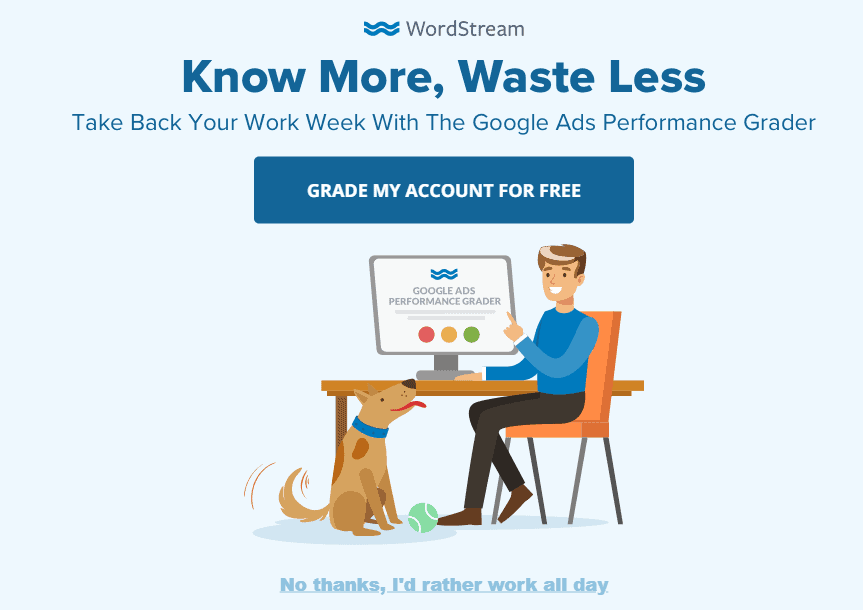 Why it Works: This CTA button is part of a lightbox pop-up campaign featuring on the WordStream website.
This ad is full of clever copy, including the "Close this Ad" button that says "No thanks, I'd rather work all day."
The CTA button here promises major value to audiences, essentially saying that WordStream is going to do their jobs for them by analyzing their Google Ads Performance so they can save time and optimize their ad spending. The word "free" removes an objection by assuring audiences that the account grading is a free service.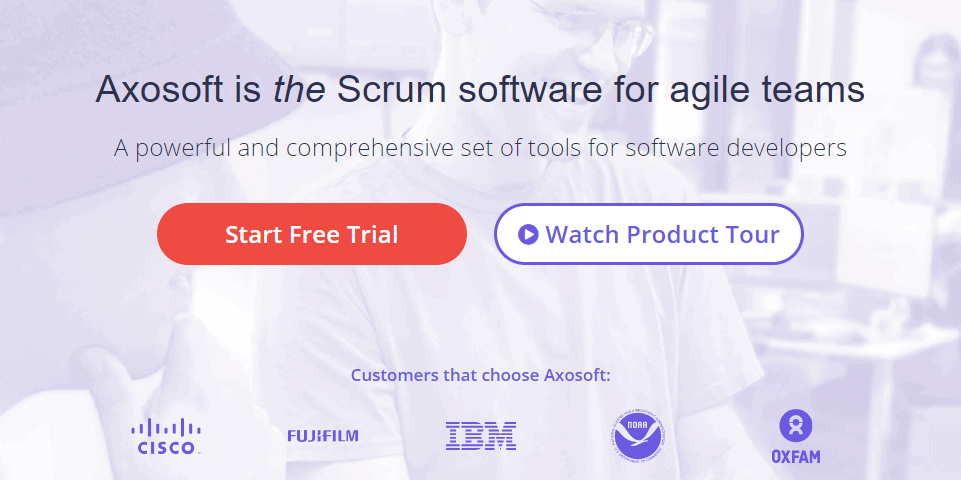 Why it Works: The headline and description here tell the audience everything they need to know about Axosoft. The CTA uses three powerful words to encourage readers to sign up and start using the software:
Start – This is the verb, Axosoft is directly telling the audience to start using its product.
Free – This helps remove objections, Axosoft is telling the audience that they can use the product without paying for it.
Trial – A trial means that audiences will only be able to use the software for free for a limited time. This sets the expectation that the user will eventually be asked to purchase the software.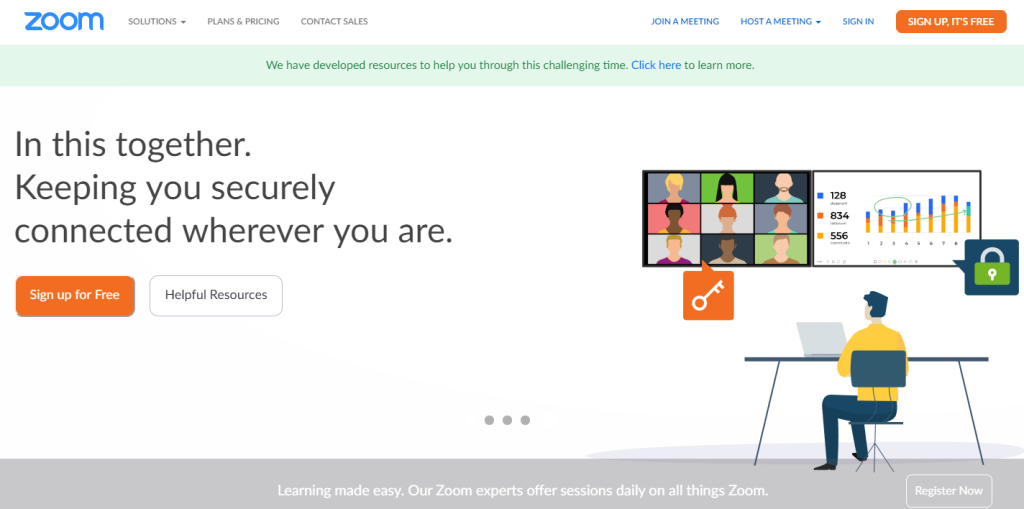 Why it Works: This page does a great job of removing friction and overcoming objections using effective sales copy and CTA buttons.
Readers are encouraged to "Sign up for Free" or to "Sign Up, It's Free" – yes, there are two CTA buttons on this page that address audience anxieties about the cost of the service. Zoom very much wants people to know that they can download the product for free.
The other links that feature prominently here are "Helpful Resources" and a "Register Now" button for daily educational seminars on how to use the software. Zoom positions these links are to reassure prospective users that there are resources and support available to help them get the product working. These factors work together to remove friction and encourage audiences to take the desired action.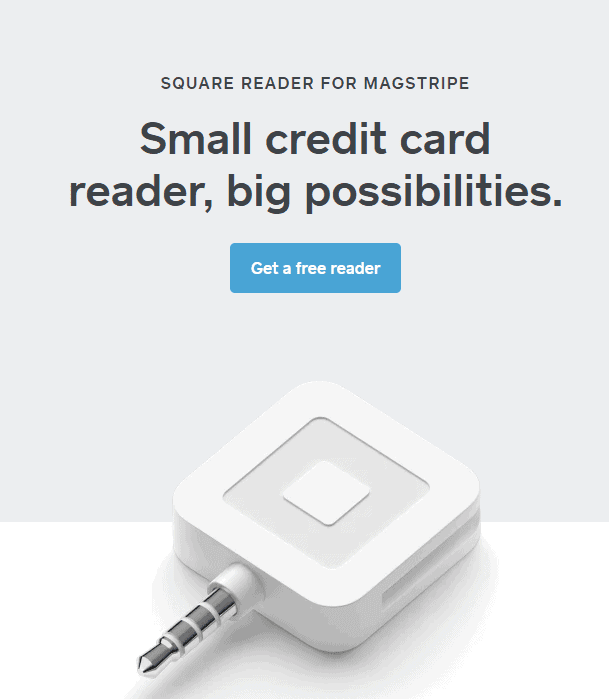 Why it Works: If you're a small business owner, you may have heard that a square reader can allow you to take credit card payments using your iPhone.
If you were interested in that, you might pay a visit to the Square Reader website where you would see this compelling call to action example inviting you to "Get a free reader".
Square crafted this CTA button to tell small business owners in no uncertain terms that the exact piece of technology they need to solve their problems is available for free at the click of a button. This is a great example of communicating a strong value proposition and removing all of the friction to prevent readers from taking advantage of the offer.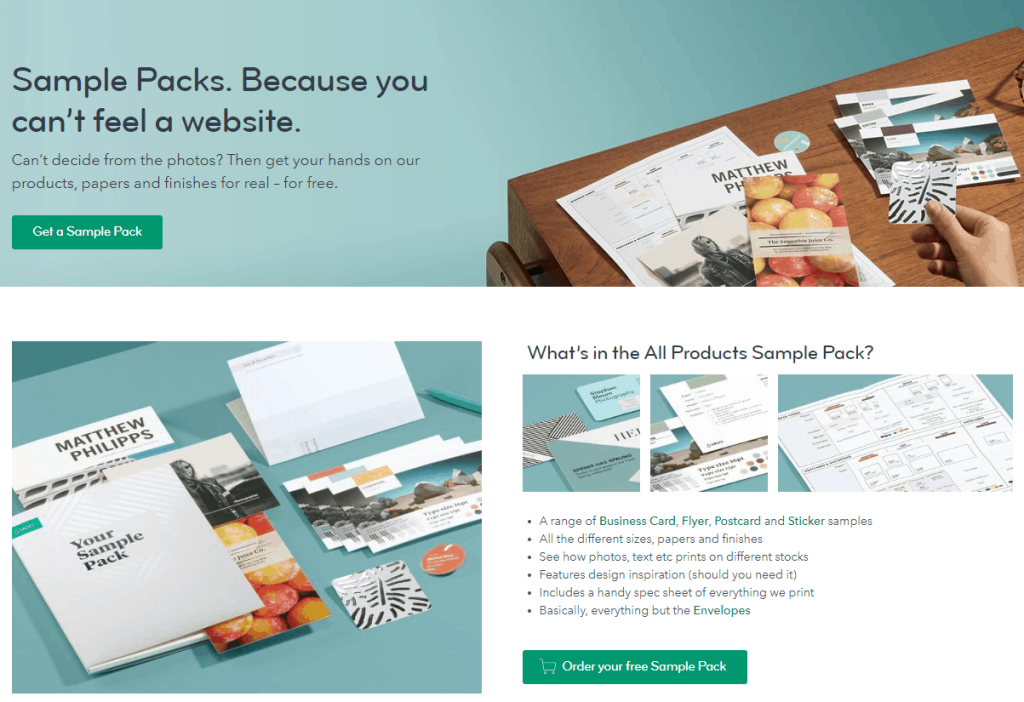 Why it Works: This is one of the most effective and most highly customized call to action examples on this list.
MOO offers printing services for small businesses that need basic marketing and brand collateral to support their businesses.
We love how MOO presented clear visuals of their sample packs on this page and even used the shopping cart icon in their CTA button to tell audiences that they would enter the checkout process for their free sample pack after clicking on the ad.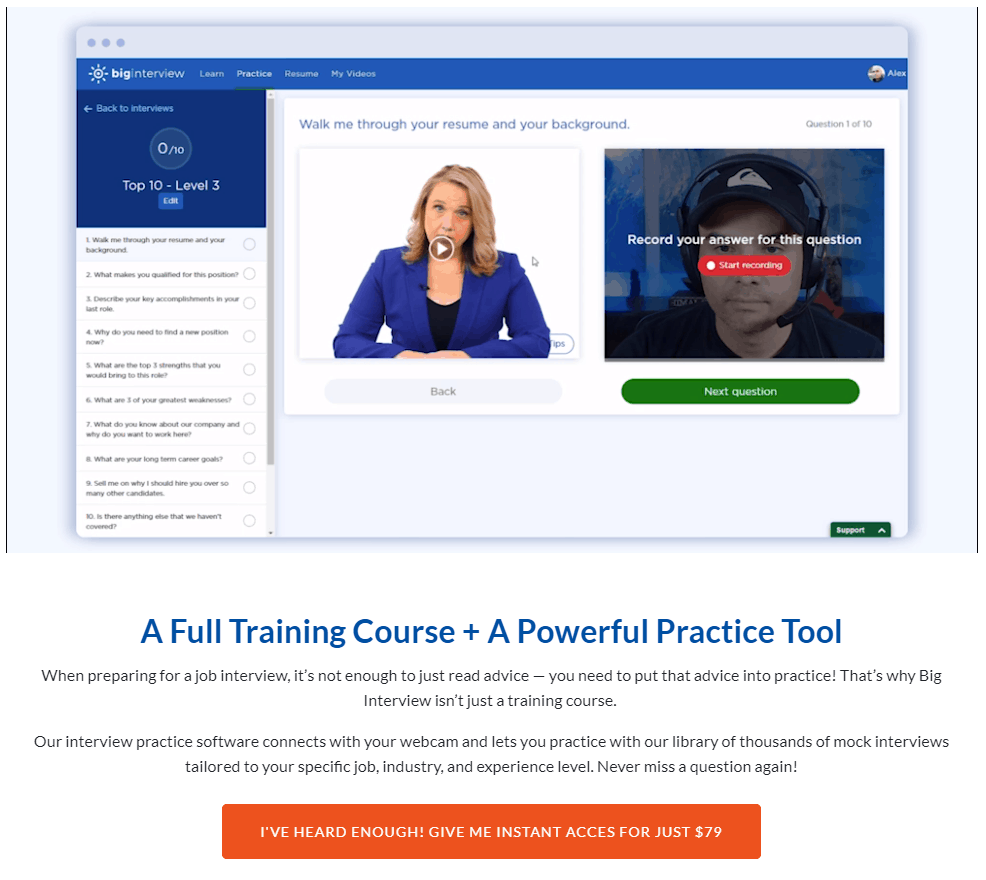 Why it Works: This CTA is about 80% of the way down a very long sales page with loads of product details, features and benefits of Big Interview.
This CTA has a self-aware personality – it uses the phrase "I've Heard Enough!" to cheekily acknowledge how long the landing page is and how far down you have to scroll to finally get to this CTA button.
If readers are already prepared to move forward at this point, this CTA outlines the exact process: Pay $79 for the course, receive instant access to everything described on this landing page. We love how this CTA tells audiences exactly what the next step is, even down to the dollar amount they'll have to pay.
Summary
Thanks for checking out our list of the top 12 call-to-action examples that can improve conversions!
We hope these examples inspire you to come up with compelling CTAs for your next digital advertising campaigns.
Keep reading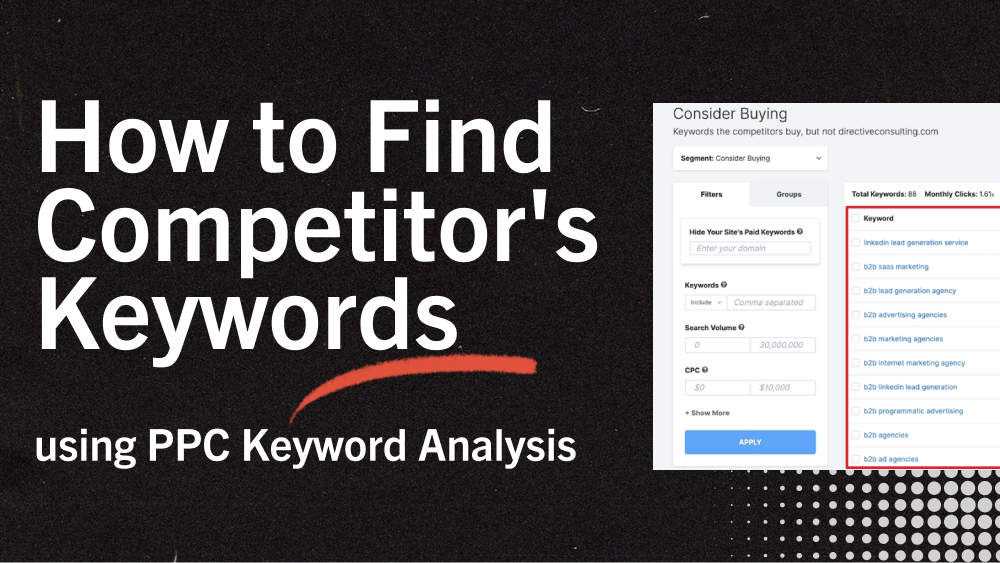 PPC
How to Find Competitor's Keywords with SpyFu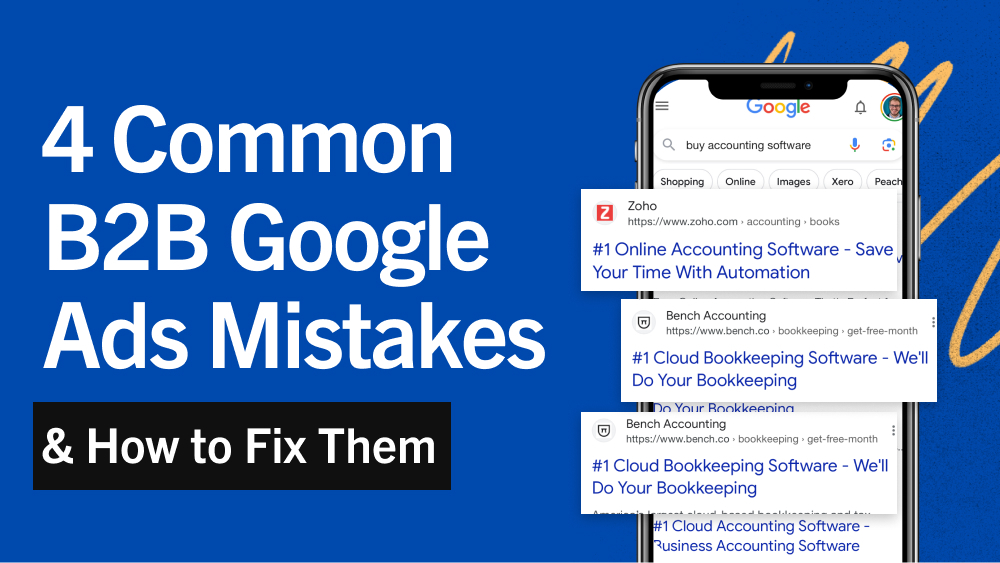 B2B
4 Common B2B Google Ads Mistakes and How to Fix Them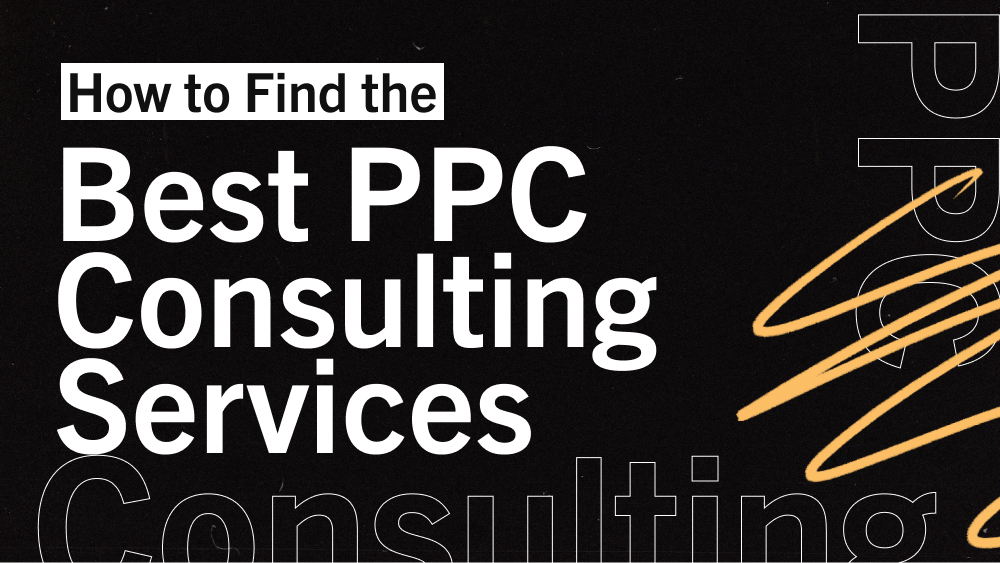 Agency Life
How to Find the Best PPC Consultant Services